Where a food or drink lies on the pH scale tells whether it's acidic, alkaline, or neutral. If you suffer from acid reflux or tooth decay, avoiding anything acidic is wise.
Many sodas are acidic, but how about everyone's favorite, Coca-Cola?
Table of Contents
Is Coca-Cola Acidic or Alkaline?
With a pH of about 2.3, Coca-Cola is acidic. In fact, it's as acidic as a lemon. Other Coca-Cola drinks are also acidic; Diet Coke has a pH level of 3.2, and Cherry Coke's pH is about 2.5.
The pH scale was devised in1909 and tells us how acidic or alkaline something is.
The scale ranges from 0 to 14, with 7 being neutral, below 7 acidic, and above 7 alkaline; the closer to 0, the more acidic.
RELATED: Is Ginger Ale Acidic?
Are the Ingredients in Coca-Cola Acidic?
According Coca-Cola's website, this popular soda is made from carbonated water, high fructose corn syrup, phosphoric acid, caffeine, natural flavors, and coloring.
Most tap water has a pH of about 7.4, but carbonated water has a pH of 3 to 4, meaning it's more acidic.
High fructose corn syrup has a pH of 4 to 5, which can vary with its temperature.
Caffeine has a pH of 5 to 6, so it's Coca-Cola's least acidic ingredient.
RELATED: Is Corn Acidic?
What Are the Effects of Acidic Drinks?
Acidic drinks can dissolve your tooth enamel, the strong outer layer that protects your teeth from decay or damage. The enamel does not regenerate, so this damage can lead to tooth decay and erosion.
RELATED: Is Chicken Acidic?
Soda is one of the most acidic drinks, and diet or sugar-free sodas are no different. Other acidic drinks include citrus juices, sports drinks, wine, coffee, tea, and carbonated beverages.
Below are the pH levels of some popular sodas:
Pepsi: 2.5
Sunkist: 2.9
Mountain Dew: 3.2
Sprite: 3.3
Dr. Pepper: 2.9
Root Beer: 4.75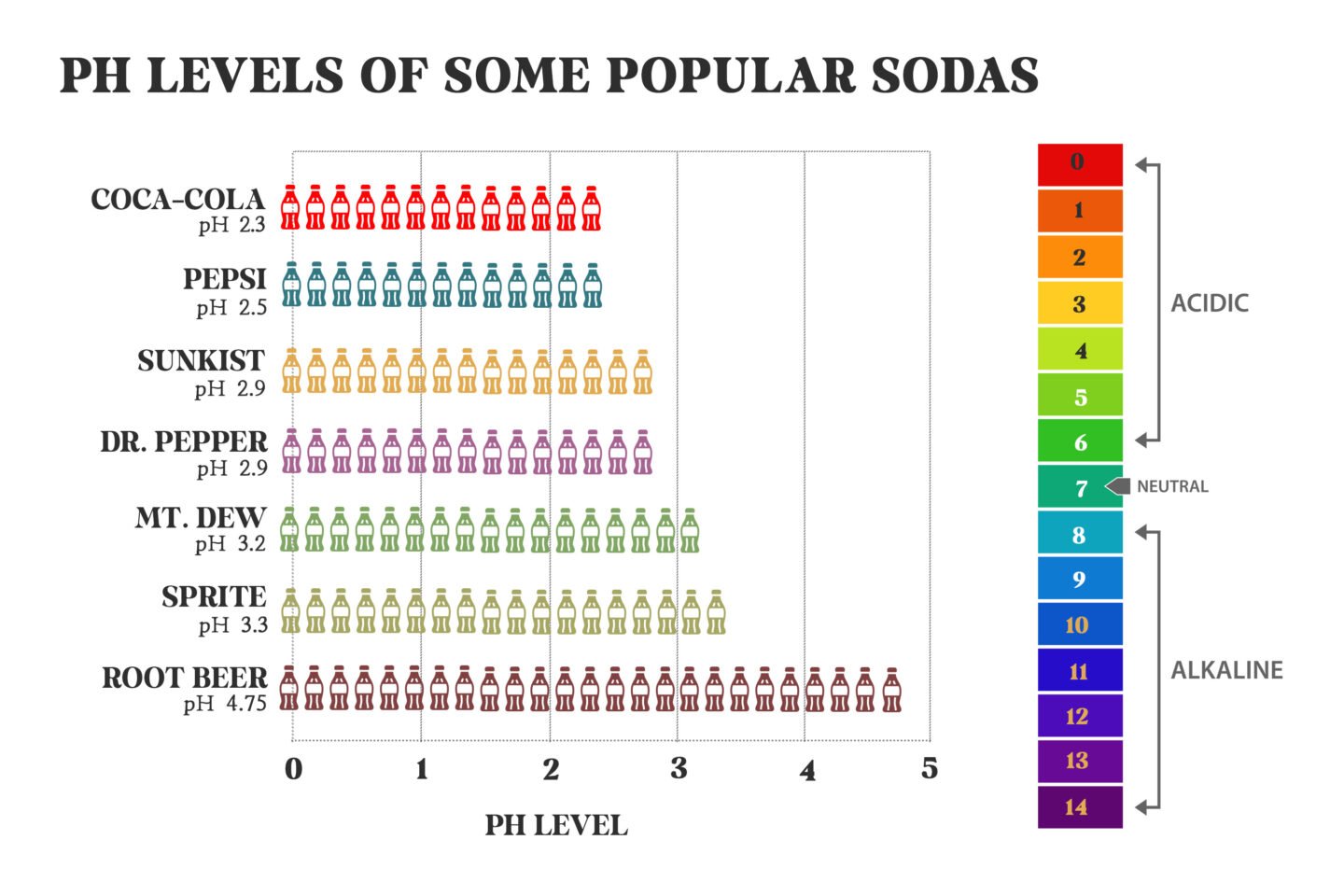 RELATED: Are Blackberries Acidic?
Less acidic, alkaline, or neutral drinks include:
Cow's Milk: 6.9
Almond Milk: 6.0
Soy Milk: 7.0
Kale Juice: 6.8
Water: 7.4
Black Tea: 7.0
Don't know what to drink? Check out these articles: 20 Most and Least Acidic Juices and 20+ Alcoholic Drinks Ranked by Acidity Level
Is Coca-Cola Bad for Acid Reflux?
Coca-cola, like all sodas, is acidic and can cause acid reflux. The carbonation in soda also distends your stomach, which can make acid reflux more likely.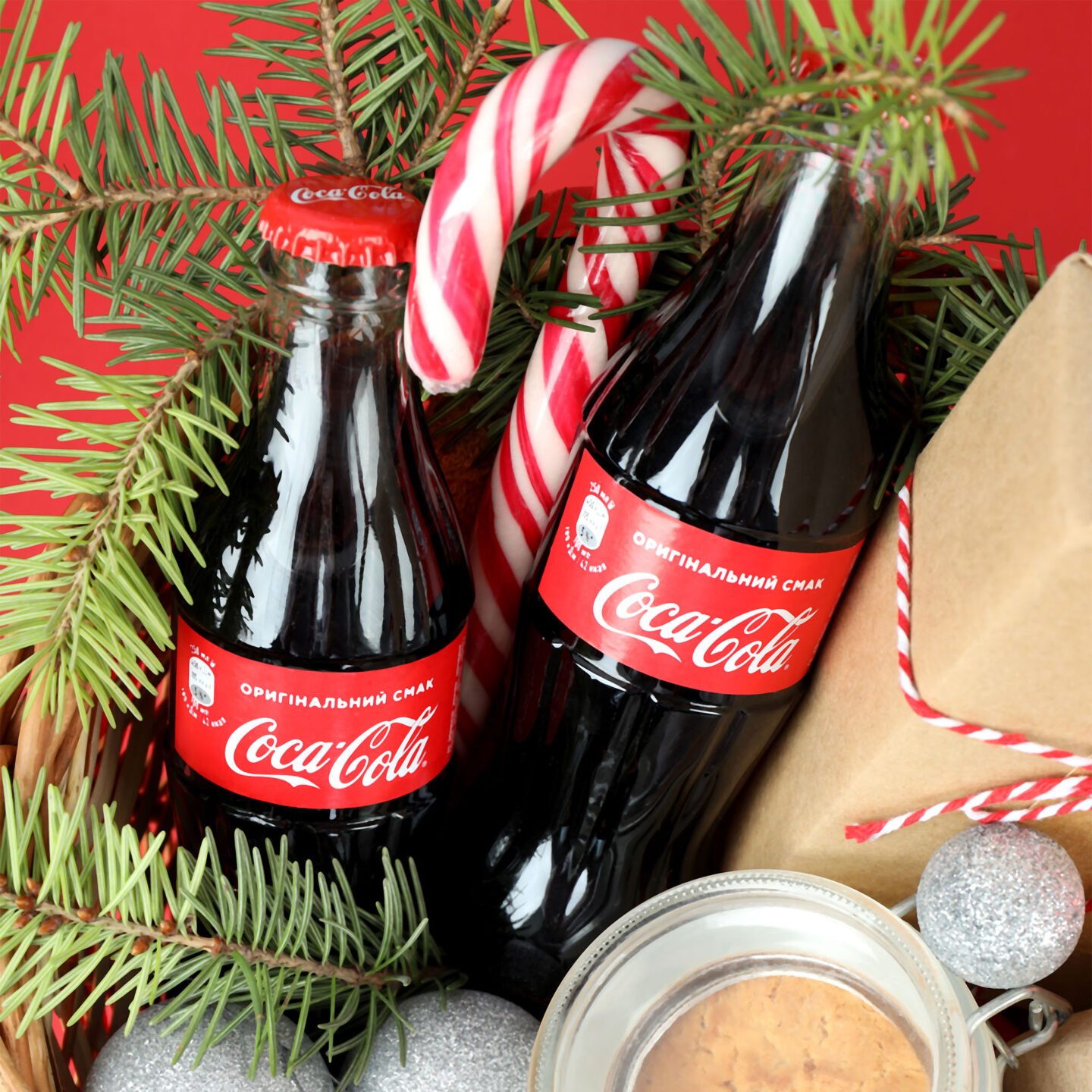 RELATED: Is Soy Sauce Acidic?
Instead of soda, choose alkaline foods and drinks, such as ginger tea.
Don't know what to drink? Check out these articles: 20 Most and Least Acidic Juices and 20+ Alcoholic Drinks Ranked by Acidity Level
Related Questions
What happens if you drink Coca-Cola too often?
Coca-Cola contains a huge amount of sugar that can lead to tooth decay and increased blood glucose levels.

The caffeine in Coca-Cola is dehydrating, so drinking too much of it can cause dry skin, fine lines, and wrinkles.

You may develop cravings for the caffeine and sugar in Coca-Cola, which can lead to weight gain, weakened bones, heart disease, and type 2 diabetes.
Is Coca-Cola vegan?
Drinks such as Lilt, Lilt Zero, Honest Lemon and Honey, and Schweppes Orange Squash are not vegan as they use fish gelatin as a coloring.

Coca-Cola is vegan, as are DietCoke, Dr. Pepper, Sprite, and Fanta.