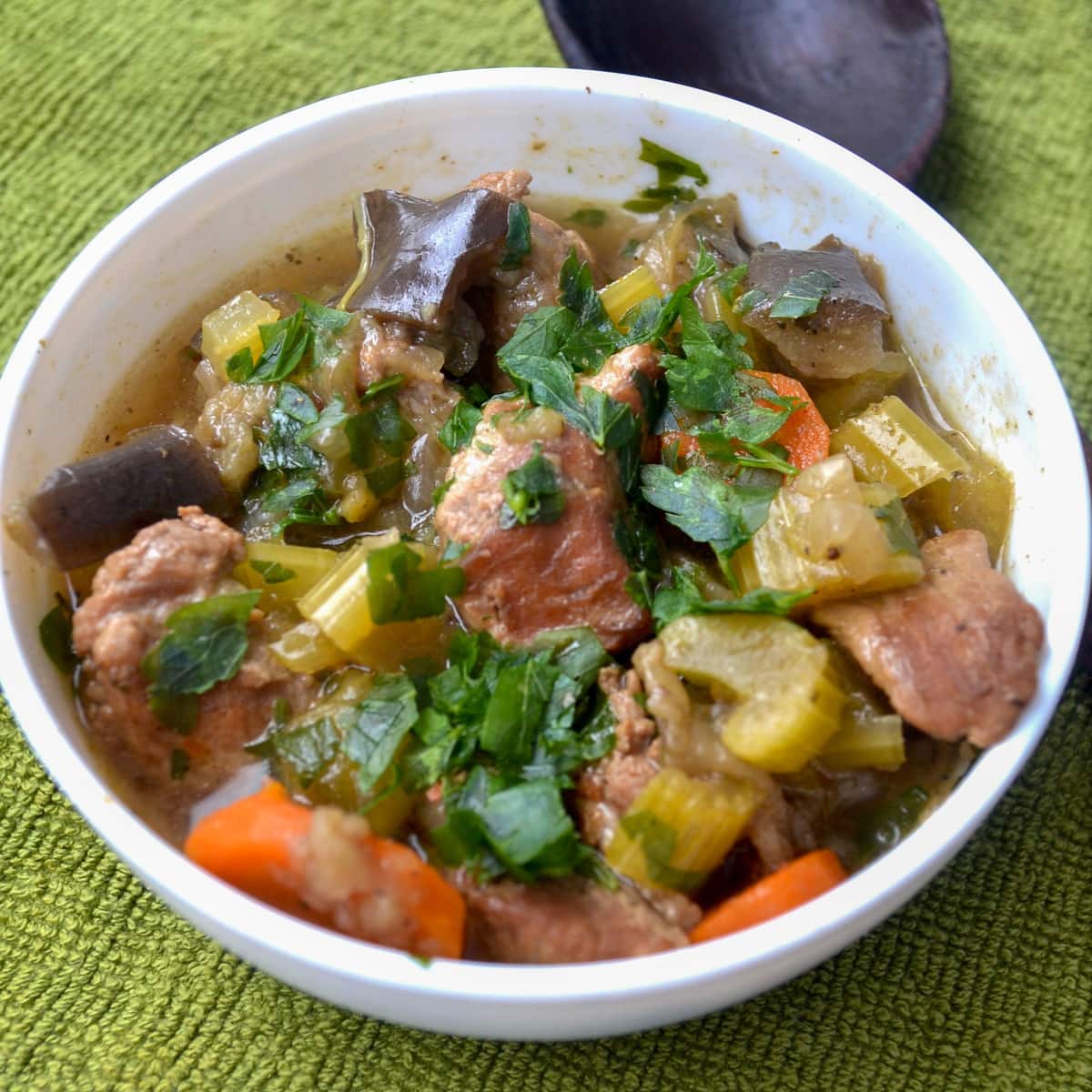 This keto beef stew is perfect for the days you crave a warm and hearty meal. It is a comforting dinner option that anyone who is following the keto diet will enjoy. After you make it at least once in an Instant Pot, you'll never want to cook it any other way!
I've made some changes to my favorite beef stew recipe and made it as low-carb as possible. The end result turned out to be incredibly delicious and with just a little over 8 grams of carbs per serving, which is quite fascinating.
You will need to devote just 10 minutes of your time to prep the ingredients, and your Instant Pot will do the rest. Soon, you'll be able to enjoy the rich flavors of the ready-cooked meal.
Table of Contents
How to Make the Best Keto Beef Stew
When it comes to deciding how best to make the beef stew, I always choose the Instant Pot as it's quick and easy. If you don't have an Instant Pot, you can use a crockpot instead. But if you don't have either, you can cook everything on a skillet first then transfer the ingredients into a pot.
Here are a few simple tips that can help you make the best beef stew in your life:
Brown the beef before adding all other ingredients. When I am feeling lazy, I really want to skip this step. But because it will be much tastier this way, I always brown the beef. If you use the Instant Pot, you can do this step right in there. Just pour in the needed amount of olive oil and choose the Sauté mode. Fry all sides of the beef chunks until you get a golden crust.
Deglaze. This will prevent your Instant Pot from getting the "burn" message as well as double the taste of your beef stew. Some meat bits might get stuck to the bottom of the pot, and it is best to deglaze it to remove them. To do this, pour in some beef broth and use a spatula to remove them from the bottom. It is the easiest to do this when the pot is still warm.
Release pressure naturally. After you've cooked the keto beef stew for 35 minutes on high pressure, release the built-up pressure from the Instant Pot naturally for about 10 minutes. Doing so will guarantee that the beef will be tender. After this time passes, do a quick release since there might be some steam left.
What Veggies Go Best With Beef Stew?
If you don't like celery as much as I do, you can replace it with other vegetables, such as mushrooms or peppers, instead. However, keep in mind that if you make any changes to the recipe, the number of carbs in the meal may vary.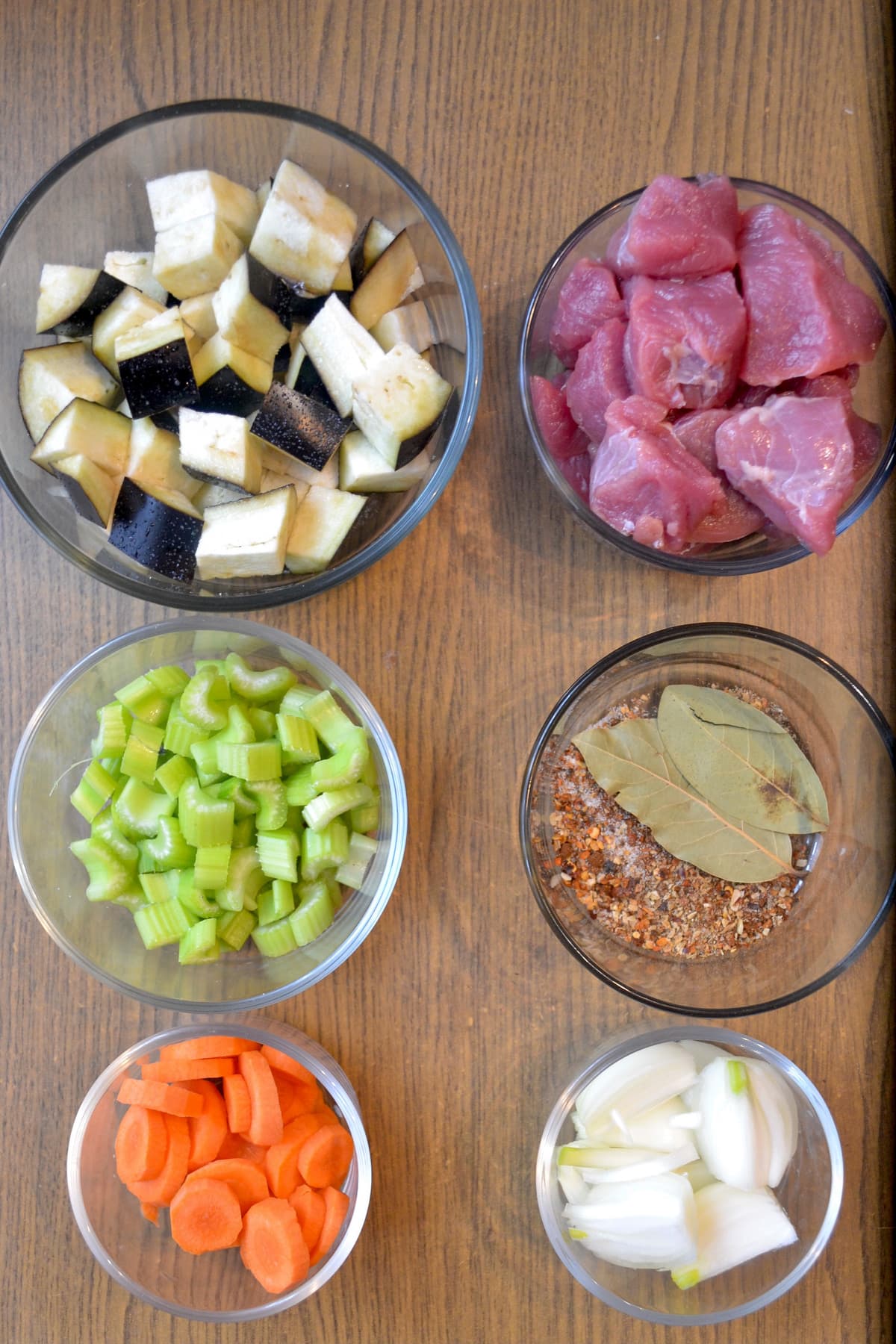 Some other vegetables that you may add to this stew are:
Spinach
Broccoli
Zucchini
Cauliflower
Asparagus
Why Isn't the Broth Thick?
The traditional beef stew recipe contains flour—it is a great way to thicken the stew. Another way to do it is with cornstarch. However, both of these ways are not the best option if you are trying to stay low-carb when making this beef stew.
Personally, I don't like to thicken it with anything since I want it to be a bit watery. But if you prefer it thick, you can definitely use a keto-friendly thickener such as xanthan gum. Half a teaspoon will be just enough to thicken this stew.
How to Serve the Stew
Since this recipe is loaded with vegetables, the best way to serve the keto beef stew is over cauliflower mash. I also find it really tasty with a slice or two of low-carb bread. If you make some zucchini noodles to serve with this stew, it will turn into a more flavorful dinner.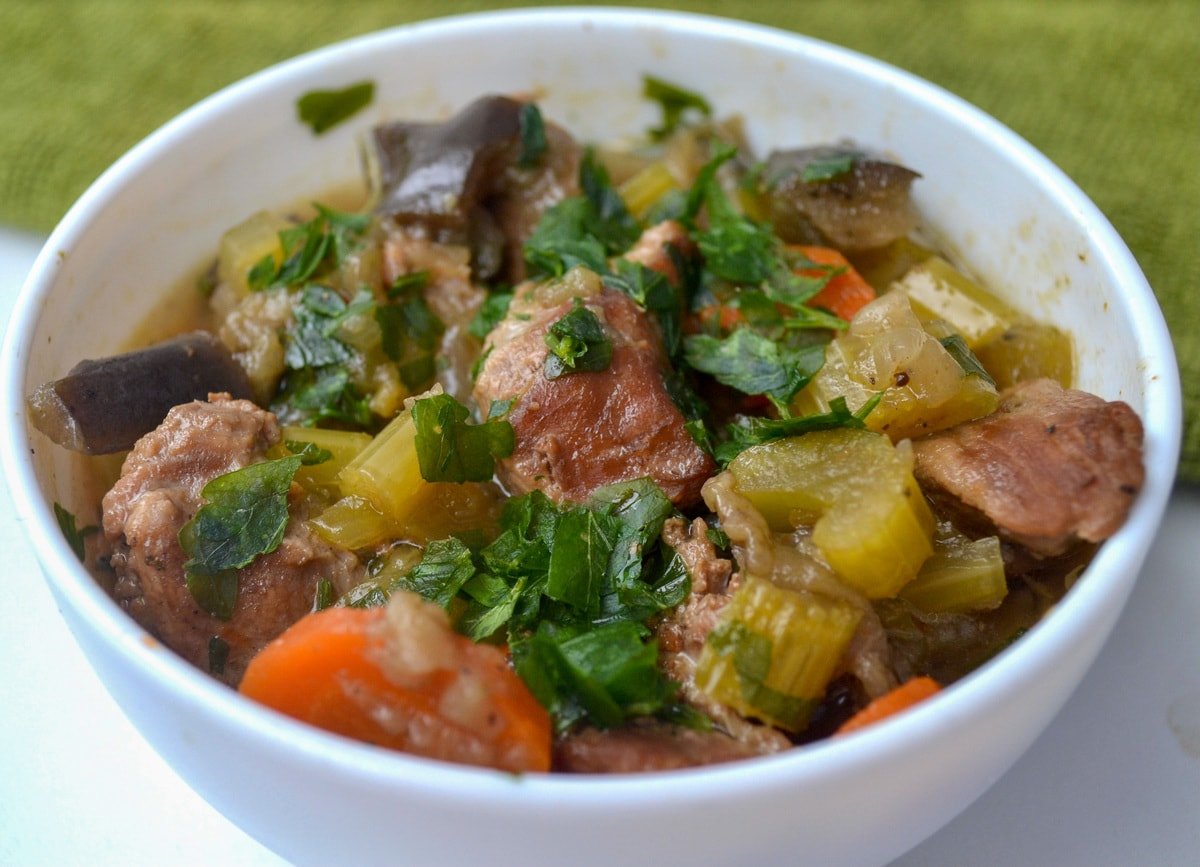 Though really, there's no need to serve the stew with anything else. It is super delicious and filling on its own.
Storing Tips
If you have leftovers, you can keep them in the refrigerator for up to 4 days. Just place the beef stew in a bowl and cover it with plastic wrap.
Also, this stew recipe can be used for meal prepping. It is an excellent option when you don't have much time to cook. You can store it in the freezer for up to 3 months in an airtight container. When you want to eat it, simply place it in the refrigerator the night before to thaw and then reheat it in the microwave before serving it.
Recipe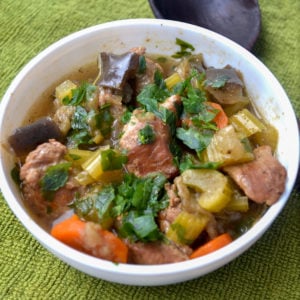 Instant Pot Keto Beef Stew
This beef stew has just a little over 8 grams of carbs per serving, and it's deliciously flavorful! Plus, you'll need only need 10 minutes to prep the ingredients, and your Instant Pot will do the rest!
Ingredients
1

lb

boneless beef

2

stalks

celery

1

medium

carrot

1

medium

onion

1

eggplant

2

bay leaves

2

tbsp

olive oil

4

cups

beef broth

Salt, ground black pepper, garlic powder, oregano, marjoram, and red pepper flakes to taste
Instructions
Pour the olive oil into the instant pot and push on the Sauté button. Chop the meat and throw it into the instant pot along with the salt, pepper, and other herbs and spices. Cook until the meat acquires a slightly brown color on all sides.

Scrape all of the browned bits from the bottom of the instant pot.

Cut the vegetables and throw them into the instant pot. Add the bay leaves, beef broth, close the lid, and seal the steam valve.

Push the Pressure Cook button and choose high pressure. Cook for 35 minutes. After that, allow the pressure to naturally release for 10 more minutes.

Carefully open the lid and take out the bay leaves. Move the stew into a bowl and serve with fresh parsley.
Nutrition
Calories:
393
kcal
Carbohydrates:
8.2
g
Protein:
23.2
g
Fat:
29.9
g
Saturated Fat:
6
g
Cholesterol:
67
mg
Sodium:
997
mg
Potassium:
938
mg
Fiber:
5
g
Sugar:
6
g
Vitamin A:
2667
IU
Vitamin C:
6
mg
Calcium:
54
mg
Iron:
3
mg