Brown sauces are a type of condiment that originated from the United Kingdom and have a characteristic dark brown color to them. Although individual brands vary their ingredients, some common additions are tomatoes, dates, molasses, vinegar, tamarind, and spices. The sauce is commonly squirted over a sausage or squeezed onto fried food, but it is useful for adding flavor to marinades, soups, casseroles, and other slow-cooked dishes.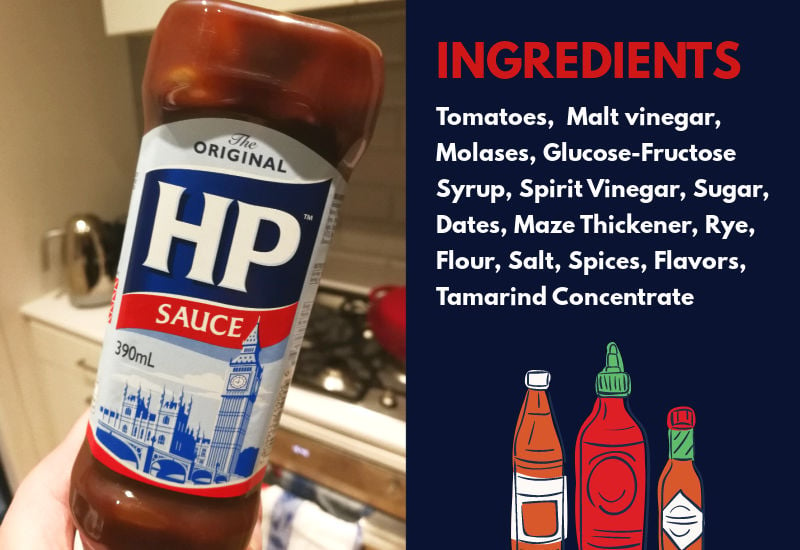 HP Sauce is a leading brand of brown sauce, which has been made since 1899. It provides a mix of spicy, sweet, and tangy flavor in one spoonful. If you can't find it in your local supermarket, or you feel like a change, then you're in the right place. We're about to provide some excellent substitutes for HP Sauce that are just as good as the original. Let's get started!

Table of Contents
5 alternatives to HP Sauce
1. A1 sauce
If you're looking for something similar to HP Sauce then you can use A1 sauce a common brand in the United States. It has a similar thick consistency which needs a little coaxing to get out of the bottle. This condiment is suitable for anything that you'd use HP for, such as squeezing over hot or cold savory food, or for use as a flavor enhancer in recipes.
A1 sauce does have a couple of differences though. First, its fruity base uses raisin paste while HP uses tamarind; and second, A1 has a more intense flavor with less sweetness. This can be fixed by blending in some tomato paste, sugar, and oil. Incorporate a little at a time and taste test to make sure you aren't over sweetening the mixture.
2. Branston brown sauce
Branston brown sauce is a similar type of sauce to HP; another British brand which started back in 1922. It has a thick texture, with a rich fruity flavor that is ideal as a barbecue condiment or mixed into a marinade.
Like all the options on this list, Branston won't mimic the flavor perfectly as it is made using a different ingredient list. Its use of Bramley apples as one of the main ingredients gives it a fruitier taste. Both sauces use spirit vinegar and malt vinegar so you'll get the same tangy smack no matter which you use.
3. Colemans O.K. sauce
Colemans O.K. fruity sauce contains the same main ingredients as HP Sauce, making it another useful replacement. It is delicious as a condiment for adding flavor to eggs, ham, or chips. Many also believe it is a great addition to Asian dishes like stir-fries and for use in marinades.
O.K. sauce also contains apple, raisins, citrus oil and peel, which gives it a more pronounced fruity feel to it.
4. Worcestershire sauce
Worcestershire sauce won't be your first pick if you are looking for something with similar flavor and consistency to HP Sauce. It has a darker color with a watery texture, and its flavor lacks the fruity tang. However, if you need to add a salty, umami element to soups, and casseroles then this is a worthy stand-in for HP. It is also a useful base for meat marinades, adding a salty, spicy feel to the protein.
Some people enjoy using Worcestershire as a condiment, but it won't offer the same benefits as HP sauce. This is a great option if you want something different.
5. BBQ sauce
Barbecue sauce is another option you may want to use if you don't mind a different flavor. They both contain similar ingredients like molasses, vinegar, and sugar; but HP sauce has the addition of tamarind, tomato, and dates which is what sets them apart.
Barbecue sauce offers a similar texture and color and can be used in any recipe that uses HP sauce. It also works as a tasty condiment on meat, pies, eggs, or practically any hot or cold savory food that benefits from a sauce.
6. Make your own
Makes: 4 cups. Prep time: 10 minutes. Cooking time: 1 hr 15 mins
Ingredients
10 tomatoes, chopped
¾ cup brown sugar
1 Tbsp tamarind paste
1 cup prunes
2 granny smith apples, quartered
1 medium onion, chopped
Juice of one lemon
½ cup white vinegar
½ cup malt vinegar
1 Tbsp kosher salt
1 tsp cracked black pepper
1 Tbsp allspice
1 tsp Tabasco sauce
1 Tbsp Worcestershire sauce
Method
Add all ingredients to a large pot and heat on high until boiling.
Reduce to a medium-low heat and simmer for one hour, occasionally stirring.
Remove pot from heat and process all the ingredients through a food mill.
Transfer the final sauce to sterilized jars and store in a cool, dark place until needed.
Note: If you don't have a food mill, you can use a stick blender to process the sauce while it's still in the pot. Alternatively, check out this in-depth review of our favorite tomato presses, which will make easy work of your sauce.
Fast facts about HP Sauce
The recipe originated from Nottingham in 1895 – it was invented by a grocer.
It is one of the UK's favorite sauces, along with ketchup, mayonnaise, sweet chili, and mustard.
HP Sauce was named after London's Houses of Parliament.
In 2005, Heinz bought HP Foods from Danone.
Recommended reading:
What is a useful dark soy sauce replacement?
How do I replace liquid aminos in a recipe?
Summing up
If you need an alternative to HP Sauce then your best options are to look for other brown sauces such as A1, Branston, or Coleman's sauces. For those that want a different tasting sauce that can be used in the same way in the kitchen, consider Worcestershire or barbecue sauces.
Got some time up your sleeve? You may want to make your own homemade version of HP Sauce using our recipe. It is packed with fresh flavor and doesn't contain the added preservatives.
Have you tried brown sauce before? It is huge in the U.K. but not so well known (or liked) in the United States. Please let us know what your favorite is in the comments below.