A tomato press, also known as a tomato strainer or tomato mill, is one of those must-have appliances if you enjoy tomatoes. Manually making spaghetti sauce, puree, or salsa isn't difficult, but it is time-consuming! What you need is a tomato press that's functional and built to last. This appliance will churn through those surplus tomatoes, making the whole process simple, and maybe even a little fun.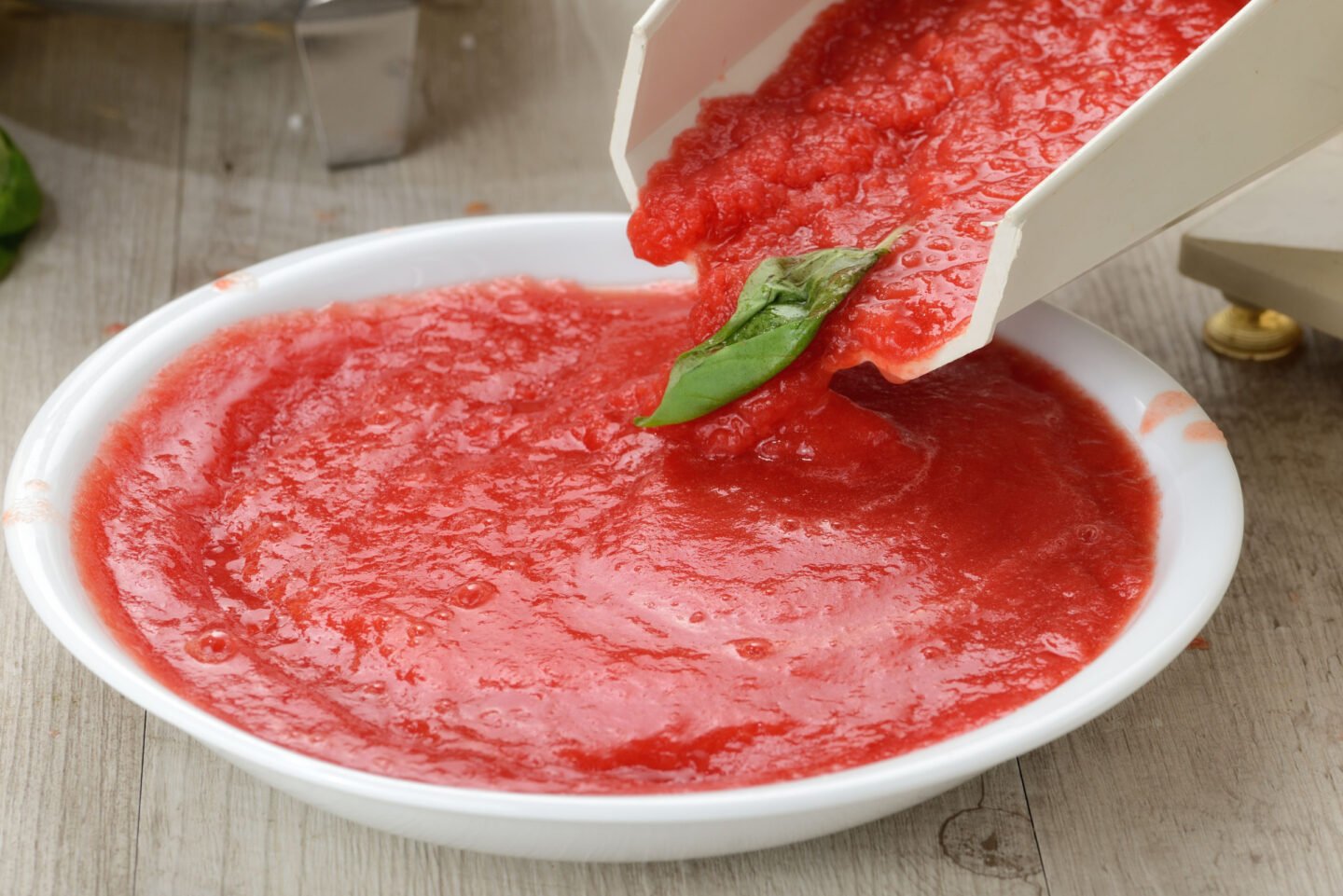 When tomatoes are priced at their lowest (or when your homegrown crops ripen), you can process a huge batch in one session. Then you'll have tomato sauce for the rest of the year, which actually stores well once jarred or frozen. A tomato press makes the process easier and a lot more fun!
Check out our list below and see which ones fit your needs.
Quick Answers
Table of Contents
The 5 Top Tomato Presses
1. Best Overall: Victorio Deluxe VKP250
SAVE 24%
Victorio Deluxe VKP250
We chose this press as the best overall because of its versatility and durability, plus the plastic components are BPA-free.
Pros: one-year warranty; excellent value for money; exceptional functionality; secure base that doesn't wobble; solid aluminum constructed body; stainless steel screens
Cons: tends to leak a little during bigger batches; cleaning can be tedious
Weight: 4.3 pounds. Motor: Not applicable.
Since 1937, Victorio has built a solid reputation for building kitchen gadgets that are extremely functional. The Victorio Deluxe VKP250 is no exception. It looks like a basic, unassuming unit, but that's where the beauty lies. With few moving parts, it will keep straining tomatoes, and practically any other fruit or vegetable, for years to come.
The Victorio food strainer is a manual, hand-cranked model. However, there is the option to add a VKP250-M electric motor.
The aluminum base combined with a sizeable clamp (10 square inches) provides a sturdy, no-wobble platform. The clamp is also padded, so there's no problem with damage to the kitchen counter top.
Clogging can be a major problem for a sauce maker. However, the Victorio utilizes a thin auger that ensures the skins are effectively collected in the right place.
This model comes with a standard screen for making apple and tomato sauce. There is also the option to add on screens for salsa, pumpkin puree, or jams and jellies.
2. Best High End: O.M.R.A. Home Tomato Electric Milling Machine
O.M.R.A. Home Tomato Electric Milling Machine 2400 by Aroma
This stainless steel machine can handle heavy loads and perfect for people who need to strain fruits and veggies in bulk.
Pros: massive processing capacity; high quality materials; large 10-inch diameter hopper; optional attachment for grinding meat
Cons: a challenge to clean; some will find it heavy
Weight: 19 pounds. Motor: 0.33Hp/246W
The O.M.R.A. Home Tomato Electric Milling Machine is manufactured by Aroma, a San Diego-based company that was founded in 1977. This tomato mill may cost more than the others on this list, but if price isn't a big factor, this is an excellent option.
Who would need this appliance? Anyone that has a large pile of tomatoes or any other produce to process or anyone who frequently needs to strain fruit and vegetables. The powerful 0.33HP/60Hz motor is impressive; it has the capacity to strain 600lb of tomatoes in an hour. If you have a lot of apples, it's possible to process 30 to 40 bushels in half a day.
The O.M.R.A mill uses commercial grade materials that are rust proof and built to last. The splash guard, chute, screen, and hopper are made from stainless steel.
3. Best Multi-purpose: KitchenAid-Compatible FVSFGA Fruit & Vegetable Strainer Set with Food Grinder Attachment
KITCHTREE Fruit & Vegetable Strainer Attachment Set
We love this set of attachments for bringing in versatility and comfort in processing and straining a wide range of fruits and vegetables.
Pros: highly trusted brand renowned for quality kitchen appliances; simple design with few moving parts; ability to grind meat, cheese, produce and bread; easy to use and clean
Cons: requires a KitchenAid stand mixer; plastic construction
Weight: 3 pounds. Motor: Not applicable.
The KITCHTREE Fruit & Vegetable Strainer Attachment Set fruit and vegetable strainer set differs from the other products on this list as it is an attachment rather than a complete unit. However, the KitchenAid is very popular, so it is worth including here. If you own this stand mixer, you'll know that this strainer set will fit any model, even the older ones. That's one of the benefits of this mixer.
This attachment will allow you to strain and puree fruit and vegetables with ease. You can also use the grinder attachment on its own to grind meat, cheese, fruit, and vegetables. There is a fine and coarse plate to choose from. If you have leftover stale bread, use the fine plate to miraculously transform it into breadcrumbs.
4. Best Easy To Use: OXO Good Grips Food Mill
OXO Good Grips Food Mill
This tool is perfect for straining small batches of tomatoes to make sauces and paste.
Pros: easy to setup and clean; affordable; stainless steel construction; sturdy non-slip legs; ideal when cupboard space is limited; dishwasher safe
Cons: not suitable for large batches; some bits of skin will often end up in the juice; a tedious job for more than a handful of tomatoes
Weight: 3.35 pounds. Motor: Not applicable.
The OXO Good Grips Food Mill was our pick of the simple-to-use options. This is a manual, hand-operated unit and is an excellent option if you want to process small batches of tomatoes during dinner preparation. This is not the right tool for straining a large quantity of fruit or vegetables; otherwise, you will end up tired and frustrated.
This gadget sits nicely on top of a bowl thanks to the three non-slip legs. They're quite secure so you won't need to worry about holding on for dear life while you crank the handle.
The OXO Good Grips comes with three grinding plates: coarse, medium and fine. If you're looking to strain tomatoes, the fine plate is definitely the best option for catching the seeds although the coarse plate will produce a chunkier texture, great for salsa.
This tomato processor also doubles as an excellent potato ricer for making gnocchi or amazing mashed potatoes.
5. Best Budget: Weston Strainer 07-0801
Weston Food Strainer and Sauce Maker for Tomato, Fresh Fruits and Vegetables
It's not as perfect as the others on this list, but this tomato press works as designed and fits a more humble budget.
Pros: very affordable; multiple screens for a range of jobs; excellent at straining fruit and vegetables; large capacity hopper; solid build
Cons: less sturdy than competing models; the screen is difficult to clean; tends to leak at the neck of the chute
Weight: 5.55 pounds. Motor: Not applicable.
The Weston Food Strainer and Sauce Maker is another manual press that uses arm strength to turn a handle. It looks a lot like the Victorio VKP250 that is capable of straining fruit and vegetables for sauces, jellies, baby food, jam, salsa, and more.
The Roma food strainer may look appealing thanks to its affordability. In fact, it is an excellent option if you are looking to process small amounts of produce. But I wouldn't recommend this for anything more than that. The biggest issue is the clamp, which isn't built as well as the Victorio. It is smaller, less sturdy, and juice tended to get under the suction cup after a few minutes of work. There is also a c-clamp option but it isn't as effective as the Victorio. You'll notice this on longer processing runs.
The clamp aside, this is an excellent product that works well. It was easy to set up; straining 2 pounds of beefsteak tomatoes was a much easier task than using the OXO Good Grips.
For those on a budget, this is definitely a good option. It's not perfect, but if you can look past a few minor imperfections, you'll enjoy this unit for years to come.
The Benefits of a Tomato Press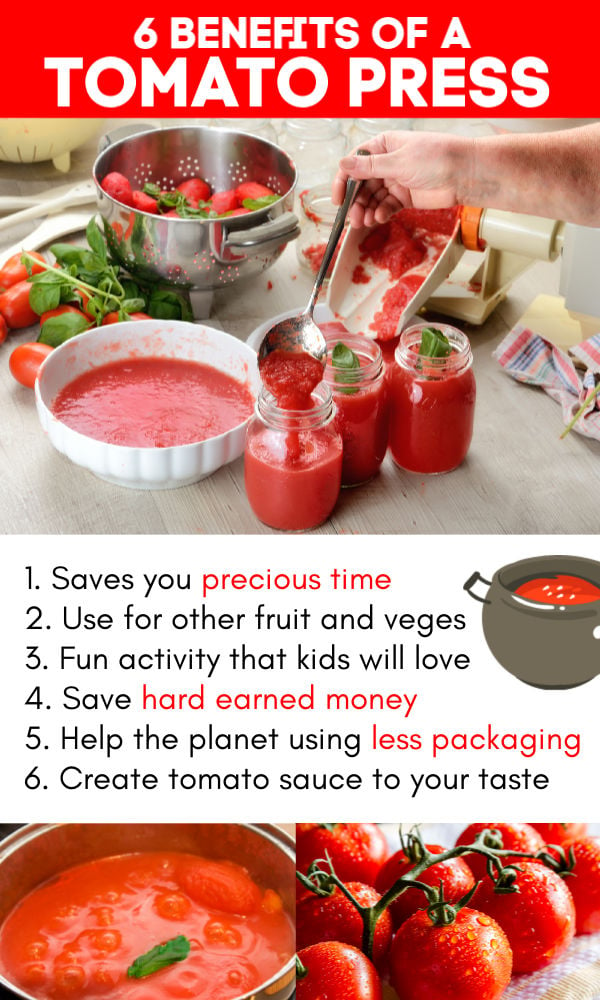 Saves a huge amount of time making tomato sauce
Can be used for other fruit and vegetables
Straining tomatoes is a fun activity that kids will love
Save money processing your own produce
Help the planet by using less packaging from supermarkets
Create tomato sauce that's your preferred consistency
What features should you consider?
When you start researching these gadgets you'll find that they mostly look the same. But don't let that fool you, they vary significantly when you weigh up their features.
Power and Speed
As with many appliances, a major consideration is whether it has the power to get the job done, fast. Look for a unit with higher wattage (or horsepower) as this will give you an idea of how many tomatoes can be processed per minute.
Construction
Quality materials such as stainless steel or aluminum are ideal. These have a longer life, are more hygienic and easier to clean.
The auger and its housing will be subjected to a lot of pressure. Look for solid, sturdy looking models and check the product reviews for problems in this area. A common problem with this device is that leakage occurs or parts come loose. A quality tomato grinder should continue serving for many years without these issues.
The Drive Shaft
Some juicers will have a hexagonal drive shaft which is fine for occasional use, small batch processing. But it won't last long if you use it for anything more substantial. The problem is, the corners of the hexagonal shaft wear down when placed under any high loads.
The Base
Often overlooked as an important feature, the base is a "make or break" part of the press. Its main job is to keep everything stable and secured so that your job is made easy. A clamp or suction cups are common options. If possible, go for a clamp system as it is more secure. Cups tend to get juice under them causing slippage.
Size
If you're going to buy an appliance online be sure to check its dimensions. Tomato presses vary in size significantly. If you have a small apartment then choose a smaller product such as the OXO Good Grips Food Mill. In saying that, larger units tend to do a better job so if you have plenty of cupboard space I'd recommend a bigger model.
Electric vs Manual
Choosing an electric tomato strainer will push up the price when compared to the manual option. The beauty of going electric is that it makes your job a lot easier and faster. However, a manual unit will save you money and will tend to last longer as there are much fewer moving parts to break.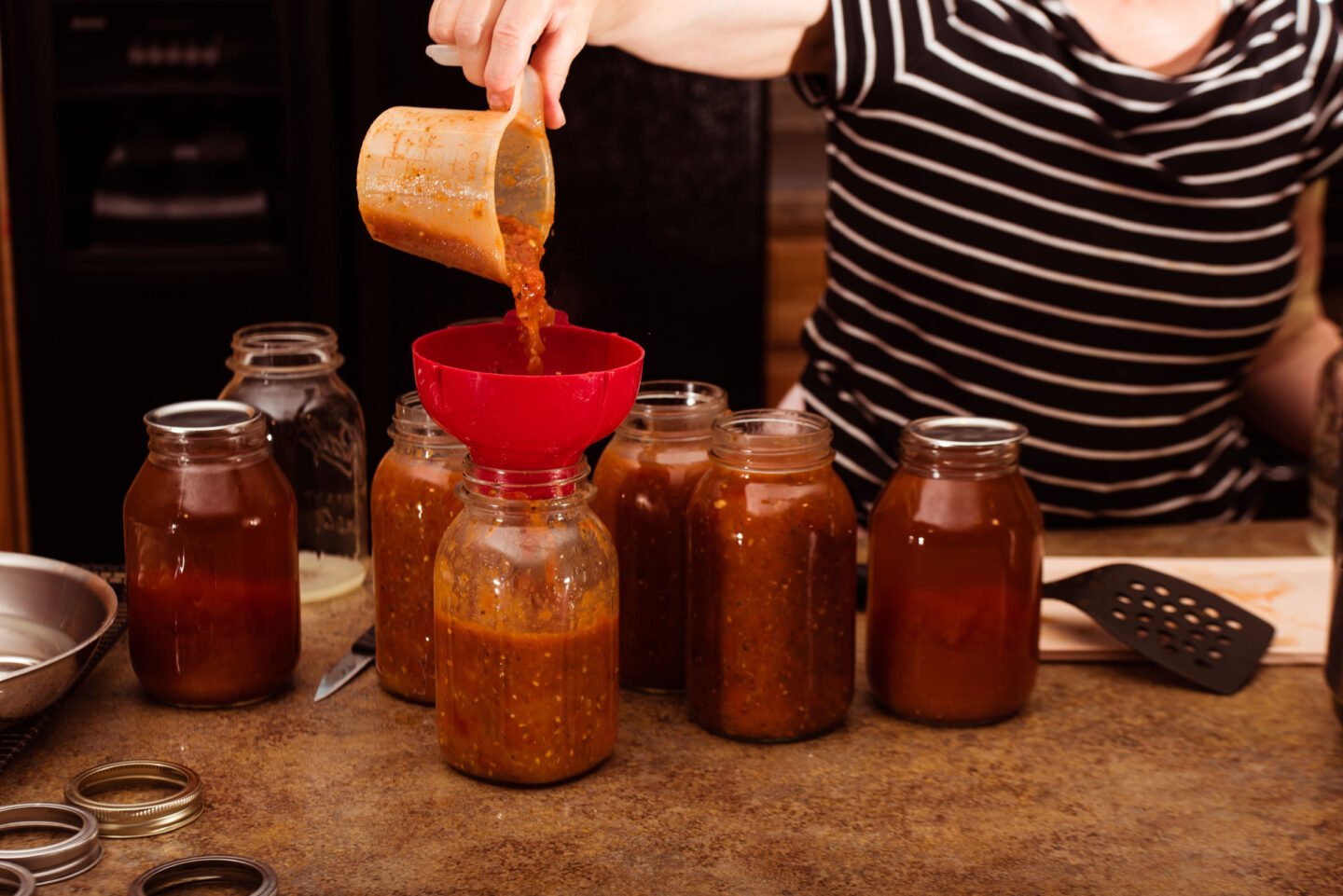 FAQs
What is a tomato press?
A tomato press is a kitchen appliance that strains the juice from tomatoes, apples and a range of other fruit, vegetables, cheese and bread. Usually, the press will allow the user to grind very fine through to coarse textures.
Methodology
To find the best tomato mill on the market, I dedicated a day to online research, visiting relevant forums then reaching out to several Facebook groups where the food obsessed hang out. Loaded with the data I needed, the next step was buying or borrowing the five short listed presses and testing them using a big stack of tomatoes. Thankfully I had a relative with a LOT of tomatoes all ripening at the same time. It saved me a fortune in tomatoes!
Final Words
If you're looking for the best tomato press then it's hard to beat the Victorio Deluxe VKP250 as an excellent all-round performer. It excels on performance and durability – and with an appealing price tag too. Once you use this appliance you'll wonder why you spent all that wasted time manually straining those tomatoes.
If you're okay investing a little extra then the O.M.R.A. Home Tomato Electric Milling Machine is the product for your kitchen. It's a high performance electric model that can churn through huge quantities of tomatoes in an hour. There is a bigger cost up-front, but it will save you hours in processing time thanks to its powerful motor that is built for speed.
Whichever product you choose, they're all multi-purpose devices that can make baby food, apple puree, salsa and a whole lot more. This isn't one of those appliances that sits in the cupboard for 11 months of the year unused. It will be a loyal servant that repays your initial investment many times over.
Have you ever used a tomato mill before? What model was it and how do you rate it? Let us know in the comments below.