Are you looking to make a tuna bake that everyone will enjoy, with less carbohydrates? I'd love to share this recipe, which is a family favorite, mid-week dinner in our household. A creamy, cheesy, protein-packed dish that tastes delicious and doesn't use pasta as an ingredient. A lot of recipes include pasta, but you honestly won't miss it once it's gone.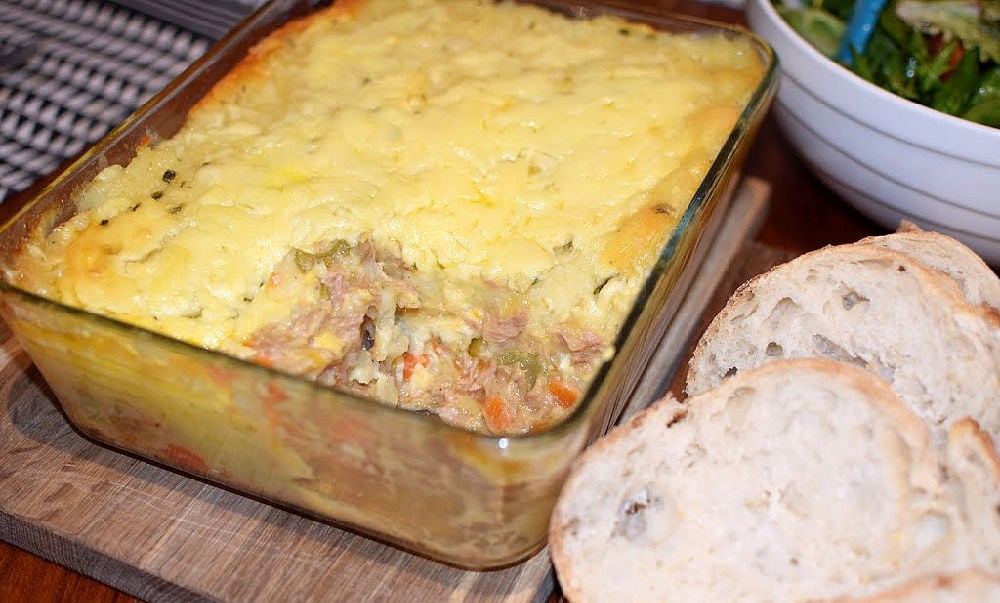 Love tuna?
You might also be interested in checking out this amazing tuna sandwich recipe.
Table of Contents
How to make tuna bake
Let's dive straight into the recipe, which is easy to make and will feed a hungry family of four.
Recipe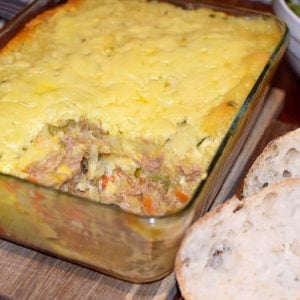 Healthy Tuna Bake
This low-carb recipe for tuna bake could become your family's favorite at dinner. It's a creamy, cheesy, protein-packed dish that doesn't use pasta as an ingredient.
Ingredients
5

large

potatoes

3

eggs

1

tbsp

butter

1

tbsp

all-purpose flour

1

cup

milk

1

onion

diced

2

carrots

diced

1

leek

sliced

2

garlic cloves

crushed

½

small

bell pepper

diced

1

tbsp

Worcestershire sauce

1

can

tuna

(15 oz) drained

1

cup

cheddar cheese

grated

salt and pepper to taste
Instructions
Peel the potatoes and cut into quarters and place in a saucepan of hot water. Boil potatoes until soft, then remove from the heat, drain and set aside.

Boil the eggs in a saucepan of water until hard-boiled. Remove from the heat and allow to cool before removing the shells and slicing. Set aside.

Add butter to a small saucepan and heat on medium heat. Once melted, add the flour and whisk until a paste forms. Allow cooking for a further one minute then add all the milk. Continue heating and occasionally whisking until the sauce thickens. Set aside.

Heat vegetable oil on a medium-high heat, then add the onion and cook for 2 minutes. Add the carrots, leek, and celery and continue cooking until they begin to soften. Toss in the capsicum and Worcestershire sauce and cook until all the vegetables are soft. Season with salt and pepper.

Add the tuna and stir through until the fish is evenly distributed. Stir in the white sauce, then remove from heat and scoop into a medium-sized casserole dish.

Preheat the oven to 355°F (180°C) in preparation for the final bake.

Mash the potatoes with a knob of butter and a splash of milk. Season with salt and pepper. Continue to add extra milk slowly until the consistency is creamy and smooth.

Scoop out the potato onto the fish and smooth it out. Sprinkle the cheese over the top and bake until the cheese is golden brown.

Remove from the oven and allow to sit for 5 minutes before serving with crusty bread and a fresh garden salad.
Notes
Quick Note: Once the fish and vegetables are cooked, I prefer to transfer them to a casserole dish and to top with potato and cheese. If there are leftovers, it is easy to place the casserole dish in the fridge. However, to save time and dishes during cooking, you may want to cook the veggies and fish in a skillet. You can then top with the potato and transfer the skillet directly to the oven.
Tips for a better tuna bake
Cook the vegetables for longer than you would, a stir-fry. They should be soft and well cooked to enhance their flavor.
Mushrooms and corn are also suitable ingredients for adding to this tuna bake. They'll help bulk out the volume if you're cooking for more than four people and will also enhance the dish's nutrition.
Sprinkle a layer of Parmesan or Cotija cheese on top of the cheddar for a stronger cheese flavor.
Season the vegetable with salt and pepper early in the cook and add more, if required, throughout the cook. This will provide better flavor than adding it at the end of the recipe.
Chili is an excellent addition to the vegetables for a hit of spice. Avoid this option if you have guests that dislike spicy food.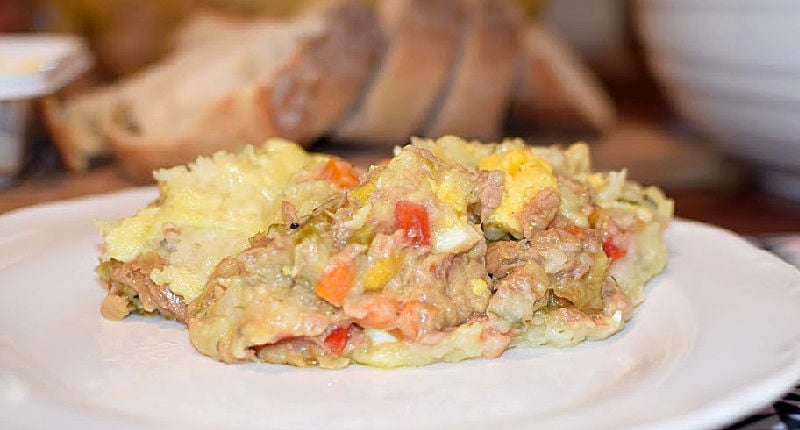 Frequently Asked Questions
Can I use another fish than canned tuna?
Canned salmon will work equally well.
Do I have to use canned tuna?
The beauty of this recipe is that it's very cheap to make using canned fish. If you decide to use fresh fish such as haddock or flounder, then add it at the end of the cooking process so as not to overcook it.
Should I use tuna in oil, brine, or spring water?
The best option is to use tuna in olive oil as it has a much better texture and flavor.
Final words
Making a tuna bake, or tuna casserole, is a brilliant midweek meal that is economical and virtually fail-proof. The creamy béchamel sauce balances out any fishy flavor, making it perfect for even the fussiest eater.
This recipe is a low-carb alternative as there is no pasta. Need a gluten-free meal option? Use gluten-free all-purpose flour for the sauce, and it will be suitable for those avoiding wheat-based food.
Tuna bake is suitable for making ahead of time. Once you've layered the tuna mixture, potato and cheese to the dish, cover with aluminum foil and refrigerate for 2-3 days or freeze up to six months. Refrigerating overnight tends to enhance the flavors and improve the meal.