Back in the 1800's John Montague ordered meat between two pieces of bread. Not exactly a big deal today, but back then it was revolutionary. He was the 4th Earl of Sandwich and that is how the humble sandwich earned its name.
Over the years, sandwiches have improved. One company that has led the charge in these improvements is Subway. Their Tuna Sub is hugely popular, not just in the U.S. but all around the world. Freshly baked bread filled with tuna and whatever extra fillings you decide to add. The tuna sandwich is a healthy and enjoyable lunch or dinner time meal.
Recipe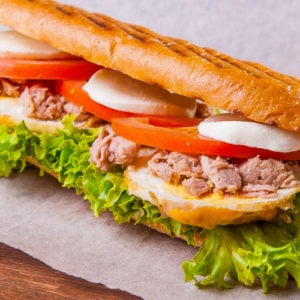 Subway Tuna (Copycat Recipe)
If you love Subway's Tuna Sub sandwich, then you'll surely love this copycat recipe! Enjoy the aroma and flavors of freshly baked bread filled with tuna. Add your preferred extra fillings. The tuna sandwich is a healthy and enjoyable meal for lunch or dinner.
Ingredients
1

ciabatta roll

1

can

tuna chunks in water

6 oz

2

tsp

lemon juice

¼

cup

mayonnaise

salt and pepper to taste

2

eggs

½

cup

lettuce

1

tomato

1

avocado

diced

3

slices

mozarella
Instructions
Add tuna, lemon juice, mayonnaise, salt, and pepper to a medium bowl and mix with a spoon until combined. Stir vigorously to break up the chunks of tuna into a fine-textured paste. Gently stir in the avocado then set aside.

Heat a skillet on medium heat then add a splash of vegetable oil. Crack both eggs into the skillet and cook until you're happy with the texture. If you have an egg ring it will help keep the egg in a neat circle. Once cooked, set aside.

Cut the ciabatta lengthwise and pop both halves into the oven and broil (grill) until toasted. Remove the bread and place it on a suitable plate.

Use a spoon to scoop the tuna mix onto the bun and then top with eggs, lettuce, tomato, and mozzarella.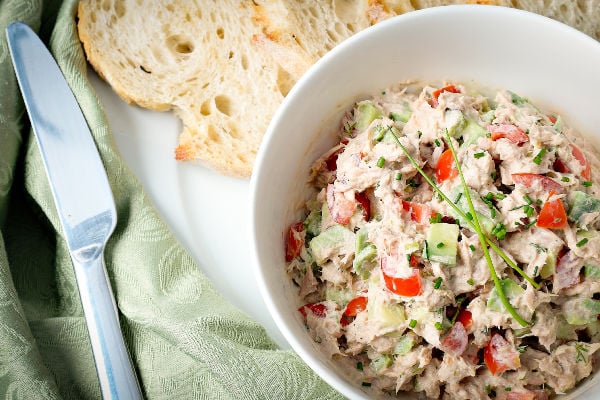 Table of Contents
5 tips to improve your sub
1. Get the texture right
If you prefer your tuna to be a smooth consistency then process the ingredients in a blender for a few seconds instead of mixing with a spoon. We think you can never pulverize the tuna too much! The finer the flakes, the better, as canned fish is dry.
2. Add panko if needed
Adding a spoonful of panko crumbs will help soak up the mayo and create a lighter, moister mixture.
3. Consider adding extra
Including extra vegetables like carrot and celery will add color and extra nutrition, but always grate or dice them finely. Thick chunks of vegetables aren't pleasant in sandwiches.
4. Melt the cheese
Top the ciabatta with mozzarella before broiling it to get delicious melted cheese in your sandwich. It doesn't take any extra work and if you're the type that enjoys hot, melted cheese (and who doesn't?), this is for you.
5. Tuna choice won't be a deal-breaker
We recommend using canned tuna in water, but if you only have cans in the pantry with olive oil then they're fine to use. You may want to reduce the mayonnaise a little to compensate.
Optional extra ingredients
kalamata olives
dill pickle
chili pepper, chopped finely
red onion
red bell pepper
carrot, grated
pineapple pieces
Fun Fact
November 3rd is National Sandwich Day. A day to celebrate a wonderful food innovation.
Frequently asked questions
What can I do with leftover tuna salad?
We recommend leaving out the lettuce, and stuffing everything else into bell peppers or topping mushrooms and baking for a tasty side dish. The tuna mixture can also be refrigerated for 2-3 days in an airtight container if you can't use it all.
Can I use salad dressing instead of mayonnaise?
Mayonnaise and salad dressing are both creamy, thick-textured sauces with similar ingredients. Mayonnaise contains an additional ingredient, egg yolks, and tends to have less sweetness than salad dressing. For making a classic tuna sub, either is suitable so feel free to use these two types of sauce interchangeably. For some additional spice, add two teaspoons of Dijon mustard to the tuna mix.
What other cheese varieties are good in a tuna sub?
If you don't have any mozzarella or don't like this cheese, use Pepper Jack, Cheddar, Gruyère, American, or Edam. For a saltier flavor-bomb, you may want to add Cotija or parmesan as well.
Summing up
If you've got some spare cans or canned tuna sitting unused in the cupboard then making a Subway Tuna is a brilliant option. It's the sort of meal that allows you to use up the leftover vegetables in the fridge before they go off. If you feel like a French-inspired sandwich, you might also like to check out our article comparing Croque Madame and Croque Madame. They're both delicious grilled sandwiches and we show you how to make them.
What is your favorite "quick and easy" meal that you couldn't live without? Please let us know in the comments below.