The main difference between tuna and salmon is in the texture of their meat. Salmon is on the fatty side, while tuna is on the dense, protein-packed side. Since salmon has more fat, its meat is more delicate and tender than tuna, making it more expensive.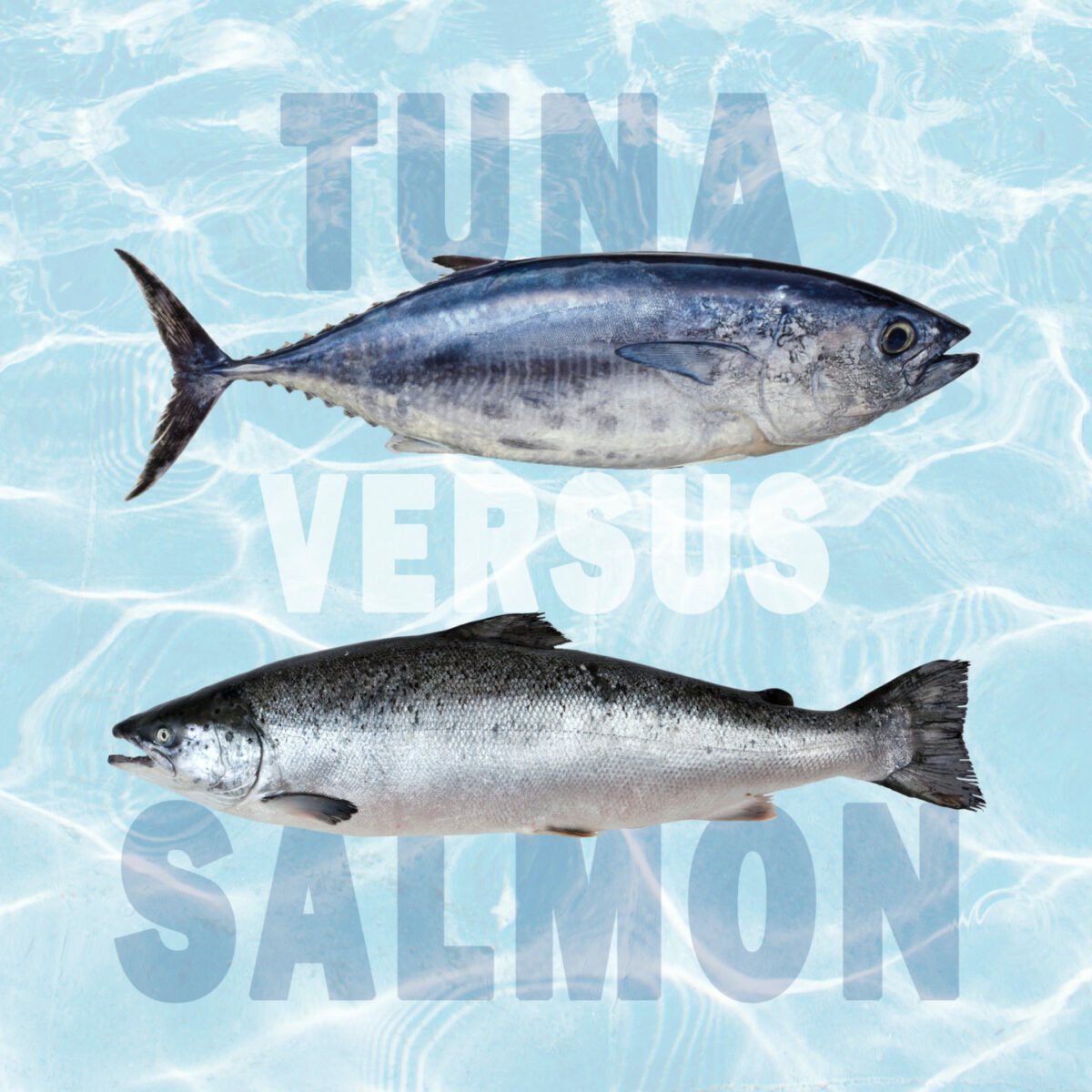 Salmon is also healthier than tuna as it contains more omega-3 fatty acids and vitamin D, but tuna contains more protein than salmon.
Although tuna and salmon are two of the most commonly seen fish meats in the market, they differ in several ways. First of all, tuna and salmon do not belong to the same family, and tuna is way larger than most salmons. When it comes to the meat, salmon appears orange-pink while tuna shows a dark pink.
This article will cover the differences between tuna and salmon: their appearance, habitat, nutritional content, flavors, price points, and cuisines, to help you choose which one is better for you.
Table of Contents
What is Tuna?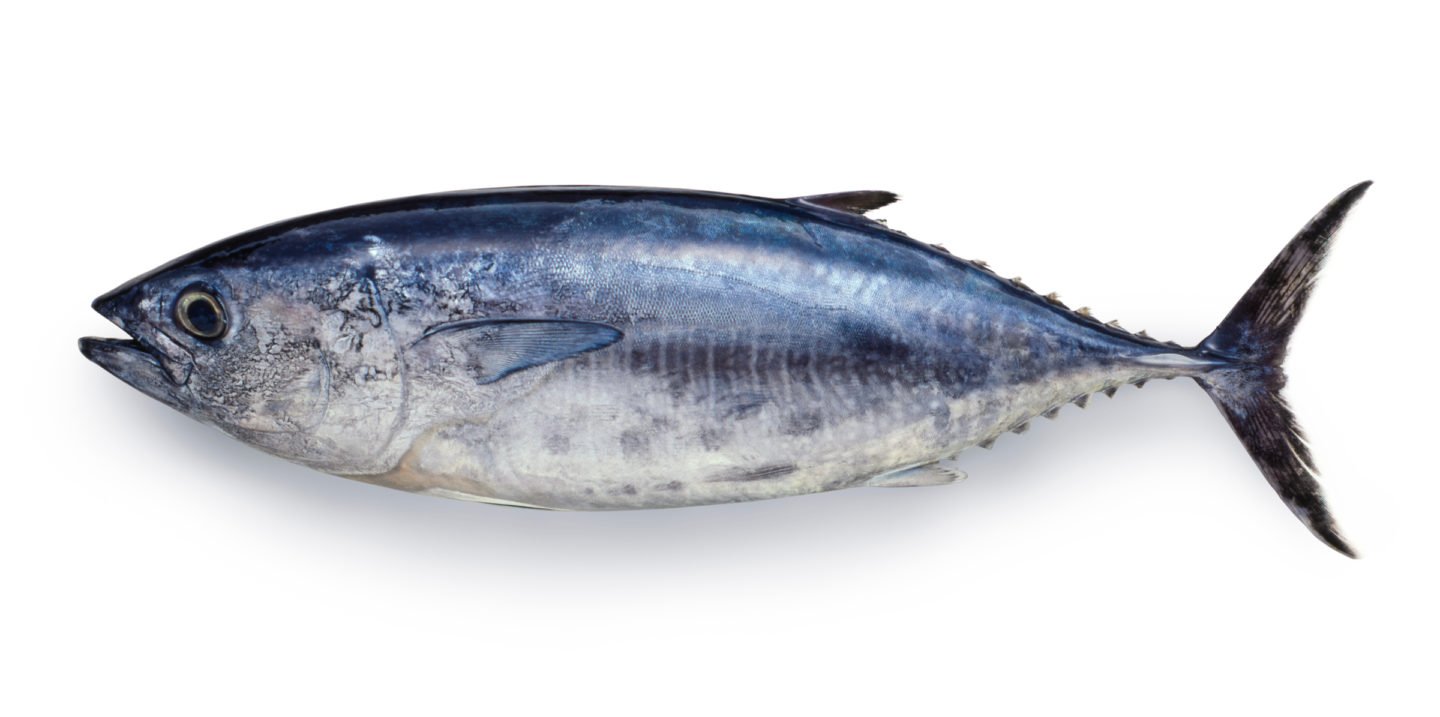 Tuna, also known as "tunny," is a kind of fish that belongs to the Thunnini tribe of the Scombridae family (the mackerel family) and is not related to salmon. The tribe comprises five genera with 15 species, the majority of which belong to the Thunnus genus.
Two of the most common species of tuna are the albacore and bluefin. Albacore tuna is the most common kind, with the softest flesh with the mildest flavor. It's often canned and sold as albacore white tuna, and it's more expensive than light chunk tuna.
For fresh tuna enthusiasts, bluefin is the tuna variety of choice. The color of the meat ranges from dark crimson to nearly purple. It has more fat and taste than most other types of tuna. Bluefin is the most powerful, based on size and weight, with numerous cases of a single catch exceeding 1,000 pounds. The majority of the bluefin catch is sent to Japan and marketed as sashimi.
Tuna migrate across the world's oceans and swim at speeds of up to 75 miles per hour. They are the only fish that can keep their body temperature above the water temperature they are in and are the largest among their family.
What is Salmon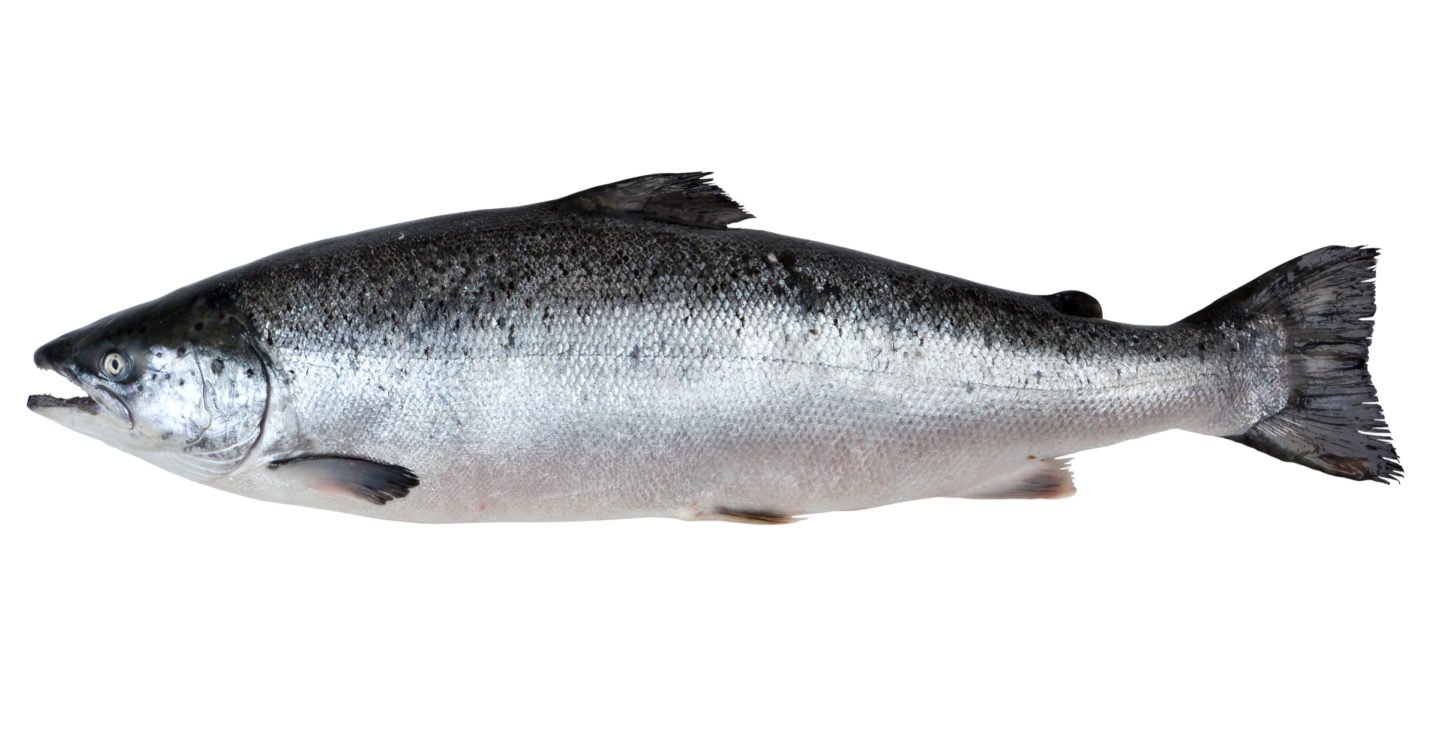 Salmons are Anadromous fish. They develop in the sea and then return to freshwater to breed. There are seven recognized species of salmon, six of which exist in the Pacific Ocean and one of which, the Atlantic salmon, lives in the Atlantic Ocean.
Salmon has a global distribution, and each species lives in various parts of the planet. Some live in North America's Great Lakes, Northern Europe, Japan, Alaska, Russia, Canada, the Columbia River, the west coast, Korea, and California. Salmon is one of the most regularly farmed fish due to rising demand.
Salmon's life cycle is remarkable in that, after staying 2-5 years in the ocean, they return to the body of freshwater where they spawned, according to tracking studies. Salmons also change color as they migrate from the sea to attract a partner.
Because Pacific salmon have a diverse diet in the ocean, they use all of their energy swimming back to the freshwater where they spawned and eat nothing once they arrive. As a result, most pacific salmon perish in streams after spawning due to a lack of energy. On the other hand, Atlantic salmon do not die after spawning and continue to reproduce for several years.
Tuna vs. Salmon: Habitat and Distribution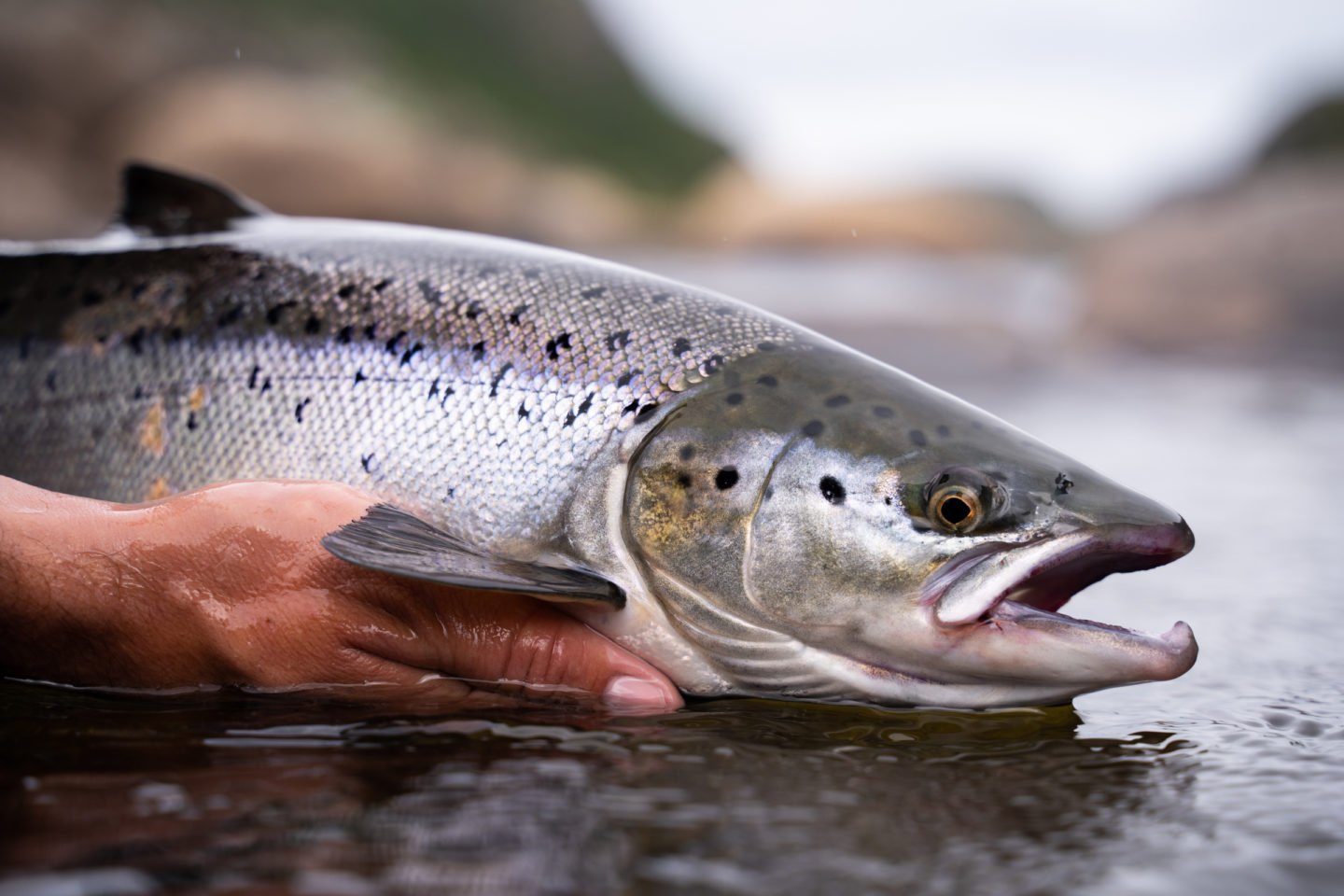 Tuna fish move over all of the world's seas, inhabiting tropical, moderate, and even colder waters. The blackfin tuna or western Atlantic and the longtail tuna, which inhabit the Pacific, are the only two species with a limited range (Indo-Pacific region). Tuna fish eat a range of planktonic creatures and smaller fish, squid, and shellfish. They spawn across quite broad areas of the open sea.
On the other hand, salmons are anadromous fish, which means they are born in freshwater, move to saltwater to grow, and return to freshwater to spawn. Sadly, salmons can only spawn once in their lifetime, and they die in the freshwater. That is why salmons are more expensive and one of the most farmed fish, with 60% of the world's supply being farmed salmon.
Tuna vs. Salmon: Appearance
Tunas are sleek, elongated fish with a rounded body that tapers to a narrow posterior end and a branched or crescent-shaped tail. Tunas are usually dark on top and silvery on the bottom, with a glossy sheen. Tunas are large fish, with the western Atlantic tuna reaching 13 meters in length and can weigh up to 2,000 pounds.
On the other hand, salmon have long, slender bodies and appear pinkish due to the presence of astaxanthin. They have dark spots scattered on their bodies, mostly on the fins and the back, and have large caudal fins that assist them in swimming and jumping, especially when returning to freshwater. The largest salmons are the Chinook or King salmon, which can grow up to 1.5 meters long and can weigh up to 125 pounds.
Tuna Vs. Salmon: Nutrients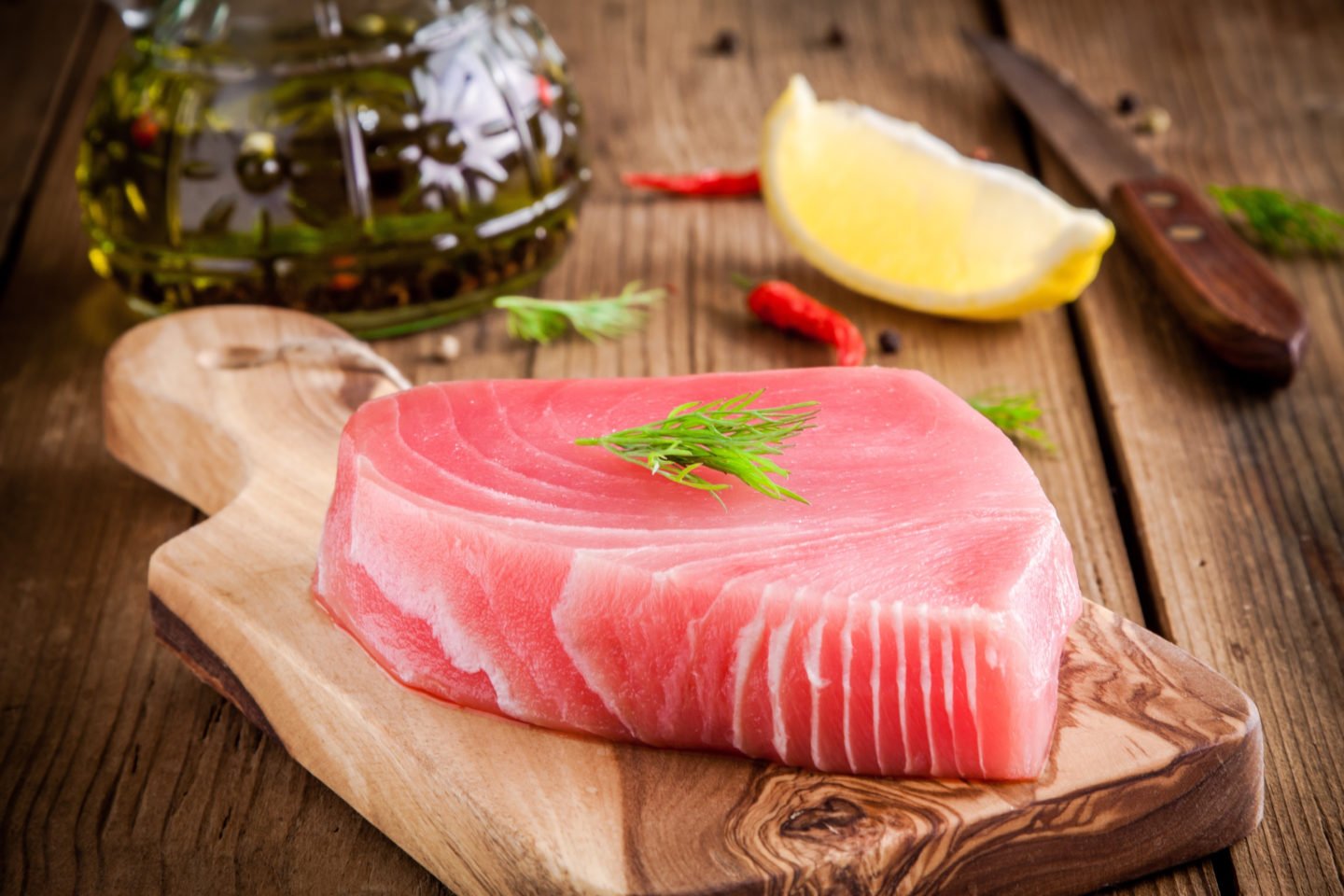 Eating fish and other seafood brings in a lot of health benefits. For example, salmons are considered healthier due to their high contents of omega-3 fatty acids for nutrients. Farmed Atlantic salmon has 2,130 mg of omega-3 fatty acid per ounce, compared to 91 mg in 3 ounces of yellowfin tuna.
Salmon also contains a large amount of vitamin D, which protects older persons from osteoporosis, and decreases inflammation and immunological function. Compared to 59 IU in yellowfin tuna, a 3-ounce portion of farmed Atlantic salmon has 375 IU or over half of the recommended daily requirement. Salmon also has more vitamin B12.
On the other hand, Tuna is high in niacin, which helps maintain the health of the digestive system, brain system, and skin. Tuna also has 140 percent of the daily recommended amount of selenium, a potent antioxidant crucial for thyroid function, DNA formation, and reproduction.
If you're looking for protein-rich fish meat with low calories and fat content, tuna may be your choice. Tuna has lower cholesterol levels, too. Moreover, if you're on a budget, tuna works well in every dish and is easily accessible as there are canned tunas available in grocery stores.
Tuna vs. Salmon: Taste
Tuna has a variety of flavors depending on the species and the cooking method. However, you can observe certain common qualities in all of its forms. When raw or packed in oil, tuna is meaty and thick, with a creamy smooth quality.
Fresh tuna has a sweet and somehow salty flavor; when preserved, it may have a strong fishy taste, but the richness and creaminess return when paired with mayonnaise, cream, or cheese. However, if you wish to enjoy a more buttery flavor, you should choose a fatter tuna.
On the other hand, since salmon has more fat content, its meat is softer, more delicate, and creamier than tuna. However, raw salmon is an oily fish and produces a strong, fishy taste and flavor. Even when cooked, salmon's meat is softer than tuna and flakes off easily. Canned salmon also tastes the same.
Since both fish have colored meat, you can expect an umami-rich taste to other fish with white meat. However, if you wish for a lighter fishy taste, tuna should be your choice. But if you want a more tender, delicate meat for sashimi, sushi, or nigiri, salmon works better.
Tuna vs. Salmon: Price and Availability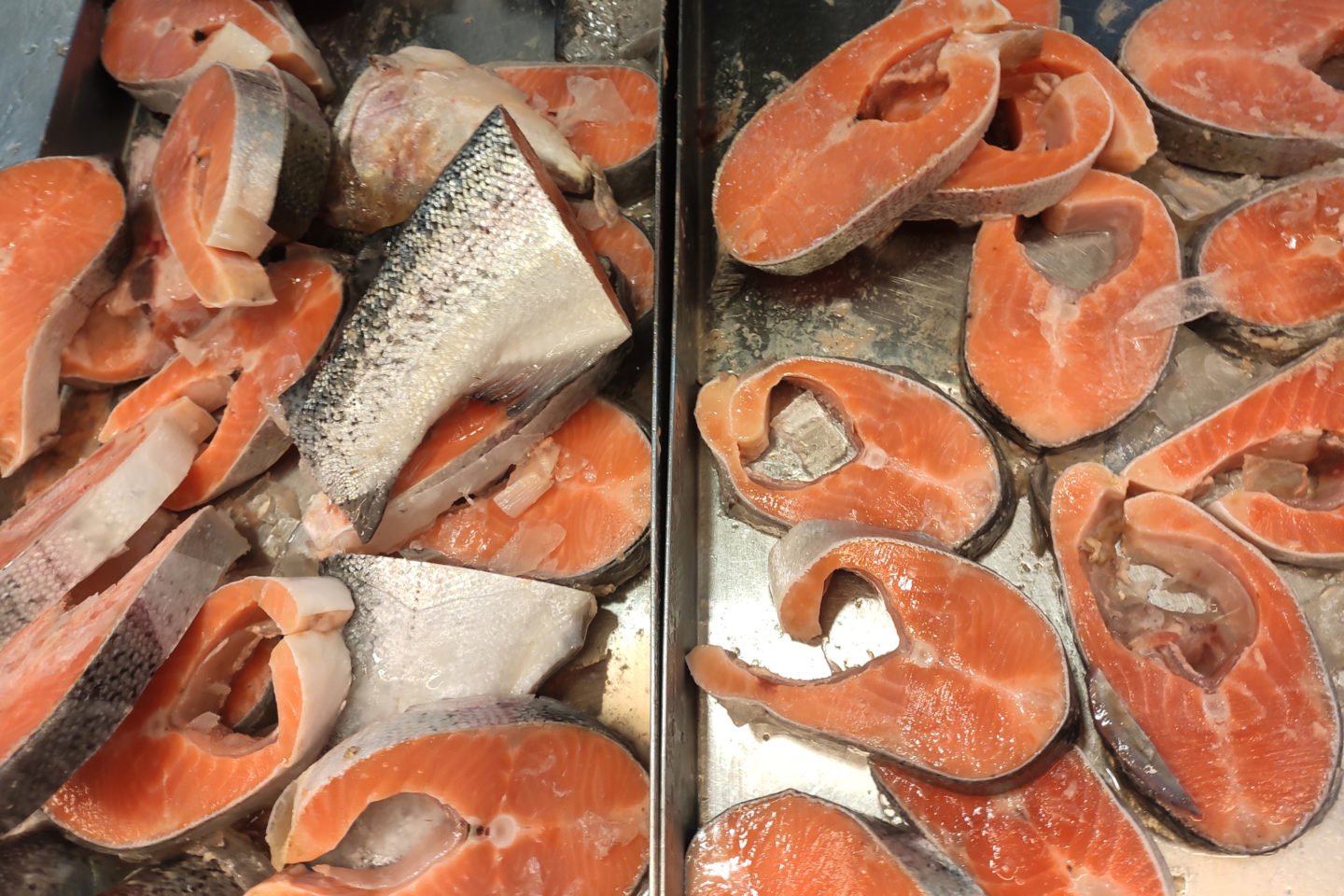 While both tuna and salmon are readily available in markets, salmon is considered a delicacy and is more expensive than tuna. However, bluefin tuna is considered an endangered species and is more costly than other types of tuna, priced at $40 to $200, depending on the source.
When it comes to pricing tuna, there's one basic rule: the larger the fish, the higher the price. So, for example, a 1000-pound tuna can be priced at $10-15, while smaller fish are often available at $2 per pound.
Tuna vs. Salmon: Cuisines
Salmon is best cooked as is, as in pan-seared, baked with herbs, and roasted. However, since salmon provides a stronger flavor, it works well as an addition to pasta, salads, and any egg dishes. You can also use salmon as a meat alternative for fish tacos.
On the other hand, tuna is the most common fish used in sushi. Any type of tuna meat works well with sushi, as it has denser meat with a milder taste. Tuna also works well when roasted or grilled or as an addition to stir-fries.
Related Questions
Why is salmon better than tuna?
Salmon contains higher Omega 3 fatty acids, which help protect the heart and prevent heart disease. It also has more vitamin D and B12.
Is salmon safer than tuna mercury?
Yes. Unfortunately, tunas belong to the list of fishes with the highest mercury content. On the other hand, salmons are considered safer as they contain lesser mercury levels.
Is canned tuna healthy?
Yes. Canned tuna contains high protein and vitamin levels. Just watch out for manufacturers that put a lot of preservatives and sodium in these canned fish products.