Table of Contents
The cheese soufflé is an egg-based baked dish originating from France. It's a delicious, soft, light and fluffy appetizer that's fun to eat, served in little ramekins.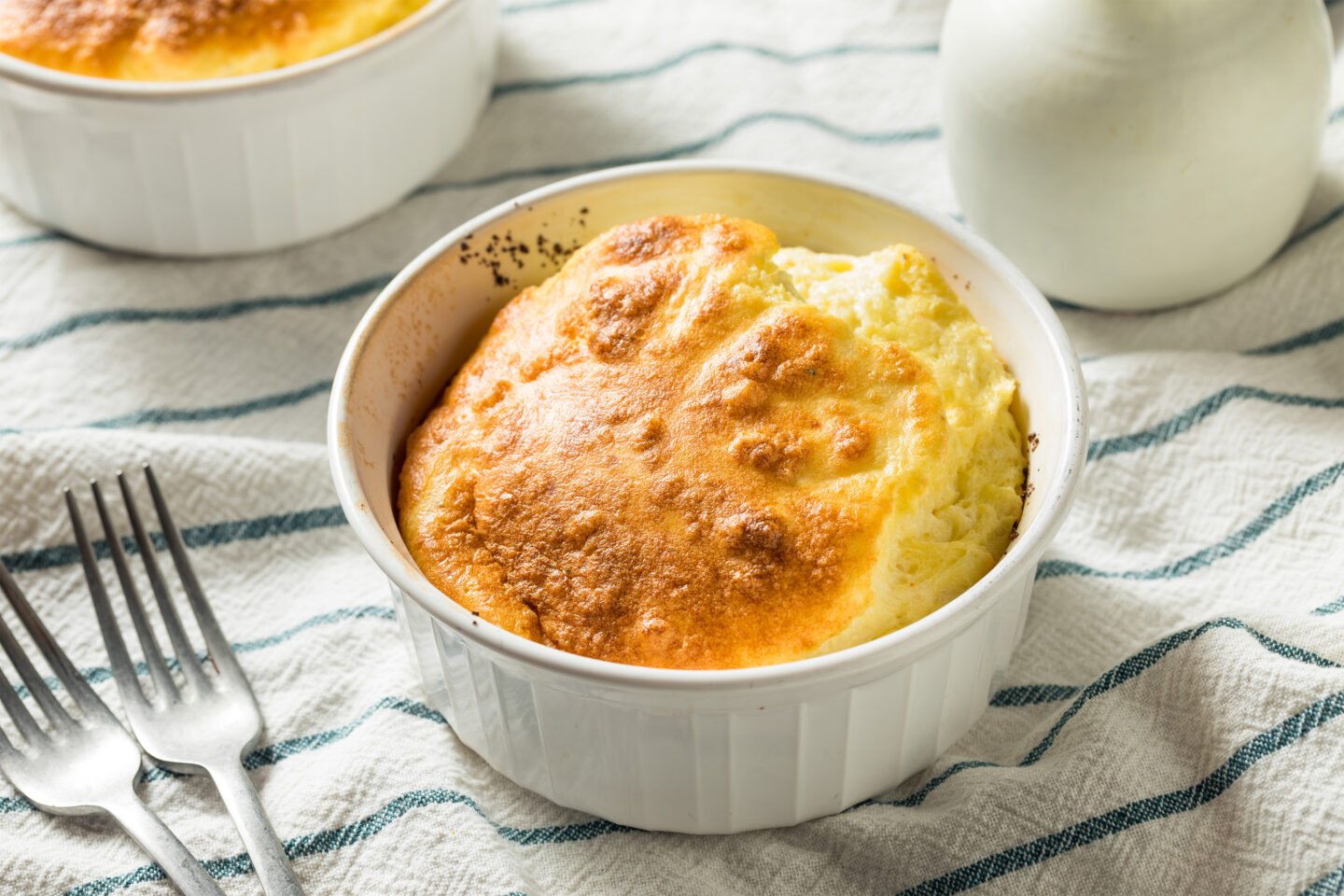 Unlike many baking recipes that include a raising agent like baking powder or yeast, the soufflé doesn't use any of this. Instead, they rely on whipped egg whites to rise.
Soufflés are an excellent entree choice for those who have experience cooking them or if you follow recipes closely without messing with them too much. They have a reputation for being a difficult dish to cook – usually the problem is they don't rise. However, if you follow the recipe closely then it's actually quite a simple recipe that your guests will really appreciate.
Feeling a strong French vibe? Consider a themed dinner which incorporates escargot and Acras de Morue.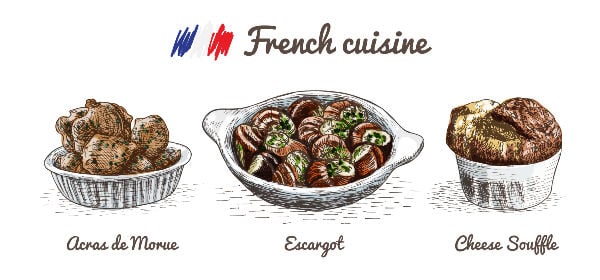 The secret to a successful soufflé is adding grated cheese to the top before cooking. This acts as a barrier to stop the steam escaping and results in the soufflé rising up as it cooks.
Although you may be tempted, do not open the oven door during cooking. They'll go flat which is the sign of a failed soufflé. You don't want that.
This recipe is part of our Christmas Guide which is full of useful tips and resources to make hosting dinner on Christmas Day a success.
Recipe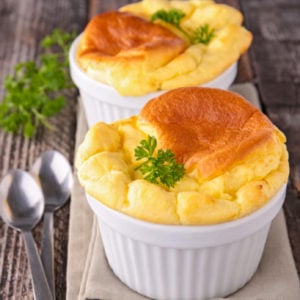 Cheese Souffle
Enjoy these deliciously soft, light, and fluffy appetizers served in little ramekins. This cheese soufflé recipe doesn't use a raising agent like baking powder or yeast. Instead, it relies on whipped egg whites to rise.
Ingredients
½

cup

butter

chopped

½

cup

all purpose flour

plus extra for coating the ramekins

2

cups

whole milk

1

cup

grated parmesan

or cotija cheese plus extra for topping

4

large

eggs

separated at room temperature

salt and pepper to taste
Instructions
Preheat oven to 400°F. Grease four ramekins and place on a baking tray. Pop in the fridge to allow the butter to set.

To make a béchamel sauce, place a saucepan over medium heat and add butter. Heat until melted.

Add flour and stir constantly until bubbling (about 1-2 minutes) then remove from heat.

Add milk and whisk until smooth. Continue heating on a medium-low heat until the mixture starts to boil. Continue cooking for 1 minute then scoop into a large bowl and set aside to cool.

Beat egg whites in a large bowl with an electric mixer until soft peaks form then set aside.

Add cheese and egg yolks to the béchamel sauce and whisk until combined then season with salt and pepper.

Gently fold egg whites into the yolk mixture, one third at a time.

Remove ramekins from the fridge and grease them a second time with butter. Lightly coat the inside of each ramekin with flour.

Spoon the egg mixture into ramekins so that they are ¾ full. Then sprinkle with extra cheese. Bake for 20-30 minutes or until golden brown. Serve immediately.
Notes
Quick Note: If you're a lover of cheese then you probably serve cheese platters for nibbles or after dinner is complete. Have you considered using a cheese slicer? They provide uniform, neat slices of cheese but they're not all built equal. Be sure to check out our research on cheese slicers to ensure you don't waste your money on a utensil that doesn't work.
Watch a recipe on mastering the souffle
6 Tips for Making a Soufflé
A soufflé dish isn't essential equipment for this recipe. Any small ramekin or bowl that's a one serve sizing will work fine. Mugs work well too.
If you're short on time, purchase pre-made béchamel sauce from the supermarket.
For added depth of flavor, add additional seasoning to the béchamel sauce when the yolks and cheese are whisked in. Popular additions include additional types of grated cheese, chives, parsley, cilantro, cumin, paprika or turmeric.
Ensure that your mixer bowl is completely clean before whisking egg whites. Any fat from egg yolks or grease still lined on the bowl will stop the whites from turning light and airy.
Add a squeeze of lemon to the egg whites before beating them to improve the structure.
Time the cooking of your soufflés to perfection. They need to be served immediately before going flat. There is usually a timeframe of 5 minutes before they flatten.
Related reading:
What can I use leftover béchamel sauce for?
If you're interested in making your own cheddar cheese then check out our illustrated guide which shows you step-by-step how to make your own cheese wheels at home.