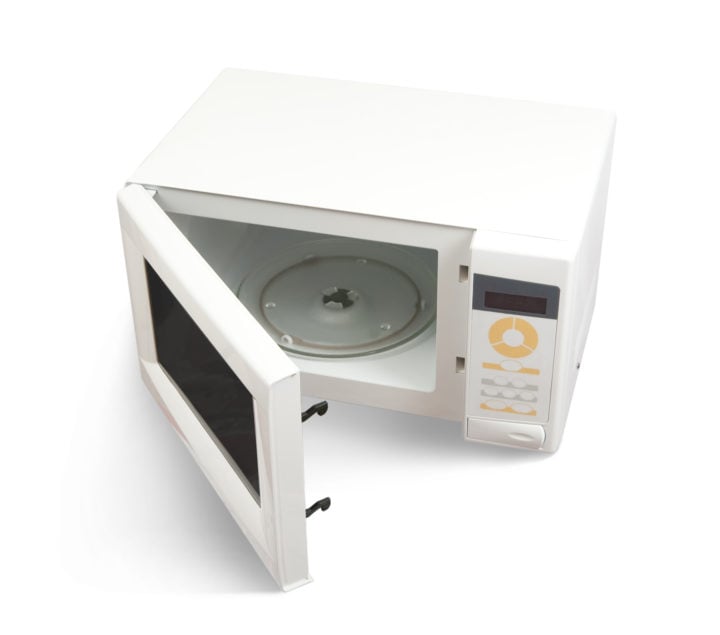 Since the 1960s, microwaves have been a staple in every home kitchen. The reason is simple since they're fast, effective, and easy to use for a wide range of dishes. These days, they're coming in an even wider variety of shapes and sizes, letting you customize your kitchen even more.
Mini microwaves have all the great features of full-sized models and shrunk them down to a more convenient size. This lets you save space in the kitchen without sacrificing any of the features you love. However, finding the right option may take some effort with so many options available.
Below, we've compiled a comprehensive list of the six best mini microwaves this year. Considering size, power, interface, and features, we've made sure to choose only the best available for your home. Take a look at this selection of the smallest countertop microwave ovens around.
Table of Contents
Best Overall: Commercial Chef Countertop Small Microwave Oven
SAVE 19%
Commercial Chef 9.5-Inch Countertop Small Microwave Oven
This mini microwave makes our top pick because of how easy it is to set power levels and cook times with the twin dials.
Pros: Easy to switch power levels, 0.6 cu ft interior, 600 watts
Cons: Not as many pre-programmed settings
The trick to getting the best mini microwave is going as small as possible without sacrificing must-have features. Of course, the balance is a little different for everyone, so it pays to start with a good understanding of what you need. The Commercial Chef countertop small microwave oven offers a compact design with easy-to-program settings.
The best thing about this microwave is its simple controls, consisting of just two dials on the front. These let you adjust the time and power level simply by turning. It's a refreshing change of pace from digital interfaces that force you to cycle through a long list of menu options.
There are six power levels in total, letting you quick heat frozen dinners or melt butter. The timer is easy to adjust all the way up to 30 minutes.
Compared to other small microwave ovens, this one is a nice compact size. This gives it 0.6 cu ft of cooking space to work with, which is enough for most two-person servings of food. In addition, the 9.5-inch turntable fits snugly inside and can be removed for easy cleaning and even put in the dishwasher.
This is the ideal tiny microwave for those seeing a simple home appliance with quality construction. If you're the type who has gotten frustrated with complex microwave menus and settings, you'll want to check this one out. Just keep in mind that it doesn't have all the features of some other high-end models.
Best High-Tech: TOSHIBA ML-EM34P(SS) Smart Countertop Microwave
TOSHIBA ML-EM34P(SS) Smart Countertop Microwave Works With Alexa & Remote Control
The voice control feature on this tiny microwave really sets it apart from the competition.
Pros: Voice control, 23 preset recipes, 10 power settings, convection function can either heat to a specific temperature or cook for a specific length of time
Cons: Maybe too complex for some, needs Echo Dot to take advantage of all features
If you haven't bought a new microwave for a few years, you might be surprised at how much they've advanced. It's hard not to be tempted with newer models equipped with a range of new features like voice control and child locks. The TOSHIBA Smart Countertop Microwave works with Alexa and works via remote control. It is one of the latest options, offering a simple design loaded with helpful features.
This microwave offers a number of impressive features, but the Echo Dot voice control is our favorite. This allows you to set the cooking time and power level without lifting a finger, making it even easier to cook dinner. It also knows a number of presets like "popcorn," "defrost," and "coffee reheat."
Best of all, this microwave's library of presets is constantly growing, alongside Alexa technology. In the coming years, you can expect more options to choose from, adding further convenience.
It also offers a built-in child safety lock, ten power settings, and 23 default presets, which can be selected with the push of a button. Plus, it has smart technology that can sense heat and humidity, so it can cook or reheat your food to perfection.
If you're looking for a new kitchen gadget to add to your collection, you'll love this microwave. However, unless you're willing to take a bit of time to learn all of its features, it might be a bit more frustrating at first. If you want a small microwave with a more simple operation, try one with dials.
Best Budget: Black+Decker EM720CB7 Digital Microwave Oven
SAVE 10%
If you're looking to outfit a dorm room or camper or just want to save a few extra dollars, a budget microwave is a great option. However, it's important to ensure you're getting a quality option that will last for years. The Black+Decker EM720CB7 digital microwave oven is just that, featuring solid construction for a low price.
This microwave is 17 x 10 x 13 inches and offers .7 cu ft of interior space. While it may not be the smallest countertop microwave on this list, it's a great size to fit in even the most cramped kitchens. The interior dimensions are a good mid-range, leaving plenty of room.
If you need a bit of extra space for larger meals, you can upgrade to a .9 cu ft interior for just a few extra dollars. Both sizes come with a one-year limited warranty, which is a testament to the manufacturer's commitment to quality.
When it comes to added convenience, the selection of pre-programmed settings is designed to save you time. Pizza, popcorn, potato, frozen vegetables, and more are all available at the push of a button. They are easy to select with the front button panel and digital interface.
Try this tiny microwave if you want to save on cost without sacrificing quality. Just don't forget that it might not have all the features of some high-end models. For those, you'll have to spend a bit extra.
Best Design: Galanz Retro Microwave Oven
SAVE 31%
If you're looking for an easy way to add a bit of extra flair to your kitchen, a mini microwave is a good place to start. With a range of different styles to choose from, you can get the exact look you're going for. The Galanz retro microwave oven brings a unique and timeless style all its own.
Each of the five different styles comes in its own color, offering a unique look to your kitchen. Each offers a simple digital time display and push-button interface to easily cycle between menu options. The door features a wide, rounded window that lets you monitor your food as it cooks.
In addition to the five menu buttons, there is also a quickstart option located beneath. This is great to have handy when heating up morning coffee, leftovers, or anything else.
The microwave draws 700 watts of power, meaning it heats quickly. It offers six variable heat options, which lets you heat up even delicate foods like ice cream or butter. The 360-degree turntable ensures anything that goes in comes out cooked evenly without burning.
Choose this microwave if you find yourself falling in love with any of the five retro styles. Beyond their look, they're still quality appliances, though they do lack some of the more advanced features of other options. If you're looking for something more advanced, try a higher-end option.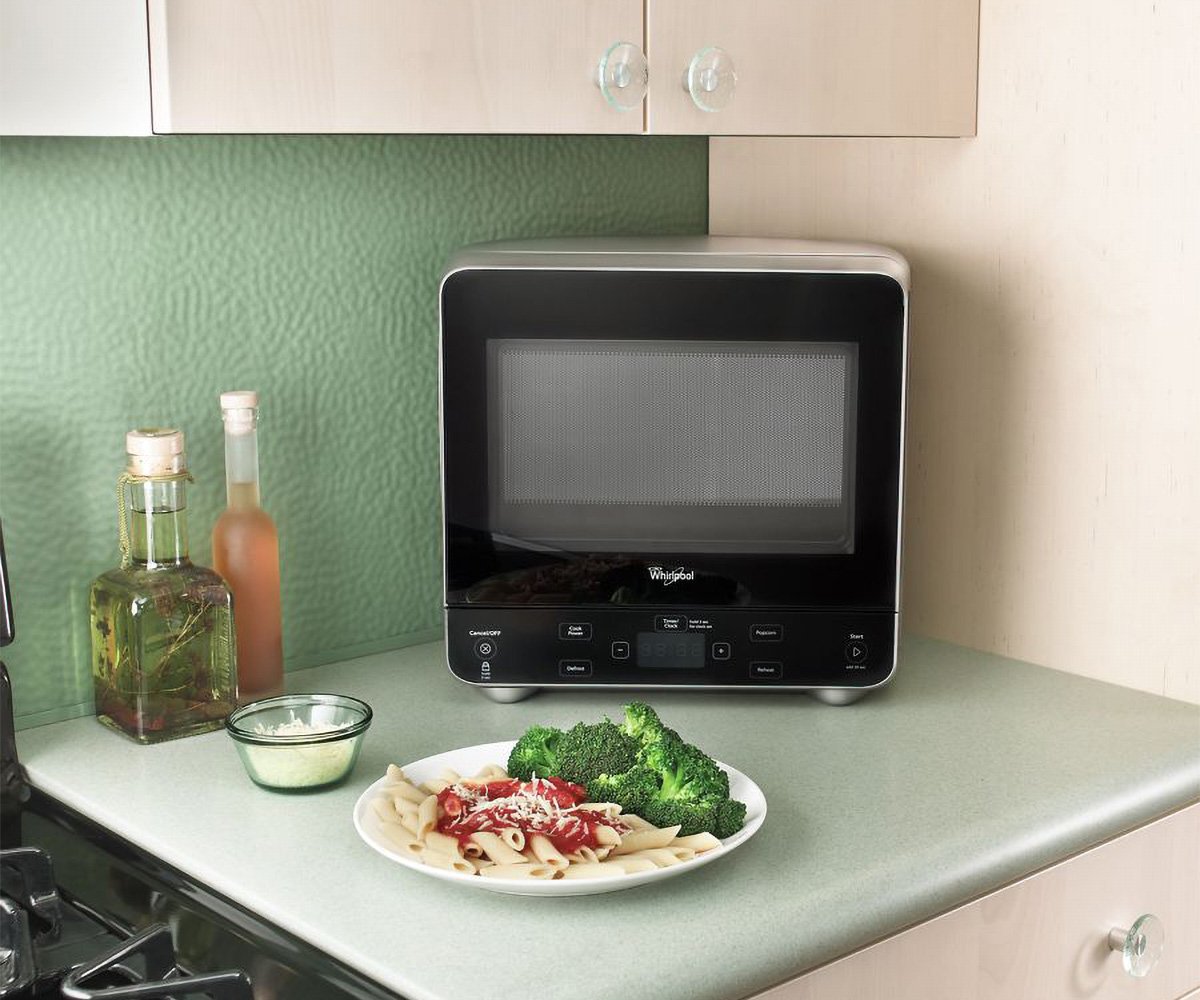 Even with its small size, this mini microwave oven is still 750 watts, making it just as powerful as full-sized options.
Pros: Very compact, 750 watts, variable cooking power
Cons: Less cooking space, a bit more expensive
If you're cooking in a compact kitchen or dorm room or just want to save a bit of extra space, a mini microwave is the best choice. While most tiny microwave ovens are around 16 inches wide, some come even smaller. The Whirlpool silver countertop microwave oven is the smallest on this list, at less than 14 inches wide.
With its reduced footprint, this microwave easily fits in small nooks and corners that other appliances wouldn't. Though even at its small size, it still offers a 0.5 cubic foot interior, which is enough to fit a dinner plate. It's also a bit taller, letting you fit in full-size glasses and bowls.
While it doesn't have some advanced features, it has everything most people use on a regular basis. Variable power, simple timer controls, and even a convenient 'add 30' button. It also has popcorn, redhead, and defrost presets with a dedicated button for each.
It's true that this microwave comes with a slightly higher price tag than other models. However, since Whirlpool is such an established name in kitchen appliances, you can be confident in its quality. Overall, users have found it to be a reliable, quality machine.
This is the ideal microwave for those working in cramped conditions. However, size aside, it's a powerful and functional microwave that comes with all of the features you'd expect.
Best Versatility: Panasonic NN-SD372S Microwave Oven
There may be no more versatile kitchen appliance than microwaves. Able to reheat leftovers in a flash, boil water, or even make delicious mug cakes, there seems to be no limit to their utility. The Panasonic NN-SD372S microwave oven is one of the most versatile available, with an impressive array of presets and other features.
One standout feature is the Turbo Defrost, which uses patented inverter technology to evenly thaw food without burning. This not only results in more quality food but also speeds up the process. It's just one of the ways it takes advantage of its 850-watt heating element.
The genius sensor is another high-end feature, which automatically calculates power and cook times for different foods. It's a handy feature to have on hand, especially for those who often find themselves cooking a variety of foods. There's also a keep warm feature, which heats at an even, low temperature to avoid burning or overcooking.
All of these features and more are squeezed into a compact package that can fit on any countertop. So, while it might not be the smallest microwave oven on our list, it's definitely a great space saver.
Give this mini microwave oven a try if you love to have a wide selection of cooking features at your fingertips. However, if you're intimidated by complicated kitchen gadgets or just want a more simple option, look elsewhere. There are more paired-down options that can save you money and stress.
Mini Microwave Buying Guide
Microwaves may seem like simple kitchen appliances, but the truth is that there's more to them than meets the eye. Whether you're looking for a simple kitchen multitasker or something more complex, there is a range of options. So, make sure to keep all these criteria in mind when making your choice.
Size and Interior Space
When choosing a mini microwave, it's best to strike a balance between small size and functionality. Generally, around 16 inches wide could be considered mini, with the smallest microwave oven can be as small as 14 inches.
Interior space ranges between 0.5 and 1 cu ft, though anything smaller may not be practical.
Power
A microwave's power is measured in watts, which can usually be found in the product description. Wattage can give you a good idea of how quickly a microwave cooks food. Usually, around 700 watts is a good target for a mini microwave.
Presets
Presets are a good way to save time when heating coffee, frozen foods, leftovers, or just about anything else. A quality microwave should have at least a few helpful options for you to use on a regular basis. So, take care to find one with presets you'll use regularly.
Interface and Display
With all the presets, power settings, and other options available, a microwave should have a simple interface to help navigate them. More buttons can be good to access different settings easily, but too many can be complicated and look cluttered. If you don't see yourself using any advanced features, a more paired-down interface could be a better choice.
High-Tech Features
In addition to all the features mentioned above, microwaves are constantly incorporating new technologies into their design. Voice controls, downloadable presets, and child safety locks are all becoming more mainstream. Make sure to take a close look at the more recent models to stay on top of newly available features.
FAQs
You'd be surprised at how much utility you can get out of the best mini microwave. All it takes is a bit of knowledge, and soon you'll be making the most of these versatile appliances.
What shouldn't be put in the microwave?
Microwaves are simple and versatile kitchen appliances, though there are a few items that should never be put inside them. First, metal, thin plastic or paper, and styrofoam can all either melt, burn or spark. Generally, only microwave-safe bowls and cups are the only objects that are safe to microwave along with your food.

In addition to packaging, take note of several foods that should stay out of the microwave. For example, grapes can catch on fire, while hot peppers can release a stinging gas. Also, deep containers of liquid can bubble up and make a mess.
How do microwaves work?
Simply put, microwaves use a kitchen-safe form of radiation to excite the water molecules in food. These molecules vibrate, causing friction, which creates heat. This is why dry foods like crackers don't microwave effectively, as they don't contain enough water molecules.
Are microwaves safe?
While the word 'radiation' may be a red flag for some home cooks, the fact is that they are safe appliances. Microwaves don't add anything to food but simply use focused energy to heat the particles already there.