If you're looking at air purifiers for small rooms, one machine you'll see recommended time and again is the Honeywell HPA100. This is for a good reason. Below, we'll take a look at everything this air purifier has to offer. We'll break down all of its features, look at how it compares to other air purifiers, and, most importantly, help you determine whether or not it's the right choice for your home.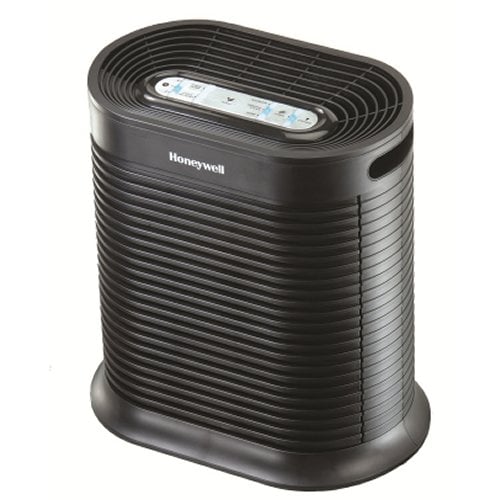 There are quite a few features on offer, but here's the main thing you need to know about the Honeywell HPA100; you're unlikely to find a better small room air purifier for such a low price. It's a fantastic budget option that, despite costing so little, sacrifices nothing in terms of performance.
It's ideal for smaller spaces measuring up to 155 square feet, has a HEPA filter that captures even the smallest airborne particles, and has four cleaning settings that give you more control over both your energy usage, and your air quality.
Table of Contents
What's So Good About The Honeywell HPA100 Air Purifier?
Perhaps the most impressive thing about the Honeywell 100 Air Purifier is the brand itself. Honeywell is the number one recommended air purifier brand by allergists. The HPA100, along with so many other Honeywell models, is tested and verified for their effectiveness by the US EPA's Energystar program. So, whether you're allergic to dust particles or you suffer from seasonal allergies, you know that you'll be getting an air purifier that experts have deemed effective.
But what can the Honeywell HPA100 actually do in terms of purifying the air in your home? Below, we'll take a look at the three most important features this air purifier has to offer.
Important Feature #1: Filtration Process
The Honeywell HPA100 uses a two-stage filtration system to capture up to 99.97% of airborne particles as small as 0.3 microns and stop them from floating around the air in your home.
The first stage of the filtration process is a carbon pre-filter. This catches larger particles, such as dust and animal dander, reduces VOCs (Volatile Organic Compounds), and eliminates any odors in the air.
Once the air has been passed through the pre-filter, it comes into contact with the HEPA filter. It's here that the smaller particles are captured. This includes such things as viruses, allergens, pollen, bacteria, smoke and mold spores.
Once the air has been cleaned and the particles are safely trapped within the air purifier, it is released back into the room through the top of the unit.
It also features 4 different air-cleaning modes; Allergen, General Clean, Germ, and Turbo. This means you're able to adjust the cleaning power in a way that best suits your needs. For example, in the summer when the pollen count is higher, you can select "Allergen" mode. Or, during the winter when there's a higher chance of catching the flu, set it to "Germ'.
The HEPA filter is designed to last for up to 12 months, so there's no need to worry about replacing it too regularly. The charcoal pre-filter has a short lifespan of three months, but it can be washed to clear away any larger particles it's captured.
You don't have to worry about the filter accidentally going past its lifespan either, as the filter indicator light will illuminate when it's time to change it.
Important Feature #2: High ACH (Air Exchange Rate)
The second important feature that the Honeywell HPA100 has to offer is a high Air Exchange Rate (ACH). When placed in a room measuring up to 155 square feet, it will circulate all of the air within the space five times every hour. That's 120 times every day.
It is worth noting, however, that if you were to put it into a larger room, the Air Exchange Rate will be less, and, ultimately, it would be a less effective air purifier. So, if you're looking for an air purifier that can cover a larger room, the Honeywell HPA100 isn't the best choice.
Important Feature #3: Auto-Off Timer
The Honeywell HPA100 also features an auto-off timer. This allows you to keep the air purifier running for a set amount of time (2, 4, or 8 hours), after which it will automatically turn itself off.
This is ideal if you want to keep running it while you fall asleep, as you won't have to worry about getting up in the middle of the night to switch it off again. It's also very useful for monitoring your power consumption as it reduces the chances of accidentally leaving it running all day when you're away from home.
Can Do/Can't Do
So, we know what the Honeywell HPA100 is capable of. But, while its features are undoubtedly impressive, there are some things that it can't do compared to other air purifiers.
To begin with, it has a smaller coverage than its more advanced siblings. The Honeywell HPA200 and the HPA300 can cover up to 310 square feet and 465 square feet respectively. So, if you've got a larger room or an open-plan space, these would be the better choice.
Its 2-stage filtration process and 4 cleaning levels mean that it's one of the best air purifiers for creating a personalized clean. There is, of course, a General Clean function which is ideal when you're wanting to keep the air as clean as possible at all times. But it's Allergen, Germ, and Turbo modes are pretty unique and are almost essential for anybody that suffers badly from seasonal allergies.
But, despite this undeniable cleaning power, it cannot oscillate. This means that you're not able to direct the airflow across the room for a more efficient distribution. Instead, the clean air is pumped out of the top of the machine from a stationary position.
How do You Use It?
Setting up the Honeywell HPA100 Air Purifier couldn't be easier, and it's pretty much ready to go straight out of the box. All you need to do is install the filter (using the clear instructions included in the manual), plug it into a standard electrical outlet, and you're good to go.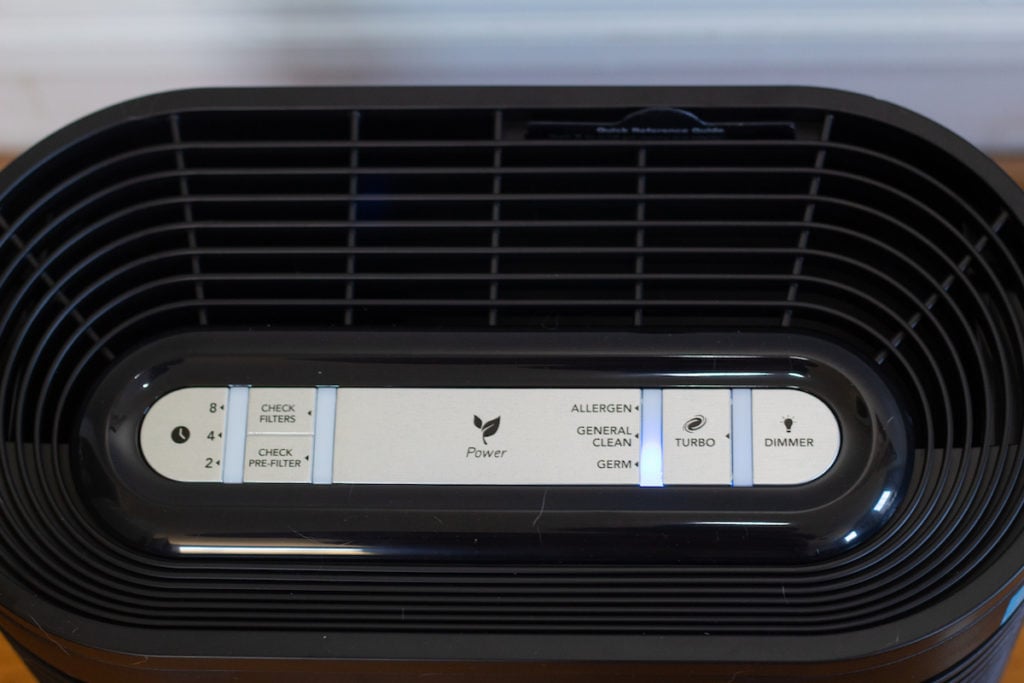 Choosing your settings and switching between different modes is a simple case of using the clearly labeled buttons located conveniently on top of the air purifier.
Unfortunately, it doesn't come with a remote control and it isn't Wi-Fi compatible. These two things aside, however, the HPA100 Air Purifier is extremely user-friendly and there isn't any confusion over what each button on the control panel does.
What do the Reviews Say?
There are over 11,000 reviews for the Honeywell HPA100, and the vast majority of them are positive. People have commented on how quickly they noticed an improvement in the air quality within their homes which led to allergies clearing up faster than they could have imagined.
There are a couple of negative comments about how simple it is as an air purifier. But, while it's true that it doesn't offer all of the more advanced features some other air purifiers do (such as an auto-sensor or Wi-Fi compatibility), it's the simplicity of the design that makes it so user-friendly.
How does it Compare?
Here's how the HPA100 stacks up against some of Honeywell's other popular models.
There isn't a great amount of difference between the Honeywell HPA100 and the Honeywell HPA200, apart from the amount of space it can cover. If you've got a medium-sized room, the HPA200 would be better as it has a coverage of 310 square feet. That's more than double what the HPA100 can offer.
Aside from that, there really isn't any difference at all. They both have a 2-stage filtration process with a washable carbon filter and a HEPA filter. They both also have an automatic shut-off timer and a high air exchange rate.
Does the upgraded version of these two have anything more to offer? Well, again, the main difference here is that the Honeywell HPA300 can cover an even wider space, offering clean air in a room measuring up to 465 square feet. This makes it the best choice for larger rooms.
Surprisingly, although it is more expensive than both the HPA100 and the HPA200, it only has 3 fan speeds.
It is only available to purchase in black too, whereas both the HPA100 and the HPA200 offer you a choice of black or white. But, if you can get past this small fact, you'll be getting a highly efficient air purifier that can cover a large room with ease.
As you can see, there really isn't very much rivalry between the HPA100, HPA200, and HPA300. But, the Honeywell AirGenius 4 changes the game here.
To begin with, it has a permanent filter so you don't ever have to worry about replacing it. When the filter indicator light comes on, you can simply slide it out of the air purifier, wash it or vacuum it, and put it straight back in. This isn't only much more convenient but saves you a lot of money in the long run as you won't have to purchase replacement filters.
It also oscillates, so you're able to aim the clean air directly at yourself while you're sitting down, or help it move more efficiently throughout your home. It's also incredibly quiet which, along with the auto shut-off function, makes it a great choice for bedrooms.
One downside, however, is that it can only cover a space measuring up to 150 square feet. This is slightly less than the HPA100 and means it is really only suitable for smaller rooms.
How often do I need to replace the filter?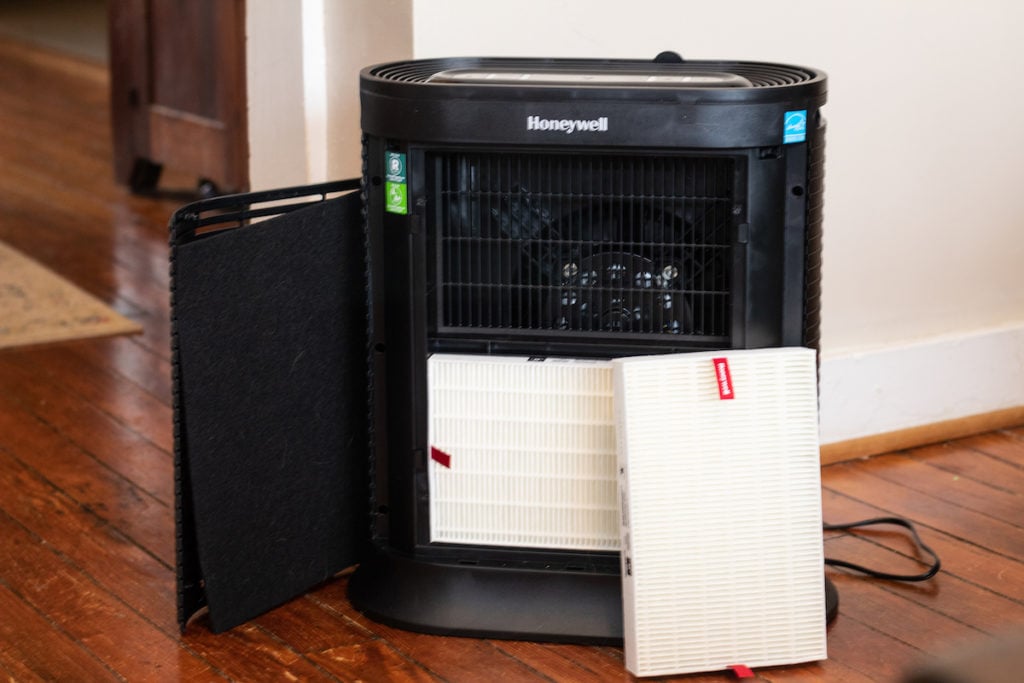 The carbon filter in a Honeywell HPA100 will need to be replaced about every 3 months, although it can be washed to remove trapped odors and larger particles. The lifespan of the HEPA filter will ultimately depend on how regularly you use the air purifier. Expect to replace the HEPA filter after 12 months for frequent use, and up to three years if used periodically.
Does a Honeywell HPA100 air purifier come with a warranty?
Yes, it does! A Honeywell HPA100 air purifier comes with a generous 5-year warranty. This covers a replacement for the entire unit in the unlikely event of something going wrong with it. You need to make sure you fill out the warranty card that comes with it, though. Otherwise, if you do find a defect the warranty may be void.
Does the Honeywell HPA100 air purifier produce ozone?
No, it doesn't. Like all air purifiers that use HEPA filters, the Honeywell HPA100 produces absolutely no ozone when it's running and this is confirmed by the EPAs Energystar tests. If an air purifier has a permanent filter, such as the Honeywell AirGenius 4, a little ozone will be produced when it's in operation.
Verdict
Overall, the Honeywell HPA100 is a fantastic air purifier if you're looking for something that does what it claims to over a small space. The HEPA filter and the charcoal filter work together to capture airborne particles and remove odors from the air in your home.
There's no denying that it's a simple air purifier, though. It doesn't have an automatic sensor, Wi-Fi compatibility, or any of the other bells and whistles that more advanced air purifiers come with. Yet, despite this, it does an incredible job.
The simplicity of it shouldn't necessarily be viewed as a bad thing, either. If you, or somebody in your family, is particularly technophobic, they will likely enjoy the fact that it's easy to use. It's also very reasonably priced when compared to similar air purifiers, which also makes it a great budget option.