If you're suffering from an increase in allergy symptoms or your asthma is going haywire, an air purifier in your home is crucial. It's not going to magically treat your allergies or asthma, but it will help to eliminate any irritating factors in your home environment. The last thing your nose, lungs, eyes, and overall wellbeing need is a fresh gust of dust, dander, or mold to come a-calling.
Luckily, you don't need to sell an organ to get a really decent air purifier to help with your allergies. All you really need is a true-HEPA filter, a strong fan system, and the appropriate area coverage. But we will get deeper into this below!
Read on to find out what kind of air purifier you need to help with asthma and allergies and the best models on the market right now.
Table of Contents
What Makes an Air Purifier Good at Easing Allergies or Asthma Specifically?
Air purifiers deal with airborne particles, as opposed to the ones settled in your carpets and upholstery. Particles like pollen, mold spores, and dander can be catastrophic for allergy sufferers, and unfortunately, they like to hang out in mid-air.
Air purifiers suck air in, pass it through filters where tiny particles are caught and kept, then clean air is released back into the room. If the filters are good (i.e., true-HEPA) and can catch even the tiniest of particles, then nasty allergens are kept well away from you and your lungs.
Many people experience bad asthma and allergy symptoms during the night, causing them to wake with a tight chest and itchy eyes. Air purifiers can make a huge difference in sleep quality by heavily reducing the number of allergy triggers in the room.
Next, we get into what exactly to look for on the spec sheet for an air purifier, especially for asthma and allergies.
What are the Key Features to Look for?
True-HEPA filtration: this is really important for dealing with asthma and allergies. Some of the smallest particles can be the most triggering ones, so you need a filter that can catch as many particles of as many sizes as possible. Luckily, there are some wonderful models with super-affordable price tags that feature true-HEPA filters. The smallest particles are smoke, viruses, and bacteria. They aren't going to directly trigger your allergies, but you certainly don't want them hanging around to exacerbate your symptoms.
Fan speeds: the higher the fan speed, the quicker the air is circulated through the air purifier, and the faster you get a fresh and healthy room. The lower the fan speed, the quieter the machine. Therefore, different fan choices are super handy as you can adjust them according to how contaminated the air is or how much quiet you need (i.e., at bedtime).
Smart sensor and auto modes: air purifiers with smart sensors basically monitor the quality of the air and use colored LED lights to show you how good or bad the air is. This means you can either manually adjust the fan speeds yourself or utilize the "auto" mode if it has one. Auto modes adjust the fan speed automatically according to how contaminated the air is, leaving you to go about your day.
CADR ratings: each purifier will (or should) have a set of CADR ratings as well as a recommended room size. All you need to remember is the higher the CADR rating, the more effective the air purifier is. As for the recommended room size, make sure you're taking note of the room you want to purify and choose a model with a matching recommended room size. (For example, I need an air purifier for my 200 square foot living room, so I'll choose a model with a recommended room area of at least 200 square feet).
Quiet: if you need an air purifier to help you sleep at night with fewer allergy symptoms, a quiet machine is best. Choose one with a "sleep" mode or at least a low fan speed.
Best by Allergy Type
Best Air Purifiers for Pollen
Some people are lucky enough to be unfamiliar with the nightmare pollen can cause on the eyes, nose, lungs, skin, and sinuses. But for those who are well acquainted, pollen is the enemy. Pollen particles are pretty big in terms of allergens. They're usually no smaller than 10 microns (tobacco smoke is generally below 1 micron, for comparison). This means need an air purifier with a decent pre-filter and a true-HEPA filter. The pre-filter will catch the larger particles (pollen), which will keep the HEPA filter cleaner for longer. The true-HEPA filter will then catch any other tiny particles contributing to allergy symptoms alongside the dreaded pollen.
Oregon Scientific Air Purifier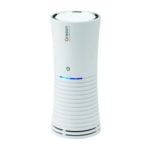 This is a lesser-known model (compared to the Winix's and Honeywell's of the world, that is) with a pretty nice price tag. It's been chosen for this category for its pre-filter and true-HEPA filter, which means that pollen of all sizes is well and truly captured. It also has an activated carbon filter that will take care of any bad smells too. It does have a UV-C light for killing germs, but it can be turned off. It's nice and quiet and comes in a fresh white or a sleek black.
Top features
True-HEPA filter to makes sure no pollen is left uncaught (well, almost)
Pre-filter for catching the larger pollen and allergen particles
Quiet
Optional UV-C light for killing germs, but you can choose not to use it
Affordable
Great for medium-large rooms from 250 to 232 square feet
Okay, so let me explain: It doesn't have a HEPA filter. But it does have three filters, including an activated carbon filter for odors. The filters have been designed to capture 99% of particles as small as 2.5 microns which is more than sufficient for pollen grains as they're generally no smaller than 10 microns. There are many happy customers raving about their relieved allergy symptoms and fresh-smelling homes. This is a good choice if larger allergens like pollen (as well as mold and pet hair) are your main concerns, and you are catering to a large space. The color choices are pretty awesome too, (the pink and yellow are super cool for brighter tastes).
Top features
Great for large rooms up to 600 square feet
Energy star rated
Comes in cool colors
Three-stage filtration including odor-reducing carbon filter
Great for catching pollen particles and other allergens (i.e mold spores and pet hair)
Best Air Purifiers for Mold Allergies
Mold needs to be treated at the source, but in the meantime, mold spores can really tackle the lungs and cause respiratory problems, among other symptoms. Mold spores are generally no smaller than 3 microns and can be as big as 100 microns. This means any true-HEPA filter will be more than capable of catching mold spores. Another thing to consider is odor. Mold has a musty smell that can put a real dampener on the freshness of a room. For this, an activated carbon filter is a great addition to your air purifier as it will help to decrease any unwanted smells.
This model is great for allergy sufferers and asthmatics because it is customizable. You can choose different filters for different needs, but we have honed in on the HEPA-silver filter for this section. The HEPA-silver filter has been designed to catch and destroy mold spores as well as other asthma-triggering germs and particles. The price tag is pretty steep, but you do get a lifetime warranty and a very high-quality air purifier for your money. The room size is pretty huge, catering to really large rooms up to 1100 square feet. You can choose from some really great color options, including wood textures and modern pink.
Top features:
HEPA-silver filter for catching mold spores and other allergens
Great for huge rooms and open spaces (1100 square feet)
SmartSensor monitors the air quality and adjusts the fan speed when increased mold spores are detected
Lots of cool color options in bright or natural options
Nice and quiet
Great airflow for filtering out maximum allergens
has a true-HEPA filter as well as PlasmaWave, which kills airborne pollutants. PlasmaWave is controversial because of the whole ozone issue, but it can be switched off, which is great. This model is a great option for mold because it has a washable carbon filter for neutralizing musty, moldy odors as well as catching the spores themselves with the true-HEPA filter. It has all the bells and whistles of a great allergen air purifier, including a Smart Sensor and auto mode for controlling the air at all stages of contamination.
Top features
True-HEPA filter for catching all mold spores and other irritating allergens
Carbon filter for canceling out those musty mold smells
PlasmaWave for removing odor and allergens, but it can be turned off if you prefer to avoid ionizers
Great for rooms up to 360 square feet (medium-large rooms)
4 fan speeds for various levels of contaminated air, including "turbo" mode for really moldy times
Smart Sensor monitors the condition of the air and lets you know with an LED light (1-3/good-poor)
Auto mode which uses the Smart Sensor to monitor the air before adjusting the fan speed accordingly
No products found.
The Alen Flex air purifier is super chic, sleek, and comes in some awesome colors (I know that's not related to allergens, but I am a sucker for a stylish color in a household appliance). Back to the allergens. This bundle comes with the air purifier itself (for big spaces up to 700 square feet) and 2 HEPA-silver filters. It's a similar model to the Alen BreatheSmart Classic above, but it has a smaller recommended room area and has smaller dimensions. Also, the Flex doesn't have the SmartSensor or the Whisper Max technology. But that doesn't affect the cleaning ability of the filters, so the differences are not significant.
Top features
HEPA-silver filters designed for clearing the air of mold and other allergens which affect asthmatics and allergy sufferers
Great for large rooms up to 700 square feet
Comes with a lifetime warranty
4 fan speeds, including a sleep mode for quiet times
Great air circulation for maximum cleaning of mold-ridden spaces
Best Air Purifiers for Dust Allergies
Allergies related to dust can be triggered by the dust particles themselves, dust mites, and dust mite dander (the mite's excrement, basically). Dust mites are generally around 300 microns in size, with their excrement at about 10 microns. Many, if not most household allergies, are triggered by dust mites and dust, so it's important to get an air purifier with at least a HEPA-grade filter and a high fan speed option.
This little black number is very highly rated and has all of the features you need for all kinds of allergens, including that awful, persistent dust. It has a "turbo" fan speed for when the dust is particularly thick (i.e., after cleaning or vacuuming) and a true-HEPA filter for catching all dust-related allergens. It also has a carbon filter for clearing the air of odors and leaving a fresh environment. Its size and shape are pretty sleek so that the purifier can fit nicely into most homes and offices.
Top features
True-HEPA filtration for catching dust-related allergens
Carbon filter for cleaning odors (comes with 4 of them)
Turbo speed for clearing particularly thick dust or during seasons where allergens are rife
Does not produce any ozone at all
The base can be removed so you can lay it on a desk, or use the base for a tower-style shape to sit on the floor
Great for rooms up to 325 square feet
A really popular model with very high reviews and great features, it has a true-HEPA filter and 4 fan speeds, including one especially for allergens including dust. It comes in different sizes for different rooms, but the HPA300 is for large rooms up to 465 square feet. It's just a really solid choice for homes with dust issues as the fan speeds give you lots of options, and the true HEPA protects you from being triggered by dust and mites.
Top features
True-HEPA filter
Activated carbon filter for odors
Great for large rooms up to 465 square feet (but you can get medium and small versions too)
4 cleaning levels including "allergen" and "turbo"
Timer with automatic shut-off (choice of 2, 4 and 8 hours)
What are the best affordable air purifiers for allergies?
Affordability is always attractive, especially when you're getting great features for your small buck. There are some fantastic air purifiers on the market that can totally stand up against the more spendy ones. They have true-HEPA filtration, a range of fan speeds, and a great CADR rate to rid those allergen and asthma-triggering spores ASAP.
I can't help but include a Levoit model in most air purifier buying guides. It has the perfect combination of affordability, attractiveness, and necessary features for combating allergies. It has true-HEPA filtration for catching the smallest of allergens as well as a pre-filter to catch the larger ones like pet hair and pollen. If odors are an issue for your home, too, you're in luck as it is an activated carbon filter.
Top features
True-HEPA filter for tiny allergens
Pre-filter for larger particles like pet hair (helps to keep the HEPA filter clean too)
Activated carbon filter for odors
Small, compact, and attractive with a rounded construction
Affordable
This one appears in many and most air purifier lineups, along with the Honeywell and Levoit's Core 300. Like the other two, the GermGuardian is too good and too affordable to be left off the list. It has a slender tower design that fits neatly into tight spaces. In terms of allergen reduction, it does a great job with true-HEPA filtration and carbon filter. It does have a UV-C light that kills airborne bacteria, but it can be switched off.
Top features
True-HEPA filter for tiny allergens
Activated carbon filter for odors
Great for rooms up to 155 square feet (small to medium)
Slender, tall construction
Affordable
UV-C light for killing bacteria and mold spores, but it can be turned off
What Are the Best Small Air Purifiers for Allergies?
If you've got a small room or office or need an air purifier to come along with you on trips, these are three of the best small air purifiers. They're all great for allergies because they have those crucial filtration features. Two of these models do have an ionizing feature, which I really don't recommend using if you are asthmatic (despite what is said about the ozone being produced at safe levels). However, they both have an "off" switch, so you can ignore the ionizer altogether if you like.
This is a tower-style model in shades of black and white and has a recommended room area of 100 to 200 square feet. The Asthma and Allergy Foundation of America has certified the Aeramax 100 as asthma and allergy-friendly, which is awesome for us sniffly types. The filtration is really thorough with a true-HEPA filter with anti-microbial treatment, an activated carbon filter, and PlasmaTrue Tech for killing airborne germs. The PlasmaTrue is an ionizer, but it can be switched off if that worries you.
Top features
Small, compact, and attractive design for small areas
AeraSmart technology senses the condition of the air and adjusts the fan speeds accordingly
True-HEPA filtration for catching the smallest allergens
Anti-microbial treatment for killing living nasties like mold spores and bacteria in the filter
Activated carbon filter for neutralizing odors
PlasmaTrue Technology for killing airborne bacteria, but it can be turned off
Great price
This little machine would also be at home in the "affordable" section too, as it's incredibly cheap even when you purchase the added filters. It's great for rooms up to 80 square feet and has a really compact design to fit neatly into any small nooks and crannies. It has true-HEPA filtration, three fan speeds, and an optional ionizer for killing germs. If ionizers bother you, no worries, you can switch it off. Do be aware that a few people (but enough for me to mention it) have found that the lifespan of this machine is poor. However, many, many customers have had a 5-star experience.
Top features
True-HEPA filtration
Optional ionizer for killing airborne germs
5-year limited warranty
Small, compact size with fresh white and silver colors
Three fan speeds
Affordable
Great for rooms up to 80 square feet
Yep, this is the same model as the Honeywell HPA300 featured earlier, but the HPA100 is designed for much smaller rooms. It has recommended for rooms up to 155 square feet (smaller but still decent). The machine itself is nice and small, with a slim enough profile to be tucked into corners when space is sparse. It has a true-HEPA filter, activated carbon filter, and four different cleaning levels, including "allergen" and "turbo," which is what we exactly need when allergies and asthma decide to become even more of a nuisance.
Top features
True-HEPA filter
Activated carbon filter for odors
Great for large rooms up to 155 square feet
4 cleaning levels including "allergen" and "turbo"
Timer with automatic shut-off (choice of 2, 4 and 8 hours)
Nice and small for little rooms and apartments
Conclusion
There we have it, a set of awesome, affordable, and room-appropriate air purifiers to help you deal with allergies and asthma in your home or office. Hopefully, you've found yourself a gem somewhere on this list, and you're on your way to easier, more comfortable breathing. As always, before buying, take a trip through the review sections to get an idea of what kind of experience other consumers have had, as their needs may match yours.