It's always fun to try new recipes, especially when delicious cooking aromas begin to fill your kitchen. However, when the smell of burgers, stir-fry, or garlic is still hanging around hours later, you'll wish you had a way to freshen up fast. The best air purifiers are a great tool to have on hand for times like these.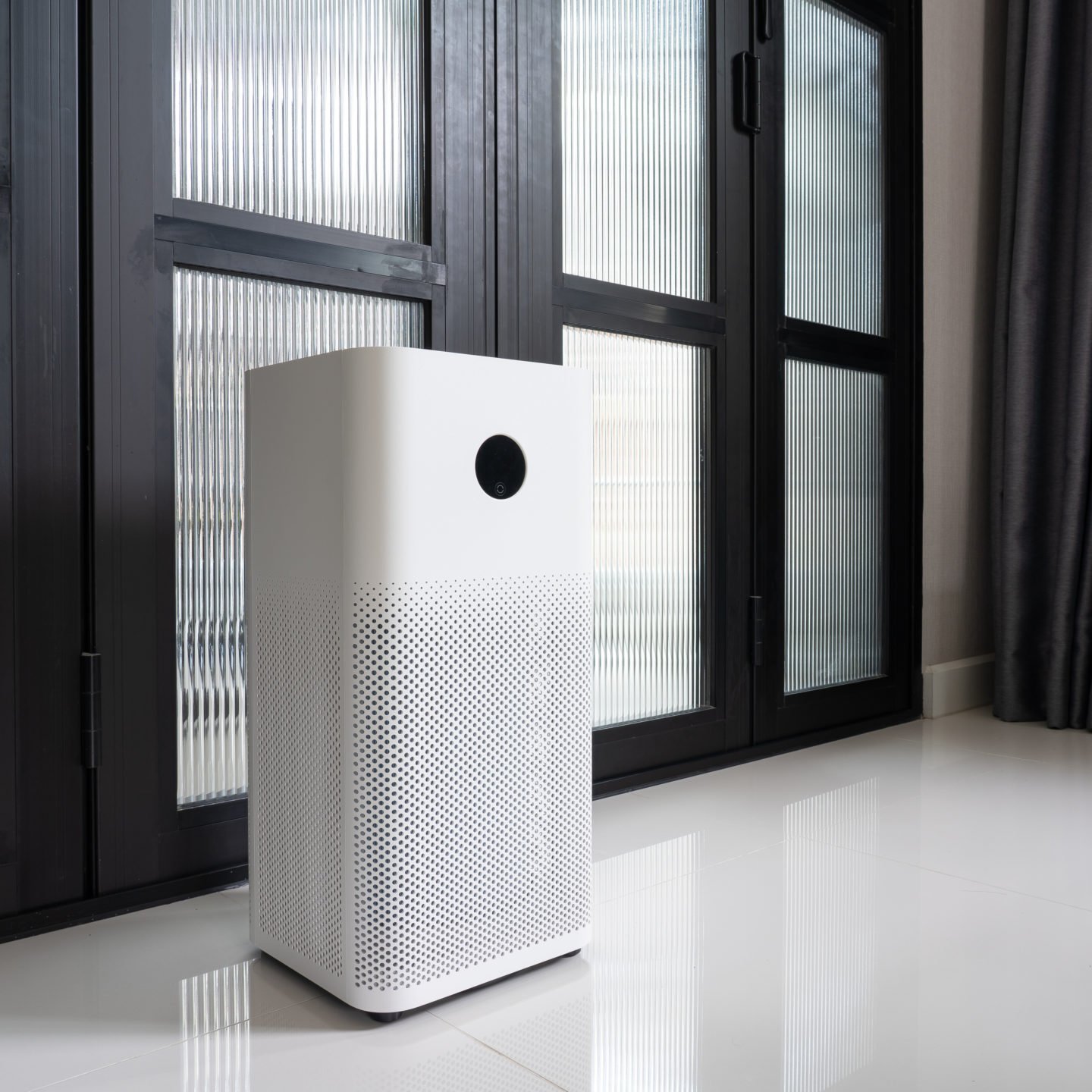 By circulating and filtering the air in your kitchen, you can keep odors, smoke, and irritating particles out of your lungs. That means you can cook what you want without worry.
The ideal air purifier depends on your cooking habits and kitchen, though a few factors can help you separate the best from the rest. Circulation rate, room size, filter type, noise, and energy efficiency are all major concerns. Keeping these factors in mind, we tested 16 of the best air purifiers for the kitchen, which you can review below.
Table of Contents
Best Kitchen Air Purifiers
If you're working in a larger kitchen, you'll need an air purifier with a high circulation rate to quickly catch all of your food particles. The Medify MA-40 Air Purifier
Smaller kitchens may not have as much air to filter, but they need to be cleaned fast if you're cooking spicy food. That's why you need to have an air purifier that's both compact and powerful. The VEVA 8000 Elite Pro Series
If cooking smells aren't the biggest problem for you, it's still a good idea to have a reliable air purifier for more harmful pollutants. Smoke can be a real problem, and it can be difficult to clear without the right air circulation. The AROEVE Air Purifiers for Home
You don't have to break your budget to find a quality air purifier that keeps your kitchen air fresh. The MSA3 Air Purifier for Home
Many people like to leave their air purifiers running through the night, which makes quiet operation a must. While most air purifiers are quieter than a kitchen fan, only a few stay whisper-quiet. The BISSELL MYair Air Purifier
The LEVOIT LV-H133 Air Purifier
If you're doing a lot of deep-frying, enjoy spicy foods, or just want to ensure your kitchen air stays fresh at all times, it might be time to check out this high-performance air purifier. The CLEANFORCE Extra Large Air Purifier
The best air purifier for kitchens should be powerful and versatile, offering a wide range of features for different situations. The RENPHO HEPA Air Purifier
When you're busy cooking, it can be a huge help to have a hands-free way to manage your air quality. Luckily, voice control technology has made it possible and easy. The Zigma AI Air Purifier
When it comes to making the most of your air purifier, placement is everything. Ideally, you should place yours three to five feet off the ground and in an area with high airflow to ensure it circulates air effectively. The compact size of the LEVOIT LV-H126 Air Purifier
Having a high coverage air purifier is about more than purifying capacity. It means you can cleanse the air of multiple rooms at once, ensuring every area of your home is as fresh as possible. The HATHASPACE Smart Air Purifier 2.0
There are plenty of high-tech kitchen gadgets, but sometimes what you want is something a little more simple. The Honeywell HPA300 HEPA Air Purifier
UV air purifiers are slightly different from those that rely on filters alone, since they utilize ultraviolet light to zap bacteria and other microorganisms before they reach your lungs. This makes for a more efficient and effective filtration system, keeping your air fresher and cleaner. The PURO²XYGEN P500 - True Hepa Air Purifier
One of the most noticeable effects an air purifier can have on your home is making the air smell fresher. This is especially important in the kitchen, where food smells can take over and spread throughout the rest of the house. The KOIOS Air Purifier
While it might not seem like it, air purifiers can drastically impact your monthly energy bill. Since they are often left all day and night, high-powered purifiers are often the worst culprits for extra energy use. This Afloia Air Purifier is Energy Star certified to ensure it runs efficiently without impacting your utility costs.
The operating power of this air purifier is only 35 W, which makes it comparable to a lightbulb in terms of consumption. It's surprising, considering it can clear your kitchen of smells and allergens in just a few minutes.
The main downside to this product is that it's less powerful than others. Still, it does feature three different fan speeds, and the highest setting is plenty strong enough to whisk away kitchen odors.
This is a great option for those worried about an air purifier's effect on their energy bill. While it isn't as powerful as other options, most people will find it well suited to their kitchen's needs.
Air Purifier Buying Guide
Circulation Rate
Since kitchens can release a high volume of particles in a short time, circulation rate is the top priority for kitchen air purifiers. It can vary widely between products, but you should aim for at least 250 square feet per hour. If your kitchen is larger, you will need one with a higher circulation rate.
Room Size
Air purifiers are usually rated by room size, with the more powerful ones labeled "large room." There's nothing wrong with putting a large room air purifier in a smaller room, though the reverse will be a problem. If your kitchen is larger than 600 square feet, stick with a large room air purifier.
HEPA Filter
HEPA is an acronym for high-efficiency particulate air and describes the highest quality filters used in air purifiers. These are useful for removing smaller particles like pollen and bacteria, which other types of filters might not catch. If you're mainly concerned about catching airborne food particles, a non-HEPA filter will do.
Quiet
The only downside of more powerful air purifiers is that they are often louder. That's why it's best to size your filter to your room rather than simply getting the most powerful one. As long as you can find an option under 25 dB, the noise shouldn't bother you, even while sleeping.
Energy Efficiency
The most energy-efficient air purifiers are those certified by Energy Star. These will cut down on your electricity bill and help the planet with reduced energy emissions. Though if you're only planning on running your purifier for an hour or two each day, it might not be as big of a concern.
FAQ
Do air purifiers work in kitchens?
The kitchen is actually one of the smartest places to put an air purifier. Cooking, especially frying, releases food particles into the air that can irritate the eyes, make it harder to breathe, or create strong odors which can linger for days. Switching on an air purifier at the start of cooking can help cut down on smells and air pollution before it has a chance to accumulate.
Where is the best place to place an air purifier in my kitchen?
Generally, an air purifier will be most effective in areas with the highest airflow. While it may be out of the way in the corner of the room, it may not be doing its job most efficiently. Instead, try placing it three to six feet from the stove somewhere it won't be in the way.

Ideally, air purifiers work best 3 to 5 feet off the ground. A kitchen counter can be a great option if your air purifier is small enough. Extra points if it's near a window or doorway.
Will an air purifier remove cooking smells?
Removing cooking smells is one of the best uses for an air purifier. Whether in your kitchen or elsewhere, smells are caused by tiny particles floating through the air. It's your purifier's job to remove these so they don't cause odors or irritation.
Are UV air purifiers dangerous?
UV air purifiers use ultraviolet light to kill bacteria and pathogens in your air, usually working in tandem with a traditional filtration system. While highly effective, this type of air purifier comes with some added risks you should be aware of before buying.

First, the high-energy UV light can damage the skin if you become exposed to it. While the UV light is normally concentrated within the device, contact can occur when changing filters, cleaning, or other maintenance. Because of the high energy, it presents more of a risk than other forms of UV light.

Second, ozone is created as a byproduct of the filtration system in UV filters. In small quantities, ozone doesn't damage your body. However, it can eventually cause coughing and shortness of breath and exacerbate asthma. This is especially bad for devices that are supposed to clean your home's air.
Healthy, Easy Meals