The larger the room, the more air pollutants can accumulate within it and reduce the overall air quality. Air pollutants can pose a danger to both you and your family, as well as threatening to damage your house.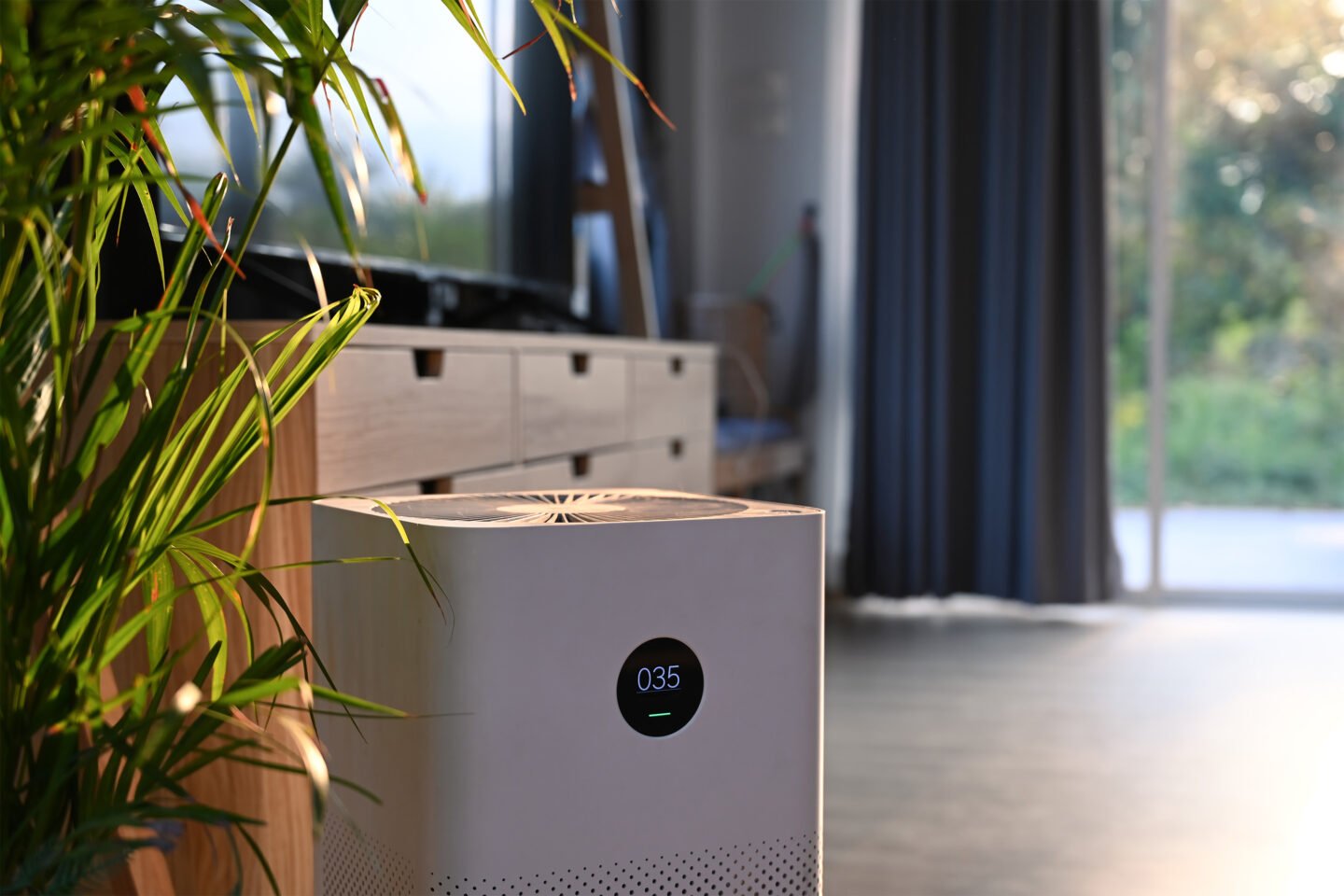 Air pollutants can be larger particles of dust and pet dander or as small as airborne viruses, fungi, and bacteria. These are unseen to the naked eye, so we often don't know the extent of our air quality until it's too late and we get sick.
Large air purifiers are suitable for rooms larger than 300 square feet. These are harder to find on the market, which is why many people opt to use two or more air purifiers in one large room to properly clean the air.
However, this requires double the investment in your air purification system, which is why many people don't want to go through with it.
Luckily, we have found the best nine large room air purifiers with a coverage of 300 square feet or more, so you don't have to! All of these air purifiers are excellent and will clean your large rooms with ease, keeping your household safe from unseen pollutants.
We will also be looking into some important considerations to take into account before choosing your large room air purifier to be certain that you purchase the best one for you.
Table of Contents
The Medify Air MA-40-W V2.0 Air Purifier is the best overall large room air conditioner on the market, cleaning 1600 square feet in just one hour. It removes up to 99.9% of pollutant particles with medical-grade H13 HEPA filtration.
It has a quieter operation than most large room air purifiers we tested, and it's light enough to move around your house easily. The premium features like a child lock, timer, and night mode also increase its value.
How We've Determined The Best Large Room Air Purifiers
We looked into a number of different factors to ensure that the below products are the best on the market. For starters, we looked at the square-foot coverage and how large the room it would cover could be.
We also considered the effectiveness and how many particles the air purifier could remove. Noise level and ease of cleaning have also been taken into consideration when choosing these air purifiers for your convenience.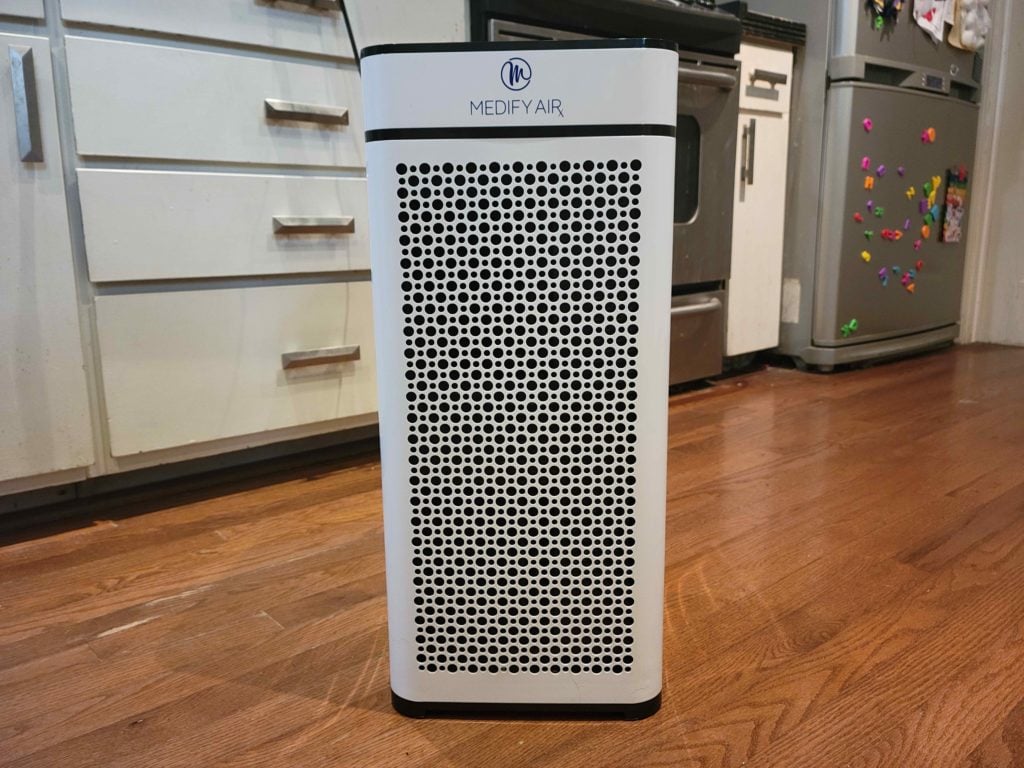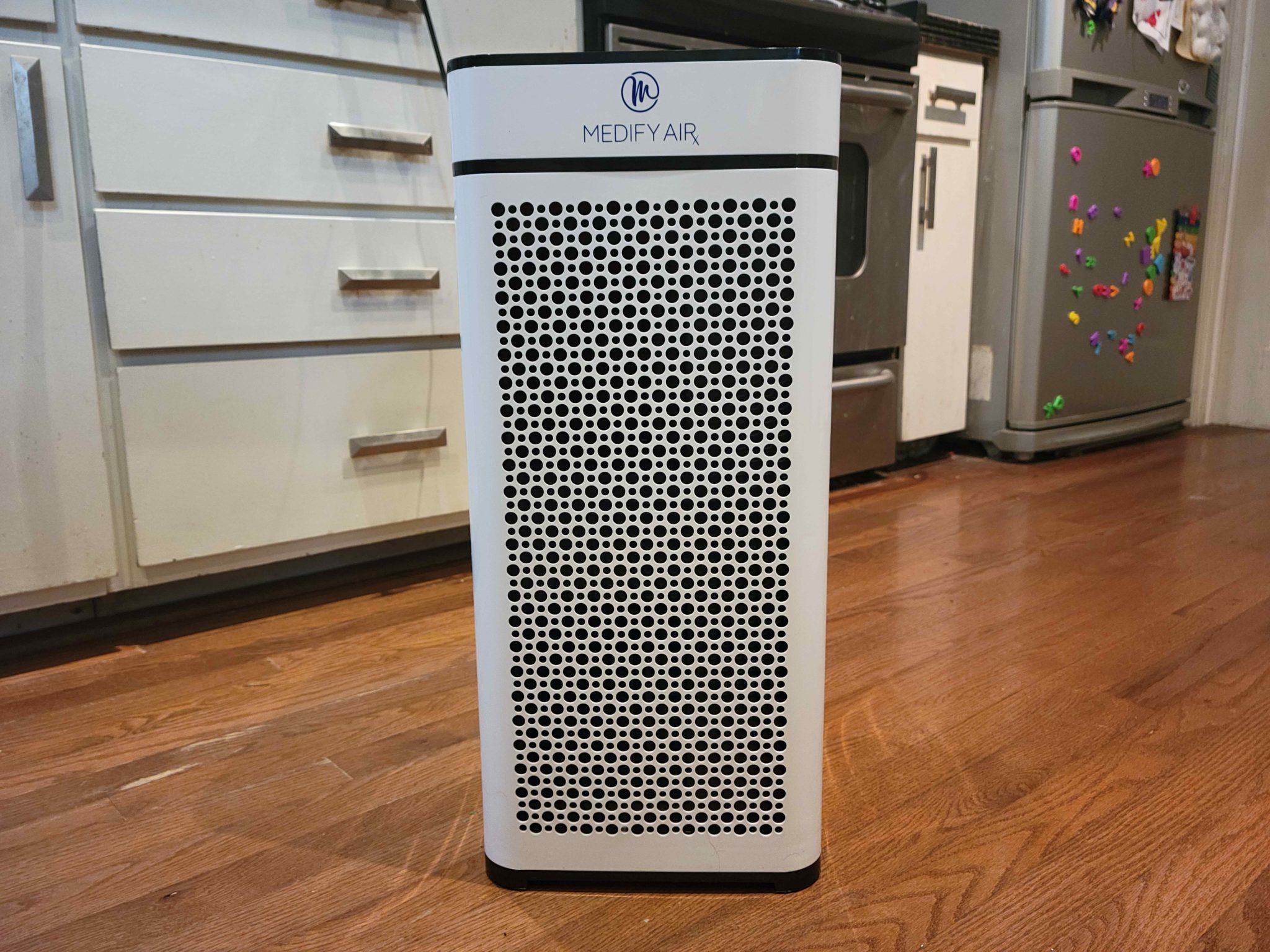 The first product on our list, and the winner, is an air purifier by Medify that covers rooms up to 1600 square feet. The HEPA filter is rated H13, which is higher than the standard HEPA filters you see advertised on lower-priced machines. Rather than 99.7% of particles cleared—the standard for HEPA filtration—the H13 HEPA catches up to 99.9% of particulate matter in the air. This might seem like a small difference, but if you're an allergy sufferer, you know that small changes in air quality can make a big difference.
Within one hour, this air purifier can clean rooms up to 1,600 square feet. Within half an hour, it can clean rooms of 840 square feet and 420 square feet in just 15 minutes. In our tests with a third-party air quality monitor, 15 minutes were sufficient to clear even the heaviest levels of air pollution from a 250-square-foot kitchen.
The numbers went from this...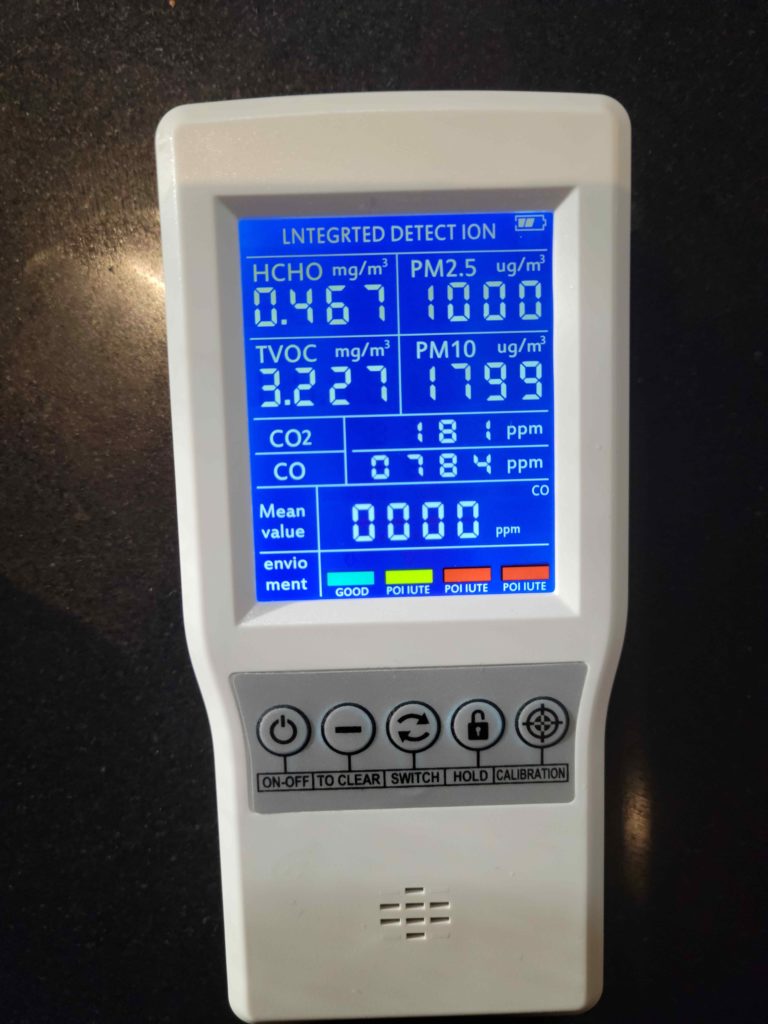 To this...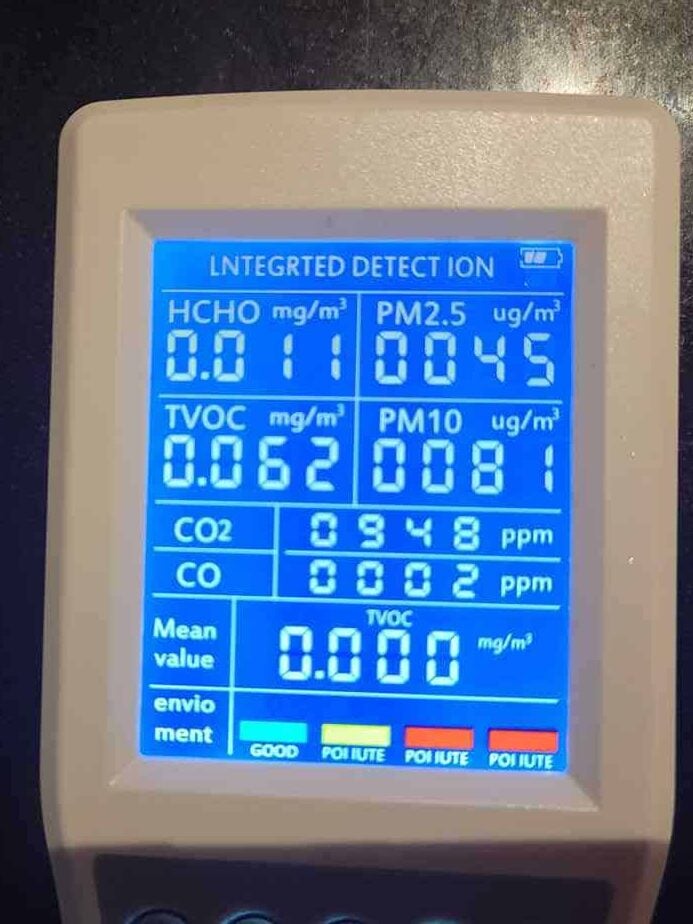 There is a sleep mode as well as three speeds to choose from. Both Sleep Mode and Speed 1 turn the ionizer off to make the air purifier much quieter. Speeds 2 and 3 use the ionizer automatically, but it can be turned off to reduce the noise level. The ability to alter the noise level is a great benefit to use at your convenience.
Additional features are the eight-hour timer and night mode, as well as a child lock to protect little wandering fingers.
The build quality of the Medify Air MA-40-W Air Purifier is unmatched, with tempered glass panels that are scratch-resistant and easy to polish. This air purifier will stand up much longer than a plastic model, remaining stylish and elegant in your home.
Medify offers a lifetime warranty with this air purifier, giving you peace of mind that your purchase is protected from anything that goes wrong with the manufacturing process.
The majority of customer reviews are positive with this air purifier, although there are a few negative. These mainly concern themselves with shipping faults or customer service complaints.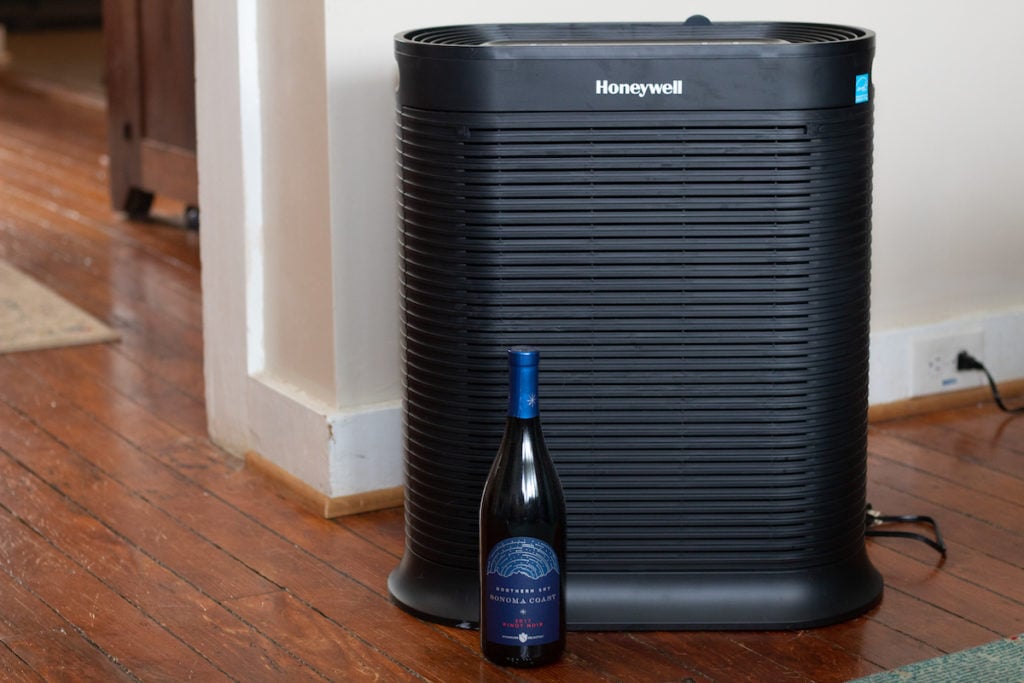 Honeywell is a popular brand known for its air purifiers and other helpful gadgets around the home.
Remember above how Medify is marketed as being able to clear the space in a 1600-square-foot room in an hour? When rating bodies like the US EPA's EnergyStar system compare air purifiers, they rate the ability to clear air at least four times per hour to maintain consistently clean air in a given space. One thing this means is that the square feet numbers you see on some air purifier marketing can be misleading.
Our second-best large room air purifier, the Honeywell HPA300, says in its description that it can clear air in spaces up to 465 sq ft. But digging deeper, you find out that's five times per hour!
According to the EPA's EnergyStar program the Medify MA-40 has a recommended room size of 319 sq ft, while the Honeywell HPA300 has a recommended size of 465sq ft.
So it's objectively true that the Honeywell HPA300 can clean larger rooms. It's also cheaper than the Medify MA-40. If that's all you care about, then the HPA300 is your best bet.
Why's the HPA300 in the #2 spot?
Reason #1: Lower energy efficiency
According to the EPA, the HPA300 uses 584 kWh per year, compared to the Medify's 344 kWh per year. This means the long-term costs are slightly higher, and over time, the upfront savings will be eroded.
Reason #2: No child lock
The Honeywell HPA300 is a workhorse with no frills. You don't get a child lock, and you don't get "speed" settings. Instead, you get "modes" for different pollutants and a turbo mode for the fastest clean possible. You also get a timer that goes up to 8 hours and a dimmer switch for the control lights, just like the Medify.
Reason #3: It's a little heavier
Specifically, it's 2 pounds heavier than the Medify, despite being a shorter machine.
Reason #4: HEPA vs H13 HEPA
The Medify has the more potent filter of the two machines. Put another way, Medify gives a very slightly more thorough clean (99.9% vs. 99.7% of particles filtered). It should be said that this is only likely to cause a noticeable difference if you live with a health condition that causes hypersensitivity to air quality.
Another reason to choose this product: Reputable Brand
Honeywell is a brand that has a reliable customer base that is more likely to choose their products over any other brand. The reason for this is due to their excellent customer service, high-quality products, and respectable prices.
This air purifier was named the Doctor's Choice, and Honeywell was named the number one brand recommended by allergists. They also offer a five-year warranty with your purchase. These additional features are just a few examples of why Honeywell is such a reliable brand.
Much like the #1 and #2 products on our list, this air purifier from LEVOIT can capture up to 99.97% pollutant particles of 0.3 microns and smaller. Not only does it remove particles from the air, but it also uses an activated carbon filter to remove odors.
Comparing apples to apples, the square foot coverage for the Levoit Core 400S is higher than the Medify and lower than the Honeywell. According to its Energystar sheet, it's recommended for rooms up to 367sq ft.
The indicator rings allow you to see the real-time air quality levels that are within your home. These allow you to see what needs changing and how the air purifier can work to change the levels for the better.
Reason #1 to choose the Levoit Core 400S: Smart Home Capability
Unlike the Medify or Honeywell models, the Levoit Core 400S (the big brother to the Core 300 and Core 200S) can connect to your smart home device. This means you can set the timer, adjust the speeds, and turn it on or off from anywhere in your home.
With Alexa, you can even voice-control the air purifier. This is both highly convenient and—you will end up admitting—a little bit fun.
Reason #2:

Quieter

On its lowest setting, the noise level can be as quiet as 25 decibels. For reference, this is a similar sound to whispering from five feet away to whispering nearby. As you can see, this air purifier is whisper quiet and will hardly be noticeable in everyday life.

There are three fan settings on this air purifier, depending on your needs. The lower the mode, the lower the decibel level will be. There is also a sleep mode that can reduce the noise level as much as possible to give you the best night's sleep possible.
Next up we have an air purifier from Hathaspace. The price point is slightly higher than the other air purifiers for large rooms that we've looked at today, but the additional features do make up for this fact.
Again, this air purifier has an H13 HEPA filter that can collect up to 99.97% particles as small as 0.3 microns. It can also remove up to 99.95% of pollutant particles sized 0.3 to 0.1 microns.
The Hathaspace Smart True HEPA Air Purifier can cover spaces up to 1500 square feet with ease, cleaning all of the air in this amount of space within an hour. The state-of-the-art fan and motor make this machine whisper quiet, not disturbing you throughout the day and the night.
Reason #1 to choose this product: Smart Particle Sensor
The Hathaspace Smart True HEPA Air Purifier comes with a very interesting feature called the smart particle sensor. This feature gives you accurate measurements and real-time feedback on how the air quality in your space is doing.
The touchscreen display shows you your EPA air quality index score so that you can quickly note the air quality in your home. Better yet, there is a color indicator light on the front of the air purifier to show you instantly whether the air quality is acceptable or not.
This sensor allows you to breathe easier and go about your day without wondering how effective your air purifier is working.
Reason #2 to choose this product: Award-Winning Customer Support
Hathaspace not only offers a five-year warranty with every purchase, but you'll also be getting access to their award-winning customer service. This is available seven days a week around the clock, so you can rest assured that if there is anything you need help with, you'll get answers in no time.
The Zigma air purifier is a stylish machine that adds a nice touch to any room. Rather than only creating a product for its intended purpose, Zigma has gone the extra mile to make their air purifier look attractive as well. This air purifier is not too cumbersome either, so it won't stick out and create an eyesore in your room.
This air purifier can clean up to 1580 square feet of space within an hour and 840 square feet within half an hour, holding up well to our #1 winner.
AI algorithm sensors allow the Zigma Air Purifier to detect the air quality in your home within three seconds. You can see this displayed on the ring light sensor, much like on our #4 pick, or straight through the app.
Reason #1 to choose this product: 5-in-1 HEPA Filter
The 5-in-1 HEPA filter within this air purifier works together to reduce the number of particles in the air and keep the levels low. It can reduce the amount of pet dander, pollen, dust, and larger particles through the pre-filter.
Through the H13 HEPA filter, smaller particles will struggle to get through up to 0.3 microns. In fact, up to 97% of these tiny particles won't be able to get through this main filter.
Finally, the carbon filter removes all household odors from within the home as well as smoke and fumes.
Reason #2 to choose this product: WiFi Enabled
Nowadays, more and more electronic devices used around the home are coming with WiFi capabilities. The Zigma Air Purifier is no different and can be connected to your smartphone and home assistant through a WiFi connection.
This means that you can control the air purifier both by voice command and through your phone. By using its WiFi capabilities you unlock over 10 advanced features such as creating your own schedules, setting reminders for replacing the filters, and using the phone as a remote control from anywhere in the world.
Another air purifier with a slightly smaller square foot coverage, but still enough to be considered for large rooms, is the RENPHO air purifier. It can cover large spaces up to 480 within just one hour. This is a good comparison to our #2 pick with a much more attractive price tag.
Much like all of the other air purifiers we've looked at today, this one too can capture 99.97% of particles up to 0.3 microns small thanks to the medical-grade filter. The sleek rounded design works with the filter to clean the air efficiently from all angles.
Reason #1 to choose this product: Safe And Certified
The RENPHO air purifier is 100% ozone-free as well as not using UVC light or anion. This ensures that the air purifier is completely safe to use around your family, including any pet members or babies.
This air purifier is also certified in a number of ways to make it safe for sale in California. California tends to be the strictest state when it comes to selling things to do with air quality. So if it is safe for sale here, it should certainly be safe enough to use anywhere else in the USA.
Reason #2 to choose this product: Automatic Mode
The automatic mode is a great benefit for people who don't want to be concerning themselves with their air purifier throughout the entire day. Instead, you can switch to automatic mode and allow the machine to do the rest.
When you first turn the air purifier on, automatic mode will use the most energy to kick start the cleaning function. However, regular air quality checks will allow it to detect that less energy is needed as time goes on, saving you up to 90% of energy every hour. This will make a significant difference to your energy bills, as well as reducing the noise level.
Budget Options
The next three air purifiers for large rooms are our budget picks. These offer more attractive price points than the other machines we have looked at above, but at what cost? We're going to be looking at whether the saving is worth the features sacrificed to reach the lower cost.
The MSA3 Air Purifier comes with a considerably smaller price tag than the previous air purifiers that we have looked at today. But is it worth the monetary savings? This air purifier cleans rooms sized 840 square feet in one hour and 500 square feet in half an hour. This is on the smaller side compared to the more expensive options, although it will still cover large rooms.
The noise level varies between 25 and 47 decibels depending on the settings you're using, which is similar to the more expensive options.
The design is more basic and the plastic is likely to scratch over time, with the white color fading or becoming discolored. This isn't a dealbreaker, although we have listed some much more stylish options above made from higher quality materials to prevent aging.
This air purifier has a 3-in-1 HEPA filter, while a lot of the more expensive options above have 5-in-1 filters. The MSA3 Air Purifier will still clean your air sufficiently, although it might not leave such an impressive result as a more expensive air purifier.
Overall, this is a respectable air purifier that can cover large rooms up to 840 square feet. If you're looking to save some money and don't mind having a less attractive machine in your home, the MSA3 Air Purifier could be a good option for you.
Another budget option is from VEVA, with a 4-in-1 filter to remove pollutants. That is more impressive than our #1 budget pick but still can't live up to some of the more expensive alternatives.
This air purifier can only clean up to 600 square feet in space, which is smaller than what the above air purifiers are offering. While it will still clean your large room, it won't offer as much versatility as the more expensive air purifiers that can clean rooms nearer to 2000 square feet.
The VEVA HEPA Air Purifier is a valuable addition to any pet owner's home, as well as asthma sufferers or smokers. This air purifier can effectively wick away any harmful or irritating particles as small as 0.3 microns.
Unfortunately, a few of the customer reviews show that no replacement filters are available. This therefore greatly reduces the lifetime of this air purifier. Customer services have told these customers that they are coming and they should wait for the replacement filters. But they are still finding it difficult to get a replacement filter.
If the replacement filters become more regularly stocked by the manufacturer, then this would be a good budget option for many people. The square foot coverage is not as impressive as the more expensive options, but the other features look good.
Just check the replacement filter situation before purchasing this air purifier. This, along with the poor customer service, isn't worth the lower price in our eyes.
#3 Best Budget: HOKEKI Air Purifier
Lastly, our final budget pick is the HOKEKI Air Purifier, with a square foot coverage of up to 350 square feet. This is much less impressive than the rest of the large room air purifiers in our article, although this can be good for apartment living and single room use.
The average large living room is 300 square feet, making the HOKEKI Air Purifier still suitable for large living spaces. It will just be less useful in the largest of rooms.
We like that this is our only budget option that has indicator lights to tell you what the current air quality is in your house. This is similar to the more expensive options on our list, and this feature can come in handy at any time of the day.
The noise level of this air purifier is 29 to 52 decibels, which is slightly higher than the alternative air purifiers we've looked at today. This is more likely to disturb you both day and night, despite the sleep mode. One previous customer stated that they had to shut the air purifier off when sleeping as it sounded like a jet engine.
A few of the customer reviews showed that the plastic covering was easily scratched and didn't age well. This is similar to our #1 budget pick, with the white plastic becoming somewhat of an eyesore in your house.
So, should you opt for this air purifier? The main things that concern us with this model are the noise level and the attractiveness of the product. The look of the machine is not necessarily a dealbreaker and you might prefer to save some money rather than choosing a nicer-looking air purifier.
However, the loud noise level will disturb your day, no matter what you're doing. You might also have to turn it off every night to get a decent sleep - unlike the more expensive air purifiers above that can run throughout the night without hassle.
You won't get the benefit of sleeping in clean air which can greatly improve allergies and symptoms of asthma. It's up to you whether you're willing to sacrifice this benefit for a monetary saving.
What Should I Look for When Buying A Large Room Air Purifier?
Purchasing an air purifier can be difficult when you don't know what to look for - especially when you also need it to cover a significant amount of space. Luckily, we have created a list of the most important things to look out for when choosing your air purifier for large rooms.
Criteria #1: Square Foot Coverage
When looking for an air purifier specifically for large rooms, you are going to need to look at the square-foot coverage to determine whether the air purifier will actually work in your room or not. Specifically, it's best to check with Energystar.gov for the official "CADR" score, as verified by a 3rd party, rather than relying on the manufacturer's claimed coverage numbers.
'Large room' is an umbrella term, and everyone will have a different measurement in mind for this space. However, the average large living room in the USA is 300 square feet and above, which we have taken as the smallest large room there is.
However, if you have a space of 1000 square feet to purify, you're not going to want to consider machines that can cover only 300 square feet. So, you'll need the clear minimum square footage that you're looking for before starting your search.
Criteria #2: Effectiveness
All of the air purifiers that we have looked at above can capture pollutant particles at least 0.3 microns in size. They can also capture at least 99.9% of these, which we consider to be incredibly effective.
These air purifiers will be able to catch larger particles such as dust and mold spores, as well as smaller particles such as viruses and fungus. Some filters will also come with a carbon filter which can remove odors such as smoke and cooking scents.
However, some air purifiers on the market will only be able to capture large particles such as pet dander and dust. These are much less effective and won't improve your air quality as much. Be sure to look for the most effective air purifier on the market to get the most from your investment.
Criteria #3: Noise Level
Air purifiers are designed to be used throughout the day and night, which is why so many of them come with a sleep mode that reduces the noise level. Features that can affect the noise level are very important with an air purifier so that you can alter them to reach the desired decibel level.
For example, different fan speeds can alter how noisy a machine is. Without the ability to change these, you'll have to use an air purifier at 50 decibels 24/7. Being able to change this means that you can have it running at 50 decibels only when you need maximum output, and lower the noise level to 25 decibels when you're sleeping.
Criteria #4: Design
Like we have already mentioned, an air purifier is designed to be used all day, every day. This means that it will be in your living space indefinitely, taking up floor space and being seen by guests and other household members.
Some people take pride in their interior decor, and a cumbersome plastic machine might create an eyesore that they can't live with. If this is something that would annoy you on a regular basis, you might want to take some time in choosing an attractive air purifier as well as an effective one.
Is a Large Room Air Purifier Definitely Right For You?
The larger an air purifier is, the more expensive it is going to be. Many people will make the mistake of choosing a machine that has the largest square foot coverage on offer just because they think that it will clean their space quicker.
For example, they might have a large room of 400 square feet, but they opt for our #1 pick winner that can cover spaces up to 1600 square feet. While it is true that this air purifier will clean the air very quickly, it will also be wasting a lot of energy.
This will increase your energy bills and your carbon footprint. So, only choose a large room air purifier if you really need one. Otherwise, you'll simply be wasting resources. Make sure that the square foot coverage of the air purifier you choose reflects the size of your space.
FAQ #1 Does a small air purifier work in a large room?
Yes and no. Most air purifiers can clean spaces bigger than what they're rated for, given enough time. This is why you see some companies claim they can clean a 1600sq ft room in an hour, when they're only rated for 400sq ft: The latter number is their ability to change the air 4 times in an hour.
The big issues are fan speeds and room shapes. Imagine a long corridor with an air purifier at one end of it. The space inside that corridor might be 200sq ft but the fan may not be powerful enough to pull in particles from that distance.
Common sense and a little testing should prevail here. Buying an air purifier with a rating slightly smaller than your room sizes will not be a problem. Something rated for much smaller rooms won't give you the intended benefits of cleaner air at home.