For the past few months I've been living with a portable air purifier in my bedroom and it's definitely been a game-changer for my allergies and the overall air quality in our home. As summer has approached I've found my own allergies getting worse and worse, while my toddler has followed in my footsteps and developed seasoning allergies of her own.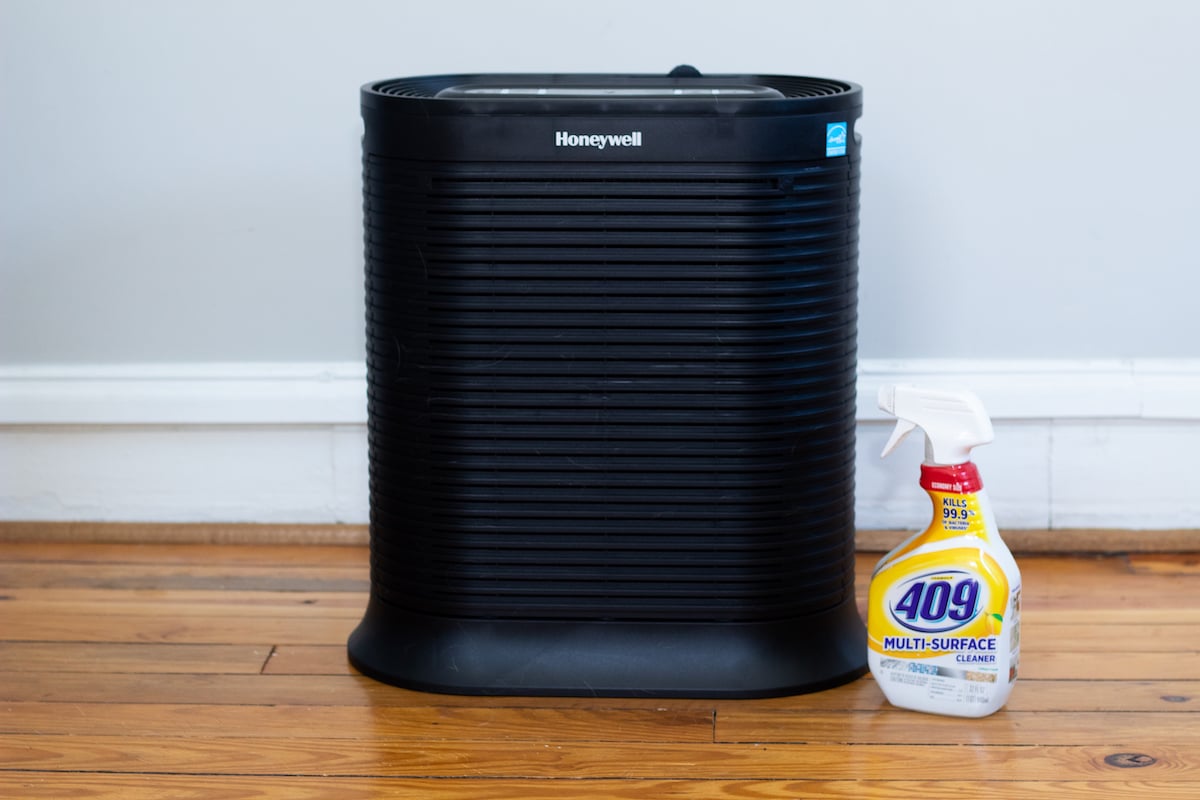 Recently, to help her sleep better I've relocated my air purifier into her room, leaving my bedroom without an air purifier solution and I've been searching diligently for a replacement. Through my search, I was able to take a look at the Honeywell HPA200 and I was lucky enough to be able to test it in my own home.
Over the course of the past week, I've used the Honeywell HPA200 nightly as an air conditioning solution for my bedroom while also running it through a set of tests to get a good idea of the appliance's overall capabilities.
After a week of testing and almost constant use, I can say with confidence that the Honeywell HPA200 is a great air purifier for larger rooms, as well as smaller living spaces like bedrooms or living rooms. With two true HEPA air filter, a prefilter screen, a multi-setting timer and 4 separate fan speed with a Turbo Power Clean Mode the Honeywell air purifier can handle almost any situation.
Overall this is a great air purifier that does a great job removing Volatile Organic Compounds, mold spores, bacteria, allergens, pet dander, and household odors from your air. With a ton of settings, multiple fan speeds, and multiple true HEPA filters, the Honeywell HPA200 is worth the investment and will bring you years of fresh clean air to breathe.
Table of Contents
What's in the Box?
The Honeywell HPA comes securely packaged in a branded Honeywell box. Comparably the packaging is a bit bulky because of the size of the machine, but it's all recyclable which is awesome as I love to recycle/compost as much as possible.
Inside the box I found:
1 Honeywell HPA 200 True HEPA Air Purifier
2 Honeywell HEPA air filters
1 Pre-filter
1 User's Manual
How Does The Honeywell Air Purifier Look/Feel/Sit?
The Honeywell HPA is a sleek black panel-style air purifier. Compared to other air purifiers with a similar range, the Honeywell HPA200 is noticeably larger, mostly because of its flat-panel design, but it's still small enough to place in a corner and promptly forget about until you need to change the filter.
One thing I love about the Honeywell HPA 200 and the HPA series of air purifiers is their stability. Because of their wider flatter design and sturdy base, you don't have to worry about an errant pet or toddler knocking it over, a problem I've definitely had with my tower-style air purifiers.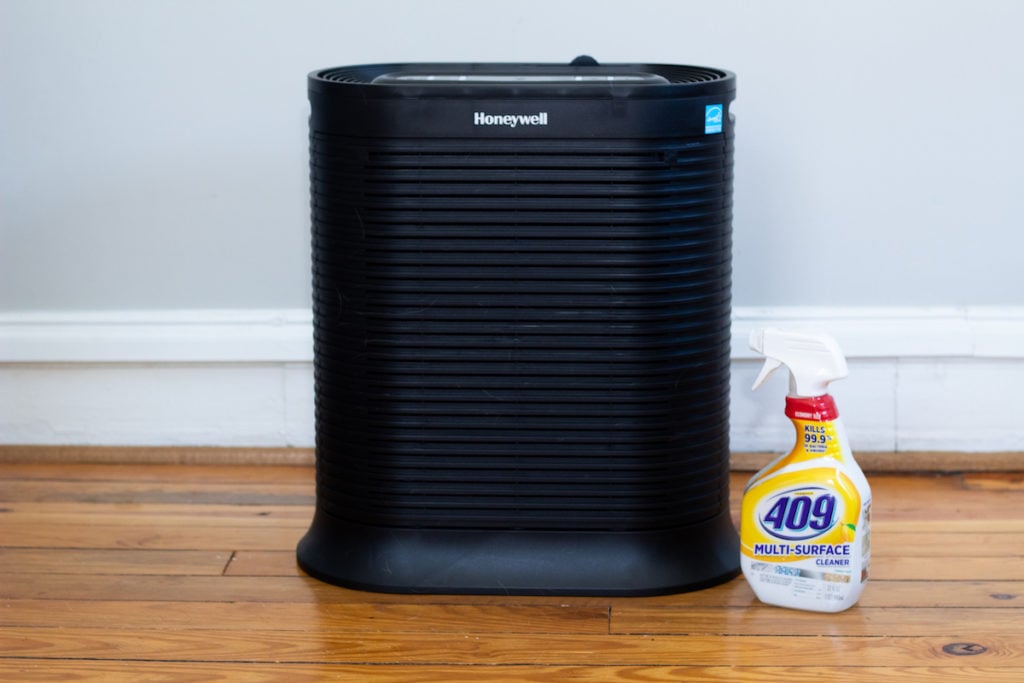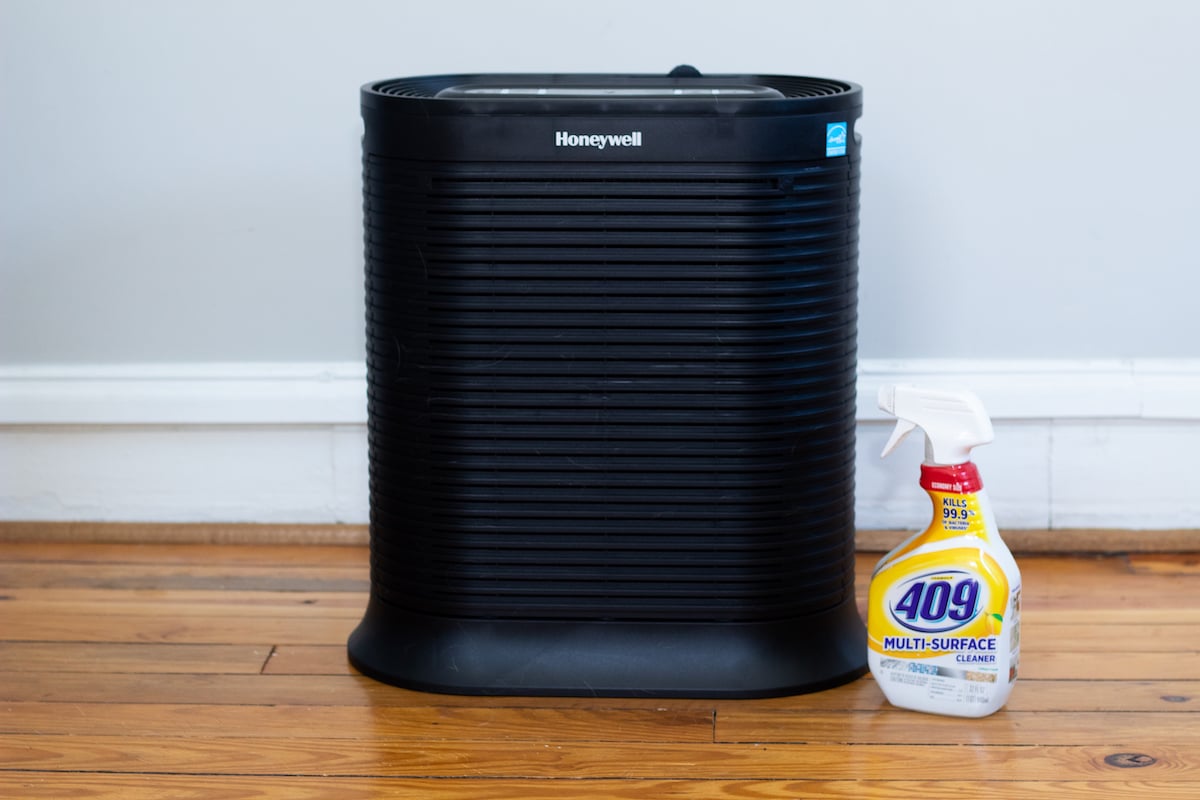 How Easy is it to Set Up?
The Honeywell HPA200 is pretty straightforward in terms of setup. I did find installing the air filters to be a little more difficult than some other air purifiers, but once that was out of the way it was a breeze to get the HPA 200 up and running.
The Honeywell HPA200 comes with 2 separate true HEPA air filters and a prefilter screen. Before you run the air purifier for the first time you'll need to unwrap and install the air filters. Make sure to secure the pre-filter screen under the tabs at each corner to keep it stable and replace the front grill/filter cover before starting up the air purifier for the first time.
The Honeywell HPA200 comes with a ton of options and settings to choose from that allow you to customize your air purification experience and keep your home/air squeaky clean. With a 1,2,4 and 8 hour timer, 4 different fan speed settings including a turbo mode for high power cleaning, as well as a check filter indicator and a check prefilter indicator, the control panel can be a little busy.
Even with the bevy of options available I find by using the General Clean or middle fan setting, I can keep most rooms in my home clean and allow the Honeywell air purifier to run uninterrupted in the background.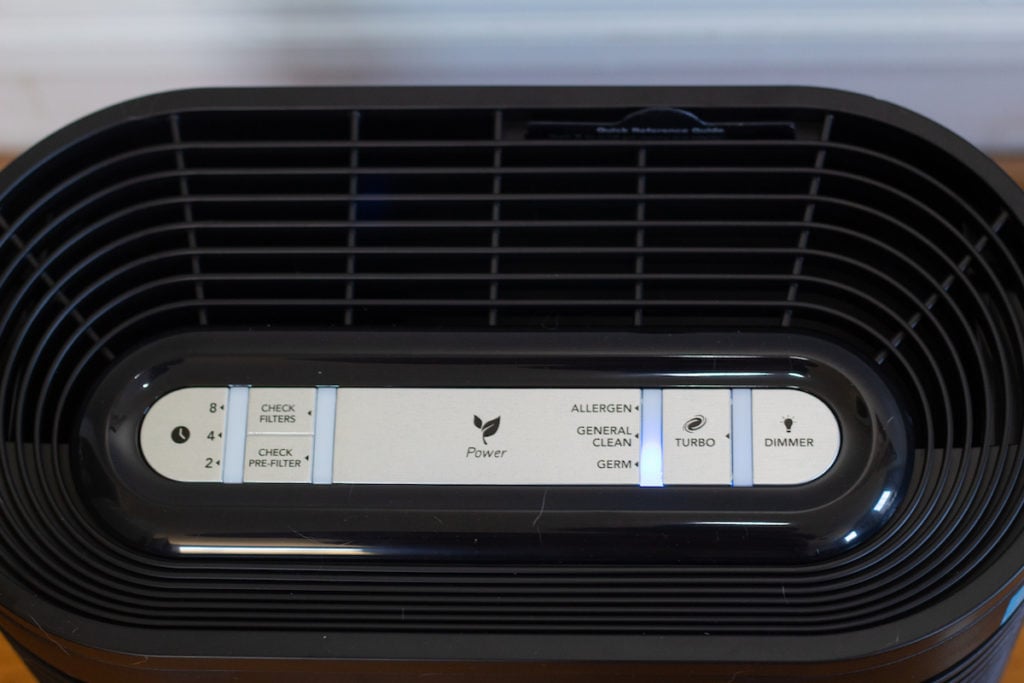 Test #1: General Air Clean
The Honeywell HPA200 is rated to handle up to 310 sq ft which is the size of a medium-large room. However, when purchasing an air purifier it's important to not just think in square feet measurements but in three dimensions.
Most air purifier room size ratings don't provide guidance for ceiling height. I happen to live in an older home that has higher ceilings in many of the living spaces, so for my purposes, the Honeywell HPA200 would be best used in medium-sized rooms like my bedroom or kitchen.
To get a baseline for the performance of the Honeywell HPA200 I wanted to test it in a relatively enclosed room. I decided to use my bedroom because at ~180sq ft it's roughly half the maximum range of the Honeywell air purifier, and by closing the door to the room I can get a good idea of how quickly I could clean a room of a certain size.
To start the test I took a reading of the air quality in the room by using my handy air quality meter. It was surprising to see that my air quality was poorer than normal, at the second to highest air quality level, but my allergies had been bothering me all day so it made sense.
Next, I turned on the air purifier and put it into "General Clean" mode which is the middle fan setting and more than appropriate for almost all air purification settings. I set the timer on my phone and left the room after closing the door.
After 10 minutes I returned to the room to see how the progress was going. I was immediately impressed by the air quality in the room. The air itself smelled fresher and felt cleaner to my senses. The air quality had improved to the highest reading level on the air quality meter but the numbers were still falling so I let the test continue.
After ~45 minutes the air in the room had effectively stopped improving and I was able to take some final readings. One important thing to note about air purifiers and testing is the fact that the composition of the room matters almost as much as the size itself. If you have a lot of bulky furniture in a room for dust to settle on and hold allergens then cleaning the room can take longer. However, if your room is less cluttered the air should flow more thoroughly, and cleaning your air shouldn't take as long.
My bedroom is somewhere in the middle of cluttered and uncluttered, and with two pets who like to sleep on the bed, it can get pretty full of allergens and pet dander. Thankfully the Honeywell HPA200 was able to clean the air completely in under an hour, and thanks to the three-speed settings I can keep it running in the background on "germ clean" or "general air clean" indefinitely.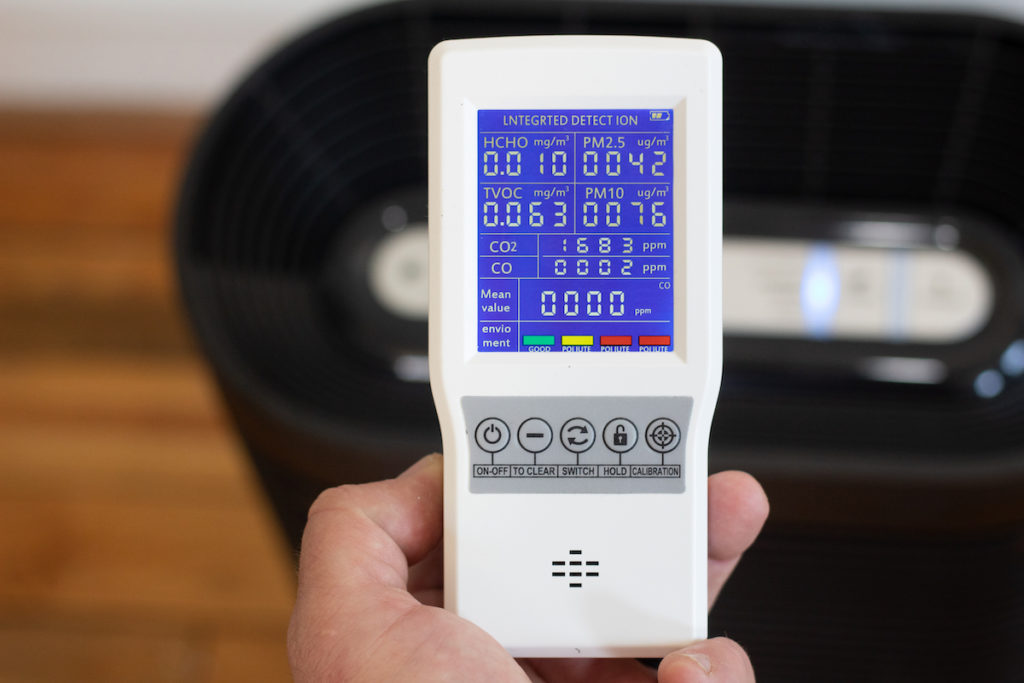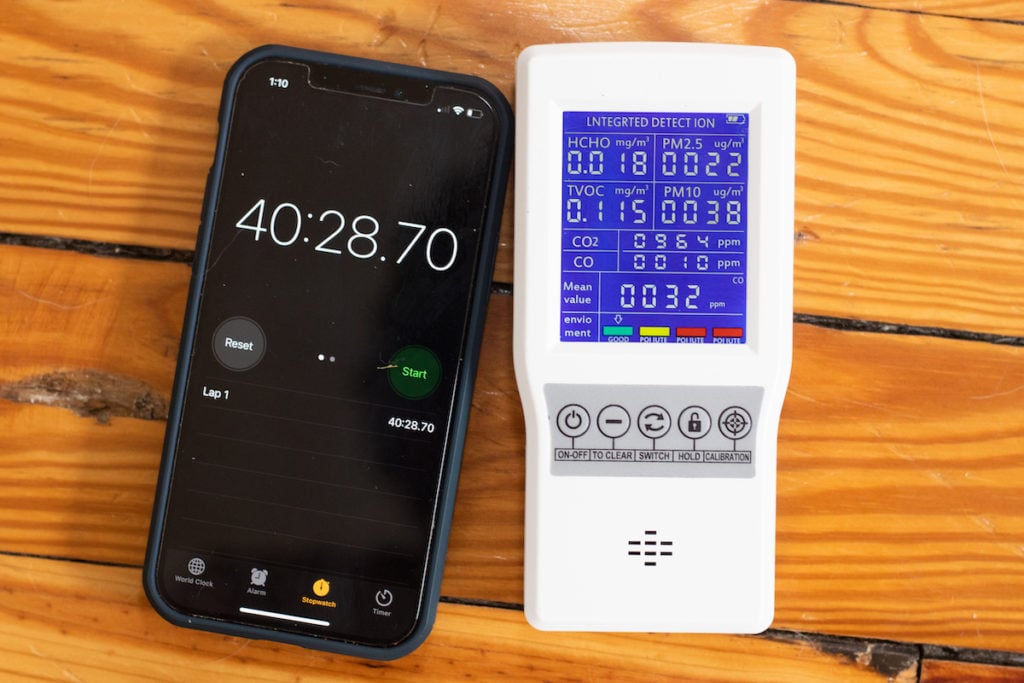 Test #2: Purifying Cooking Smoke
With the baseline air cleaning test out of the way, it was time to really test the capabilities of the Honeywell HPA200 by pitting it against a kitchen full of cooking smells and smoke/steam.
I decided to prepare a batch of skillet-fried chicken, a dish I love but often hesitate to make because of the odor/smoke it can produce. After frying up a pack of boneless chicken thighs, I took a reading on my air quality meter and found the air in my kitchen to be at the highest contamination level.
I plugged the Honeywell HPA200 in, set it to Turbo Mode, and started the stopwatch on my phone. At around the 30-minute mark, I began to see the values on the air quality meter begin to fall. PM2.5, TVOC, and PM10 all began to drop as the air in my kitchen.
While my kitchen space is relatively small at ~150 sq ft, combined with my living room, and dining room that number jumps up to ~700 sq ft. Because of my open floor plan and high ceilings, cooking odors and smoke have a tendency to diffuse rather quickly. Because of this, the air in the space began to spread out and it took the HPA-200 a little over 2 hours to finally bring it down to acceptable levels.
I'm positive that had my kitchen space been more enclosed the HPA-200 could have handled the job easily. However, with my floor plan, an air purifier rated for just over 300 sq ft wasn't going to be able to effectively clean that much air.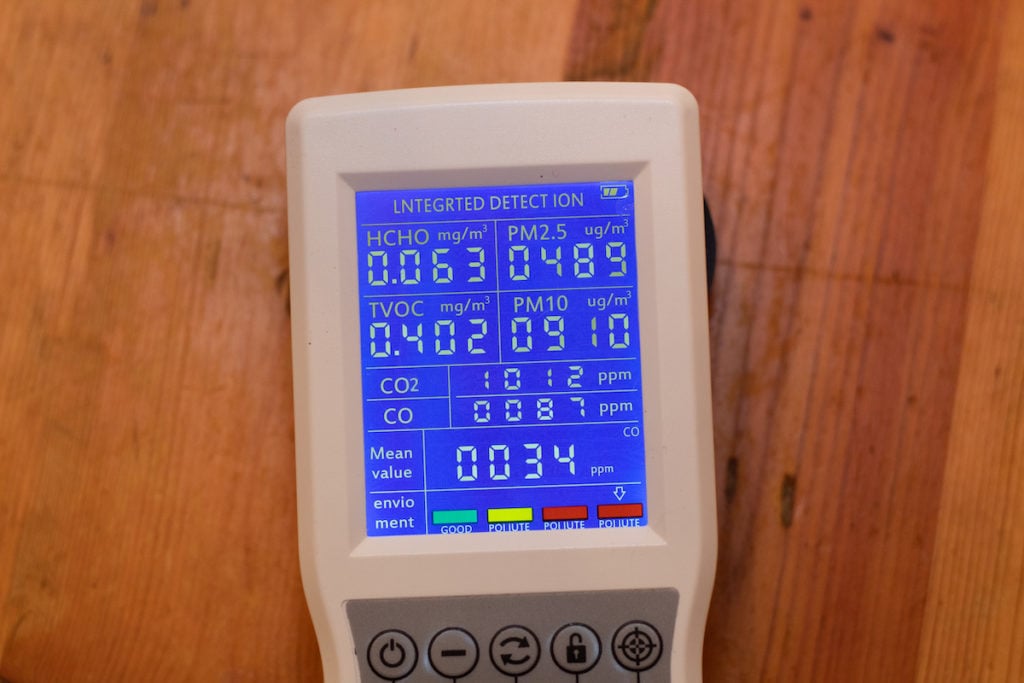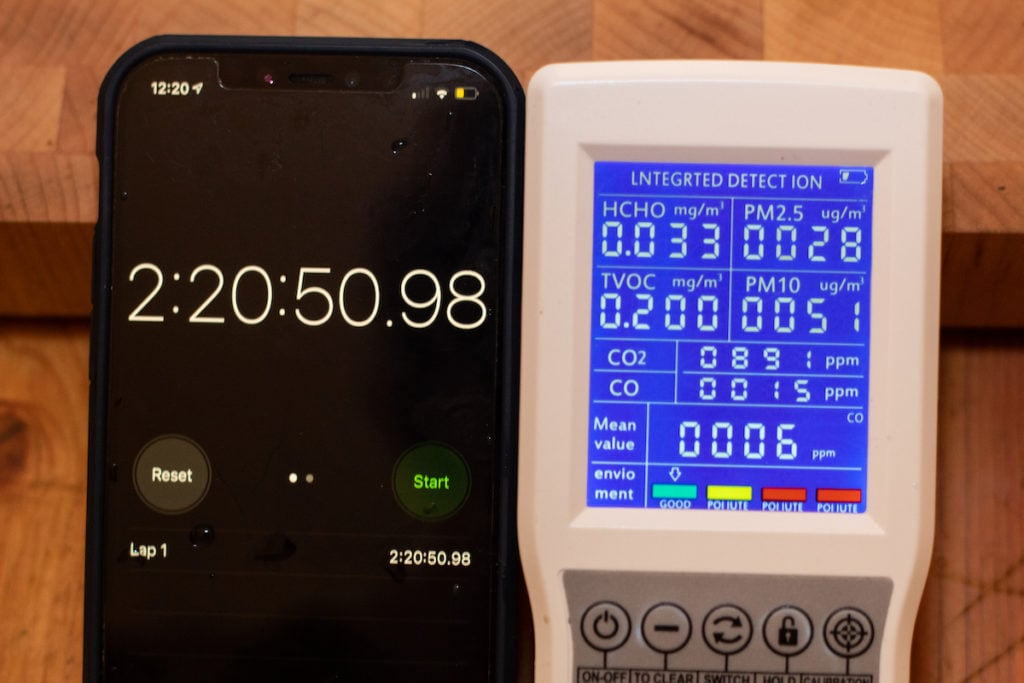 Test #3: Night-Time
I've always slept with some kind of fan or portable air purifiers so the noise level of the HPA-2oo wasn't an issue for me. My partner who is definitely the lighter sleeper also had zero issues sleeping soundly with the Honeywell air purifier running in the background.
We kept the air purifier at the "General Clean" setting for the majority of our testing and it produced no more noise than your average box or tower fan, and considerably less than some I've used. If you've ever used a white noise machine or a static noise as a sleep aid, the Honeywell HEPA air purifier shouldn't cause any issues in your sleep space.
The control panel does have a calming blue light as an indicator for the speed setting, but thanks to a dimer function you can reduce, or even dismiss the light altogether. This can be useful if you are particularly sensitive to light pollution in your bedroom.
Test #4: Noise Levels
At its "Germ Clean", its lowest speed the Honeywell HPA200 air purifier runs at around 45 decibels, which is about as loud as a quiet library. At the General Clean setting, the middle fan speed that number increased to 54 decibels which are about as loud as your average refrigerator.
Once you get to your higher speed modes the Honeywell HPA200 begins to get a bit louder. At the Allergen clean mode, the Honeywell HEPA air purifier runs at 60 decibels or about the sound level of an electric toothbrush. Turbo Power Clean mode is the loudest fan setting on the HPA200 and at this level, you begin to get into the loud appliance level at 64 decibels or about as loud as a washing machine.
While none of these values are incredibly high, I like to run the Honeywell HEPA air purifier in the background at the allergen or general clean setting, either of which is quiet enough to remain relatively unnoticed in my hectic household.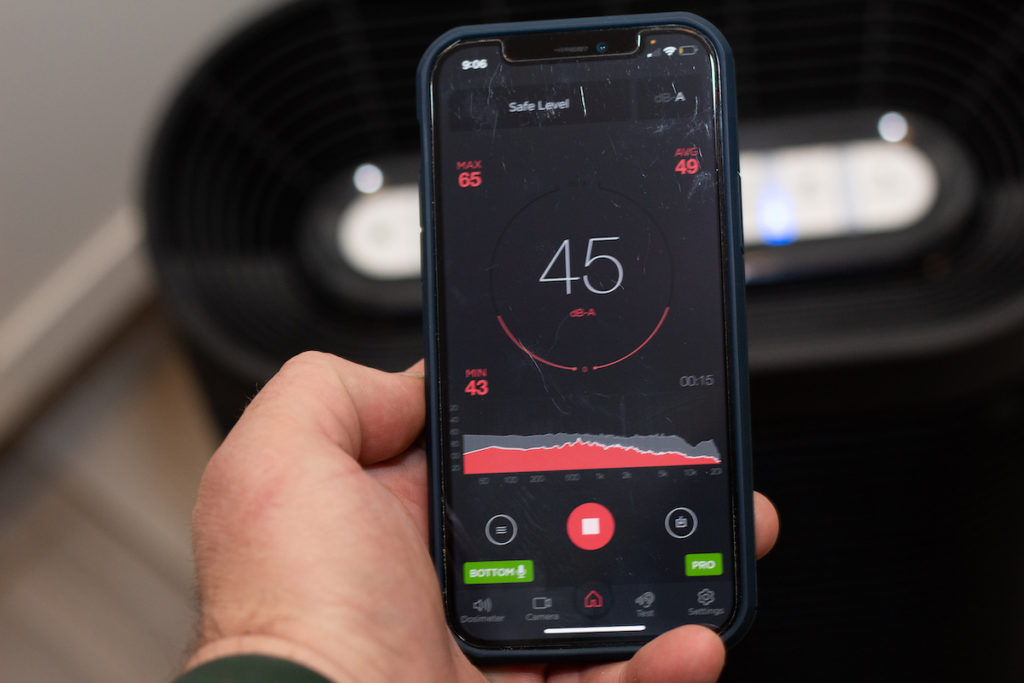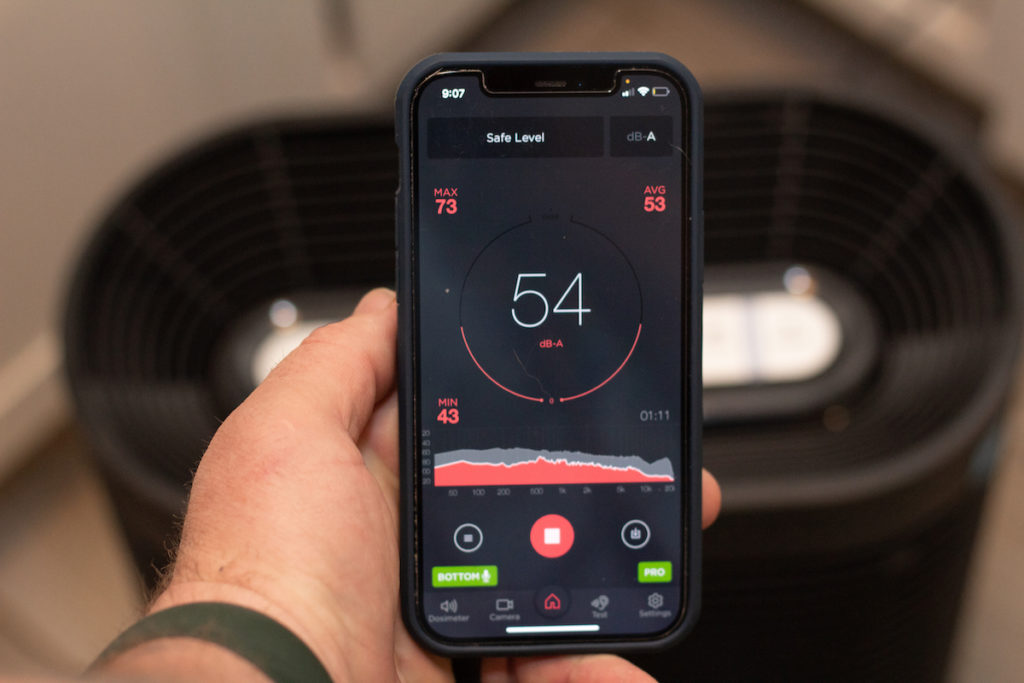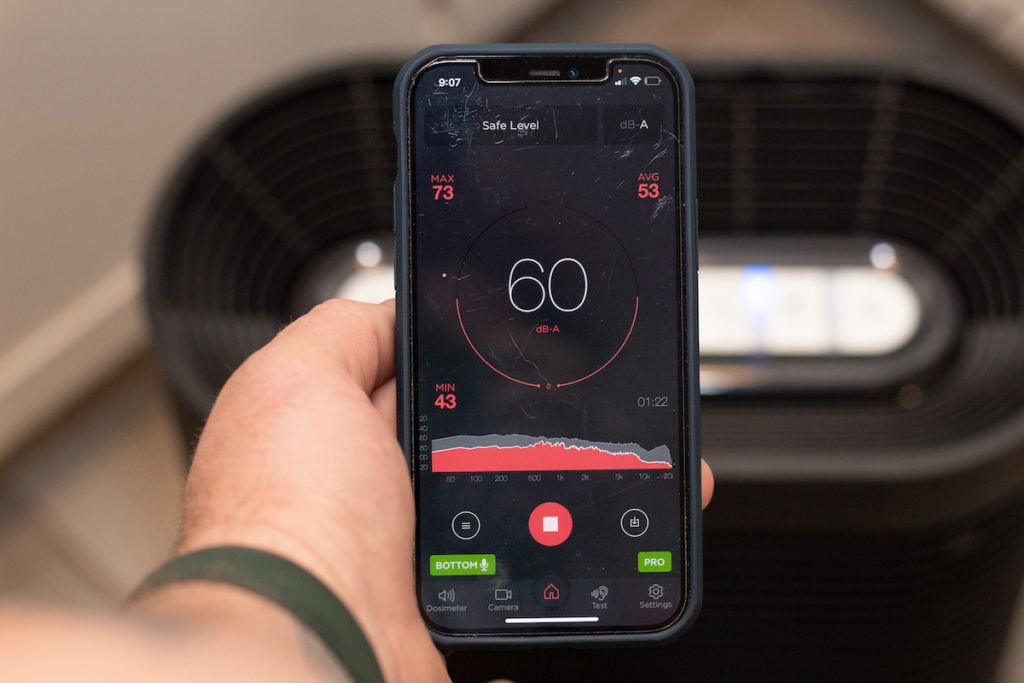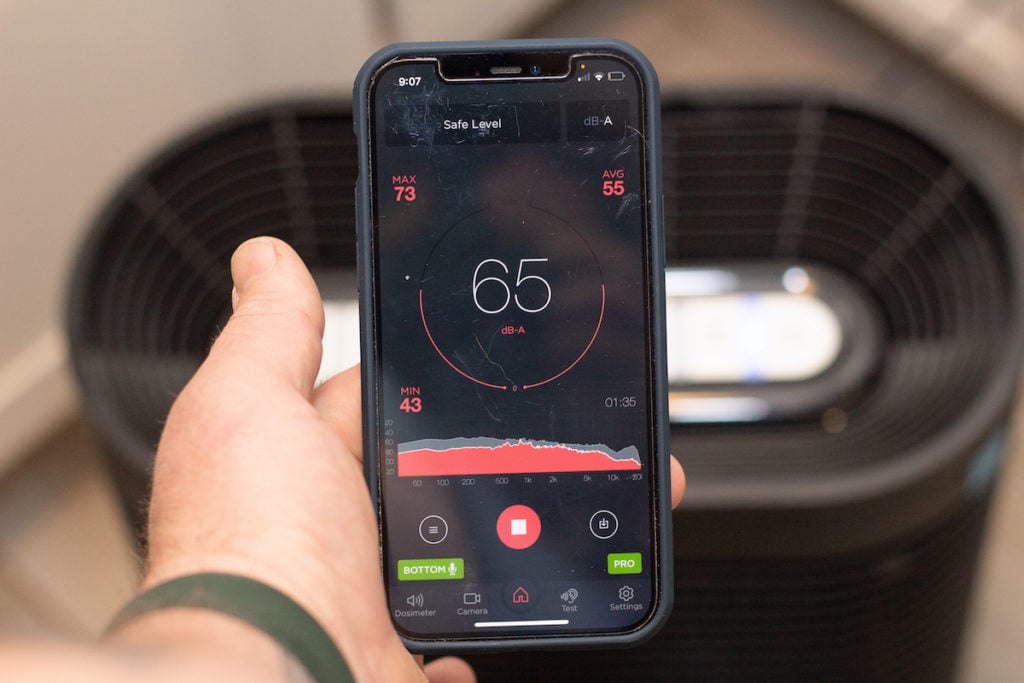 How Simple is it to Operate?
While Honeywell air purifiers don't have the convenience of 1 touch controls, they do offer a lot of customization in your air purifier settings. Overall, the Honeywell HPA-200 is simple to use, but there are some sticking points that may cause frustration.
The control panel itself is composed of touch/pressure buttons to control the air purifier, and it can be difficult to get the buttons to do what you want them to. Sometimes the controls seem sensitive other times it felt like I had to press a button 3 times to get it to operate as I wanted. Once the air purifier was running it was great, but getting it to the setting I wanted was at times frustrating.
Once I figured out the exact pressure settings for the control panel, it became a lot easier to operate. In general, I don't fiddle with my air purifier once I lock in settings that work for me. I find that allowing your air purifier to run in the background keeps the air in your home cleaner overall. Thanks to the timer setting you can set your air purifier to 1,2,4 or 8-hour programs and after it has run its course it will power down thanks to the auto-off feature.
If you want to leave the air purifier running indefinitely I recommend using the "Germ" or "General Clean" function, either of these fan settings will work, and depending on season/air quality, both will keep the air in your home fresh and clean.
One feature I absolutely loved about Honeywell air purifiers, is the inclusion of a quick start guide right on the machine itself. There is a small plastic pull tab towards the back right of the machine on the top behind the control panel. Pulling upwards on this tab reveals a quick start guide that gives you all the basics you need to operate this air purifier effectively.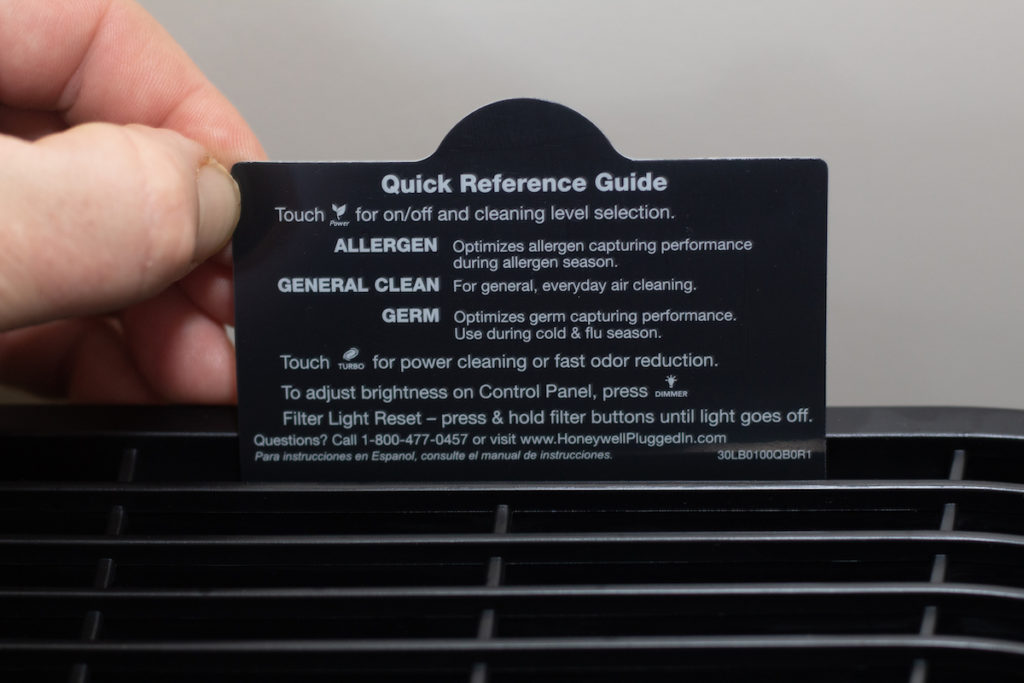 How Easy to Clean and Change Filters?
Changing filters for the Honeywell HPA200 is a relatively straightforward procedure and thanks to the filter change indicator you always know when your HEPA filter or prefilter screen is ready to be swapped for a new one.
First, you'll need to remove the filter cover/front grill. The largest part of the front of the Honeywell air purifier is a removable grill with click tabs at the top right and left corner. To remove it simply press against the top corners and it will pop forward. Lift up an away to remove the front grill and set it aside.
Next, remove the activated carbon pre-filter screen, it's attached to the Honeywell HPA at four tabs located at each corner and will come away from the machine easily by pulling the screen gently forward. Lastly, you'll need to remove the two separate true HEPA filters which you can do by pulling at the cloth pull tabs on each side.
Once you've removed the filters simply replace them with new, unused true HEPA filters and a fresh prefilter screen.
The Honeywell HPA300 comes equipped with two separate electronic filter replacement reminders one for the Honeywell True HEPA filters and one for the Prefilter screen. This helps you understand which filter is in the worse condition and which needs to be changed. The pre-filter screen is going to soil more quickly than the True HEPA filters and you can buy them in packs or separately.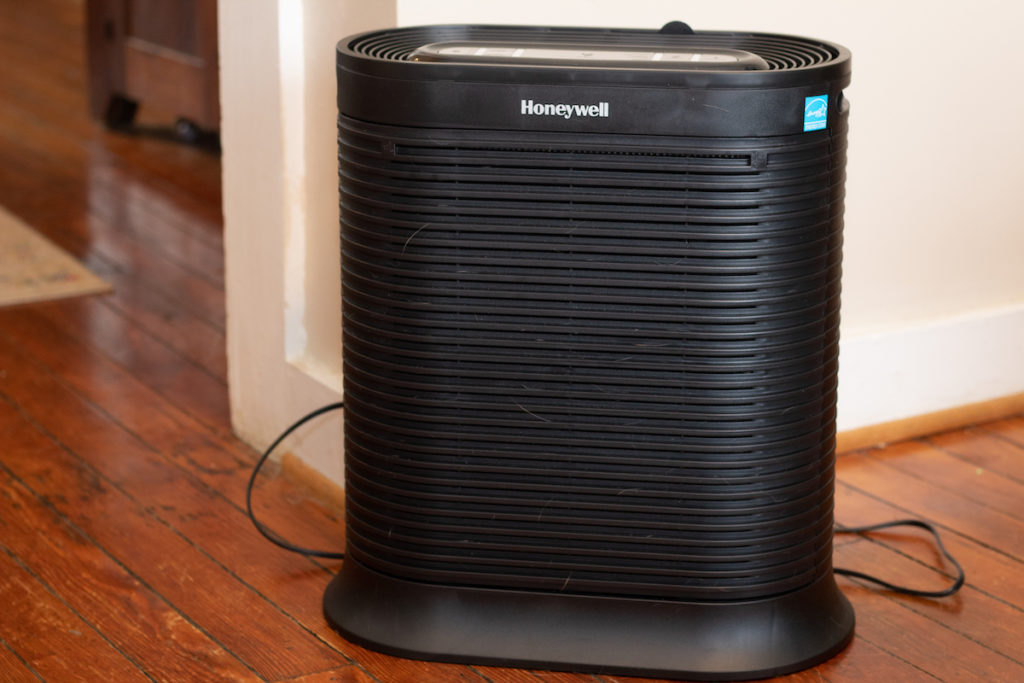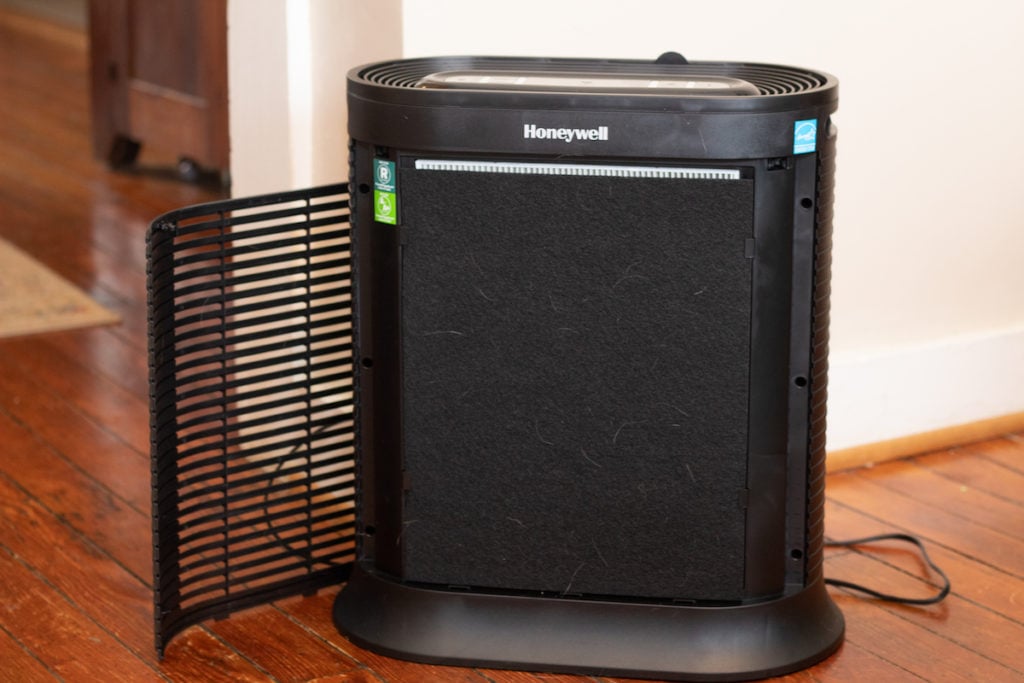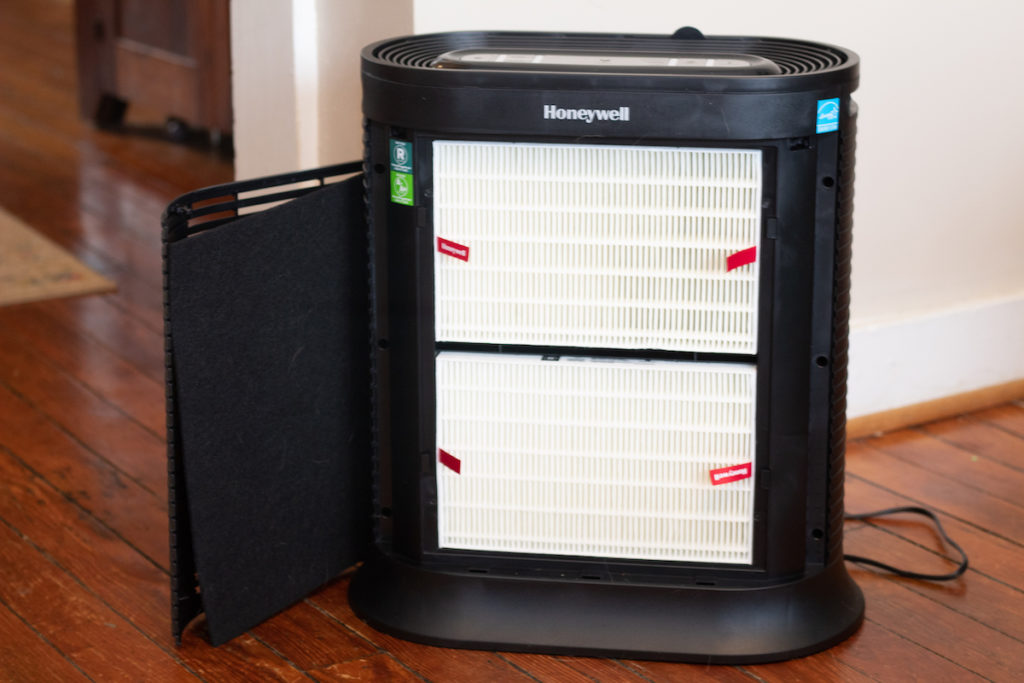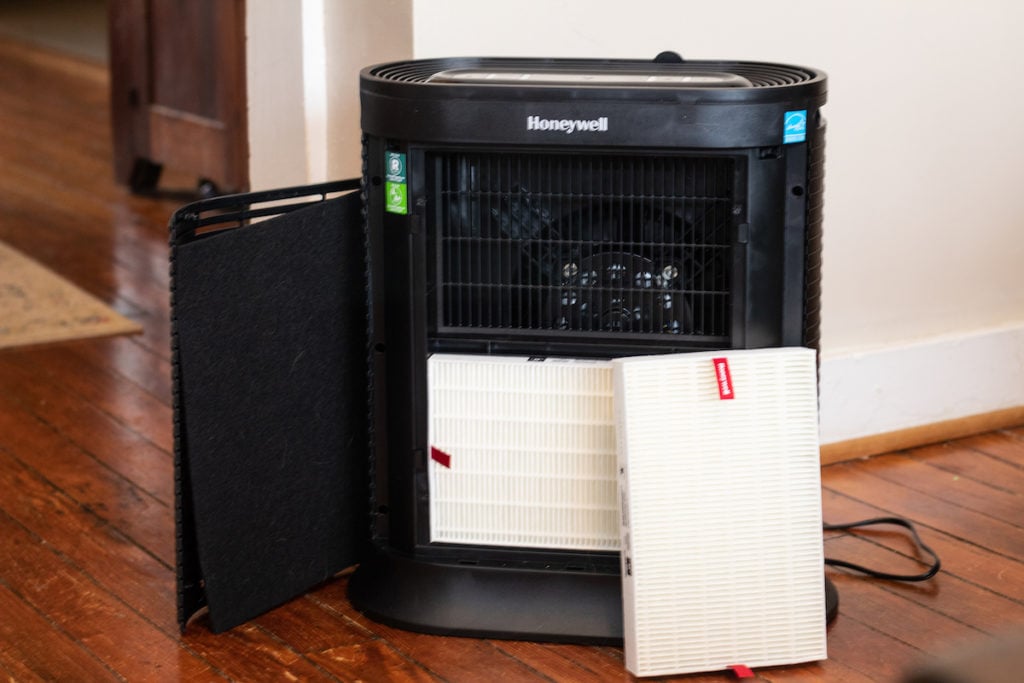 What is the Turbo Power Clean Mode?
Turbo Power Clean Mode is the highest power fan setting on the Honeywell HPA200. While most of the fan settings are virtually unnoticeable, you will definitely be able to recognize when the Honeywell air purifier is set to Turbo mode.
For the most part, air purifiers are meant to run almost constantly in the background of your home to help keep the air clean. Because of their design and the open nature of many floorplans, it's difficult to quickly clean the air in a given room, regardless of the clean air return rate listed for the appliance.
Turbo Power Clean Mode turns the fan in your air purifier to its highest setting and when in this mode it can move a lot of air very quickly. If you find yourself in a situation where the air in your home has degraded quickly, due to cookign odors, smoke, or pollutants, then the Turbo Power Clean Mode can help quickly return your air to an acceptable level.
For my fried chicken test I used the turbo mode to great effect, despite the large open nature of my dining room/kitchen floor plan.
When the Honeywell large room air purifier is running in Turbo Power Clean Mode it produces a sizeable amount of noise pollution and can drown out conversations or background noises. For the most part, you should only use this mode intermittently, as it puts a lot of stress on the fan/motor, but for cleaning air quickly this is a great tool to have around.
For the most part, I found the Honeywell HPA200 True HEPA filter air purifier to be a joy to use. Despite some issues with the control panel, this air purifier does a great job of cleaning dirty air and is relatively easy to get going. There were a few issues I would like to see Honeywell address in future air purifier models, but none of them were deal breakers:
The pressure-based control panel was difficult to use properly at times and I wish the buttons had more of a "click".
The multiple true HEPA air filter system is nice, but I worry that two smaller individual air might cost more in the long run to replace than one larger true HEPA filter.
The click tabs at the corner of the grill cover/front grill are flimsy and easy to break when removing them, I would have liked to see a magnetic closure or something less fragile.
What's the Warranty?
This Honeywell air purifier comes with a great 5-year limited warranty that covers the machine from manufacturer defects as well as a failure from normal wear and tear.
To take advantage of the warranty you'll need to make sure to register your air purifier with Honeywell. Head to kaz.com to begin the registration process. You'll need proof of purchase as well as the serial number for your HPA200 to get it registered, but by doing so you can ensure you'll be able to take advantage of your warranty should an issue arise. For more information on the warranty process, you can take a look at the user's manual for the Honeywell HPA200 on the Honeywell Website.
Verdict
The Honeywell HPA200 True HEPA air purifier is a great larger room portable air conditioner. With 4 fan speeds, multiple timer settings, two True HEPA air filters, an odor-reducing prefilter screen, and a suggested room size of ~310 sq ft, the Honeywell HPA200 can handle clean a lot of dirty air quickly.
While the control panel can be a bit difficult to operate at first, for the price it's hard to beat the overall quality of this air purifier and I would recommend Honeywell air purifiers to anyone who wants a dependable way to improve the air in their living space.
If you are looking for an air purifier to remove airborne particles, airborne viruses, allergens, and volatile organic compounds from the air in a master bedroom, a small living room, or your kitchen space, the Honeywell HPA200 definitely fits the bill. At less than $200 the Honeywell200 makes it incredibly easy to bring healthier air to your home.
How does it Compare?
The Levoit Smart Wifi Air Purifier is a smart, sleek, panel-style air purifier with a lot of features and pre-sets. Compared to the feature-rich Honeywell HPA200 the Levoit Smart Wifi Air Purifier takes things a step further with wifi and smart home connectivity, as well as the ability to monitor air quality and control the Levoit Air Purifier directly from your cell phone.
In terms of range and capacity, the Levoit can handle 403 square feet of room space and can purify up to 900 square feet in under an hour when set to high power mode. Both the Honeywell and Levoit air cleaners have an activated charcoal prefilter and two True HEPA Filters. The Levoit Smart Wifi Air Purifier includes a third washable prefilter screen to capture large particles like mold spores, pet hair as the air passes through the filter helping provide fresher air while also saving on filter replacements.
If you are looking for a sleek, futuristic air purifier that includes smart-home capability and can be controlled from the convenience of your smartphone then the Levoit Smart Wifi Air Purifier should definitely be on your list. However, if you are looking for a high-quality air purifier that will work well in every setting and don't need the added capabilities of wifi connectivity then the Honeywell HPA200 is a great choice.
By the way, if you like the portability of Levoit models, see also the Core 300 and Core 200.
The Coway Mighty Air Purifier and the Honeywell HPA-200 are similar in size, shape, and overall design. Both of these air purifiers are relatively large panel-style air purifiers, they both have front-mounted air intakes and top-mounted blowers as well as control panels.
In terms of controls and settings, both have 3 main speeds as well as a 4th speed, for the Honeywell air purifiers, this is a Turbo Power Clean Mode that helps clean rooms quickly. The Coway Mighty on the other hand has an ECO mode that cleans the room as efficiently as possible by turning the machine off when adequate air quality has been achieved.
Both the Coway Mighty and the Honeywell HPA200 include True HEPA air filters as well as activated carbon odor-reducing pre-filter screens. However, the Coway Mighty includes a washable prefilter screen that captures pet dander and traps larger particles as dirty air passes through the air intake, helping provide cleaner fresher smelling air.
One feature on the Coway Mighty that I found to be particularly useful was the Clean Air Indicator light next to the control panel. This meter helped give me an idea of the quality of the air in a given room thanks to the three-color code system. At a glance I was able to tell how high or low the air quality in my room was and in general it was as accurate as the air quality testing meter I used for testing.
Having had a chance to test both of these machines I can say for certain that they are both great air purifiers. The Honeywell HPA200 has a ton of options, is easy to use, and will keep your air fresh and clean year-round.
The Coway Mighty air purifier is a great option for anyone who wants a sleeker more space-age design, or the ability to keep their air as clean as possible while also maintaining energy savings where possible. On the other hand, the Honeywell HPA air cleaner is a great option for someone who wants a sleek, unobtrusive panel-style air purifier that can blend into the background while also providing clean air for large rooms without issue.
The Winix 5500-2 and the Honeywell HPA200 are incredibly similar air purifiers. With matte/flat black finishes, top-mounted control panels, and similar designs overall, these air purifiers are definitely cut from the same cloth.
With a washable prefilter screen, dual smart sensors, an auto mode, and remote control operation, the Winnix 5500-2 definitely have some features I wish had been included on the Honeywell HPA200. While no one of these options is a deal-breaker, they are definitely added features that make using and living with an air purifier a lot more convenient.
Both of these models have 4 speeds, similar timer settings, and almost identical room size recommendations. While both of these air cleaners come with an activated charcoal prefilter that reduces odors, the Winix 5500-2 has a washable prefilter screen that captures larger particles, helping keep the charcoal filter and True Hepa filter cleaner longer. This both helps save you money and ensures your higher density filters continue to trap the small particles, airborne pollutants, and microscopic allergens that contribute to dirty air.
If you are looking for an air purifier that can handle a large room like a master bedroom or living room that has the added benefit of remote control operation, and a washable prefilter screen the Winnix-5500-2 is an awesome choice for your needs. On the other hand, if you want a great air purifier backed by the Honeywell name, and don't see yourself needing a remote control to operate it, then the Honeywell HPA-200 is perfect for you.