Living in the city can be rough in terms of air quality, especially during the summer months when my allergies seem to go haywire. On top of seasonal allergies, having two dogs running around spreading pet dander and other contaminants only worsens the issue.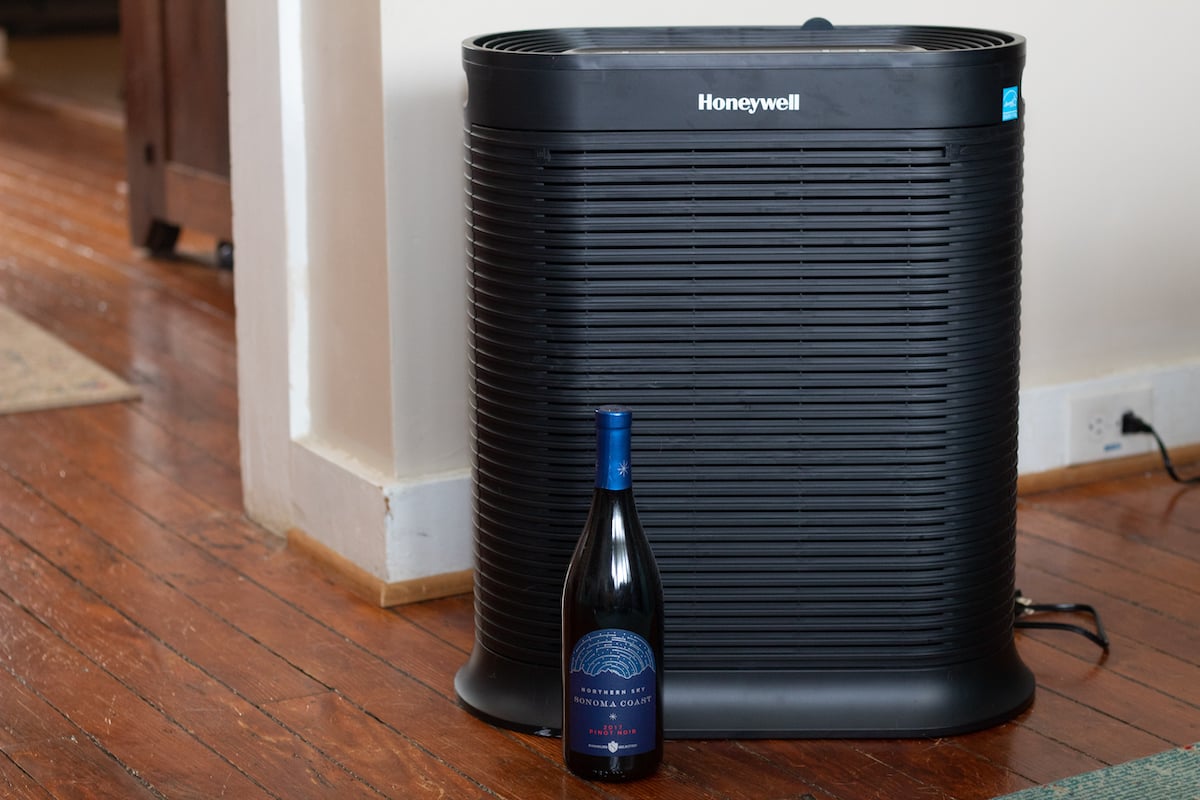 With a young child at home, high-quality air has become much more important to my quality of life overall. I've recently found myself considering purchasing a new air purifier designed for larger spaces like my living room where I spend most of my time.
I currently live with a bedroom air purifier that handles most of the air filtering in my small upstairs area, including my bedroom, a small hallway, and my kid's room. Considering how much time my family spends in our living room I began to see a need for an extra-large room air purifier.
I've definitely enjoyed the benefits of portable air purifiers, especially while sleeping, and getting a more expensive model that can handle extra-large rooms seemed like a no-brainer.
Luckily, I had the opportunity to take the Honeywell HPA300 for a spin and it's quickly proven itself to be one of the better large room air purifiers I've seen.
Table of Contents
What's in the Box?
The Honeywell HPA300 HEPA air purifier is quite large, and the packaging is definitely bulky. The box itself was difficult to maneuver because of its bulk, but it was also surprisingly light for its size.
Inside the box I found:
1 Honeywell HPA300 HEPA Air Purifier
1 Prefilter screen
3 Honeywell true HEPA filters
How Does It Look/Feel/Sit?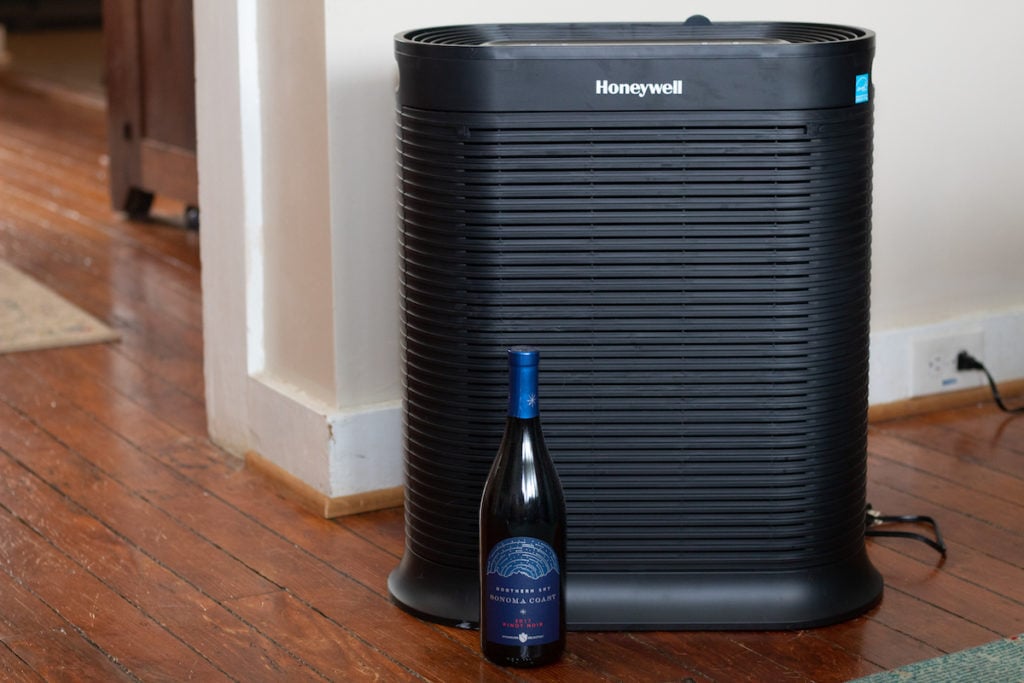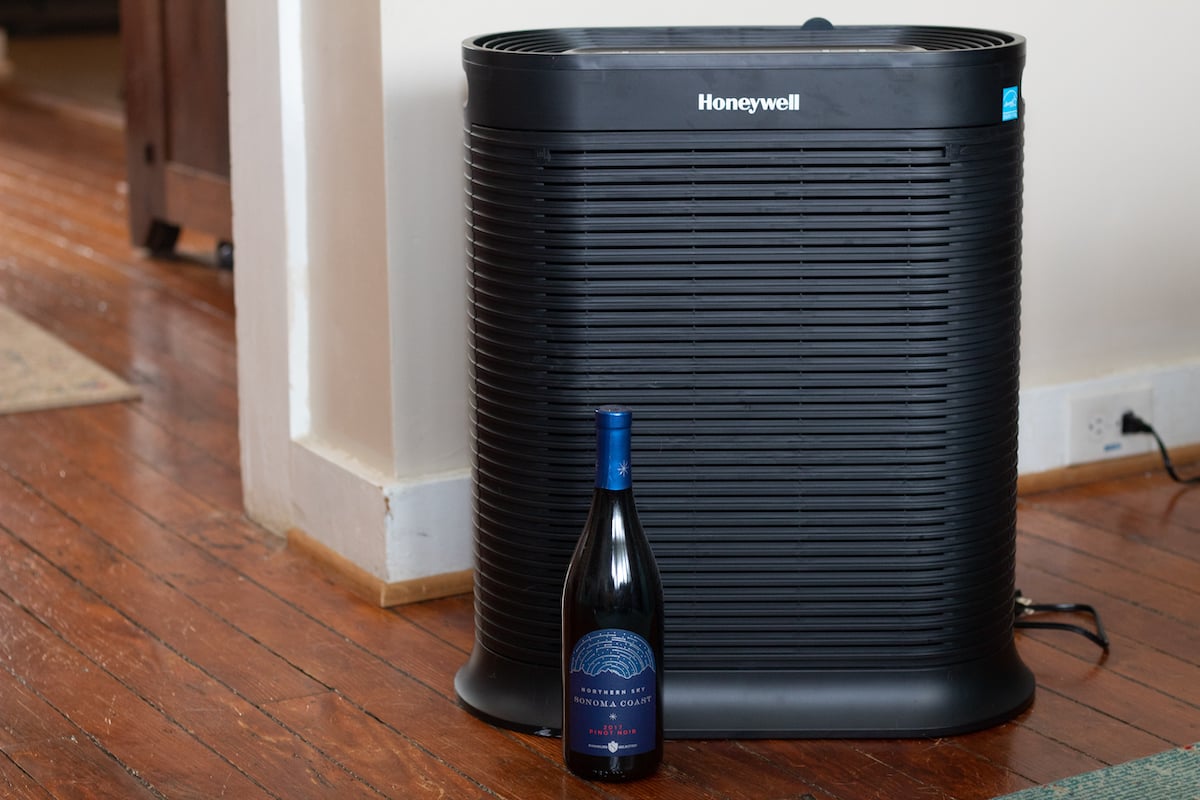 At first glance, the Honeywell HEPA air purifier is a sleek if large portable air purifier. With a slightly matte black finish, silver accents, and a modern design, this is an air purifier that can easily blend into the background of your life.
While I love great design aesthetic as much as the next consumer, I don't need my air purifier to be the focal point of my room, and definitely prefer a sleek, clean design like the HPA300.
With a footprint of 11 x 20 x 22 inches this HEPA air purifier is not a small appliance, and it is about the size of a mini-fridge. However, for its size, it is quite light and easy to move around. With handles on each side, you can easily pick this air purifier up and move it from room to room without issue.
How Easy is it to Set Up?
Compared to other air purifiers I've set up, the Honeywell HPA 300 is a bit more complicated. With 3 separate HEPA filters, a pre-filter, and a slightly confusing cover/screen, getting this air purifier set up and ready to go was a bit of an ordeal.
Happily, once the Honeywell HPA300 is set up, there's not a lot of work to be done to get it running. The control panel is straightforward, and the buttons are touch screen so they take very little pressure to engage.
There are a ton of control options and settings to choose from, including a 2, 4, and 8-hour timer, a turbo mode, general clean mode, auto mode, and a dimmer for the light on the control panel.
One feature I absolutely loved about this machine is the quick start guide attached to the back of the purifier. It's a small plastic card that slides up to give you easy-to-understand instructions on operating the air purifier.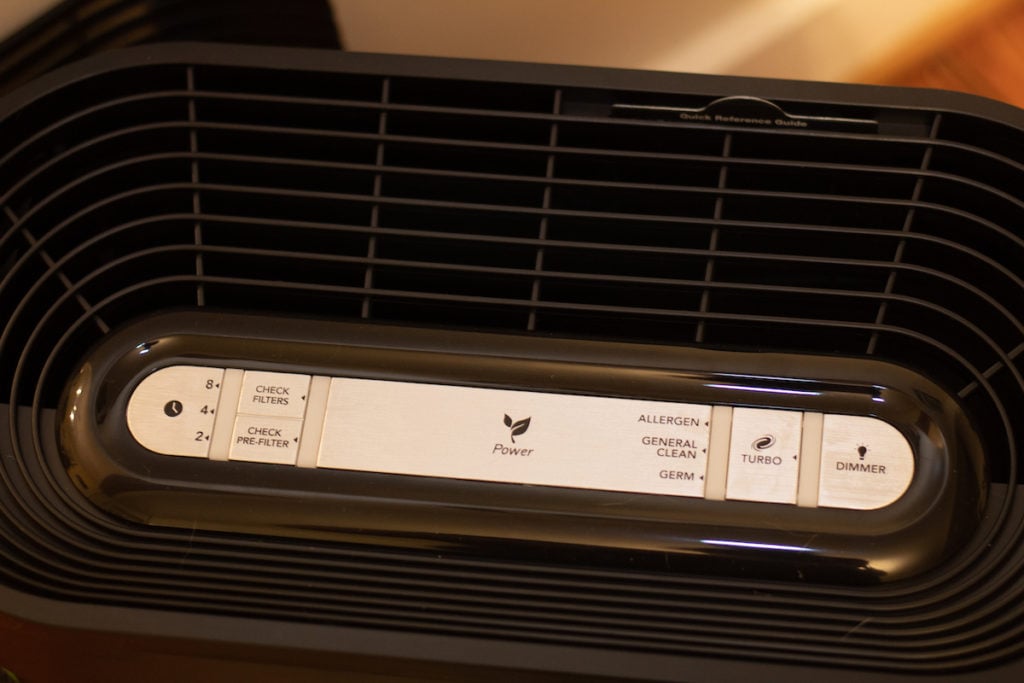 Test #1: General Air Clean
To start testing this air purifier, I wanted to get a baseline for how quickly and efficiently the Honeywell HPA300 could clean a larger living space like a living room or dining room.
To begin I placed the air purifier in the corner of my living room and began to get it set up. I removed the 3 true HEPA filters from the machine and unwrapped them. Once unwrapped I reseated the filters and then unwrapped and installed the pre-filter.
When installing the prefilter in the air purifier, make sure it fits snugly under the 4 tabs at each corner before pressing the filter down onto the velcro strips at the sides. The velcro strips didn't do a lot to hold the filter down so make sure it's well secured at the corners.
Once the filters were installed I replaced the air purifier face, plugged it in, and powered it on. Next, I set up my air quality meter to take an initial reading of the room.
While I waited for the air quality meter to get a base reading I took a minute to run through the controls and play with the dimmer switch.
Once the air quality meter had reached a firm reading, I was surprised to see that the quality of the air in my living room was pretty low. Usually, the air in my home is quite good, especially since I've begun living with an air purifier. However, my partner had cooked earlier in the day and my windows had been open for a few hours bringing in outside irritants.
This was actually a great opportunity because I would get a chance to see how well the Honeywell could handle a moderately polluted space.
I set the Honeywell HPA300 to "Allergen" mode the highest fan setting outside of Turbo and sat back to let the air purifier do its job.
Thanks to the robust filtration system available in Honeywell air purifiers, after about 10 minutes the air in my living room started to improve. My air quality meter began to move in the general direction of "clean" air, and the important values like pm2.5, pm10, and TVOC started to drop.
While indicators like CO2, CO, Ozone, and Formaldehyde are important measurements for air quality there isn't a lot an air purifier can do about these issues because air purifiers don't change the composition of the air, they remove irritants.
After 26 minutes the air in the room stabilized and was at what I deemed a satisfactory level. My air quality readings were looking great and the indicator had moved from the 2nd worst level to the highest quality level.
Considering the overall size of my living room at ~260 square feet and the fact that I have very high ceilings and an open floor plan, the Honeywell HPA300 did its job pretty quickly. One of the most immediate changes was the absence of household odors. The three true HEPA filters and the pre-filter help capture particles, volatile organic compounds, mold spores, and microscopic allergens. All of which help reduce household orders and help you breathe cleaner.
It's definitely important to note that when purchasing an air purifier you can't only consider the square footage estimates. You need to think about your space three-dimensionally. This means if you have higher ceilings then you may need a larger capacity air purifier and the Honeywell HPA300 can certainly handle the job.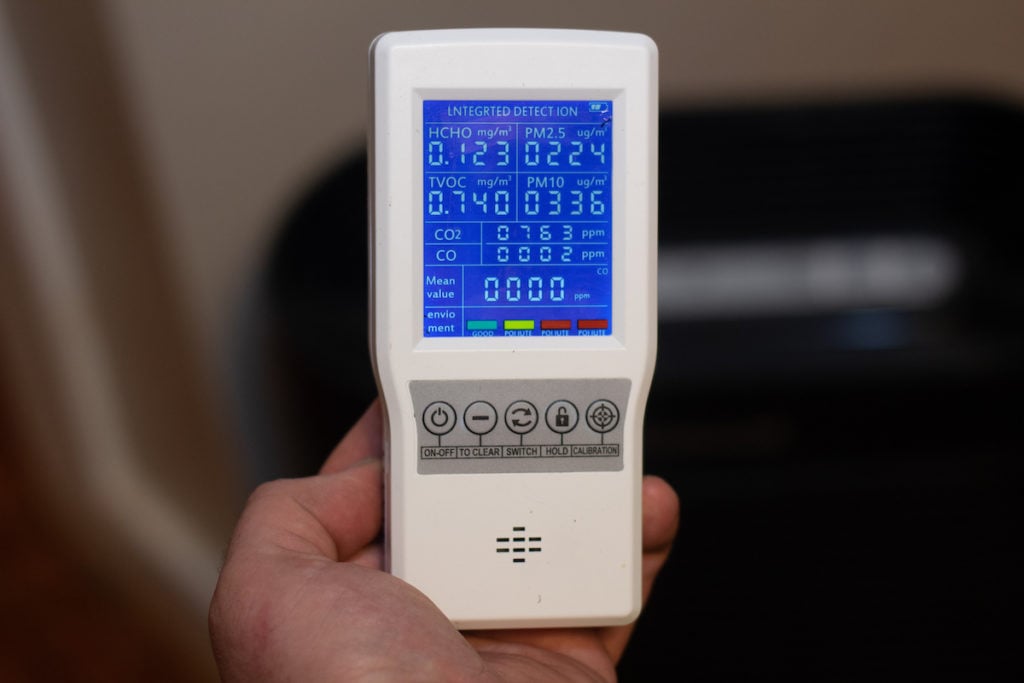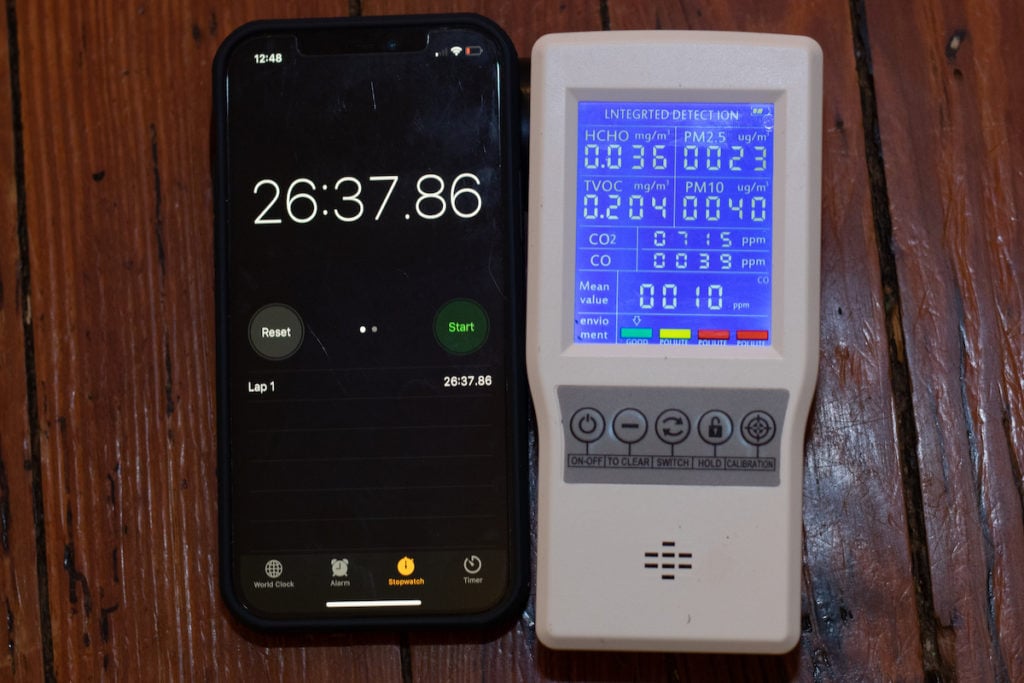 Test #2: Purifying Cooking Smoke with the HEPA air purifier
To test the upper limit of the Honeywell HPA300's purifying capabilities I wanted to create a hyper polluted environment in my kitchen and see how quickly the air purifier could remove the contamination.
For this test, I chose to cook a pan of bacon in my cast iron pan, a task that never fails to create a ton of air pollution. I preheated the pan and proceeded to cook ½ a pack of bacon. After the bacon had finished crisping, I left the pan on the burner for a minute or two to really get the air well polluted and really increase the number of airborne particles and airborne pollutants.
Upon testing the air with my air testing meter, I was able to see that I had indeed polluted my air to the lowest air quality indicator, and the combination of pm2.5 pm10 and TVOC were at really high levels.
At this point, I plugged in the Honewell HPA 300 and turned it on. I placed the air purifier in Turbo mode, the highest-powered fan setting, and allowed it to get to work cleaning the air in my kitchen.
After ~20 minutes I began to observe a noticeable difference in the quality of the air in the room. The smell of cooked bacon began to recede and the air was noticeably less smoky. Furthermore, the air quality indicator began to move from the lowest quality level towards the highest.
While the initial air quality change was rapid, it took 1.5 hours to fully clean the space. Though my kitchen is not a very large room, it does open directly into my dining room and has more of an open floor plan which means the air contamination will expand through space because of diffusion.
That being said, the Honeywell HPA300's performance was more than satisfactory, and the overall quality of the air throughout the house after 1.5 hours was pretty amazing. The bacon smell had almost entirely disappeared, and any remaining came from the stovetop itself. Furthermore, the air was completely free of smoke and contamination, which the air quality meter was able to confirm with very low values for pm 2.5, pm10, and TVOC as well as the overall quality indicator.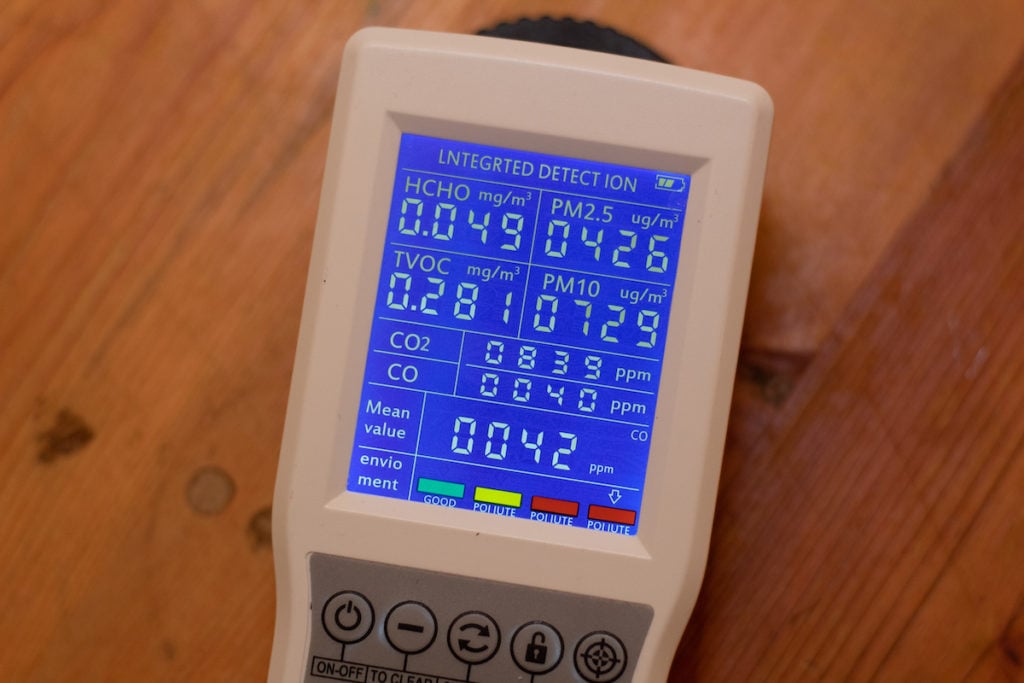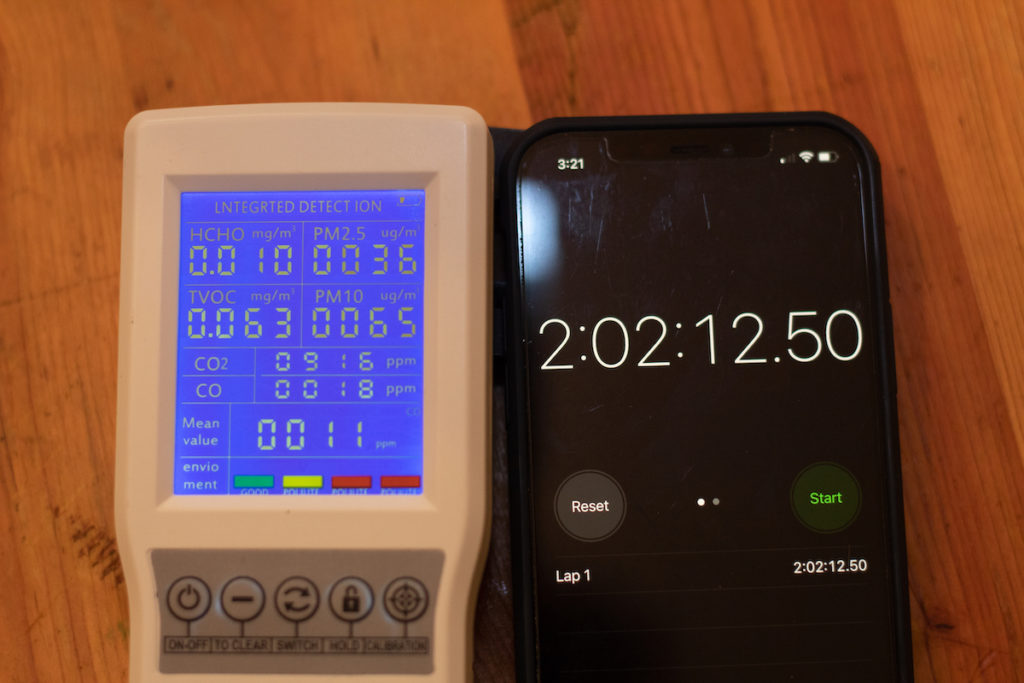 Test #3: Night-Time
The Honeywell HPA300 is a very large air purifier and it is designed to handle an extra larger room of up to 456 sqft. Most bedrooms are far smaller than this so in my experience using the Honeywell HPA300 in your bedroom might be overkill, but if you happen to have a larger bedroom space or just really want the best quality air possible, the Honeywell HPA300 will do the trick.
The "Germ Clean" setting is the lowest fan speed setting on the HPA300 and at less than 40 decibels it runs very quietly. I am a very heavy sleeper, and even on Turbo speed I wouldn't have an issue sleeping with this purifier, however, my wife is definitely a lighter sleeper so for us the Germ Clean Setting was the best.
I did test sleeping with the other settings and overall neither of us had a problem getting restful sleep while the Honeywell HPA300 was running. In general, even at the "Allergen Clean" level or the highest setting outside of Turbo, this air purifier doesn't produce much more noise than a white noise machine or a box fan.
The control pan does have a soft blue light to let you know what level the fan speed is set to, but this model is also equipped with a "dimmer" setting that allows you to lower or even dismiss the indicator light entirely to make sleep easier and reduce light pollution.
Test #4: Noise Levels
Generally speaking, this air purifier is relatively quiet to operate, especially at the lowest and middle settings. While the Turbo setting is quite loud at 65 decibels, the Germ setting is almost silent at 39 decibels.
I usually run this air purifier on the general clean setting which is a bit louder than the Germ setting but more than quiet enough to run in the background unnoticed. While the noise levels for the Turbo mode are quite high you rarely need to run your air purifier at it's highest speed.
Overall, I had zero issues with the amount of noise produced by the Honeywell HPA-300 and both my partner and myself were able to sleep soundly even while running the purifier at higher speeds.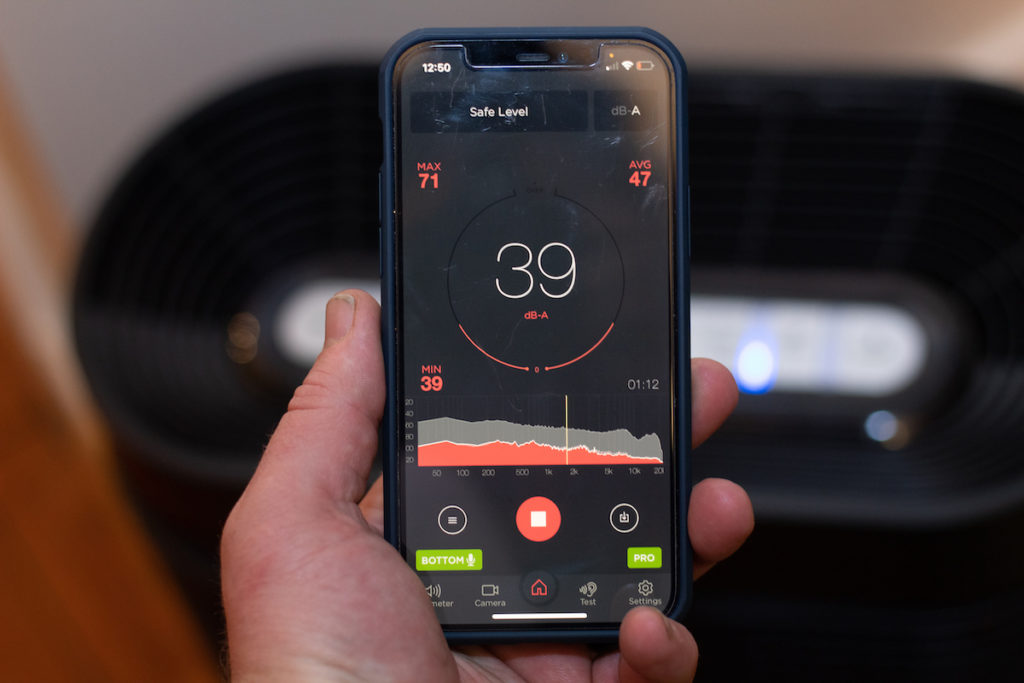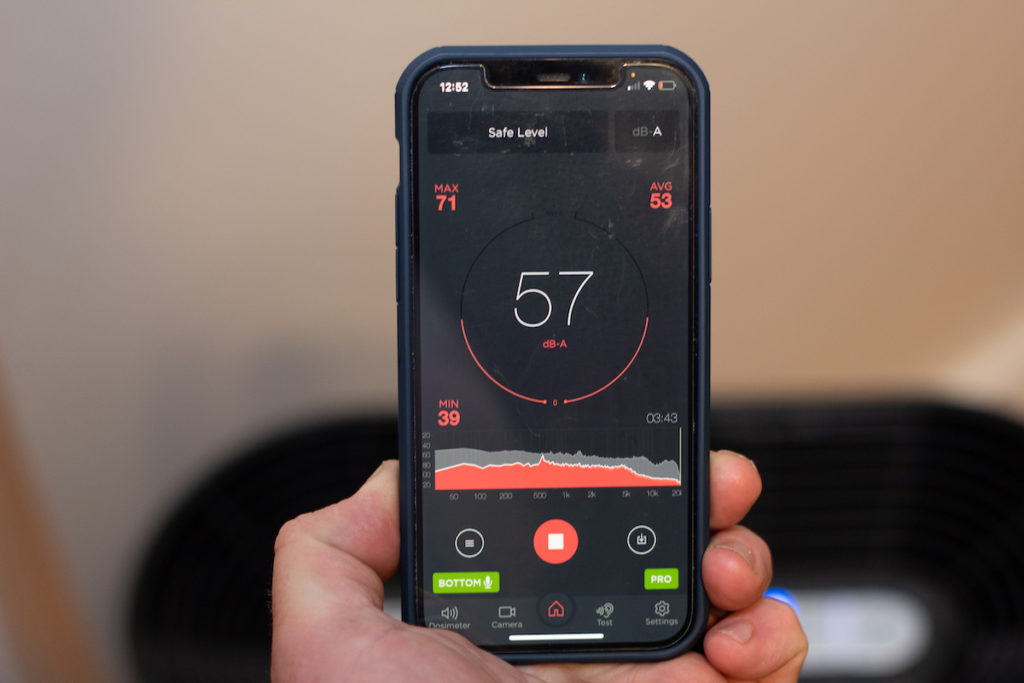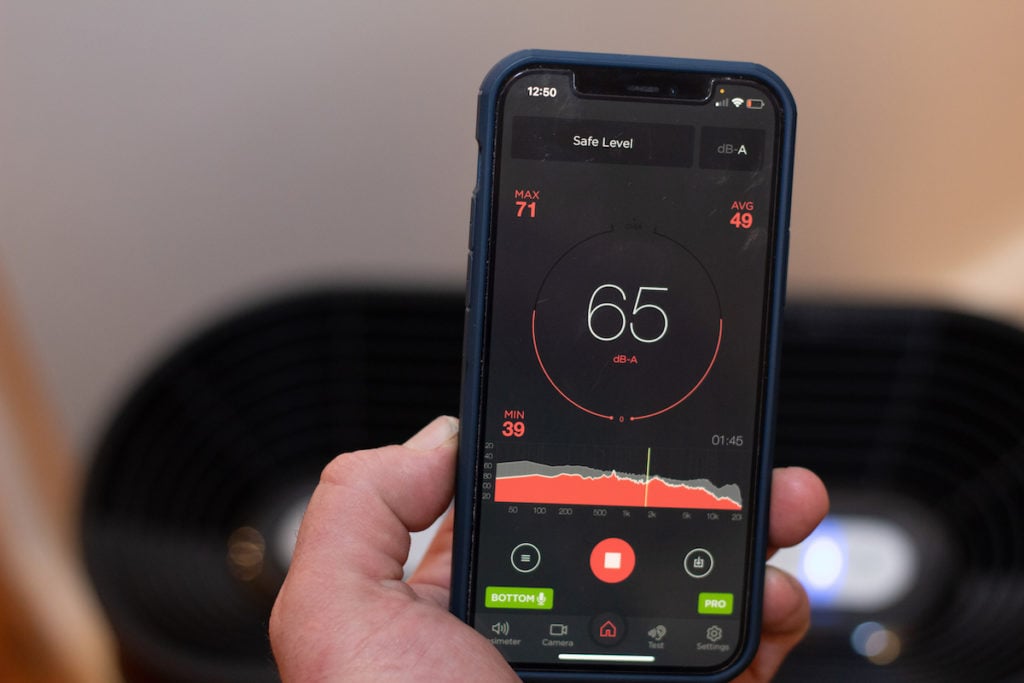 How Simple is it to Operate?
Air purifiers are generally straightforward and easy to operate, however, there were times the Honeywell HPA300 gave me a little trouble.
The Honeywell HEPA air purifier includes buttons that are almost touch screen in nature. They are definitely traditional buttons but they have very little"click" and activate under pressure, making them sleek, but also sometimes difficult to operate.
For example, sometimes it took 2-3 presses on the power button to get it to recognize my input. Added to this issue, the labels for the fan speed settings were confusing at first glance. Instead of giving you an idea of the speed of the setting itself, the three fan settings are labeled "Germ", "General Clean" and "Allergen".
It didn't take long to suss out the meanings of the terms, with "Germ" being the lowest setting, and "Allergen" being the highest, but it was a bit baffling at first.
The turbo mode function was easy to identify and upon testing it became clear that this mode is only for occasional use because of the noise and accompanying power consumption of running the air purifier at that elevated speed.
There is also a dimmer function, which lowered the indicator light on the control panel or can turn it off entirely, which is a nice touch, especially if you plan on sleeping with this machine in your room.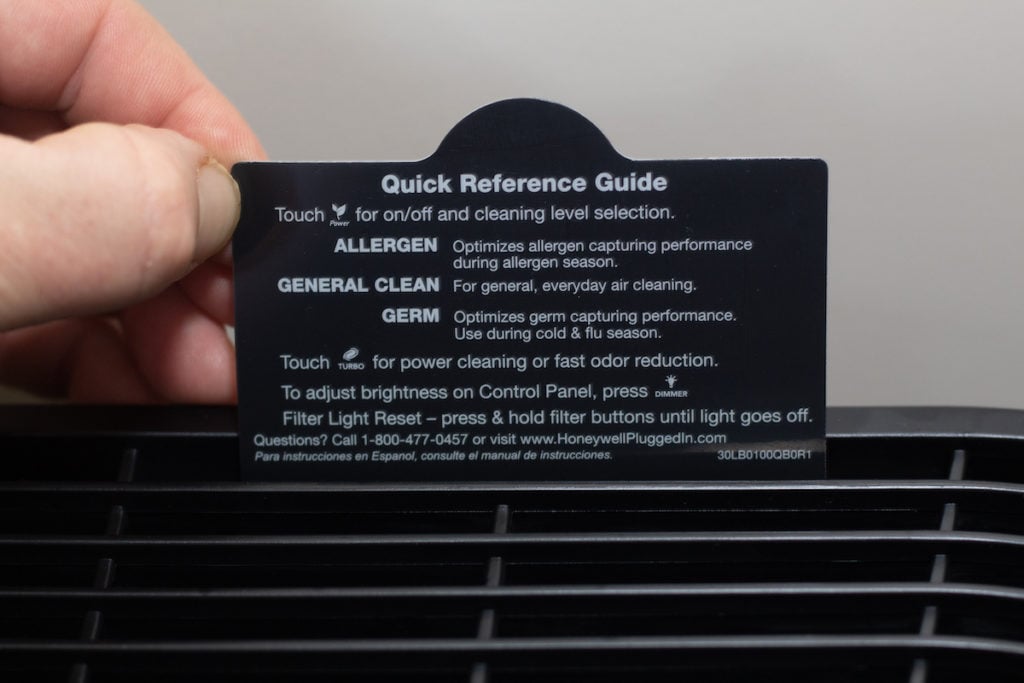 How Easy to Clean and Change the HEPA Filter?
Changing the true HEPA filter in the Honeywell HPA300 is one of the more frustrating parts of operating this air purifier. While the multiple change filter indicators on the control panel are a nice feature, it can be difficult to remove and replace the filters.
I did love that this model includes both a change filter indicator as well as a change pre-filter indicator. The Pre-filter will definitely get dirtier quicker than the 3 true HEPA air filters and by just changing one instead of all the filters you're able to save on filer costs.
To change the filters you need to remove the front grill/filter cover which is the large panel on the front of the air purifier. To remove the filter cover and access the air filters, you press on the top right and left corner to release pressure clips and the cover will open.
Carefully remove the cover and set it aside, it is larger but also rather flimsy so be careful not to drop it as it may crack.
Once the cover is off you can remove the odor-reducing pre-filter and access the 3 individual true HEPA air filters. To remove them simply pull on the cloth tabs at the top and bottom of each true HEPA filter and they will slide free easily.
Overall, the true cost of air purifiers lies in the replacement filters and the HPA300s are rather expensive. Luckily, you'll only need to replace them every few months depending on the quality of the air in your area.
To purchase new filters you'll need to buy two separate types, the pre-filter as well as the HEPA filter.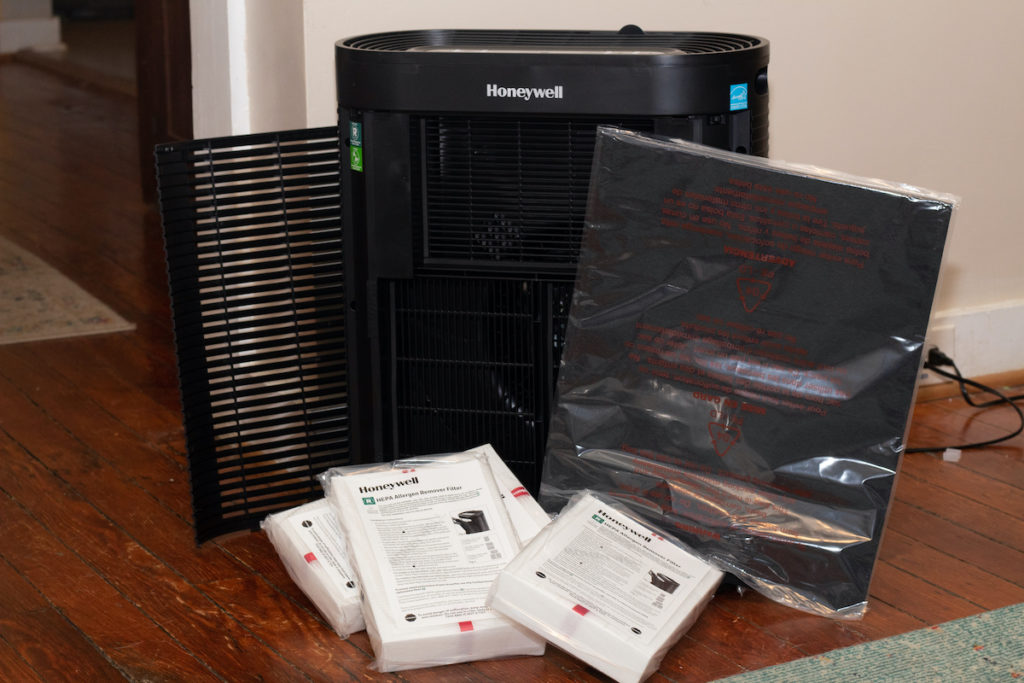 What is the Turbo Power Clean Mode?
Turbo Power Clean Mode is a useful setting that essentially turns the Honeywell air purifier up to "11". While the Turbo Power Clean Mode isn't ideal for everyday, general air cleaning purposes, it is incredibly convenient for situations where your air quality may have reduced drastically because of cooking, or other contaminants.
I used the Turbo Power Clean Mode for my cooking smoke test and it definitely improved the air quality in my kitchen/dining room rapidly.
In Turbo Clean Mode the Honeywell HEPA air purifier is incredibly loud. At over 60 decibels, the Turbo mode is definitely the most noticeable fan setting on the Honeywell HPA 300. Comparable to a large box fan set to high, turbo mode definitely produces quite a bit of noise, but it also does an excellent job of cleaning the air in a given room very quickly.
While the Honeywell HPA300 is one of the nicest air purifiers I've had the opportunity to test, there are a few areas for improvement.
The air filter cover is large and difficult to remove/replace. With pressure clips at the top corners, it can be difficult to get the cover settled into place, and I can imagine over time these clips would be one of the first places to break/fail.
The control settings are slightly confusing and though I appreciate the "Germ Clean", "General Clean", and "Allergen" labels, using speed settings might be more descriptive.
What's the Warranty?
This Honeywell air purifier comes with an incredibly generous 5-year limited warranty that covers the machine from manufacturer defects and failure associated with normal use.
To take advantage of the warranty you'll need to make sure to register your air purifier. Go to kaz.com to begin the registration process and make sure you have proof of purchase. For more information on the warranty process, you can take a look at the user's manual for the Honeywell HPA300 on the Honeywell website.
Verdict
Overall, I really enjoyed using and testing the Honeywell HPA300 and would absolutely recommend it to anyone who is looking for an extra-large room air purifier. With 3 true HEPA air filters, a pre-filter, 4 different filtration settings, and the ability to filter 456 sqft of air 5 times in an hour, the Honeywell HPA300 is a real workhorse.
While there were some issues with the design and the control panel, the nice thing about an air purifier is that once you get it set and running, it doesn't take a lot of upkeep outside of the occasional filter change. Despite some design elements I didn't love, the Honeywell HPA300 does an incredible job at increasing air quality by removing contaminants and volatile organic compounds.
If you are looking for an air purifier to handle a large room then the Honeywell HPA300 HEPA air purifier should definitely be on your list of considerations.
How does it compare to other air purifiers?
Aesthetically the Blueair Pure 211 and the Honeywell HPA300 couldn't be more different. Unlike the sleek, matte black finish and ovular column shape of the HPA300, the Blueair 211 is two-toned, white, and blue or gray with a square/column shape.
While the Honeywell air purifier has a wealth of options and control features, the Blueair 211 is far more simplistic in its approach to air purification. With a single button operation that automatically senses and optimizes its performance to suit your air quality, the Blueair 211 takes the guesswork out of cleaning your air.
In terms of size/capacity, the Blueair 211 beats the range of the Honeywell HPA300 by 100+ square feet, which is a sizeable difference. The Blueair also has a commensurately higher price tag as well, so that needs to be part of your consideration as well.
The Blueair 211 also opts for a more streamlined filter system with a one-piece true HEPA filter which has an activated charcoal layer. Instead of a replaceable pre-filter screen like the Honeywell HPA has, the Blueair 211 has a washable cloth prefilter that can save you money on filter replacements in the long term.
I would recommend the Honeywell HPA300 air purifier to anyone who wants a high-quality air purifier but also wants a budget-conscious option with a ton of features and settings. On the other hand, if you're looking for a one-button operation, or something outside of an all-black aesthetic, then the Blueair211 is an awesome air purifier option for you.
The Medify MA-40 is a tower-style portable air purifier with a True HEPA filter that like the Honeywell air purifier is Energy Star Certified. While Honeywell HPA300 is a flatter, more panel-styled air purifier with a sleek black finish, the Medify MA-40 is a cylindrical or tower-style air purifier with a sleek white finish.
Compared to the Honeywell model the Medify MA-40 is rated to handle about double the space at a capacity of ~840 sq ft. While both of these models have great performance and do a great job improving the air in an extra-large room, the added square footage of the Medify model can be really helpful, especially if you have an open floor plan or very high ceilings.
Both of these air purifiers will absolutely do a great job cleaning your air and improving your family's breathing, however, the MA-40 is definitely more expensive than the Honeywell HPA-300.
If you are looking for a great air purifier that can handle really, really big rooms then the Medify MA-40 is a good option for your needs. However, if a smaller room size is fine for your purposes, and you want an air purifier at a lower price, then the Honeywell HPA-300 will definitely suit your needs.
Like the Honeywell HPA-300, the Winix 5500-2 is a panel-style portable air purifier built to handle large to extra-large rooms. With similar matte black finishes, square to rectangular shapes and a top-mounted control panel operating these two air purifiers are remarkably similar. Both models come with an odor-reducing pre-filter and HEPA filter to thoroughly clean the air inside of any room, but the Winnix model does come with some extras.
Despite a smaller range/capacity at 360 sq ft, the Winnix 5500-2 has a few features that I'm very envious of like the washable pre-filter and washable carbon filter. The pre-filter on the Honeywell unit is replaceable but not washable, and it has no activated carbon filtration at all, which means while it can do a decent job removing household odors, it isn't as effective.
The Winnix 5500-2 also includes a remote control which can be really convenient in an appliance like a portable air purifier. In general, I don't like to have to fiddle with my air purifier more than necessary and remote control makes it that much easier to change the timer or fan speed at will.
If you really want a great air purifier that can handle an extra-large room at 456 sq ft or more, then the Honeywell HPA-300 will absolutely be a the top of your list. However, if having a remote control, or a washable prefilter is important and you don't mind a slightly smaller capacity/range than the Winnix 5500-2 will work just fine. As an added bonus the Winnix 5500-2 has a much lower price which is great if you're shopping on a budget.