People often confuse frying pans with sauté pans and use them interchangeably, but these are two different cooking pans. The main differences between these pans are their surfaces and sides. In particular, the sides of a sauté pan are straight and deeper, whereas the frying pans have sloped sides and are shallow.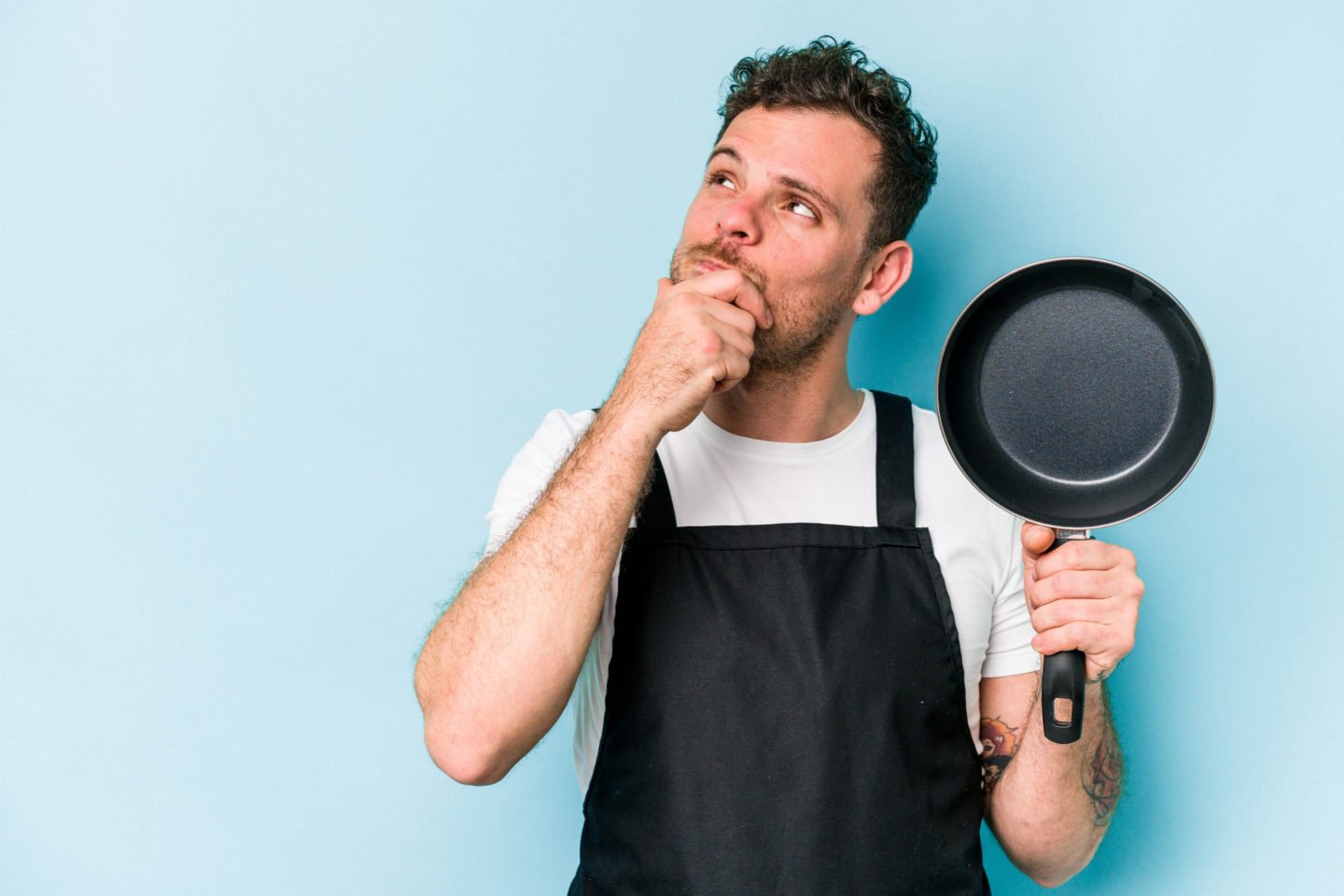 In addition, as the name implies, a frying pan is excellent for frying and scorching meals, while a sauté pan is better for sautéing. When it comes to size and weight, the sauté pan is heavier and larger compared to the lightweight and smaller fry pan, which you can easily lift when tossing and flipping food.
This article will discuss all the differences between a frying pan and a sauté pan: their difference in size, shape, function, price point, and efficiency.
Table of Contents
What Is a Frying Pan or a Skillet?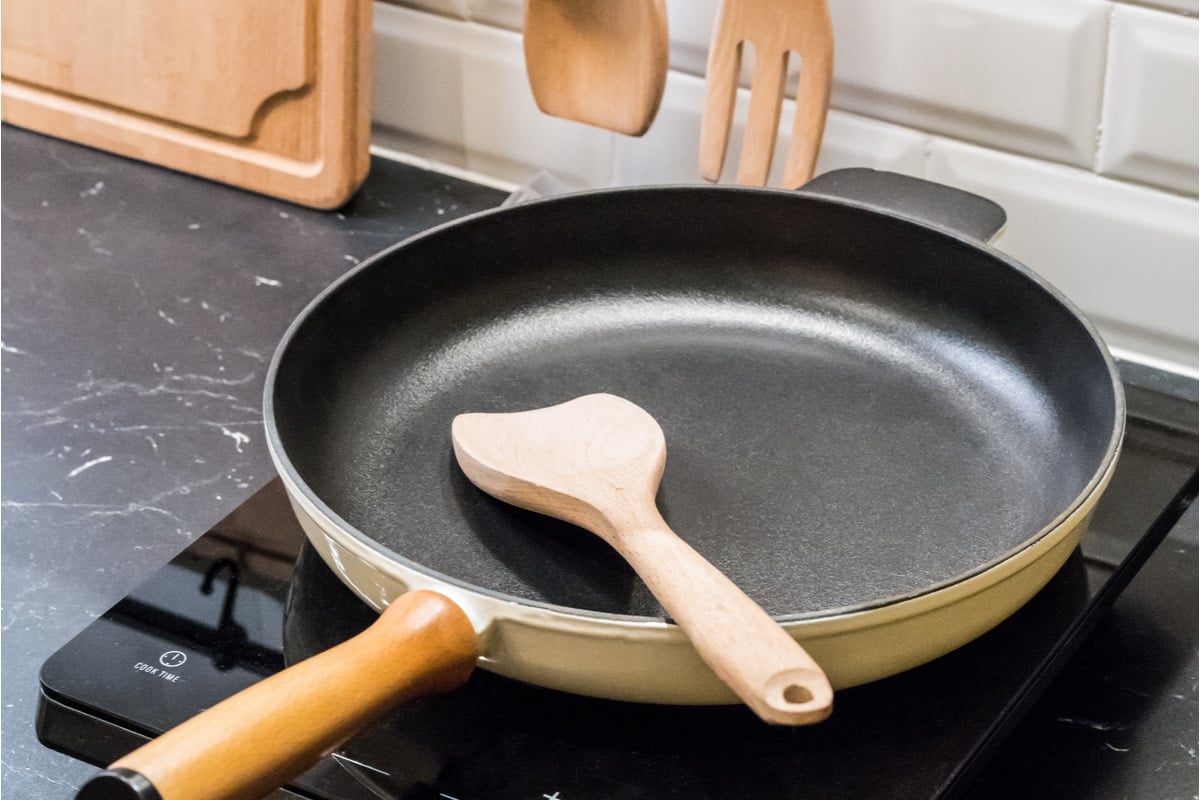 A frying pan appears as a shallow pan with sloped or slanted sides, a flat bottom surface, and a long handle. A frying pan typically measures 8 to 12 inches in diameter. A little grab grip on the opposite side of the main handle is typical on some frying pans.
Depending on the brand, frying pans may or may not come with a lid. A cover may not be essential if your recipes require frequent adding, shaking, or stirring ingredients while cooking. It's worth mentioning that there are specific frying pans/skillets with two short handles that are less popular.
They are usually somewhat deeper than traditional long-handled frying pans. Sauteuse, rondeau, and brasier are terms used to describe these types of pans. Frying, browning, and stir-frying are all done in frying pans. Typically, frying pans are used when cooking something that requires high heat but only for a short period.
Cast Iron Skillet
As the name implies, cast iron pans are made from iron, making it heat up slowly yet evenly. Unfortunately, it also maintains heat which makes scorching an easy job. The cast iron skillets are best for cooking steaks, meat cuts, and chops. However, when cooking vegetables that are acidic, this skillet tends to leave a metallic flavor.
Stainless Steel Skillet
Since this skillet pan is made from stainless steel, it is rust-proof and doesn't chip easily. You can also use this to cook any food, as it does not react with acidic foods. This cookware heats up quickly and steadily, making it perfect for stir-fry and other dishes that involve frying vegetables. However, this stainless steel pan can form burned stains when used at very high temperatures but can be easily removed by boiling water with vinegar.
Nonstick Skillet
Aluminum, a type of metal that heats up and cools down quickly, makes up the nonstick pan. The frying surface is covered with several layers of PTFE, a nonstick polymer less toxic than Teflon. This skillet is best for you if you often cook more delicate foods like eggs, fish, pancakes, and crepes.
What Is a Sauté Pan?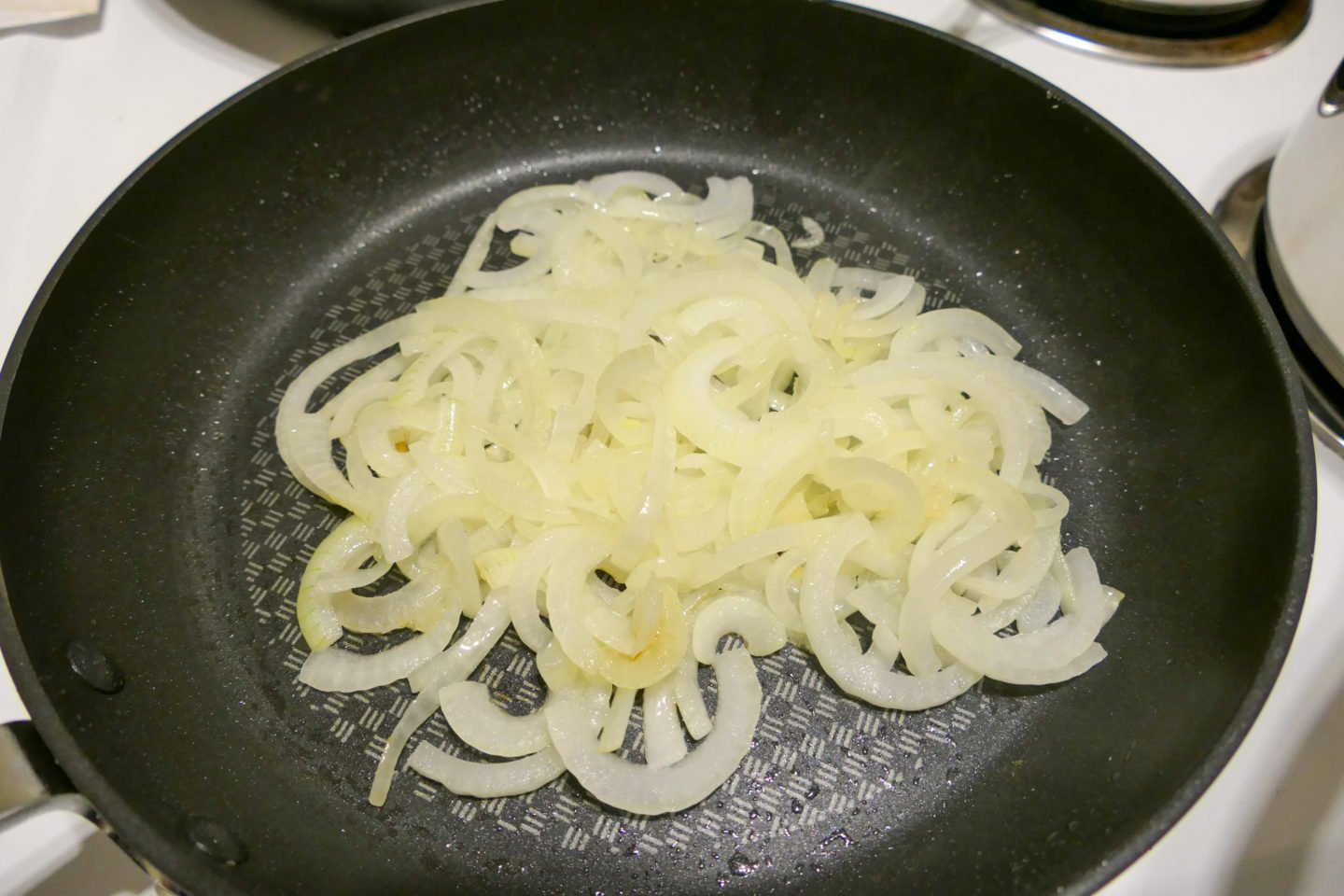 Sauté pans are flat-bottomed spherical pans with straight sides. It also includes a cover, a long handle, and a wide surface area. Furthermore, sauté pans have a little extra handle on the opposite side of the main handle. It's essentially a cross between a saucepan and a frying pan.
You can use sauté pans for sauteing, braising, shallow frying, poaching, and searing meat. A sauté pan is the most excellent option for making a dish that calls for liquids because of its deep wall and lid. They're frequently used in saucy meals and to sear meat. Lastly, this cookware also works well with dutch oven cooking.
Frying Pan vs. Sauté Pan: Size and Surface Area
When identifying the surface area of a pan, you measure the diameter of the lip and not the diameter of the cooking surface. Most household burners can only accommodate a pan with a diameter of around 12 inches. A 12-inch sauté pan has a large, 12-inch-wide cooking surface due to its straight edges of about 113 square inches.
In contrast, a skillet has one less inch on each side, resulting in a cooking surface of 10 inches across, or about 79 square inches. That means that the skillet tends to have 30% less cooking area.
This cookware's vertical sides allow you to accommodate more contents into the exact size of oven space. As a result, the liquid is less likely to splash out when you lift and transfer the pan. It also makes the cover fit more snugly, which reduces evaporation. The extra volume comes in handy when you're simmering a pan full of meat in a half-inch of oil or braising a dozen chicken thighs in white wine.
Frying Pan vs. Sauté Pan: Weight and Tossing Capability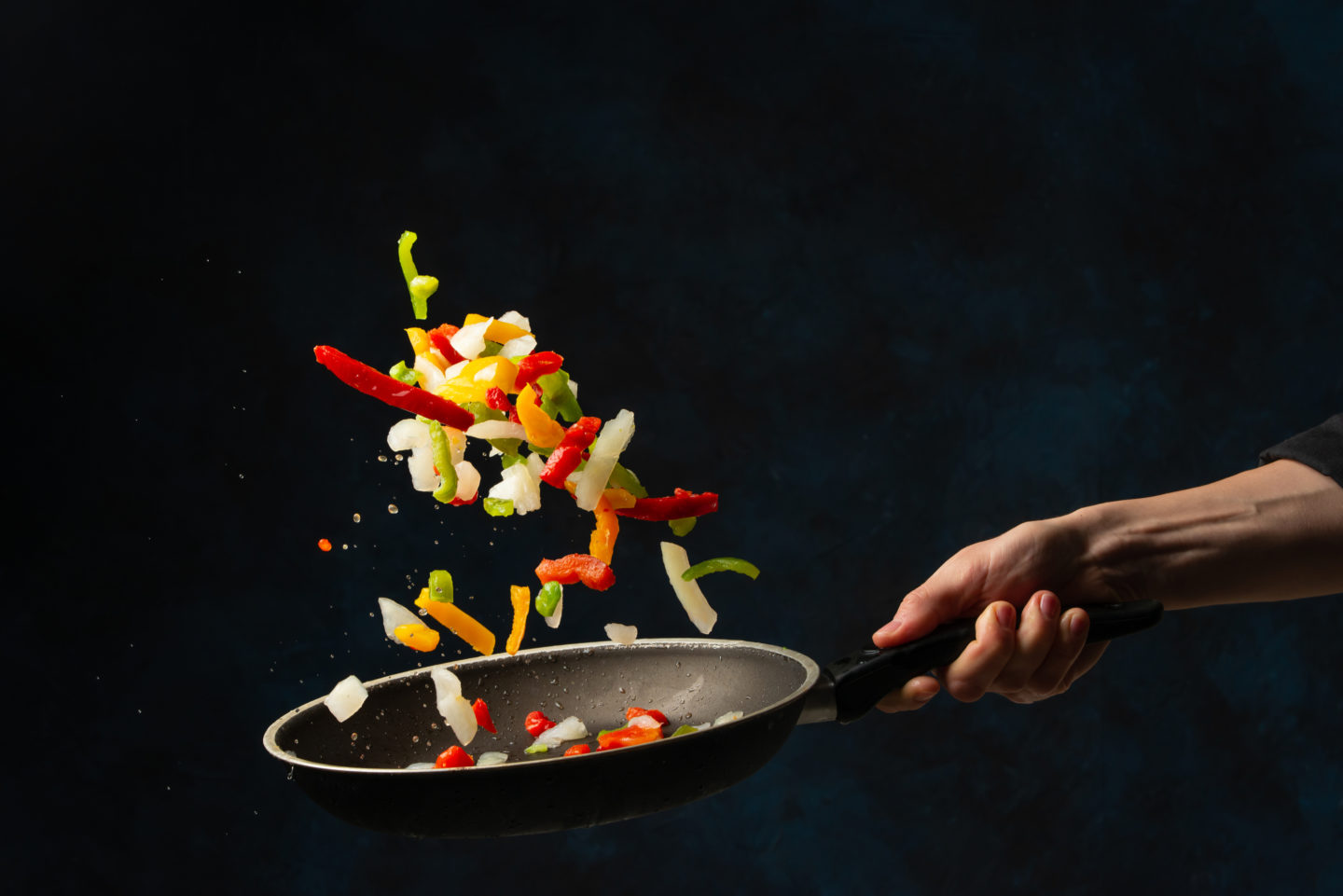 A sauté pan is substantially heavier than a skillet due to its broad base, necessitating the placement of a "helping handle" near the opposite side of the main handle to make lifting and moving easier. While this weight isn't an issue when the pan is sitting stationary on the burner or in the oven, the weight of a skillet makes it ideal for shaking and stirring vegetables or chopped meat to ensure equal cooking.
Due to their weight difference, the tossing and flipping ability also becomes one of the significant differences. Therefore, if you wish for a pan for you to easily manage your scrambled eggs or flip your pancakes for that perfectly cooked brown surface, a skillet should be better.
On the other hand, if you wish for a more stable pan for heavy-duty mixing, a sauté pan is perfect.
Frying Pan vs. Sauté Pan: Functions
Although their names already say a lot about their primary functions, these pans function more than that. As the name implies, a frying pan or a skillet is used mainly for pan frying. These pans are best used for searing meats that require high temperatures and dishes that require frequent tossing or flipping. Despite the name, a skillet is a good tool for sauteing.
On the other hand, a sauté pan is used for any dish that requires a lid cover: braising, simmering, poaching, and broiling. This cookware works great with vegetables and meats that do not require scorching or browning. You can also use a sauté pan for the oven cooking method.
Frying Pan vs. Sauté Pan: Price Point
While the price of these pans varies depending on the brand and size, a sauté pan is more expensive than a skillet of the same size. That is because they are heavier, made with thicker material, and come with a lid that adds more to the price. However, here's the deal. You can use a sauté pan to substitute for a skillet in frying food, but you can't replace a skillet with a sauté pan.
How To Choose The Best Skillet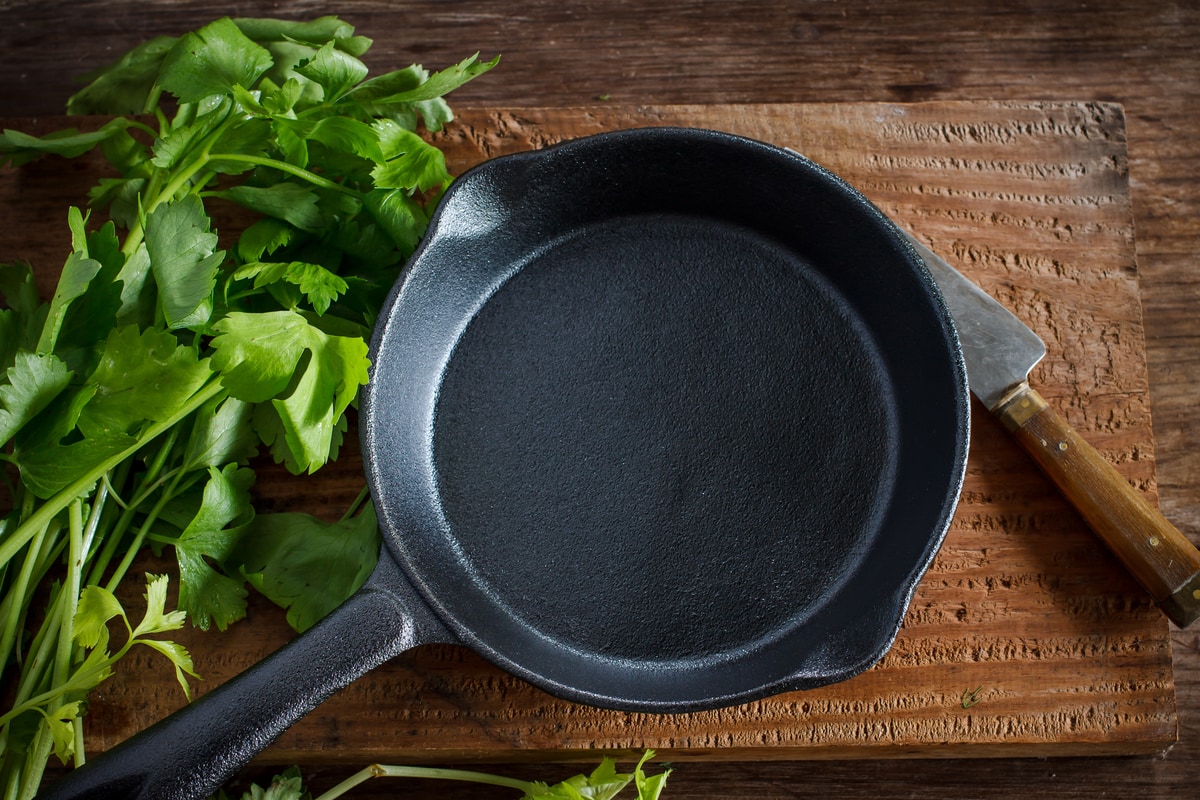 When choosing a skillet, you have to consider these aspects: quality of material used, the type of skillet, size, weight, thickness, and the handle. Make sure you get a rust-resistant skillet like the stainless steel type and dishwasher safe. The thickness of the skillet also plays a role in heat conduction, and thicker ones are sturdier and easier to manage.
However, also make sure that the skillet is light enough so you can easily do any cooking technique that requires flipping and tossing the food. Lastly, choose a skillet with a sturdy handle that does not conduct heat.
How To Choose The Best Sauté Pan
When buying a sauté pan, you should consider the following: quality of material used, your stove tops, size, and the lid and handle. Since this cookware is used for braising, simmering, and other cooking methods that require a long time, choosing a sauté pan made with thick material is the first consideration. The sturdier the sauté pan, the better.
You should consider a stovetop that works best with sauté pans. Make sure your pan is neither too small nor too big that it wobbles. Lastly, consider the lid and the handle. Ensure that the cover also has a heat-proof handle for easy usage.
Related Questions
Is a sauté pan the same as a frying pan?
A sauté pan is different from a frying pan. Their appearance, size, and functions differ, too. However, a French skillet is a frying pan that resembles a combination of a frying pan and a saute pan.
Is a frying pan better than a sauté pan?
Depending on the purpose of the purchase, a frying pan may be a better option than a sauté pan. However, a sauté pan is more versatile, so you can use it to fry foods. Comparably, you can't use a frying pan for sauteing and simmering.
Can you use a sauté pan for frying?
Yes. You can use a sauté pan not only for sauteing and simmering but also for frying. Since it has a thicker base, simply adjust the temperature depending on what the dish requires. However, you can only do shallow frying using the saute pan, which is too shallow for deep frying.