French Press is one of my absolute favorite brewing methods. The simplicity and the flavors gained by brewing in a French Press are, in my opinion, unmatched.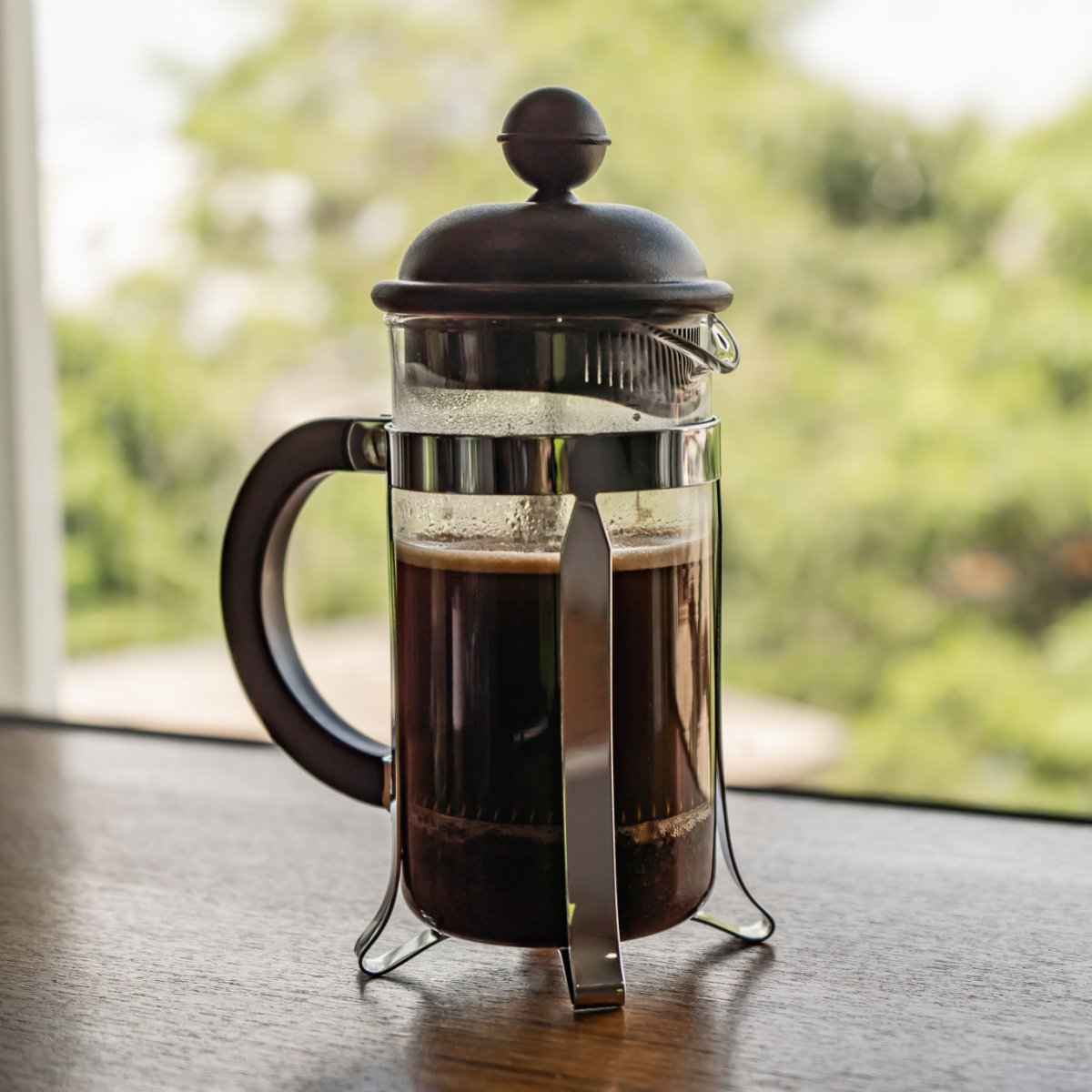 But yes, brewing in a French Press means you get a thick and silty cup of coffee.
Can you use a paper filter in a French Press to avoid that? You can use a paper filter in a French Press by cutting a regular filter down to size. Or, you can pour French Press coffee through a paper filter after brewing.
Let's take a look at both methods in a little more detail.
Table of Contents
Why Should You Use A Paper Filter In A French Press?
It's down to personal taste, really.
French Presses use metal coffee filters to filter coffee grounds out of your coffee. But metal filters aren't as efficient as paper filters, so more oils and fines sneak through the metal filter and into your cup.
The result is a cup of coffee that feels thick in your mouth. And at the bottom of your cup, there will usually be visible coffee sludge.
Many people who try French Press coffee don't like the mouthfeel. Or they get turned off by the sometimes crunchy texture towards the bottom of their mug.
Using a paper filter with your French Press coffee is one way to take out more of the oils and ensure that you don't get those fines in the bottom of your cup.
The Two French Press Paper Filter Methods
Both methods will leave you with a cleaner cup. And both options are useful.
It just depends on the equipment you have at home and the amount of time you want to dedicate to the process.
Note: Neither method replaces the coffee filter in your French Press. Instead, these methods augment your existing French Press filter.
1) Cut Down A Paper Filter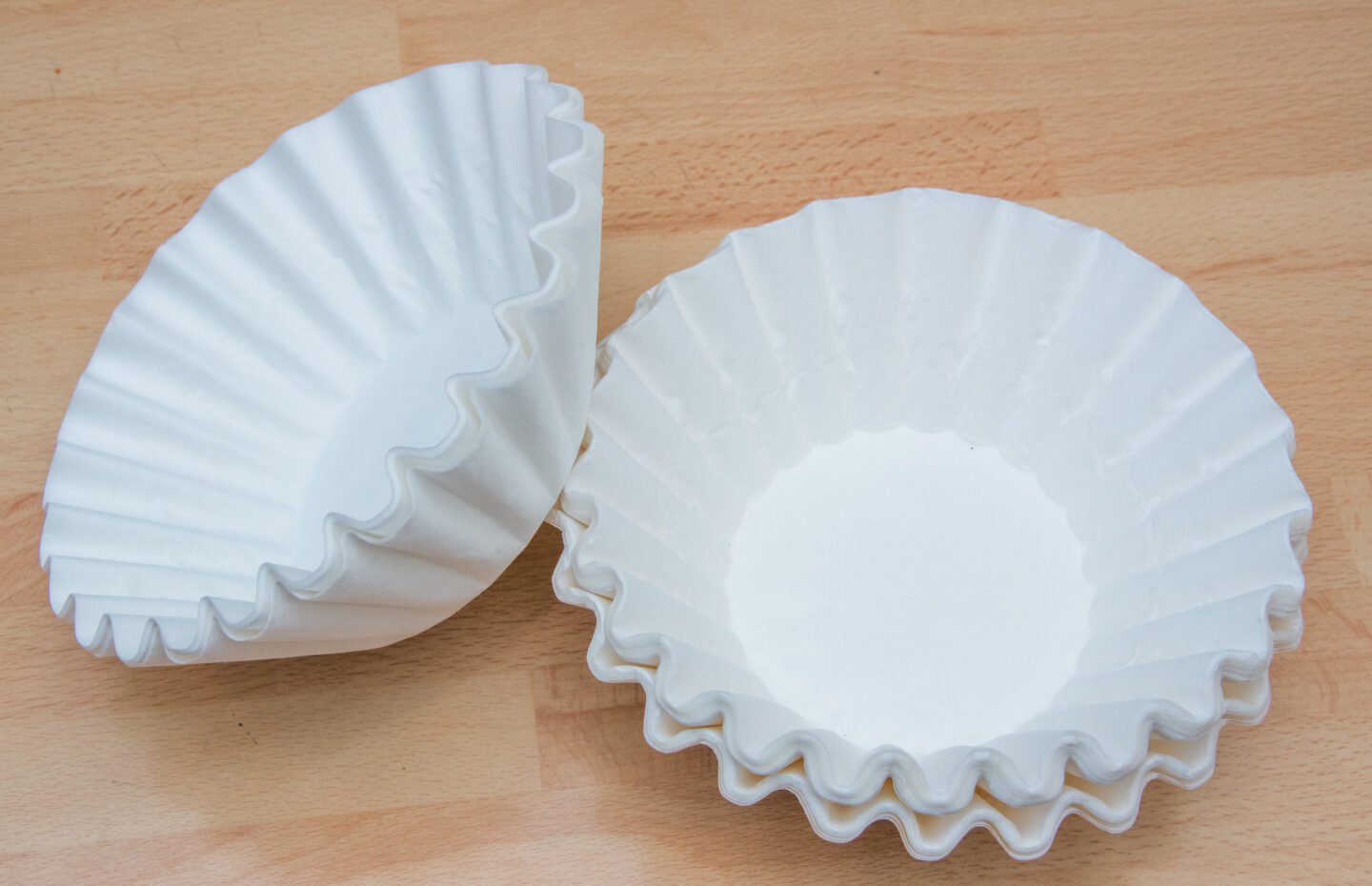 The first option is to cut down a regular filter to the size of your French Press filter. Then, place it between the metal filter and the coffee before your press the plunger.
Here's a step-by-step:
Get a paper filter. Chemex filters or drip coffee filters work best because of their size.
Cut it into a circle. Roughly match the size of your French Press filter. But make sure to leave about ½ inch overhanging.
Brew as you normally would.
Before you plunge, set the paper filter between the coffee and the metal filter.
Press as normal and serve.
It's that simple. The most intensive part is cutting the filter down to size.
Cutting the filter down isn't an exact science. It just has to be big enough to cover the entire metal filter. I recommend giving yourself a little extra paper filter to wrap around the sides of the metal filter for an even cleaner cup.
2) Filter The Coffee After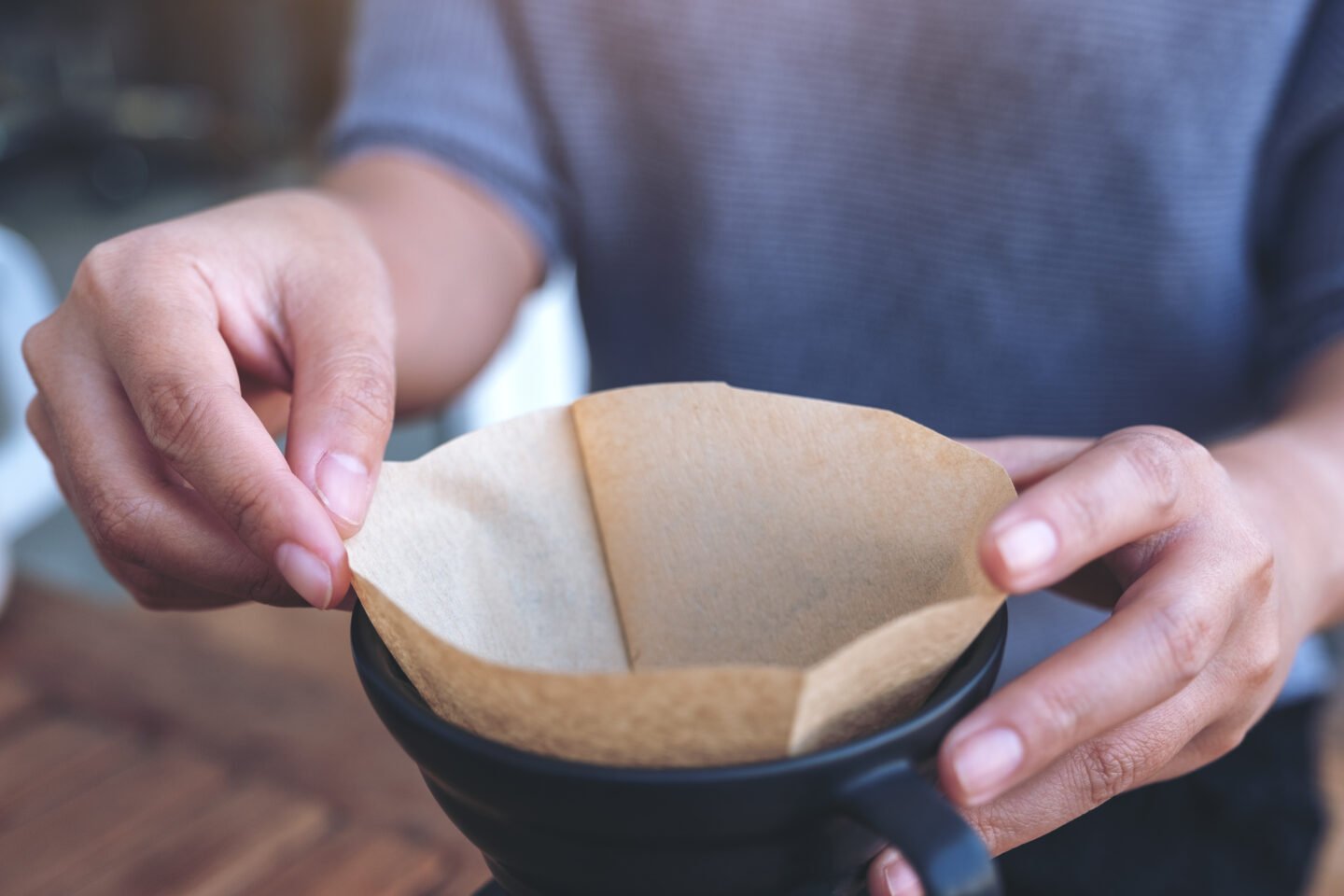 The second way is a little less time-consuming, but you will need more equipment.
You'll need a separate brewer or receptacle for your coffee and regular paper filters.
Here's what to do:
Brew your French Press normally. This means everything is exactly as you would do it. No paper filters or anything.
Set up another brewer like a V60, Chemex, or basket. Just make sure there's a paper filter in the brewer.
Pour the finished French Press coffee through the paper filter.
Serve and enjoy.
The thing to note here is that it's two steps: brew the French Press, then pour that coffee through a filter. How you do it doesn't matter as long as the brewed French Press coffee gets filtered properly.
Paper Vs Metal Filters
But what's the real difference between metal and paper filters? Is one better than the other?
The main difference between a paper filter and a metal filter is that paper filters capture most of the micro-fines and natural oils, while metal filters let them through.
Hence, coffee made with paper filters results in a bright, clean-tasting cup, while coffee made with metal filters results in rich, more flavorful mouthfuls.
One isn't necessarily better than the other. It all boils down to preference.
Metal Filters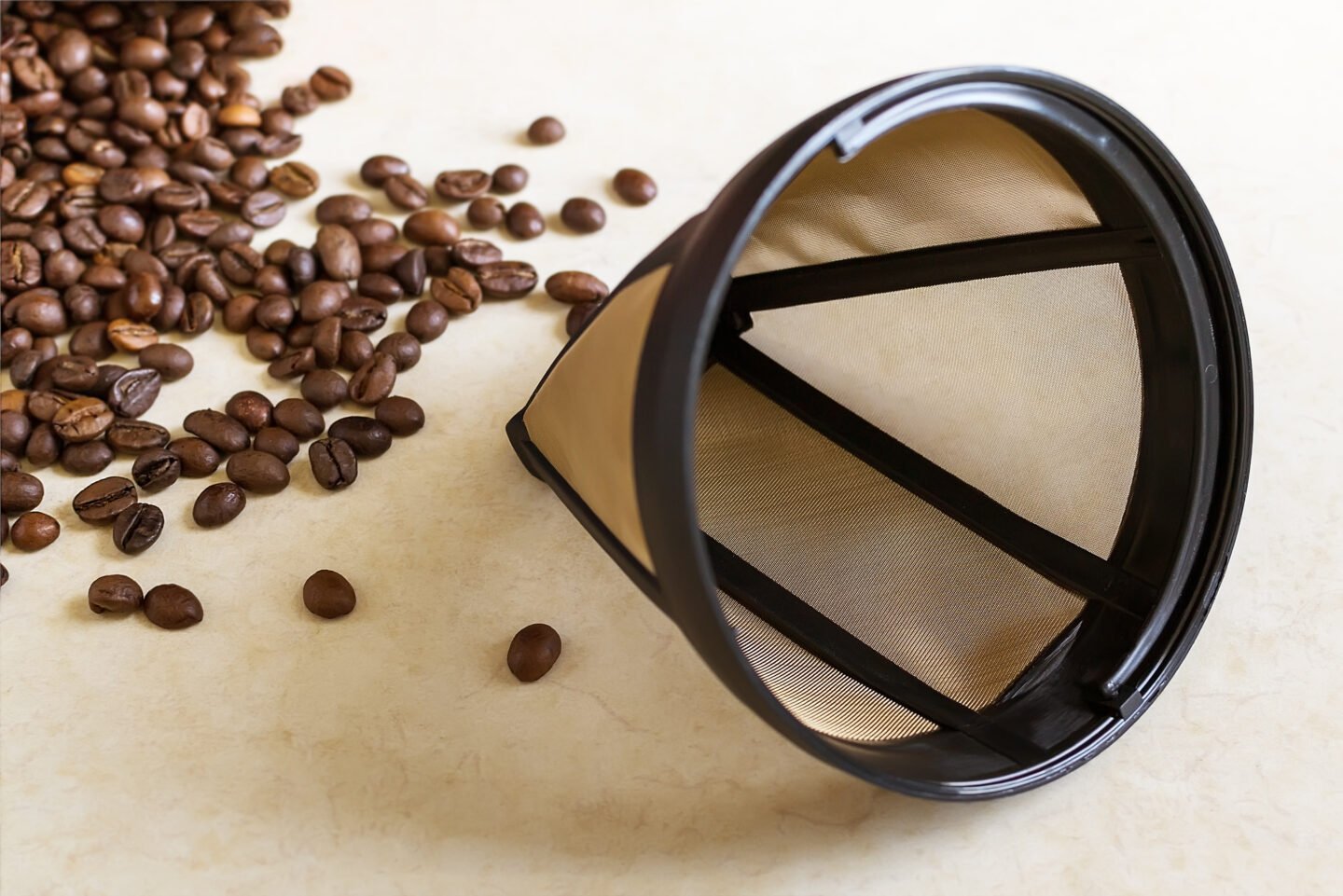 Metal coffee filters are essentially just wire mesh with holes made as tiny as possible.
However, even the smallest holes in a metal filter are bigger than the seeping coffee in a paper filter.
So why would anyone use a metal filter?
For one thing, they're reusable and thus sustainable. You don't have to deal with used paper filters, they aren't as wasteful, etc.
But also, if you're a fan of a thicker mouthfeel of coffee, using a metal filter is a great way to boost the oils.
Paper Filters
Paper filters are the most common type used in the coffee world. Anything from drip coffee to pour-over coffee uses paper filters.
Paper filters are great for catching many of the coffee oils extracted during the brewing process. They're also much better than metal filters at keeping tiny coffee fines from getting into your cup.
When you use a paper filter, you end up with a cleaner, crisper, and more precise coffee. Coffee shops and baristas prefer paper filters because they give you more control over the final taste of the coffee.
That said, French Presses can make some incredible coffees if you're willing to do the work and be careful about your brewing process.
Different Types Of Paper Filters
If you're new to the coffee filter world, you should know that there are generally two types: bleached and unbleached.
Unbleached paper filters are brown, and bleached filters are white. There isn't much difference, but some claim that unbleached filters can give your coffee a papery taste.
Either way, it's best practice to rinse your filters before you use them to brew.
And that's true of using paper filters in French Presses, too.
How often should you clean a French Press?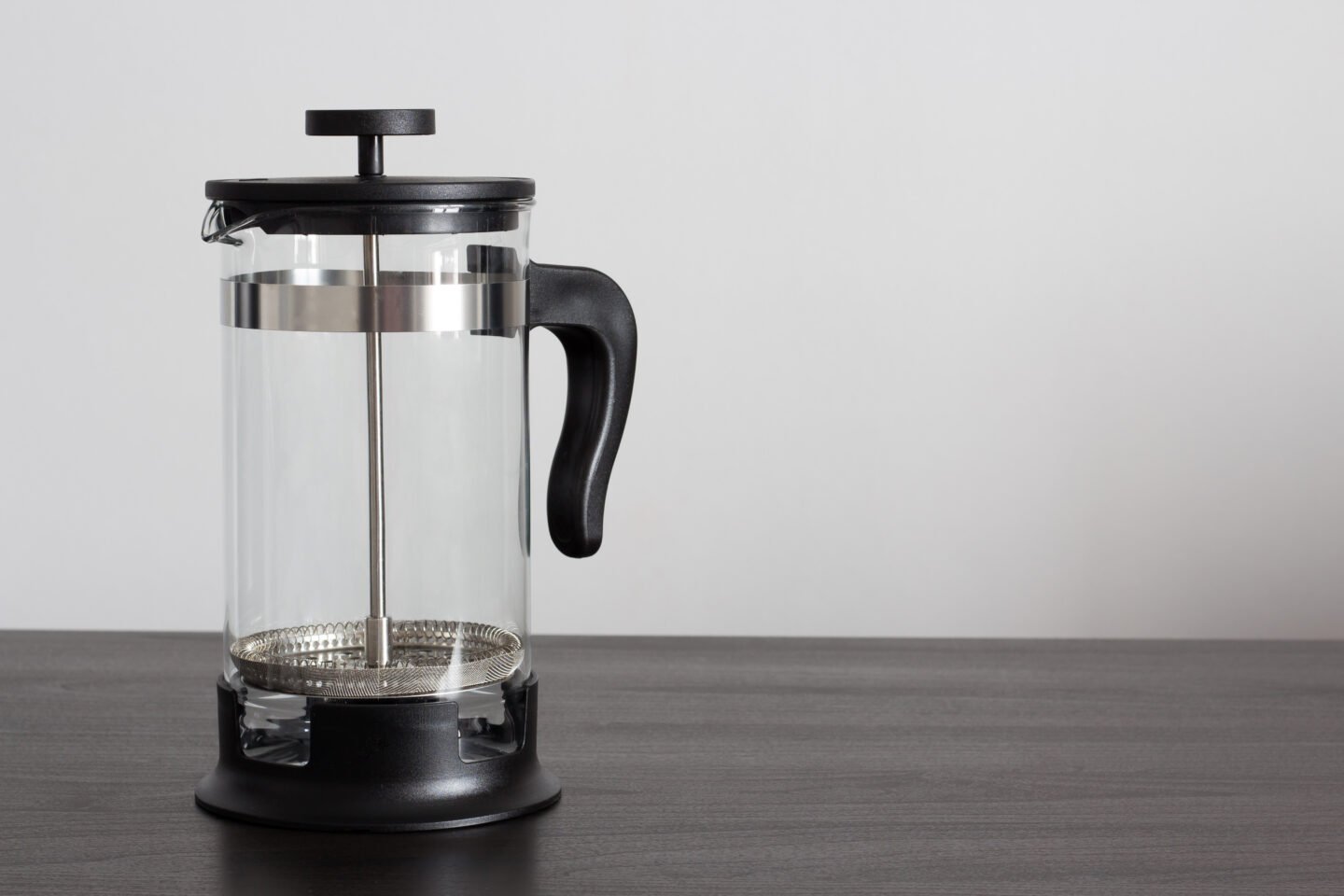 For the love of all things coffee, please clean your French Press every third or fourth brew.
And when I say clean your French Press, I mean to take apart the plunger and filter and give it a good scrub.
The filter in a French Press comes in three parts: the plunger, the mesh, and the support. They're designed to come apart. Just unscrew the pieces and clean them.
I cannot stress enough that one of the biggest mistakes people make when using a French Press is not cleaning the filter. Old coffee grounds and oils build up and cake the filter, so your coffee tastes bitter, oily, and sometimes even rancid.
Again—please clean your filters.
My Final Thoughts
You can use a paper filter with a French Press.
You can do it by cutting down a paper filter to fit with the metal filter and using it to plunge or pouring French Press coffee through a paper filter after you're finished brewing.
With both methods, you'll end up with a cleaner cup of coffee without sludge or oils.