If having clean water is important to you then making sure you buy one of the best refrigerator water filters on the market is a crucial first step. Having a water filtration system in your refrigerator is one of the most convenient and simple methods of making sure you and your family have a constant, safe, and clean source of water.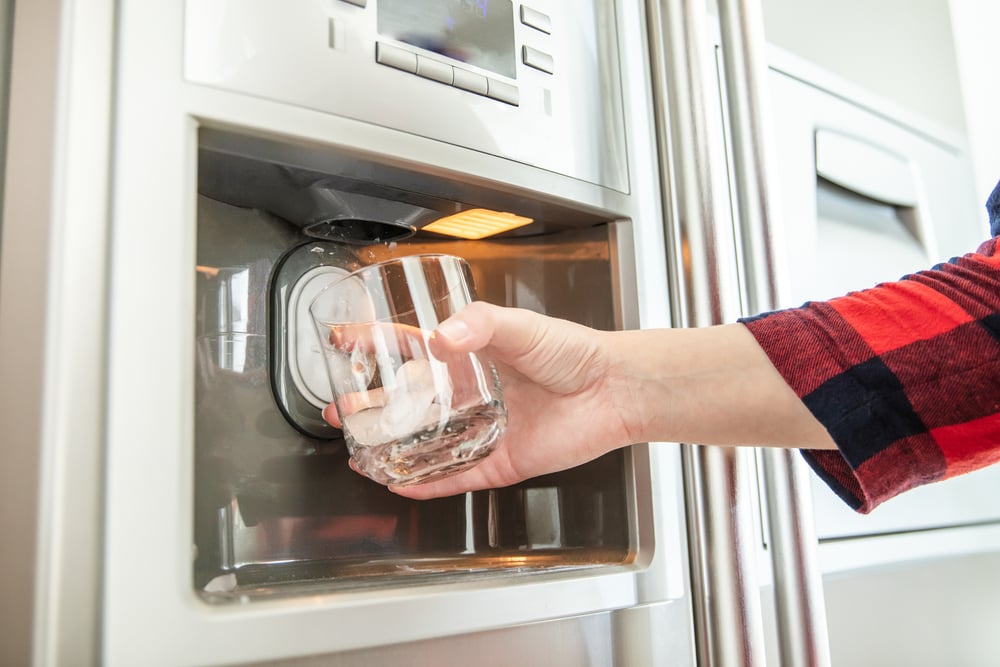 Refrigerator filters are not a universal fit and while they all do essentially the same job, they all do it slightly better or worse than their competitors. Before deciding on the best refrigerator water filter for you and your family, you first need to determine your household's needs and your current fridge and water filter model.
But after that, it's pretty simple. In this article, I am going to cover eight of the best refrigerator water filters on the market and explain who each one is for, so you can make a quick decision.
Table of Contents
The Winner
For its outstanding compatibility, extreme ease of installation and low cost, the Everydrop by Whirlpool is the best refrigerator water filter for anyone with a Whirlpool, Maytag, KitchenAid, Amana, or Jennair fridge. The options with more compatibility tend to be harder to install, and the models for specific branded fridges tend to be more expensive. Everydrop by Whirlpool is right in the sweet spot between these two types.
If you have a different brand of fridge or if you want to know how we landed on this conclusion, carry on reading.
Why Pick One of These in the First Place?
The importance of safe drinking water has been known for centuries and innovations continue being made towards cleaner and safer drinking water. Filtered water can be achieved through pitchers, faucet filters, fridge, countertop or whole house water filters and is generally completed in a two-step process involving both a physical and chemical component.
A mesh type of material is used to filter out large particulates and acts as the physical filter in the two-step process - an active carbon filter is used for the chemical step of the process and effectively eliminates the finer particulates, chemicals, and metals found in your water supply.
Refrigerator filters have been known to be one of the most effective filters and their convenience is unmatched. By installing a refrigerator water filter you get as close to perfect filtration with both your water and ice cubes in a quick and easy to dispense way. Refrigerator filters also have the added benefit of being easy to maintain and replace whereas a whole-home or under-sink filter will require professional installation and maintenance.
The Best Refrigerator Water Filters Ranked
In covering the best refrigerator water filters I conducted extensive research and am going to compile all of my findings in a comprehensive review list and buying guide so you can quickly and confidently decide on the type of refrigerator filter that is right for you and your household. I have considered everything from price and durability, to their certifications and filtering ability.
When deciding on which one of the great products listed below is the best for you it is important to keep in mind that fridge water filters are not a one size fits all product. Some water filters are installed on the inside of the fridge while others are installed on the water intake line behind the fridge. If you don't know which one you need you can look it up on Amazon by entering your fridge's model number and checking for compatibility or by reading the owner's manual that came with your refrigerator.
#1: Best Overall: EveryDrop by Whirlpool Refrigerator Water Filter
#2: Best Value: ULTRA Water Filter
#3: Best for Large Refrigerators: Samsung Water Filter
#4: Best Inline Water Filter: Membrane Solutions
#5: Easiest Installation: Frigidaire PureSource
#6: Best Guarantee: MWF by Best
#7: Longest Lasting: EcoPure 5-Year
#8: Best XWF filter: Glacier Fresh
When all factors were considered the EveryDrop by Whirlpool is the overall best refrigerator water filter on our list today. This should not come as a surprise when you consider the fact that Whirlpool has been in business for 110 years - that's an anniversary date only the best companies achieve and that same quality that has kept them in business for all these years is evident in this water filter.
Widely Approved
Even though this product is manufactured by Whirlpool they aren't selfish in their design because this particular filter is approved to be used in Whirlpool, Maytag, KitchenAid, Amana, and Jennair products, making it one of the most versatile choices out there today. Option #4 and #7 are more compatible due to their inline design, but they are more difficult to install than the EveryDrop model.
NSF Certified
Aside from all-inclusive compatibility, the Whirlpool refrigerator water filter does just that and it does it incredibly well. EveryDrop water filters are not only approved by all of the major manufacturers but boast an NSF certification meaning it has been tested against and proven to filter out most contaminants. This filter is proven to filter out 23 contaminants, including lead, mercury, parasites, pesticides from groundwater, and pharmaceuticals, guaranteeing you a great tasting and safe drinking water.
With a 200 gallon and 6-month replacement recommendation, you won't have to worry about constantly changing out your refrigerator water filter. While 6 months is a long time, it is a far shot away from #7, which is EcoPure's model approved for up to a 5-year installation, or #2, Samsung's model, which has a 300-gallon capacity.
The EveryDrop Whirlpool refrigerator water filter comes in four different sizes to cover as many make and model combinations as they can. This sets them apart from most other filters on the list that are only available in one size.
This new refrigerator water filter manufactured by FFROI is the best value on the market today which is why it has this spot on our list. Available in a two and three-pack at an unbeatable price you truly can't go wrong with this option.
"You get what you pay for." This is true with most things and even refrigerator water filters for the most part but that just isn't the case with these, you get more than what you pay for. Each filter is guaranteed to block out most microscopic contaminants with its triple-layer filtering setup, making your water taste better and cleaner.
Filtering potential is pretty standard with this filter being equal to #3 at six months or 300 gallons. This is a good replacement time and is generally no shorter than that of the big name brands. It is important to remember though that filter life varies and can be longer or shorter than the average listed based on the level of pollutants in your local water supply.
Multi-pack options
This refrigerator water filter by FFROI is the only product that made the list that comes in more than a single pack. For this reason, it has been awarded the best value option on our guide today. This is especially helpful for those households that use a ton of water because refrigerator filters can get pretty pricey if you're buying one every other week.
Every ULTRA refrigerator water filter is available in two and three packs and is easily the best deal out there today for affordable and effective water filtration.
Superior Filtration
With lead-free food-grade material construction and a top-of-the-line coconut carbon block and three-layer filtering system, you can count on this filter to deliver healthy and clean drinking water for you and your family. FFROI really has outdone themselves with the performance of their ULTRA water filter and has even proven that their filters not only eradicate the chlorine taste and smell but effectively block the smaller microscopic chemicals and particulates.
Massive Korean tech company Samsung has got its hands in just about any industry involving electronics and computing power. It was no surprise that Samsung decided to get into the appliance industry, but they quickly became one of the top dogs in an industry originally seeming disconnected from what they were known to do at the time. With their own line of home appliances come to their own line of brand name OEM appliance parts, like this refrigerator water filter.
Best for Bigger Fridges
Made with side-by-side and french door refrigerators in mind this is the perfect refrigerator water filter for french door and bottom freezer style fridges. With a two-step installation process, this is one of the simplest filters to install yourself. On a Samsung refrigerator, the placement of the filter is going to be clearly labeled in between the drawers towards the bottom of the fridge. To install these water filters you remove the cap holding the old filter in, replace it with the new one, and replace the locking cap. This is far simpler than the inline models like #7 and #4, requiring a specific setup with the supply line.
Increased Capacity
This Samsung filter has a fairly respectable capacity besting my #1 pick by 100 gallons but having the same recommended replacement time at six months. With a total capacity of 300 gallons, you can rest assured knowing you won't have to change your filter out all of the time to accommodate your household's need for clean water.
Samsung put this product up to be extensively tested for its filtration capabilities and it came away with an NSF certification as a testament to its ability to provide you with clean and safe drinking water. By using an activated carbon filter like almost every refrigerator water filter listed here today, Samsung was able to achieve filtering out 99% of harmful compounds, chemicals, and impurities commonly found in drinking water.
My best inline selection is the membrane solution supply line water filter-affordable, effective, and universal you truly can't go wrong with this option. It comes in a two-pack with a filtering capacity of 1800-2000 gallons, longer-lasting than any click-in filter on the list.
Universal Inline
By going with an inline refrigerator water filter you don't have to stress about whether or not the filter you bought is going to fit your fridge. This is because the filter is installed on the water supply line instead of inside the fridge, meaning the water is filtered before it even enters your fridge.
Another inline filtering solution is #7 which is the longest-lasting option on the list. When dealing with inline filters the installation can get a little tricky so if you're not comfortable installing your new inline water filter by yourself you should call a professional or somebody you trust to install it. Any time you are dealing with a water supply line the average cost of a mistake skyrockets so you want to avoid that at all costs; after all, you're here for filtered water, not spilled water.
NSF 42 Certified
Membrane solutions boast an NSF-42 certification meaning that their inline filters have been tested and proven against the highest standards. Guaranteed to reduce visible and taste impurities you can trust these filters to supply you and your household with all of the clean drinking water you could want or need.
This superior filter certification was earned through membrane solution's carbon coconut filtering system which not only improves the look and taste of your water but the overall quality of it as well.
The folks over at Frigidaire have outdone themselves with this OEM refrigerator water filter. Ranking at #5 with the badge of easiest installation this filter remains one of the best available on the market today.
Easy Installation
The PureSource filter by Frigidaire is the easiest filter to install on our list today. By remembering one word, that being "push," you will never forget how to remove or install this filter. Designed with simplicity in mind, to both release the old and install the new filter all you have to do is push on the exposed portion.
First-Class Filtration
When it comes to filtering capacity this filter falls amongst the crowd with a 200-gallon capacity before needing to be replaced. Although this is hardly average it's not that big of a fallback when you consider the quality at which the 200 gallons are filtered - which is great enough to earn the PureSource filter a total of three NSF certifications.
Being awarded three different certifications from the NSF makes this filter one of the most thorough filtering devices on the list by far. Especially when compared to #4 and #2 which just have basic NSF 42 certifications.
NSF42 refers to the overall appearance and taste of the water-if the filter improves the look and taste of a sample then it is awarded this certification.
NSF 53 and NSF 401 are awarded when the filter has proven that it has the capability to filter out additional emerging chemicals that may be found in a water supply.
Frigidaire's PureSource filter has been proven to filter out the taste of chlorine, and additional potentially harmful chemicals like lead, mercury, pesticides, insecticides, BPAs, asbestos, and pharmaceuticals.
This product is not the most versatile and widely compatible filter, but if you have a GE fridge that calls for an MWF style filter then this one is the option for you. It comes in at #6 on our list is awarded the badge of Best Guarantee for its unheard-of 100% Lifetime Moneyback Guarantee offered by the manufacturer.
Carbon Block Filter
The carbon block filtering system used in this filter has been independently tested against NSF 42 standards and exceeded requirements, offering you and your household cleaner-looking and better-tasting drinking water. Depending on the concentration of pollutants in your local water supply this filter could last up to six months without the need for a replacement.
Fits GE Products
The MWF filter style was started by GE to be used exclusively with their refrigerators. If you have a GE fridge then this is going to be the option for you as none of the other ones on our list will work for General Electric MWF refrigerators.
Best Guarantee
The 100% Lifetime Moneyback Guarantee offered by the manufacturer is not common amongst refrigerator water filter manufacturers and it is the exact quality that has landed this filter on our list.
This inline filter from EcoPure is one of the most impressive refrigerator water filters on the market today and absolutely swamps the competition when it comes to how often it needs to be changed. A 5-year life span for a refrigerator water filter is nearly unheard of and if you're forgetful like me then this universal inline filter might just be for you.
Don't let the ridiculously long life expectancy drown out this inline filter's capabilities, because this EcoPure filter is approved to filter out most contaminants, and guaranteed to rid your home's water supply of any chlorine taste or smell.
Easy Installation
When it comes to installation inline filters are a bit more labor-intensive than any of the internal refrigerator filters listed above especially #5 the PureSource filter by Frigidaire. This product comes with ¼ in. copper and push-to-connect fittings so you have everything you are going to need to install your new filter or have it installed by somebody else.
Copper Fittings
Before messing with the water supply line you should always make sure the water is turned off, refrigerators usually have their own shutoff where the line comes in. If you have a metal water supply line then you are going to want to use the ¼ in copper fittings that come with your refrigerator water filter. These fittings are threaded so all you have to do is disconnect the old filter and screw the supply line back onto the new one.
Compression Fittings
Compression or push-to-connect fittings, are what you are going to use if your refrigerator's water line is made of plastic. These are simple to use and don't require you to thread anything together. To utilize this type of fitting you simply insert the end of the plastic line into the fitting and push it together until you can't insert it any further. Then you secure the compression clamps around the fitting and you are good to go.
Universal
Not only can the 5-year EcoPure inline filter work with any make or model refrigerator with a water supply line, but it can work anywhere with a ¼ in. supply. This means you can have clean water in your home, RV, icemaker, camper, or boat.
This three-pack of XWF filters is the best option out there for those people with select GE refrigerators. These filters use a high-grade carbon block to filter out those harmful and taste-altering substances so commonly found in local water supplies.
Long-Lasting
These XWF filters have your standard filtering life with a six-month replacement recommendation and a 200-gallon filtering capacity.
Side by Side Comparison of The Top Models
If you're one for tables, we've put these top 8 models, with all their most important features side by side in the handy chart below.

EveryDrop by Whirlpool Refrigerator Water Filter
$48.25

ULTRA Water Filter
$49.63

Samsung Water Filter
$43.52

Membrane Solutions
$23.89

Frigidaire PureSource
$47.99

MWF by Best
$17.99

EcoPure 5-Year
$29.00

Glacier Fresh
$33.99
Testing Certifications:
NSF 42, NSF 53, and NSF 401
NSF 42
NSF 42, NSF 53, and NSF 401.
NSF 42
NSF 42, NSF 53, NSF 401.
NSF 42 certified
NSF 42
NSF 42
Capacity:
200 Gallons
200 Gallons
300 Galloons
1800 - 2000
200 Gallons
300 Gallons
7,500 Gallons
200 Gallons
Filter Life:
6 Months
6 Months
6 Months
12 months
6 Months
6 months
5 years
6 Months
Contaminants Filtered:
Chlorine, lead, pharmaceuticals, parasites, metals, minerals, industrial chemicals, and pesticides.
lead, chlorine, pharmaceuticals, lead, pesticides, and cysts.
Filtered: Chlorine, Asbestos, Lead, Mercury, pesticides, and pharmaceuticals.
Chlorine and large particulates.
Lead, chlorine, cysts, mercury, insecticides, pesticides, pharmaceuticals, and asbestos.
Chlorine, cysts, lead, pharmaceuticals, pesticides, mercury, and herbicides.
Chlorine and sediment.
Chlorine and large Particulates
Flow Rate:
0.78 GPM
0.66 GPM
0.4 GPM
1 GPM
0.375 GPM
0.5 GPM
1 GPM
1 GPM
Dimensions:
2.52 X 3 X 9.38
5 X 5 X 5
2.13 X 2.13 X 8.86
10 X 2
2 X 2 X 9
5.5 X 3.5 X 3.5
13.5 X 7 X 3
8.7 X 7.6 X 2.48
Weight:
12.3 Ounces
1.63 pounds (per pack of 2)
8.8 Ounces
1.15 pounds
6.4 Ounces
13.1 Ounces
1 pound
1.26 Pounds
Manufactured:
Made in the USA with globally sourced parts.
Made in South Korea
Made in South Korea
Made in the USA
Made in the USA with globally sourced parts.
Made in China
Made in the USA.
Not Listed
Warranty:
This product has a manufacturer warranty that will refund or replace the product of unsatisfied customers.
No warranty
No Warranty
Manufacturer warranty but you have to register your products with the manufacturer
30 Day Warranty
Lifetime Moneyback Guarantee.
Manufacturer warranty to cover defective products.
None
Check Price on Amazon
Check Price on Amazon
Check Price on Amazon
Check Price on Amazon
Check Price on Amazon
Check Price on Amazon
Check Price on Amazon
Check Price on Amazon
How to Choose a Refrigerator Water Filter
This section should be a description of the most important features of a refrigerator water filter. It will discuss why these features matter and how they should factor into your decision-making.
NSF Certifications
The NSF or National Sanitation Foundation is a food safety and sanitation-based non-profit organization that was started in 1944. Their main purpose is to regulate and certify products that meet specific health and cleanliness standards. NSF certifications can be found on virtually any appliance that you could find in a kitchen and this includes your refrigerator water filter. According to their website, there are four basic requirements that a product must meet to become NSF certified.
"The manufacturer of foodservice products uses only FDA approved raw materials."
"Products passed numerous NSF testing for material safety, design, construction, and product performance."
"A guarantee that harmful chemicals won't seep into and contaminate the food of your customers."
"Products are commercially dishwasher safe and will not likely harbor bacteria."
You can rest easy if your refrigerator water filter is NSF certified with the knowledge that it has been tested and proven effective up against the strictest standards set forth by the NSF. There are however multiple NSF certifications that your refrigerator water filter was tested for and they all mean slightly different things.
NSF 42
This is the most basic certification that a refrigerator water filter can achieve from the NSF and it certifies that your water filter improves both the look and overall taste of your home's water supply. If the filter produces clear water that doesn't taste or smell like chlorine then it can be NSF 42 certified.
NSF 53
This certification goes a little further than just the overall look, taste, and smell of the water and actually tests the filter's ability to filter out chemicals that can cause negative health effects.
NSF 401
The NSF 401 certification tests for chemicals and pharmaceuticals that are not regulated by the EPA such as ibuprofen and other over-the-counter medicines commonly found in a water supply.
There are additional certifications given by the NSF for water filtration systems but these are the main three you are going to see on a refrigerator water filter, as the other certifications refer to osmosis, ultraviolet, and other whole-building filtering systems.
Any number of these certifications on your refrigerator water filter is good but the more the merrier in this situation. To find out exactly what is in your local supply you can contact the local water treatment facility and ask them for their test results or you can conduct an at-home water quality test yourself with a cheap kit. By arming yourself with this knowledge you can be more sure of the certifications that will benefit you the most.
NSF 372
This NSF certification only addresses the filter's ability to filter out lead content in the water.
OEM Vs. Generic Filters
OEM, or original equipment manufacturer, is a term used to describe any filter that is made by the same company that manufactured your refrigerator. OEM filters also include any filter that has been approved by the original manufacturer, for example-#1 on the list above is the EveryDrop filter by Whirlpool which makes it an OEM part for Whirlpool but it is also approved by Maytag, Jennair, KitchenAid, and Amana which means it is an OEM part for their equipment as well.
Generic filters are any filter that was made by an outside company and while they may be more affordable they can often lack performance. Cost is the main appeal of choosing to go with a reputable generic brand filter.
Water Capacity
One of the common differences between OEM and generic refrigerator water filters is the capacity. Generally, filters are good for a minimum of 200 gallons, or six months. If the generic filter you are thinking about purchasing has a water capacity less than this then the savings might not be worth it.
PSI
A refrigerator water filter is made for an approved PSI or pounds per square inch, so you need to make sure that the PSI of your water supply line falls somewhere in between that range. If your supply line's pressure is too high it could cause damage to the filter and possibly the refrigerator itself. On the contrary, if the pressure is lower than the filter's minimum pressure range then the water might have trouble dispensing.
Certifications
Oftentimes when you choose to go with a more affordable refrigerator water filter you sacrifice some of the quality that is guaranteed with an OEM filter. This usually comes in the form of fewer or even no NSF certifications at all which means the filter probably isn't very good at its job.
If you want to avoid sacrificing the quality of your drinking water and save money at the same time you need to make sure any generic refrigerator water filter you choose comes with a minimum of an NSF 42 certification. Examples of generic yet effective water filters above are #6 and #2 which are great deals and they both boast NSF certifications.
Compatibility
OEM or generic the main thing you have to check for when purchasing a refrigerator water filter is its compatibility with your refrigerator. Nothing is more frustrating than ordering a product you think is going to work and it ends up not.
To figure out what size filter you are going to need for your refrigerator you can look in the owner's manual that came with your fridge or look it up online by searching your fridge's model number and what size filter it takes. The quickest method of checking for compatibility however is to go to Amazon.com and find the filter you think you need - at the top of the product page, there should be a box that says "Check for Compatibility," where you can enter your fridge's model number and it will tell you whether or not that specific filter is compatible.
It looks like this:

Replacement Costs
When deciding on the best replacement filter for your need you are going to want to consider the long-term replacement costs. This can be determined by factoring in the overall cost per filter and dividing it by the number of gallons it is approved for. This will give you the cost to filter a gallon of water using a specific filter replacement.
Summing Up
I covered a lot of information today, so just to clarify everything that was covered above, I am going to sum up our list by telling you which filter you should go with depending on you and your household's main needs.
The first thing you are going to want to check for is what certifications a filter has to make sure it meets your family's standard of water quality.
If you are looking for a filter with supreme filtering ability then I would choose to go with either the #1 EveryDrop by Whirlpool, the #3 Samsung Water Filter, or the #5 Frigidaire PureSource. All of these filters have two or more NSF certifications making them three of the most effective water filter available on the market today.
The next thing you will want to consider is the amount of money that you want to spend on your replacement water filters. The best value for an internal filter is #2 which comes in a three-pack at a value price. If you are looking for the most cost-effective inline filters then the EcoPure inline filter at #7 is going to be the best option for you. It is a 5-year filter that is fairly priced so you can set it and forget it.
To determine the most cost-effective filter for your household you should divide the filtering capacity by the cost of an individual filter which will give you the cost to filter a gallon of water with that filter.
Compatibility and cost are going to be the two main factors for you to look out for. If the filter wors with your fridge and the cost per filtered gallon seems reasonable then that's probably the best choice for you.
Frequently Asked Questions
If there's something you're still not clear about, we've provided answers to some common questions about refrigerator water filters below.
How Do You Install a Refrigerator Water Filter?
If you have already done some shopping around for a refrigerator water filter then I'm sure you have noticed that it seems like every single water filter you come across has "easy Installation" used as one of the perks to their product - but how simple is installing a refrigerator water filter?
I am going to cover general installation instructions for the two main types of filters that I have listed, being inline filters, and internal filters.
Inline Filters
An inline refrigerator filter is made to be installed on the water supply line vs. being inside the fridge like internal filters are. This means that they are suitable to fit all refrigerator models. They usually have a larger capacity and last longer than internal filters but the installation process is going to be slightly more labor-intensive. Another perk of this style of refrigerator water filter is that they are 100% compatible with any fridge that uses a water supply for ice or water.
The first thing you want to do is determine which type of water supply line you have running to the back of your refrigerator. This is going to determine which kind of connection you need on the actual filter itself. If your supply line is metal then you are going to want an inline filter with copper threaded fitting on the ends. If you have a plastic water line then you need the compression fitting on the end of your refrigerator water filter. Inline filters like the one from EcoPure listed above come with both styles of fittings for a guaranteed fit.
Once the right connections are on your new filter then you can move on to the installation. Before you do anything else though you need to make sure that the water supply is turned off to prevent any costly damage and the need for extensive cleanup time.
Once your water is turned off then you can remove the old filter by unscrewing the supply line if it is metal, or by taking the compression clips off if it is plastic. Once the connections are disconnected you can pull the line free from the old filter and replace it with the new one. Make sure the copper fittings are screwed down tight or that the compression fittings are securely fastened before turning your water back on.
Internal Filters
Internal filters are usually located on the inside of a refrigerator and are the best choice for a quick and effortless installation. The exact placement of an internal filter is going to differ by the make and model of the fridge but the steps of replacing them generally remain the same.
Once you have located the filter in your fridge then you need to unfasten it by either pressing in on the filter or unscrewing it. The new filter is then simply put in place and secured by either pressing in on it or by screwing it in. The placement of these internal fridge filters is generally at the bottom of the fridge near the vent grill or inside of the fridge in the back right-hand corner.
The video below gives an example installation of an internal water filter for a Frigidaire refrigerator. Of course, this is just an example, and you should consult your own fridge's user manual for the specific steps.
How Do You Change Filter Cartridges When They Need Replacing?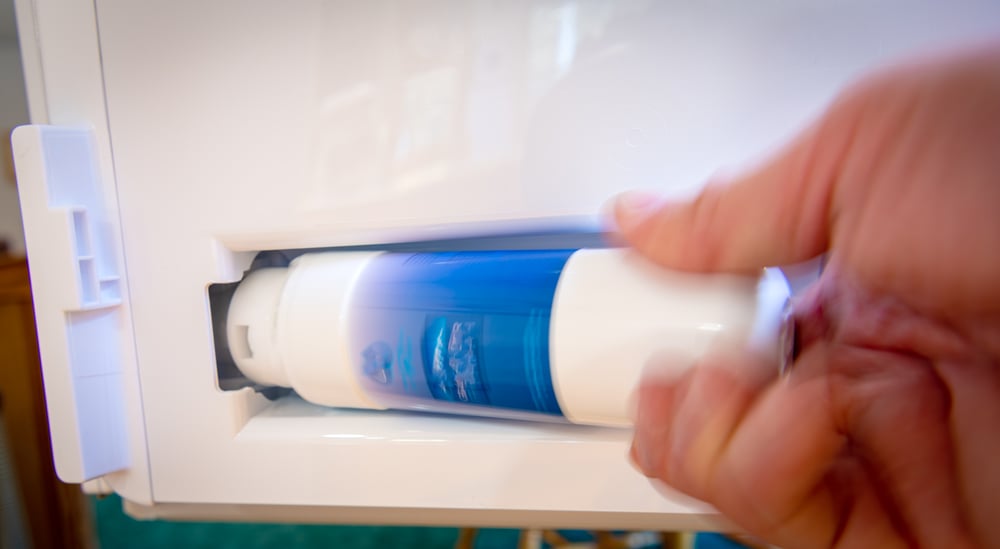 I highlighted the process of replacing both inline and internal fridge filters above, but as far as the actual cartridge goes, this is not something you need to worry about with disposable fridge replacement filters. Cartridge replacements actually refer to the internal filtering carbon block or other material and only need to be changed on under sink or whole-home filtration systems.
How do Refrigerator Water Filters Work?
A refrigerator water filter's function can be broken down into two components - a physical and chemical component. The first physical component is made out of a screen or mesh material and it serves to filter out the larger particulates and contaminants in the water.
After the physical filter, the water is further filtered through the use of a chemical component usually in the form of activated carbon - this carbon reacts with the microscopic particulates, metals, and chemicals in the water and absorbs them so the final product is safe and clean drinking water. Sometimes an additional third filtering layer serves to further separate any unwanted chemicals from the water to increase the quality of the final product.
Do Refrigerator Water Filters Remove Chlorine?
Chlorine is one of the main chemicals that water treatment facilities use to clean and make the water safe for drinking. While the chlorine taste and odor left behind are not necessarily dangerous many people consider the chemical taste to be undesirable.
Refrigerator water filters do filter out chlorine to a varying degree so it is important to read the reviews and certification of the filter you are looking to purchase. If this is your main concern for your drinking water then you should make sure the filter you decide to purchase comes with an NSF 42 certification which means it has been proven to reduce the chlorine taste and odor in the water. Options #1, #4, and #5 are just some of the highest-rated water filters with an NSF 42 badge.
Which Filters Fit GE Refrigerators?
GE refrigerators require their own style of internal water filter which is known as an MWF filter. #6 on our list is an MWF filter and is the best choice for a GE refrigerator filter. It easily installs in the back corner of the inside of the fridge and filters out most known contaminants like pesticides, pharmaceuticals, lead, chlorine, and other harmful chemicals commonly found in water.
Which Filters Fit Whirlpool Refrigerators?
The best overall choice for refrigerator water filters on this list comes in at #1 and is actually manufactured by Whirlpool, it is the EveryDrop filter that comes in four different sizes, noted by numbers 1-4. Aside from being approved for compatibility with most major manufacturers' fridges this filter is recommended to be used with all makes and models of Whirlpool refrigerators.
Which Filters Fit LG Refrigerators?
The only two LG refrigerator water filters on this list are the two universal inline options we have available. Those are number four and number seven. LG also manufactures some of their own OEM filters that can be found on their website or Amazon but none of them made the cut for this particular list so I suggest going with open of the universal long-lasting inline options available.
Where Are Most Refrigerator Water Filters Made?
Refrigerator water filters can be made anywhere around the world but the NSF is an American organization meaning that no matter where the filter was manufactured it has to be tested against American standards to receive an NSF rating. All of the best refrigerator water filters we have on this list have a minimum of an NSF 42 rating even though they are manufactured around the world.
Numbers 1, 4, 5, and 7 are all made in the United States even though some of them use globally sourced materials for assembly.
Number 2 and the Samsung filter at number 3 are both made in South Korea and tested against American NSF standards.
Number 6 The MWF filter for GE fridges is actually manufactured in China but it still meets the standards set forth by the NSF 42 certifications.
What Can't Refrigerator Filters Remove?
When dealing with refrigerator water filters it is important to remember the fact that each one has its own certifications for what substances it can efficiently remove. Some with an NSF 42 certification only remove the chlorine taste and smell from the water while other filters with further certifications can remove additional chemicals and substances from the water. A refrigerator water filter isn't the most effective water filter you can buy, and if you are looking for superior filtration to filter out bacteria and other microscopic harmful substances then you might want to look into getting a whole home reverse osmosis filter.