Black bean sauce is a pungent, salty dark brown sauce that has a thick paste-like consistency. It is made from fermented soybeans and often contains a range of other flavors like garlic, ginger, or even tangerine peel. There is also sugar added to give it a subtle sweetness.
The sauce is used in cooking to add flavor and color to food and can also make a useful condiment. It is extremely popular in Sichuan and Cantonese cuisine. Noodles, stir-fries, steamed dishes, and even meat-based casseroles are delicious with a liberal splodge of this sauce.
Finding black bean sauce in supermarkets usually isn't a challenge as it is an everyday ingredient. A visit to the sauce or Asian section of your supermarket will usually do the trick. If you can't get your hands on a bottle or don't enjoy the taste, then you'll need a black bean sauce substitute. Keep reading to get our top suggestions for a replacement.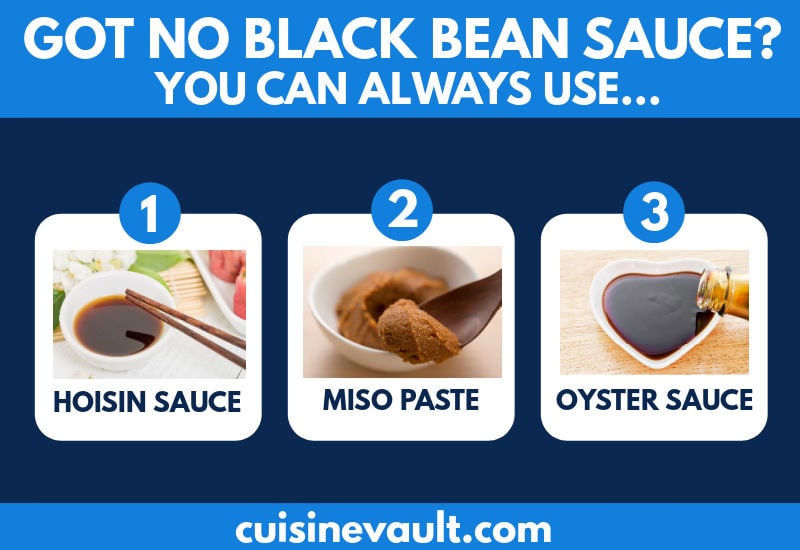 Table of Contents
Black bean sauce substitutes
1. Hoisin sauce
Hoisin sauce is a good alternative to black bean sauce which can be used in most recipes that call for the original ingredient. Its thick texture makes it a useful condiment for dipping dumplings, meat, and fried foods into. It also adds color to noodles, stir-fries, and meat. Peking Duck is a classic example of how this sauce transforms ordinary poultry into a spectacular-looking dish.
All sauces have their own unique characteristics and hoisin is no exception. You'll find that the addition of chili in most brands, which will give your dish a spicier kick. It will also have a slightly sweeter flavor, rather than a salty, umami boost that black bean sauce provides.
Recommended reading: A comparison of hoisin and oyster sauce.
2. Miso paste
Miso paste will provide your food with a fermented soy flavor - similar to what you get from black bean. You'll want to add a few splashes of soy sauce to create more of a paste texture. Then pour in a small amount of molasses or even sugar to give it some sweetness.
When choosing a miso paste, choose the red variety over the white if you have both options available. It has a longer fermentation process which results in a more intense umami flavor, perfect for Asian cuisine.
Miso paste won't mimic the flavor, texture, or color of black bean sauce as well as hoisin does. So if you have the choice, go for hoisin. If you don't enjoy the flavor of black bean and want something different, miso is recommended.
3. Oyster sauce
Oyster sauce is a useful substitute for black bean. It brings salty umami flavor to any ingredient it gets mixed into or coated over. Use it in practically any recipe that calls for black bean sauce.
There are a couple of differences between the two ingredients: first, oyster sauce is made using oysters so it has a subtle briney, oystery feel to it; second, you will find oyster sauce has a touch more sweetness. These variations are not starkly obvious, but a seasoned lover of Asian food would notice the difference. For many, the changes will be an improvement.
Related reading: What can I use for an XO sauce substitute?
4. Tianmian sauce
Tianmian sauce is another thick, dark sauce that is made from fermented wheat flour and a small portion of soybean. It has a mild, savory flavor and is commonly used in Chinese and Korean-Chinese recipes like jajangmyeon and Peking duck.
The addition of tianmian sauce will dial up the sweetness in your meal. We suggest adding a lesser amount than the recipe calls for and then gradually add more if needed.
Note: Tianmian is also an excellent replacement for ketjap manis sauce.
5. Make your own black bean sauce
Whipping up a batch of black bean sauce is a great way to get yourself out of a bind. This is the best option if you want an authentic-flavored meal that stays true to the recipe. Here is a simple method for making homemade sauce which has a fresher, punchier taste than the bottled products.
Ingredients
1 cup fermented black beans, rinsed
½ white onion, minced
8 garlic cloves, crushed
⅓ cup vegetable oil
¼ cup light soy sauce
¼ cup Shaoxing wine
¼ cup sugar
1 piece ginger, 2" long
Method
Pulse beans, onion, and garlic in a food processor until it forms a coarse paste with some chunky texture.
Heat the oil, then add the bean mixture to a saucepan on a medium-low heat. Cook until the beans have absorbed the oil and the sauce looks a little dry.
Add the soy sauce, Shaoxing wine, and sugar and simmer for 10 minutes, or until the onions turn translucent, stirring constantly.
Grate the ginger and then add it to the pan. Cook until the oil begins to float on the top of the sauce then pour everything into a large bowl to cool.
Transfer to an airtight container or jars and store in the refrigerator for up to one month.
Recommended reading:
What is the difference between fish stock and fish sauce? Do you know how they differ?
Summing up
If you're looking to replace black bean sauce in a recipe then hoisin, tianmian and oyster sauce all suitable options, as is miso paste. Although they are similar to black bean, each has its differences. This may not be a bad thing for those that are happy to experiment with new flavors. However, if you want an authentic dish but can't get any black bean sauce, you're best to make your own using easy to find ingredients.
Do you have a backup option of your own? Please let us know and we'll test it out.