If you're one to stay on top of food trends, you've probably noticed a rise in the number of Korean restaurants. There's a good reason why. Korean food is delicious, combining heat, sweetness, saltiness, and umami into a range of unique and tasty dishes. If you haven't tried it for yourself, there's no reason not to make your reservation at the local Korean place now.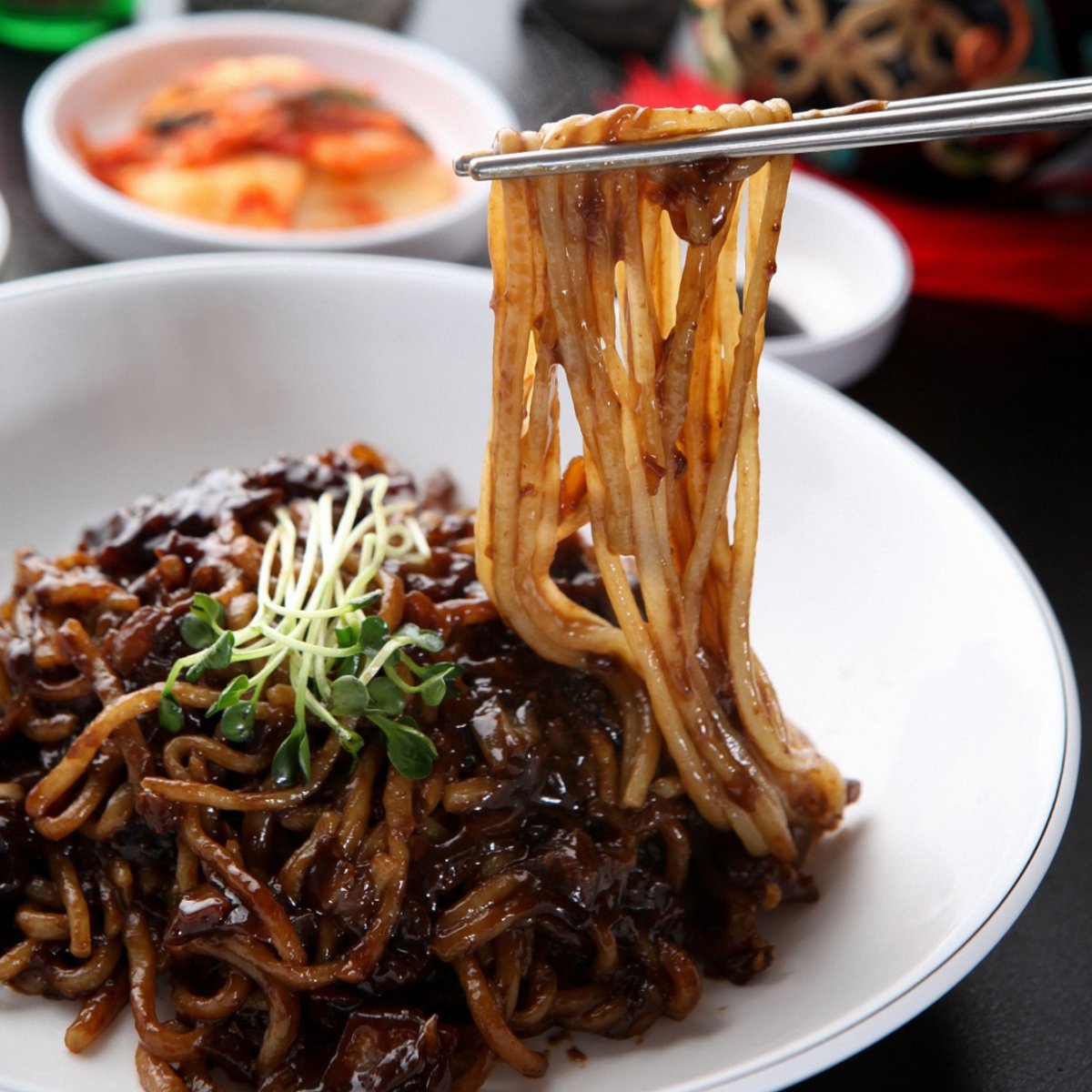 Black bean noodles are one of the classic Korean recipes, though many people still haven't tried the dish. If you're wondering what they taste like, imagine a deep and rich flavor with a heavy dose of salt, similar to soy sauce but with more complexity.
If that sounds good to you, take a look below to learn more about this wonderful dish.
Table of Contents
What Are Black Bean Noodles?
Black bean noodles, also known as jajangmyeon, are one of Korea's most iconic dishes. It is made in several different ways but usually includes chunjang sauce, vegetables, and diced pork. People say that it was based on the traditional Chinese dish Zhi Jhiang Mian, which roughly means "fried noodles."
Part of the reason for its popularity is because of how fast and easy it is to make. Home cooks and restaurants alike love how quickly they can throw it together while still delivering a deep and rich flavor. The other main reason for its success is how affordable it is to make. With noodles, sauce, meat, and vegetables, you can make a truly satisfying meal on a budget.
The Unique Flavor of Black Bean Noodles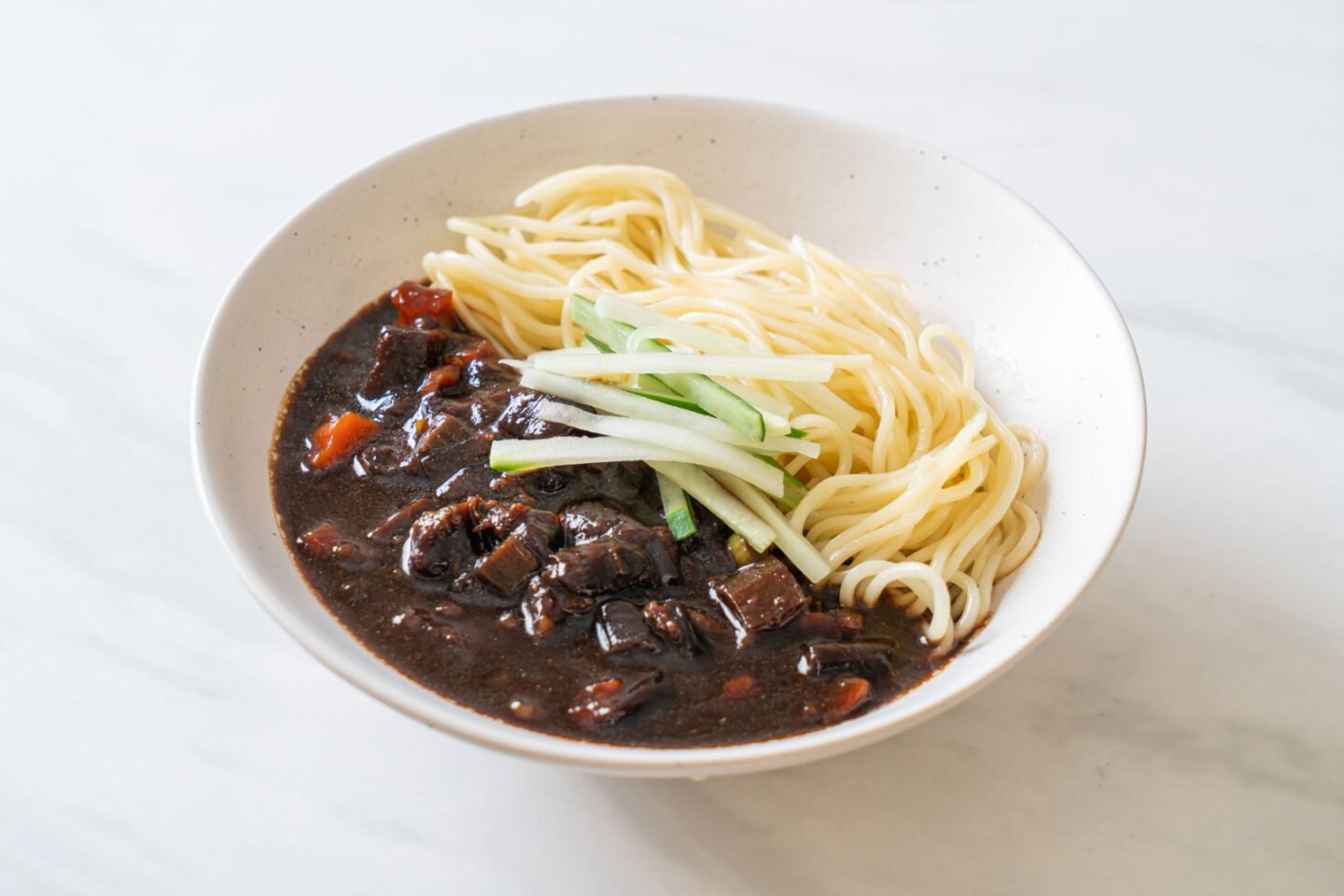 If you've never tried jajangmyeon before, you might be surprised by how strong the flavor is. The black bean sauce is at the center of the taste profile and brings deeply pungent, bitter, earthy, and salty notes. Because of this, it's important to coat your noodles in the right amount of sauce—neither too much nor too little.
The robust flavor of the sauce is balanced by the other ingredients. Garlic has a pungent aroma, while pork has a savory, fatty taste. A pinch of brown sugar balances the saltiness with the sweetness.
Is Jajangmyeon Spicy?
Black bean noodles have some spice, though unless you're particularly sensitive, they probably won't taste that hot to you. Most recipes only include a small amount of black pepper, which adds the smallest amount of spice. This is balanced against the wide range of other flavors.
Overall, Jajangmyeon is a good choice for those who prefer a lower level of heat. If you like your food spicier, you can increase the amount of black pepper in the recipe.
What About Texture?
Most of the texture of black bean noodles comes from the noodles themselves. They are thicker than those used in other noodle dishes and have a meaty chew. When the dish is done right, the vegetables should have a slight crunch that goes well with the noodles.
Health Benefits of Black Bean Noodles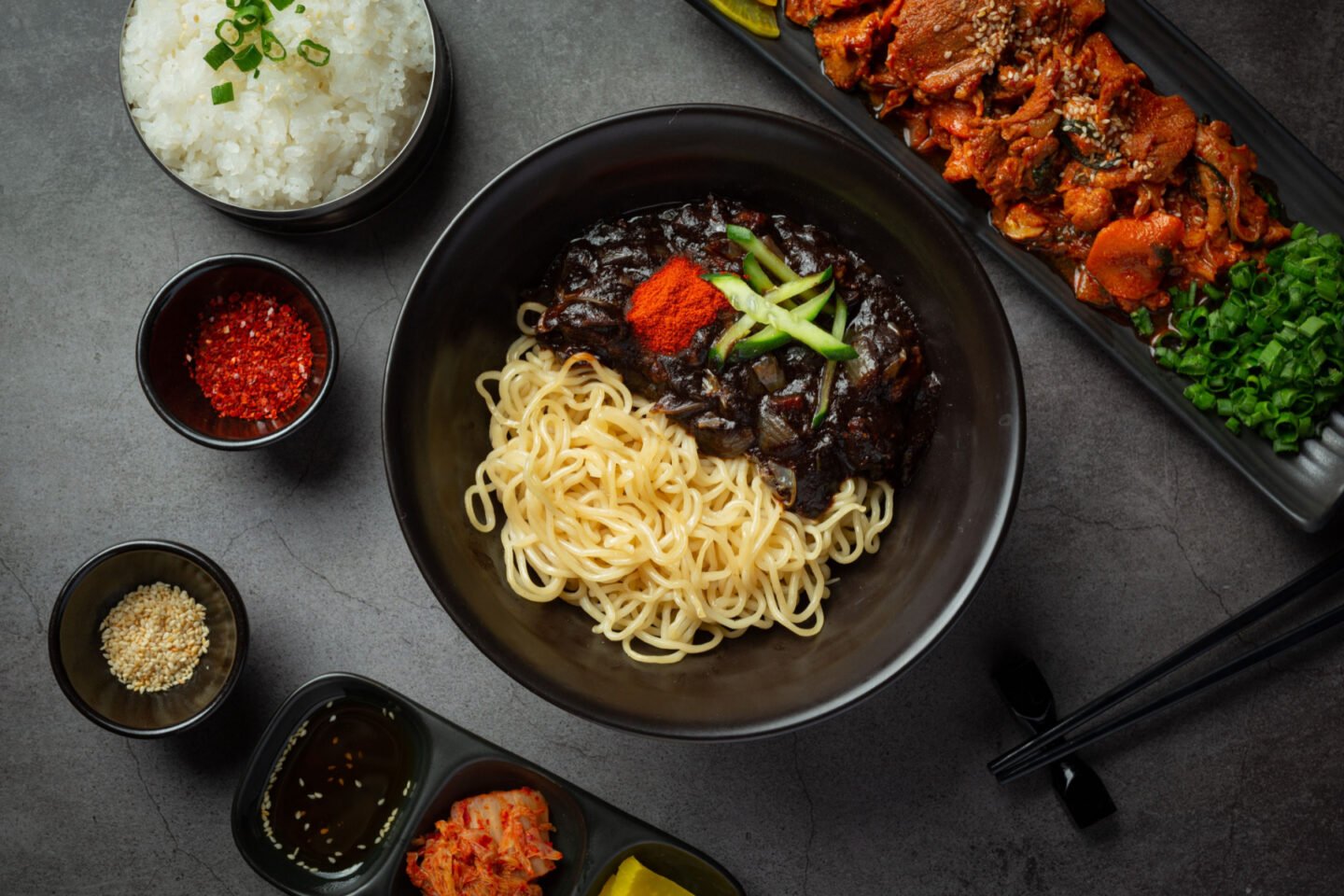 Black bean noodles can contain more or less fat depending on how you make the dish, so how healthy it turns out depends largely on the chef. Aside from that, it's a very healthy choice, with many different health benefits from the sauce and vegetables in the recipe.
Antioxidant Properties
Did you know that black beans are chock-full of antioxidants? These can help protect your body against free radicals, helping to reduce the risk of cancer.
Boost Digestive Health
The fermented beans in the sauce give your digestive system a probiotic boost. The added bacteria cultures help improve digestion, making you more regular.
Lowers Cholesterol
Saponins are a compound that helps lower cholesterol in the body. Black beans have a high dose of saponins as well as plenty of fiber, which together help keep your blood pumping smoothly.
Types of Korean Black Bean Noodles
Korean black bean noodles are actually not just one dish but a whole family of them. There are different varieties, each with its own unique flavor. See which of the most common varieties is your favorite.
Jjajangmyeon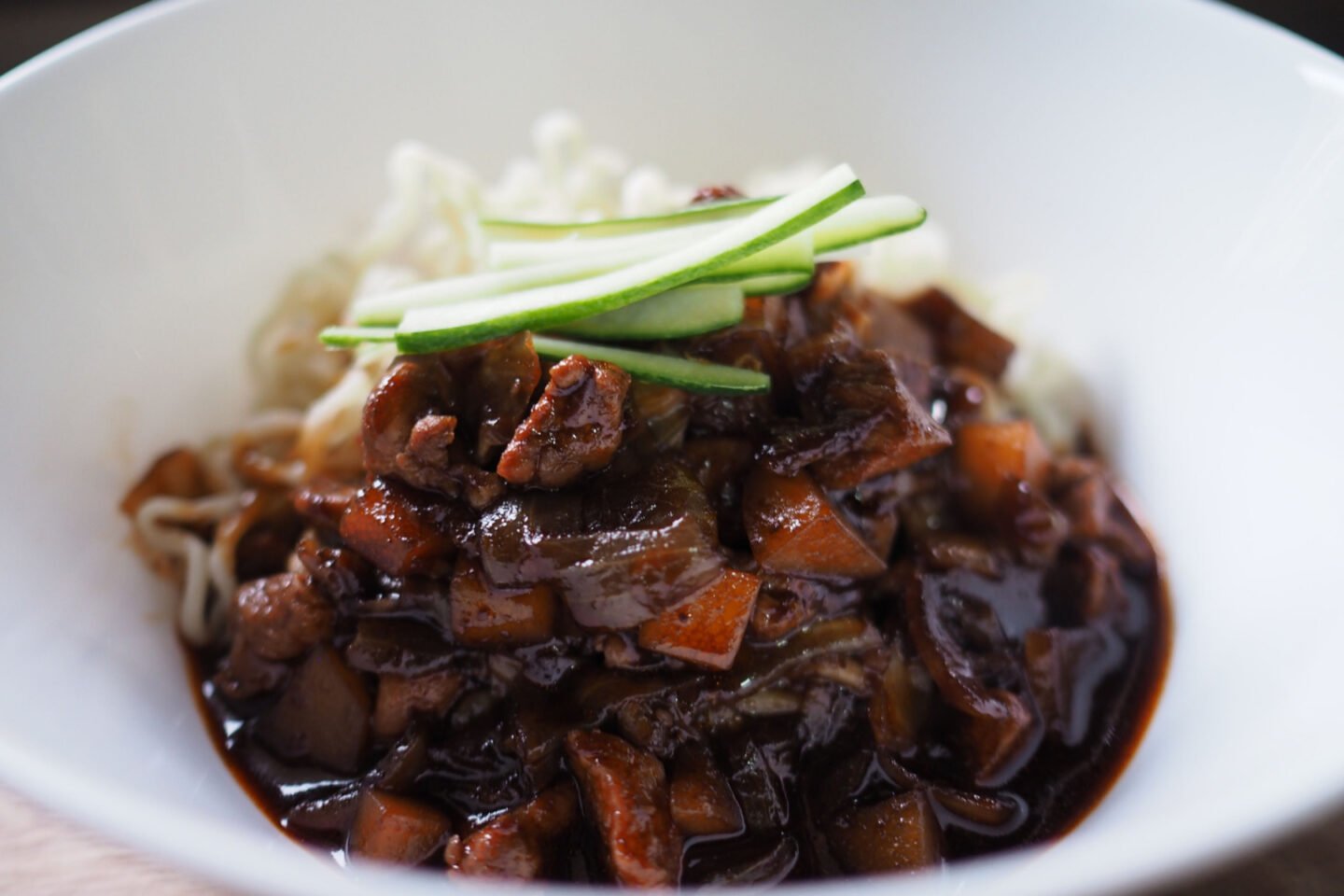 The standard black bean noodles are called simply "jjajangmeyon" or "yen nal jajangmyeon." In this case, "yen nal" translates to "old-fashioned" or "traditional." What makes this style of black bean noodle different from the others is that it uses water or broth to thin the sauce slightly. Corn starch can also be added to fine-tune the texture.
Ganjjajangmyeon
When black bean noodles are made without added broth or water, it's called ganjjajangmyeon. This results in a thicker, drier dish with a larger helping of solid ingredients on each plate.
Samseon jjajangmyeon
The word "samseon" translates to "fresh delicacies from 3 sources." In this case, it refers to the variety of different sea creatures, like fish and squid, that give the dish a distinct flavor.
Euni jjajangmyeon
Euni jjajangmyeon has only one difference from the traditional variety, and that's the addition of ground meat. This gives it a grainy texture, which blends well with the noodles.
Jaengban jjajang
Jaengban jjajang noodles can include ingredients from any of the above styles but are distinct in how they're served. It is brought to the table on a large platter, so it can be shared by several people.
Recipe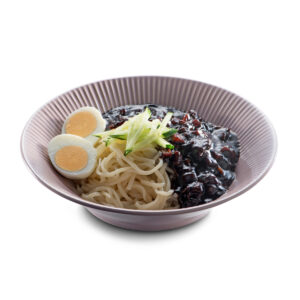 Making Your Own Black Bean Noodles
Making black bean noodles requires a wide range of ingredients, though once you have your prep ready to go, the process is relatively simple. Start by assembling the following.
Ingredients
Sauce
5

Tbsp

chujang (or jjajang) or Korean black bean paste

1

Tbsp

sugar

2

Tbsp

vegetable oil

1

Tbsp

oyster sauce

1

cup

water or chicken stock

1

Tbsp

cornstarch dissolved in 2 Tbsp water
Instructions
Begin heating a pot of water. Continue through the following steps, and when the water is boiling, cook your noodles and set them aside in a strainer.

Prepare your ingredients, cutting pork and vegetables in ½ inch cubes. Place the pork in a small bowl with the rice wine, ginger, salt, and pepper to marinate.

In a small saucepan, combine black bean paste with sugar, oil, and oyster sauce. Heat this for two to three minutes, stirring constantly.

In a large pan or a wok, heat vegetable oil over high heat. When hot, add the pork and cook for 1 to 2 minutes. Then add a tablespoon of soy sauce.

Add the onion and cook for 1 minute.

Add the cabbage and zucchini and cook for 1 minute.

Add your black bean sauce and stir until everything is evenly coated.

Reduce heat to medium and pour your stock or water. Cook for 3 to 4 more minutes.

Add your starch mixture and stir until the sauce has thickened. Add sugar to taste.

Place the boiled noodles on a plate and spoon your stir-fried meat, vegetables, and sauce over the tops. You can also serve them over cooked rice.
Nutrition
Calories:
803
kcal
Carbohydrates:
54
g
Protein:
28
g
Fat:
53
g
Saturated Fat:
14
g
Polyunsaturated Fat:
18
g
Monounsaturated Fat:
18
g
Trans Fat:
0.2
g
Cholesterol:
85
mg
Sodium:
1035
mg
Potassium:
1049
mg
Fiber:
6
g
Sugar:
34
g
Vitamin A:
351
IU
Vitamin C:
67
mg
Calcium:
108
mg
Iron:
3
mg