We think it's time to unravel the complex supermarket wall of tomato products.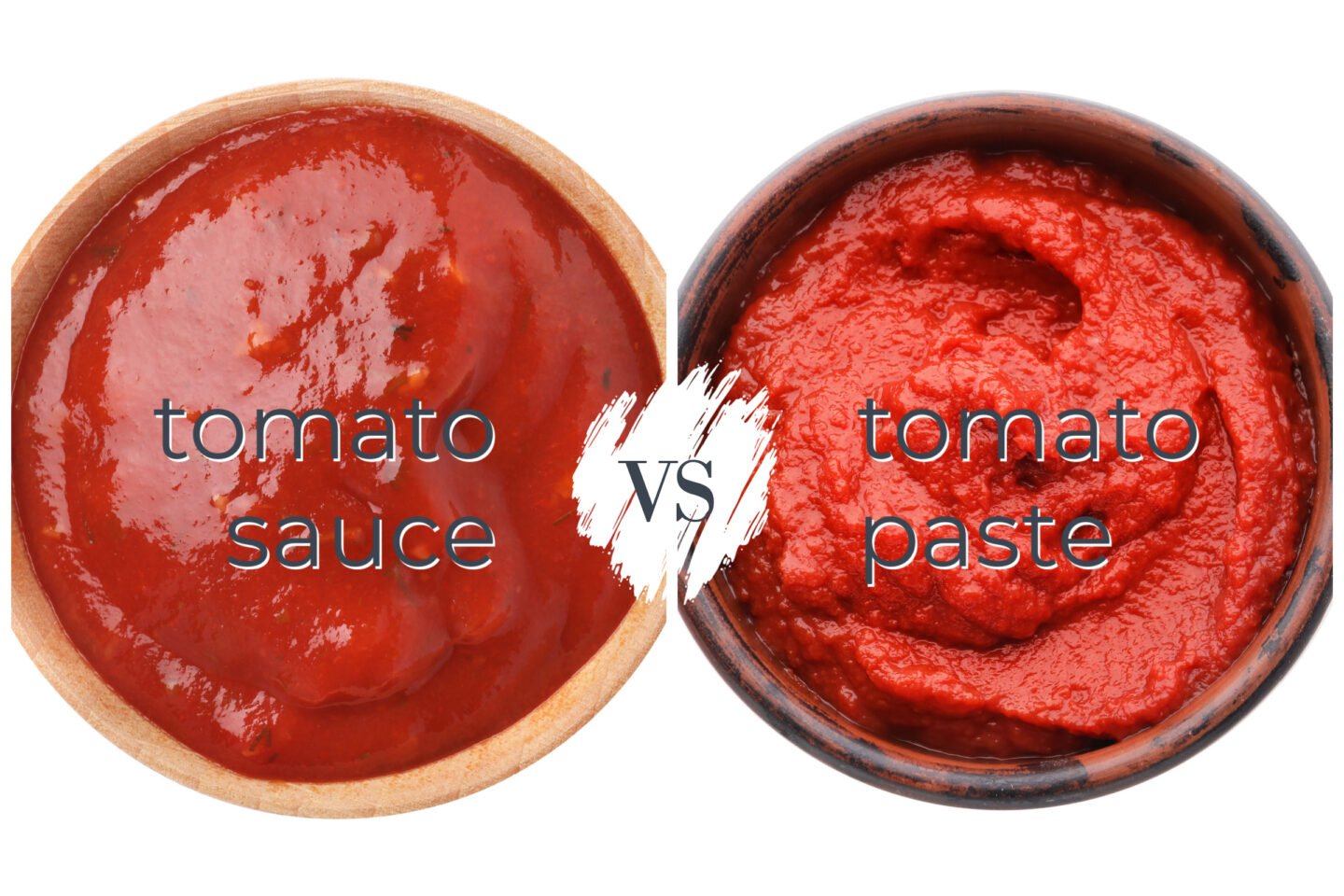 The main difference between tomato sauce and tomato paste is their consistency and taste; tomato sauce is made from pureed tomatoes with aromatics, giving it that thin consistency with hints of spices. On the other hand, tomato paste is tomato puree reduced into a thick consistency without any other ingredients.
Due to their taste differences, tomato sauce and paste also have different uses. This article will discuss everything you need to know on this topic and give a quick and easy recipe for making tomato sauce and paste.
Table of Contents
What's the difference between tomato sauce and tomato paste?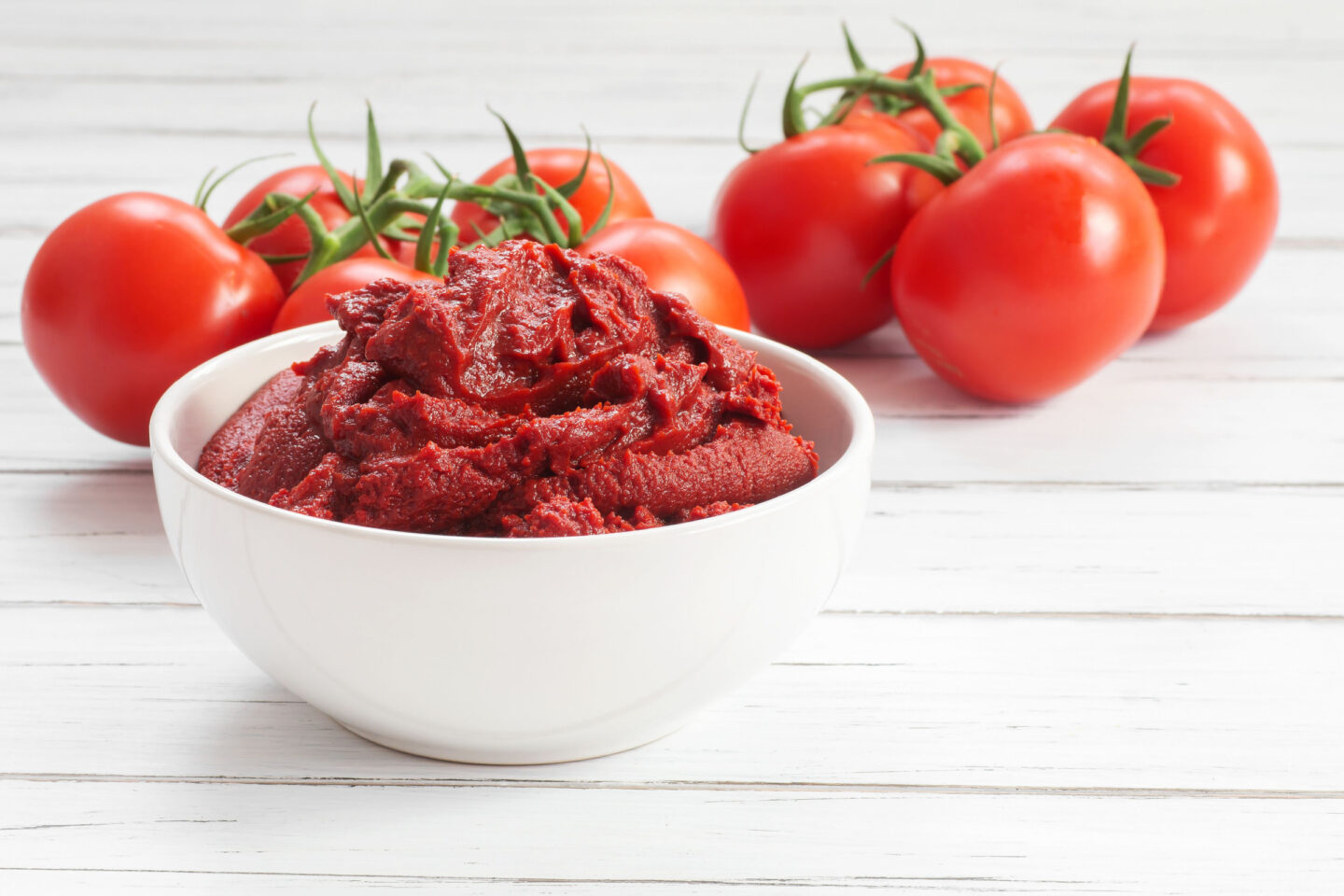 Tomato sauce tastes like fresh tomatoes and has a thin, runny consistency. It is made by simmering fresh tomatoes until they lose their raw flavor. Most sauces add additional ingredients like herbs, spices, onion powder, salt, and pepper.
Tomato paste has a thick consistency with a highly concentrated, bold tomato flavor that's similar to sun-dried tomatoes. Its purpose is to provide rich, umami flavor to dishes. Paste is made by slowly cooking down de-seeded tomatoes.
Tomato sauce can be added to food without cooking. Paste needs to be cooked to tame its intense tomato flavor.
Useful reading
Watch our video on how to peel tomatoes.
Check out our research on the best tomato knives.
Did you know? In some countries, tomato sauce is a type of condiment that is bright red and sweet. It is similar in texture to ketchup and is often used on sausages and meat. It's popular in New Zealand, Australia, the United Kingdom, and South Africa. This sauce is not what we are discussing in this article.
Taste
Although tomato sauce is cooked, it tastes like fresh tomatoes. Most store-bought sauces have additional seasonings added. Tomato paste has an intense, tart flavor that's similar to sun-dried tomatoes. It should be used in moderation while tomato sauce can be used liberally in cooking.
Consistency
Tomato sauce is quite watery, while paste is thickened as it is cooked longer. The thinner consistency of tomato sauce makes it unsuitable for spreading onto pizza bases.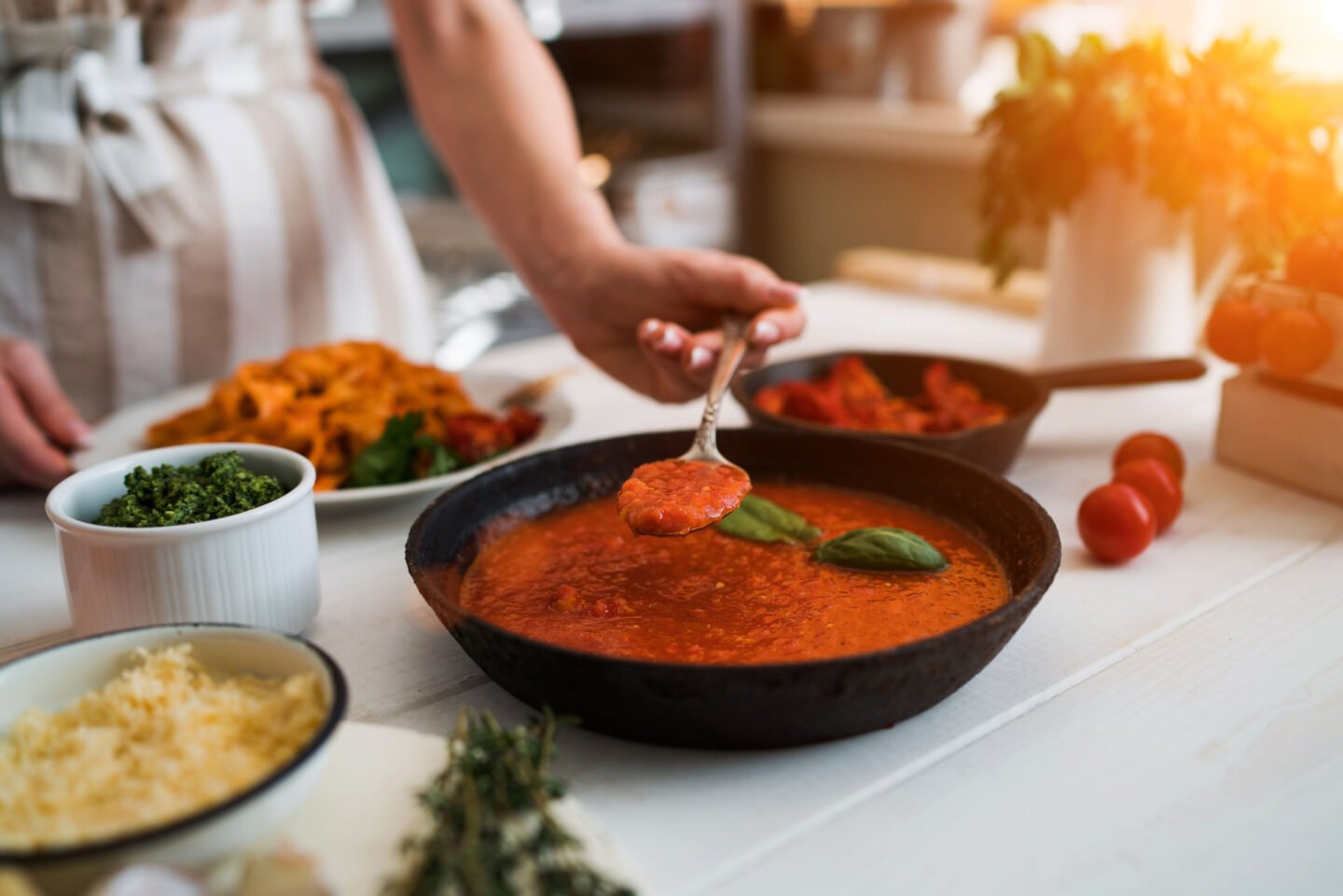 In the United States, these two products are subject to regulations:
Tomato sauce: Must have 8 to 24 percent tomato solids, not including the seeds or peel.
Paste: Must have tomato solids of no less than 24%.
Uses in the Kitchen
Although you can use tomato paste and tomato sauce for cooking a wide range of dishes, they should not be used interchangeably. Their flavor and consistency are different.
Tomato sauce is usually a hero ingredient that's front and center in the dish it's added to.
Tomato paste is always a base ingredient, building up depth of flavor in food without playing the starring role.
Tomato sauce goes well with pasta, ratatouille, chili, meatloaf, shakshuka, and a lot of other foods. It is versatile enough to be slow-cooked with meat or vegetables for hours. This ingredient can also be added to eggs, chutney, or noodles at the end of cooking.
Sauce doesn't need to be simmered for hours, although in some recipes, the tomato flavor improves once cooked. Its acidity will mellow after simmering for an hour.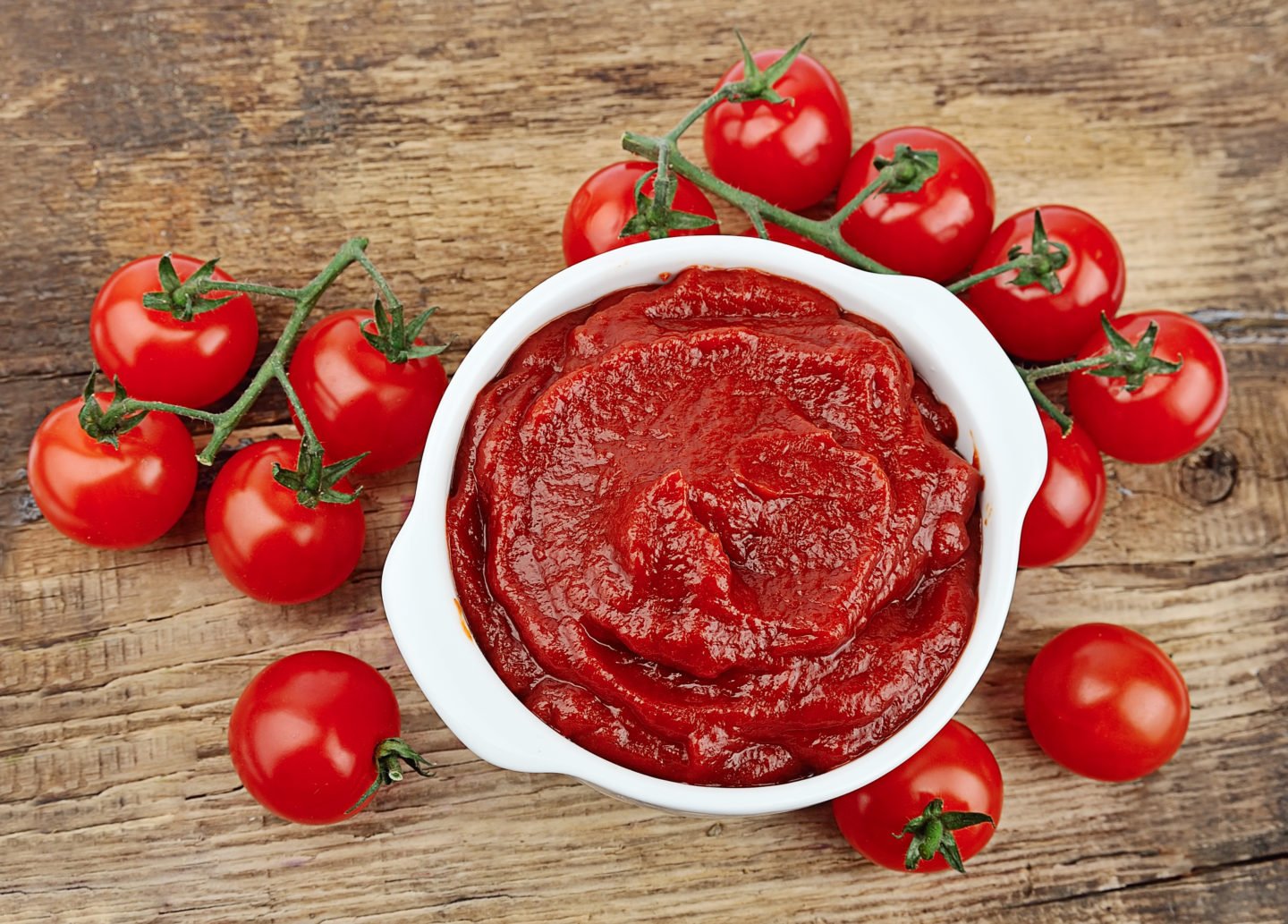 Tomato paste is suitable for adding to sauces, tomato soup, pizza sauce, and casseroles. It works across a range of dishes where you want some punchy combination of sweetness and umami. Paste offers a "meaty flavor" and body to any dish without the extra liquid content that you get from either fresh tomatoes or tomato sauce.
You can make tomato paste taste even better by cooking it in a pan with spices for a few minutes.
Quick Tip: Too much tomato paste will overpower your meal with sweetness. If you've added too much, splash a little vinegar into your food to balance the flavors. Taste test and add more if needed.
Origin
Tomato sauce is synonymous with Italian cuisine, but it is believed to have originated from Mexico. It was originally a type of stew made of "peppers, pumpkin seeds, tomatoes, green peppers, fat tomatoes and other things that make tasty stews." This recipe was first written about in the 1500s by Bernadino de Sahagun [source].
Tomato paste was created much more recently, in Southern Italy. Reduced tomato sauce was spread out onto boards and left to "cook" in the hot summer sun. Once the texture thickened, the paste was scraped off the board into balls.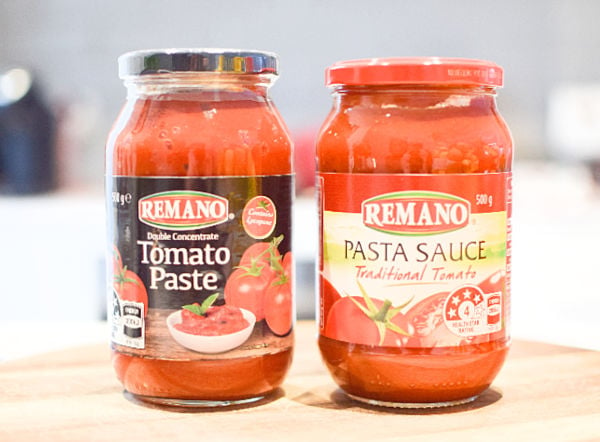 Ingredients
Citric acid is usually the only ingredient added to the tomatoes during production of tomato paste. It adds acidity and works as a preservative.
Tomato sauce will usually include additional vegetables, herbs, and spices added. Homemade sauce will usually include olive oil as well.
Nutrition Facts
Tomato paste and sauce are both high in nutritional goodness. They contain useful levels of vitamin C, folate, potassium, and lycopene.
Tomato paste has higher levels of vitamins and minerals per 100g. But keep in mind it is used in much smaller quantities than sauce.
Typical nutritional information for canned tomato sauce and paste
| | Tomato Sauce (1 Tbsp) | Tomato Paste (1 Tbsp) |
| --- | --- | --- |
| Calories | 11 | 13 |
| Total Fat | 0g | 0.1g |
| Saturated Fat | 0g | 0g |
| Cholesterol | 0mg | 0mg |
| Sodium | 31mg | 9.4mg |
| Potassium | 51mg | 162mg |
| Carbohydrates | 2g | 3g |
| Sugar | 3g | 1.9g |
| Protein | 0g | 0.7g |

How to Make Tomato Sauce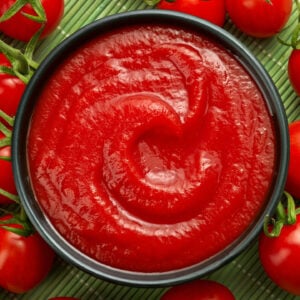 Homemade Tomato Sauce
Do you want a thicker, purer tomato sauce for your chili or pasta? Make a hearty batch from scratch! You need only 5 main ingredients and less than an hour to make this recipe.
Ingredients
2

pounds

Roma tomatoes

1

tbsp

olive oil

1

large

onion

diced

4

cloves

garlic

roughly chopped

¼

cup

sugar

salt to taste
Instructions
Use a kitchen knife to dice the tomatoes then puree in a food processor.

Pour the tomatoes through a sieve into a bowl. Discard the leftover seeds and skin.

Add olive oil to a pan on medium heat and add the onion. Sauté until translucent, then add garlic and cook for 2 minutes.

Pour in the tomato puree and mix the ingredients. Allow cooking for 30 minutes, occasionally stirring, until the mixture thickens. If you have trouble getting the sauce to thicken, then check out our tips for thickening tomato sauce.

Remove sauce from the heat and strain to catch the garlic and onion. Allow cooling before adding to an airtight container. Store sauce in the fridge for 3 to 4 days or freeze for 4 to 6 months.
---
How to Make Tomato Paste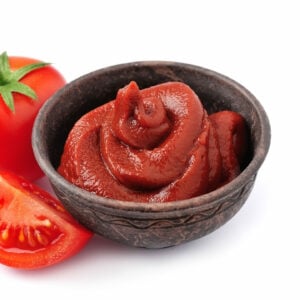 Homemade Tomato Paste
It's nice to have tomato paste on hand when you need it to make a casserole, soup, or homemade pizza. Making your own paste is quite easy and uses only 4 ingredients!
Ingredients
5

pounds

tomatoes

quartered

1

tbsp

olive oil

1

tsp

Kosher salt

¼

tsp

citric acid
Instructions
Preheat oven to 285°F (140°C).

Add oil to a large pot on medium-high heat. Once hot, heat tomatoes until the peel begins to fall off.

Process the tomatoes through a sieve into a large bowl or use a tomato press to make life easier.

Add salt and citric acid to the tomatoes, then scoop, in a thin layer, onto baking trays or roasting pans. Bake for 3 to 4 hours, occasionally mixing, until the tomato turns into a paste-like texture. It will have reduced by roughly half its size when it's ready. Also, check that there is no water remaining as this should have all dried out.

Scoop the paste into preserving jars and store it until required. You can also freeze the paste in airtight containers for 4 to 6 months.
Commonly Asked Questions
Can tomato sauce be substituted for tomato paste?
To substitute tomato sauce for paste, use three tablespoons of sauce for every one tablespoon of paste. Reduce the liquid and intensify the flavor by baking it in the oven at 350°F in a thin layer. A paste-like texture is a good sign that it's ready. You can also use tinned tomatoes or crushed tomatoes.
How do you make tomato sauce from tomato paste?
Mix ¼ cup of tomato paste with ¼ cup of water until blended. Stir in sautéed diced onion and garlic, then season with herbs and spices of your choice. The end result will be a tomato sauce that can be used, but it is likely to be more sour and have less tomato flavor than the regular sauce.
Which is better tomato paste or tomato sauce?
Each ingredient has its strengths in the kitchen. Tomato paste is the best option for adding savory intensity to food. It is also thick enough to spread onto pizza bases which you can't do with sauce. Tomato sauce has a less intense flavor that allows it to fit into a wide range of dishes. It has a fresher, tomatoey flavor and unlike paste, it doesn't require cooking to mellow its intensity.
What is the difference between tomato puree and paste?
Tomato puree, aka tomato passata, is raw, pureed tomatoes with the seeds and skin removed. Salt may also be added. Paste is thicker and more flavorful as it has been cooked.
What is marinara sauce?
Marinara sauce is widely used in Italian-American cooking. It is a quick tomato sauce that incorporates garlic, onions, basil, and red pepper. Other ingredients may include wine, olives, or capers.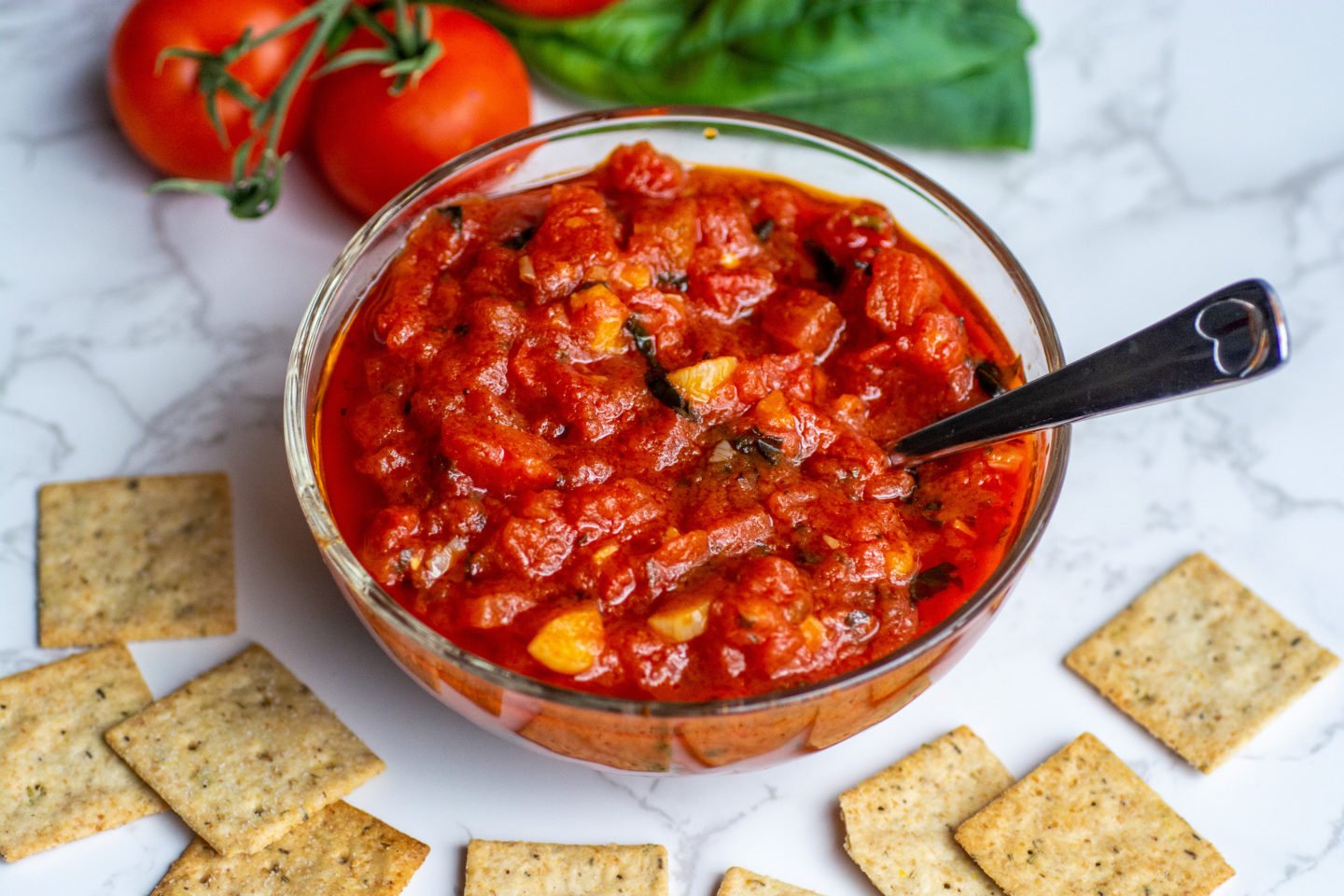 Related reading:
How long do fresh tomatoes last?
How many tomatoes are there in a pound?
What are the best tomatoes for juicing?
Summing up
Tomato paste is a thick paste that adds delicious umami flavor to food. It's commonly added in small amounts to slow-cooked meals, but it has many other uses in cooking.
Tomato sauce has a brighter, fresher feel to it. It's perfect for pasta dishes but can also be added to eggs, meatloaf, ratatouille, and much more.
Both ingredients are super-useful in the kitchen. They have unique characteristics, and you shouldn't swap one for the other in recipes.
Additional Images: