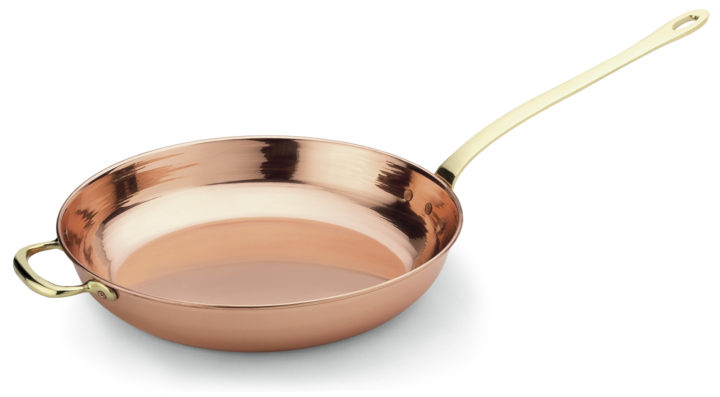 If you've never cooked with a copper wok, you're missing out! In addition to their stunning appearance, copper wok pans offer a number of advantages when making stirfry. However, if you want to make the most of copper's advantages, it's essential to choose the right pan.
With hundreds of different woks available today, it might be hard to find the one that perfectly matches your vision. Or maybe you're not exactly sure what you're looking for and could use a bit of guidance.
Either way, we've put together this list of the best copper wok of this year. Considering factors like size, style, and material components, we've narrowed down our list to the best of the best. Review all of their pros and cons, and try one out for yourself.
Table of Contents
Best Overall: Mauviel M'150B Heritage Copper Wok Pan
If you're shopping for a copper wok, the best way to go is to invest in a pan that will satisfy your every need. Performance, durability, style, and ease of use are all factors worth considering. The Mauviel M'150B Heritage Copper Wok Pan offers a solid balance with an attractive design that will be sure to impress dinner guests.
The outer surface of this pan is 100% copper, lending quick and even heating properties. On the inside is a stainless steel surface bonded to the copper base for added durability. To top things off, a brass handle adds an attractive touch that completes the overall design.
The stainless steel interior is truly what sets this pan apart, as it allows you to cook anything you want without fear. Usually, acidic foods can discolor copper and reduce its lifespan. Though with this design, you get the best of both worlds.
The lightweight design is only 4.5 lbs. That, combined with the elongated handle, makes it an excellent tool for stirfry, letting you flip and toss fluidly.
Give this pan a try if you're looking to make an investment in a high-end pan that won't disappoint. Yes, it does require a bit more maintenance than a fully stainless steel option, though we think it's well worth the effort.
Best Traditional: Kuprum Copper Hand-Hammered Wok
While copper may not be the most traditional material for a wok, it certainly proves itself in the kitchen. It also pairs well with classic design elements found in cast iron and carbon steel wok pans. The Kuprum Copper Hand-Hammered Wok combines a traditional design with advanced material for the complete package.
The hand-hammered surface looks great, but it is for more than just aesthetics. It helps food cling to the side of the wok while cooking, allowing you to take advantage of the pan's cooler cooking zones. That makes it more versatile and an excellent choice for stirfry.
The overall shape of the wok is a little different than other designs. The high sides are ideal for containing food during an intense stirfry session. They let you toss your meat and vegetables without fear of losing them over the side.
Try this hand-hammered wok pan if you love the quality craftsmanship and a traditional look. However, don't ignore the small size of this wok. If you're cooking for four or more people, it may not be big enough.
Best Copper Aluminum Hybrid: Anolon Nouvelle Copper Wok
Often, copper cookware is at its best when paired with another material like stainless steel or aluminum. These materials can add durability, a nonstick surface, or other benefits to the pan. The Anolon Nouvelle Copper Wok is an aluminum and copper hybrid, offering the best of both worlds.
At first glance, you might not realize this pan includes copper at all. That's because its copper component is coated with a full layer of anodized aluminum. This offers the durable and lightweight properties of aluminum, as well as the even heating of copper.
Both materials match perfectly with the flush rivet design, which provides a smooth, uninterrupted cooking surface. It allows you to slide food over the pan without catching any hardware.
The handle is also made of aluminum, which makes it oven safe up to 500 degrees Fahrenheit. It also stays cool when used on your burners, thanks to a stay-cool handle.
Give this pan a try if you want the benefits of copper with the easy maintenance of aluminum cookware. It may not look at pretty as a full copper pan, but you'll love how little time you need to spend cleaning it.
Copper Wok Buying Guide
Finding the right copper wok for your needs might not be easy if you don't know what to look for. As you review the products above, keep all of these factors in mind, and decide for yourself which are most important to you.
Size
Most woks are between 10 and 15 inches in diameter, allowing plenty of room to stirfry for two to four people. A larger wok can be a benefit if you're cooking for more or if you want to use it for deep frying. Just keep in mind that larger woks may be difficult to heat fully on a home stove.
On the other hand, small woks are more convenient for cleaning, storage, and even heating. If you're only cooking for one or two people, they can be the perfect option.
Manufacturing
While all woks have a classic domed shape, they can actually be constructed in more than one way. High-end woks, commonly made using a technique called hand-hammering, have a distinctive look. They look as though covered in scales, which are great for keeping food from slipping down the sides of the pan.
Spun woks, which are made on a lathe, offer many of the same advantages as hand-hammered wok pans. Instead of scales, they have small grooves on the cooking surface. Finally, you have stamped woks, which are less expensive and have a completely smooth surface.
Other Materials
Some copper pans are made of 100% copper, though there are others that incorporate other materials. Sometimes, aluminum or stainless steel pans include a copper core. This helps distribute heat more evenly while taking advantage of the other metal's durability.
FAQs
If you're curious about copper cookware, you've come to the right place. Take a moment to review some of the most commonly asked customer questions here.