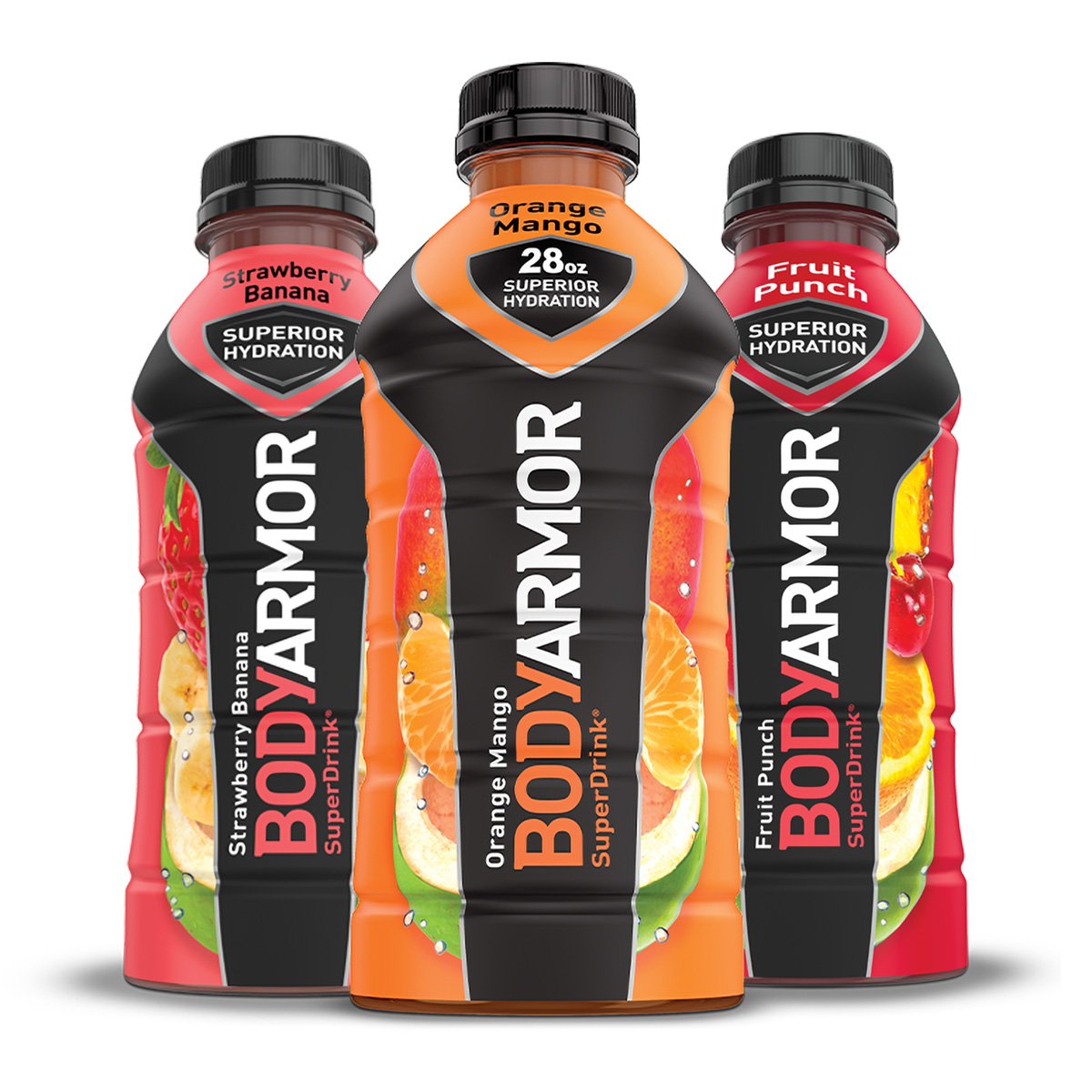 In case you haven't heard, BodyArmor has been taking the sports drink world by storm with an all-natural bottled beverage packed with vitamins and minerals. It's easy to understand why people like them so much. The only thing fans of the drink can't seem to agree on is which of the dozens of different flavors is the best.
While it ultimately comes down to personal opinion, there are definitely some fan favorites that steal the spotlight. Find out what they are below and choose your own.
Table of Contents
1. Tropical Punch
When you're looking for fast refreshment, it's hard to find a better option than a taste of the tropics. Combining the flavors of pineapple, orange, and a hint of grape, this island-themed punch is the perfect blend that can cater to all tastes.
One of the things we like about it is that it has a slightly milder flavor than the other BodyArmor creations. That makes it go down super smooth, especially when served cold.
2. Blue Raspberry
Nineties babies are sure to remember the blue raspberry craze that took over the decade way back when. Well, now it's back with a BodyArmor flavor that's just like the ones you remember from your childhood. Even those who haven't enjoyed the taste as kids will appreciate it now.
If you aren't familiar with it, imagine a mixture of sweet blueberry mixed with tart raspberry. It's an iconic combination that is as delicious as it is refreshing.
3. Strawberry Banana
Strawberry banana is a familiar flavor that translates surprisingly well to a sports drink, making it an instant BodyArmor classic. If you're a fan of Powerade, Gatorade, and other old-school sports drinks, you'll love this one.
The tartness of the strawberry balances perfectly with the mellow banana flavor, making for a well-rounded flavor experience. Best of all, the flavor grows on you more and more as you drink it. Even after a few bottles, you'll probably never get sick of it.
4. Strawberry Lemonade
If you're looking for something a little more on the tart side, strawberry lemonade may be the perfect BodyArmor flavor for you. While it's true that sour flavors don't always translate perfectly into this line of drinks, this one is an exception to the rule. It's the perfect option for strawberry lovers who want to add a slight twist to their favorite flavor.
The only reason it doesn't rank higher on our list is that it's one of the more common flavors out there. If you're looking for something new and surprising, you might want to try something else.
5. Berry Blitz
Berry lovers shouldn't skip this flavor, as it delivers all the sweet and tangy flavors you could hope for. A combination of raspberry, blackberry, blueberry, and strawberry, it offers a complex yet familiar flavor that doesn't fail to keep you refreshed. It's a bit stronger in flavor than some of the others on this list, so it's a good choice for those who don't mind a drink that packs a punch.
6. Berry Punch
While it might sound similar to the Berry Blitz flavor mentioned above, you'll be surprised by how different this one tastes. Think of it as a combination of a mixed berry drink and fruit punch with a unique flavor that's hard to put your finger on. No matter what exactly is going on in the bottle, we can say with confidence that it's worth a try.
Just keep in mind that those who don't like fruit punch flavors might want to pass on this one.
7. Orange Mango
What can we say? We love a sports drink with a tropical twist. This one is no exception, and it comes packed with orange and mango juice flavors you'll love. The overall effect is a bright and sunny sports drink that will be hard to put down.
The reason why it works so well is because of how the sweetness of the mango balances the tartness of the orange. Together, they make perfect flavor harmony.
8. Gold Berry
If you're looking for something a little different than the usual sports drink flavors, Gold Berry would be our first recommendation. It's a flavor actually derived from a common South American fruit, with a gorgeous color and a fresh raspberry flavor. This drink delivers on both and has drawn a serious following.
Just keep in mind that Gold Berry BodyArmor can be a bit divisive, with those who swear by it and others who won't touch it. You'll have to decide for yourself who you are.
9. Fruit Punch
Sometimes, the most familiar flavors are the best. If you're looking for a tried and true taste to quench your thirst, there's no going wrong with fruit punch. With a satisfying blend of pineapple, cherry, orange, and several other fruit flavors, it never fails to deliver on flavor.
While virtually every other sports drink has its own variation, this one is particularly good. All the different tastes come through clearly without fighting each other.
10. Coconut
While coconut can be divisive, we think that anyone who loves light and refreshing flavors will appreciate BodyArmor's take on it. The reason is that BodyArmor is made with coconut water, meaning the flavor is all-natural. That means you won't get any of that saccharin-sweet artificial coconut taste.
The only thing we don't like about it is how it tastes when it's not properly chilled. While most BodyArmor flavors are enjoyed best cold, this one really needs to be super cold for its full flavor to come through.
11. Watermelon Wave
Watermelon is one of the most refreshing fruits, so it makes sense that BodyArmor's Watermelon Wave is the perfect way to quench your thirst. It has a light flavor that doesn't overpower while still bringing its own character. However, some people who try it do find it a little on the sweet side.