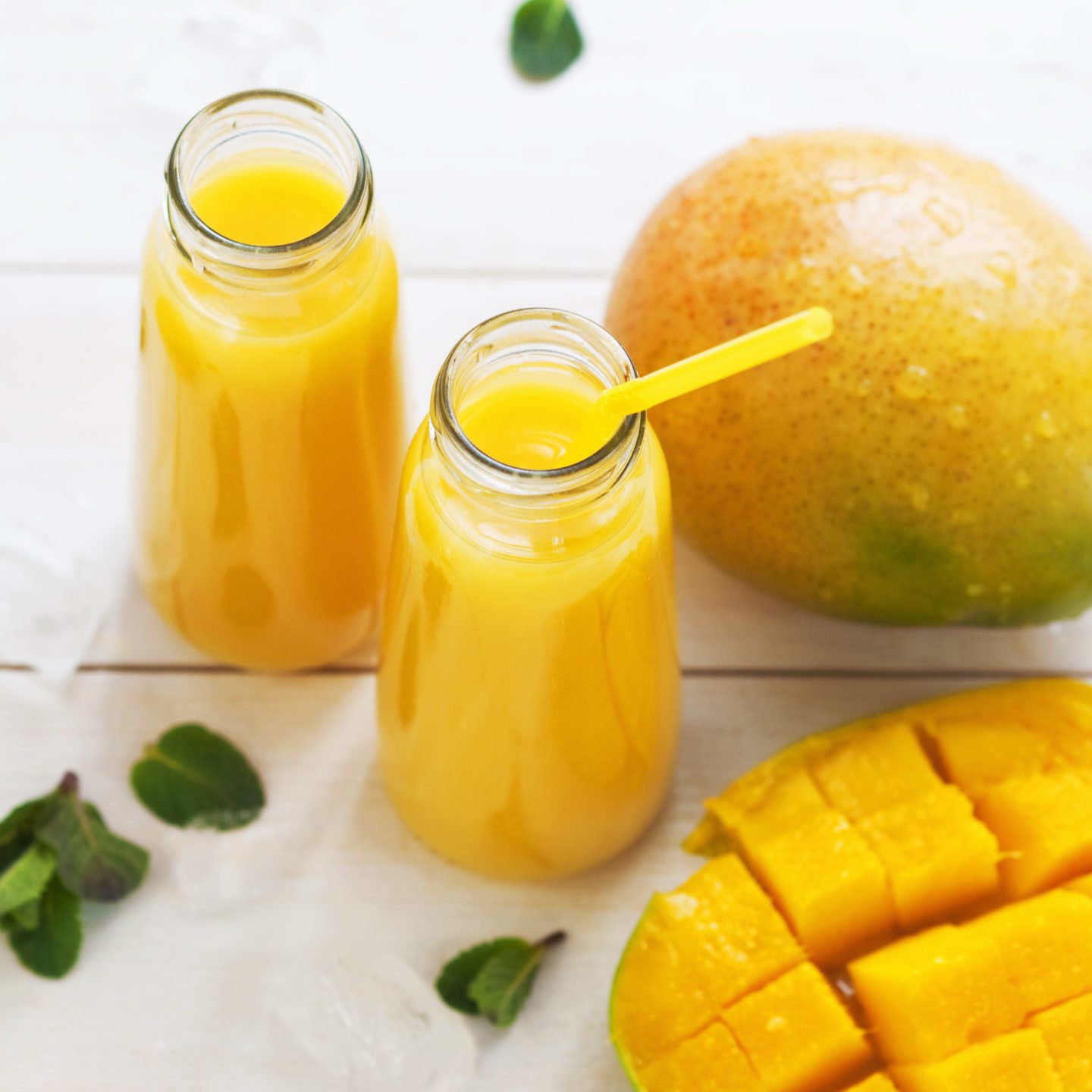 Mangoes are not just tasty—they also contain tons of vitamins and minerals that bring several health benefits. Mango juice is a top option when wanting to enjoy mangoes. While making fresh juice at home comes with a handful of advantages, some might not have the luxury of time to do so. Here's where bottled mango juices come in.
While we are all after the convenience of bottled mango juice, we should also consider the contents of store-bought juices and see if they're worth the space on our tables. Some brands mix in additional flavorings, colorings, and even sugar to make their product taste better, compromising the quality of these bottled juices.
But you don't need to get into the hassle of jumping from brand to brand just to figure out what's best for you because we've got you covered. We've tested and listed the 7 best mango juice brands to help you get a headstart when choosing which one to purchase. We've also provided tips and FAQs in this article, so make sure to stick around.
Table of Contents
Overall Best: Langers Mango Nectar Juice
Langers offers a wide variety of fruit juices and juice blends. From cranberry juice to a Kiwi Raspberry blend, their products are healthier than other brands. According to the brand's website, their products are all-natural and have no added sweeteners, flavors, colors, or preservatives. Their juices are also safe for gluten-intolerant consumers and contain no GMO ingredients.
Aside from the nutrients that mangoes contain, the Langers Mango Nectar Juice is also infused with Vitamin C (80%) and Vitamin A (90%), essential vitamins for our daily function.
Although the brand claims to have added no artificial sugar to their juices, it is essential to note that one 237 mL serving contains 33 grams of sugar, which is around 14% of the whole serving.
Overall, aside from the high sugar content, Langers offers a good quality mango juice readily available on Amazon.
Best Low-Sugar: Ceres 100% All Natural Pure Mango Juice Blend
This brand claims their mango juice to be 100% pure fruit juice, infused with vitamins and minerals with no added sugars, flavors, or preservatives.
Their claims seem to be accurate, as one serving (240 mL) of the Ceres 100% All Natural Pure Mango Juice Blend contains only 26 grams of sugar. Moreover, this juice is also infused with 100% Vitamin C, Vitamin A, and Iron, making it one of our best mango juice brands.
The only downside to this product is its carton packaging. This makes it prone to shipment errors like tears and cuts, which can significantly affect the product's quality. However, this is a great low-sugar drink that you can enjoy.
Most Nutritious: Lakewood Organic Mango Blend
The Lakewood Organic Mango Blend is a mixture of freshly pressed fruit juices and not from concentrate. Moreover, the juice is packaged in a glass bottle, as the brand advocates recycling.
Aside from being all-natural, this juice brand is also infused with several vitamins and minerals. It contains 70% of the daily required Vitamin C, 10% of the daily required Folate, and other essential nutrients like manganese, magnesium, phosphorus, Vitamin K, Vitamin E, Iron, and Vitamin B6.
Along with these nutrients, one serving of this brand also comes with 2 grams of fiber, which helps with digestion. For this reason, this is one of our best mango juice brands.
Although packed with many nutrients, it is important to note that each serving (240 mL) contains 30 grams of sugar. Despite the brand's claim to have added no sugar, this amount of sugar is quite high, even if it comes from a natural source.
Most Tasty: Nantucket Nectars Orange Mango Juice
Nantucket Nectars Orange Mango Juice is not a pure mango drink but a mixture of fresh orange and mango juice that results in an unexpected yet attractive combination of flavors.
This drink is the ideal healthy and tasty companion to your breakfast, allowing you to get your day started on the right foot. It pairs well with a complete and nutritious breakfast, as a healthy snack, or a nutritious drink whenever you need to quench your thirst throughout the day.
The juice is sold in 6-bottle or 12-bottle packs and is kept in glass bottles. It has a very natural flavor and may be the solution if you seek a natural and tasty alternative to plain mango or orange juice.
One serving (240 mL) contains 26.5 grams of sugar. Unlike other brands, this juice has a relatively small amount of Vitamin C, which only offers 25% of the daily required value. Moreover, according to the packaging, aside from vitamin C, there are no other vitamins and minerals in the juice, making it less beneficial than other brands.
Best Mango Smoothie: Naked Juice Mighty Mango
The brand has been very vocal about its products being all-natural and without added sugar. The Naked Juice Mighty Mango comes in a 15.2 oz bottle and is free from preservatives and GMO ingredients.
Additionally, the nutritional value sheet reveals that this smoothie is infused with beta-carotene and Vitamin A. This mango smoothie also offers 130% of the daily required Vitamin A intake.
However, unlike other brands, Naked's mango smoothie provides only 6% of the required Vitamin C intake, and only traces of calcium, potassium, and iron. Moreover, each serving (296 mL) contains 35 grams of sugar.
The Primor Natural Mango Puree is pureed from real mangoes and not concentrate. You can use a ½ gallon of this puree to produce up to 2 gallons of mango juice.
One significant advantage of this product is that you can make more than just mango juice. If you're into making ice cream, sauces, marinades, and pastries, this will be a great addition to your list of ingredients.
Because it is intended to be used in various applications, it does contain some added sugar derived from natural cane. It is also vegan-friendly, gluten-free, and GMO-free. Overall, it is a very versatile product, with the sole drawback being that it contains added sugar.
The Fruniti Fruit Concentrate combines the flavors of mango, apple, banana, and pineapple. The tastes of apple and pineapple are introduced through juice, while mango and banana are mixed in as purees.
It has a 5:1 mixing ratio with water, yielding roughly 2 gallons of juice from one bottle. The concentrate is naturally sweetened and is free of GMOs and gluten.
Unfortunately, the concentrate is packaged in a plastic bottle, which is not ideal for conserving and safeguarding liquids. It has a shelf life of roughly 18 months, but manufacturers suggest that it be used within 30 days once opened.
Overall, if you enjoy fruit combinations, this concentration is likely an excellent choice for you.
Mango Juice Buying Guide
Sugar Content
It is very typical for the bulk of calories in fruit juice to be derived from sugars. Fruit sugars, after all, are completely natural and far healthier than manufactured sweets. Fresh mangoes have around 60 calories per 100g, whereas fresh-squeezed mango juice has approximately 52 calories.
Despite the mango's naturally sweet flavor, it is not unusual for manufacturers to add some more sugar. This added sugar has no nutritional benefit and should be avoided at all costs. As a general rule, any mango juice with more than 60 calories per 100ml most likely contains added sugar.
Artificial Colors and Flavors
Artificial color is added to foods and beverages to make them more attractive to customers and protect the nutrients and tastes from solar exposure. The colors themselves might be sourced from plants (natural colors) or completely manufactured.
While both types are safe for human ingestion, they can change the product's taste. As a result, if you want the most genuine mango flavor possible, avoid juice that contains artificial coloring.
Preservatives
Preservatives are chemicals added to food and drinks to lengthen their shelf life, and they are frequently present in fruit juice. The preservatives used by reputable manufacturers are completely safe for human consumption. You should have no difficulties as long as you follow the manufacturer's storage requirements and keep an eye on the expiration date.
Organic versus Non-organic
When choosing between organic and non-organic juices, organic is unquestionably superior. It implies that the fruit for the juice was totally cultivated without the use of chemical fertilizers or GMOs. Choosing a company that makes organic mango juice is strongly advised in selecting the best mango juice brand.
Mango Juice Blend Recipes
Mango juice is one of the friendliest juices, and many other fruits complement its flavors. You can create cocktails, smoothies, and more mango juice recipes in your homes. Below is a list of the ingredients that go well with mango juice, followed by our top 3 mango juice blends that you can easily make.
Lime or lime juice
Coconut water
Watermelon juice
Fresh Mint or mint leaf
Pineapple juice
Honey or simple syrup
Mango Margarita Recipe
Ingredients:
3 cups cubed frozen mango, from about 4 small mangoes
¼ cup lime juice, plus lime slices for garnish
3 ounces silver tequila
2 ounces Cointreau
3 handfuls ice cubes
Sea salt for the glass rims, optional
Directions:
Add the frozen mango, lime juice, tequila, and Cointreau to a high-speed blender, and blend until smooth.
Add the ice, and blend again until the mixture is smooth and frosty.
Taste and adjust the balance if necessary and serve.
Recipe Source: Love and Lemons
Mango Cocktail Recipe
Ingredients:
1 oz freshly squeezed lemon juice
1 oz freshly squeezed lime juice
4 oz pure 100% fresh mango juice, cold
4 oz vodka
2 oz lemon-lime soda, cold
Optional: Ripe mangoes, diced, and mango chunks for garnish
Directions:
Combine the first four ingredients in a cocktail shaker and shake well to combine.
Fill two tumblers or glasses with the desired amount of ice.
Pour cocktail into glasses. Then, pour 1 oz of lemon-lime soda into each glass and stir.
If desired, stir in diced mangoes. Serve cold.
Recipe Source: Chew Out Loud
Mango Smoothie Recipe
Ingredients:
2 fresh mangoes or 2 cups of frozen mango
1 frozen banana, can use unfrozen if using frozen mango
½ cup milk, dairy or dairy-free
½ cup yogurt, dairy or dairy-free
Directions:
Add all ingredients to a high-powered blender and blend until creamy.
Recipe Source: Down Shiftology
Frequently Asked Questions
How long can mango juice be stored in refrigerators?
Freshly produced mango juice tastes best when consumed immediately, although it may be refrigerated to keep it cool. If covered, you may store mango juice in the fridge for up to 1 day.
Mango nectar that has been continually chilled will keep for around 5 to 7 days after opening. To extend the shelf life of opened mango nectar, freeze it in an airtight container with at least ½ inch headroom at the top since nectar expands when frozen.
How long does mango nectar keep in the freezer?
When properly stored, it will retain its finest quality for around 12 to 18 months but will stay safe to consume beyond that period.
How can you determine whether mango nectar is contaminated?
You should throw mango nectar if it acquires an off-odor, has mold, or looks off. All mango nectar from cans or bottles that are leaking, rusted, bulging, or excessively damaged should be discarded.
How much mango juice should I drink per day?
Indigestion and constipation are two of the most typical complaints from people who consume too much mango juice. 1-2 glasses a day should be plenty to get the benefits, but more than that, the acids and active components may disagree with the stomach.
Moreover, mango juice contains high amounts of sugar that need to be considered if you have diabetes or have unstable blood sugar levels.
What Does Excess Sugar Do to Your Body?
Sugar feeds the germs in your mouth. Bacteria create acid as a byproduct of sugar breakdown. This acid can destroy tooth enamel, resulting in holes or cavities. People who consume sugary foods often, especially as snacks or as a sweetened beverage between meals, are more prone to develop tooth decay.
Sugar can also affect the hormones that regulate a person's weight in the body.
Obesity can lead to insulin resistance, according to the National Institute of Diabetes and Digestive and Kidney Diseases. This happens when the body fails to respond to insulin, preventing sugar from entering cells and remaining in the circulation, possibly leading to diabetes.
The human body may use sugar, but only to a limited extent. Excess sugar in the blood is accumulated in the liver and converted into lipids, which are eventually deposited in the tissues, causing high blood pressure and heart disease in some cases.