Bell peppers are popular in many cultures, and different cuisines have different ways of utilizing their distinct tangy flavor. They're nutritious and delicious, whether grilled as an accompaniment to meat or fish, stuffed, or sliced raw on a salad.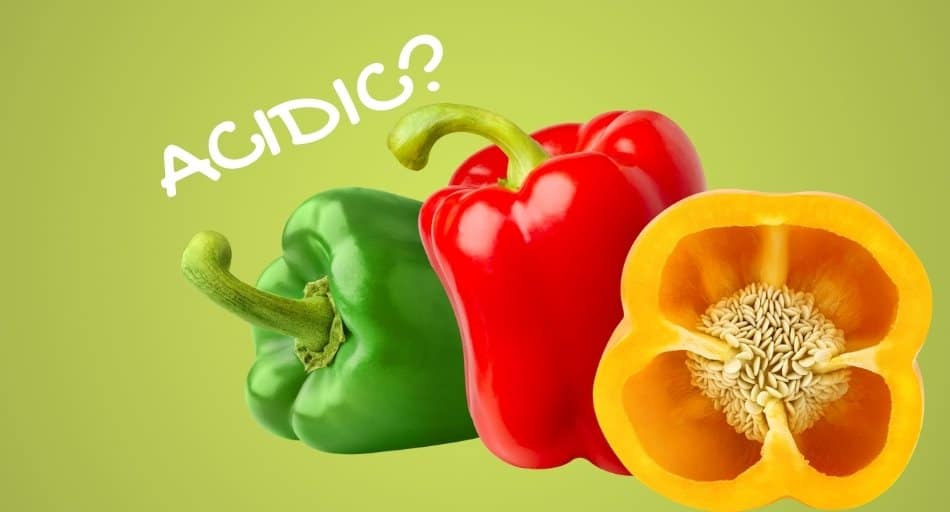 However, many common foods, including vegetables, are acidic and may cause heartburn in people with acid reflux or GERD. To avoid that, sufferers of these conditions often follow a low-acid diet. Such diets can be tricky, as followers must know the acidity of common foods and how each affects their symptoms.
Can people with acid reflux or GERD safely add bell peppers to their diets?
Table of Contents
Are Bell Peppers Acidic?
Bell peppers are slightly acidic and may trigger acid reflux symptoms in some. However, they don't contain capsaicin, which gives hot peppers their spice and triggers heartburn.
What Is the pH of Bell Peppers?
The pH of bell peppers is around 4.65-5.45, making them slightly acidic. All bell peppers have the same pH, while riper fruit tends to have a higher pH.
Red bell peppers are sweeter than green or yellow and contain more beta-carotene, which our bodies metabolize into vitamin A.
How Healthy Are Bell Peppers?
Bell peppers are 92% water but are high in vitamin C and antioxidants. They're also low in calories and don't contain many carbohydrates.
They also contain a good amount of fiber, which aids digestion and soaks up excess stomach acid, making acid reflux less likely.
Bell peppers contain vitamins C, B6, and K1, which support healthy gums, red blood cell formation, and blood clotting.
They also contain potassium, contributing to heart health.
Bell peppers are rich in antioxidants, which remove free radicals from your body, preventing oxidative damage and boosting your immune system. These antioxidants may also prevent heart disease and some cancers.
Are Bell Peppers Bad for Acid Reflux?
Most acid reflux sufferers should be able to safely add bell peppers to their diet. However, everyone's symptom triggers are different, and those particularly sensitive to acidic foods may experience heartburn.
Steamed bell peppers with the skin removed are safest, as the skin is difficult to digest and may upset your stomach.
Is Paprika Acidic?
Paprika is made from crushed dried bell peppers. It's less acidic than fresh peppers, and many people who can't tolerate fresh bell peppers can tolerate paprika.
Are Banana Peppers Acidic?
Banana peppers are related to bell and have the same pH. They don't trigger GERD symptoms as often as bell peppers.
Which Bell Peppers Are Less Acidic?
All bell peppers have the same pH, but as they're unripe, green peppers are harder to digest and more likely to trigger heartburn.
Are Cooked Bell Peppers Acidic?
As a member of the nightshade family, bell peppers can trigger heartburn in some. Similarly, some may tolerate raw better than cooked, and some cooked better than raw.
READ NEXT: 15 Alkaline Foods You Should Include in Your Diet