The main difference between crystal boba, bursting boba, and tapioca boba is their ingredients and texture. Crystal boba uses the konjac plant; bursting boba uses a gelling agent; and tapioca boba uses tapioca starch that provides that naturally chewy texture.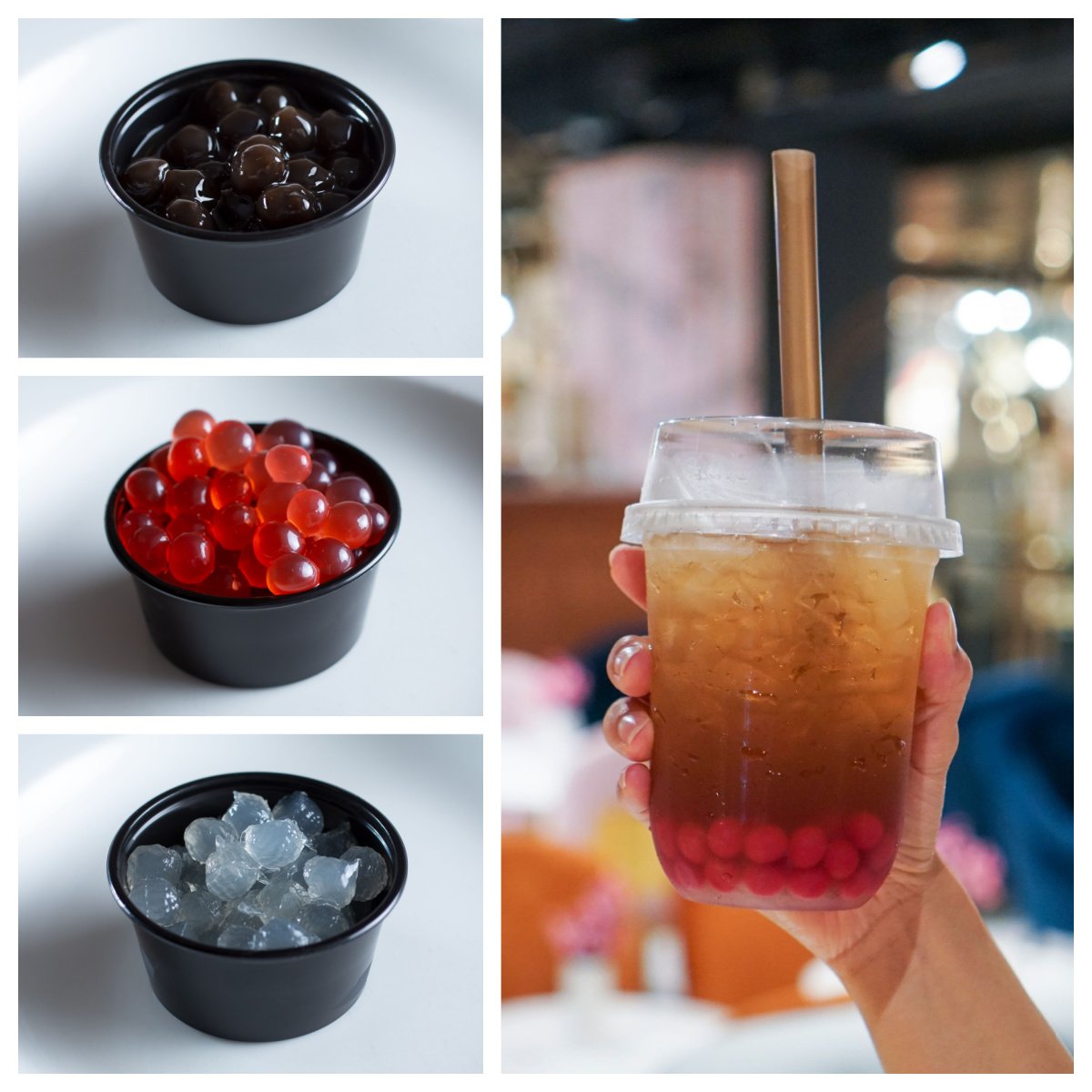 Bursting boba is the softest among the three, while tapioca boba has the most chewiness, making it the most popular boba type. Moreover, bursting boba, also known as popping boba, is the sweetest, while crystal boba is the least sweet.
Although many mistake these three types of boba for one another, they are entirely different and have many distinct characteristics that set them apart. Read on as I discuss everything you need to know about these boba types.
Table of Contents
What is Crystal Boba?
Crystal boba, also known as crystal pearls, white pearls, or jelly balls, is a type of bubble tea pearl with a transparent, gel-like texture. They come from a mixture of essential elements such as konjac plant starch, sugar, coconut water, and other ingredients such as flavoring that are then formed into small balls.
Since access to the konjac plant is limited, people often make crystal boba using agar powder or jelly powder.
One of the unique characteristics of crystal boba is its translucent appearance, which adds a visually appealing aspect to the drinks you use it with. This type of boba is also famous for its chewy texture, which is less firm and gelatinous than traditional tapioca pearls; they easily break once you bite into them.
You often see crystal boba in different desserts, such as shaved ice, bubble tea or milk tea, iced tea, or as a topper to your favorite fruit drink. Crystal boba usually lasts 1 to 2 weeks in the fridge in an airtight container.
Crystal Boba Taste and Texture Summary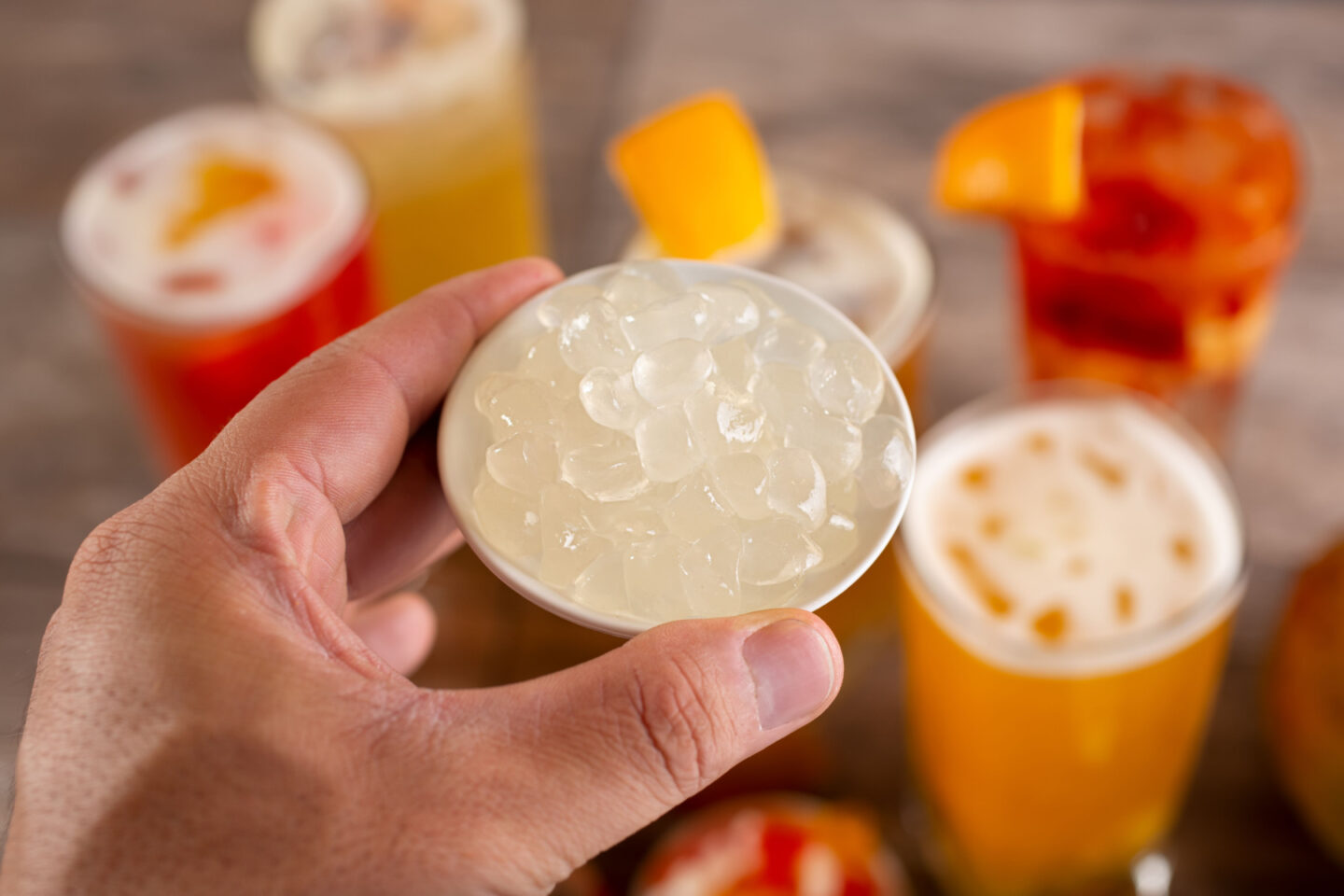 Texture: Crystal boba is smooth and somewhat slimy and easily breaks.
Chewiness: Chewy but less gelatinous than tapioca boba. Crystal boba made with the konjac plant is chewier and crunchier than those made with jelly or agar.
Sweetness: Mostly sweeter than tapioca boba but less sweet than popping boba. However, this depends on the amount of sweetener used in making them.
Aftertaste: Crystal boba usually contains coconut water and different flavors, affecting its aftertaste.
What is Bursting Boba?
Bursting boba, also known as popping boba or popping boba pearls, is a new and innovative type of boba, perfect for those who do not like the chewiness of tapioca pearls. These small, round balls contain a sweet liquid, creating a unique popping sensation in your mouth when you bite them.'
The process of making bursting boba or popping boba is quite different from traditional tapioca pearls. The pearls contain a sweet liquid, such as juice or syrup; a thickener, such as calcium lactate or sodium alginate; and a gelling agent that creates the capsule.
After mixing, place the pop-boba in the refrigerator to solidify. Once you add the bursting boba to a drink, they thaw and become very easy to pop.
Popping boba comes in various flavors, including fruity, creamy, and plain sweet. Some of the most popular flavors include lychee, passion fruit, and mango.
These flavors can enhance the taste of any drink, making it even more delicious. The flavors and colors of popping boba are also highly customizable to cater to a shop's or customer's specific needs.
Bursting Boba Taste and Texture Summary
Texture: The liquid is slightly slimy from the gelling agent, while the capsule remains chewy and somewhat crunchy.
Chewiness: The capsule is chewy and has a slight crunch, but it's the least chewy among the three boba types.
Sweetness: Bursting boba is the sweetest type of boba, and some may even find it too sweet for their liking.
Aftertaste: Bursting boba often has a somewhat bitter aftertaste due to the fruit juice used in making it.
What is Tapioca Boba?
Tapioca boba, also known as tapioca pearls, traditional boba, regular boba, or black boba, is a popular ingredient used in Asian desserts and drinks. The boba pearl comes from the root of the cassava plant or tapioca starch, processed and formed into small, chewy spheres.
After cooking the pearls in a sugar syrup to give them a sweet flavor and glossy appearance, you can immediately use them without letting them cool in the fridge.
You often see tapioca boba in bubble tea or boba tea, a popular Taiwanese drink that combines tea and milk. Still, tapioca balls are a common ingredient in many Asian desserts.
Although tapioca pearls come in different colors and flavors, brown sugar boba is the most popular nowadays. Due to their popularity, you can easily purchase brown sugar tapioca pearls online or at select Asian stores.
Tapioca Boba Taste and Texture Summary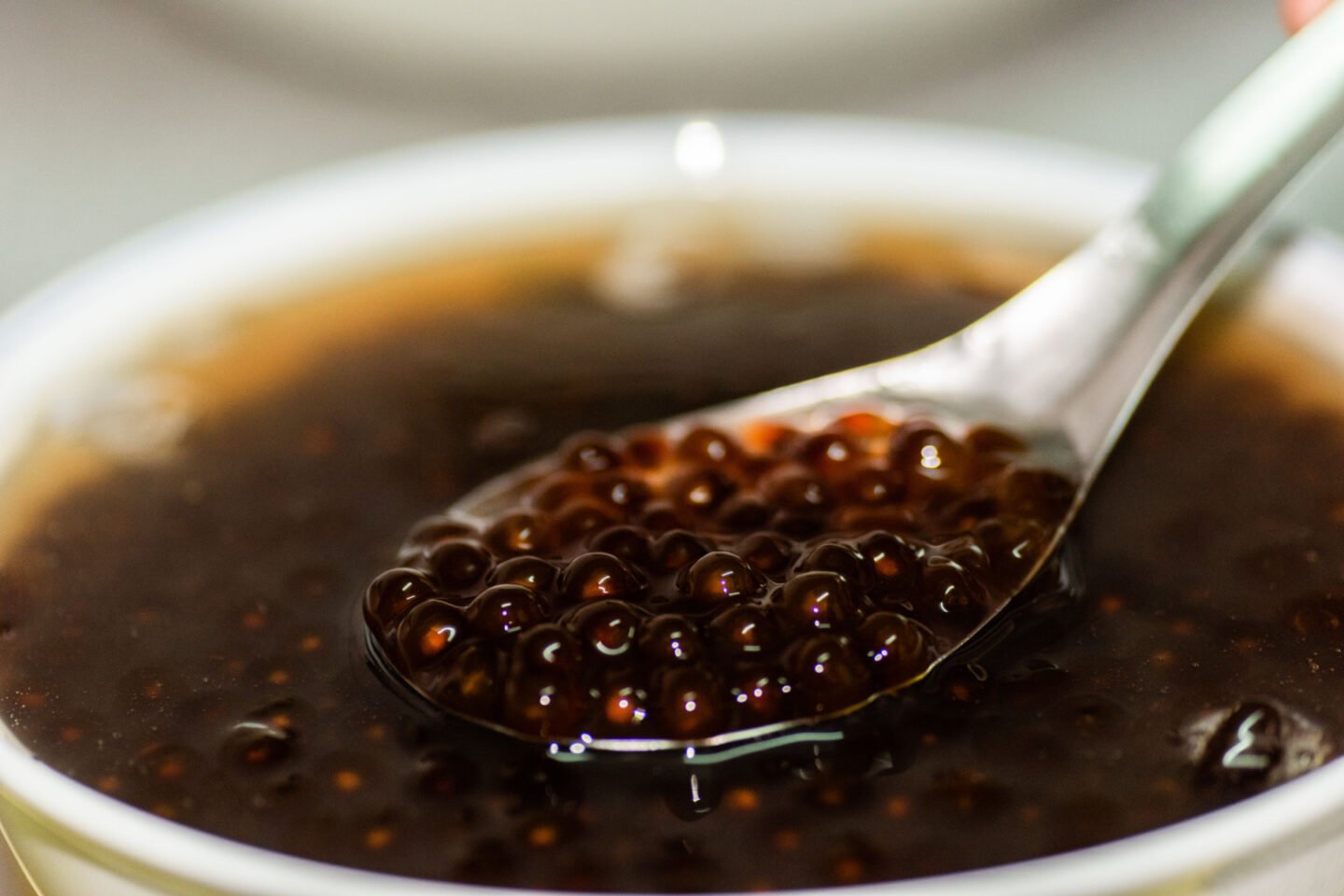 Texture: When cooked right, tapioca boba should be smooth, while tapioca pearls that aren't cooked enough tend to be grainy.
Chewiness: Very chewy; the chewiest type of boba. However, the cooking time affects its chewiness; less cooking time results in a grainy and less chewy boba.
Sweetness: Most tapioca boba is semisweet due to the brown sugar, but the sweetness should not be overpowering.
Aftertaste: Homemade tapioca pearls made without additives should have no aftertaste. However, store-bought ones tend to have a weird aftertaste, especially when not cooked properly.
Crystal Boba vs. Tapioca Boba
The main difference between crystal boba and tapioca boba is their ingredients and texture. Crystal boba uses konjac plant starch to create chewy yet soft pearls, while tapioca boba pearls contain tapioca starch, making them very chewy and somehow rubbery.
Tapioca boba is the traditional boba used in boba milk tea and bubble tea, so it is undeniably more popular than crystal boba. On the other hand, you often see crystal boba in ice shavings or as an ingredient in fruit salads.
When it comes to taste, crystal boba is sweeter than tapioca boba but is highly versatile. Since it's easier to make crystal boba than tapioca boba at home, you can adjust the sweetness according to your liking.
On the other hand, tapioca boba often has a less sweet taste, as boba shops often use it as a sinker or topper for sweet drinks, such as bubble teas or boba milk tea. However, brown sugar boba tea has also become very popular. It is a drink that uses very sweet tapioca pearls with milk.
Bursting Boba vs. Tapioca Boba
The main difference between bursting boba and tapioca boba is the ingredients used in making them, resulting in a huge difference in taste and texture. They also differ in their usage.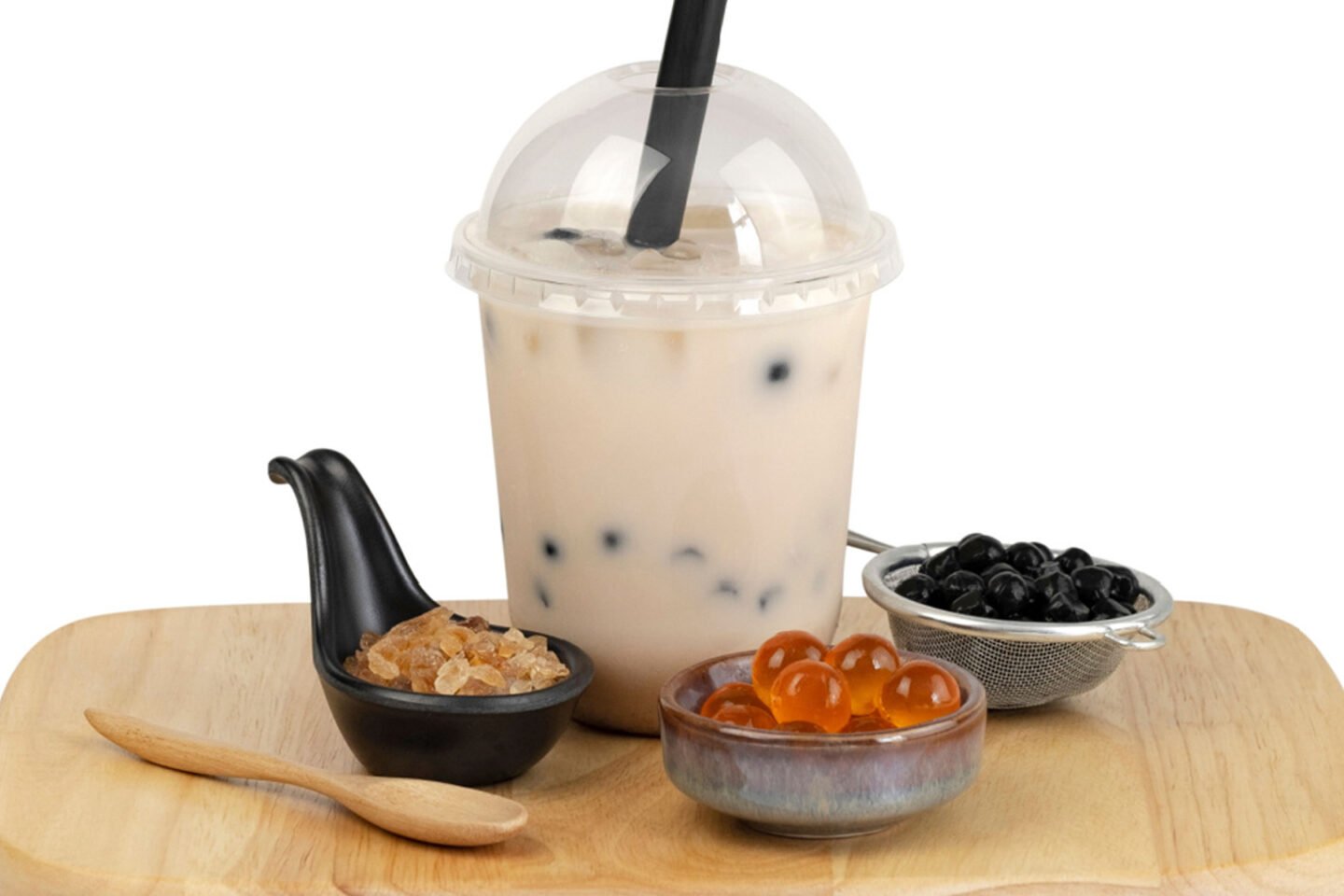 Tapioca boba contains the starch of the cassava root. The starch, mixed with water and sweetener, creates a firm dough that is shaped into small balls and cooked. Once cooked, the tapioca balls become very chewy, gelatinous, and somewhat rubbery.
On the other hand, bursting boba, popping boba, or agar boba uses a gelling agent, often calcium lactate or sodium alginate, that thickens the mixture and creates a capsule. People also use seaweed extract to thicken the capsule so it doesn't easily burst.
Unlike tapioca boba, popping boba contains fruit juice or flavor syrup, making it the sweetest type of boba. Popping boba is being used in more drinks because its sweetness complements boba drinks well.
Another critical difference between bursting boba and tapioca boba is their usage: you can add tapioca boba pearls to hot tea without changing its consistency, while you should only add bursting boba to cool drinks.
Adding popping boba pearls to hot drinks will cause them to burst, and you won't enjoy the change in texture that it brings anymore.
Crystal Boba vs. Bursting Boba
The main differences between crystal boba and bursting boba are their flavor, texture, and size. Although both are not as chewy and gelatinous as tapioca boba, they still differ in texture. Crystal boba is chewier than bursting boba as it has jelly even on the inside.
On the other hand, bursting boba contains a slimy liquid inside its soft capsule. You would also notice that crystal boba is less sweet than bursting boba, even when both have fruit juice flavors.
You can also tell which is which right away by looking at their size. Popping boba or bursting boba tends to be smaller than crystal boba, as it would burst more quickly if you made it larger.
Lastly, they also differ in usage. Crystal boba is more solid than bursting boba, so it can withstand higher temperatures, such as in hot teas. On the other hand, you should only put unpopped boba into cold drinks to keep its shell or capsule intact.
Crystal Boba vs. Bursting Boba vs. Tapioca Boba: Which is Better?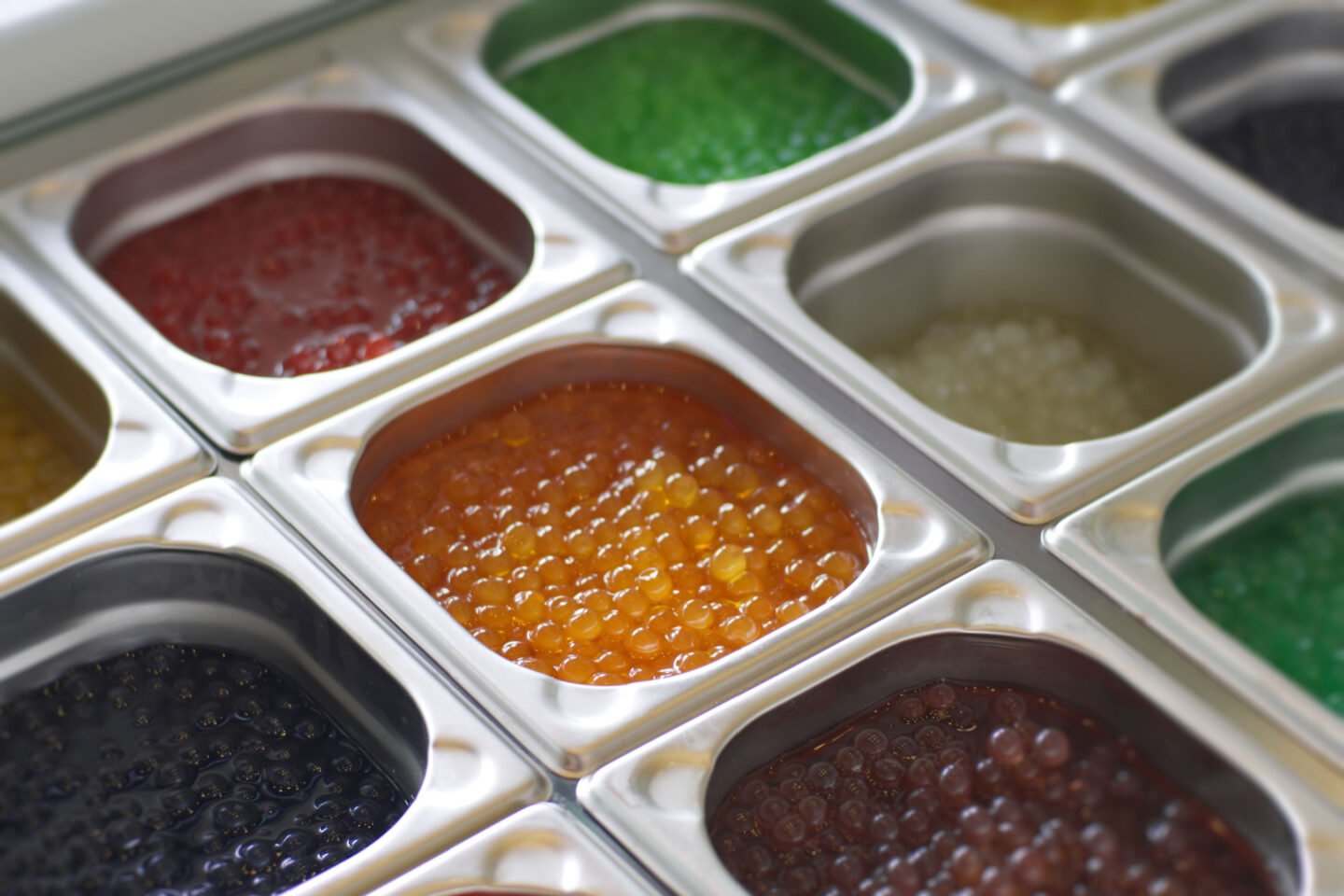 There is no direct answer to which is the best type of boba, as they serve different purposes. However, tapioca boba is the most versatile. It has a mild taste and sweetness and holds well both in hot and cold drinks.
Moreover, tapioca pearls are more accessible due to their popularity, as most bubble tea shops use them. On the other hand, crystal boba and popping boba are rare. You only see them in authentic Asian bubble tea shops.
Crystal Boba vs. Bursting Boba vs. Tapioca Boba: Which is Healthier?
Among the three, crystal boba is the healthiest type of boba. Crystal boba has only 17% carbs, no cholesterol, and less sugar than popping boba. Tapioca starch, on the other hand, has 89% carbs.
Popping boba also contains less carbohydrates than tapioca boba, at 25 grams per 100 grams of pearls. However, it has 21 grams of added sugar, often more, depending on the sweetness level and flavors used.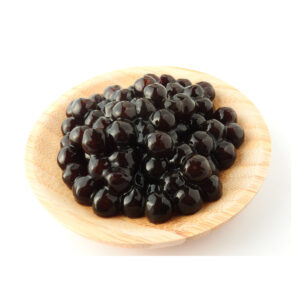 Quick and Easy Homemade Tapioca Boba Recipe
Making tapioca pearls at home is quite tedious. However, if you want a fresh batch of boba pearls comparable to those at your favorite tea shop, here's how you do it.
Ingredients
For the tapioca pearls
1

cup

tapioca starch or flour

¼

cup

sugar

¼

teaspoon

salt

2

cups

water
For the brown sugar syrup
1

cup

brown sugar

1

cup

water

¼

teaspoon

salt
Instructions
Making and cooking the pearls:
Mix the tapioca starch, sugar, and salt in a large bowl. Mix well.

Gradually add water to the mixture and stir until the dough comes together. It should be sticky and pliable but not too wet or dry.

Knead the dough until it becomes smooth and elastic. This process should take a few minutes.

Divide the dough into smaller portions and cut into smaller pieces, about the size of a marble. You can use a spoon or your hands to shape the balls.

Boil water in a large pot that would fit all the balls you shaped. Gently drop the tapioca balls into the boiling water.

Cook the tapioca pearls for about 8 to 10 minutes or until they float to the surface. The pearls will become translucent and slightly swollen when cooked.

Drain the tapioca pearls using a colander and rinse them with cold running water to avoid overcooking them.
Making the sugar syrup:
In another pan, boil the water and add the brown sugar and salt. Simmer for at least five minutes until well combined.

Add the cooked tapioca pearls and simmer for another 10 minutes.

You can use the tapioca pearls immediately or store them in the fridge for up to 5 days.
Nutrition
Calories:
89
kcal
Carbohydrates:
23
g
Protein:
0.02
g
Fat:
0.01
g
Sodium:
79
mg
Potassium:
20
mg
Sugar:
16
g
Calcium:
13
mg
Iron:
0.2
mg
Related Questions
Which type of boba is the tastiest?
The best kind of boba is the kind that pops or bursts, because it has a sweet fruit juice center and a slightly chewy gel capsule. You often see popping boba in light-flavored bubble tea drinks such as kiwi, passion fruit tea, and different flavors of frozen yogurt.
What is the bursting boba called?
Bursting boba is more famous for its other name, popping boba pearls, popping boba, or agar boba.
What type of boba is good for beginners?
Tapioca boba is the best type of boba for beginners, as it is light-flavored and does not have an overwhelming texture like popping boba. It is also the most common type of boba, and you have most likely had it at your favorite boba shop.