If ice cream is a regular part of your household's routine, then investing in an ice cream maker is a sensible option. Few home cooking projects will bring as much satisfaction as scooping out your first creamy, mouth-watering ice cream.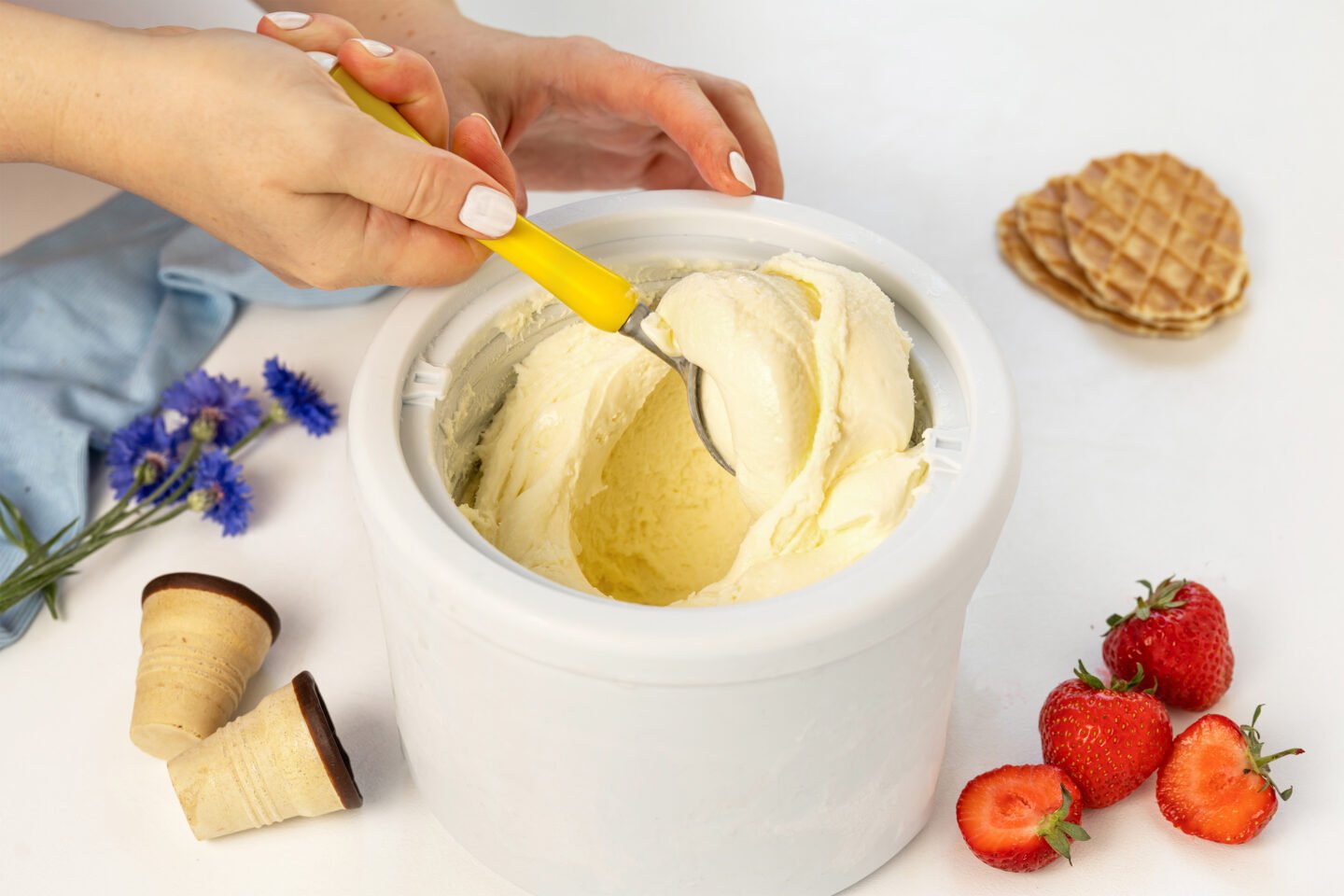 Before you race down to the store for chocolate chips and sprinkles, you're going to need to choose the right ice cream machine. There are dozens of potential options on the market, but which one is right for you?
Having made ice cream almost every week for the past five years, I have been lucky to own or test every major brand "worth its salt". You're about to get the inside scoop—all my personal experience with these appliances on one page.
Table of Contents
The Best Ice Cream Maker In 2021
Editor's Choice: Whynter ICM-15LS Ice Cream Maker at Amazon
"The perfect all-rounder that is easy to use and makes smooth, creamy ice cream every time."
Best Budget: Cuisinart ICE-30R Ice Cream Maker at Amazon
"An affordable machine that fits in any kitchen and will churn out quality ice cream for years."
Best Premium: Lello 4080 Musso Lussino at Amazon
"The ultimate domestic ice cream maker that makes unbelievable frozen desserts fast."
Best Old School: Hamilton Beach 68330N at Amazon
"A traditional rock salt and ice model for the occasional ice cream maker."
Best for kids: Yay Labs SoftShell Ice Cream Ball at Amazon
A bright-colored, fun gadget to keep kids busy making their own ice cream at home."
1. Editor's Choice - Whynter ICM-15LS
Are you looking for a perfect balance of smooth ice cream, ease of use, and a competitive price in one bundle? The Whynter ICM-15LS offers this complete package, and it's the reason for being our pick above all others.
Let's start with what's most important: the ice cream's quality. The Whynter ICM-15LS has a powerful motor that can churn ice cream in 35 minutes. Make a half batch of ice cream, and this time reduces to under 30 minutes. Why is this important? The faster the ice cream base freezes, the fewer ice crystals will result. Rapid freezing means you get ice cream that is smooth and creamy, like you'd expect from an ice cream store. It excels at producing delicious ice cream that is hard to beat for the price.
The Whynter ICM-15LS has a built-in compressor, which is super convenient. You can avoid the tedious task of chilling an ice cream bowl overnight in the freezer. Instead, turn on the unit, and it will automatically start freezing the bowl. Unlike some other models, there is no pre-cooling option that allows you to cool the bowl before starting the churning process. However, we recommend turning on the machine 10–15 minutes before adding the ice cream liquid; the paddle will begin turning without anything added, but it won't damage the motor in any way.
A stylish looking unit, the Whynter ICM-15LS is also relatively compact, allowing it to fit into most kitchen spaces. Compared to another popular product, the Breville Smart Scoop, it uses considerably less room. The engineers of the ICM-15LS have achieved this feat by keeping things simple. You won't find a mind-boggling array of buttons—just the power, start/stop, and timer buttons. For some, this may seem too basic; they may be excited by other models with lots of preset options to make harder or softer ice cream, or maybe gelato? On a domestic machine, these presets are very limited, and they rarely live up to the marketing hype. Look for simple models that just focus on making great ice cream.
The 1 ½-quart bowl will be sufficient for most households. Thanks to the built-in compressor, you have the option to make two (or more) batches, one after the other. So for those families that love their ice cream, no-one should ever have to go without. The bowl has a handle and is removable, making clean-up a breeze.
Noise output is a consideration many of us put at the bottom of the pile. But trust me, if you're using an ice cream machine regularly, you'll soon grow tired of a noisy unit. The Whynter ICM-15LS is one of the quietest on the market. It allows the user to watch their favorite TV show while the unit is running.
Other considerations
No ice cream maker is perfect. In the case of the Whynter ICM-15LS, its appearance is a little underwhelming. Unlike other models in its price range, the overall shape and front grill could do with a refresh.
The flap in the lid is a tiny 1" x 1.5" in size. This hole is impractical when adding big chunks of brownie or other larger-sized add-ins. Luckily, the whole lid can be removed during churning, so this design flaw can easily be overlooked.
Specifications
Dimensions: 8½ by 15 by 9¼ inches
Weight: 32 pounds
2. Best Budget - Cuisinart ICE-30
There is a misconception in the world of homemade ice cream making: the more you spend, the better the ice cream. It's true you'll often get more "bells and whistles" by spending more. But that doesn't always mean better ice cream. The Cuisinart ICE-30R is an entry-level ice cream machine that produces creamy ice cream to rival many of the top-end brands. This model is an excellent choice for those looking to dabble in making ice cream at home but are worried the appliance will end up gathering dust.
The Cuisinart ICE-30 houses a 35-watt motor that is capable of churning ice cream in around 45 minutes. This time is reduced to 35 minutes if you make a half batch. The bowl is a decent size at 2 quarts, suitable for a family of ice cream enthusiasts.
Simple engineering is useful for ice cream machines. Less moving parts reduces the potential for defective components and frustrating faults. The ICE-30 is extremely basic in its design. Having made hundreds of quarts of ice cream and sorbet with this tool, I have never had any issues with it. The manufacturer is confident that its product is durable, offering an impressive 3-year warranty.
At a width and depth of 8.5" x 8.5", it is capable of fitting on any kitchen bench. After use, it conveniently fits into most cupboards with ease. Most users won't find it a challenge to move, thanks to its weight of just 13.5 pounds.
Other considerations
The Cuisinart ICE-30 does not have a built-in compressor, which means you'll need to freeze the bowl overnight. For the occasional user, this will be perfectly fine. But if you are hoping to make ice cream a few times each month, the bowl freezing step does become tedious. First, there is the problem of space in the freezer. It's a big bowl, and if you have limited freezer space, it'll be like a Tetris puzzle trying to fit everything in. What's worse, occasionally you'll get hit by a burst of inspiration to make ice cream; that excitement soon fades to frustration when you realize the bowl isn't ready.
On hot days, the freezer bowl may warm up before the churning is complete. If this happens, you'll have to wait overnight to re-attempt making ice cream the next day. You could freeze the half-churned, sloppy ice cream, but it will result in an icy, unpleasant dessert. A properly chilled ice cream base along with a well-frozen bowl should, however, produce amazing ice cream most of the time.
Specifications
Dimensions: 8½ by 8½ by 11½ inches
Weight: 13½ pounds
3. Best Premium - Lello 4080 Musso Lussino
It's time to sort out the weekend warriors from the hard-core ice cream enthusiasts. If you're serious about making premium craft frozen desserts at home, then the Lello 4080 Musso Lussino is what you need in the kitchen. Chefs in restaurants often use this model in their kitchens, as it doesn't use as much space as commercial machines, but still makes ice cream of similar quality.
Starting with the ice cream quality, you'll find the Lello 4080 produces unbelievably smooth ice cream. It can churn a batch in under 30 minutes, so there are minimal ice crystals. This lack of ice is why the texture is so impressive. We managed to churn a half batch in under 20 minutes, which is fast!
So how does the Lello 4080 manage to make ice cream so fast? Unlike most other brands, this unit doesn't have a removable bowl. Instead, the housing is the actual freezer bowl. Without the gap between the removable bowl and freezer, it speeds up the freezing process. In addition, there is no gap between the dasher (paddle) and the bowl. This feat of design genius stops any buildup of ice cream on the container, which slows the churning process.
Other considerations
The Lello 4080 Musso Lussino is an exceptional machine, but it has two drawbacks that should be considered before making such an investment. The biggest frustration is cleaning up when you're finished. Most ice cream makers have a removable bowl, so it is easy to wash in the sink with warm, soapy water. The Lello 4080 doesn't offer this convenience. Although the paddle and lid can be washed in the sink, the actual bowl will need to be cleaned with a cloth. It can get quite messy if there is leftover ice cream in the bottom.
The other potential obstacle to buying a Lello 4080 is the price tag. If money isn't a big concern, then this will be an excellent addition to your kitchen. If price is a factor, then we'd only recommend this product for the serious ice cream maker, looking to improve their desserts further.
For a domestic appliance, it is large and heavy. If you live in an apartment, this probably won't work for you. It is too heavy to move back and forth frequently, and most cupboards wouldn't accommodate it. If you buy this unit, you'll want a large kitchen with counter space to house it there permanently.
Specifications
Dimensions: 17.7 x 11.8 x 11.8 inches
Weight: 38 pounds
4. Best Old School - Hamilton Beach 68330N
The Hamilton Beach 68330N is based on the old fashioned "salt and ice" ice cream maker. A canister of ice cream base is added to a mini-barrel filled with ice and rock salt. The original models used a hand crank to churn the ice cream. However, new versions, such as the Hamilton Beach 68330N, now have a motor built into the lid to churn the ice cream for you automatically.
The real benefit of the Hamilton Beach 68330N is its immense size. Instead of 1 ½ to 2 quarts, you'll be able to pump out 4 quarts of frozen dessert. This is the machine you'll need for mass ice cream making. It excels at serving large families and is ideal for special occasions.
There is also something quite whimsical and soul-satisfying about using the salt and ice method. You feel like you've earned the 'scream at the end of making it. Although the quality isn't up to the standard of the newer models like the Lello 4080, it certainly isn't unpleasant. The ice cream we made had a little more of an icy texture, but most would still enjoy it. Based on the entry-level price, this would be an excellent option for the occasional user—someone who makes ice cream for a rare treat or the odd party through the year.
Other considerations
Even automatic models such as this one require a more manual approach to making ice cream, gelato, and sorbet. Adding the ice and salt is messy and better suited to an outdoor project. Some will also find it inconvenient to have to source ice and rock salt, on top of the ingredients required to make their desserts. It is an additional cost that pushes up the final price of making ice cream.
Adding cookies, nuts, chocolate, and candy isn't advisable during the churning process. You will need to add them once the ice cream has been churned. You may find it difficult to distribute the add-ins evenly, and the extra time wasted stirring them in allows for some meltage.
Specifications
Dimensions: 15.3 x 12.5 x 11.1 inches
Weight: 5 pounds
5. Best for kids - Yaylabs Softshell Ice Cream Ball
The Yay Labs SoftShell Ice Cream Ball takes the fun of ice cream making to a new level—perfect for kids or kids at heart. A colorful ball has one opening for adding the ingredients and another for salt and ice. Once everything is added, it needs to be played with, rolled, or shaken for 30–40 minutes until the ice cream is ready. Finally, open the flap to access your dessert.
This ball won't make world-class ice cream, but the kids will love the process of creating and eating it. You could also argue that the Yaylabs Softshell offers a mini science lesson, showing how liquids can turn to solids.
Other considerations
As you can imagine, rolling the ball causes it to get dirty, and cleaning it takes more effort than the rest of the appliances on this page. You'll also want to play with the ball away from any carpet. The ball tends to leak after it has been played with for a while.
Specifications
Ball diameter: 8.5 inches
Weight: 2.7 pounds
Others worth mentioning
To keep things simple, we've kept our list above to five of the top products on the market. Below are a few more options that might appeal to you, so check them out.
KitchenAid Ice Cream Maker KICA0WH
If you already own a KitchenAid stand mixer, then an ice cream attachment provides an affordable and very effective way of making amazing ice cream. Being able to use an existing appliance will save you from cluttering the kitchen cupboards with more gadgetry. Many home cooks will appreciate this.
The mixer, set on its slowest setting, still rotates fast. This creates more overrun (over 60%), adding air to the ice cream, which is light and quite delicious. Those who prefer dense ice cream won't like this attachment.
Although the bowl and paddle are cost-effective, we didn't include this option in the main list as most of us will need to buy the whole KitchenAid, blowing out the price too high.
Breville BCI600XL Smart Scoop
Ah, the Breville Smart Scoop ice cream maker. If you've done much research looking for the top ice cream makers, this model usually makes an appearance. Many reviewers get dazzled by the impressive choice of buttons, and they often only test the model once or twice. This type of review isn't much help for those of you at home who want to use the Smart Scoop for years to come. I have owned two of these machines, and both made superb ice cream for the first six months until they went downhill. The creaminess reduced, and the gritty, iciness increased. For the high price tag, I'd expect more.
I understand the buzz around this appliance. Choose the hardness of the dessert, make yogurt, gelato, or ice cream, pre-chill the bowl, and more. The problem is that the extras aren't necessary and tend to confuse users rather than assist them. Switching between the gelato and ice cream functions made no difference and left me wondering why they were even on there.
Some people do stand by this appliance, though. If you are interested in checking it out, take a look at other users' feedback here.
Cuisinart ICE-100
Although we love the ICE-30, the fancier Cuisinart ICE-100 doesn't get the same applause in this review. It is a sleek looking machine that comes with a built-in compressor, making it easy to churn out pints at home. However, for the price of this unit, we recommend the Whynter ICM-15LS as a better option. Its freeze time is quicker, and it makes noticeably better ice cream
Why you should trust this review
For the past five years, I've been making homemade ice cream every week. You can check out hundreds of my recipes at www.creamish.com.au. Owning the brands and using them regularly gives more insight. As an example, if other review sites used the Breville Smart Scoop for a prolonged period, they'd know it tends to go down-hill after ~6 months. Using an appliance once, then returning it to the store, or worse yet, never even using the ice cream maker before reviewing it, won't give away these secrets.
In addition to personal experience, our team took advantage of a Cook's Illustrated subscription to get their take on what's good and what's not. We also reached out to our fellow members on icecreamforums.com and the Facebook Group Ice Cream Recipes for their opinions on various brands.
Features of an Ice Cream Maker
If you're looking to buy an ice cream maker, then it's a good idea to understand some of the main features that set each brand apart from the next. This knowledge will help you decide which option is right for you.
1. Type of machine
The machine's build is the first decision you'll need to make before considering anything else.
Ice and salt crank machines
The old-school method uses rock salt and ice.
Often, they are an affordable option compared to higher-tech products.
Ideal for occasional use and for making large batches of ice cream.
There is an added cost of rock salt and ice for each churn.
Pre-frozen bowl
Requires freezing a bowl overnight before use.
To make a second batch, the bowl will need to be refrozen again.
It can be a tedious process, and the bowl takes up space in the freezer.
Capable of making excellent ice cream if used correctly.
There is no room for error; you get one shot, and if the ice cream doesn't freeze, it's game over.
In-built compressor model
Relatively expensive compared to other types
Much more convenient—simply switch on and start churning.
Capable of making professional, craft ice cream.
Tend to take up more space in the kitchen.
2. Ice cream output
Are you a big family, a restaurant, or a large consumer of ice cream? A small 1 quart or even 1 ½-quart bowl will become frustrating quickly. Choose a bowl with a minimum 2-quart capacity to keep your sanity.
3. Churn settings
Some machines have all the bells and whistles, and others have a basic on/off switch. For some appliances, additional options are well worth it. Our recommendation, when it comes to ice cream makers, is to keep it simple. Focus on making delicious ice cream bases, and use a machine that does one thing well—make creamy, smooth ice cream.
4. Size of appliance
Give some serious thought about the size of your kitchen before buying an ice cream maker. If your kitchen is tiny, you want to choose the Cuisinart ICE-30, as it's affordable and doesn't take up much bench space. Of course, if you have somewhere to store it away from the kitchen, then any appliance will be suitable. Except perhaps the Lello 4080, which will be mighty heavy for some.
5. Warranty
An appliance that has a solid warranty of at least a year demonstrates that the manufacturer stands behind the quality of their product. Better still, if you can get a 3-year warranty, you'll have added peace of mind. It is essential to understand that the freezing componentry in these machines isn't overly robust. Frequent picking up and moving of the unit increases the possibility of damage. So always look for the longest warranty possible.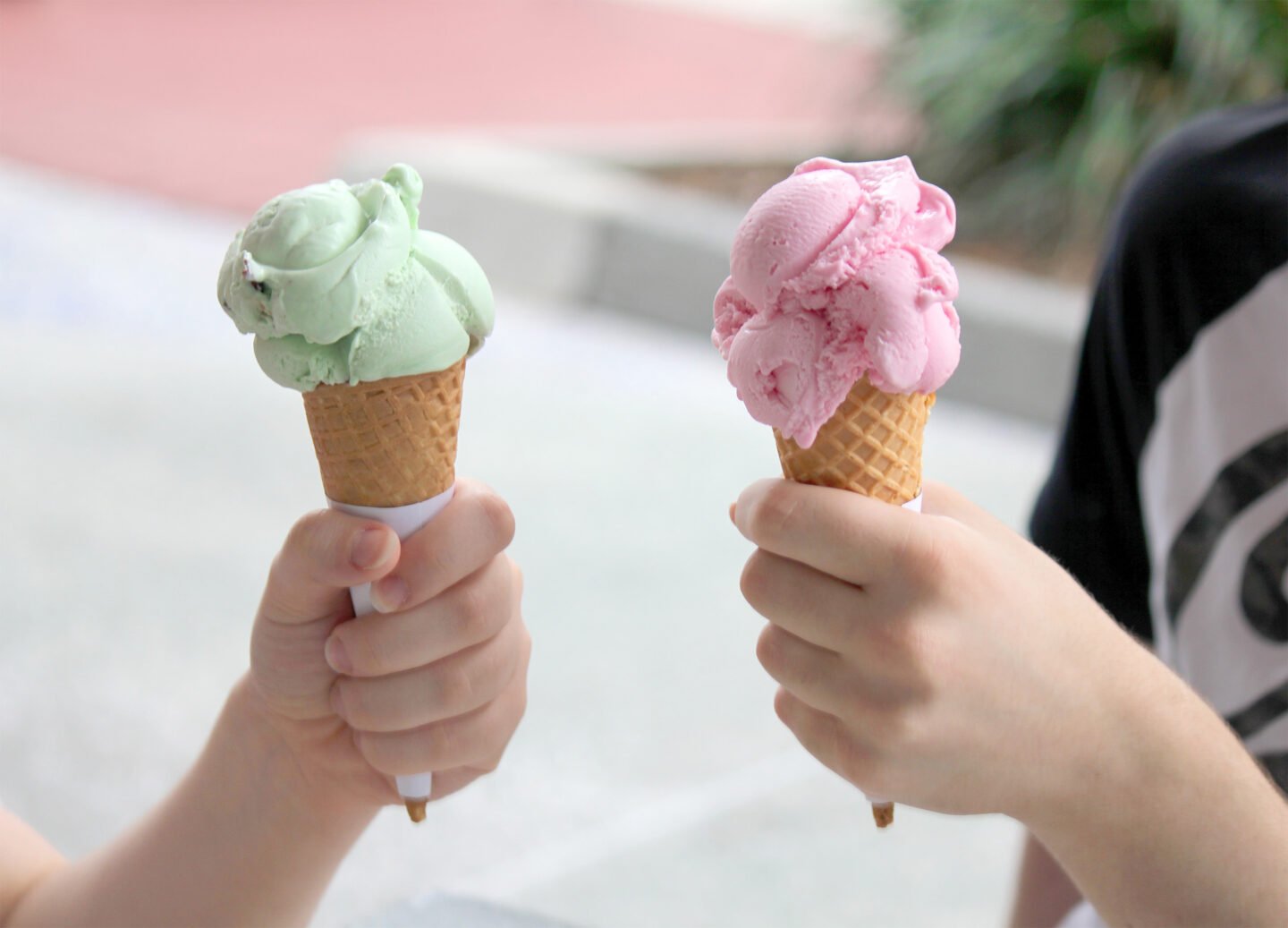 Summing Up
Ice cream makers aren't as essential as a toaster or a mixer in the kitchen, but they'll bring you a lot of pleasure. The challenge and excitement of creating delicious, sweet new flavors are quite addictive. If you're "sitting on the fence" about how much you'll use one of these appliances, your best option may be a cheap Cuisinart ICE-30R, which is the model I started out using.
Readers who have a passion for ice cream and are likely to make it each week should do themselves a favor. Search for a model with a built-in compressor. The up-front cost is more than made up for by the convenience and the fantastic ice cream. The Whynter ICM-15LS is an excellent all-round ice cream maker that offers exceptional ice cream at an affordable price. For craft ice creamers who want the best, the Lello 4080 Musso Lussino is well worth the extra money.
Whichever brand you choose, the ice cream base you mix up will have a significant impact on the final dessert. Even the most expensive ice cream maker won't produce good frozen desserts if you get the ratios wrong. Be sure to source recipes you can trust and try to stick to their advice, to begin with. Halving the sugar because you want a healthier version of the recipe will severely impact the ice cream's structure, as will removing the egg yolks. Once you've got some experience up your sleeve, it's time to experiment with your ingredients.
Quick Note: There's more to these appliances than just ice cream making. Get creative by churning out frozen yogurt, soft serve, or gelati as well.
I wish you all the best with your ice cream-making. Whatever machine you choose, I hope it serves you well. If you have any questions regarding the models mentioned on this page or anything else related to ice cream making, please leave a comment below.