Whether you're making mixed drinks on a Friday night or just like to have a cold beverage ready on a hot day, nothing beats a nugget ice maker. The ice made from these machines is perfectly sized and soft enough to chew without breaking your jaw. Best of all, they let you do away with that clumsy old ice cube tray.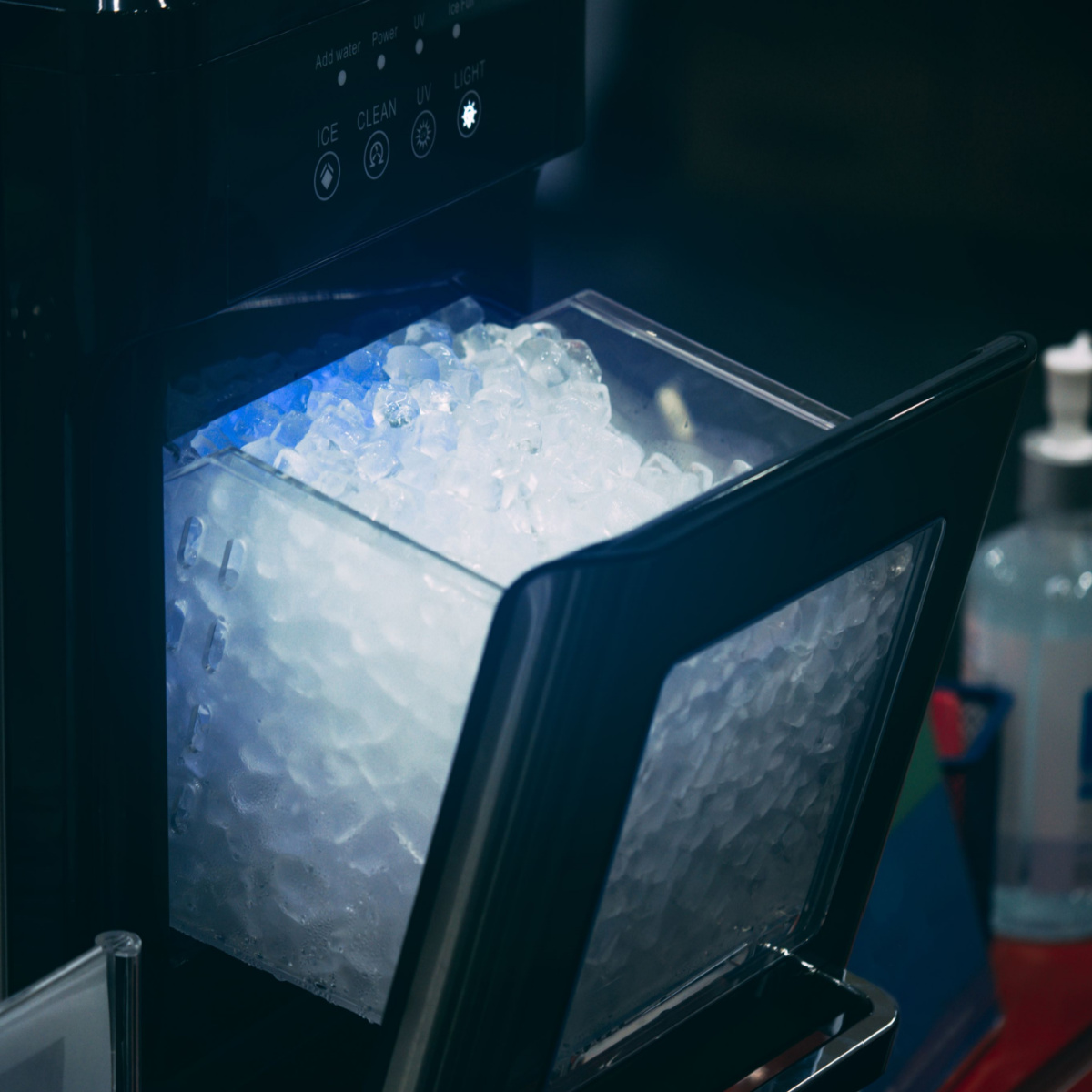 However, there are tons of different models on the market, and picking the best one isn't always easy. That's why we've pared down the best of the best, looking at the output, capacity, size, connectivity features, and price. See which of the nugget ice makers listed below are the best fit for your kitchen.
Table of Contents
Best Overall: Frigidaire EFIC237 Countertop Crunchy Chewable Nugget Ice Maker
Finding a nugget ice maker that's the complete package isn't easy; however, the Frigidaire EFIC237 Nugget Ice Maker is a good bet. Equipped with everything you need to make pounds of ice in a flash, it's a worthwhile option for a range of needs.
The first thing you'll notice is the slim design of this ice maker. It's actually less than a foot wide, letting you squeeze it alongside your other kitchen appliances without cluttering up your counter. Though make no mistake: This isn't a scaled-down ice maker. It still boasts a full 44-pound capacity.
It's fast, too, and is able to make ice as quickly as 15 minutes after it's plugged in. Just get it going, and when you're ready, lower the door to scoop as much or as little ice as you need. It has the soft and chewable texture you'd expect from real nugget ice.
The feature we liked best about it is its self-cleaning function. At the push of a button, you can keep your ice maker clean, ensuring your ice is always as fresh as possible.
Overall, this is a good ice maker for just about everyone, with a high capacity compartment, fast production time, slim size, and a competitive price. Just make sure to check the dimensions against your kitchen cabinets, as it may be too tall to fit under yours.
Best Easy Operation: CROWNFUL Nugget Ice Maker
Nugget ice makers aren't that complex, though if you're not comfortable with new kitchen appliances, finding a simpler model can be a good place to start. The Crownful Nugget Ice Maker has a sleek and simple user interface that can do everything other ice makers can do with half the hassle.
The controls have only two buttons you need to remember: On/Off and the cleaning function. The other icons on the display are there to let you know when the machine is making ice, when it needs new water, and when the self-cleaning function is running. With the pared-down design, it's easy for anyone to learn to use.
The machine also includes different indicators to let you know when the machine has finished its various cycles. This helps ice-making novices stay on top of the few maintenance tasks needed to keep the ice maker running.
The only downside of this model worth considering is its limited capacity. Twenty-six pounds is only about two-thirds the capacity of the standard forty-four-pound model, meaning it may not be the ideal choice for large gatherings or businesses. However, if you're only using it for yourself and your family, it should be perfect.
In the end, this is a great option for anyone who is interested in getting started with a nugget ice maker but doesn't want to get overwhelmed by a range of different features. It offers just the right balance of simplicity and functionality.
Best High-End: GE Profile Opal 2.0 | Countertop Nugget Ice Maker
SAVE 21%
Don't forget that nugget ice is the only way to make authentic drinks and cocktails, so it makes sense to invest in a high-end option. This GE Profile Opal 2.0 might cost a little more than some of the other options on this list, but it serves up real nugget ice in quantities that can keep up with anyone's needs.
What makes this ice maker different from the rest is the wide range of features that simplify and streamline operations. Built-in WiFi and voice control let you monitor and control your device from anywhere in the house. You can also get automatic software updates that let you install the latest features and keep your machine up to date.
If you want to control your ice maker directly, the LED display screen gives you precision control. The screen lights up when in use and darkens when not, giving you full visibility without consuming excess power.
Other than that, you can expect this model to work reliably and produce the chewable, crunchable nugget ice you're looking for. While it only makes 24 pounds of ice per day, it still makes an ideal choice when it comes to easy operation and convenience.
Give this ice maker a try if you're able to invest a little extra for quality. While it might not fit into everyone's budget, we can say for certain that anyone who tries it will see the difference.
Best Budget: Gevi Household Countertop Nugget Ice Maker
No products found.
If you can't afford the most expensive models, that doesn't mean you have to settle for second-rate ice. In fact, there are many high-quality ice makers available at a variety of price points. The No products found. is one example that offers high-end quality at a fraction of the price.
While this ice maker does have a slightly lower capacity at just 26 pounds per day, for most users, this will actually be an advantage. While it might not make ice fast enough for a business, home users will appreciate its more compact size. It weighs 34 pounds in total, making it easy to move and transport when needed.
Its ice compartment is easy to access, and its control panel is simple and streamlined. While some of the more advanced connectivity features of more expensive models are missing, those who want a simple way to make nugget ice at home will have everything they need.
Best of all, the small size of this ice machine means it runs at a whisper. Its volume when running is less than 40 dB, which is about the same level as a gentle hum. This makes it a perfect option if you're worried about the noise bothering you at night.
There may be even less expensive nugget ice makers out there, but none of them offer the same balance of quality, simplicity, and functionality as this one. If you want advanced connectivity features or a higher capacity, you may need to look at more expensive models.
Best High Capacity: HiCOZY Countertop Nugget Ice Maker
SAVE 23%
While most people only need a pound or two of ice per day, businesses, party hosts, and dedicated cocktail enthusiasts need a bit more. If this sounds like you, it's worth looking into high-capacity countertop ice makers. The Hicozy Countertop Nugget Ice Maker is able to turn out 55 pounds of ice each day, which is about 30% more than the average ice maker.
With such a high output, you might expect this ice maker to be extra noisy, but this is not the case. This nugget ice maker operates at a low hum, letting you take advantage of it day and night. It also has an eco-friendly design, so there's no guilt for leaving it on 24 hours a day.
The operation is fast and easy. With the press of a button, you can turn your device on and turn it off with another press. The self-cleaning mode is similarly simple, ensuring your ice is fresh and pure all the time.
The one major drawback of this ice maker is that it is a little bulky. At about 10 by 14 inches, it will take up a decent-sized chunk of your kitchen counter space. All this means is that it is worth measuring beforehand to ensure you have enough space.
While it might not be the ideal option for everyone, this ice maker is a must-have for those who want to push their machine to the limits. If you're hosting a summertime party or want to open a small business that serves cool drinks, this is the perfect option for you. Otherwise, it may be worth looking at smaller and less expensive options.
Best Compact: Thereye Countertop Nugget Ice Maker
Many of the ice makers mentioned above are quality appliances, though for some people they're not a practical solution for their less-than-large kitchens. If this sounds like you, it could be worth considering more compact ice makers that have a lower daily output but can be tucked into smaller kitchen nooks. The Thereye Countertop Nugget Ice Maker is the perfect example, with a slimmed-down footprint made to fit any kitchen.
With a footprint less than 10 x 10 inches, it's easy to see why this ice maker earns our pick for the most compact option. This makes it smaller than most microwaves, meaning it can slide smoothly between your blender and your toaster. The only thing to keep in mind is that it's 17 inches tall, so low kitchen cabinets might not accommodate this design.
Aside from its size, it has plenty of hassle-saving features. Its self-cleaning function requires only the press of a button to get your ice maker sparkling clean. It uses a water vortex inside to wash away any dirt and make sure your ice is perfectly clear.
While its daily capacity is limited to 30 pounds, this ice maker can produce a large batch of ice quickly. Within 15 minutes, you'll have enough ice nuggets to fill a glass for a cool beverage. If you wait a bit longer for the storage to fill up, you'll have enough to host a small party.
It's true that this nugget ice maker has a lower daily capacity than other units, but for most people, the difference won't be noticeable. If you're looking for a slimmed-down design that still makes plenty of ice, this is the one for you.
Best Nugget Ice Maker Buying Guide
If you think nugget ice makers are all the same, we suggest you take a closer look. Each one comes equipped with its own features, which may be more or less important to you depending on your needs. See which of the following are your priorities when choosing a nugget ice maker.
Output
Different nugget ice makers are able to make ice at different speeds. If you only make ice for the occasional drink, this may be less important to you, though if you plan on serving iced beverages to more than a few people, you'll want a higher output. A good ice maker should be able to make around 30 to 40 pounds of ice in a day.
Capacity
Even if you don't need your ice maker to make ice quickly, it's important to have it on hand when you do. A high capacity means you can make ice for several drinks at once without having to wait for it to refill. Look for models that are able to hold at least one or two pounds at a time.
Size
While a high capacity usually equates to a large size, don't forget that ice makers come in all shapes and sizes. Since they're a rather bulky appliance, you'll want to pick a spot for them ahead of time and measure the area to know how big you can go.
Connectivity
WiFi or Bluetooth connectivity lets you manage your ice production on the go with a fast and simple interface. This lets you control temperature and other features wherever you are to make sure you have ice ready to go.
Price
Ice makers tend to cost a little more than a toaster or microwave, so it's important to make sure you're getting the most for your money. Luckily, there are plenty of high-end and budget options available, so you can find an ice maker that you can afford.
FAQs
What makes nugget ice different?
Unlike regular ice, nugget ice is made to be soft and chewable. This is possible because, rather than using a normal freezing process, a nugget ice maker compacts chunks of ice into a pellet. This means you won't have to worry about hurting your teeth when you chew it.
How long does it take for a nugget ice maker to work?
Nugget ice makers work quicker than you might expect and are able to make ice in as little as 15 to 30 minutes. Of course, this depends on the model you're working with.
Do I need to turn my nugget ice maker off at night?
Most nugget ice makers need to be plugged in to keep them frozen. If left unplugged for long periods of time, the ice will melt and the water will return to the machine's reservoir. Think of it as a refrigerator that stays plugged in at all times.
Do I need to throw away my first batch of ice?
Most nugget ice makers come with instructions that tell you to throw away the first three batches of ice that they make. This makes sure that any leftover parts from making the ice have been cleaned out of the machine and won't end up in your ice.