As one of the fastest-growing food trends in Europe and the United States, taro is something everyone can enjoy. It has a bright purple color and uniquely sweet flavor, which lends itself perfectly to sweet treats like boba tea. But what does taro boba taste like?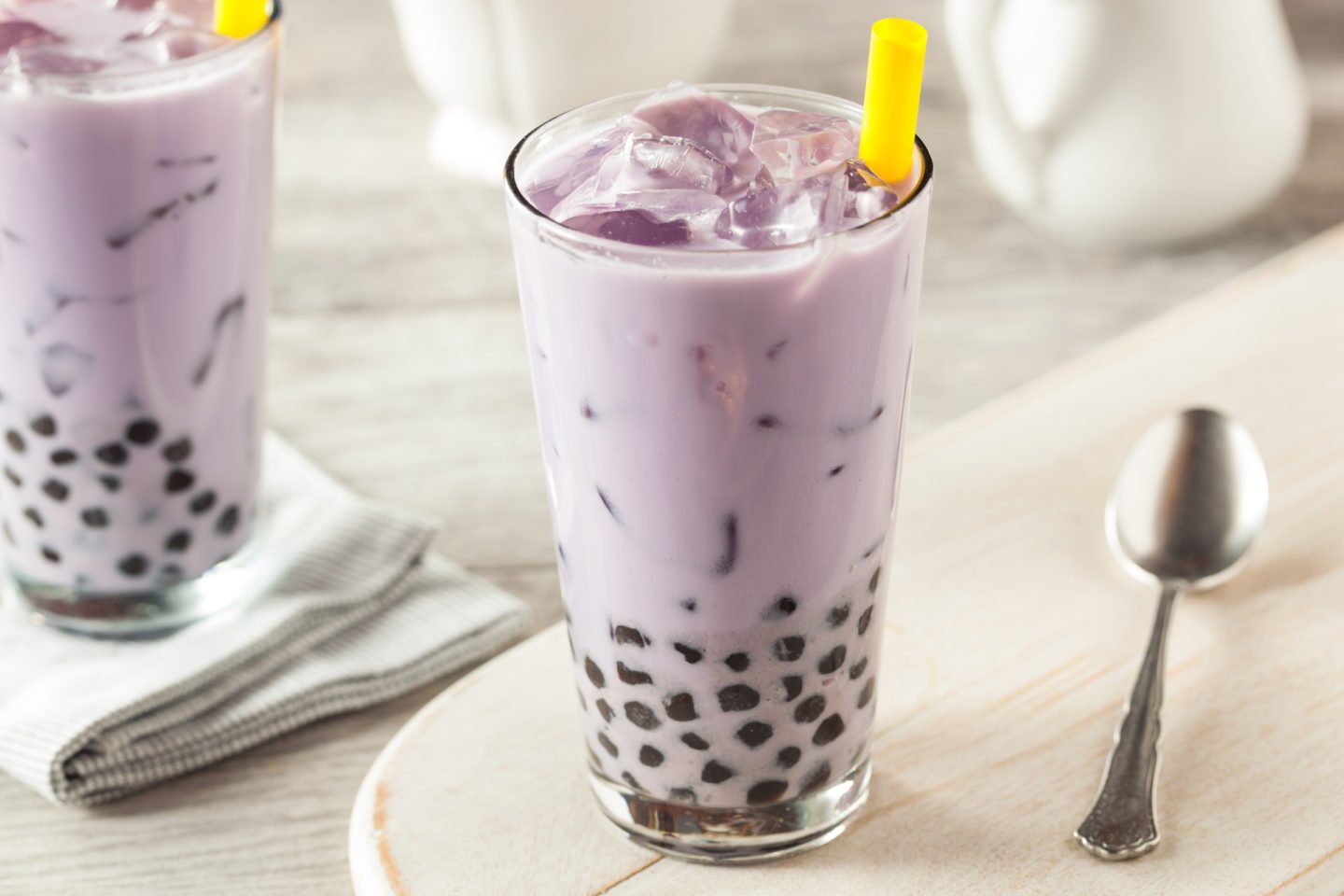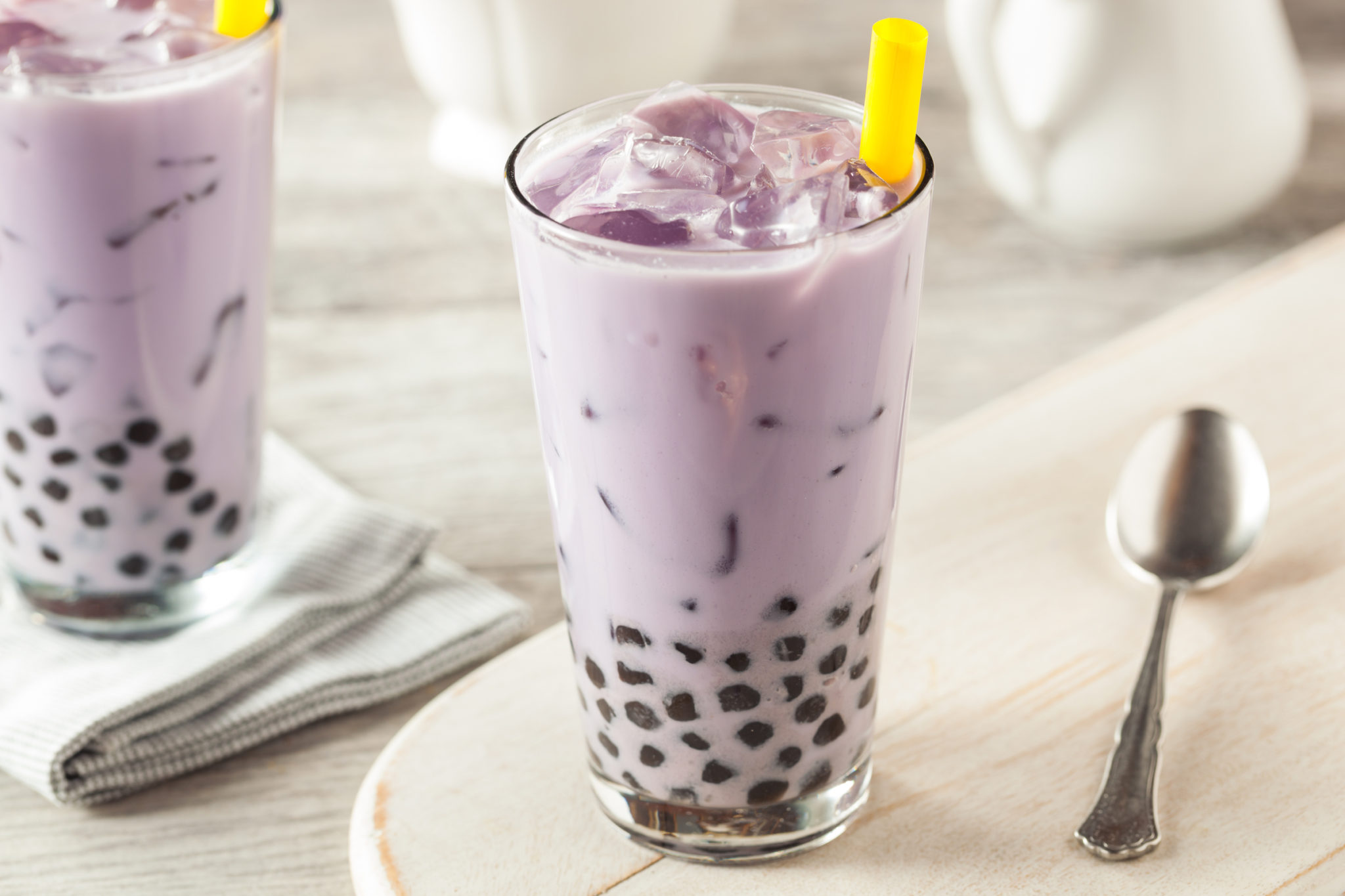 I find it a bit difficult to describe to tell you the truth. Although, many have compared taro boba to the sweeter, nuttier vanilla. Others have said it tastes a bit like a sweet potato. Either way, we can guarantee that it's delicious and worth trying for yourself.
Learn more about taro boba tea's taste below, its nutritional facts, and a simple recipe.
Table of Contents
What is Taro?
Taro is a root vegetable native to the tropical regions of Asia and South India and is also grown commercially in South America. The plant's heart-shaped leaves are sometimes eaten, but the thick root is most well-known. It has brown skin on the outside, but it is filled with small purple spots when cut open.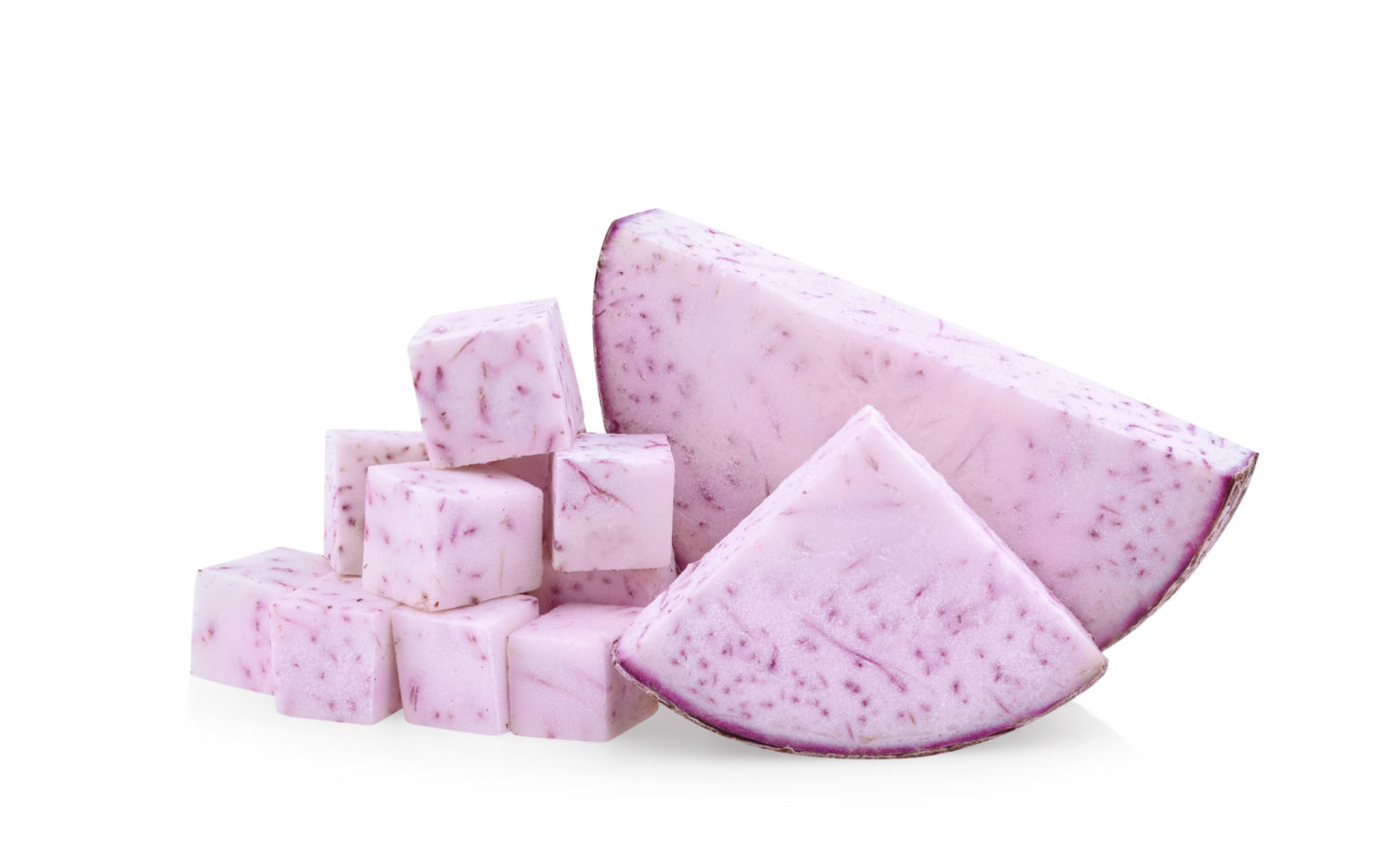 In other parts of the world, taro is eaten in much the same way as a potato. People enjoy it fried, baked, boiled, roasted, mashed, and just about any other way you can think of. However, it continues to gain popularity in the western world, where people widely consume it from baked goods to smoothies and boba tea.
Taro Powder vs. Real Taro
When enjoying taro in a store-bought smoothie or boba tea, be aware that you may not be exactly getting the real taro you thought you were. Many purveyors of taro-flavored drinks use taro powder instead of the actual root. So while you'll still have a similar flavor, they're not the same thing.
Taro powder can include a long list of other ingredients, including non-dairy creamer, hydrogenated oils, sweeteners, preservatives, and dyes. While all taro powders should include some actual taro, it may be only a tiny fraction of the product's weight.
Taro's Unique Flavor
It's not just the vegetable's bright purple color that makes it so popular. It also has a delicious, unique flavor that's well-suited to all kinds of preparations.
When roasted, boiled, or fried, taro is probably closest in flavor to a sweet potato. It has a nutty sweetness and flaky texture that can be enjoyed on its own or as part of a larger meal.
However, one of the most interesting things about taro is that its flavor depends mainly on how it's served. In dessert, it takes on a taste more similar to vanilla. However, in sweet beverages like boba tea, its nuttiness shines through.
Is Taro Healthy?
Taro is surprisingly healthy, which may be part of the reason it has become so popular in recent years. Take a look at all of its health benefits.
A Good Source of Essential Vitamins and Minerals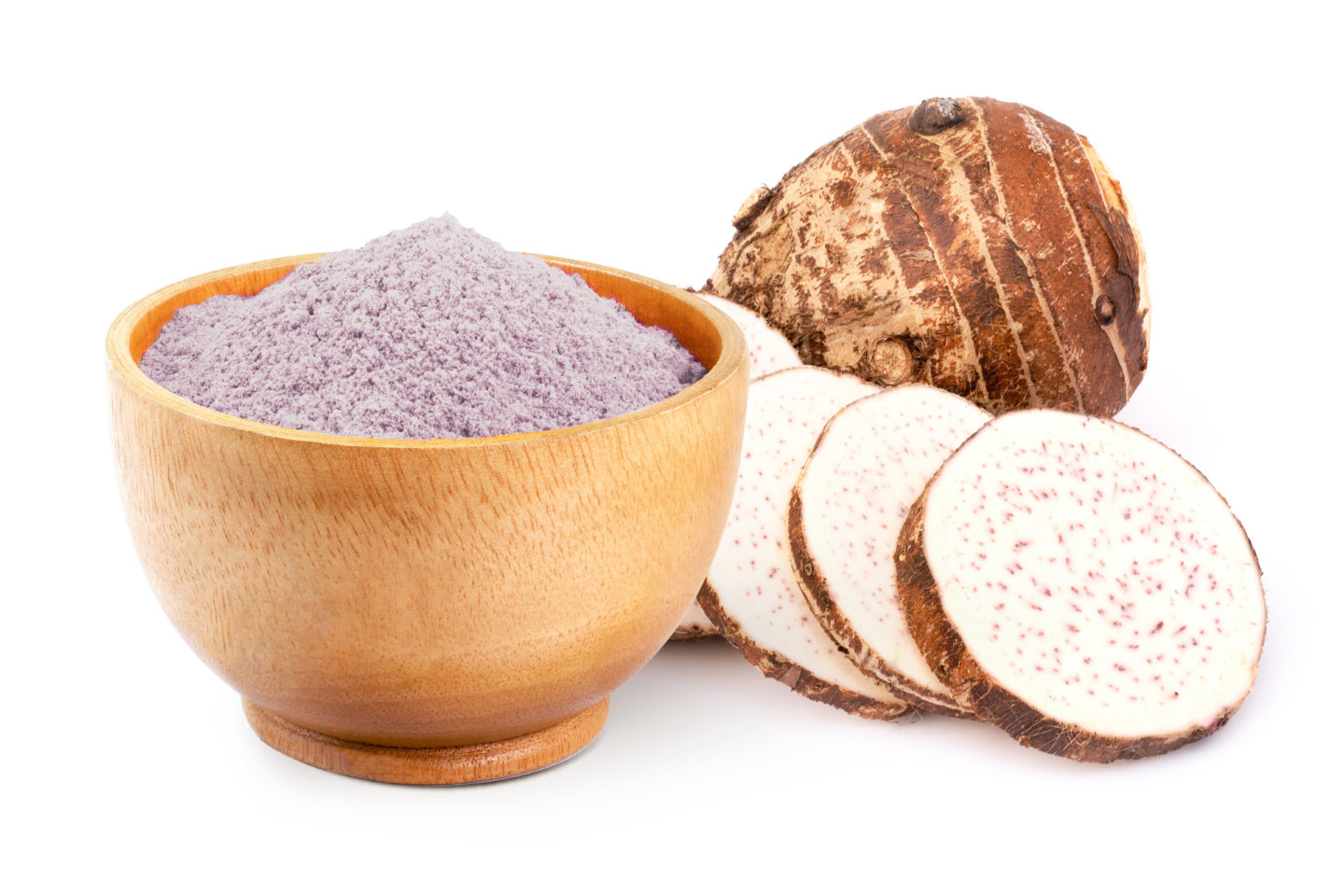 While taro may be similar to a potato in some ways, it is much more nutrient-rich than its more commonly eaten cousin. Here's a breakdown of what one cup of taro offers:
Vitamin B6 - 22% daily value
Vitamin C - 11% daily value
Vitamin E - 19% daily value
Manganese - 30% daily value
Potassium - 18% daily value
Phosphorus - 10% daily value
Magnesium - 10% daily value
Copper - 13% daily value
High in Fiber
Taro also includes 6.7 grams of fiber, around 25% of your recommended daily value. Fiber helps aid digestion, regulate blood sugar, and manage hunger.
May Reduce Risk of Heart Disease
Studies have shown that high-fiber diets can positively impact cardiovascular health. It lowers rates of heart disease, and its starches have been shown to reduce cholesterol levels.
May Help Control Blood Sugar
Since taro is high in fiber, it is recommended for those trying to control their blood sugar. Fiber is material that the body can't digest, filling you up without raising your blood sugar. It also slows down digestion, which can help prevent blood sugar spikes after a meal.
Making Your Own Taro Boba Tea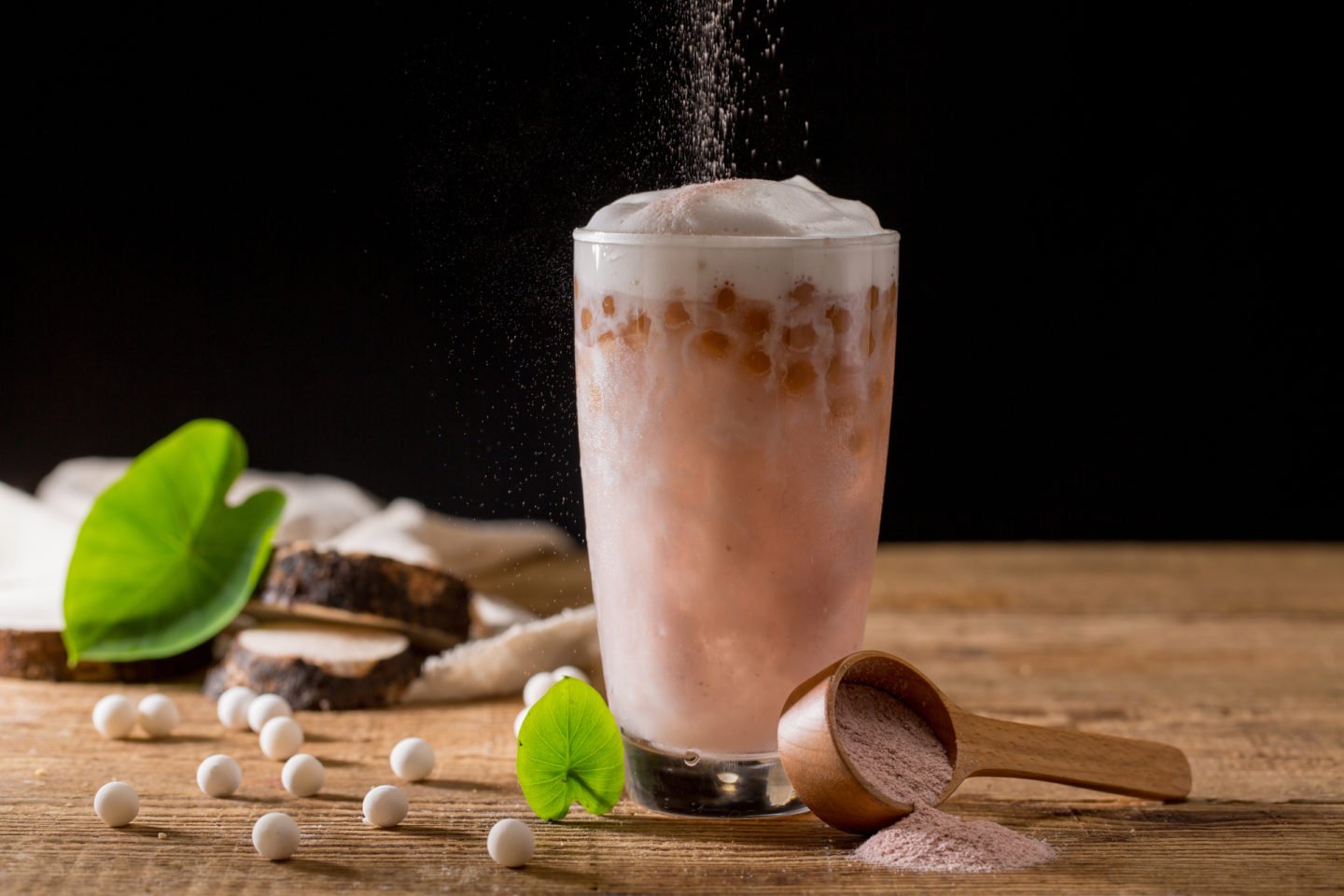 Taro boba tea is becoming increasingly popular worldwide, so it shouldn't be hard to find a cup when you want it. But if you want to wake up to your own cup without having to make a trip, all you need is a bit of time and the right ingredients. Just follow these simple steps to make your own taro bubble tea at home.
Gather Your Ingredients
Most of the following ingredients can be found at your local grocery store, though you may order the tapioca pearls and taro powder online.
½ cup dehydrated tapioca pearls
4 tablespoons taro powder
½ cup sugar and ½ cup water
½ cup half-and-half
3 tablespoons of honey
1 tablespoon jasmine green tea
2 cups water
ice
Cook Tapioca Pearls
Tapioca pearls come dehydrated, so you'll need to cook them briefly to give them that familiar squishy texture. Add your tapioca pearls to a pot of boiling water and cook for 2 minutes. Then turn off the heat and let them soak for ten more minutes.
Make Simple Syrup
Simple syrup will give your bubble tea its satisfying sweetness. All it takes is a half cup of sugar and water, boiled until the sugar is fully dissolved. You can also do this in the microwave. After your simple syrup is made, add the honey and mix thoroughly.
Now, add your tapioca pearls to the simple syrup mixture and soak for one hour.
Brew the Tea
Once your boba pearls are fully soaked, it's time to add the tea. We recommend adding jasmine tea, but you can also use green tea, black tea, or any other tea you like. For jasmine tea, heat your water to 176 degrees Fahrenheit and steep for five minutes.
Mix
Now's the fun part. First, whisk in your taro powder until fully dissolved, and watch as the drink turns a bright purple color. Then, mix in your ice and serve taro milk tea in your favorite glass.
Frequently Asked Questions
Is taro the same as ube?
If you've always thought taro and ube are the same, you're not alone. These two purple roots are commonly confused. They have a similar color, taste, and texture, even when you spot them raw.

However, the difference between taro and ube is clear when cut open. Taro has white flesh with purple spots, while ube has a vibrant purple color all the way through. In terms of flavor, ube is much sweeter than taro.
Does taro have caffeine?
Taro does not have caffeine. However, that doesn't mean that taro boba tea doesn't. Most boba teas are made with green or black tea, including a significant amount of caffeine. If you're not sure whether your drink of choice has any, it may be a good idea to ask.
Why is taro purple?
Those who have mainly enjoyed taro mixed with other foods find that the flesh of the root is surprisingly mostly white. Interestingly, it's the small purple dots that give taro its signature flavor. On the other hand, taro powder often uses purple food coloring to get the desired effect.

In reality, the taro root's color can vary and include purple, pink, and white. This color depends on the quality of the soil it is grown in and the region.