Since both belong to the family Salmonids, steelhead trout are commonly confused with salmon, and people use them interchangeably. However, the main difference between salmon and steelhead trout is the flavor.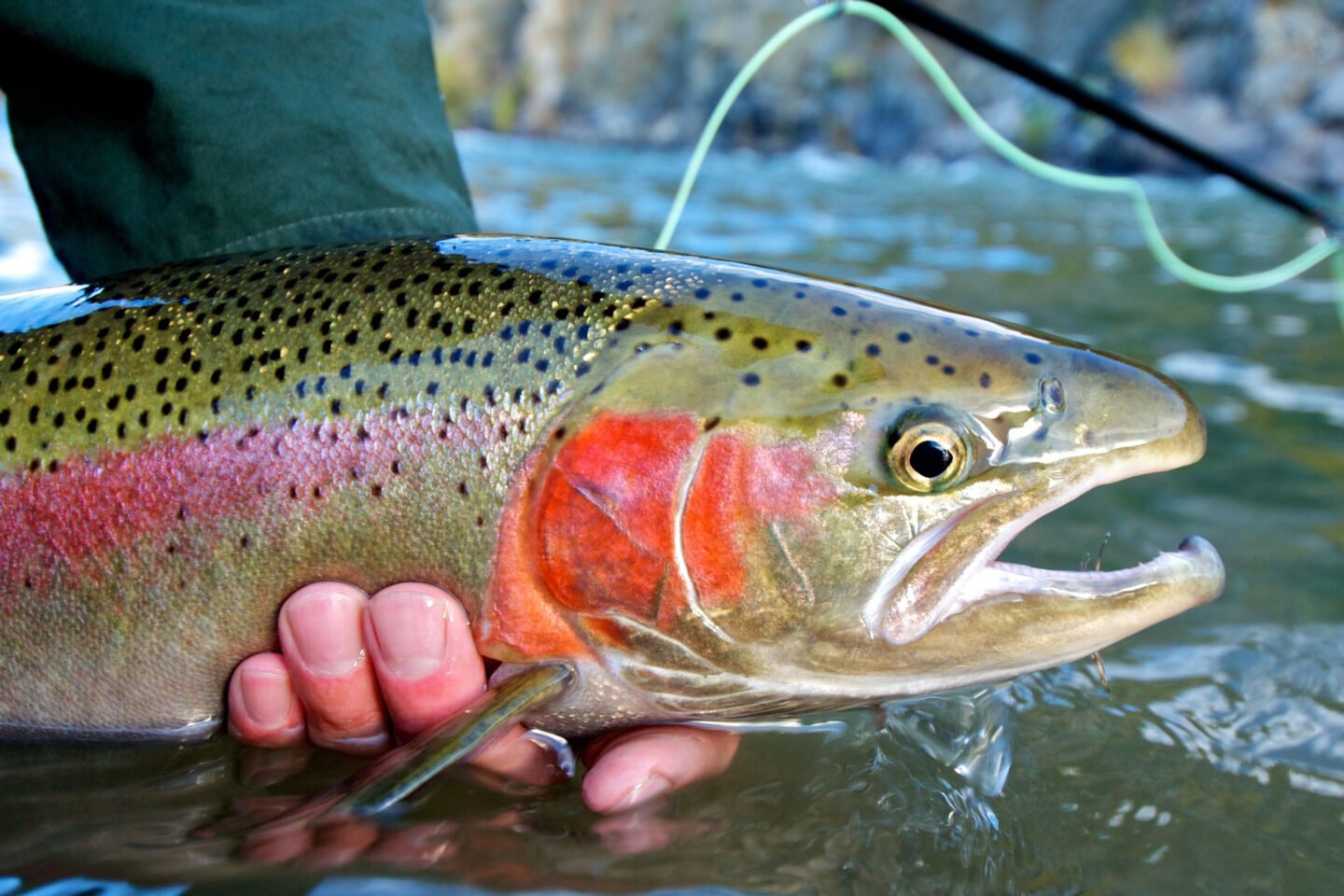 Salmon contains more fat, rendering the meat more tender and flavorful. On the other hand, steelhead trout offers a milder flavor and leaner meat.
Since both have bright orange-pink flesh and offer distinct tastes, steelhead trout may be substituted for salmon in baked meals, sushi, and salads without sacrificing flavor. When cooked, both steelhead and salmon offer a tender texture almost indistinguishable from each other.
This article will help you differentiate steelhead trout from salmon and guide you on which fish meat is best for you.
Table of Contents
What is a Steelhead Trout?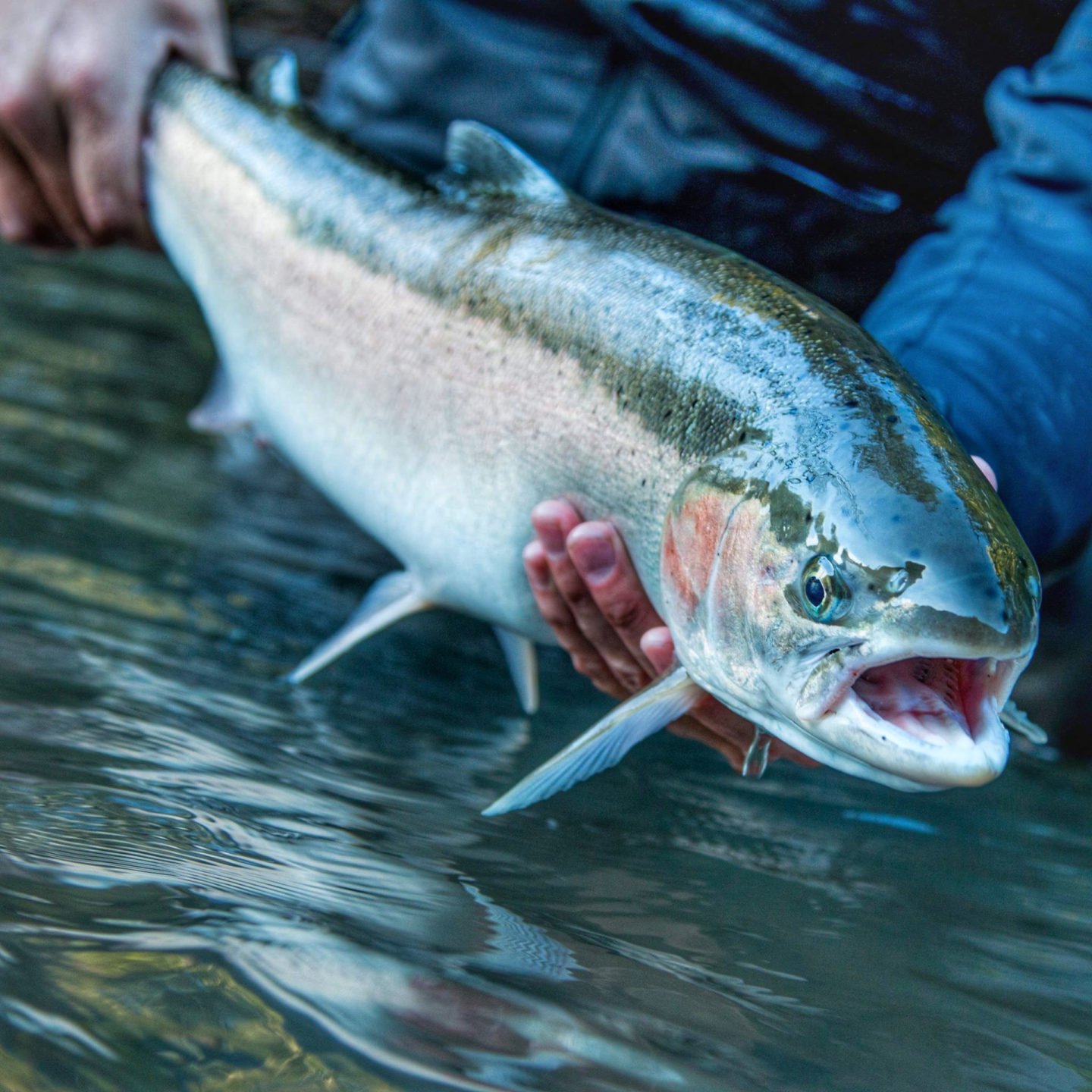 According to the NOAA fisheries, steelhead trout are unique as each fish grows differently from each other, depending on their chosen environment. Wild steelhead trout spawn exclusively in sandy rivers or streams where they can get enough oxygen.
There are trout who spend their entire lives in freshwater, called rainbow trouts, and steelhead trout that move to the sea and grow bigger than those in freshwater. They subsequently go back to freshwater to lay their eggs. Unfortunately, steelhead trout are subject to various stresses and challenges, including restricted access to spawning sites and habitat degradation from dams and culverts.
Steelhead trout are commonly seen in the freshwaters of California, Washington, and Oregon. After three to four years spent in the Pacific ocean, they migrate to these waters. Even when steelhead trout spawn more than once in their lifetime, they are still considered threatened.
According to the fishing report, Steelhead trout and rainbow trout are among the most common sports fish and are massively caught for market distribution. For this reason, trout have been declared endangered and protected by the National Wildlife Federation.
What is a Salmon?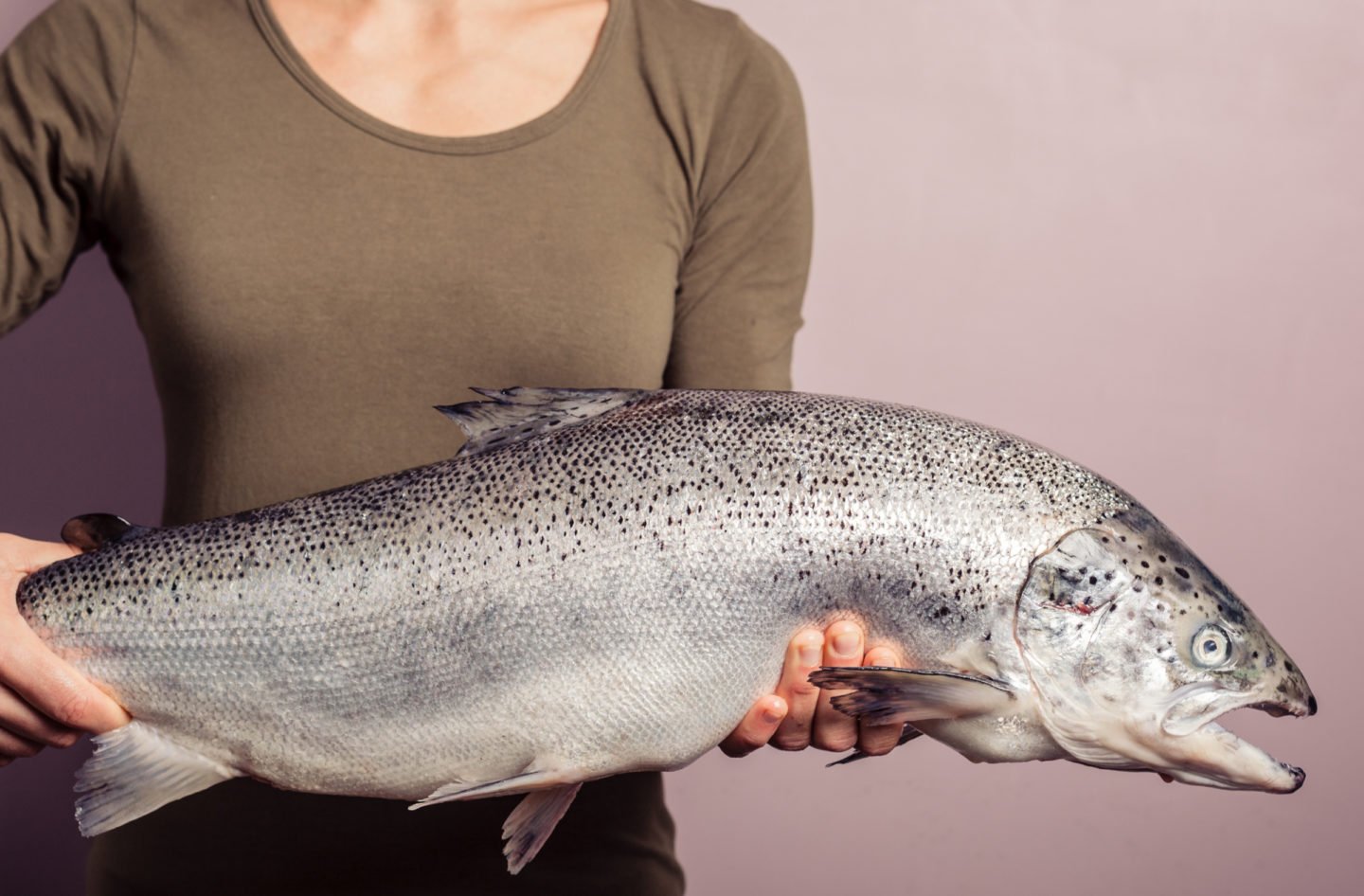 Like steelhead trout, salmon are anadromous fish. They migrate to the sea to grow and go back to freshwater to spawn. There are 7 known species of salmons—6 thrive in the Pacific Ocean, and one lives in the Atlantic Ocean, known as the Atlantic salmon.
The distribution of salmon is so vast, as each species is found in different world areas. Some reside in the great lake of North America and Northern Europe, Japan, Russia, Korea, Alaska, Canada, the Columbia River, the west coast, and California. Due to increasing demand, salmon is also one of the most commonly farmed fish.
What's unique in salmon's life cycle is that according to tracking studies, after spending 2-5 years in the ocean, most salmons go back to the body of fresh water where they hatched. Additionally, salmons change color after migrating from the sea to attract a mate.
Since pacific salmon are highly diversified in the ocean, they use all their energy to swim back to the freshwater where they spawned and eat nothing after reaching the streams. After spawning, most pacific salmon have no energy left and die in the streams. On the other hand, Atlantic salmon don't die after spawning and repeat their cycle for several years.
Steelhead Trout Vs. Salmon
Steelhead Trout vs. Salmon: Habitat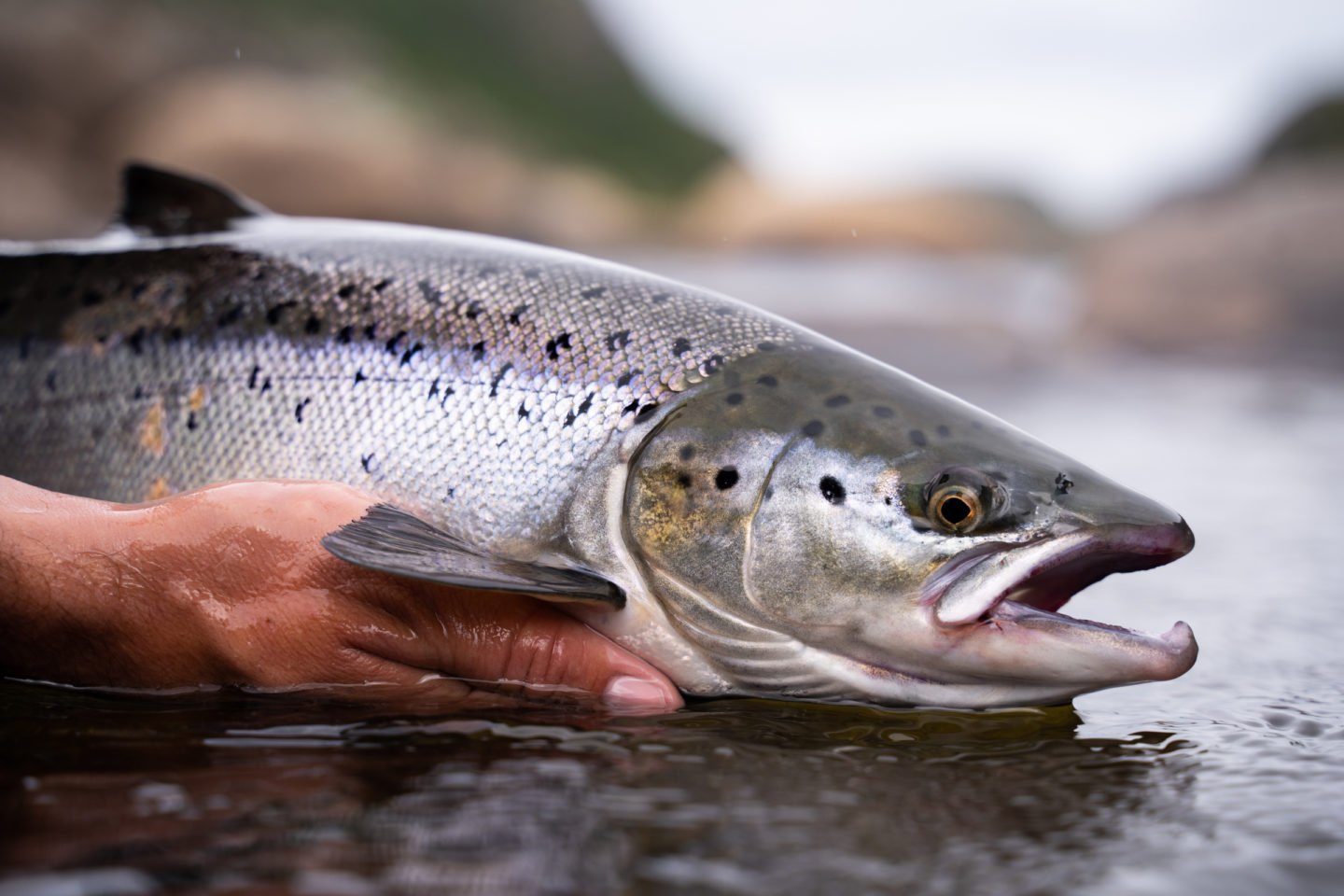 Both are anadromous fish, which means they go back to the rivers to spawn. However, steelheads often choose between living in the sea and the river. Salmons do not have this luxury, and they spend most of their lives in the ocean until they are ready to spawn upriver.
Steelheads have an advantage over salmon in that they can reproduce several times. Steelhead trout may spawn numerous times in their lives, but salmon species can only spawn once upstream before passing on. That means they not only undertake the perilous trek upstream many times but also breed more larvae than salmon.
This same reason explains why salmons are more expensive than steelhead trout and other trout fish. In addition, they only spawn once, making them more limited than different types of saltwater fish.
Steelhead Trout vs. Salmon: Appearance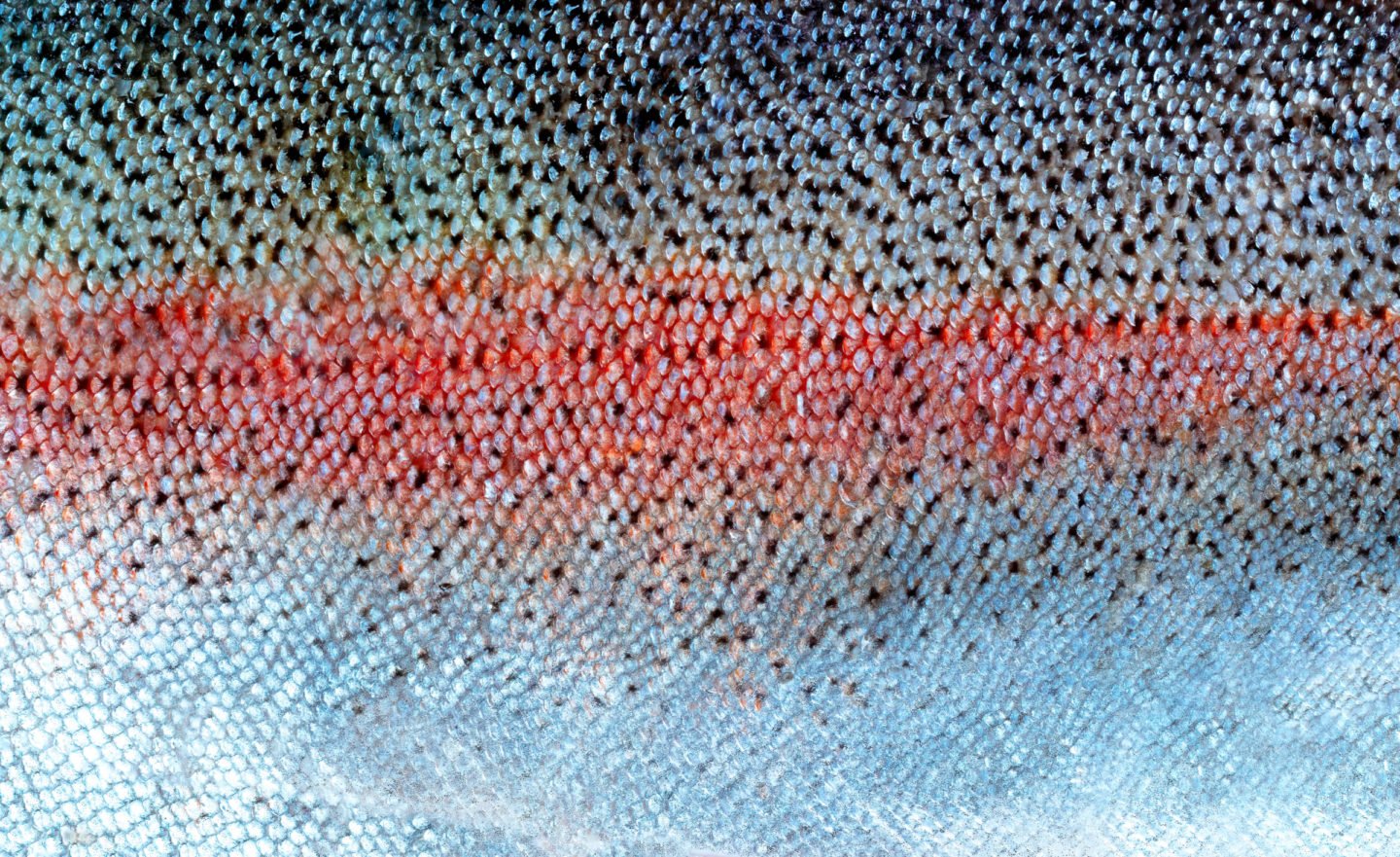 When in the ocean, both the steelhead and salmon have a brilliant chrome or silvery body color with a dark to black back, making it hard to distinguish them. They can also have a torpedo-like body shape, making matters much more confusing.
The thin red or pink stripes down their sides are the only distinguishing trait of steelhead. These stripes, which usually continue across the fish's gill plates, are a visible characteristic that they share with true rainbows and will aid in species identification. However, while this trait is relatively frequent, it is not evident on all steelhead.
Aside from the stripe on their body, the mouth and gums of these fishes also differ from each other. Salmons have dark to black gums and mouths, while steelheads' are all white.
Steelhead Trout vs. Salmon: Size and Weight

One of the most significant distinctions between the steelhead and salmon is their total size. Steelheads, for example, are significantly smaller than salmon, averaging less than 25 inches, while salmons can grow up to 40 inches, depending on the species.
Because both of these measures are averages, they may not help determine if you caught a steelhead or a salmon. Steelheads, for example, may grow to be over 45 inches in length, depending on their habitat. Since steelheads survive in rivers and seas, those who live in the seas grow larger than steelheads in the rivers.
When it comes to the weight of these fish, salmons weigh much more than steelhead trouts. Although massive trout fish have been reported to weigh up to 40 pounds, most steelheads only weigh 20 pounds. On the other hand, some salmons can weigh 40 to 80 pounds.
Steelhead Trout vs. Salmon: Taste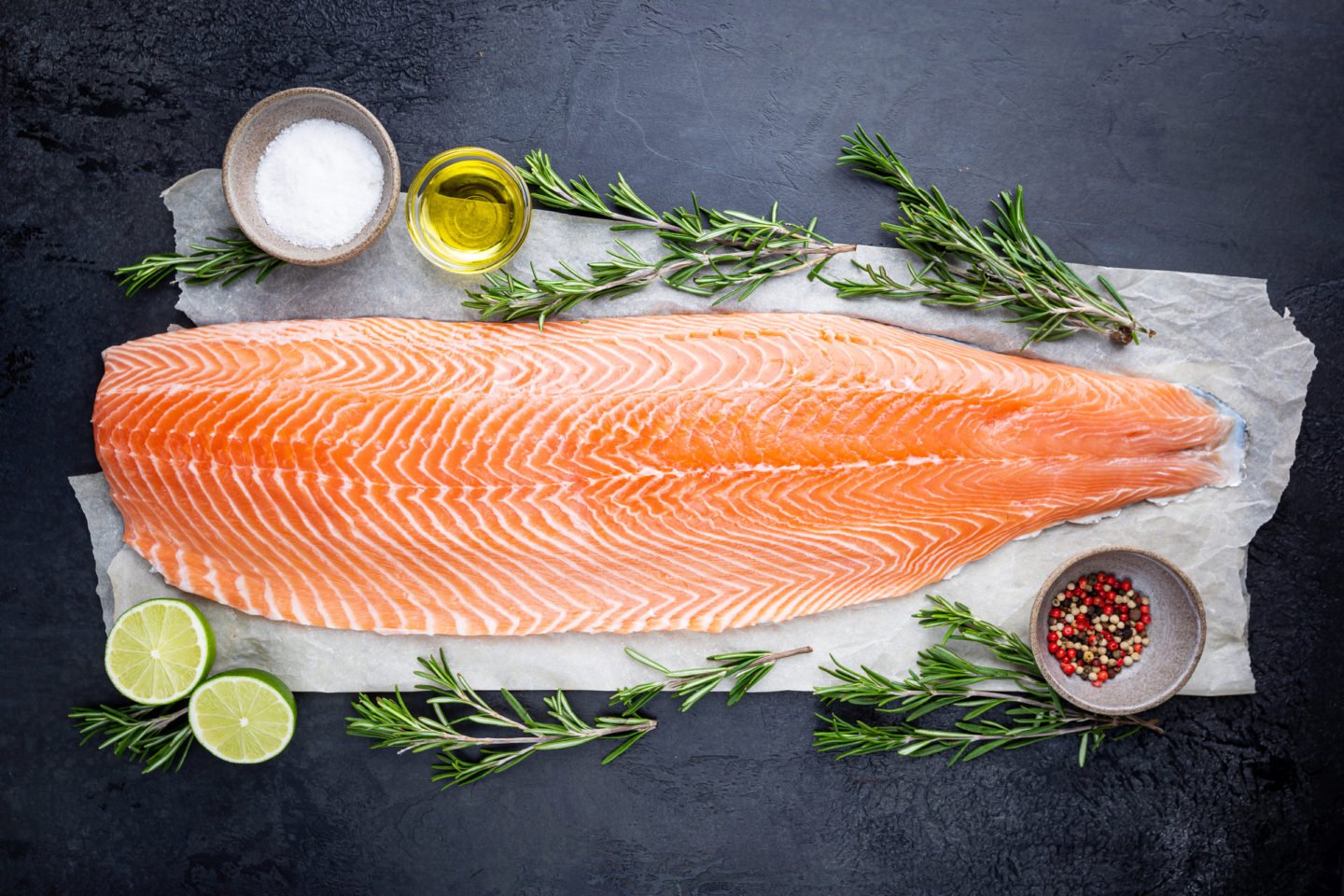 What does salmon taste like?
Many fish lovers enjoy salmon as it has a rich taste when prepared from freshly caught salmon. However, it doesn't have the same fishy flavor as other saltwater fish meats.
Salmon absorbs the flavors of the ingredients it is cooked with. As a result, if you apply the correct amount of seasonings before cooking it, you won't notice the little fishy flavor.
Although some individuals find salmon's fishy flavor overpowering, many others appreciate it since it complements the other ingredients in the meal. In particular, the taste of wild salmon is more complex than that of farm-caught salmon found in many supermarkets.
What does steelhead trout taste like?
The taste of steelhead trout is milder than that of salmon. Therefore, most people prefer it over salmon since it has a milder fish flavor.
Steelhead trout is also far less oily than salmon, particularly farmed salmon, yet it is as delicate and flaky when thoroughly cooked.
When cooked, steelhead also absorbs spices and other ingredients more due to its mild taste, and it blends well with the rest of the dishes' elements.
Steelhead Trout vs. Salmon: Nutrition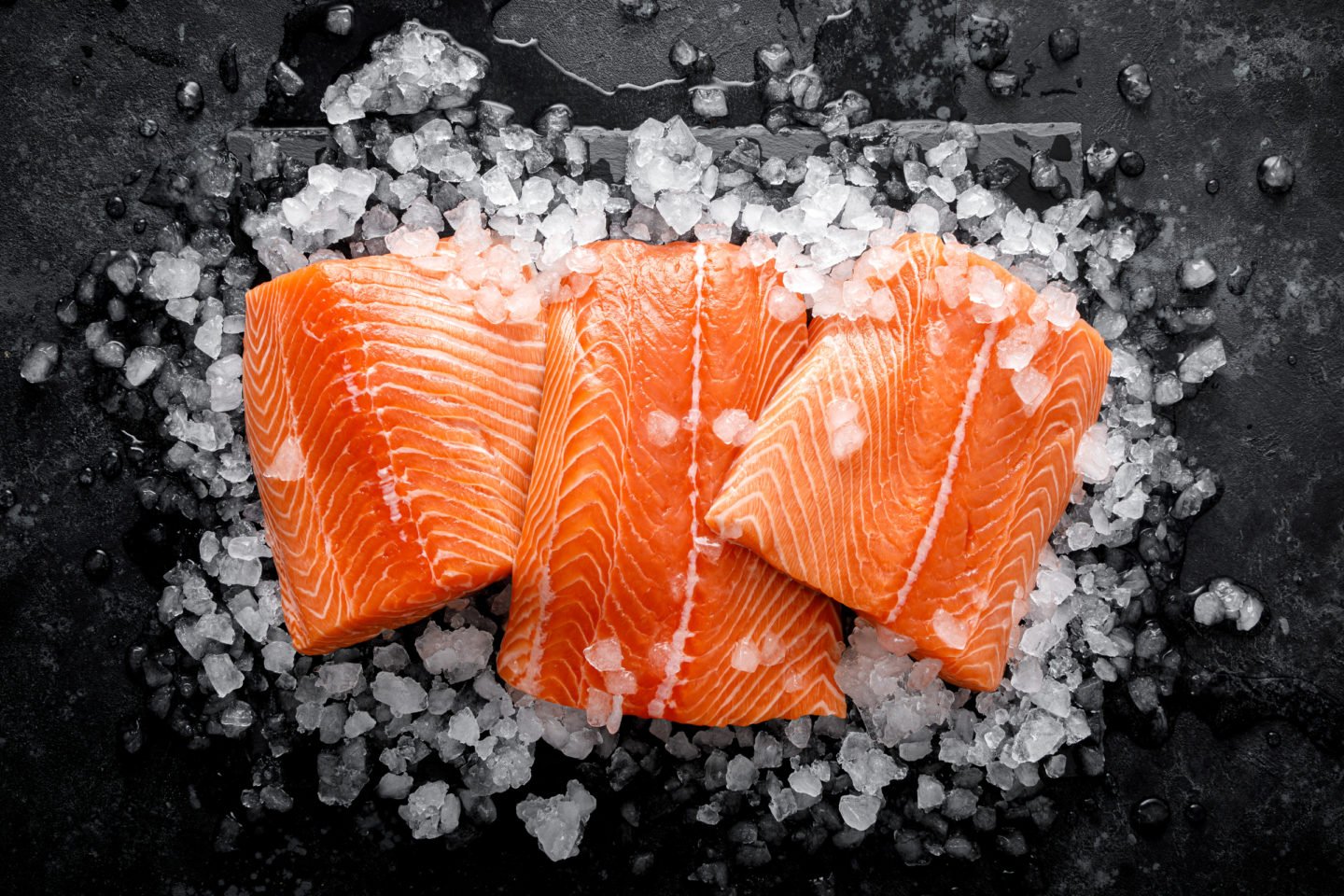 Nutrients in Salmon
When it comes to the nutrient contents of the two fish meat, both contain the same vitamins and minerals. However, salmon contains more fatty acids and omega-3 fatty acids, making it a healthier choice than steelhead and other fish meats. The king salmon or chinook salmon has the highest omega-3 fatty acids contents among all salmons.
When it comes to the protein content, both offer the same amount per serving. However, salmon has higher contents of B vitamins such as riboflavin, B5, B6, and thiamin. In addition, salmon also provides more folate, potassium, and selenium.
Nutrients in Steelhead Trout
On the other hand, steelhead trout offers higher vitamin B12, magnesium, phosphorus, calcium, and zinc levels. As a result, steelhead trout contains fewer calories than salmon. Steelhead trout also contains the abovementioned minerals and vitamins but in lower concentrations.
Both fish produce healthy meat, but salmon is a better option for you if you wish to improve your heart health. For a low-fat diet, steelhead trout offers excellent qualities. However, it is essential to note that sea-caught steelhead trout contains more mercury than fresh water trout and salmon.
Steelhead Trout vs. Salmon: Consumption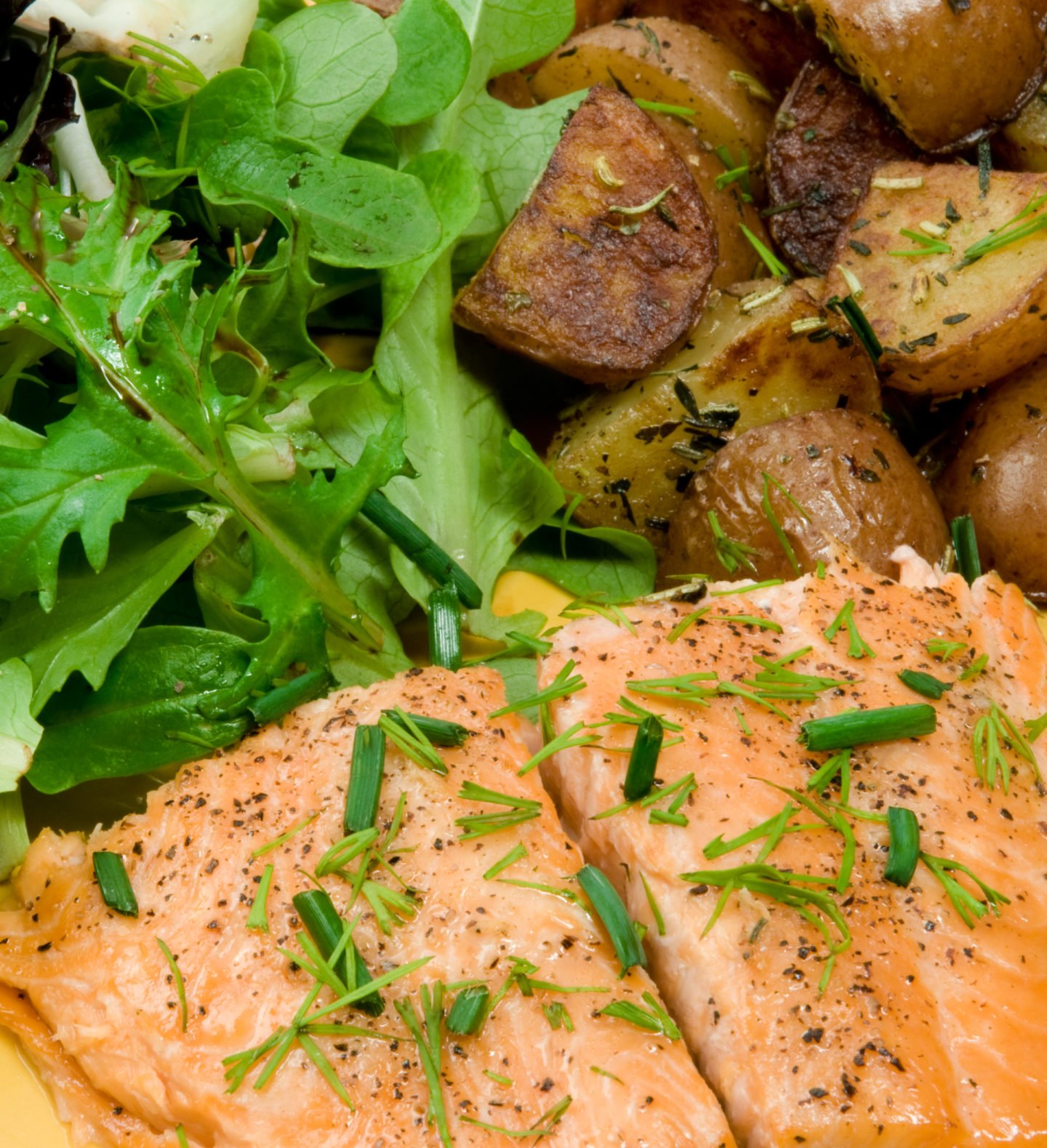 Due to sea steelhead trout's mercury contents, one should limit the consumption to one serving per week. On the other hand, since salmon is considered one of the healthiest fishes, one can consume up to 3 servings per week.
One serving of salmon and steelhead trout should weigh 3-4 ounces. A serving of salmon offers 161 calories, while steelhead trout provides 150 calories.
Steelhead Trout vs. Salmon: Price
While the price varies per season, steelhead trout is way more affordable than salmon. The price difference ranges from $1-3 per pound.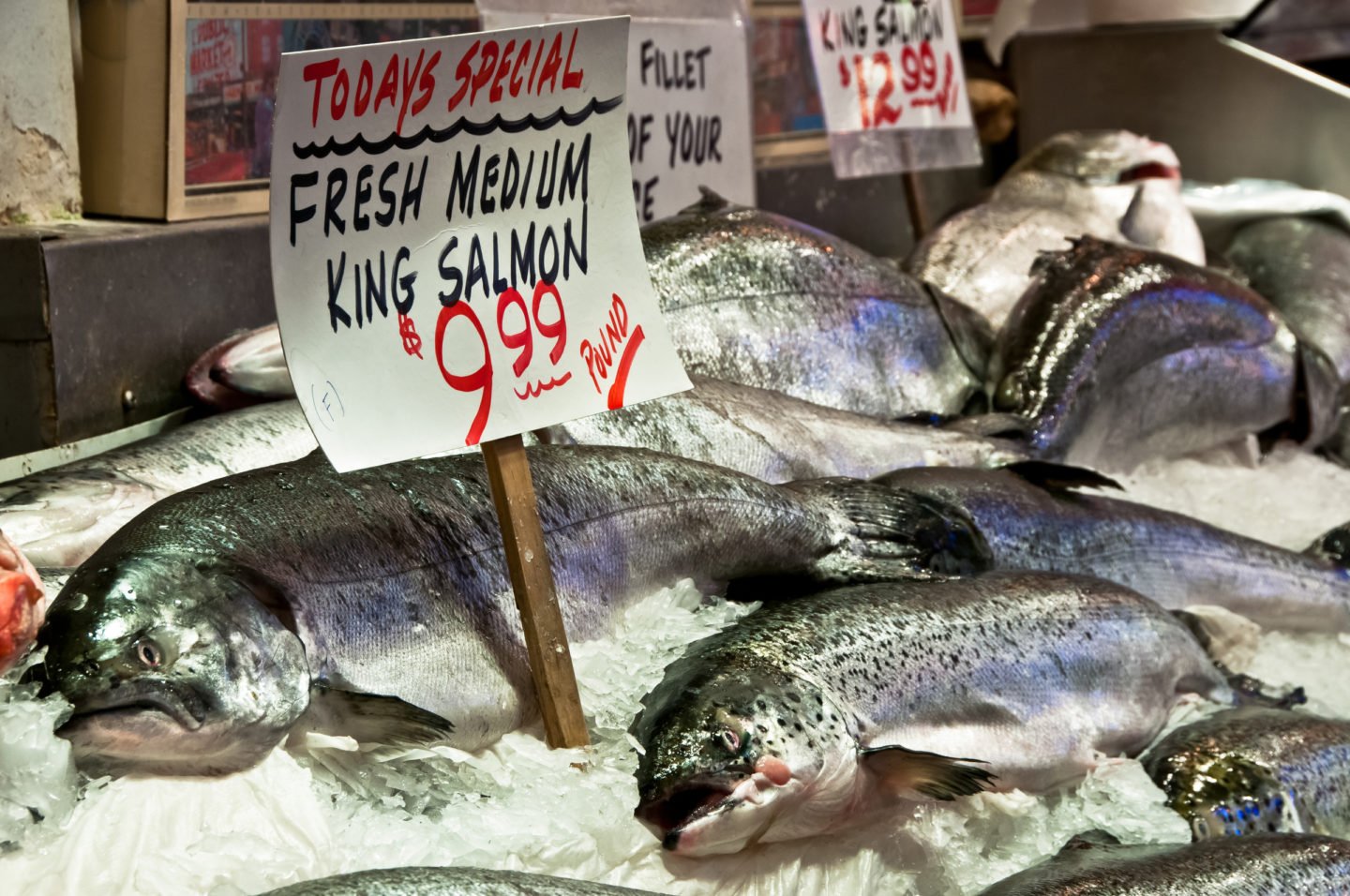 Steelhead Trout vs. Salmon: Dishes
Dishes with Salmon
Some common ways to cook salmon are pan-searing or baking it with herbs. These cooking methods take very little time and effort and enhance the flavors of salmon. Grilled or roasted salmon also takes the spotlight when it comes to taste. Making salmon sashimi is a brilliant idea if you wish for an effortless salmon dish.
Although salmon gives a light fishy taste, others might find it overpowering. It helps if you pair a crisp side dish with it. Excellent examples include cucumber and lemon, sour cream and dill, mashed potatoes, Brussels sprouts salad, green beans, and coconut rice.
Dishes with Steelhead trout
Steelhead trout works great grilled, pan-seared, roasted, and baked like salmon. Additionally, since it offers a milder flavor than salmon, it works better poached than salmon. Steelhead trout also absorbs herbs better than salmon, so a little goes a long way, and it does not interfere with the dish's overall taste.
A more flavorful side dish goes well with the steelhead trout recipe as it has a light flavor. Roasted vegetables, garlic mushroom sauce, caesar salad, asparagus and tomatoes, potato salad, chicken broccoli, and potato bacon are excellent examples.
Can you use steelhead trout as a substitute for salmon?
Yes. Since both types of meat appear the same and almost taste the same, they can be used interchangeably. When used as a substitute for salmon in sushi and sashimi, some prefer steelhead trout as it's easier to cut due to the low-fat content and has a milder taste than salmon.
As for recipes that use other types of salmon, you can use steelhead trout the same way you would use salmon. With the right spices, you won't even notice the difference.
Steelhead Trout vs. Rainbow Trout: Are They The Same Fish?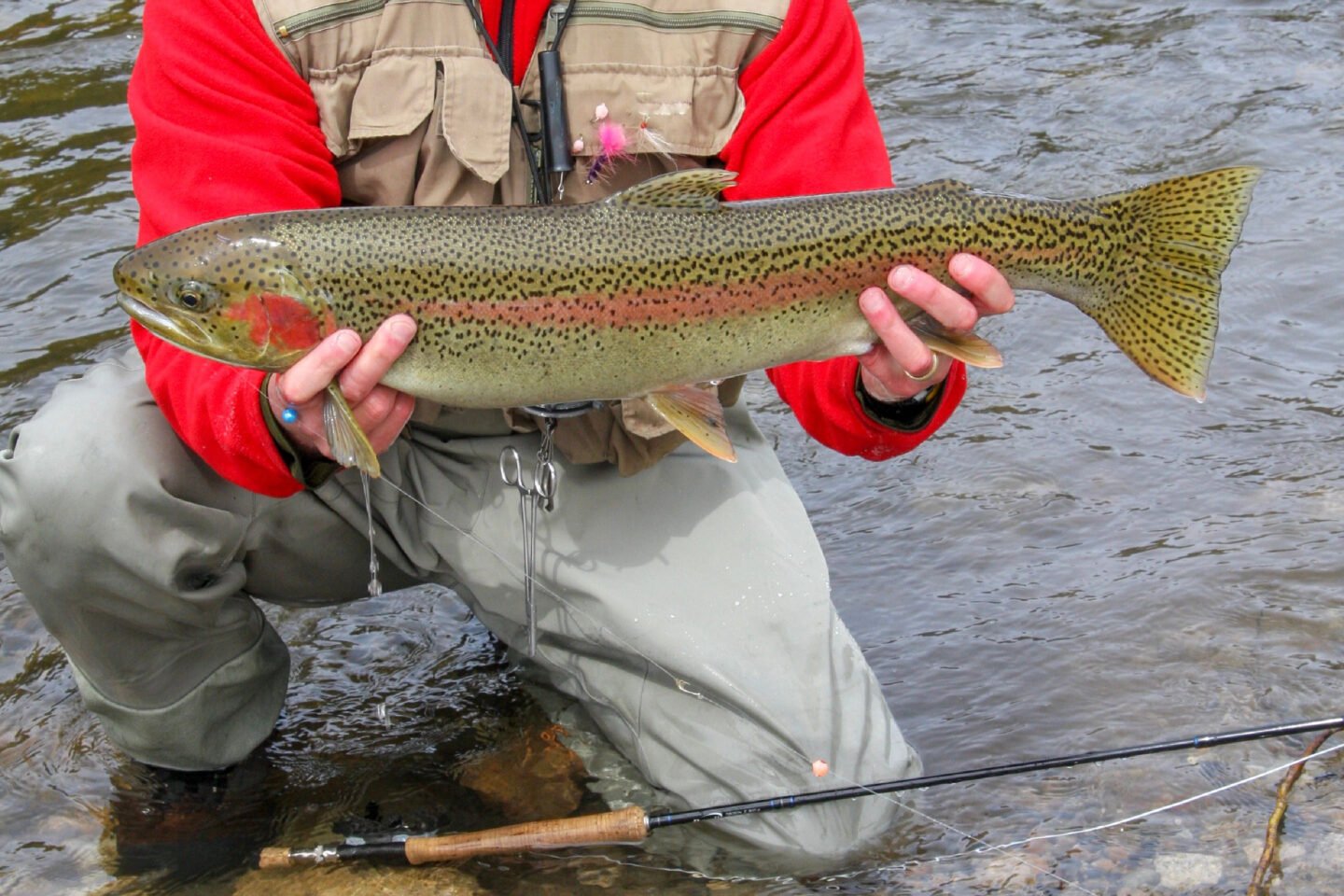 Trout fishing has become common, with rainbow trout and steelhead trout becoming popular among anglers in North America. These ray-finned salmonids are among the most popular sports fish on the continent. Although rainbow trout and steelhead trout are essentially the same fish, they have many differences.
Steelheads are anadromous, which means they spend time in the sea before migrating to rivers to reproduce, whereas rainbow trout spend their whole lives in freshwater. Rainbow trout and steelhead have distinct appearances due to their diverse lives, notably size and color. Rainbow trout get their name from their stunning, multicolored coloring.
Habitat
Steelhead and rainbow trout are native to North America's west Rockies, although they have been introduced to every other state and continent except Antarctica. Rainbow trout and steelhead both spend part of their lives in fresh water streams or lakes.
However, steelhead migrates to the open sea to grow, while rainbow trout remains in freshwater. As a result, steelhead trouts are more commonly seen in California, Washington, and Oregon. On the other hand, rainbow trout are native to the North Pacific Ocean, drainages in Asia, Russia, America, and Mexico.
Size and weight
The size of the adult rainbow and steelhead trout varies. They may grow to be 45 inches long, although they usually are considerably shorter. They may weigh up to 50 pounds, although the average weight is around 8 pounds.
Steelhead, who spend up to 3 years as freshwater fish before moving to the ocean, are often larger than rainbow trout, which spend their entire lives in fresh or occasionally brackish water.
Taste and Nutrition
Both steelhead and rainbow trout have a moderate flavor, but the steelhead has a stronger fishy flavor. Steelhead lacks the somewhat nutty taste of rainbow trout, and rainbow trout have firmer meat than steelhead.
Rainbow trout has a moderate, non-fishy flavor. The flavor is generally characterized as somewhat nutty. Rainbow trout has a delicate, soft, and flaky texture when cooked.
Steelhead trout has a moderate flavor with a hint of fishiness. It doesn't have the same fishy taste as salmon and contains lesser fat, resulting in firmer, somewhat flaky meat. Farmed steelhead is gentler, less fishy, and tastes like rainbow trout.
Steelhead trout shares the same nutrients as salmon. On the other hand, rainbow trout contains lesser fat and omega-3.
However, it contains lower calories and higher potassium and calcium levels than steelhead trout and salmon. It also has lower fat content but offers the same protein as steelhead and salmon.
Related Questions
What's the difference between steelhead trout and salmon?
Aside from the fact that they belong to different species, steelhead trout is smaller than salmon, lighter, and appears different. When it comes to the meat, both appear orangey-pink, but steelhead trout has more bones than salmon.
Is steelhead trout better than salmon?
Steelhead trout is a better option if you don't mind the omega-3 fatty acid contents and are on a budget. When it comes to nutrients, both contain the same vitamins, but salmon has higher levels of omega-3 fatty acids, which makes it healthier. However, steelhead is cheaper, less oily, and tastes almost exactly like salmon.
Are steelhead trout and salmon related?
Both steelhead trout and salmon belong to the salmonids family, making them closely related to each other.
Does steelhead trout have a lot of bones?
Steelhead trout have an estimated 262 bones, and it's easy to remove many of them. You can also purchase a deboned steelhead trout fillet. Salmon, unlike trout, has fewer bones and can be bought descaled and boneless. So if you're going to perform deboning yourself, salmon is a better choice.
Is salmon better than steelhead trout?
Salmon contains more omega-3 compounds, making it a healthier choice. However, steelhead trout works better for those who enjoy a less fishy taste. Both have the same nutrients, such as protein.
What's the difference between rainbow trout and steelhead trout?
Although rainbow trout and steelhead belong to the same species, their habitats are very different. Steelheads are anadromous, which means they spend time in the sea before migrating to rivers to reproduce, whereas rainbow trout spend their whole lives as freshwater fish.
What are other names of steelhead trout?
Steelhead trout is also known as salmon trout, steelhead salmon, steelhead fish, or steelhead. Although not necessarily a salmon, steelhead trout belongs to the family salmonids, where it got its other names.
Is steelhead trout the same as other trouts?
There are more than 60 species of trout spread around the world. While they are all called trout, they all differ in appearance and taste, depending on their environment. Freshwater trout tend to be smaller than those in seas and oceans.