The delicious and popular fish variety, salmon, is a common food item used in various dishes. This Canadian species lives in freshwater and saltwater and is an excellent source of omega acids and protein. You'll also find a great variety of salmon fish, such as Sockeye, chinook salmon, Alaskan salmon, and Atlantic salmon.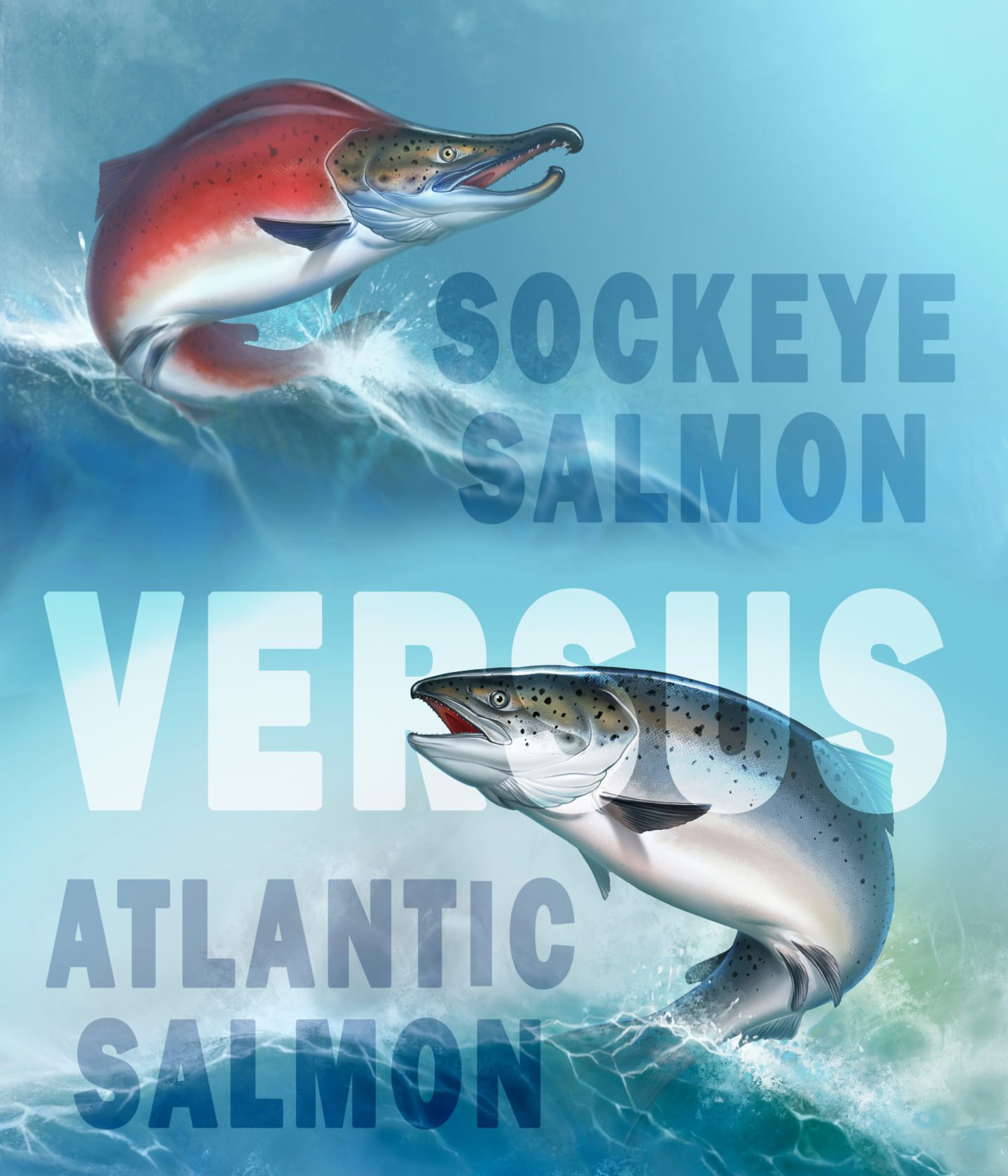 The main difference between Atlantic salmon and Sockeye salmon lies in their taste and availability. Sockeye salmon has a richer, fishier, and less oily taste, whereas Atlantic salmon has a mild yet oily taste. Atlantic salmon is also more common and readily available when compared to Sockeye salmon.
This article shall tell you the details about these differences in detail and help you choose the better one!
Table of Contents
What is Sockeye Salmon?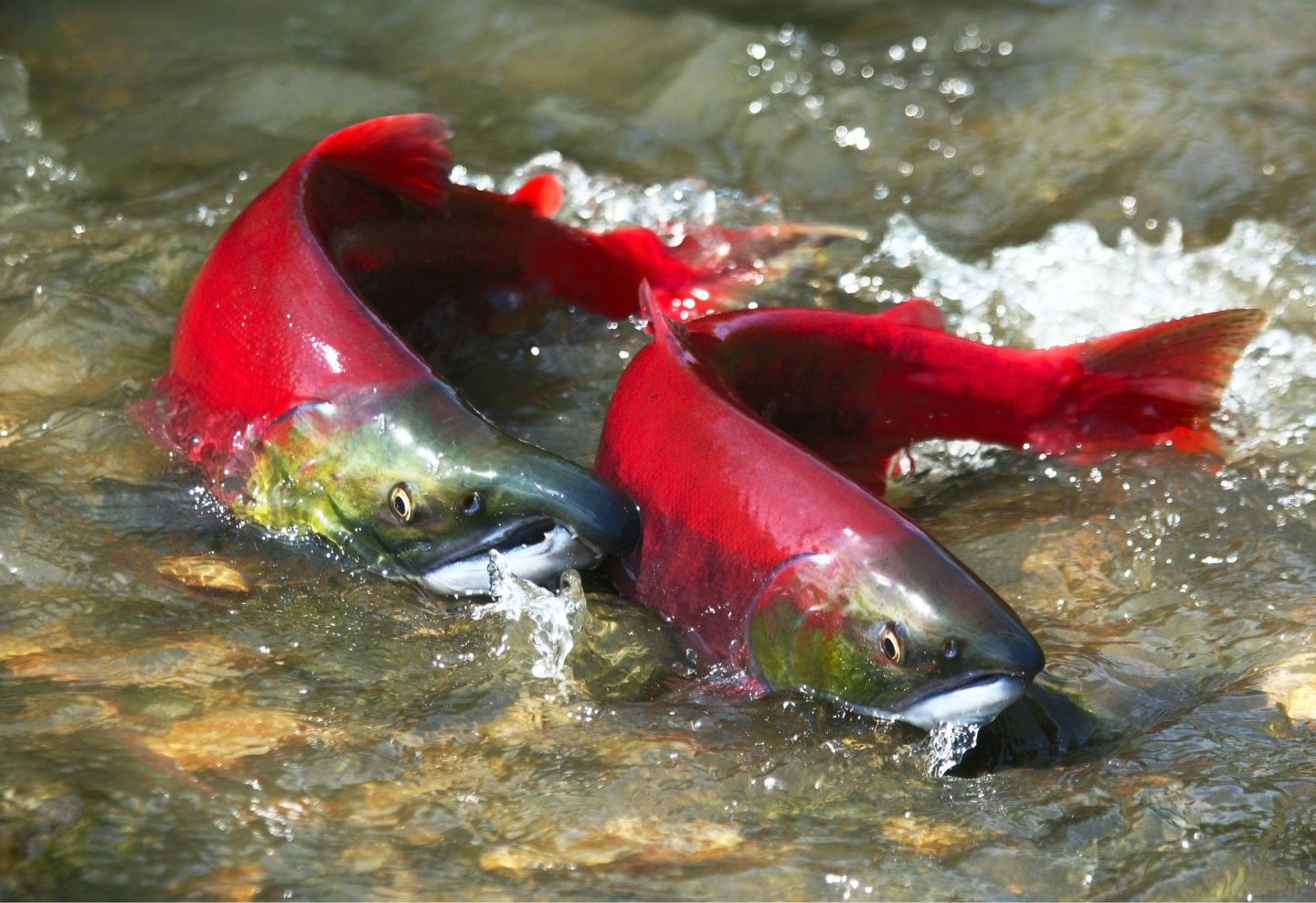 Sockeye Salmon is one of the smaller species of salmon, and their bright red skin identifies them. They are usually found in the Northern Pacific Ocean and are freshwater fish that feed on zooplankton. The fish is widely consumed in the United States, Canada, and Russia.
This anadromous salmon is an essential part of the diet and culture of Coast Salish people in British Columbia. Most Sockeye salmon is canned, but they can be cooked, roasted, or smoked to eat as a dish. They have also been used in spawning, subsistence uses, and commercial and sports harvests.
An interesting fact about the Sockeye salmon is that they are semelparous - meaning that after spawning once, they die.
Best Sockeye Salmon Substitute
Some of the best substitutes for Sockeye salmon and their rich salmon flavor are arctic char, mackerel, and trout. These can bring out the same flavors you want in your food. Other alternatives that you can use in Sockeye salmon recipes include milkfish, yellowtail, bluefish, and tilapia.
What is Atlantic Salmon?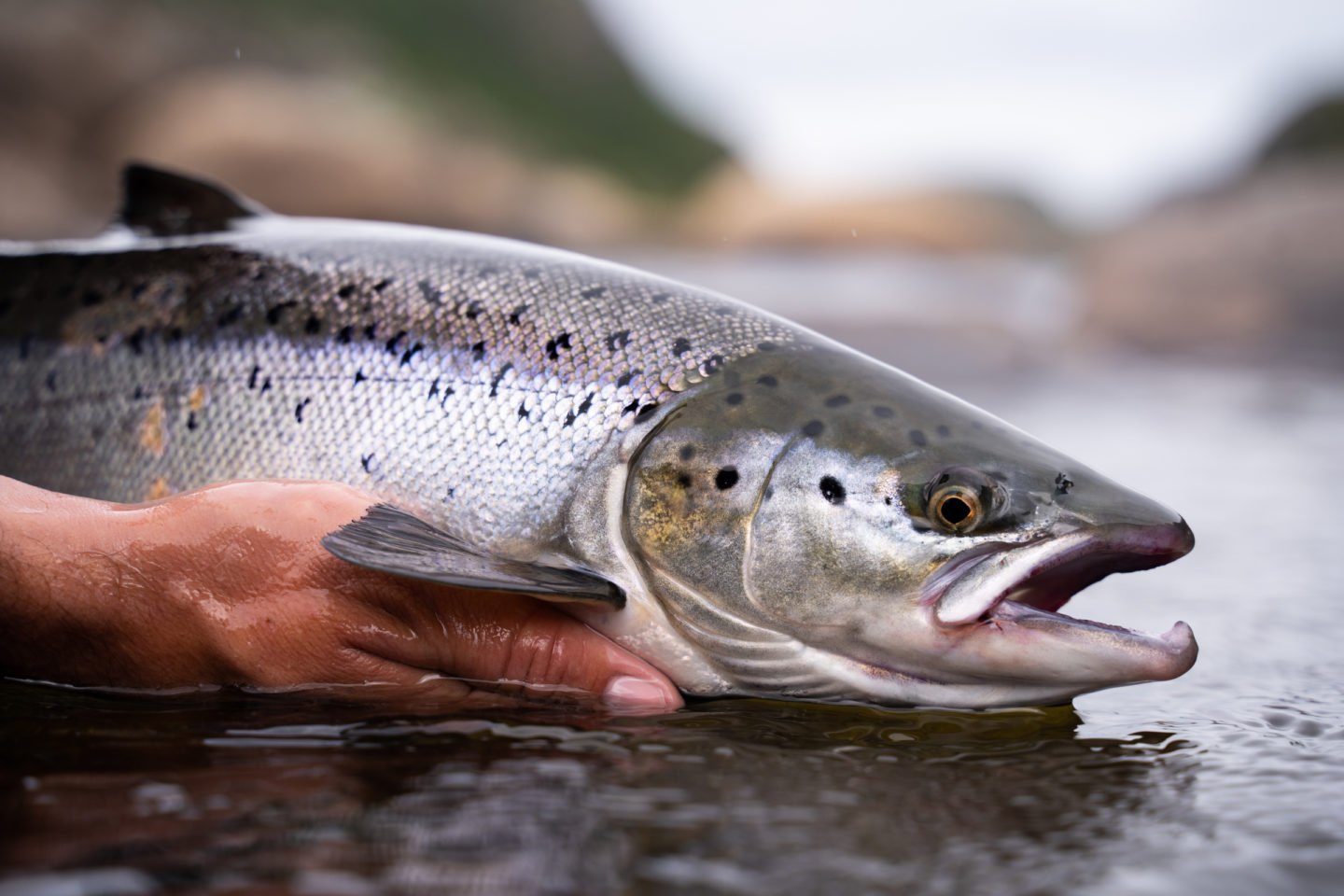 Atlantic salmon, or the 'King of Fish', is an anadromous fish species and is the third-largest in the family of Salmonidae. They are considered very healthy for consumption, and the taste is usually more refined than the others. Their areas of habitat are mostly North America, Iceland, and Europe.
Although edible and considered very healthy, the Atlantic salmon is a protected species as it is endangered in some areas. Like other fishes, they are commonly available in fresh, frozen, or canned forms. Other names for Atlantic salmon are bay salmon, fiddler, black salmon, silver salmon, Sebago salmon, caplin-scull salmon, and winnish.
The fish mainly feed on capelin - a silver, elongated fish and other small fishes like caddisflies, mayflies, and blackflies.
Best Atlantic Salmon Substitutes
If you do not have wild Atlantic Salmon around, there are a few fishes you can substitute the mild, tasty flavor with. Common substitutes include Australian mackerel, pink snapper, sardines, or flathead.
Other slightly more expensive replacements are farmed prawns, blue mussels, or wild-caught blue swimmer crabs.
Sockeye vs. Atlantic Salmon: Quick Comparison Table
The table gives a quick idea about the differences between Sockeye and Atlantic salmon.
| | | |
| --- | --- | --- |
| | Sockeye | Atlantic |
| Flavor | Very fishy, intense, and hard flavor. | Oily fish with mild and gentle taste without much fishiness |
| Texture | Small, thin, and compact with medium-sized flakes and great texture | Large in size with large, oily flakes |
| Habitat | Found in the North Pacific Ocean, Europe, and Russia | Found in the Atlantic Ocean |
| Price | On the pricier side due to the rarity | Cheap, readily available in the market |
Differences Between Sockeye and Atlantic Salmon
1. Taste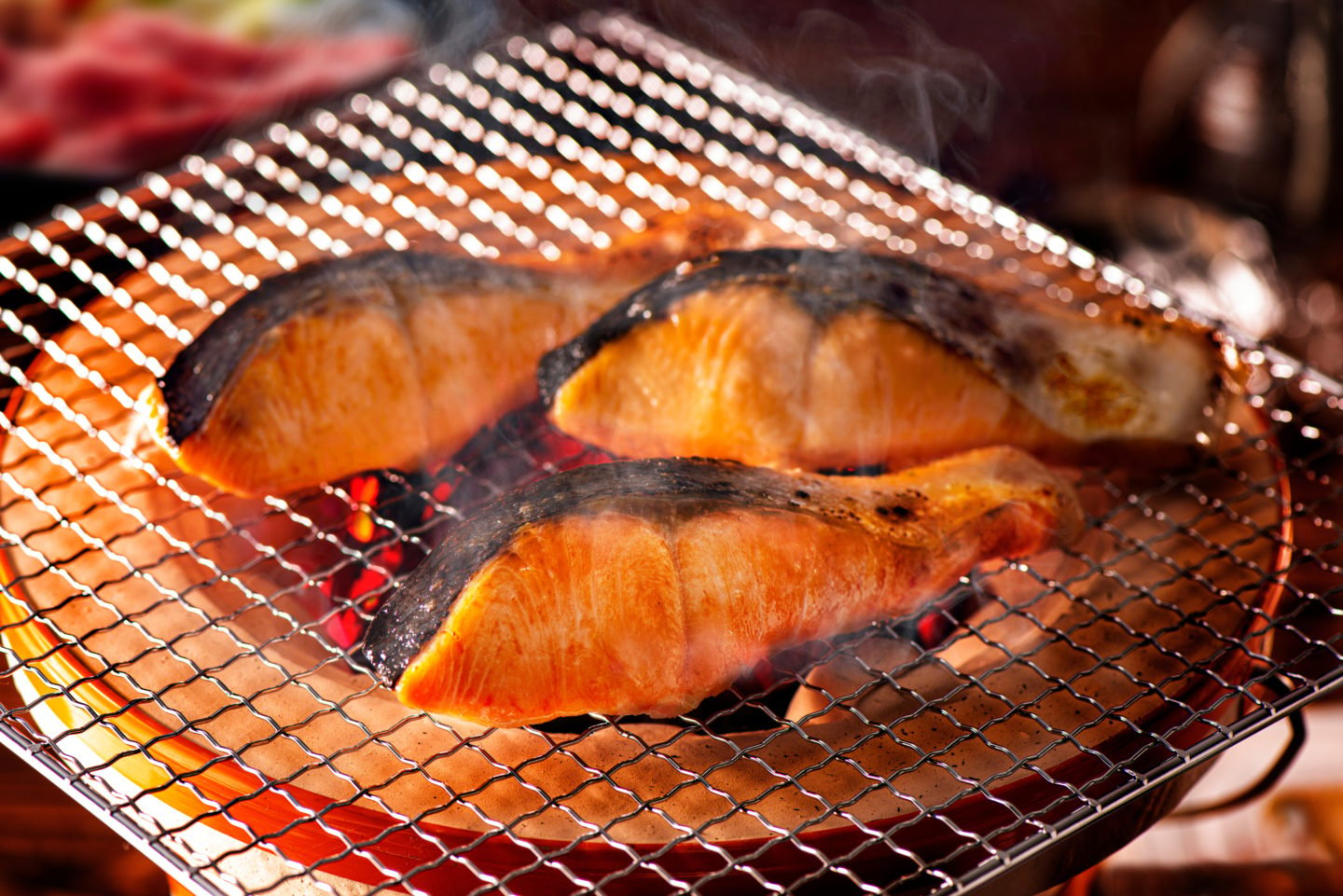 This mainly depends on personal preference. Still, many people believe that wilder salmon like Sockeye are more delicious. This species of salmon tastes has a more robust and complex flavor. It is the exact, classic flavor that you may recognize as salmon.
Sockeye salmon is full of omega-3 fatty acids and is excellent for a healthy heart. It is considered a rare, luxury salmon as it balances out its flaky texture and oil levels well. Since it has an intense flavor, it is also said to have the strongest 'salmon' flavor.
The fish is best served grilled due to its very 'fishy' taste. Moreover, it is also good to prepare it using simple spices and sauces to enjoy its flavor fully.
On the other hand, Atlantic salmon tends to have a fattier taste as it eats a lot while breeding. The fish feels more oily in texture and are mostly bland. That is a bonus since the mild flavor works well with seasonings and herbs. There is no intense flavor in fish, and the flesh is soft and tender to chew.
The flakes of the Atlantic salmon are large, and a common way to serve this fish is to bake or fry it for the skin to turn crispy. The gentle flavor can accommodate up to two intense flavors like dill or red pepper.
2. Appearance
Sockeye Salmon and Atlantic Salmon have varied appearances. The former is a smaller fish and begins as a blue, black, and white-colored fish in freshwater. Once it goes back to saltwater, the head turns green, while females turn a bright red during mating season.
On the other hand, Atlantic Salmon is much larger and has various colors. The wild ones are orange-pink and are very bright. Farmed Atlantic salmon is lighter, though still on the orange-pink side.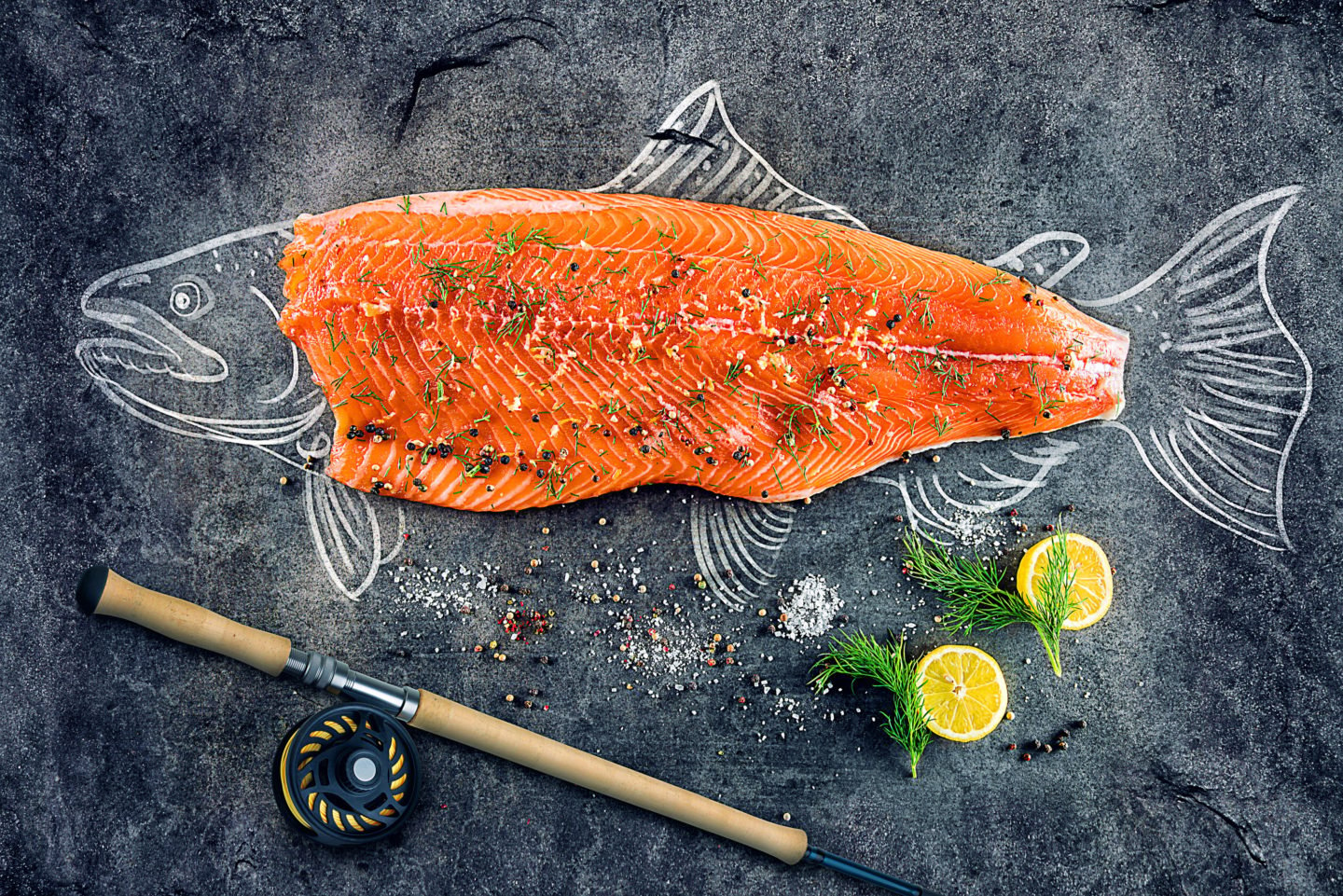 3. Nutrition
Both Sockeye and Atlantic Salmon have many nutritional benefits to the consumer.
Note that Atlantic Salmon is higher in fat content - around 0.37 oz. in each 3-ounce serving, whereas the Sockeye has 0.2 oz.
Nutrition Information of Sockeye and Atlantic Salmon:
| | | |
| --- | --- | --- |
| Nutrient | Sockeye Salmon | Atlantic Salmon |
| Calories | 169 | 175 |
| Fat | 0.2 oz | 0.37 oz |
| Protein | 0.88 oz | 0.69 oz |
| Carbohydrates | 0 oz | 0 oz |
| Sugar | 0 oz | 0 oz |
| Omega-3 | 0.09 oz | 0.06 oz |
As shown in the table, lesser fat content means higher protein in the fish. So, the Sockeye salmon has more of it, while Atlantic salmon is denser with calories. Moreover, the Sockeye salmon also has more omega-3 fatty acids when compared to Atlantic salmon.
Apart from these essential nutrients, both types of salmon are rich in potassium, phosphorus, copper, and calcium. Note that both Sockeye and Atlantic salmon don't contain high levels of mercury either. Therefore, they are safe to consume.
4. Price
The Sockeye Salmon is priced at around $20-$30 per pound. Alternatively, Atlantic Salmon is sold anywhere from $10-$15 per pound. Sockeye Salmon is a wild variety of fish, whereas Atlantic Salmon is the most common species found in most fish markets.
You must also note that Sockeye salmon has the most potent fishy flavor of salmon, which is considered the 'classic' taste. So, it is naturally more expensive than the species you find in abundance.
5. Habitat
One of the main differences between Atlantic salmon and Sockeye salmon is their spawning site.
You can find Sockeye salmon in the Pacific Ocean, whereas Atlantic salmon, like their name, can be found in the Atlantic Ocean before they move over to spawn inland.
Which One to Use - Sockeye Salmon or Atlantic Salmon?
The differences between Sockeye Salmon and Atlantic Salmon are quite pronounced.
Atlantic salmon, found easily and milder in flavor, can be consumed as a more frequent addition to your diet. It is also inexpensive when compared to Sockeye.
Meanwhile, you can use Sockeye for specific salmon dishes wherein the motive of the meal is to experience and relish salmon!
For those who just want to follow a healthier option out of the two, Sockeye salmon is the way to go due to the less fat and high protein content.
Final Thoughts
As you may already know, salmon is a great fish choice for a healthy heart, brain function, and immunity. It even has its many anti-inflammatory benefits, which can help support healthy aging.
However, choosing the right salmon according to your taste preferences is necessary. So, I hope that this article enables you to choose the right fish for your next delicious salmon dish!