If you're a fan of boba tea drinks, you must give this Thai milk tea with boba recipe a try. It's incredibly delicious, easy to make, and you can enjoy it either hot or cold.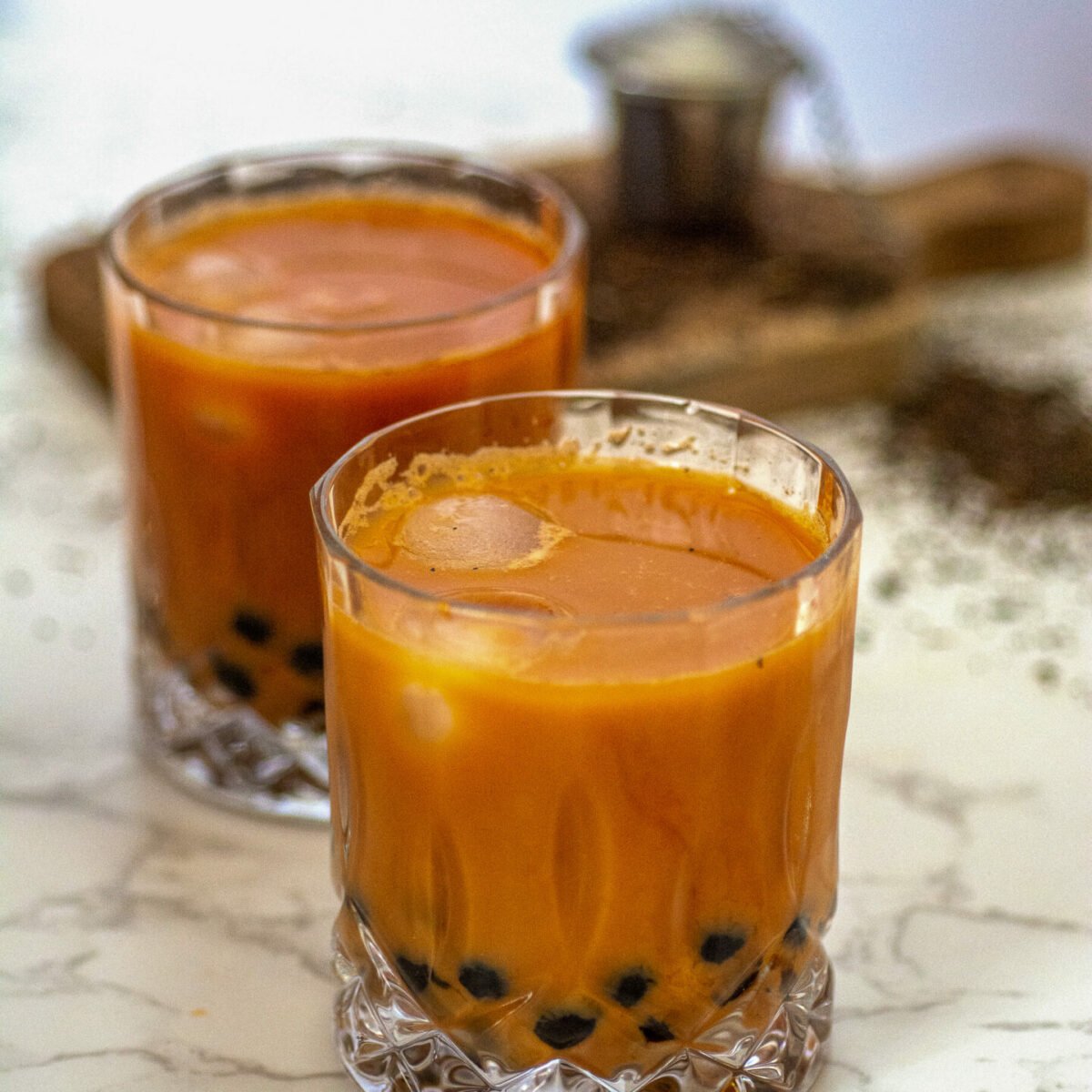 Moreover, it's made out of only five simple ingredients. And depending on your preferences, you can mix and match some of the ingredients or add a few additional ones, like star anise or turmeric, to boost the drink's flavor.
I'm sure you won't be able to get enough of this drink. So it's a good idea to brew some extra Thai tea and store it in your fridge to have the base ready for your boba milk tea a few days ahead.
Table of Contents
What Is Boba Thai Tea Made Of?
Just like any other bubble tea, this one is also made of tapioca pearls, milk, sugar, and tea. But for this recipe, you can't use just any type of tea; the main ingredient in this recipe is Thai tea.
Of course, the ingredients can be changed to different ones depending on what you like. For example, you can use whole milk, almond milk, oat milk, or even swap it for cream.
Is Thai Tea Boba Healthy?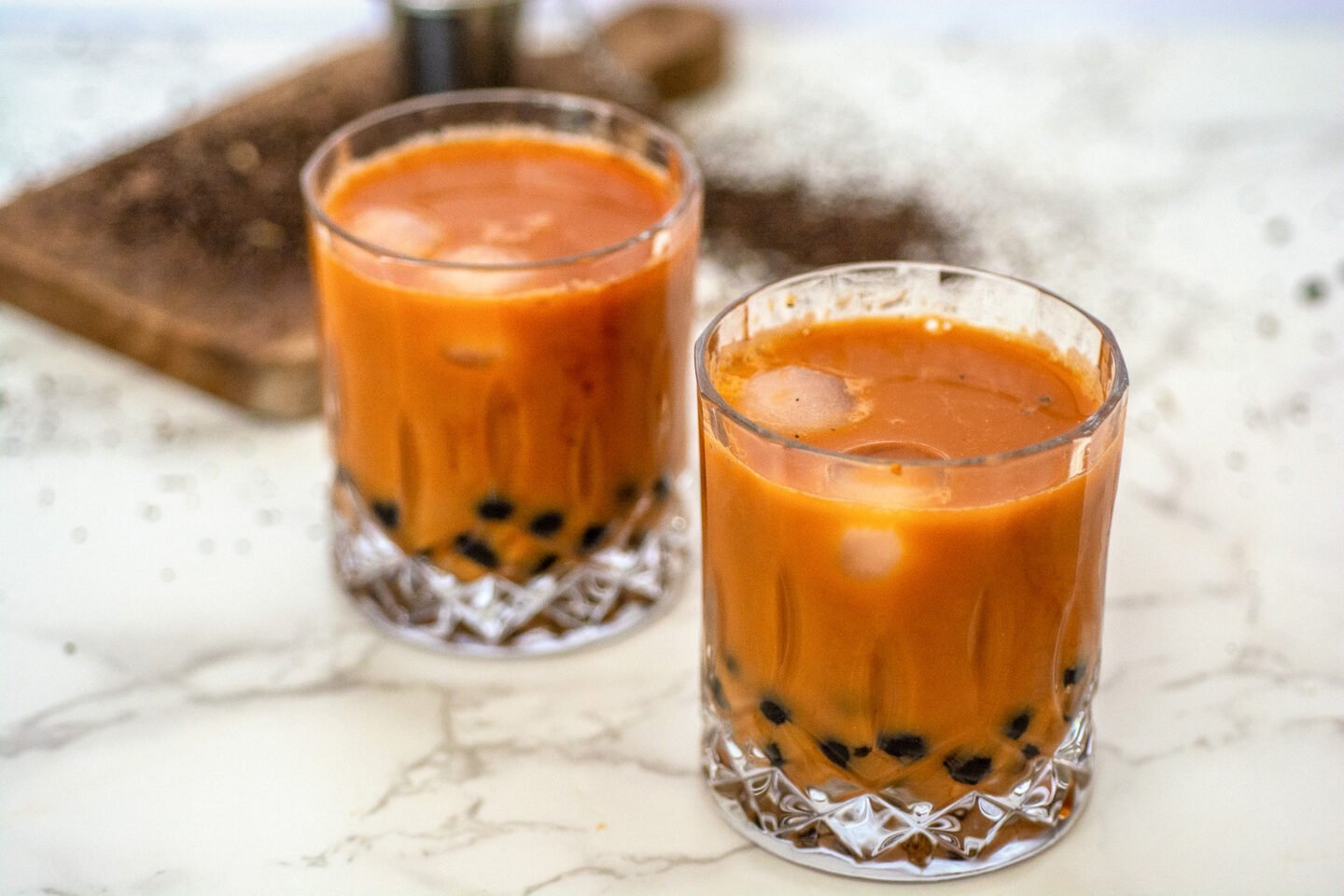 The main ingredient of this boba tea recipe is Thai tea, and it's very good for your health since it's packed with antioxidants. Moreover, it is known to help deal with inflammation and maintain blood pressure levels.
But if you want to make this Thai bubble tea even healthier, you must omit the sugar in the recipe. Just use your favorite type of sweetener instead.
How to Make Thai Boba Milk Tea
So, first things first, you should gather all of the ingredients needed for this recipe. And the good thing is that there are only five of those ingredients. They can be bought at any grocery store or online.
Once you've prepared everything, here is what you should do to make the Thai boba tea:
Step 1. Brew the black tea. It's a pretty straightforward process, just like with any other kind of tea. You can either get this tea kind in a tea bag or use the loose-leaf type. If you go with the latter option, use a teapot or a special loose tea holder.
Step 2. Cook tapioca pearls. I usually always use store-bought tapioca pearls for my milk teas since it's much easier and quicker than making them by yourself from scratch. And to cook them, all that you need to do is place them in a pot, cover with some water, and cook until ready, which is about 3 to 5 minutes.
Step 3. Add the flavor. Once the tapioca pearls are fully cooked, you should drain them and then add the brown sugar and cook everything over low heat for about a minute for the sugar to dissolve.
Step 4. Mix it up. Now the last step would be to prepare two glasses and equally divide the tapioca balls. Then add ice if desired. If not, simply pour in the brewed tea and milk or heavy cream.
Thai Milk Tea Additional Ingredients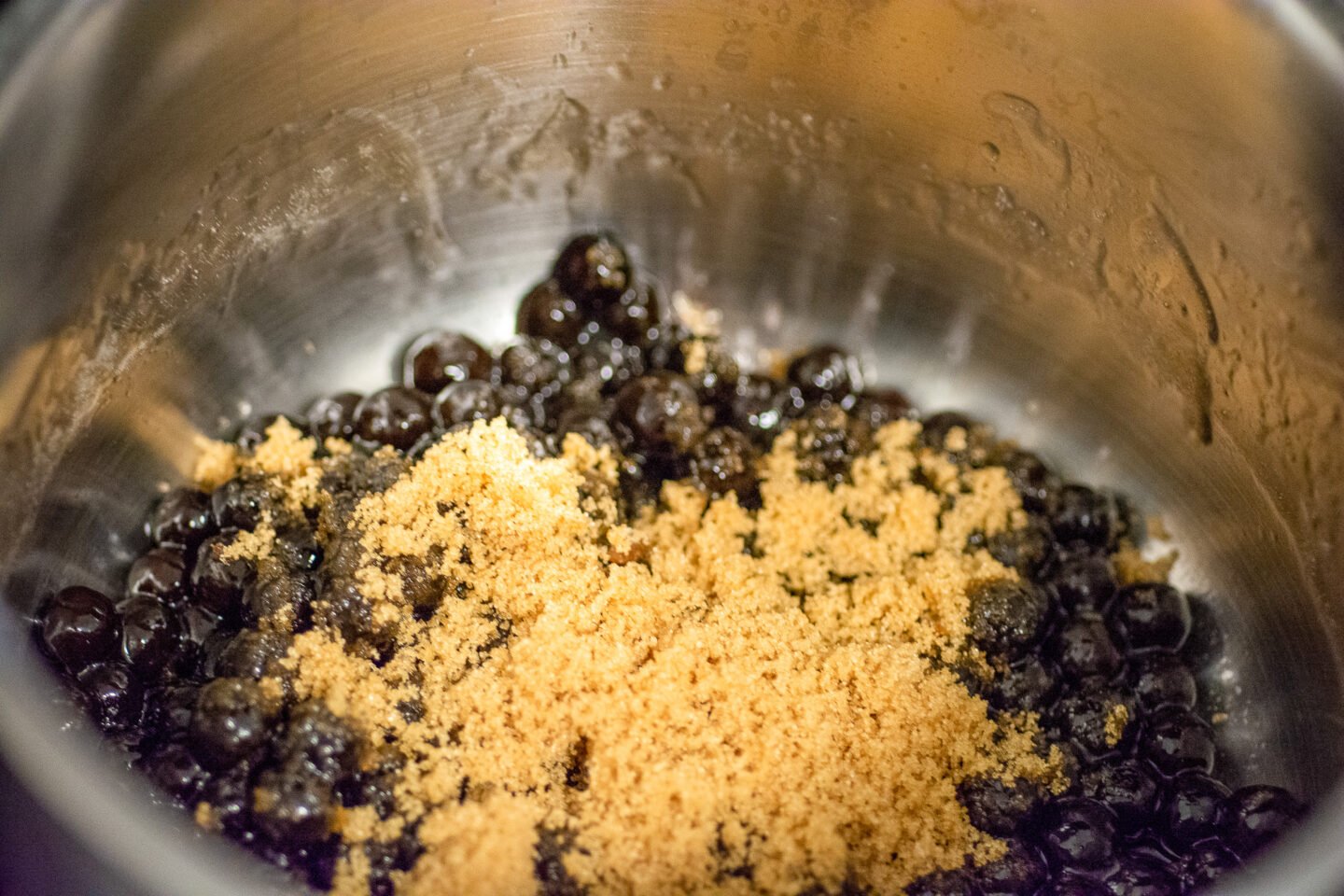 There are a few other ingredients that you can add or swap with the original ones to boost the flavor of your Thai milk tea. Here's what they are:
Plant-based milk: for this recipe, I used the usual whole cow's milk, but you can swap it with any other type you like. My favorite one, aside from this, is adding coconut milk. Or you can also use almond milk, oat milk, soy milk, hazelnut milk, or cashew milk instead.
Sweetener type: personally, I feel like brown sugar tastes perfectly with this type of tea. But if you're looking for some other option, try adding honey, agave syrup, stevia, or even the usual white sugar.
Vanilla: a few drops of vanilla will make your beverage taste even better.
Condensed milk: instead of the sweetener, add some sweetened condensed milk to the boba pearls once they are fully cooked.
Storing Instructions
You should serve this Thai iced tea with boba as soon as it's ready. Or, if you had to make it in advance, it's okay to store it in the fridge for up to 24 hours.
If you want to make this beverage 2 to 3 days in advance, you can prepare everything and store the ingredients separately in the refrigerator. Then, whenever you want to serve the drink, mix everything up straight from the fridge or reheat it in the microwave if you wish to serve it hot.
Also, if you're making the Thai milk tea with boba in advance, make sure that you add some of the brewed tea to the cooked tapioca pearls so that they don't stick together.
Recipe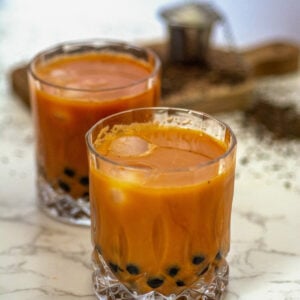 Thai Milk Tea with Boba
If you're a fan of boba tea drinks, you must give this Thai milk tea with boba recipe a try. It's incredibly delicious, easy to make, and you can enjoy it either hot or cold.
Instructions
Brew the Thai tea leaves with hot boiling water. Let it cool down completely and set it aside.

Place the tapioca pearls in a small pot and cover them with water. Cook over medium heat for about 2-3 minutes. Drain the cooked boba pearls and rinse them with cold water. Put it back into the pot, add brown sugar, and cook over low heat until the sugar dissolves.

Divide the tapioca pearls between two cups or glasses. Add ice (optional).

Pour in the brewed tea and milk.
Nutrition
Calories:
214
kcal
Carbohydrates:
28
g
Protein:
8
g
Fat:
8
g
Saturated Fat:
5
g
Polyunsaturated Fat:
0.3
g
Monounsaturated Fat:
2
g
Cholesterol:
29
mg
Sodium:
107
mg
Potassium:
381
mg
Fiber:
0.1
g
Sugar:
18
g
Vitamin A:
395
IU
Calcium:
315
mg
Iron:
0.3
mg