If beef cuts find a place in your holiday recipes or party get-togethers, then you are probably wondering about some of the common cuts of beef and their differences. For example, people often confuse tenderloin and filet mignon because of their appearance. However, there is much more to them than meets the naked eye!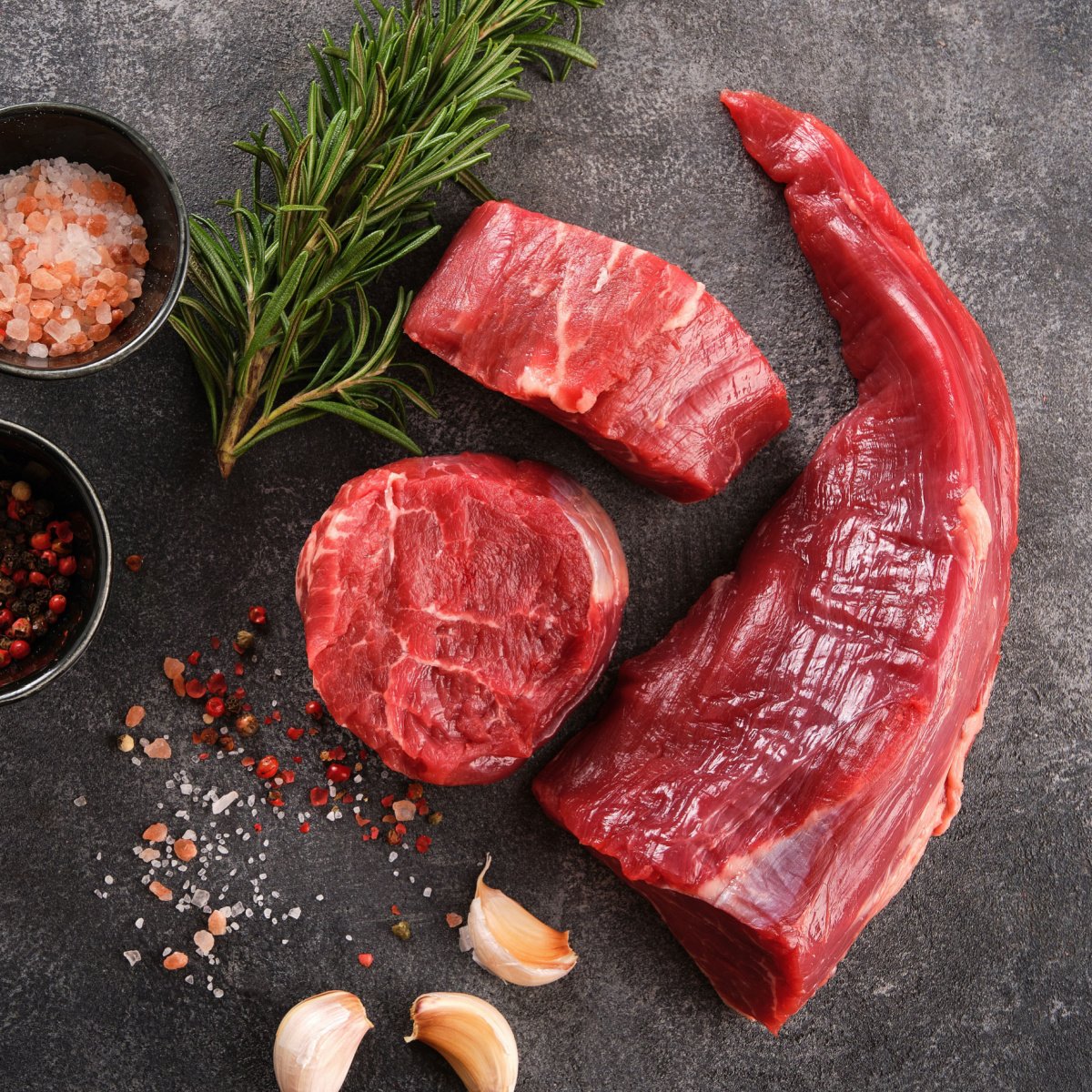 The primary difference between filet mignon and tenderloin is that while both come from the tenderloin region, filet mignon comes from the tip of the entire strip of tenderloin meat.
Learn more about these two cuts of meat in detail in the sections below.
Table of Contents
What is Tenderloin?
As the name suggests, this cut comes from the tenderloin region of the cow. The tenderloin muscle is near the cow's backbone. It runs between sirloin and top loin. Moreover, you can visualize that a cow's backbone hardly has any movement. This signifies that the cut meat is lean and hardly has any fat.
This cut, however, is available in both trimmed and untrimmed versions. The trimmed version does not have fat, and this is additional work for butchers. They will also remove the silver line along with the fat. This causes the trimmed tenderloin to become more expensive than its untrimmed counterpart!
On the other hand, untrimmed types may have some fat, which is later removed by the chefs before cooking. Also, tenderloins that have already been trimmed are preferred by home cooks because they don't need to be prepared by removing fat and taking other steps.
Many butchers sell tenderloins whole or in medallions or tournedos. People generally cook them separately, and they contain less fat.
The entire tenderloin will weigh around four to six pounds. Its tenderness is due to the less-exercised muscles. As a result, it is popular among fans of beef meat!
What is Filet Mignon?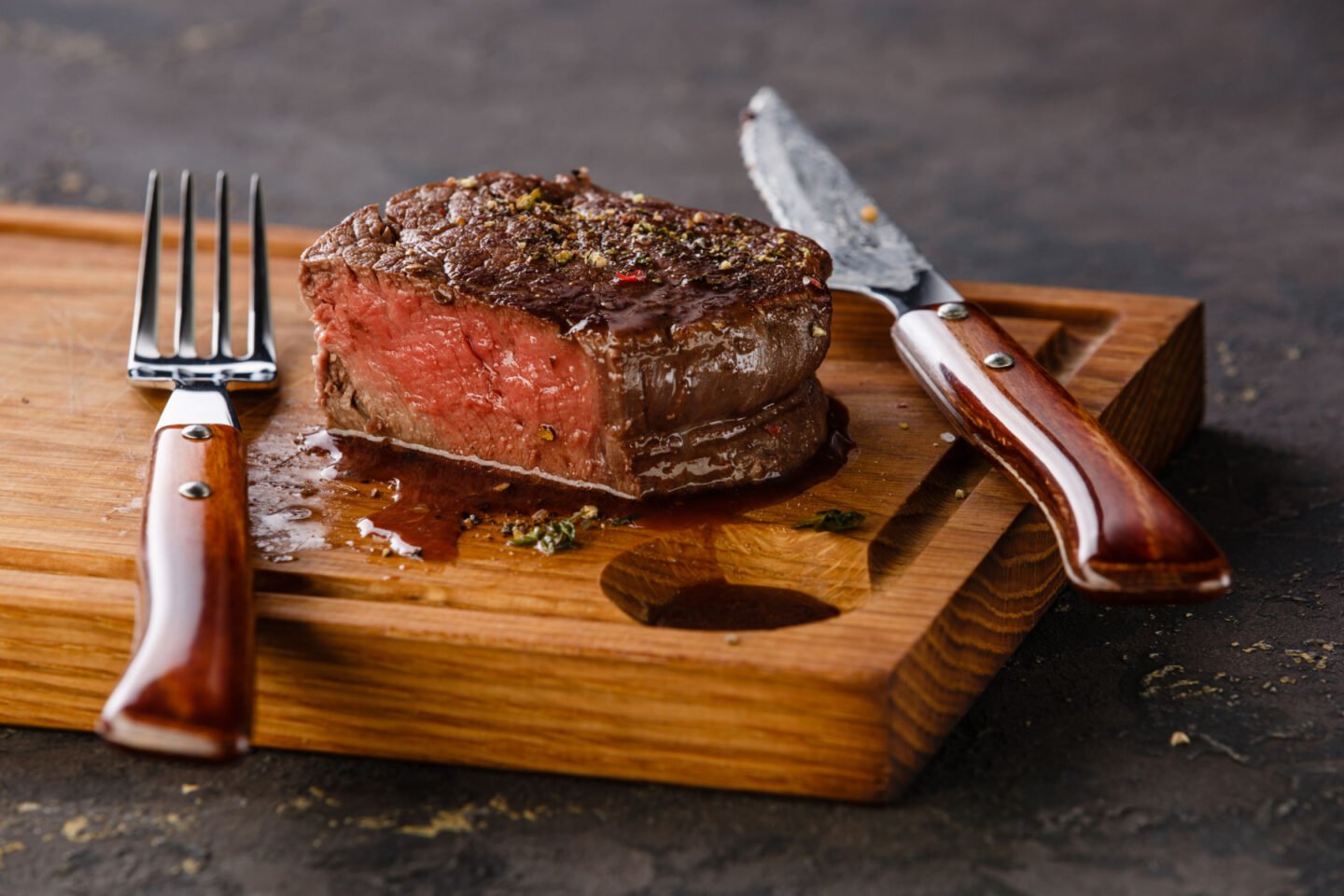 When the beef meat is cut from a tenderloin that is taken from the short loin region of a cow's body, it is called filet mignon. The literal meanings of the words "filet" are "thick boneless," and "mignon" means "small."
This leads to the often-debated confusion of tenderloin and filet mignon being the same. Filet mignon, on the other hand, is a cut from the conical end of a tenderloin meat piece. You will find only a little fat or marbling on the meat piece and it is often a less intense flavor than other cuts.
But the absence of fat makes it extremely succulent. If you cook a filet mignon to perfection, it will melt in your mouth. Since it lacks a strong flavor, you can infuse taste through marinades and sauces.
It is a crowd favorite and one of the most expensive cuts of beef due to its softness! It is also a better option as it has less fat.
Quick Comparison Table: Tenderloin vs. Filet Mignon
| | | |
| --- | --- | --- |
| Category | Tenderloin | Filet Mignon |
| Cut | Whole tenderloin meat | Conical end from tenderloin meat |
| Softness | High | Higher |
| Size | Large - 4 to 6 pounds | Small - 8 ounces |
| Cooking Method | Whole or cut into small pieces | Small pieces |
| Cooking Time | High when cooked whole | Extremely Fast as no fat present |
| Thickness | Lean and narrow | Short and thick |
| Cost | High | Higher |
Differences Between Tenderloin and Filet Mignon
If we look closer and break down a few facts, we can easily separate tenderloin from filet mignon. Let's look at some highlights of the major differences between them below.
1. Meat Cut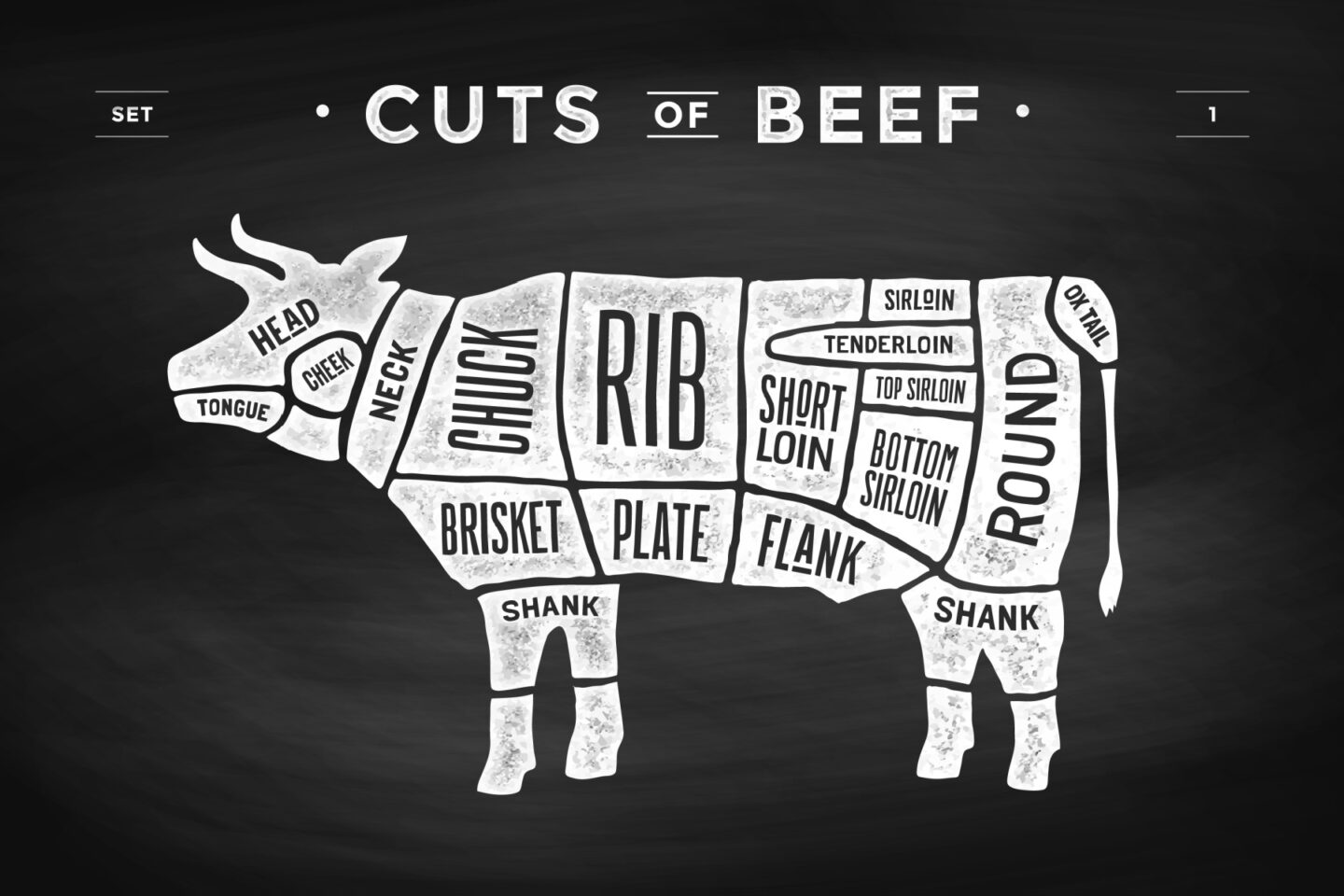 The tenderloin is the meat portion taken from between the sirloin and the top loin of a cow. This region is usually near the backbone of the animal. It is a narrow and lean muscle. This entire piece of meat is divided into three sections: the tail, the center cut, and the butt. Consisting of all three, butchers sell them as a whole piece of meat.
When you take the meat from the tail end of a tenderloin, you get filet mignon. It comes from the conical end of a beef's short loin and is thicker.
Butchers usually see tenderloin meat as a whole and filet mignon as pieces. As they are cut into pieces, they have a thicker width than tenderloin filets.
2. Size
Since the tenderloin is one big piece, the whole meat, when bought, weighs around 4 to 6 pounds. However, they will weigh less when you buy them as medallions.
Filet mignons are shorter and usually come in small pieces only. Each piece usually weighs around 8 ounces.
3. Tenderness
Both of these meat cuts are quite soft, as they come from a region that is not used much by the cow. However, the presence of fat will outrank the velvety texture between the two. On that note, tenderloin has some fat in the untrimmed variety.
Filet mignons do not have any fat on them. So, they are more tender than tenderloin.
4. Cooking Methods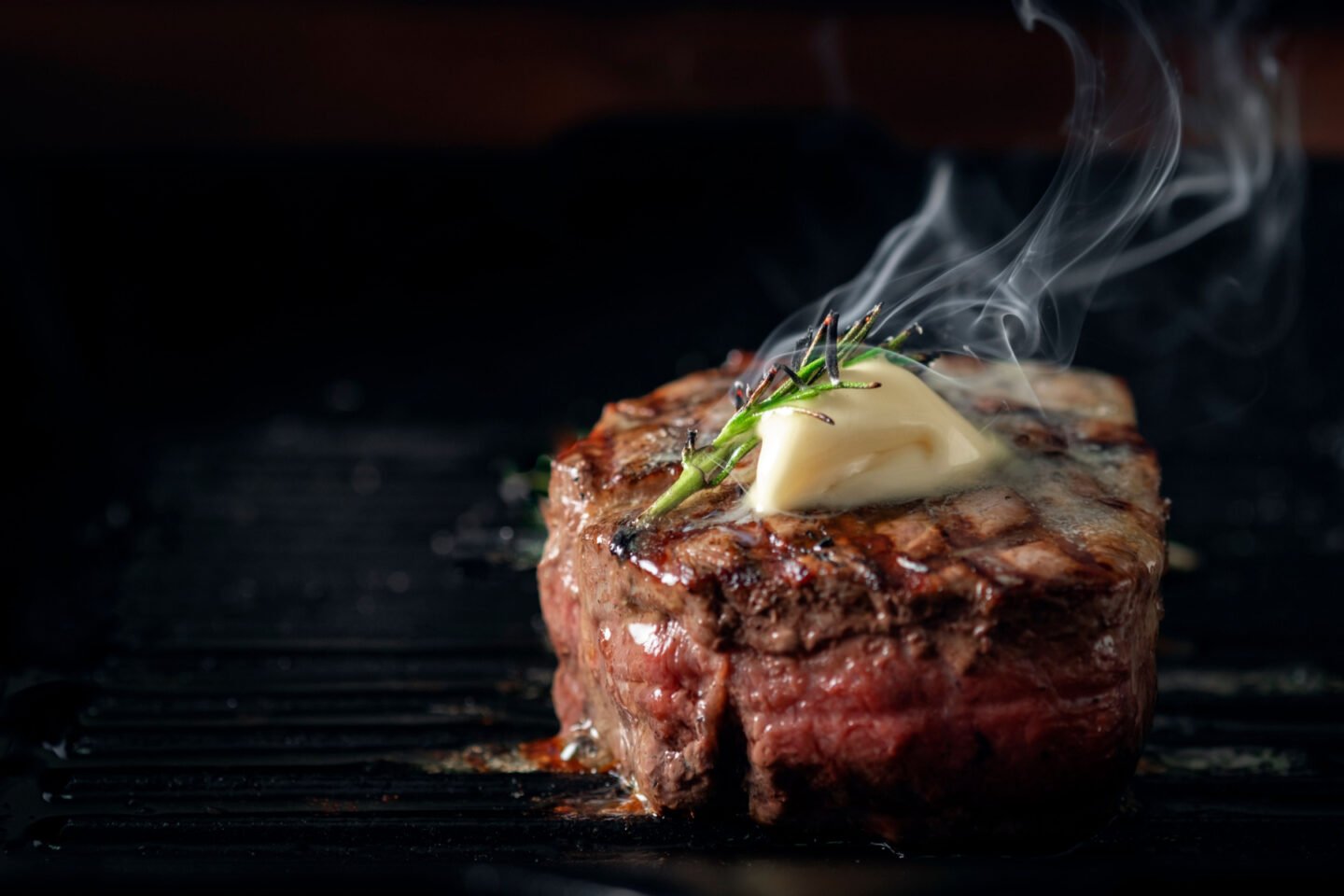 Cooking methods will be heavily influenced by how the tenderloins are cut. As it is typically sold whole, the cooking time and preparation method are different from a filet mignon. You can cook your favorite tenderloin in an oven at around 425 degrees for around an hour. In this case, the doneness is medium-rare.
When done in medallions, you may need less time to cook the tenderloins.
However, filet mignons are the easiest and fastest to cook. They literally take only minutes and can disintegrate in your mouth when cooked perfectly. The most preferred cooking methods here are pan-frying and grilling.
5. Cost
Both meat cuts are highly expensive. However, filet mignon overtakes it in terms of price. Despite the fact that they are rarely the most popular meat cuts, they continue to command exorbitant prices on my many restaurant menus.
The price range for tenderloin is anywhere from $7 to $50 per pound. This depends on the preparation and the trimmings needed from butchers.
Filet mignons are priced differently in different places because it is one of the most expensive beef cuts. In your local butcher shop, you can find a pound being sold for $28 to $45. However, at restaurants and steakhouses, you will get them for $65 to $120.
This shows the price difference between these two lavish cuts of beef.
6. Nutrition
Filet mignons are the better choice when it comes to choosing a healthy protein. Moreover, they are also low in calories!
| | | |
| --- | --- | --- |
| Nutrients (3-ounce meat cut) | Tenderloin | Filet Mignon |
| Calories | 275 | 225 |
| Potassium | 280 mg | 279 mg |
| Protein | 20 g | 22 g |
7. Butchery Style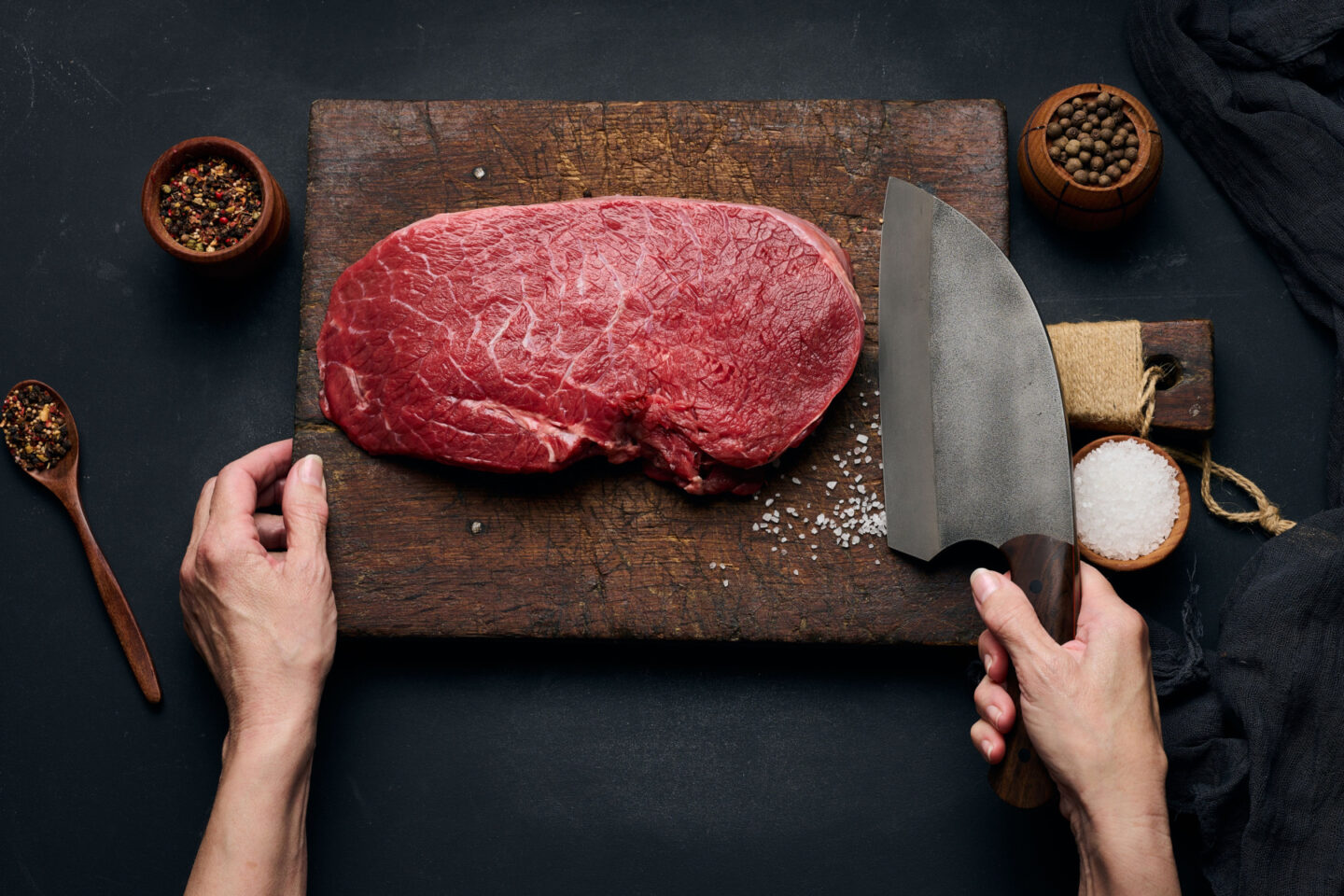 Different parts of the world have varying cutting styles when it comes to beef. For example, in France, they cut the tenderloin, including the filet mignon, into three parts. American style has the filet mignon cut separately from the tenderloin muscle and sold as a stand-alone cut of beef.