Beef jerky is thought to be the best food for survival because it has nutrients that keep people healthy. Even though beef jerky is made from animal meat, it is cured and dried to stop bacteria from growing and making it go bad. Since beef jerky stays stable for a long time, you may wonder how long it lasts and if it ever goes bad.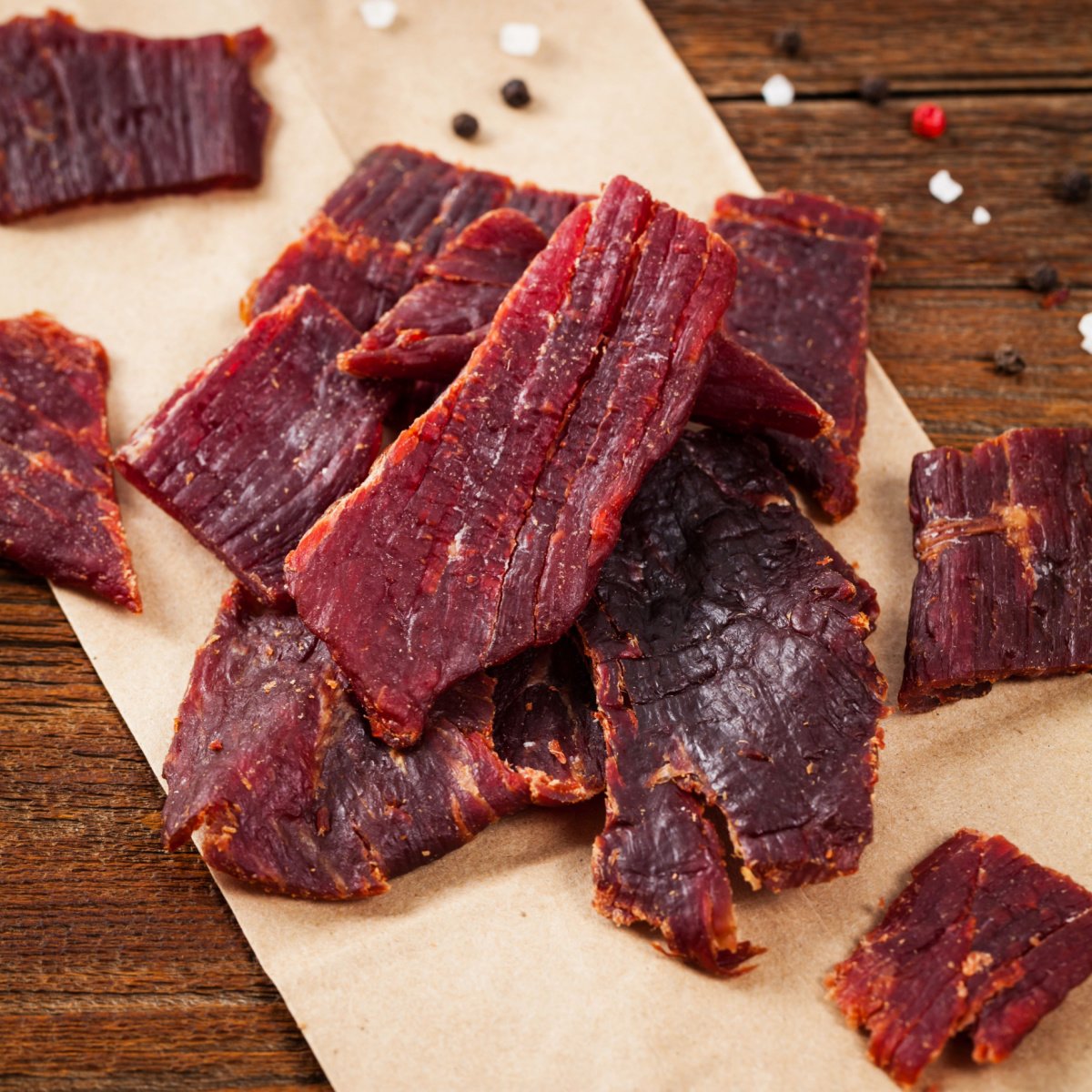 The quick answer is that beef jerky does not spoil like other raw foods but loses its quality over time. Unopened beef jerky stays good past its "best-before" date, but opened beef jerky stays good for about a week in the pantry and about two to three weeks in the fridge.
The good news is that it's very easy to tell if the beef jerky is still safe to eat or if it has already gone bad. Read on to learn everything about this topic.
Table of Contents
What is Beef Jerky?
Beef jerky is cured and dehydrated beef trimming, beef strip, or lean cut. Salt is used in the curing process to stop bacteria from growing on the meat, which makes it last longer. The process of dehydration also helps keep its quality by getting rid of the moisture that helps bacteria grow.
Beef jerky is considered an ultimate survival food as it contains enough nutrients to sustain human health and is incredibly delicious compared to most survival food options. Nowadays, companies also infuse raw meat trimmings with flavors that enhance their palatability. However, to prolong beef jerky's shelf life, it must be kept in a cool, dry place.
Does Beef Jerky Go Bad?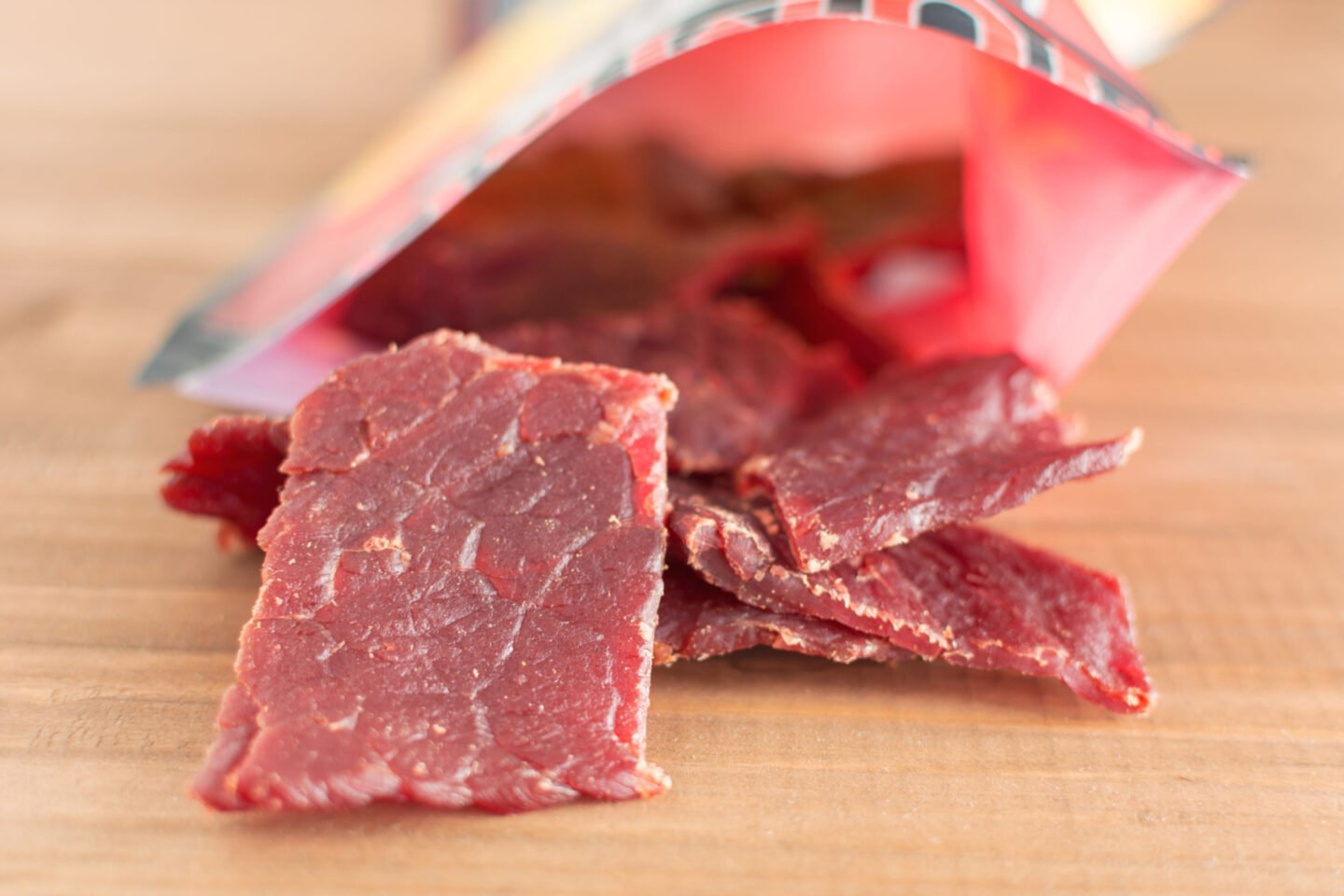 Yes, beef jerky goes bad after some time. While beef jerky does not go rancid like eggs and other raw products, it does lose quality over time and becomes stale when exposed to moisture. When making homemade jerky, it's important to finish the drying process. Moisture helps bacteria grow, which makes the jerky taste bad and may even make you sick.
How Long Does Beef Jerky Last?
Commercial Beef Jerky
Unopened jerky lasts up to one year in your pantry, while opened commercial beef jerky maintains its freshness and quality for up to a week in the pantry and one month in the fridge. But to make sure you get to eat it at its best, you should eat commercial jerky within six months of when you bought it.
When you store beef jerky that's been removed from its packaging, you must keep it in a container that doesn't let air in so that moisture doesn't ruin it. You can also keep the leftover jerky vacuum sealed to prevent contaminants.
Homemade Beef Jerky
Homemade beef jerky should last 1-2 months when stored in an airtight container in the fridge, but only for a week in the pantry. When making homemade beef jerky, you must ensure that you end up with perfectly dried meat to avoid spoilage. It's also important to make sure all of the meat strips are soaked in salt to stop bacteria from growing.
Commercial beef jerky lasts longer than homemade beef jerky because it is made with preservatives that keep the meat from going bad. When making homemade beef jerky, I suggest you only use a batch of lean meat that you think you can consume within 1-2 months to avoid wasting any meat.
Why Does Beef Jerky Have a Long Shelf Life?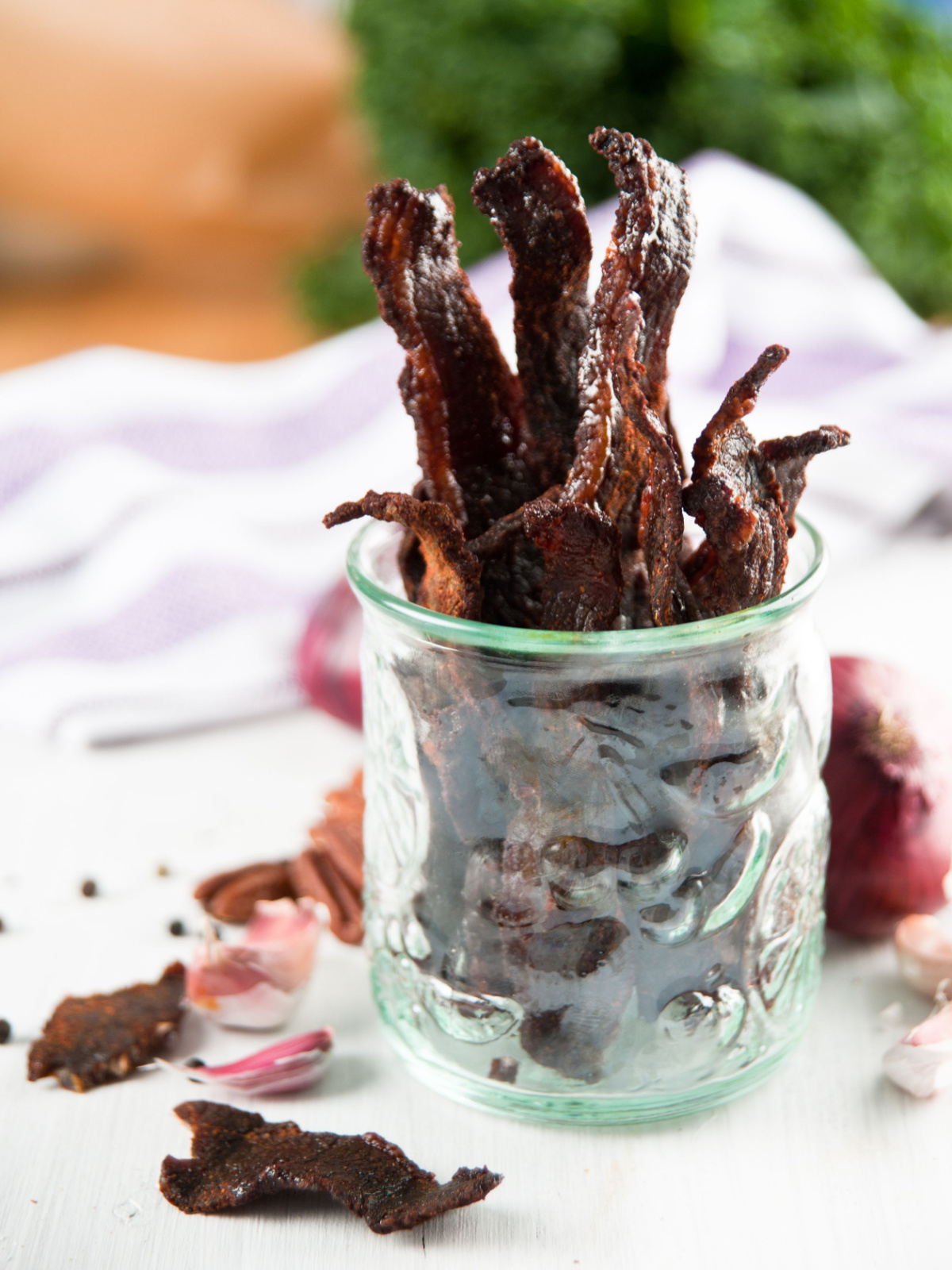 The key to beef jerky's long shelf life is the dehydration process. The moisture in the meat attracts bacteria and causes enzymatic changes in the red meat that cause it to degrade and spoil, and the drying process prevents this from happening.
Most of the time, salt is used to keep jerky fresh, but acids in marinades, like vinegar and citrus juice, can also help kill bacteria. Although you can make jerky without salt, it will have a much shorter shelf life.
How to Tell If Beef Jerky Has Gone Bad
Check The Best-By Date
The first thing you should do when in doubt if the beef jerky has gone bad is to check the best-by date. As long as you store beef jerky in a cool, dry place until its "best-before" date, it will stay good until then.
Inspect Damages In The Packaging
After checking the best-by date, you have to inspect the packaging. You're looking for tears and damage that may cause moisture to get into the jerky. Although this does not mean you can't consume the jerky, you can assume that there is a decrease in the meat quality.
Watch Out For Mold
Once opened, you have to watch out for mold formation in your processed meat. Mold grows when there is moisture, typically once you leave the packaging open for a long time. Mold in the jerky means throwing the batch out to prevent food poisoning.
Notice Rancid Smell
A rancid smell on your jerky means there has been meat degradation. Once you notice the odor, you will usually smell spoiled raw meat, indicating that the jerky has gone bad and you need to throw the bag out.
How to Extend Beef Jerky Shelf Life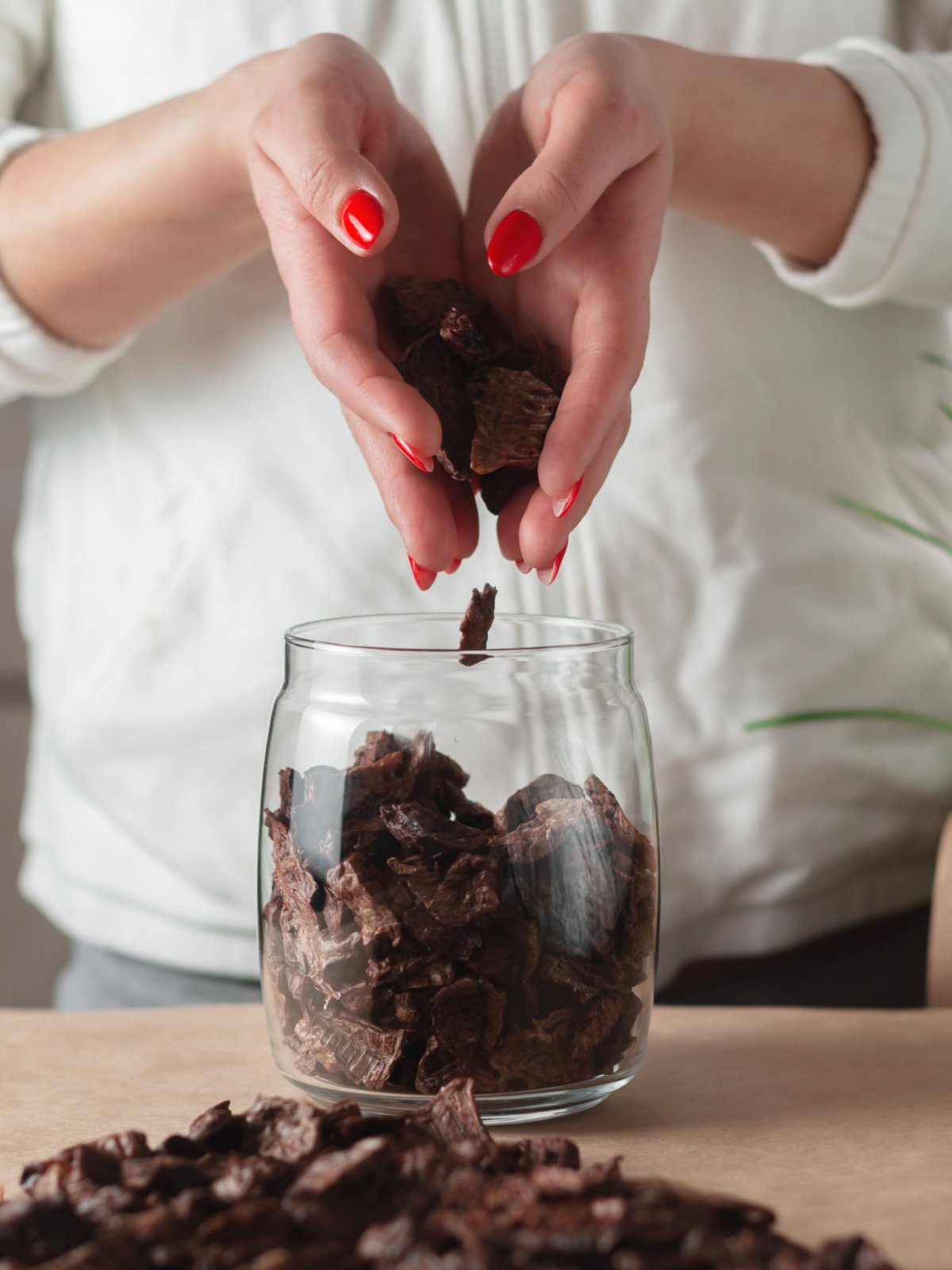 The best way to extend beef jerky's shelf life is by placing them in vacuum-sealed plastic and freezing them. You can also put jerky packages that haven't been opened in the freezer to keep their quality.
Frequently Asked Questions
Can you eat expired beef jerky?
Yes, you can consume expired beef jerky or jerky past its best-by date. However, inspect the packaging and the jerky for mold or odor. Also, even without changes in smell and appearance, expired jerky will not taste the same as a fresh batch.
What happens if you eat spoiled beef jerky?
Spoiled jerky typically has bacteria and mold that may cause food poisoning. E. coli is the most common bacteria found in processed meat products, and this bacteria may cause bloody diarrhea. To be safe, you must throw away the bad beef jerky once you notice mold and a foul odor.
Is beef jerky healthy?
Beef jerky is a healthy survival food. It has things the body needs to stay alive, like protein, zinc, choline, iron, and B vitamins. Beef jerky is also an excellent snack for losing weight, as it has very low calories. However, beef jerky has a high sodium content of 2,081 milligrams per 100 grams, so watch out for it.
Is commercial beef jerky better than homemade jerky?
While you have complete control over how much salt you put in homemade beef jerky, most of them are not as tender as store-bought beef jerky. Commercial jerky often contains a mixture of lean meat, ground meat, and other red meat to ensure the jerky is chewy and not too tough.