The sous vide technique has taken the culinary world by storm, thanks to its popularity on cooking shows. Many will argue that once you sous vide, it'll become your preferred cooking method. Eggs, meat, vegetables, even cocktails and desserts—food tastes better cooked gently at a consistent heat.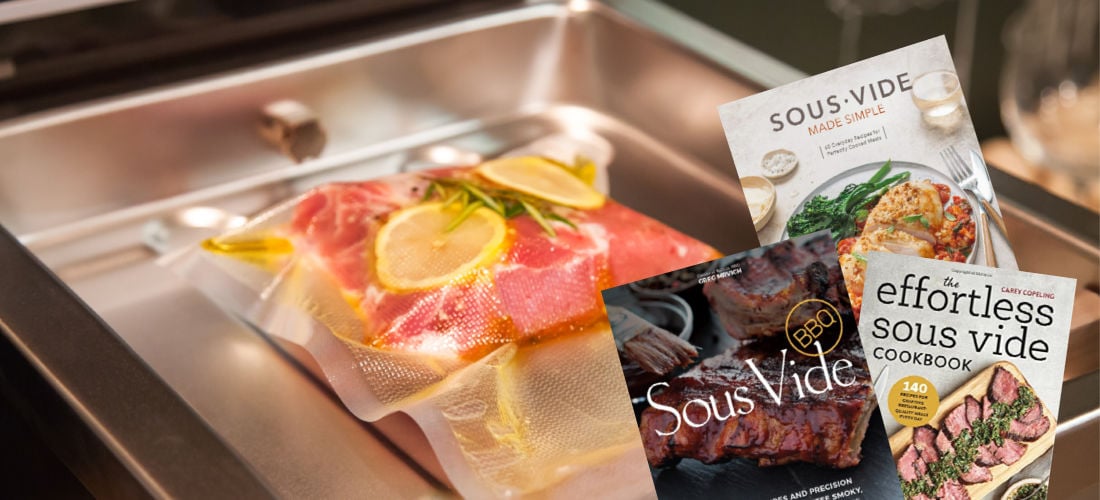 Once you decide to sous vide your next meal, you're going to need a little guidance. There's equipment to consider, and it's essential to get the temperature and cooking times right if you want tender food.
All of the sous vide cookbooks below will get you started quickly. They're packed with excellent recipes that don't require impossible-to-find ingredients. So keep on reading and choose a book that's best for you.
Table of Contents
12 recommended sous vide cookbooks
1. The Food Lab
The Food Lab, written by Lopez-Alt, is a New York Times Bestseller that will not disappoint. Recipe books are useful, but this tome goes much further with 958 pages of explanations, tips, methods, and essential equipment requirements. You'll have the sous vide method mastered by the end of it.
Recipes are broken into helpful categories like breakfast, soups and stews, meat, vegetables, roasts, pasta, salads, and more. Pictures are conveniently placed everywhere to answer pretty much any question you might have.
At the front and back of this book, you'll discover some beneficial conversion tables that most home cooks will use over and over for reference.
This book is written in a relaxed tone with splashes of humor to make it easy and enjoyable to read.
2. Amazing Food Made Easy: Healthy Sous Vide
This book is brought to you by Jason Logsdon and focuses on over 70 healthy meals packed with flavor. It is a good option for those interested in what they're putting into their bodies, as each recipe includes a full nutritional panel.
Highlights of this recipe book include breakfast options packed with energy, grain bowls, soups, infusions, side dishes, and fish.
In addition to recipes, you'll receive easy-to-understand instructions on sous vide techniques as well as the required equipment.
3. Make It Sous Vide
Meredith Laurence delivers 145 pages of diverse sous vide recipes that aren't your run-of-the-mill style dishes. There are also helpful tips to help you achieve perfect results every time.
The days of undercooking or overcooking protein are over. Cook chicken, beef, fish, and seafood until tender and mouth-watering. The Coho salmon and T-bone steak are definitely worth your time.
Do you have a sweet tooth? There are some tasty dessert recipes to help you make cheesecakes, cream pots, and even yogurt!
4. Sous Vide Cookbook 2018
Philip Johnson brings you 150 exciting recipes that are easy to make and look sumptuous on the plate. The food photography looks vibrant and contemporary while being achievable for the beginner home cook.
This book is designed so that you can create a meal plan by combining more than one dish into one meal.
There are all the usual recipes you'd expect for beef, seafood, poultry, and vegetables. But why not get a little adventurous and make sous vide cocktails or mulled wine? Delicious!
5. The Effortless Sous Vide Cookbook
If you're hoping to create restaurant-quality food, without the complicated techniques, then this is a cookbook you'll appreciate. Offering 140 appetizing dishes using readily available ingredients and no-fuss recipes makes meal preparation simple.
This book is well suited for making midweek meals when you don't have a lot of time. In addition to the recipes, there are also some practical charts to help you work out cooking times and temperatures.
The duck confit and chicken satay recipes are divine: both offer meat that's full of flavor and perfectly tender.
6. Sous Vide Dessert Cookbook
If you like your desserts, then it is well worth getting a copy of this publication. Create 50 different classic sweet treats that can all be made using the sous vide cooking technique.
Included in this 108-page book are recipes for tarts, brownies, cakes, pies, mousse, and more. For those of you who enjoy a soufflé but find that it often doesn't rise: problem solved. I have used this recipe several times, and it hasn't let me down yet!
You'll find the recipes detailed and easy to follow. My personal favorite, by far, is the brownie. It is rich, decadent, and one of the best desserts you can make when paired with vanilla bean ice cream!
Additional reading:
You might also like to read my in-depth guide to molecular gastronomy, which gives you an excellent introduction to some popular modern cooking techniques.
7. Sous Vide Made Simple
Sous Vide Made Simple is an excellent recipe book that includes vegetables, meat, seafood, and eggs. You'll also find a section explaining how sous vide works, along with essential equipment.
Also included in this book are recipes dedicated to sauces and condiments, one-bag meals, time and temperature guides, and conversion charts.
My favorite recipe in this cookbook is the beef ragu, which is super tender and so tasty. I also liked the part about adapting any recipe to sous vide.
This is useful content!
8. My Joule Sous Vide Cookbook
Jessica Michel brings you 101 tempting recipes, all made using sous vide techniques and all delicious.
This recipe book differs from most as it focuses on a tool brought out by Chef Steps, the Joule Immersion Circulator. This kitchen gadget is an extremely powerful and intelligent sous vide device that's suitable for novices through expert chefs.
This book shows clear pictures of how to use the joule. It also includes a smartphone app that you use in conjunction with the tool.
9. Sous Vide Cookbook
This is a 4-hour audiobook that is filled with 120 simple recipes. They are practical and allow you to make good food for a healthy diet.
This audiobook will provide you with an understanding of how sous vide works, safety tips, required equipment, types of sous vide ovens, and recipes that include nutritional breakdowns.
The recipes use commonly available ingredients. All round, this is an excellent option if you prefer listening to instruction rather than reading.
10. Sous Vide BBQ
For all you barbeque lovers, do yourself a favor and order a copy of this book today. It is full of helpful tutorials, tips, and photos on how to cook barbecue using sous vide techniques.
In a nutshell, this book will teach you how to cook tender meat that is full of flavor. Options are included to finish your meat in a smoker or on the grill. This additional step will provide a more authentic BBQ look and taste.
Tuna, turkey, brisket, and chicken breast are just some of the lovely meats you'll learn to cook.
11. Modernist Cooking Made Easy: Sous Vide
This is the second cookbook on this list, written by Jason Logsdon. He knows his stuff when it comes to sous vide and has produced a selection of books related to the subject. This book is his best, in my opinion.
It covers the whole process: seasoning, sealing, cooking times, temperatures, and everything else you need to cook like a professional chef. I especially liked that in the required equipment section, there is a free option as well as a low-cost option for starting out.
Like to eat "upscale"? There are 35 options to upgrade your meal to a Michelin Star standard meal using modernist techniques and ingredients.
12. Easy Sous Vide Cookbook
As the name suggests, you'll get 100 sous vide recipes that are easy to make, even for a beginner. Learn how to cook vegetables that retain their color, crunch, and nutrient value.
Breakfast, lunch, and dinner recipes are covered off. Recipes use everyday ingredients. There seems to be a focus on meat dishes, so if you're vegetarian, there are probably better recipe books for your needs.
Some of the highlights of this book are beef bourguignon, chicken wings, poached pears, and strawberry mousse.
Our Favorite 3 Options
If you've never experienced sous vide, then now is your chance. Achieving superior results is much easier thanks to the comprehensive list above; these are the best sous vide books we have discovered.
Best for Beginners
If you're new to sous vide, then choose Modernist Cooking Made Easy as it provides some excellent options for getting started at no cost. This option will give you a taste of this cooking method, and you can decide if it's worth investing in a sous vide cooker.
Best for the meat lover
This one's a no-brainer: Sous Vide BBQ provides you with a path to some of the best meat you'll have the pleasure of tasting.
Best overall sous vide book
Overall honors must go to The Food Lab for a well-written, easy-to-follow book that covers all bases. There's a reason this cookbook was a New York Times bestseller: it's enjoyable and entertaining to read. As for the food, well, I'll let you find out how good it is.
What is sous vide cooking?
The term sous vide is French and means "under vacuum." Traditionally, it is a method employed by high-end restaurants to serve up surprisingly tender meat and flavorful vegetables. As home cooks become more adventurous with advanced cooking techniques, sous vide has gained popularity.
The process is simple. Raw ingredients such as vegetables, meat, herbs, and oil are placed into a bag and secured using a vacuum sealer. The bag is then added to water, carefully heated to a low temperature, and cooked slowly.
A sous vide machine can come in various forms, although a common model is a stick-like attachment that clips onto a pot and heats the water to the required temperature. Advanced products can even be controlled remotely through the user's phone application.
Cooking sous vide at home is fun, and the recipes are practically endless. Even eggs cook perfectly in a sous vide machine. Of course, sous vide cookbooks usually have their share of enticing ideas for your next meal.
Why cook using sous vide?
The main benefit of cooking with a sous vide machine is that the food you cook will be juicy, moist, and packed with nutritional goodness and flavor. The low temperature will cook the food consistently, so there are no overcooked outside pieces of meat.
Another important reason you may enjoy this method of cooking is that it is simple. Once the food is sealed and the cooking starts, it is set-and-forget cooking. There is no need to check how the food is progressing. Set the temperature and time, then sit back and wait.
Summing Up
If you've decided to venture into the world of sous vide cooking, then your best option is to invest in a comprehensive resource that'll get you setup fast. Even if you're confident using new appliances, cookbooks provide essential temperature guides and times for a wide range of dishes. They'll greatly improve the quality of the food you cook without the need for trial and error.
Do you have a favorite book for sous vide cooking? Share it with us in the comments below, and we'll take a look at it.