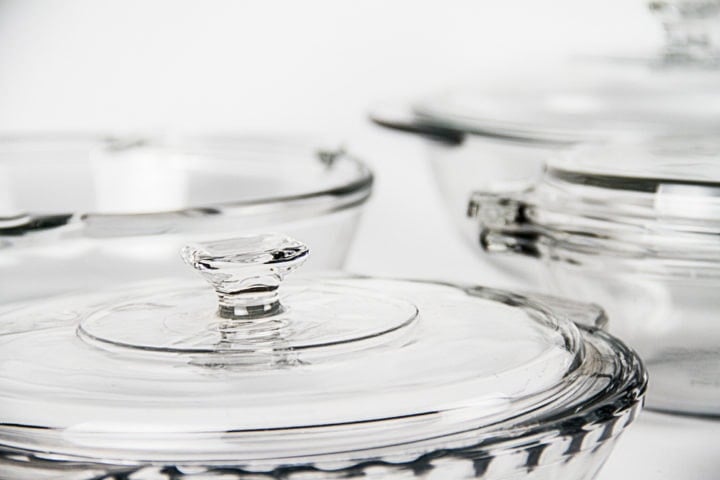 There are a lot of stories all over social media regarding Pyrex glass exploding in the oven. It is only natural to doubt the durability of Pyrex glassware when you hear that it is unsafe to use. But the reality is entirely different.
So, can you put Pyrex in the oven? Yes, it is entirely safe to put Pyrex in the oven. The only thing a Pyrex glass can face in the oven is thermal shock. You just have to keep a few things in mind while handling Pyrex glassware, and you are good to go.
Read the article to know how exactly you can use Pyrex in the oven without shattering it to a million pieces! Let's get started.
Table of Contents
What Is Pyrex?
Pyrex is a type of glass that is resistant to extreme heat, and as a brand, it builds glassware for usage in ovens. Up until 1998, Pyrex glassware was thermal shock resistant due to borosilicate. But after that, they started making it with soda-lime glass.
The vintage Pyrex could easily hold thermal shock. So you could take your good old mac n cheese in the Pyrex glass from the freezer and directly put it in the oven for baking. It would still hold its shape.
But after that, due to soda-lime glass, the stories of Pyrex glass shattering in the oven started doing rounds. The soda-lime glass is just an ordinary one. Consequently, it is when people began to question its safety and durability.
Pyrex also comes with a plastic lid which is a fantastic addition. So, you can cover your meal in Pyrex glassware and then freeze it. Additionally, many Pyrex products are available in the market, such as pie plates, mixing bowls, measuring cups, storage containers, plastic lids, and glass lids.
Lastly, Pyrex also offers you a two-year warranty on all its products. This warranty is a huge advantage! You can either get their products from the website or the stores near you.
Is It Safe To Put Pyrex In The Oven?
Pyrex glass is completely safe to put in the oven. The breakage of glass is majorly due to human error. The Pyrex glassware company also provides full use and care guidelines for its customers.
Studies conducted showcased that people did not read these instructions, which eventually led to the mishap.
The significant issues that lead to breakage of Pyrex glassware are the following:
Sudden temperature change
Putting the Pyrex glassware on a stove
Putting it in the oven when it's not preheated
If you take care of these instructions, then your Pyrex glass will not shatter, but it will remain durable for a long time. Additionally, you should keep the maximum oven temperature in mind while handling Pyrex glassware.
Do not exceed 425 degrees Fahrenheit in temperature. The extreme heat of the oven could shatter the glass even if it were at room temperature.
How To Put Pyrex In The Oven Safely?
You need to know specific safety tips while handling Pyrex glassware. So, I have compiled a list for your ease.
Avoid sudden temperature changes. It is the most common cause of shattering of Pyrex casseroles.
When you take the casserole out of the oven, put it on a dry surface like a dry towel.
Do not put the hot baking dish on a cool or wet surface, or it will again lead to a thermal shock.
Let the baking dish cool down after taking it out of the oven on a cooling rack or potholder.
Preheat the oven if you are putting Pyrex glassware in it. It will ensure that the glass doesn't break and also evenly cook the dish.
Do not expose Pyrex glassware to direct heat such as stovetop, broiler, or griller.
Add a little quantity of water or other liquid to the dish before baking. Next, cover the entire base of the baking dish with water. With this step, the glass will become used to the dish you'll be putting in it.
Let the bakeware come to room temperature before you put it in the sink.
Do not heat the glassware empty. It could lead to an explosion inside the oven.
You can put the Pyrex cookware in the microwave as well, but do not misuse it.
Do not use the glass container to microwave popcorn or melt butter in the microwave.
Use the minimum amount of cooking time in the microwave.
If the glass still shatters or even chips at an end, do not use that glass container in the oven or microwave.
Do not use the plastic lid in the convection or microwave. It will melt.
Dangers of Using Pyrex In The Oven
Using Pyrex in the oven is not dangerous if you follow all the guidelines correctly. However, there are a few cases regarding people facing problems. Here is a list of dangers that you can face if you put Pyrex in the oven:
Your hands can get burnt if you don't wear mittens or gloves while handling them.
Some people complained about getting arthritis because of the hot glass shattering in their hands, even when using mittens.
If the Pyrex shatters in your oven, then its pieces could get stuck in different places, which can cause problems for your oven.
In extreme conditions, an oven or microwave could also blast.
If, after taking the dish out of the oven, you quickly put it on a wet surface, it could blast again. This explosion of Pyrex into hundreds of pieces could even touch your skin or get in your eyes. There have been complaints regarding this as well.
At times, people follow all the instructions given by the company, yet they are cases of massive explosions. As a result, consumers have registered more than a thousand complaints against the company on dangerous and unsafe products.
What Are Some Oven-Friendly Alternatives To Pyrex?
Although Pyrex glassware is suitable for the oven, I have a list of alternatives for you if the shattering glass stories scare you. Read on to know more!
Cast Iron Skillet
Cast Iron Skillet is one of the best alternatives to Pyrex. It is versatile, and you can even use it on a stove. You can serve a dish in the skillet, put it in the oven for baking, cook a dish on the stovetop, saute veggies in the skillet, and even use it as a casserole.
Moreover, it is highly durable and doesn't crack or shatter under pressure. You can even put it in the freezer if you have leftovers.
However, you shouldn't directly put it in the oven if you want to reheat it. It is not because of thermal shock, but because of the food being too cold.
Dutch Oven
A Dutch Oven is the most versatile oven of all. It can perform similar functions as a cast-iron skillet, plus you can also bake bread. How amazing! You can use Dutch Ovens for soups, stews, frying, and braising meat.
You can even use it as a casserole because of its huge capacity. However, it is a bit expensive but definitely worth the price.
Instant Pot
Instant Pots are an absolute favorite in a lot of kitchens. As the name suggests, you can use it for cooking food very quickly. For example, you can cook stews in it, layer the rice and beans with minimal hassle.
Instant Pots also come with temperature and time settings, so that your dish can cook without any disturbance. It is an outstanding and different feature.
Baking Dish
Another great alternative to Pyrex is a Baking Dish. If a Pyrex is not readily available at a store near you, this is the most used alternative. It works in the same way as Pyrex does.
You should not keep it on a stovetop or keep it at extreme temperatures, or it will break.
The best part about this is that you can bake bread, lasagnas, and veggies in it. It, too, can easily double as a serving dish, just like Pyrex glassware.
Slow Cooker
A Slow Cooker is best for cooking dishes that take a long time. This is because the spices and herbs give more heavy flavor in the slow cooker as they have had more time to amalgamate with the dish.
This is best for cooking meat slowly. You can even keep the meta for hours in it, and it falls off the bone without any hassle. You can use Pyrex for a similar function as well. You can keep it in the oven for long hours and let the dish cook itself.
Braiser
A braiser is a pan that is like a cross between Dutch Oven and a skillet. You can use it to saute, sear, simmer, roast, and of course, braise. Additionally, you can keep it on the stove, and even in the oven.
If you want to prepare meat, you can sear it on the stove and keep it in the oven for further cooking. I suggest you get a cast iron braiser rather than a ceramic braiser to retain heat better.
Related Questions
Can I Bake in Vintage Pyrex?
Yes, you absolutely can bake in Vintage Pyrex. Vintage Pyrex is the best product. They consist of borosilicate instead of modern Pyrex, made from soda-lime glass, which absorbs less heat.
Can Pyrex go in the Oven at 350℉?
Yes, Pyrex can go in the oven till 450 degrees Fahrenheit, but not above this. The company advises you to keep the temperature below this limit and never cross it as it will surely blast otherwise.
Can I Put Cold Pyrex in a Hot Oven?
No, you cannot put Cold Pyrex in a Hot oven as it will get a thermal shock. Thermal shock is when two extreme temperatures collide, and it leads to a blast. In this case, a cold Pyrex from the freezer will react negatively to the hot oven. It will lead to contraction or expansion and then an explosion.
Can I Put Hot Water in Pyrex?
Hot water, even in a Pyrex set at room temperature, can give a thermal shock to the glass. When you put hot water in a Pyrex, then the inside layer of the glass expands on heat, but the outside layer remains cool. This discrepancy in the expansion will cause Pyrex to crack.
Are Pyrex Lids Oven-Safe?
No, Pyrex lids are not oven-safe. Usually, Pyrex lids contain plastic which can melt if you heat it. But there are glass lids, which you should not put in the oven even if you are reheating something. The lids are solely for storage purposes.
Final Thoughts
Pyrex is a great product to keep in the oven, but lately, it's causing problems for many consumers. The shift to soda-lime glass ruined the products for people as this glass cannot withstand high heat.
As opposed to this, borosilicate is heat resistant, and hardly any cases against its shattering are reported. So you can get the Pyrex glassware products, but you will have to be extra careful in its handling or else, it can cause harm to your health and body.