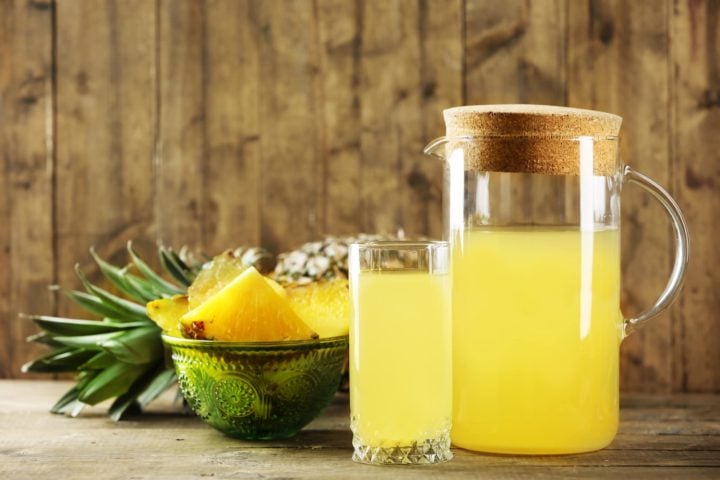 The pineapple is a large tropical fruit with a spiky, tough exterior and sweet interior. But don't judge the pineapple by its outer appearance. Inside that facade of toughness is a delightful fruit that is brimming with yummy goodness and many health benefits.
It was first given its name "pineapple" by European explorers who discovered it in South America in the 17th century because of its pinecone-like appearance. "Eyes" refers to the scaly bumps on its skin.
Pineapples are sought-after because they are at once exotic and nutritious. They have proven their worth as miracle fruits for many years. In the past, people used them to convey wealth or status in society. Pineapples were so rare that people rented them out to display at dinner parties.
Worthy of all the attention, pineapple plants only produce one fruit per season. It also takes three years before it matures and lasts about 50 years of fruit-bearing. This fruit is indeed highly perishable and seasonal.
Today, they grow in tropical and subtropical countries. Pineapple contributes significantly to the economies of the countries that produce it. Thailand, the Philippines, Brazil, and China supply 50% of the pineapples. It is one of the most exported fruits in these countries and is sold in supermarkets and markets worldwide.
Pineapples are one of the essential commercial fruits in the world. It is tagged as "queen of fruits" because it has excellent flavor, smell, and taste. Pineapples can be eaten or served raw, cooked, juiced, or preserved. It is used to make a variety of foods such as squash, syrup, and jelly. The fruit also makes vinegar, alcohol, citric acid, calcium citrate, and other products.
Table of Contents
The Wonders of Pineapple
Pineapple has been investigated biologically for a variety of health advantages. Bromelain is the essential element. This component is extensively researched in a variety of sectors.
After ingestion of pineapples, bromelain is absorbed without losing its enzyme activity and without producing any significant side effects. It is bromelain that accounts for many therapeutic benefits — it works wonders in pineapples.
This component helps in coronary artery disease, bronchitis, sinusitis, trauma, excessive blood clotting, cleaning wounds, and enhanced absorption of drugs. Its anti-inflammatory effect also relieves osteoarthritis, diarrhea, and various cardiovascular disorders.
Interestingly, some studies support its use in preventing body processes that promote cancer and cell death of already present cancer cells. Studies on the future of bromelain as a candidate for oral enzyme therapies are on the rise. This area, however, needs more validation.
In the USA and Europe, bromelain is considered a food supplement. It can be absorbed in the human intestines as a "functionally active" substance. It is not degraded and exerts all biological powers upon distribution to the different parts of the body.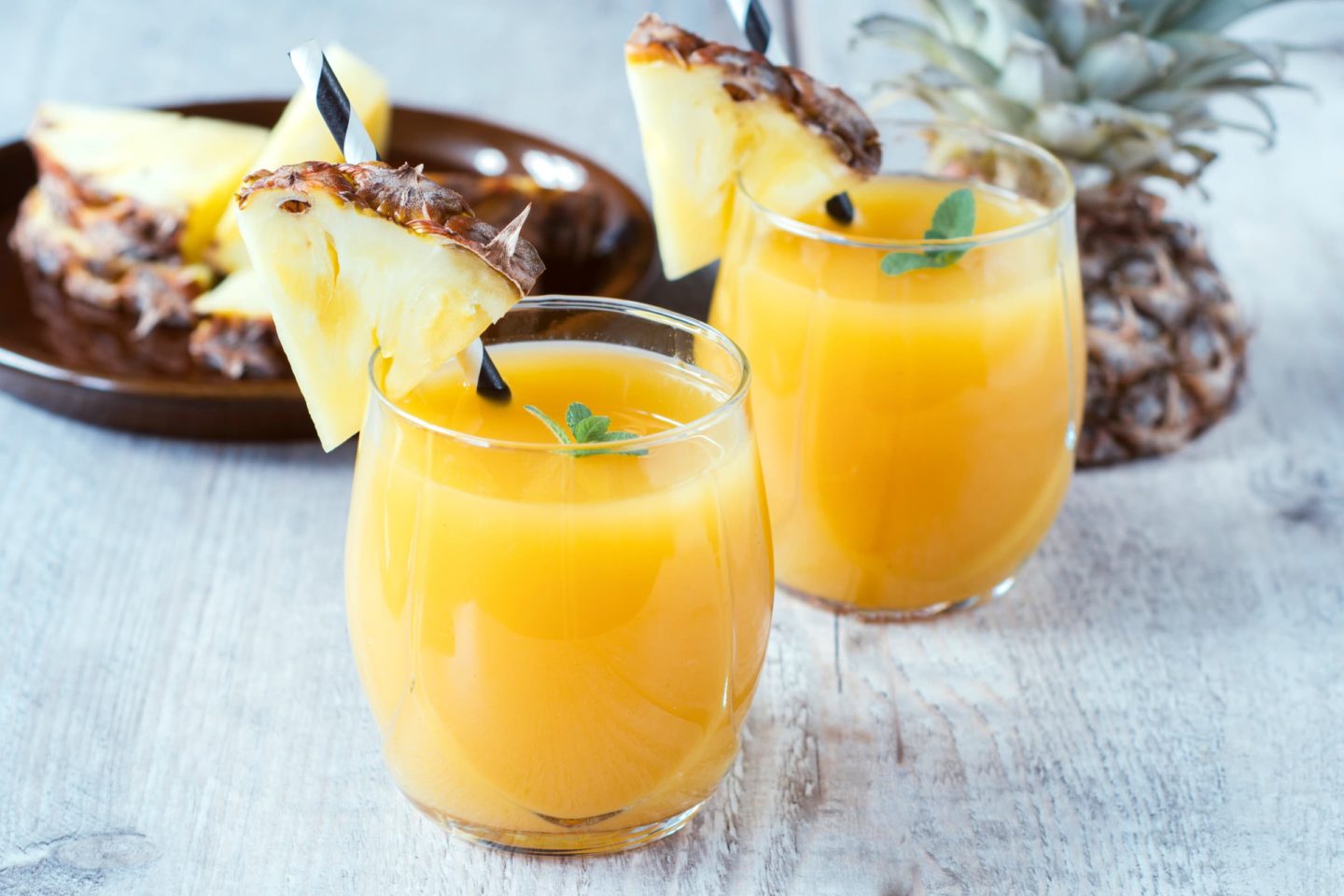 Fruit Composition
Pineapples contain both moisture and solids. Water comprises 81-86% of the fruit, while 13-19% of total solids are carbohydrates, which are in the form of sugars — sucrose, glucose, and fructose. Fiber is contained in 2-3% of the solid component.
The mature pineapple fruit contains 14% sugar. It has a protein-digesting enzyme, called bromelain, and a good amount of citric acid, malic acid, vitamin A and B. Of all the organic acids, citric acid is the most abundant.
Pineapple is also a good source of vitamin B1, vitamin B6, and copper. Fresh pineapple also contains minerals such as calcium, chlorine, potassium, phosphorus, and sodium.
Pineapple contains a generous amount of Vitamin C or ascorbic acid, contributing to many of its digestive wonders. It also helps to achieve an ideal weight and balanced nutrition. A healthy ripe pineapple fruit supplies 16.2% of the daily requirement for vitamin C.
Vitamin C is a powerful antioxidant, too. Getting rid of reactive oxygen species that cause damage, vitamin C supports the formation of collagen in bones, blood vessels, cartilage, and muscles. Adequate amounts of vitamin C are crucial in the fight against bacterial and viral infections. It also helps the body absorb iron.
Other essential minerals exist in pineapples. These include manganese, a trace mineral crucial in the formation of bone, and the enzymatic system of the body. Another trace mineral is copper, which assists in absorbing iron and regulates blood pressure and heart rate.
Pineapple juice is made by pressing the liquid out of the fruit's natural pulp. Pineapple juice's composition depends on geography, the season and time of harvest, and its process.
Commercially marketed canned pineapple has a different nutritional profile than raw pineapple. According to the USDA, canned pineapple has more calories and sugar than fresh pineapple. There are also fewer vitamins and minerals in it. If you must have canned pineapple, choose one with no added sugar or preserved in its fruit juice rather than syrup.
Making pineapple juice at home is also worth the labor. Pineapple juice contains ascorbic acid and is a good source of Vitamin C. Studies show that half a cup of pineapple juice provides 50 percent of an adult's daily recommended amount of vitamin C.
The malic acid in pineapple juice is also beneficial for health. Malic acid makes up 13 percent of pineapple juice's acidic content. It boosts immunity, promotes smooth, firm skin, helps maintain oral health, and reduces the risk of toxic metal poisoning.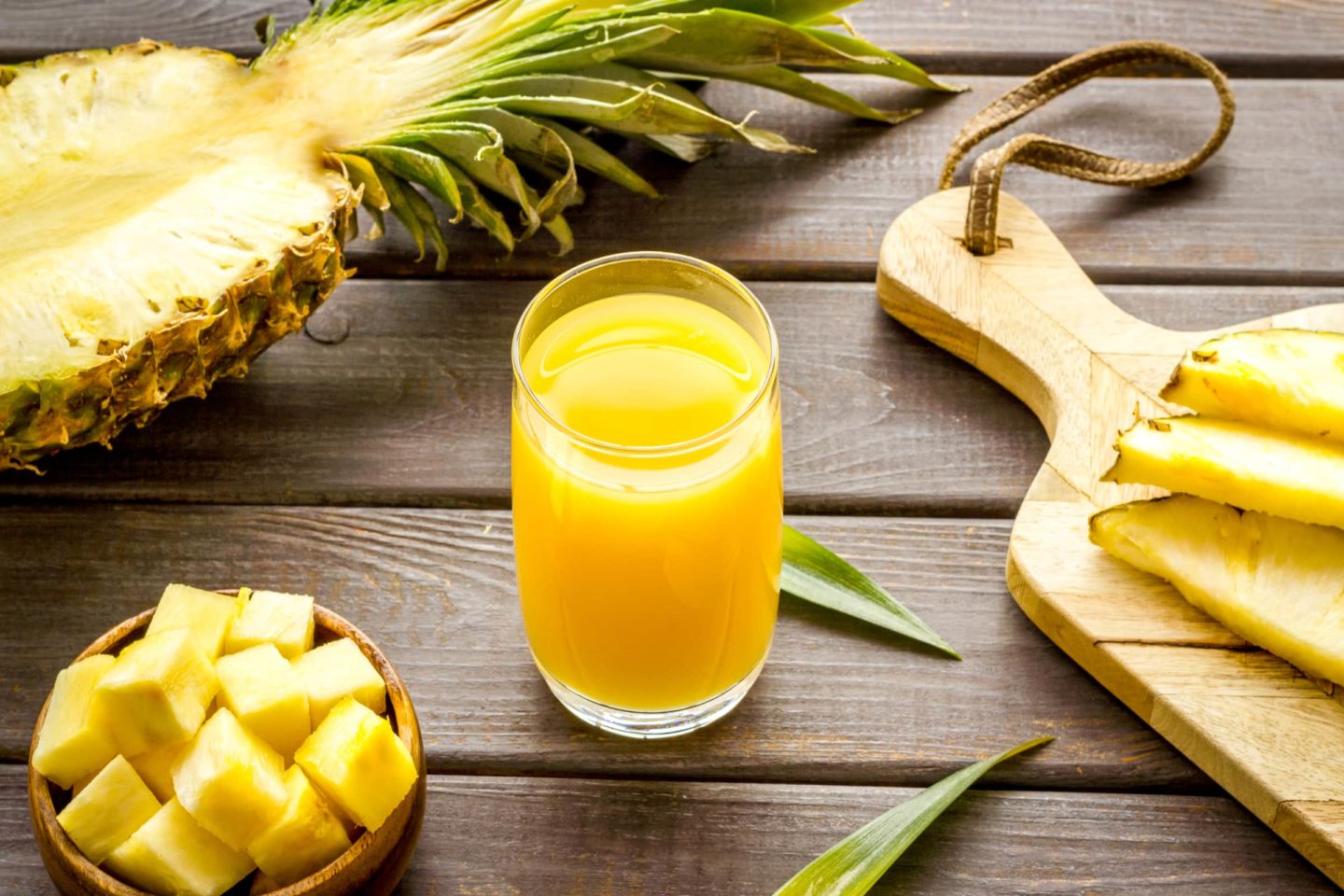 Nutritional Information
Along with its unique taste, pineapple is a fruit packed with health benefits. A single serving of pineapple juice contains a concentrated amount of these:
Calories: 133
Protein: 0 grams
Fat: 0 grams
Carbohydrates: 32 grams
Fiber: 1 gram
Sugar: 25 grams
The Benefits of Drinking Pineapple Juice
Immune System Booster
Pineapple juice boosts and maintains a healthy immune system. It enhances the immune system function of the body because of its high Vitamin C content. On the other hand, the enzymes contained in this juice maintain the body's proper functioning. In persons with a comorbid illness, pineapple juice has been observed to decrease the severity of rheumatoid arthritis and cardiovascular disease.
Anti-Inflammatory
Two types of arthritis have been studied and linked to pineapple juice intake: osteoarthritis and rheumatoid arthritis. Osteoarthritis, the most common form, is caused by a lack of lubrication in the joints caused by the wear and tear of the body. Rheumatoid arthritis is an immune-mediated type where the circulating immune complexes attack the joint and cause deformity, pain, and disability.
A study compared the components of pineapple to the NSAID, diclofenac. After six weeks, there was a significant reduction in joint pain and inflammation among patients with osteoarthritis.
Bromelain can therefore be a food supplement that may provide an alternative treatment to nonsteroidal anti-inflammatory drugs (NSAIDs). It has analgesic properties that cause a decrease in pain mediators such as bradykinin. Bromelain is found in large amounts in pineapple juice.
Reduced Pain Post-Surgery
One of the most debilitating complications encountered following surgery is pain. Bromelain in pineapple juice can reduce the average number of days for alleviation of pain. Studies show that it reduces swelling, bruising, and pain in women having an episiotomy. It is also used to treat acute inflammation in sports injuries.
Debridement Of Wounds/Burns
Debridement is the removal of damaged or dead tissues around the wound or burn. Bromelain from pineapples applied as a cream results in faster healing and easier removal of necrotic tissue. An additional element called "escharase" present in the stems of pineapple plants is responsible for this.
Lowers Risk of Stroke and Heart Disease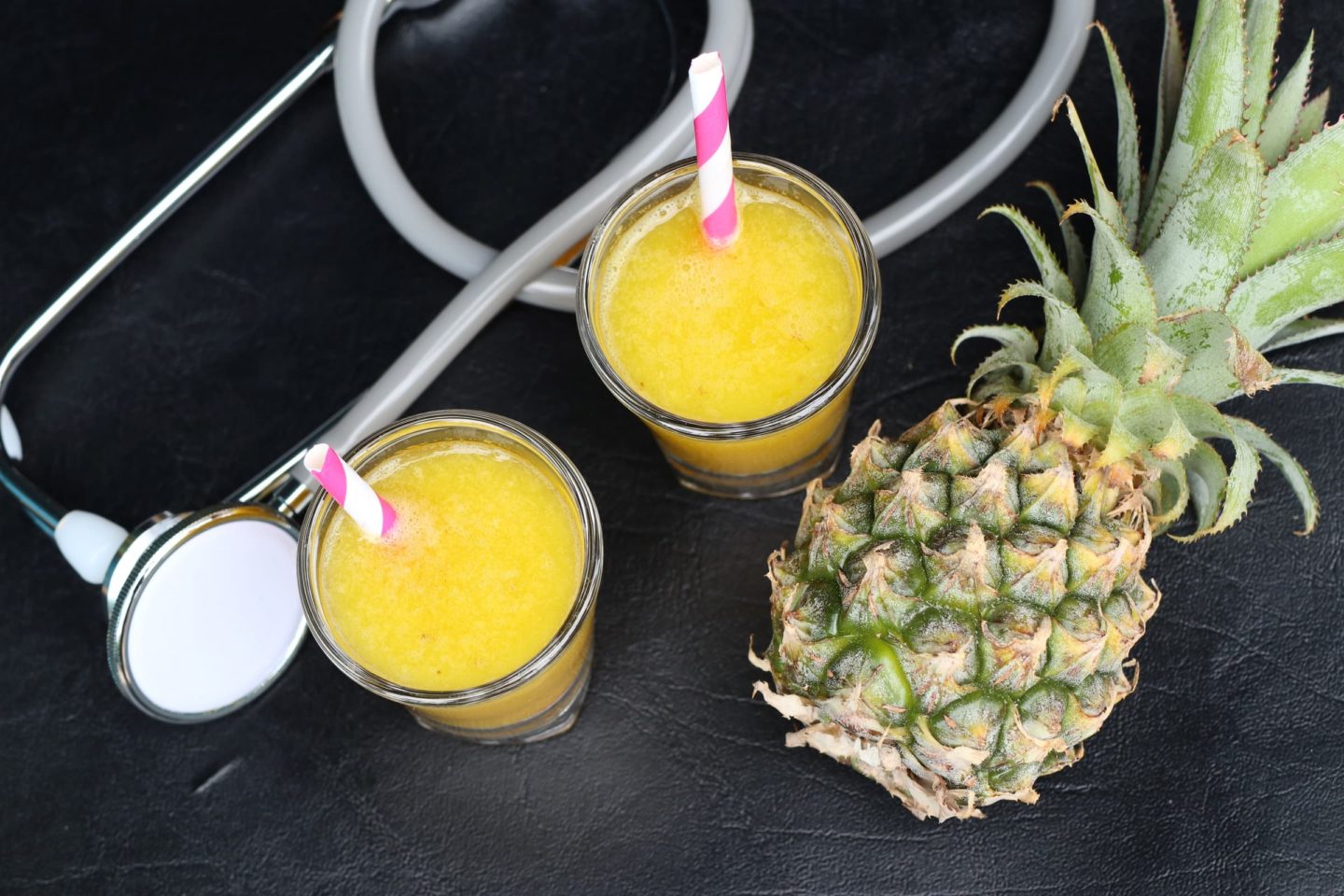 Diseases of the small blood vessels include stroke and heart disease. Accumulation of excess cholesterol from the diet proliferates in the innermost layer of the blood vessel, causing it to harden. Stroke and heart disease are the leading causes of death. About 65% of people with diabetes die from stroke or heart disease.
It is also the component bromelain present in pineapple juice that effectively treats these blood vessel diseases. It works by inhibiting blood platelet aggregation, which can further harden the walls of the blood vessels. As a consequence, it minimizes the risk of arterial thrombosis and embolism. Supplementation with pineapple juice could reduce any of the risk factors that contribute to the development of cardiovascular disease.
Cancers
There is no single medication that provides effective prevention in cancer. However, healthy lifestyle habits can contribute to its prevention.
In a study, bromelain in pineapple juice displayed anticancer activity. This protection is brought about by its direct impact on cancer cells and their microenvironment. They also regulate the immune system balance.
Bromelain markedly has in-vivo antitumor activity for the following cell lines: certain types of leukemia, sarcoma, lung carcinoma, and mammary adenocarcinoma. Research done in animals showed cancer cells that were administered bromelain resulted in tumor regression after 24 hours. However, more studies need to be conducted on humans to intensify these claims.
Contributes To Good Vision
Over 37 blind people worldwide, cataract is one of the major causes. Cataracts can be acquired at birth or may develop during the aging process.
The treatment of cataracts is surgical. This is followed by putting on an artificial intraocular lens to restore sight. However, many people remain blind because they do not have access to these surgical services or high surgery expenses.
Cataracts are protein collections in the ocular lens that obstruct vision. They are caused by aging naturally, although hereditary and environmental factors such as smoking or diabetes also play a role. The accumulation of reactive oxygen species that develop over time causes this damage.
The antioxidants in pineapple juice — vitamins A and C and beta-carotene — are scavengers that eradicate these toxins. Therefore, one strategy to help reduce your chance of getting age-related cataracts is to eat a diet rich in antioxidant substances.
Decreased Incidence of Common Colds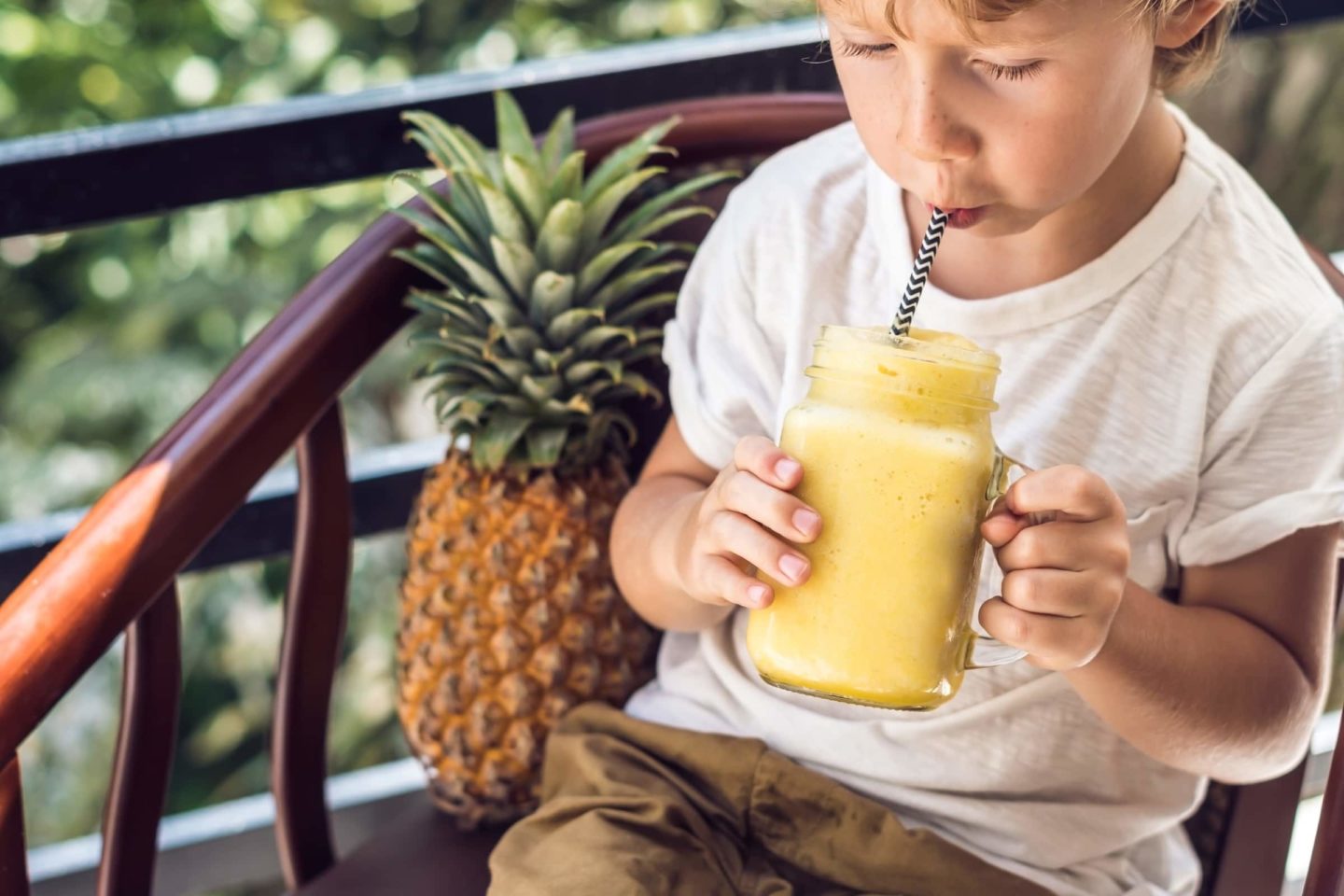 A particular group of the population primarily benefits from the prevention of the common colds — the children. We encounter microbial agents throughout our lives. Young children get six to seven colds per year on average, but 10–15 percent of them get at least 12 illnesses. They are the population who need more attention because of their higher risk of morbidity than the adult group.
In a 2014 study in the Philippines, researchers found that children who were given pineapple juice developed fewer viral and bacterial infections than those who did not. During the study, children who became ill suffered from common colds, cough, fever, and upper respiratory tract infections.
The average duration of illness for those who had colds was also shorter.
The healthy immune system has two arms: the innate and the adaptive immune systems. Upon recognition of bacteria, viruses, or parasites, the innate immune system is mobilized first. When the system is overwhelmed, it seeks the help of the adaptive immune system.
The cells of the innate and adaptive immune systems are interconnected and overlapping. As shown in this study, consumption of pineapple juice increased the production of granulocytes, an important marker of the innate immune system, and CD16+56, which is a marker of the adaptive immune system.
This means that the effect of pineapple juice is not only limited to the short-term and immediate prevention of the common colds. Its effects can be long-lasting. While the study may be limited, its results are indeed compelling.
Counters Anemia
Iron deficiency anemia, or a decrease in hemoglobin, is another condition that affects many children worldwide. Nutrition plays a significant role in the development of this condition, and so do illness and environmental factors.
In the same study, nine weeks after canned pineapple consumption, participants' hemoglobin levels became normal. The vitamin C content in pineapple juice is responsible for the increase in iron absorption. In turn, more iron is available for use in the cells. The treatment for anemia still requires iron supplementation and not Vitamin C alone.
Supports Bone Health
Osteoporosis is a systemic skeletal disease. In osteoporosis, there is an increased risk of bone fragility and a decrease in bone mass.
Due to the hormone changes after menopause, women are at risk. This is why the intake of pineapple juice is vital for women's health.
Bone homeostasis requires a balance between bone-forming osteoblasts and bone-resorbing osteoclasts. When the balance is tipped off, there is more destruction of bones. Diet and physical activities influence osteoporosis directly.
Dietary intake of vitamin C-oriented foods (DIVCF), including pineapples, has been reported to exert many potential health benefits because they are rich in vitamins, fiber, phytochemicals, and minerals.
In a meta-analysis, an increased intake of DIVCF has been associated with a lowered risk of hip fracture, osteoporosis, and bone mineral density loss.
Helps in Weight Loss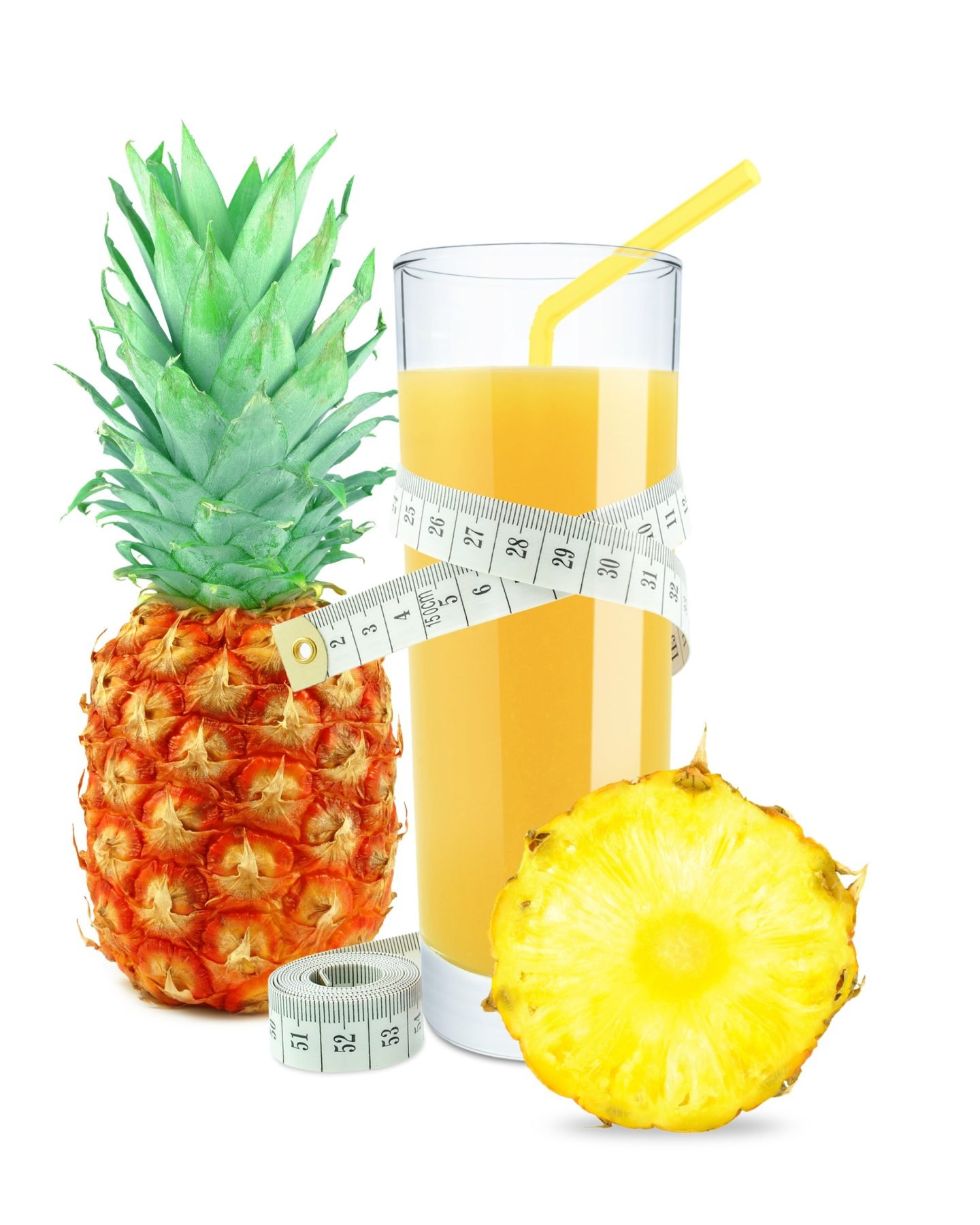 Pineapple juice comprises many weight-reduction recipes. One of the reasons obesity has become a pandemic is the excessive intake of foods rich in sugars. When you drink pineapple juice, the fruit satisfies your sweet tooth. It is lower in calories and might even substitute your longing for that nightly ice cream. Thus, it is a good alternative for those cravings.
Pineapple also delivers 2.3 grams of fiber in 1 cup. The fiber in pineapple juice hits two birds with one stone. First, the "bulk" of fiber we get from pineapple juice competes with the absorption of fatty substances. Second, it helps to control your blood sugar levels because it makes you feel full longer.
In studies, pineapple's role in obesity and dyslipidemia treatment is advancing. The high amount of bromelain helps break down fats, thereby diminishing the severity of cardiovascular syndromes. Fresh fruits have been known for their defensive impact against cardiovascular diseases.
Fruits high in dietary fiber decrease cholesterol uptake by the gut]. In a study, fat binding capacity (FBC), necessary for detecting anti-obesity properties in food, was very high in pineapple.
Supplements Reproductive Health
Many people question the benefit of taking pineapple juice to promote reproductive health. There are studies to assess the relationship between pineapple juice intake and sperm viability and motility. However, the results remain inconclusive. More research needs to be done on the use of pineapple juice in promoting fertility.
Recommended Daily Allowance
According to the United States Department of Agriculture, 4 ounces of pineapple juice equals a ½-cup serving of this fruit. This amount meets the daily fruit intake recommendation of 1.5 to 2 cups for women and 2 cups for men.
Side Effects and Precautions
Pineapple juice has a wide margin of safety. Studies in animals showed no cancerous potential and no adverse reactions to the body's organs. There's also no sign that taking Vitamin C dosages of 1500 mg/kg per day could affect the development of the embryo in the mother's womb.
The intake of pineapple juice is associated with only a few side effects in studies. The most commonly reported side effects are gastrointestinal. Consuming too much vitamin C found in pineapples may induce diarrhea, nausea, vomiting, abdominal pain, or heartburn.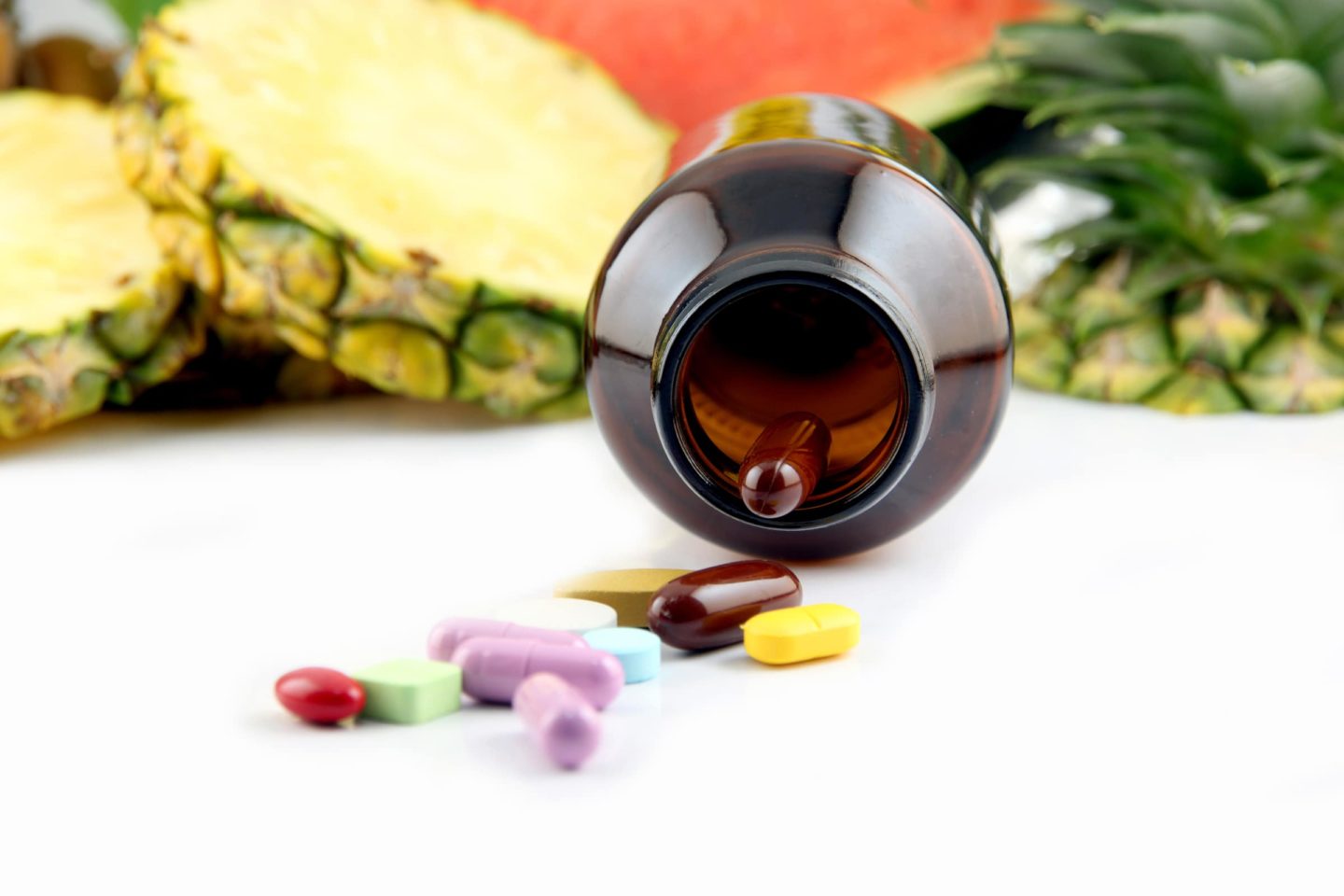 You should also take caution if you are sensitive or allergic to pineapples. After eating a pineapple, your tongue may feel itchy or you'll have sore lips. That's caused by the bromelain in the fruit, and the symptoms usually disappear after four hours. However, if the symptoms remain longer, or when the symptoms worsen, please contact your doctor.
Little is known about the safety of bromelain intake during pregnancy or while breastfeeding. Thus, mothers should avoid them.
Bromelain may interact with some medicines. Those taking antibiotics, blood thinners, anti-seizure medications, muscle relaxants, antidepressants, and sleeping pills should take caution. Also, notify your doctor if you are taking a beta-blocker as your heart medication.
In very high amounts, bromelain in pineapple juice can cause skin rashes and excessive menstrual bleeding. This effect is due to the anticoagulant properties of bromelain.
The U.S. National Library of Medicine recommends that people with chronic acid reflux or Gastroesophageal Reflux Disease should avoid high-acid foods, including pineapple, along with citrus fruits and tomatoes.
It could be dangerous for people to eat unripe pineapple or drink juice made from unripe pineapple, according to the horticulture department at Purdue University. Unripe pineapples are toxic to humans and can lead to severe diarrhea and vomiting. When preparing your homemade pineapple juice, make sure that the fruit is ripe enough to avoid these toxic effects.
Eating too much of the pineapple core could form "fiber balls" in the digestive tract. These balls obstruct the passageway of food. When left untreated, it can lead to complete bowel obstruction, which is harmful to health.
People with diabetes should drink pineapple juice in moderation, although the fruit is a good fit for a diet consisting of low glycemic index foods. People who have diabetes should note that pineapples are medium GI foods. It has a score of 66.
In the glycemic index, food is categorized as low when they have scores of less than 55. They're considered medium GI when they have scores of 56 to 69. And, they're high GI when they have scores of 70 and above.
In persons with kidney problems, potassium overload from pineapple juice can be dangerous. Hyperkalemia is a condition that occurs when a person's kidneys are unable to eliminate excess potassium from the blood. This can cause arrhythmias, which are irregular or sometimes fatal heartbeat patterns. Some people may die because of this medical condition.
Juice Preparation Tips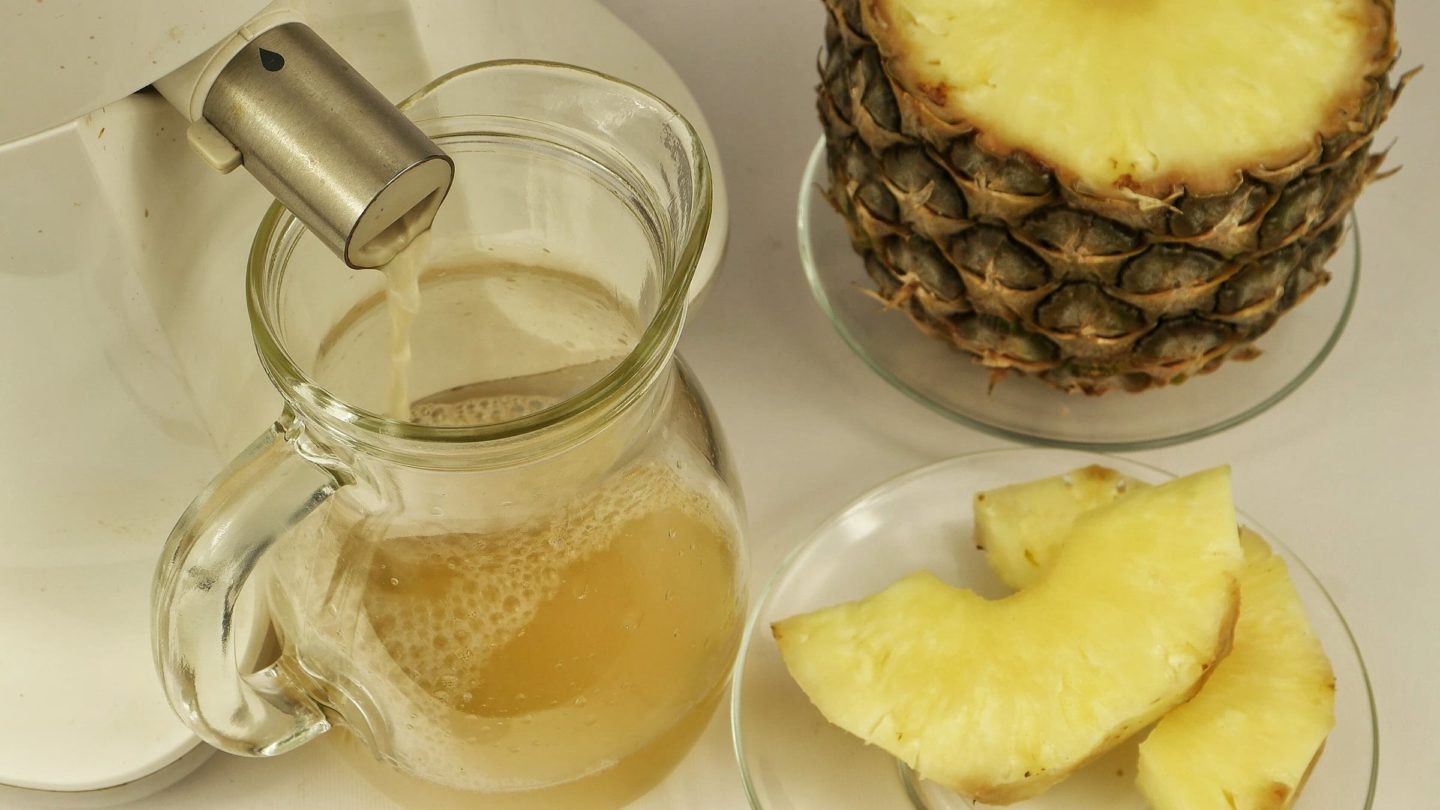 The best pineapple juices are made from modest scrutiny and careful research. Choosing the pineapples may be one of the most complex decisions to start with. It is also a labor of love, especially when you start peeling the pineapples.
If making your pineapple juice is difficult, there are commercially prepared pineapples. The most healthful options are raw or frozen pineapple. They have, however, fewer nutrients as compared to the fresh juice.
Sugar Content
Sugar is added to canned, cupped, or processed pineapple, especially when the fruit is preserved in syrup. If canned pineapple is your only option, look for a product that uses water rather than syrup to preserve the fruit. Choose raw or frozen pineapple over ready-made pineapple juice or dried pineapples, which contain added sugar and can cause blood glucose levels to spike.
Fiber Content
Canned pineapple and pineapple juice are both cooked during processing, deactivating the nutrients and vitamins that come with it. Commercially made pineapple juice lacks the fiber found in fresh pineapple.
But if you're up for the challenge of making homemade pineapple juice, here are some important reminders.
The Choice of Pineapples
When purchasing pineapples, it's usually best to get them when they're in season. This will differ depending on where they're grown. From April to May, Hawaiian pineapples are ripe. In the Caribbean region, pineapples become ripe and ready for harvest from December to February and from August to September. Meanwhile, pineapples are cultivated all year round in Costa Rica.
Buying pineapples in season is not only cost-effective, but it also assures you to obtain the best pineapple at the right stage of maturity. Getting a ripe pineapple will improve the taste and appearance of your juice.
Appearance and Smell
At the store, look for a pineapple that's heavy for its size. The heavier, the more juice it contains. It should also be free of soft spots and dark eyes. Mushy parts indicate that the pineapple is rotting. A ripe pineapple will smell sweet.
Storage
If you choose a pineapple that isn't quite as ripe as you'd like, cut off the top and place the cut side upside down on a platter in the fridge for about 2-3 days before eating.
If the pineapples are ripe and you've decided to cut it ahead, you can cover the pineapple and leave it out on the counter. This makes it softer and juicier, but won't change its taste. Make sure you eat it within 2-3 days.
Many Ways to Enjoy Your Pineapple
With a sharp knife, slice off the top and bottom parts so you have two flat surfaces. Cut off the outer skin, then cut the pineapple into quarters. Be sure you avoid the core.
The pineapple can be enjoyed by itself or made into a juice and can be added to a smoothie, fruit salad, or salsa.
Pineapple Juice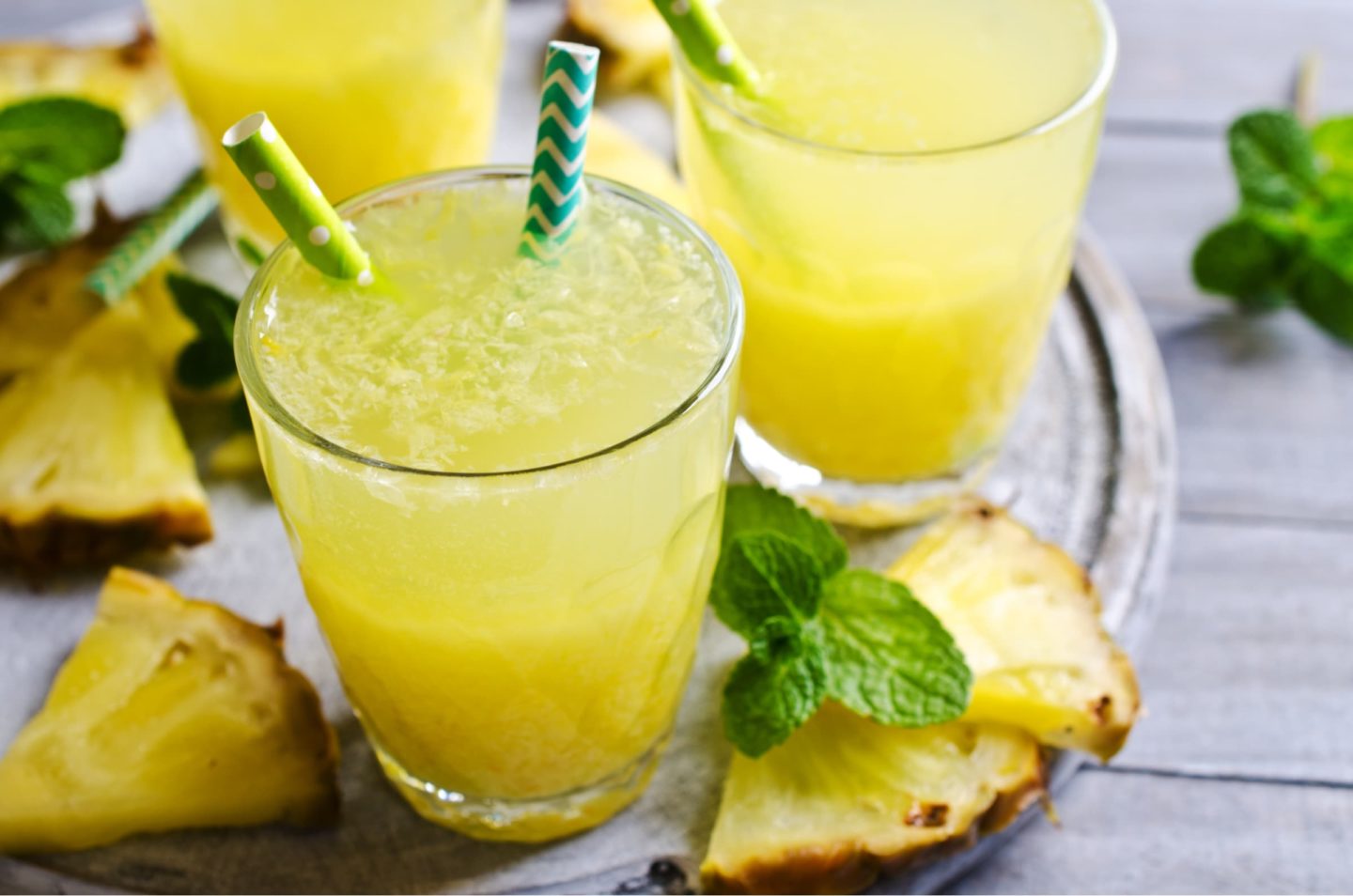 The best way to enjoy this fruit is to make it into a refreshing drink. The ingredients are:
½ ripe pineapple (regular size) or 1½ cup of chopped fresh pineapple
A pinch of ground black pepper (optional)
1-2 teaspoon sugar (optional)
Pinch of salt (optional)
½ cup water
5-6 ice cubes
Chop the pineapples into pieces. Fill a blender jar or a mixer grinder jar halfway with water. Toss in the pineapple chunks. Blend until the puree is smooth and there are no bits of fruit remaining.
Cover a large mixing bowl with a fine-mesh strainer and pour the purée through it. To get the most juice from the pulp, gently press it with a spatula. Remove the remaining pulp and discard it.
Stir in the ice cubes for a minute. Taste the juice and season with sugar, salt, and black pepper powder, if desired. After a minute of stirring, pour the mixture into two serving glasses and serve.
Source: Foodviva.com
Pineapple Smoothie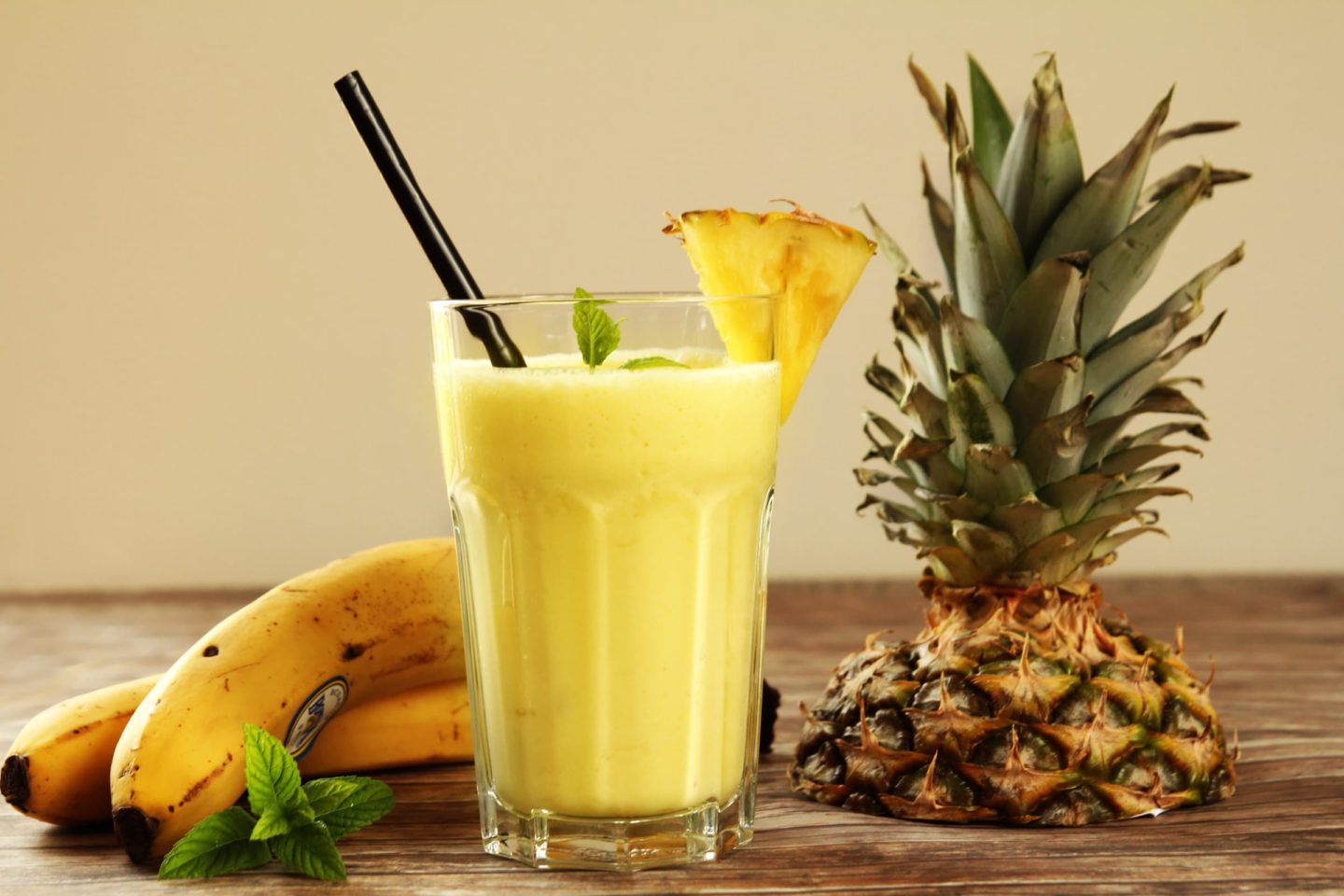 Also quite as refreshing, blend in your favorite fruits for the added health benefits. Quick, nutritious, and genuinely feeling the island-vibe. What you will need:
1 ½ cups pineapple juice
1 banana cut in half
1 ½ cups frozen pineapple chunks
¾ cup vanilla Greek yogurt
fresh pineapple wedges and mint sprigs for garnish optional
Mix the ingredients in a blender. Blend until smooth. Pour into two glasses and enjoy!
Pineapple Margaritas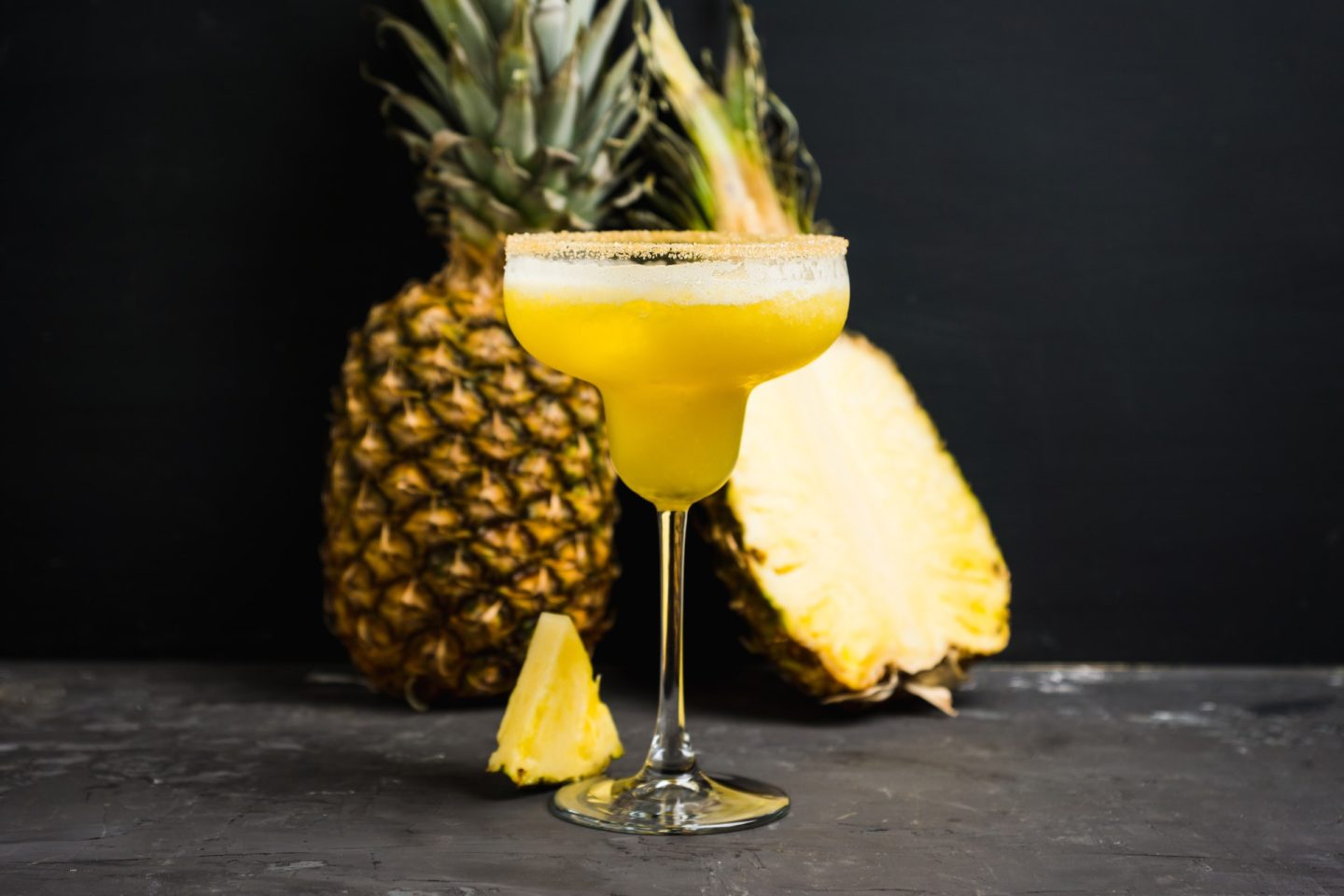 To skip the sugar in your Margarita drink, you may opt to add pineapple juice for that added sweetness. Prepare:
1 tablespoon kosher salt
1 tablespoon lime zest
1 cup cold white tequila
1 cup cold pineapple juice
½ cup lime juice, plus 1 lime wedge
¼ cup orange juice
Ice cubes
Pineapple slices for garnish
Lime slices for garnish
On a small plate, combine the salt and lime zest. In a pitcher, combine the tequila, pineapple juice, lime juice, and orange juice. Dip the rims of 6 glasses in the salt mixture after rubbing them with the lime wedge. Fill each glass halfway with ice and about ½ cup margarita mixture. If desired, garnish with pineapple and lime.
Source: Eatingwell.com
Grape-Pineapple Mint Fizz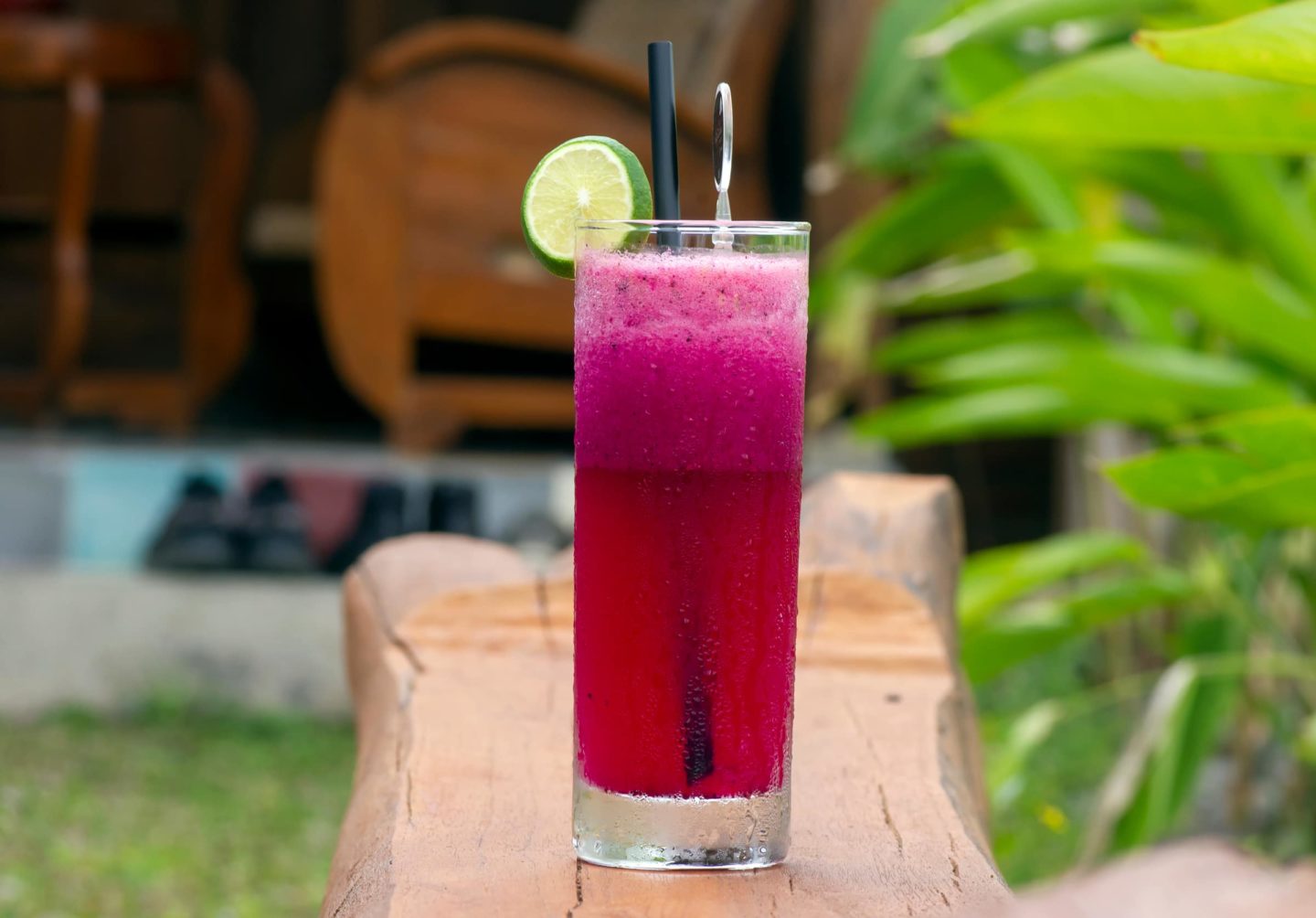 The blend of grapes and pineapple in one drink is a refreshing twist. The ingredients are:
½ cup fresh mint leaves
1 ½ cups unsweetened grape juice
1 (6 ounces) can of unsweetened pineapple juice
2 cups club soda, chilled
Ice cubes
Fresh mint sprigs (optional)
Fill a pitcher halfway with mint leaves. Lightly bruise the leaves with the back of a large spoon. Combine the grape and pineapple juice in a mixing bowl. Cover and refrigerate this mixture for 4 to 24 hours. After this, remove the mint leaves from the grape and pineapple juice mixture and discard them. Combine the juice and club soda in a mixing bowl. Pour into ice-filled glasses and garnish with mint sprigs, if preferred.
Source: Eatingwell.com
Pineapple: Up Close and Personal
Getting to know the pineapple is your victorious feat. This wonder fruit might just be the answer to your health issues. There is a couple of science-backed evidence of the health benefits in pineapples. We just have to take some precautions, especially for people who have diabetes or kidney problems.
Being healthy is not an easy endeavor, but it sure is rewarding in the end. Many fruits are now available and easy to prepare. Being healthy may just be a stone's throw away from you! Why not start with pineapples?