Pineapples are a native fruit in South America. This undeniably delicious fruit has been grown for centuries, not only for its sweetness but also for its known medicinal properties. These include boosting immunity, fighting off cancer cells, preventing and healing inflammations, and regulating blood pressure and cholesterol levels.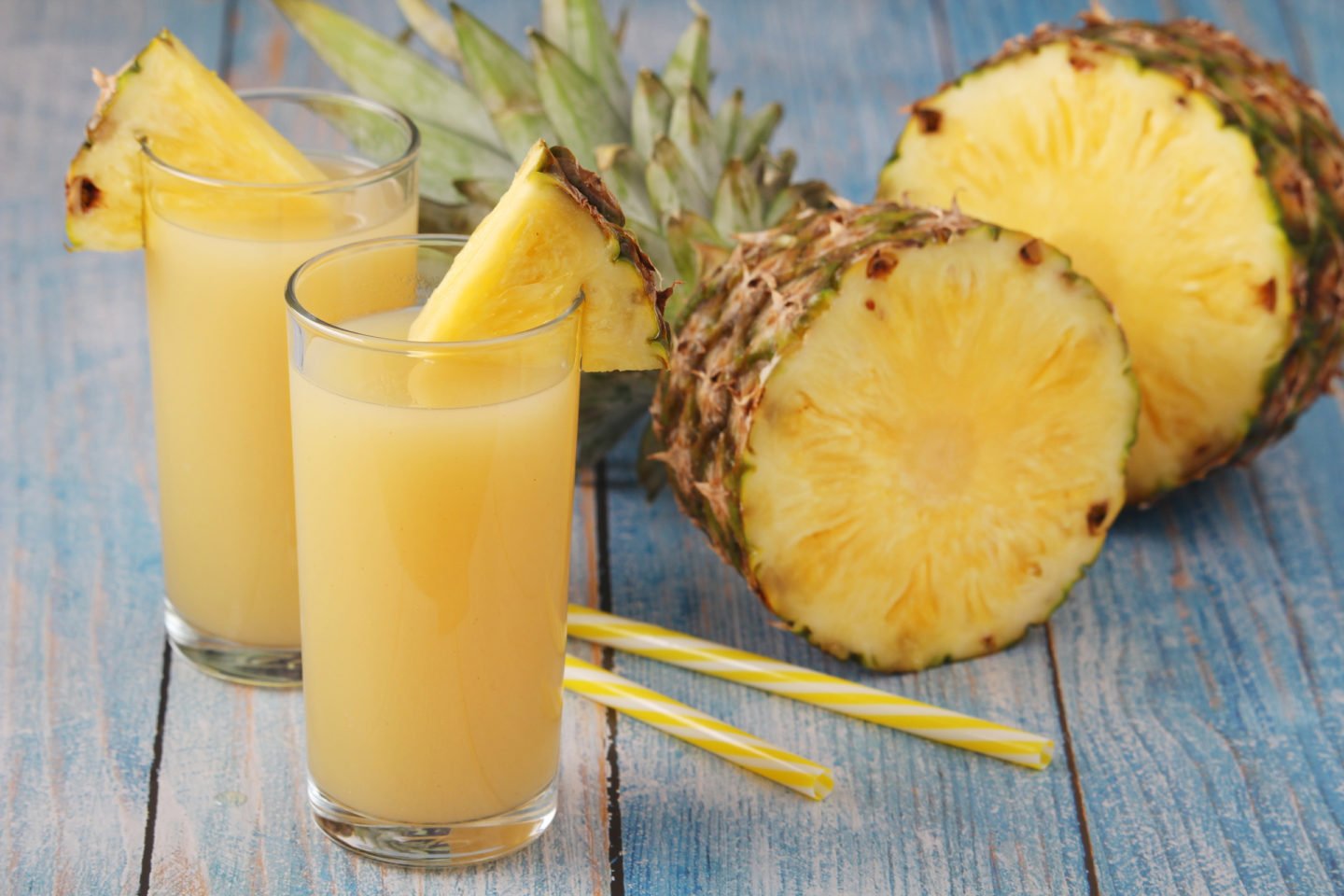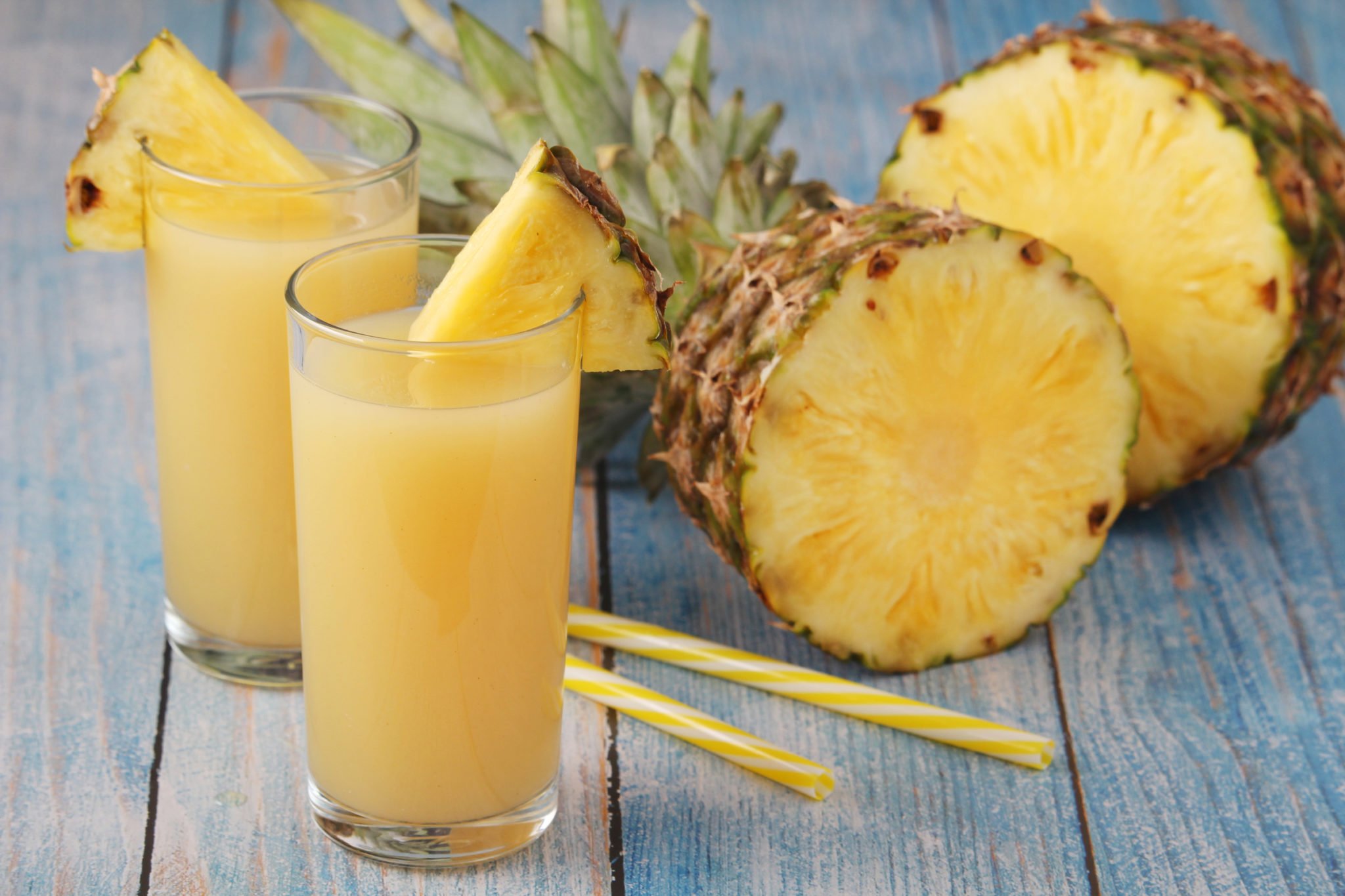 Moreover, pineapples are rich in fiber, bromelain, vitamin C, and antioxidants that contribute to it being one of the go-to natural remedies for constipation. Drinking pineapple juice also provides enough hydration to make digestion easier. This article will expound on how pineapple juice helps beat constipation and improve digestive health.
Table of Contents
How Does Pineapple Juice Make You Poop?
Bromelain: The Protein Breaker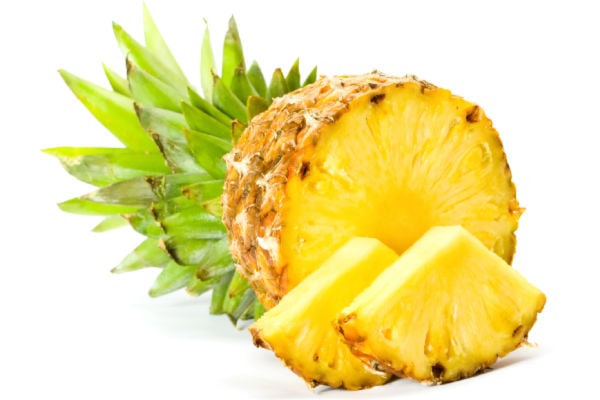 You might wonder what causes the stinging, burning sensation you feel when eating pineapples. That's because pineapples are rich in bromelain. Bromelain is an enzymatic protein found in the fruit and stem of pineapples.
Enzymes are proteins that speed up metabolic reactions within cells, which would otherwise take much too long when your cells don't function correctly. Enzymes come in a variety of forms. For example, Bromelain is a digestive enzyme found in pineapple that breaks down other proteins by breaking the chains of amino acids.
Bromelain in pineapple juice can help get things flowing down there if you're having difficulties keeping your bowel movements regular since it speeds up the breakdown process.
Also, Bromelain can help those on high-protein diets like Paleo or Keto if they are experiencing problems pooping.
Aside from aiding the digestion, adding pineapple juice or pineapple slices in your food digests the protein in meat, therefore easing your intestine's workload in digesting. Usually, meat and fish take about two days to be digested completely, which may cause constipation. However, Bromelain—a natural meat tenderizer—shortens the digestion process in the intestines.
Although bromelain is found in the pineapple's pulp and fruit juice, the highest concentrations are found in its core. So to get the most bromelain, you have to include the core in the extraction process.
However, the pineapple core may not be as sweet as the pulp. So if you're worried that it might affect the taste, don't. It does not leave a bitter taste.
How to Make Enzyme-rich Smoothie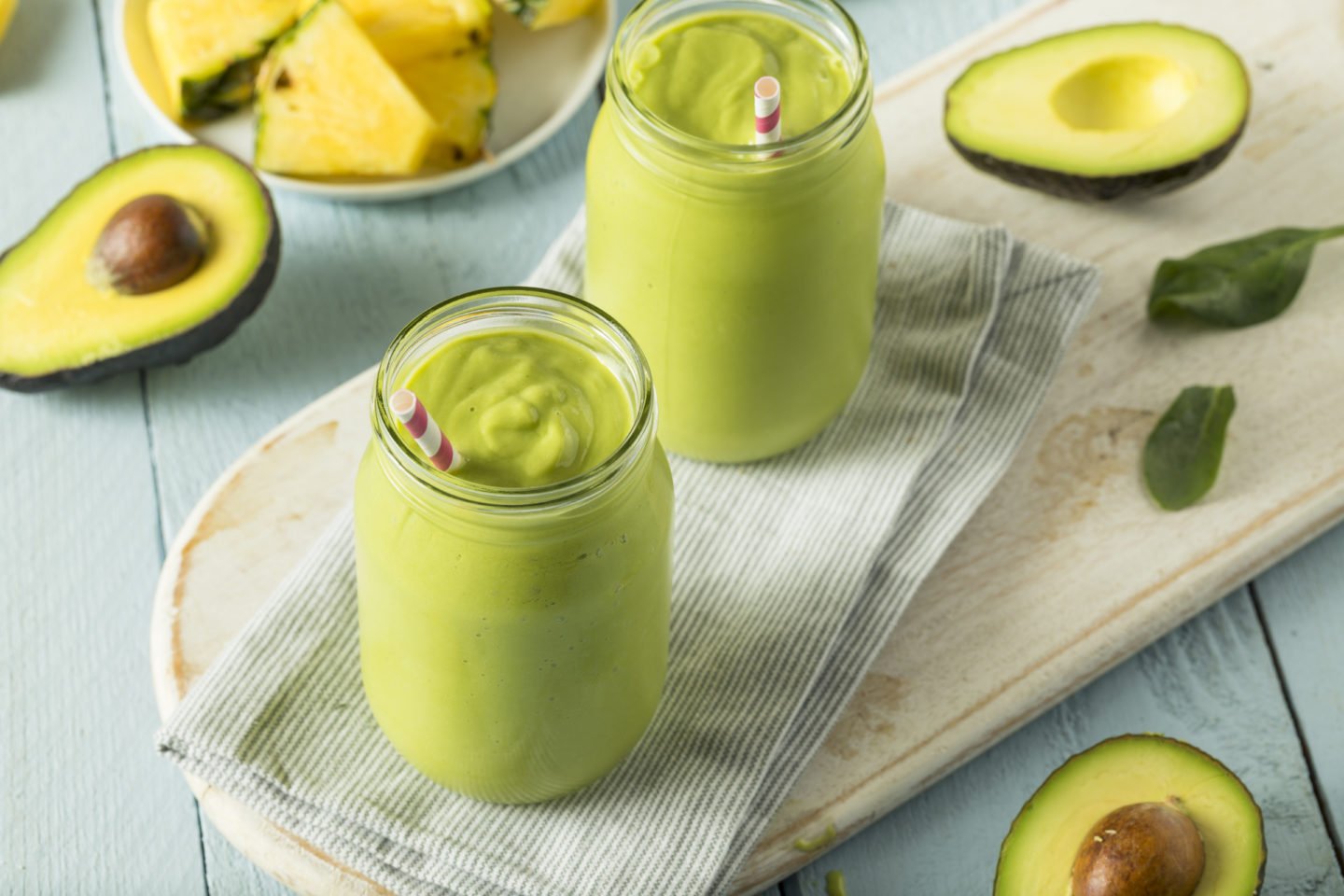 Bromelain has only been found in pineapples, but you have other options if you wish to make a smoothie that contains digestive enzymes. Here are the fruits you can mix with pineapple: papaya, which has the digestive enzyme papain; mangoes and bananas that have amylases; avocados which contain lipase that burns fats; and even honey which contains several digestive enzymes. Of course, honey can serve as your smoothie sweetener, too!
We recommend using fresh fruits and a hand mixer to make the smoothie. Freeze the fruit slices before mixing to create a thick consistency. A glass of this enzyme-rich smoothie will get your bowel movements going immediately.
Vitamin C: Flushes Your Toxins Out
Every 100 grams of pineapple provides 79% of the recommended daily vitamin C needs. Vitamin C, a powerful antioxidant, protects the cell from damages and boosts immunity. However, in high levels, your body will try to expel as much vitamin C, the process commonly known as "Vitamin C Flush."
Vitamin C flush is believed to remove the toxins in the body through bowel movements. Although you can go for synthetic vitamin C supplements, pineapples and pineapple juice contain natural vitamin C that is easily absorbed and processed by the body.
Drinking two glasses of pineapple juice can provide a whopping 131% of the required vitamin C intake, allowing your digestive system to be protected from inflammation, as well as hasten digestion.
How to Make a Vitamin C Smoothie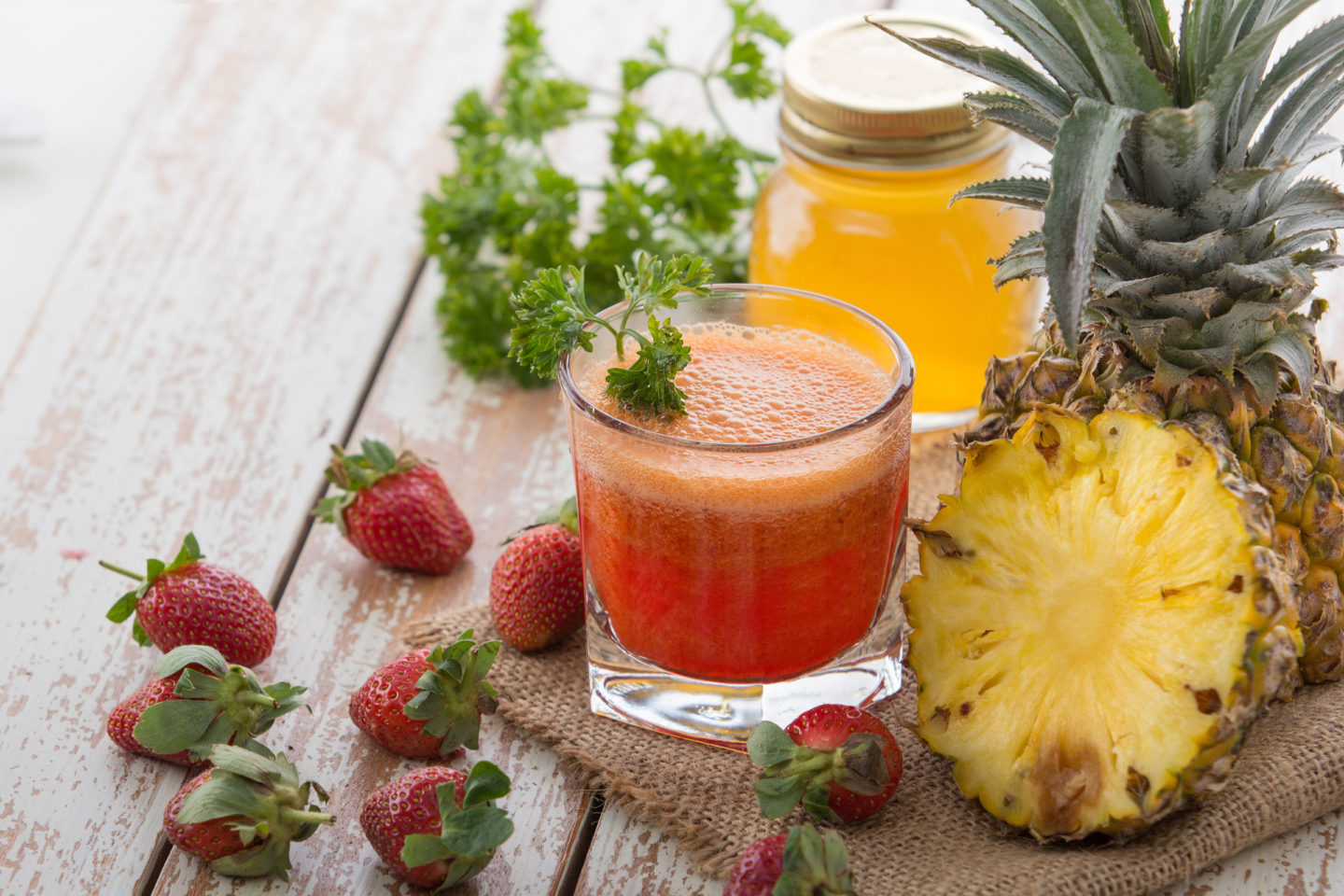 While pineapples alone provide more than enough vitamin C that you need daily, you need more to achieve the natural vitamin C flush. Some vitamin C-rich fruits that you can add to make your smoothie are guavas, cantaloupe, kiwi fruit, papaya, oranges, and strawberries. Honey can also be counted as a sweetener, as it is rich in digestive enzymes and vitamin C.
To make the smoothie, you can choose three of the fruits mentioned above and freeze them before blending. Depending on your preference, you can add the honey before or after blending. Two glasses of a vitamin C-rich smoothie will help you achieve a healthy digestive system as well as boost your overall health.
Fiber: Your Gut's Best Friend
Although bromelain and vitamin C are the main reasons pineapple juice makes you poop, the dietary fiber levels on this fruit juice contribute significantly to its digestive capabilities. Fiber can be soluble or insoluble, and each form has its own set of advantages.
Soluble fiber is a kind of fiber that comes from inside plant cells and melts in water to produce a gel. Insoluble fiber is derived from plant cell walls and does not dissolve in water. Men should strive for 30 to 38 grams of fiber daily, while women should aim for 21 to 25 grams per day, with a combination of soluble and insoluble fiber.
Insoluble fiber binds to water, softening and bulking up your stool while also speeding up its passage through the digestive tract. This helps you pass stools and reduces your risk of hemorrhoids, diverticulosis, and constipation. The easier the bowel movement is, the lesser exposure to toxins that can cause cellular damage and even cancer.
Soluble fiber can help lower blood sugar levels by delaying digestion, and it can also help lower cholesterol levels by attaching to cholesterol and preventing it from being absorbed. Both forms of fiber make you feel fuller for longer, making it simpler to control your calorie intake.
To summarize, if you're after constipation relief, you have to consume foods rich in insoluble fiber. Pineapples are rich in insoluble fiber and provide up to 11% fiber per serving.
How to Make a Fiber-rich Smoothie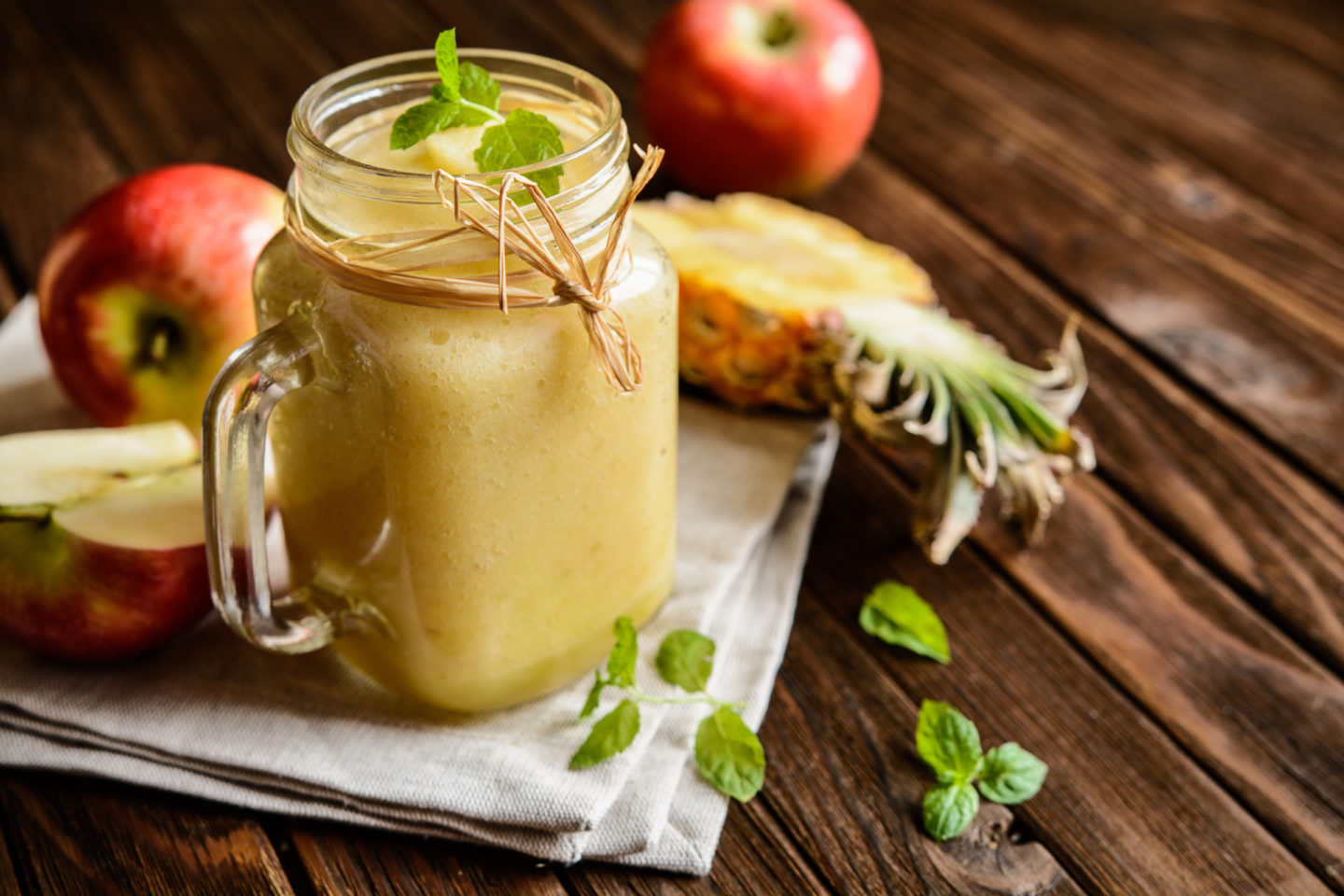 Since pineapples are not the richest source of fiber, you might want to consider adding fiber-rich fruits to your pineapple juice and make a smoothie. Some of the richest sources of fiber are apples and apple juice, bananas, raspberries, mangoes, persimmon, guava, and oranges.
Freeze your fruit of choice and start blending at high speed to make the smoothie. You can serve the smoothie with raspberries as toppings or include the raspberries in the mixture. Drinking 2 glasses of this fiber smoothie can alleviate constipation, and drinking a glass maintains healthy digestion.
Anti-inflammatory Compounds Prevent Digestive Problems
Constipation is often caused by an underlying digestive system condition that disrupts regular bowel movements. According to Mayo Clinic, the most common cause of constipation is blockages in the digestive tract. These include tiny tears around the anus, blockage in the intestines, colon cancer, narrowing of the colon, abdominal cancer, and rectal cancer.
Pineapple juice is rich in antioxidants and vitamins that prevent inflammation, cellular damage, and even cancer. Bromelain is a powerful enzyme that acts as an anti-inflammatory compound, preventing swelling, relieving pain, and promoting wound healing.
In fact, if you're scheduled for surgeries, pineapple juice has been noted to prevent complications by decreasing swelling, redness, pain, and inflammation. Each serving of pineapple juice provides up to 500 mg of bromelain, while bromelain supplements are dosed at 500-1000 mg per day. This data suggests that drinking one glass of pineapple juice a day equals consuming supplemental bromelain.
Aside from bromelain, vitamin C also helps in preventing causes of constipation. As a natural antioxidant, vitamin C has been noted to have positive effects against cancer and other inflammatory diseases. While cancer patients present low levels of vitamin C and scurvy-like symptoms, pineapples and raw pineapple juice provide more than 100% of the required vitamin C intake.
Another health benefit that vitamin C offers is the ability to increase the rate of wound healing by promoting collagen production around the affected area. In digestive disorders like anal fissures or tearing of anal skin, vitamin C facilitates healing, while bromelain prevents inflammation and swelling, resulting in constipation relief.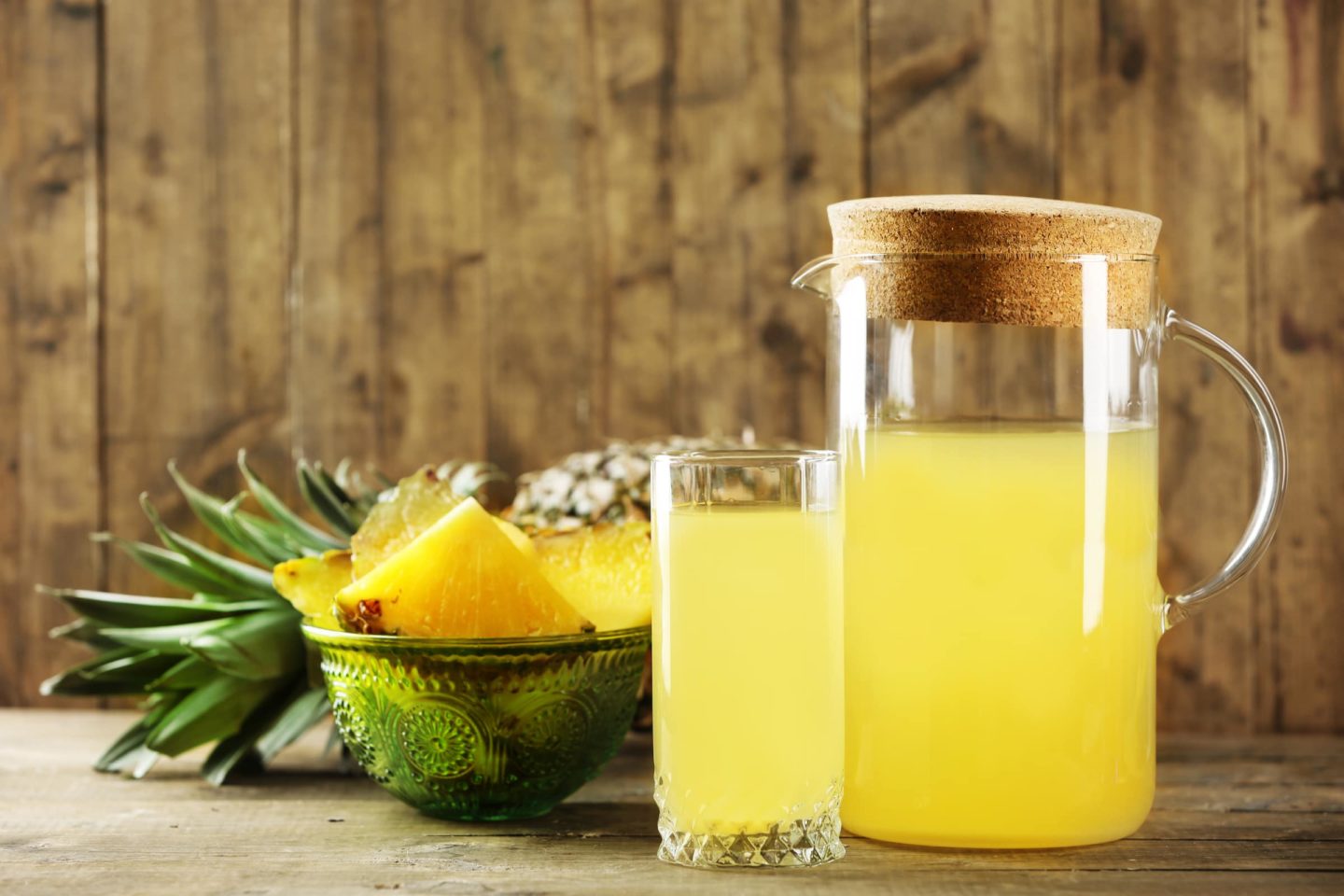 Water: Softens Gut's Contents
There might not be any vitamins in water, but it is one of the greatest weapons against constipation. Mayo Clinic suggests that hydration greatly relieves constipation. Since constipation often presents as dry, lumpy stool that's hard to pass, drinking enough water is necessary.
In children, the most common cause of constipation is a change in diet. Healthline suggests that a glass per year is the recommended water intake for toddlers. This means that if you have 5-year-old children, they should drink 5 cups of water.
To this effect, did you know a glass of pineapple juice (250 mL) contains around 215 mL of water? Water helps regulate healthy digestion and soften the stool, making it easy to pass. You can also add cucumber, apple juice, and watermelon to add flavor.
Nutrients in Pineapple Juice
Pineapples are one of the healthiest fruits. Aside from its effects against constipation, other health benefits of drinking fresh pineapple juice include promoting weight loss, suppressing inflammation, and boosting immunity. It has high vitamin A, C, niacin, folate, pantothenic acid, and minerals such as manganese, zinc, copper that promote overall health.
Raw pineapple juice is also a low-sodium drink with high potassium levels, allowing it to maintain healthy blood pressure.
A cup of crushed pineapple juice provides the following:
117 calories
241.8 mg Potassium
30 g Carbohydrates
2.5 g Fiber
28 g Natural sugar
30% Vitamin C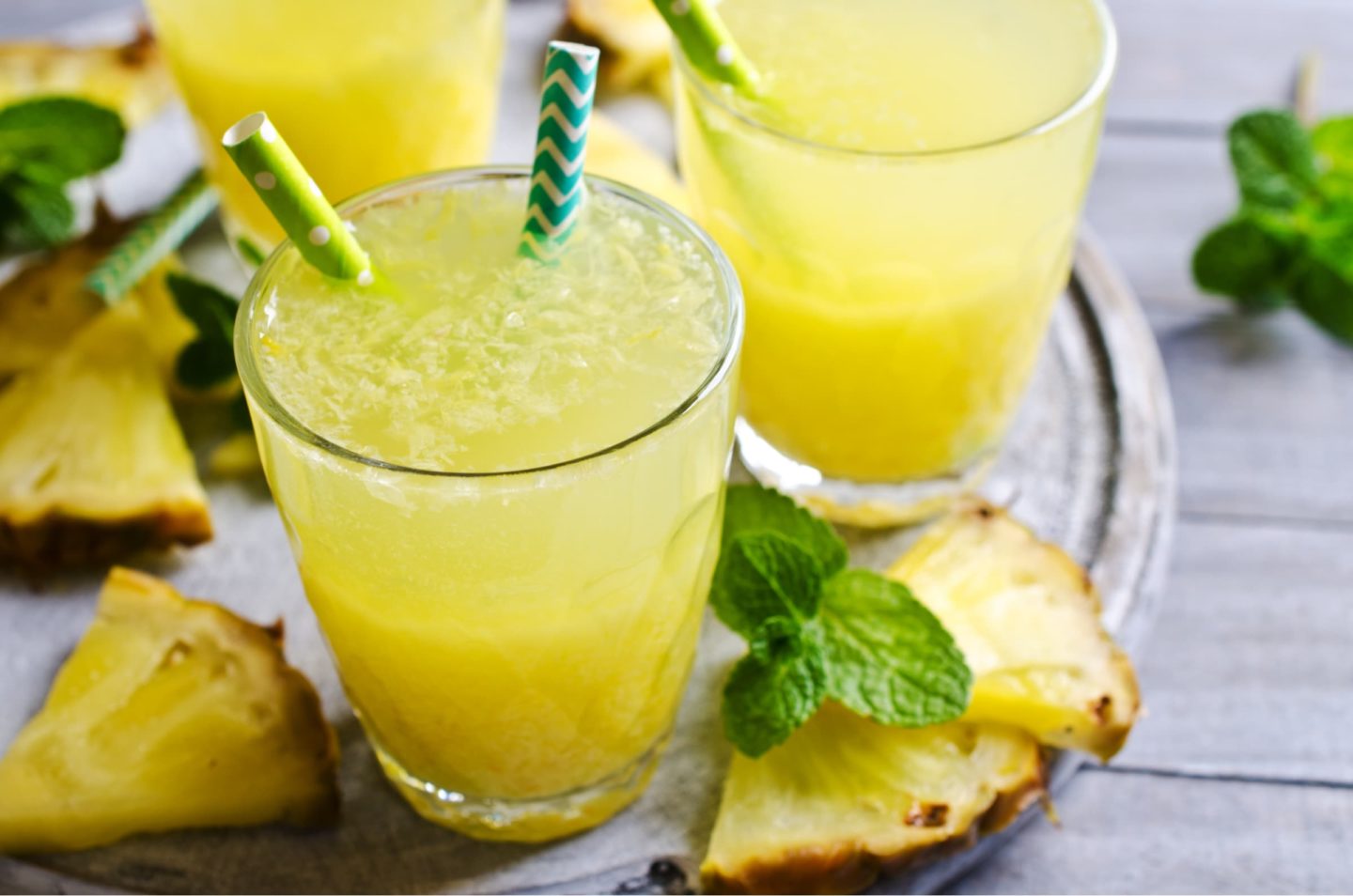 Potential Risks of Pineapple Juice
Stomach Problems
Drinking too much fresh pineapple juice may lead to abdominal pain, nausea, diarrhea, and even heartburn. Bromelain also slows down blood clotting, which may be a problem for people with bleeding disorders.
Toxicity
While pineapples are a great source of nutrients, unripe pineapple chunks can be toxic to humans. It can cause irritations and pose a severe laxative effect resulting in dehydration.
Kidney Disease
Fresh pineapple juice is rich in potassium. People with kidney disease should seek medical advice before taking pineapple juice in huge amounts as it can worsen their kidney health.
Allergies
Be cautious since bromelain may trigger an allergic reaction if you're sensitive to wheat, celery, papaya, or latex. Pineapple allergies can produce a rash, hives, or breathing issues in some people. After eating pineapple, stay away from pineapple juice if you get these symptoms.
Diabetes
Fresh pineapple contains high natural sugar, especially canned pineapple juice, as they contain added sugar. People with diabetes or those who wish to lower their blood sugar should go easy on drinking pineapple juice.
Related Questions
Is it okay to drink pineapple juice every day?
If you're not allergic to pineapple fruit, there's no reason why you shouldn't be able to drink fresh pineapple juice daily. Of course, drinking pineapple juice is conditional approval because not everyone can tolerate pineapple's unique digestive enzyme and acids. In addition to vitamin C (ascorbic acid), pineapple contains 8% citric acid, which is responsible for the pineapple's acidic flavor.
How much pineapple juice should I take daily?
Drinking a glass of pineapple juice a day gives an adequate amount of vitamins and provides health benefits that the body needs. However, if you wish to relieve chronic constipation, two glasses a day should do the trick. It is important to note that too much pineapple juice will result in diarrhea and can even cause a sugar spike due to the high sugar levels.
How much is too much pineapple juice?
A glass of pineapple juice is enough to get its health benefits on a regular basis. Drinking more than two glasses each day will result in weight gain, as it contains a lot of natural sugar and can even complicate bleeding disorders due to excessive bromelain.
What are the side effects of drinking too much pineapple juice?
Acid reflux, diarrhea, abdominal pain, and nausea can result after drinking too much pineapple. Note that ripe pineapple juice is highly acidic, irritating your digestive tract. Moreover, women may be at risk for excessive menstrual bleeding.
Should you cook or grill pineapples?
Heating or grilling pineapples kill its digestive enzymes. Although you may not experience the sting or burning sensation when eating grilled pineapples, that can indicate that the enzymes are deactivated and can also mean lesser benefits from the fruit.