Pineapple is a very popular, sweet tropical fruit treat. Packed with nutrients, it's a delicious snack on a hot summer's day. It's also very versatile and can be eaten on its own, as part of a salad, juiced, or even as a slightly controversial pizza topping.
However, many people suffer from acid reflux, GERD, and associated symptoms like heartburn. These people need to know how acidic common foods are and how each affects their symptoms. Sufferers may need to strictly limit or avoid foods that trigger or worsen their symptoms, and this can be especially difficult with delicious treats like pineapple.
Table of Contents
Is Pineapple Acidic or Alkaline?
Pineapple is acidic and acid-forming, so most people suffering from acid reflux or GERD should limit their intake or avoid it altogether.
However, pineapple is an excellent addition to your diet if you can tolerate some without triggering your symptoms.
Don't know what to drink? Check out these articles: 20 Most and Least Acidic Juices and 20+ Alcoholic Drinks Ranked by Acidity Level
What Is the pH of Pineapple?
Pineapple has a pH of 3.20-4.00 and is also acid-forming, meaning it's likely to stimulate an overproduction of gastric acid, which can then reflux up your esophagus.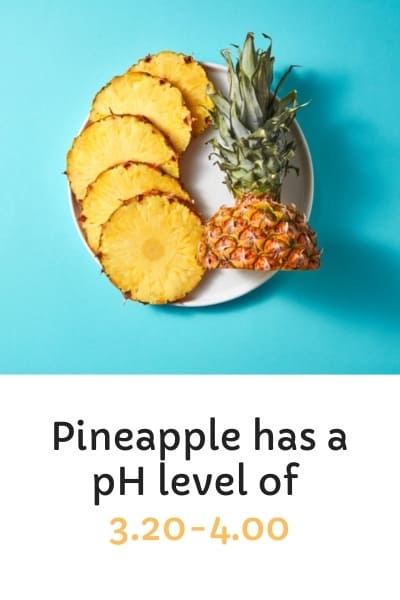 However, small amounts of fresh pineapple may improve acid reflux symptoms in some cases, as it contains bromelain, which may reduce inflammation in your digestive system.
Is Pineapple Good for You?
Most calories in pineapple come from carbohydrates, including fiber. One cup of pineapple chunks contains 2.3 g of fiber, around 9% of the recommended daily intake. Fiber soaks up excess gastric acid, reducing the likelihood of heartburn and other symptoms.
One cup of pineapple also contains more than the recommended daily intake of vitamin C. This supports your immune system and is especially important in the winter.
Vitamin C is also a powerful antioxidant that reduces inflammation and flushes out free radicals. Antioxidants reduce oxidative stress and cellular damage, potentially reducing your risk of developing diabetes and some cancers.
Antioxidants can also reduce chronic inflammation, boost your immune system, and lower disease risk.
The bromelain and antioxidants in pineapple may also help prevent arthritis.
Eating pineapple may reduce joint inflammation, relieving the pain of inflammatory arthritis.
The antioxidants and compounds in pineapple may also help treat osteoarthritis.
Some studies show that drinking pineapple juice improves exercise performance, reduces post-exercise muscle pain and inflammation, and quickens recovery after a workout.
Can You Eat Pineapple When Suffering Acid Reflux?
Some experts recommend acid reflux and GERD sufferers avoid pineapple. However, not everyone's symptoms or triggers are the same, and some may be able to tolerate more than others.
If your acid reflux or GERD causes stomach ulcers, you should avoid pineapple altogether.
Is Pineapple Juice Acidic?
Pineapple juice has a pH of around 3.30-3.60, slightly more acidic than fresh.
It's also high in sugar, which slows down digestion and increases stomach acid production.
Diluting pineapple juice may make it more tolerable, and using alkaline water reduces its acidity.
Is Canned Pineapple Acidic?
Canned pineapple has a pH of 3.35-4.10 and, like pineapple juice, is high in sugar.
It's best to avoid canned fruit, especially in heavy syrup, on low-acid diets.
Conclusion
Pineapple is a delicious treat but acidic and likely to trigger acid reflux symptoms. You may be able to tolerate a little occasionally, but if not, it's better to avoid it altogether.
Don't know what to drink? Check out these articles: 20 Most and Least Acidic Juices and 20+ Alcoholic Drinks Ranked by Acidity Level