Although both Lemon Lime and Moonlight are philodendron plants, they have very different characteristics. The main difference between the two is their leaves; Lemon Lime possesses smaller, elongated leaves with a golden yellow color, while Moonlight philodendron has more prominent and rounder leaves with a yellow color that turns light green when mature. You will also quickly notice that Moonlight Philodendron is overall larger than Lemon Lime, especially when both are just starting to grow.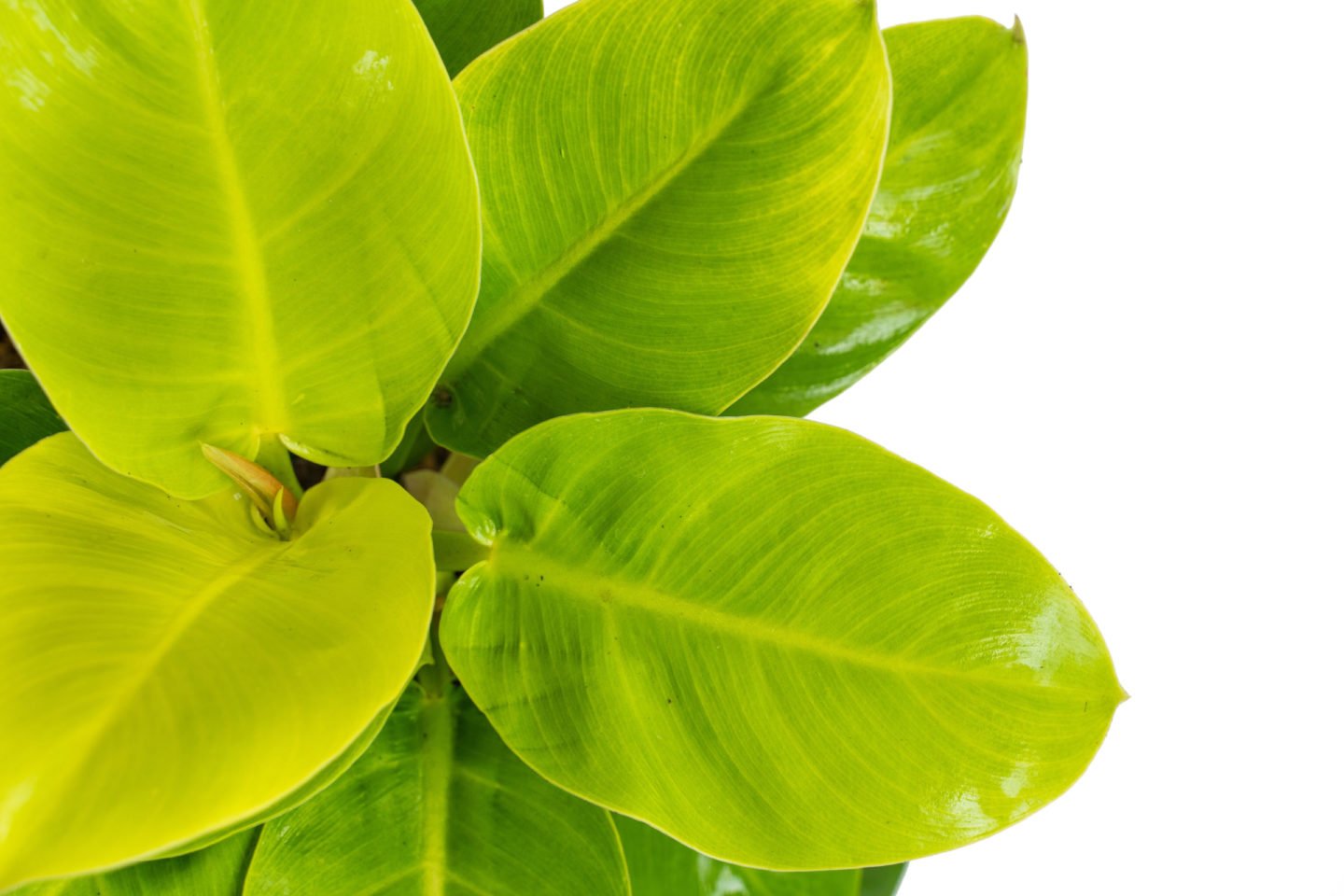 Moreover, when mature, Lemon Lime grows into a vine, while Moonlight Philodendron is self-heading. Since Philodendron Lemon Lime and Moonlight grow differently, they have different growth requirements, pruning, and propagation techniques. While both are equally pleasing and easy to tend to, there are a lot of differences to consider when choosing a houseplant.
This article will discuss everything you need to know about the differences between Philodendron Lemon Lime and Moonlight, from their appearance to growth requirements and other information related to the topic.
Table of Contents
Philodendron Lemon Lime vs. Moonlight: Leaf Size and Shape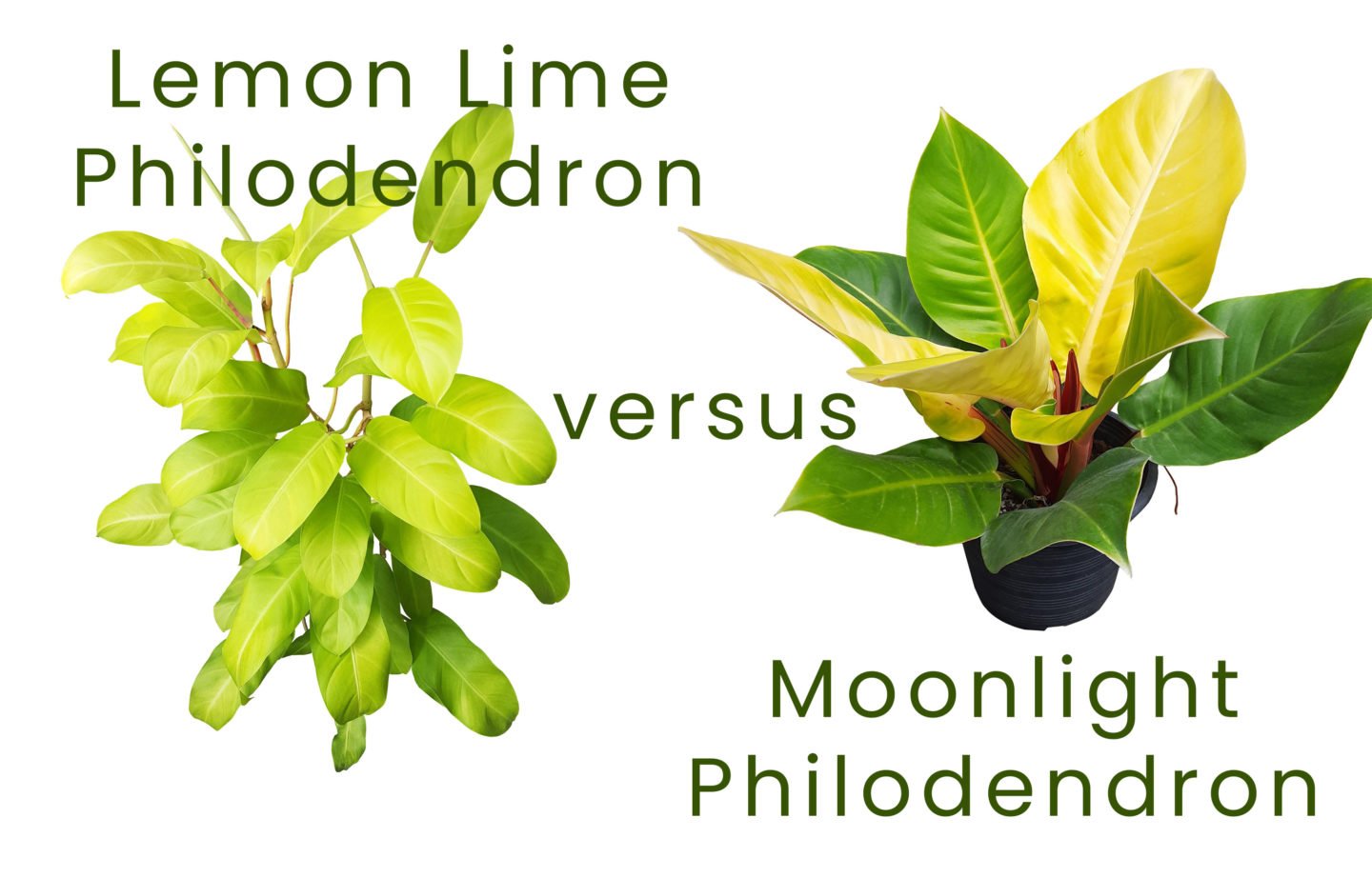 The leaves are vital in differentiating Lemon Lime from Moonlight. First off, when you search for Philodendron Lemon Lime online, you will see two types: heart-shaped leaves and elongated ones. Although both are called Lemon Lime Philodendrons, they belong to different cultivars. One belongs to Philodendron Hederaceum, also known as heartleaf philodendron, and the other belongs to Domesticum, which has elongated leaves.
For this article, we will be comparing the Domesticum lemon lime with Moonlight, as they have more similar characteristics, which can be confusing sometimes. Philodendron Lemon Lime leaves from the Domesticum cultivar look a bit like Moonlight Philodendron leaves, but they are shorter and thinner. On the other hand, Philodendron Moonlight's leaves have a more oval shape and shorter petioles than the Lemon Lime.
The leaves of Lemon Lime grow up to 10 inches, while Moonlight leaves grow up to 14 inches, especially when in favorable growing conditions. Both plants are evergreen, meaning their leaves stay for very long periods with the proper growing requirements.
Philodendron Lemon Lime vs. Moonlight: Foliage Color
Another significant difference that you can quickly notice between Lemon Lime and Moonlight is their foliage color. Both plants' young leaves are a bright yellow color, and the leaves of the Lemon Lime stay that way until they mature. On the other hand, Moonlight develops green leaves when they mature.
You can also notice that the Lemon Lime has a velvety texture compared to Moonlight's glossy leaves. Because of this, the Lemon Lime's leaves tend to be more sensitive to direct sunlight, insects, and other pests.
Philodendron Lemon Lime vs. Moonlight: Leaf Detail
You may be confused when looking at young Lemon Lime and Moonlight due to their same foliage color, but you can look closely and see the leaf details of both plants. Up close, you can notice the Moonlight's midrib to be very apparent as it has a lighter color than the rest of the leaf. On the other hand, the Lemon Lime has a pronounced midrib and grooves along the leaves, but they are the same color as the leaves.
Philodendron Lemon Lime vs. Moonlight: Growth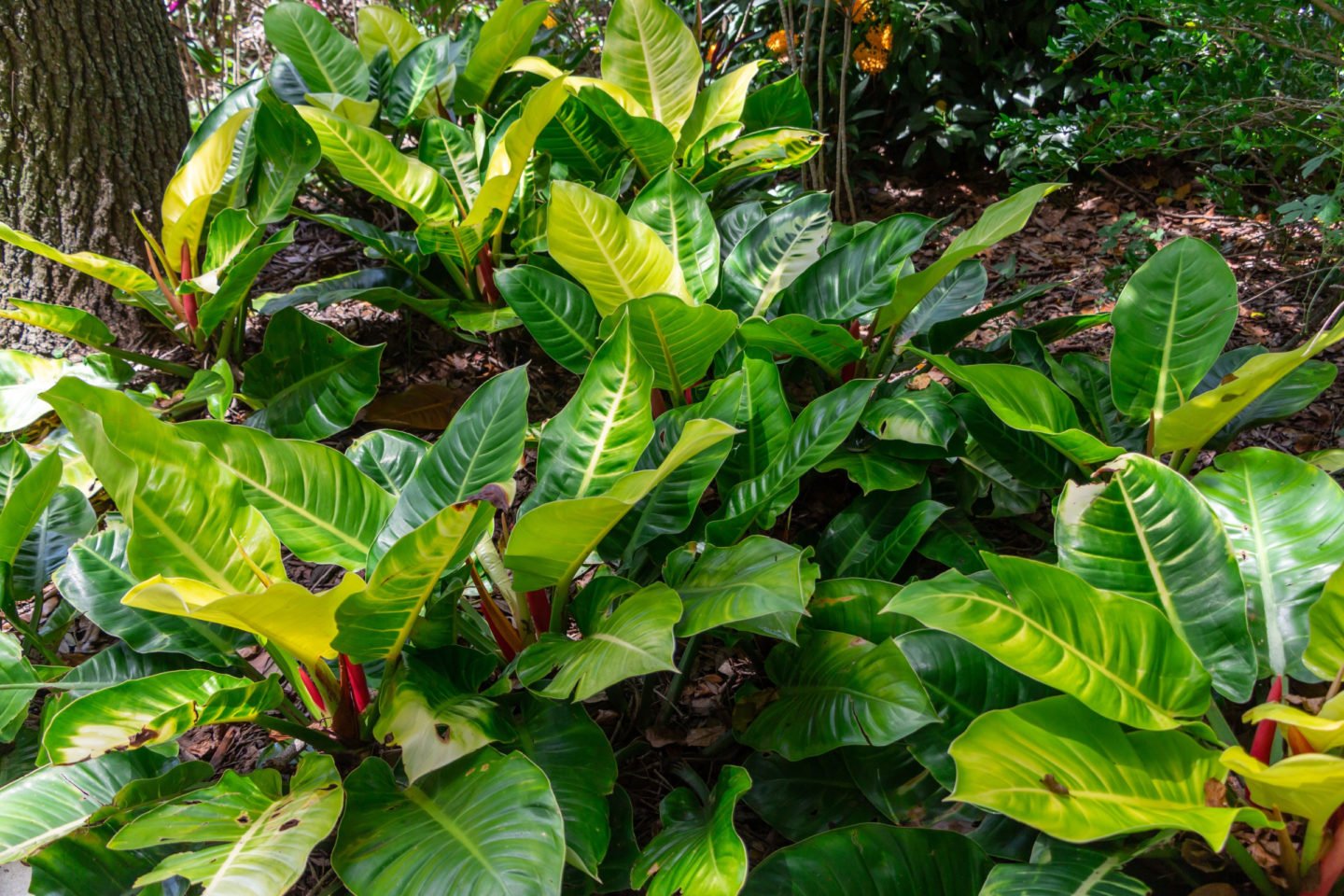 Since both Philodendron Lemon Lime and Moonlight require light for their foliage color, you can plant both in summer or spring, which is their growing season. Moonlight philodendron grows larger than Lemon Lime, with a height of up to 24 inches and a width of almost 30 inches. However, Lemon Lime grows longer as it develops into a vine and can grow up to 3 meters when allowed.
If you want your Lemon Lime to grow tall, you can provide a pole for it, but you can also prune it to maintain its growth in the pot. Once placed on a pole, Lemon Lime tends to develop fewer leaves, while pruning them encourages the development of new leaves.
Philodendron Lemon Lime vs. Moonlight: Light Requirements
Philodendron Moonlight and Philodendron Lemon Lime need bright, indirect sunlight to keep their leaves from turning yellow. When planted in pots, bring the plants out in the morning before heat strikes, and place them somewhere shady but with indirect light for the rest of the day—keeping your indoor plant without bright light for an extended period results in paleness and foliage withering.
Philodendron Lemon Lime vs. Moonlight: Water Requirements
Philodendron Lemon Lime and Philodendron Moonlight care includes regular watering. As a rule of thumb, you should water your Philodendron plant when the soil is already 1-inch dry. However, this depends on the maturity of the house plant. You can water younger plants when the soil is already half dried out.
Since Moonlight has glossy leaves, I suggest spraying them with water every once in a while and wiping dirt to maintain their shine, especially when they are placed near the windows where there are dust particles. However, you can't do this to Lemon Lime Philodendron as its leaves are velvety and sensitive to the touch.
Philodendron Lemon Lime vs. Moonlight: Soil Requirements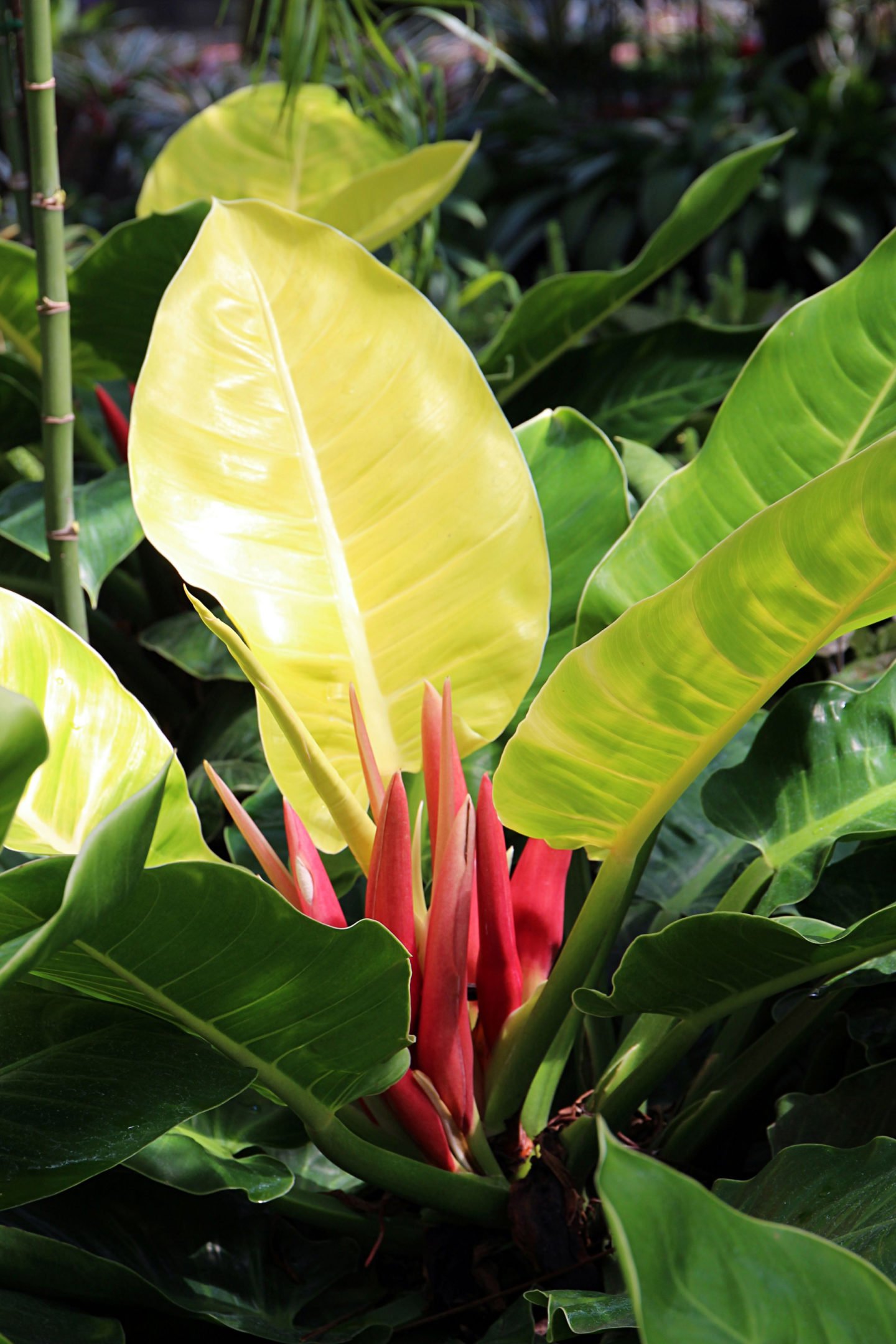 Both Lemon Lime Philodendron and Moonlight Philodendron need self-draining, loose, and moist soil, especially when the Philodendron plant has just started growing. Keeping them in loose soil is essential to help them develop their roots. Since Philodendrons love organic soil, you can use a peat moss mixture for young plants and add more soil when you're ready to transplant them to larger pots.
Moreover, Philodendrons don't do well in alkaline soil, so make sure that the planting soil you use is neutral to slightly acidic.
Philodendron Lemon Lime vs. Moonlight: Pruning
Between Philodendron Lemon Lime and Philodendron Moonlight, Lemon Lime needs more pruning as it forms a vine and tends to develop fewer leaves when grown very long. You can cut the stem after the leaf node to prune Lemon Lime Philodendron. I suggest cutting the stem in between the nodes to prevent any damage to the plant.
On the other hand, Moonlight Philodendron does not need much pruning since it's a self-heading Philodendron plant. However, you want to make sure to remove diseased leaves and old, dull ones to encourage the growth of new leaves. I like to cut the Moonlight leaves near the base with sharp scissors to prevent cutting other leaves.
Philodendron Lemon Lime vs. Moonlight: Propagation
Philodendron propagation is quite tricky, especially for beginners. The easy part is that you can make more philodendron plants by cutting off pieces of the stems.
The first thing to learn when propagating is where to cut. You have to ensure that the stem you're cutting has aerial roots for it to grow. Most of the time, I cut off newer leaves when I see aerial roots growing near the base of 4-6 leaves. Using a clean, sharp knife, cut through the stem at an angle, and place the stem cutting in clean water for a few days until you notice the aerial roots growing long enough.
When transferring cuttings to the pot, be sure that you use loose and self-draining soil to avoid rotting.
Related Questions
What are the famous philodendron plants?
Aside from Lemon Lime and Moonlight, other famous philodendron plants include Philodendron Pink Princess, Philodendron Birkin, Philodendron Prince of Orange, Philodendron Brasil, Philodendron Burle Marx, Philodendron Erubescens, Philodendron Gloriosum, Philodendron Black Cardinal, Philodendron Imperial Red, and Philodendron Xanadu.
What are the rarest philodendron plants?
The rarest of philodendron plants is the Philodendron Spiritus Sancti. Philodendron Hastatum, Philodendron Pink Princess, Philodendron Mamei, Philodendron Golden Goddess, Philodendron Joepii, and Philodendron Billietiae with different colored leaves are also hard to find.
Is Lemon Lime and Moonlight rare?
Of the two, Moonlight Philodendron is rarer. Since lemon lime develops into a vine, it's easier to propagate than self-heading Moonlight.
Is the Neon Pothos the same as the Lemon Lime Philodendron?
No. The Neon Pothos belongs to the Arum family, while Philodendron Lemon Lime is the name given to two philodendron plants in the cultivars Hederaceum and Domesticum. However, Philodendron hederaceum, or Lemon Lime, looks similar to the Neon Pothos. You can read this article to learn the differences between Neon Pothos and Lemon Lime.