When people became more enamored with gardening and collecting house plants, one of the most commonly adopted plants is philodendrons. Among the philodendron plants, the Lemon Lime stands out due to its bright, yellow foliage that creeps into your garden, giving it character and color.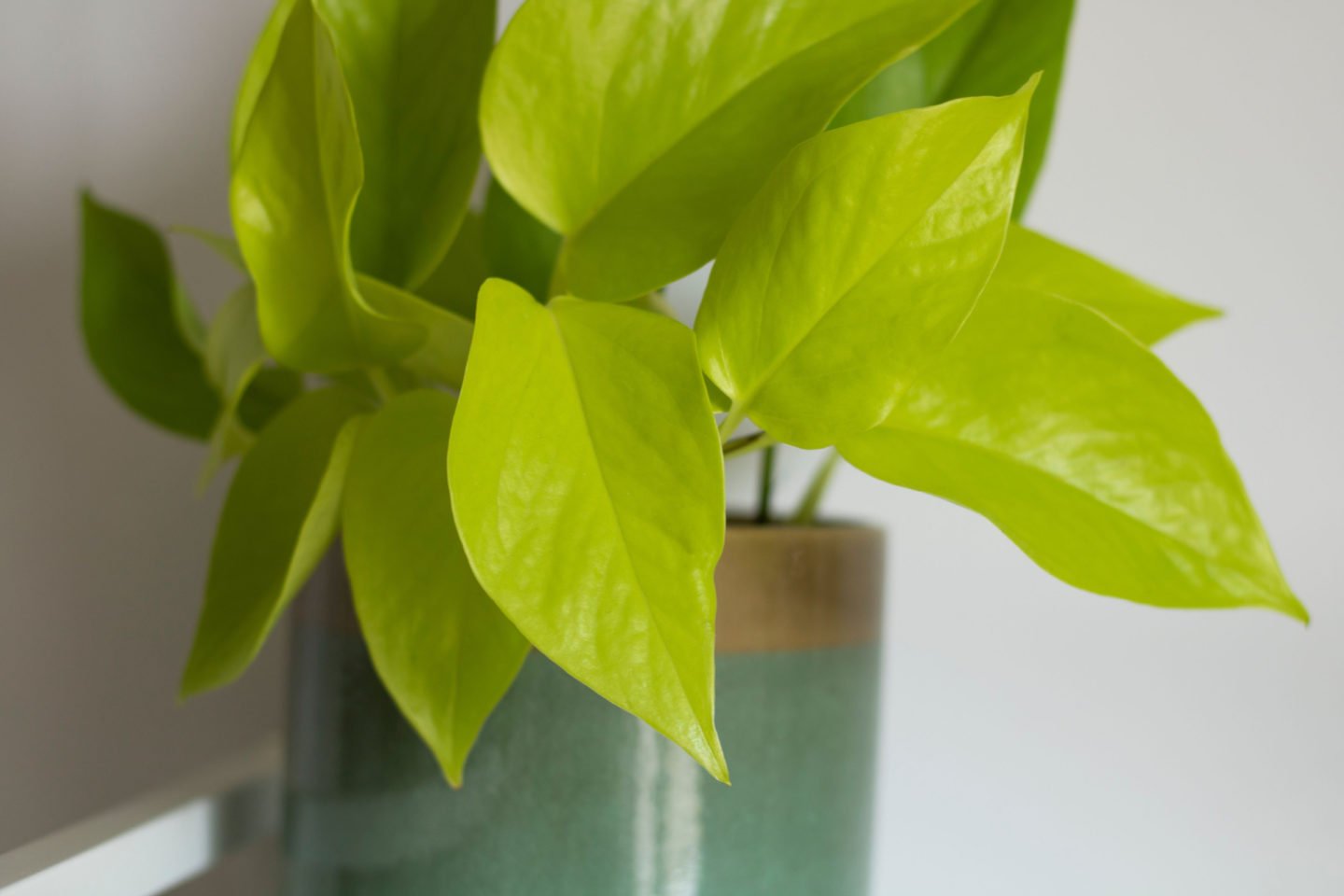 While people may think taking care of philodendrons is challenging, it's simpler than you think. The Lemon Lime philodendron is like any other ornamental plant; it grows well in great soil and with proper hydration. You can plant them in pots with good quality loose soil or directly to the ground with well-drained soil.
Bright-colored plants like Lemon Lime philodendron need sunlight to exhibit that bright yellow tones, so be sure to place them somewhere they can get bright indirect light. Taking care of philodendrons may sound overwhelming, but this article will discuss everything you need to know to help you in your journey.
Table of Contents
What Is A Philodendron Lemon Lime?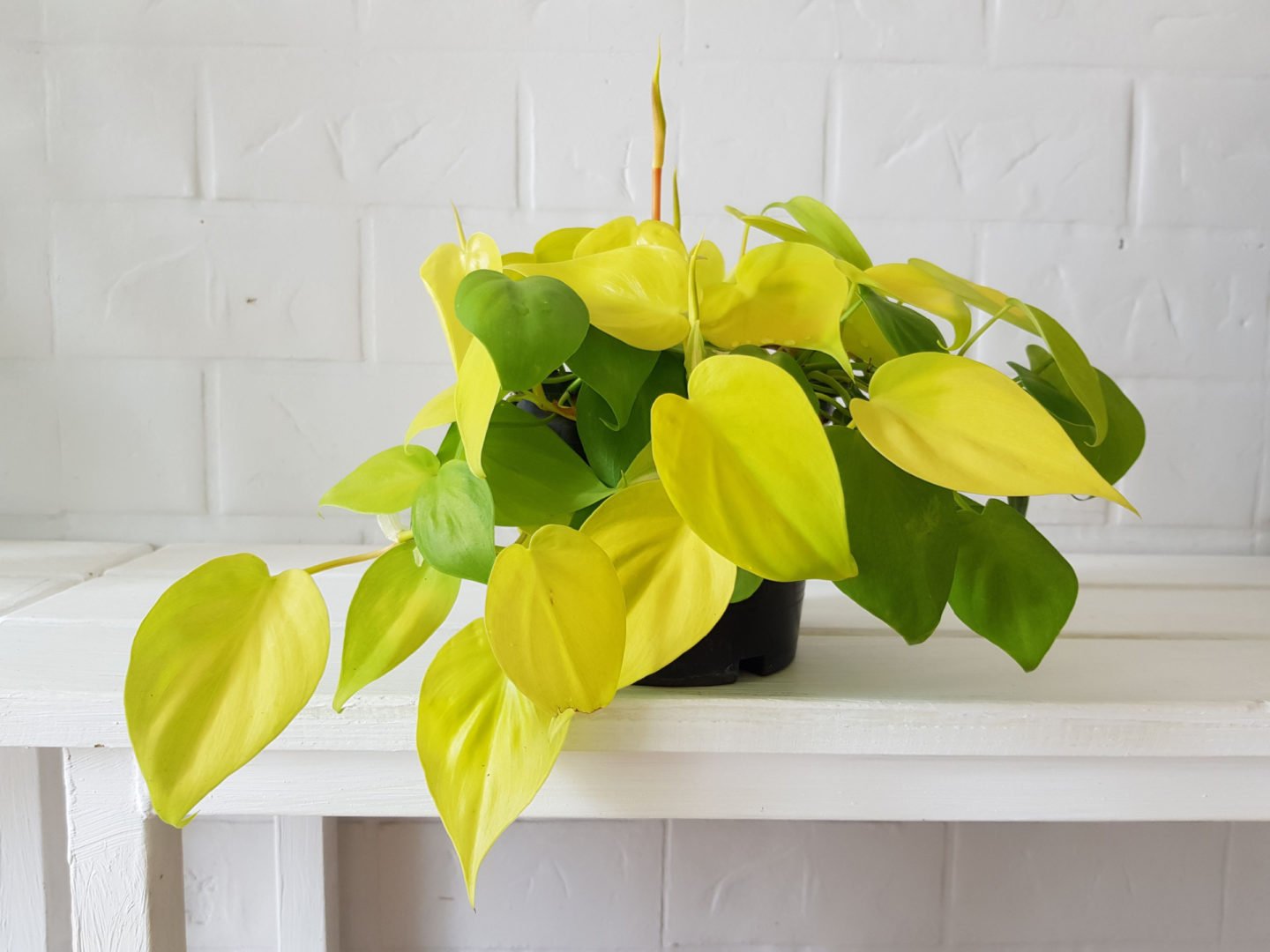 The Lemon Lime Philodendron, also known as the Philodendron Hederaceum or the Golden Goddess, is a tropical plant native to South American rainforests. The Lemon Lime Philodendron was discovered by European explorers and carried back to the European continent, where it became a popular houseplant. While you can grow Lemon Lime Philodendron outdoors, it is usually seen as an interior plant.
You can easily spot this plant due to its bright yellow-green foliage. The leaves are heart-shaped, as are those of most Philodendrons. Lemon Lime Philodendron is an evergreen plant, making them a household favorite, as its color lasts the whole year.
The leaves grow around 7-8 inches long and 1 inch broad, with the stem reaching about 12 inches. The indoor plant may grow 12-24 inches wide and 10-12 inches tall but can grow bigger and taller once planted in topsoil.
The philodendrons have other varieties: Heartleaf, Imperial Green, Prince of Orange, Brasil, Burle Marx, and other vine-like philodendrons. Like these varieties, the Lemon Lime philodendron works well as a wall plant to add color to your home.
Growth Rate
Under favorable conditions, proper watering, and adequate sunlight, the philodendron lemon lime plant produces a new shoot every 4 months. Fresh leaves grow up to 4 inches a week once planted in loose soil.
Care Difficulty
Aside from its sunlight requirement and need for self-draining soil, Lemon Lime philodendrons are easy to take care of. However, do note that pests are attracted to the bright-colored leaves of this plant, so when a new shoot appears, be sure that no pests come close to this beauty.
Water Requirements
Lemon Lime Philodendron requires a lot of water. However, you should wait for half of the soil to dry before watering the Lemon Lime Philodendron plant again and be sure to water it well if you do so.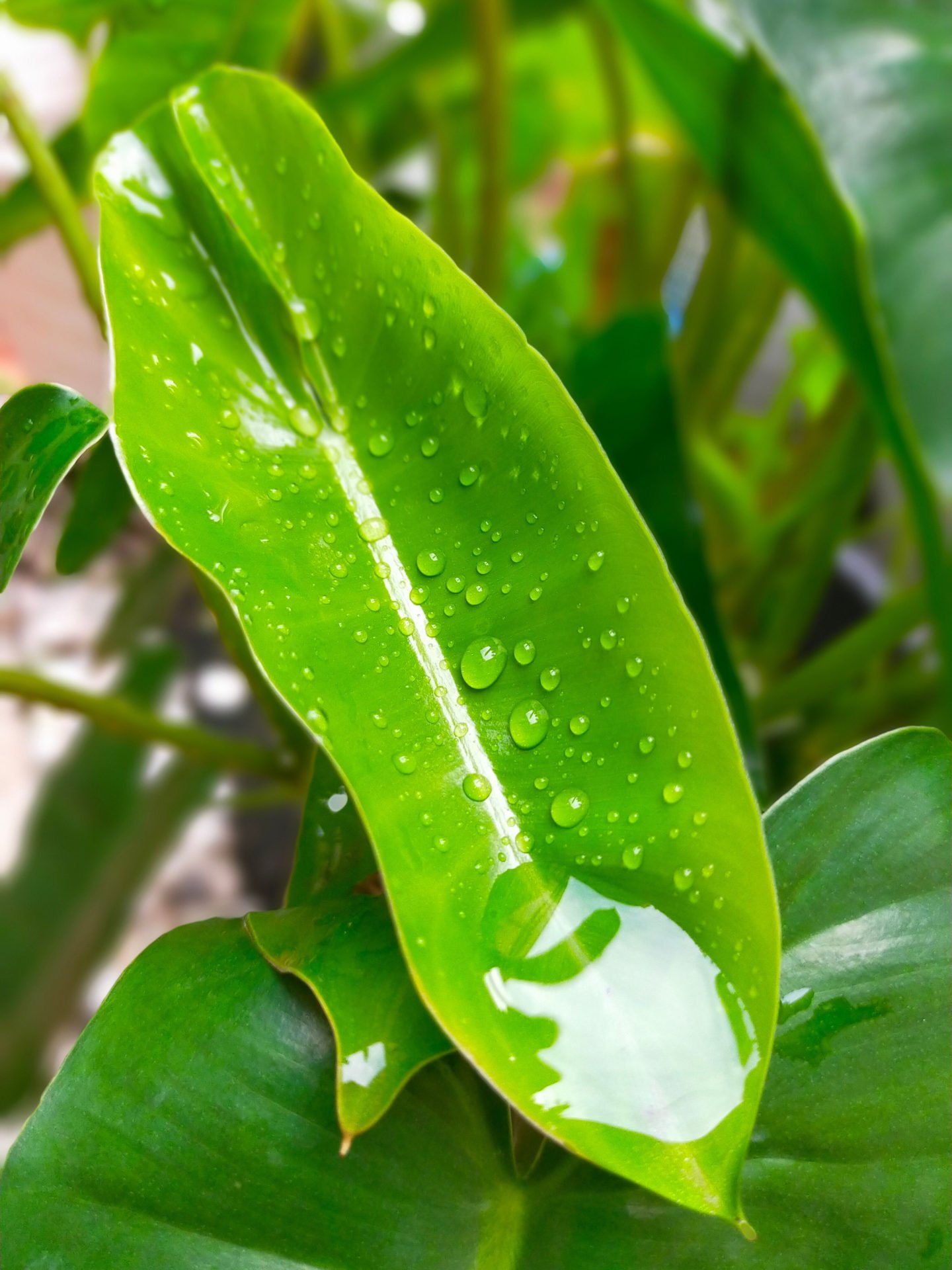 If you observe the leaves turning brown or getting soft and wilting, this indicates that your Lemon Lime is under-watered. You should increase your watering after a recovery and adjustment time; do not deluge the Philodendron Lemon Lime immediately. While your Lemon Lime Philodendron may recover from being under-watered, you should avoid doing so regularly.
Lack of water stresses your Lemon Lime plant, causing it to cease growing. On the other hand, if you notice yellow leaves instead of their usual yellow-green color, you are overwatering.
Since Philodendron Lemon Lime is naturally bright green, it might be challenging to discern the difference. That's why it is critical to check the amount of moisture in your soil before watering your Lemon Lime Philodendron.
Soil Requirements
Indoors, your Lemon Lime Heartleaf Philodendron requires well-draining, loose, moist soil. You may use standard potting moist soil mixed with some peat. It helps the roots develop when the soil is airy and loose, but avoid sandy soils since they drain so much that they don't retain moisture and nutrients.
Light Requirements
The philodendron Lemon Lime requires 75-80% sunshine exposure throughout the day. This light must constantly be bright but not direct sunlight, such as on a windowpane or a shelf near the window.
The plant is light-sensitive. It will thrive in low-light conditions, but direct sunlight will likely burn the plant's foliage. Thus, a dramatic shift in leaf color may suggest exposure to direct or highly harsh sunlight. Conversely, if kept in less-than-optimal light, leaves may hang down loosely.
Temperature and Humidity
The temperature in the room where you keep your philodendron Lemon Lime plant should be 65-80 degrees Fahrenheit when there's sunlight and 55 degrees Fahrenheit at night. Ensure that your plant is not exposed to drafts, especially in the winter, as it may suffer from stunted development once exposed to very low temperatures.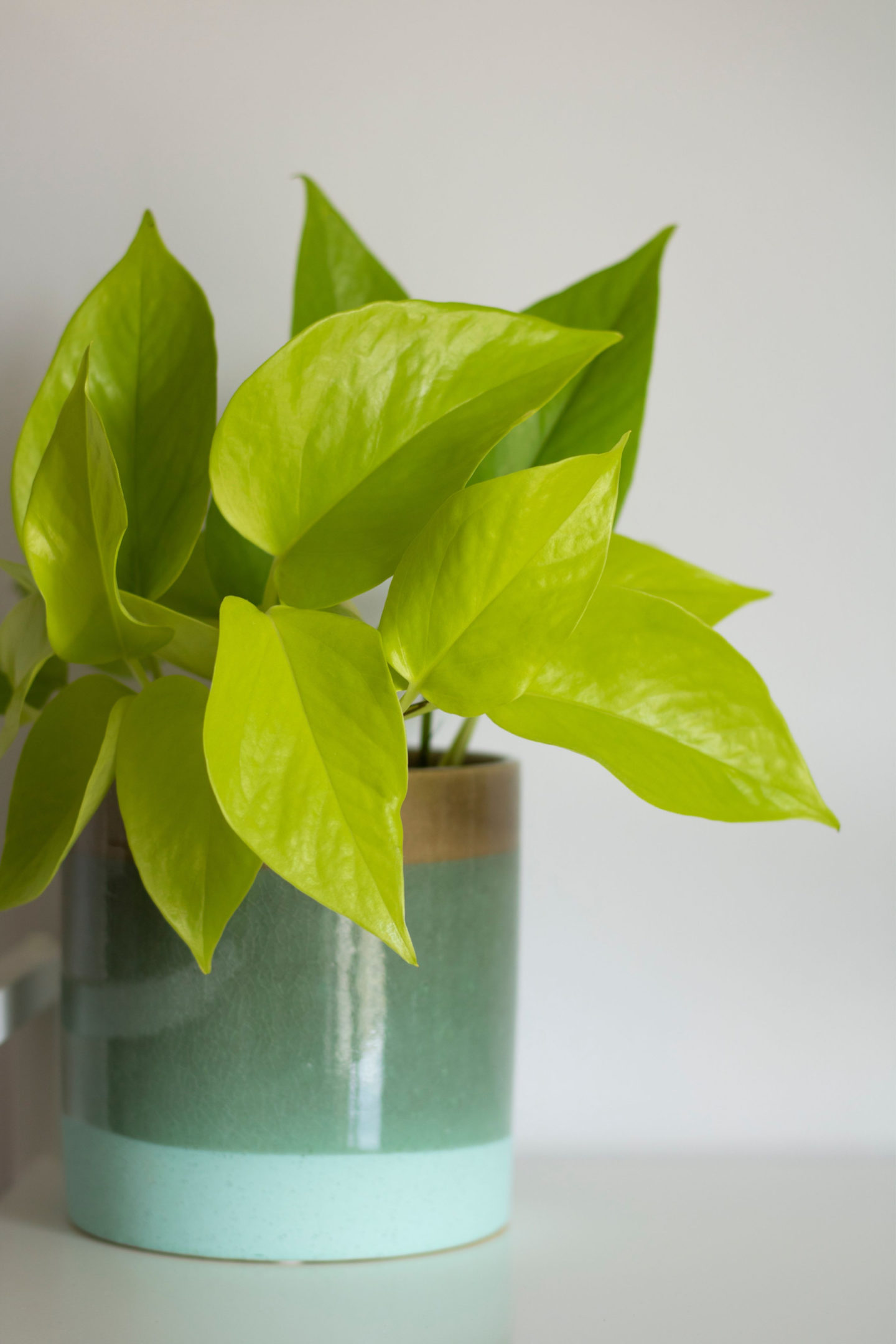 Even though the Lemon Lime Philodendron is a tropical plant, it thrives in normal household humidity conditions. The leaf grows larger, and overall growth increases with higher humidity. Misting the leaves of your philodendron Lemon Lime regularly also helps.
Fertilizer
If your Lemon Lime philodendron is still in its growing stage, giving them fertilizer is a must. You can use standard fertilizer to feed your plant and do this once a month in their growing period, especially during summer and spring, to produce larger leaves. Feeding them throughout the year also helps them during the growing season, but you can reduce the fertilization to once every two months, especially during winter.
Grooming and Pruning
Setting your growth plan is essential when taking care of a vine plant. For example, if you want the plant to maintain a specific length, you can start snipping off the overgrown vines to preserve their height and size. Moreover, pruning your Lemon Lime helps its developing leaves and shoots to grow easier.
If you notice a leaf turning yellow or brown, it's wise to cut them to maintain your plant's fresh looks. However, even when your philodendron Lemon Lime sits in the corner of your home, they are still prone to attract dust that can clog their pores, so be sure to wipe them now and then.
Grooming your Lemon Lime includes creating minor cuts using a sharp scissor or cutter near their nodes to aid their propagation. However, when doing this, be sure that the surrounding area is clean to avoid contamination and possible infection of your plant.
Repotting
Like other indoor plants, Philodendron plants demand a well-draining pot made of plastic, terracotta, or clay. Choose a pot with at least one drainage hole. A self-watering planter is another choice that helps your plant manage the quantity of water it consumes. Without proper drainage, your Philodendron is vulnerable to root rot, the leading cause of death in most houseplants, making it very important to re-pot your plant.
As your Philodendron Lemon Lime grows, try relocating it to a larger one to cater to its needs. It usually takes about one year for Lemon Lime to outgrow its pot. Putting new soil also helps it acclimate to the new pot more quickly and stimulates growth.
How To Propagate Philodendron Lemon Lime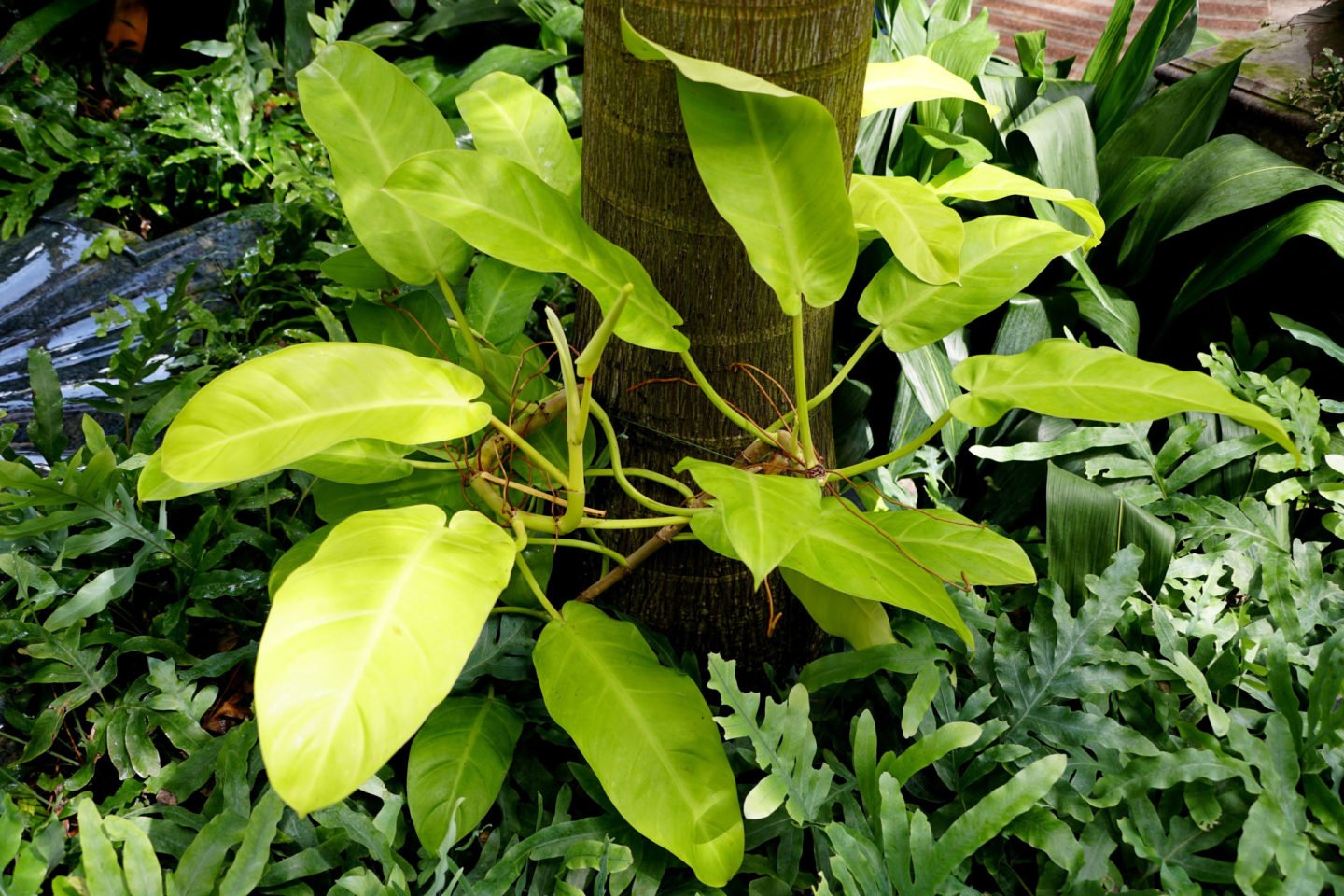 Soil Method
One of the easiest ways to grow your Philodendron hederaceum is to use stem tip cuttings in soil. Spring and summer are the finest growing seasons for taking stem cuttings. Choose fresh growth that is free of flaws for your cuts. Take out any leaves that may end up in the soil.
I recommend beginning them in little 4-inch pots and carefully pushing the stems into the dirt. Maintain high humidity around the cutting by keeping the soil wet. Also, you should keep the environment warm, at least 70 degrees Fahrenheit, to promote rapid root growth.
Water Method
Choose a healthy plant section for your cuttings, ideally fresh growth. Select a stem that has no more than 2-3 nodes.
Remove all but the top few leaves from your Philodendron Golden Goddess stem and place it in a bowl of lukewarm water. Keep the cup with a bright, indirect light source for a few days. You can also use a humidifier near the Philodendron plant to increase the humidity. For faster results, keep the area at least 70 degrees Fahrenheit, similar to stem cuttings in soil.
Philodendron Lemon Lime Toxicity
Unfortunately, Lemon Lime is toxic to people and pets, including cats and dogs. If ingested, expect the following symptoms: swelling of the lips, upset stomach, vomiting, and an allergic response to the eyes, esophagus, and throat. If your pet has consumed this plant, contact your veterinarian.
Problems You Might Encounter When Taking Care of A Lemon Lime Philodendron
Pests
Pests like spider mites and mealybugs weaken your philodendron hederaceum. If you notice any weakness, try checking the stems and leaves and check if there are brown, yellow, or green insects sucking on your lemon lime's sap. Once you notice them, it's wise to spray an oil or soap repellant.
Diseases
Your Lemon Lime can develop a bacterial and fungal infection that causes root rotting. When you leave the soil with too much water, bacteria and fungi grow, causing a condition to your plant.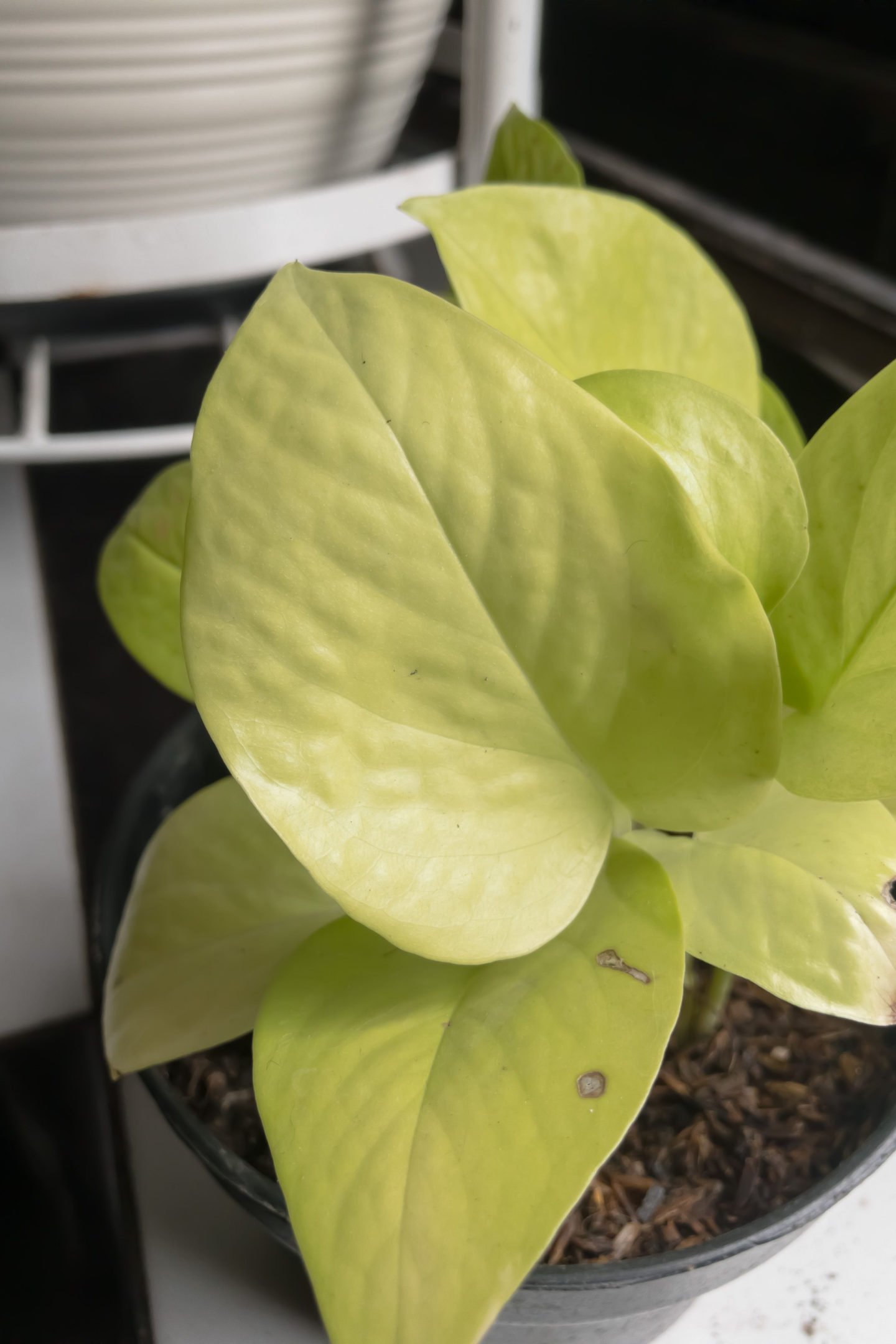 Curling Leaves
Curling, softening, or wilting leaves are a sign of underwatering. Since Lemon Lime requires proper hydration, follow the water requirements discussed in this article. It's helpful to use a self-watering and self-draining pot for this plant.
Brown Spots
Brown leaf tips might suggest excessive sunshine or a lack of humidity. For example, if you notice brown tips and have this plant in a north-facing window, it's most likely a humidity issue. To solve this problem, get a humidifier and install it close to the plant.
On the other hand, if your plant is facing south, the brown tip is most likely due to excessive direct light. You can solve this by placing your plant somewhere with bright indirect sunlight.
Related Questions
How often do you water a philodendron lime?
You can water your Lemon Lime once the soil is 50% dry. Using a self-draining pot for your plants is recommended to prevent root rotting.
Should I mist my lemon lime philodendron plant?
Misting the leaves of your lemon lime is helpful, especially during the hot summer days, to keep them hydrated and remove dust particles.
Is lemon lime the same as neon pothos?
Lemon Lime and Neon Pothos are not the same. Philodendron Lemon Lime is also known as Philodendron hederaceum or philodendron Golden Goddess. On the other hand, neon pothos, or golden pothos, belong to a different family and are not the same as Lemon Lime.
What are the best philodendron plants?
The philodendron Birkin, Heartleaf philodendron, philodendron Pink Princess, philodendron Prince of Orange, Philodendron domesticum, Neon philodendron, Moonlight philodendron, and Philodendron hastatum are among the prettiest philodendrons you can have at home.