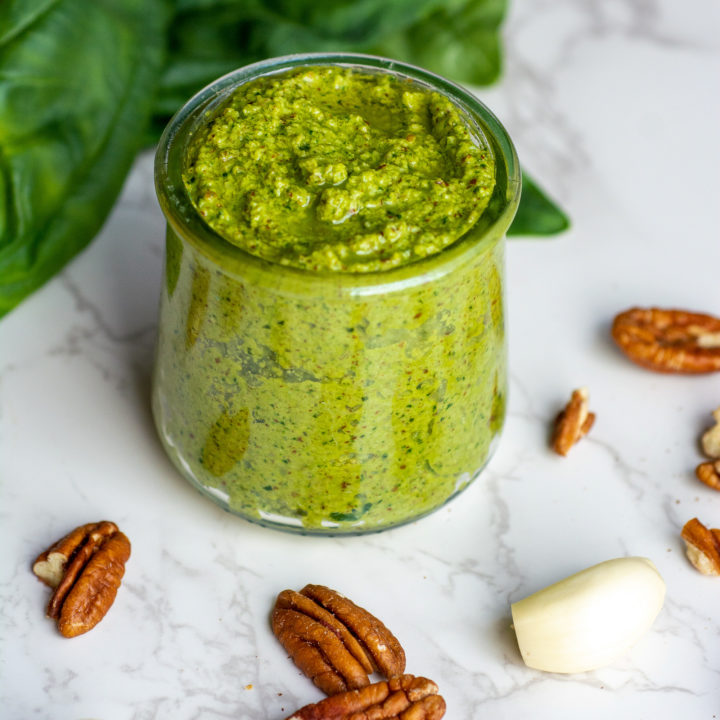 This keto pesto sauce is low-carb, paleo, healthy, and insanely easy to make. After trying this recipe at least once, you'll forget about the store-bought pesto forever. And don't even get me started on the excellent health benefits this sauce has to offer.
All you need for this keto recipe is just 5 simple ingredients, a food processor, and a few minutes of your time. Although this pesto recipe is a copycat of the traditional recipe, I had to make a few changes for it to be keto-approved.
You can't even imagine how many delicious ways you can use this keto pesto in your daily meals. Fresh salads, zucchini noodles, parmesan chicken, low carb pizza, cloud bread sandwich, grilled chicken breast, cauliflower rice, you can add pesto to almost anything and still keep it low carb.
Table of Contents
Is Pesto Healthy?
Yes! Pesto is a healthy sauce. However, you must consume it in moderation since it's quite high in calories and fat. But that's okay since keto is about fat, and by adding pesto in small amounts to your daily diet, you should be able to keep the calories under control.
Since the main ingredients of any type of pesto are basil, nuts, garlic, parmesan, and olive oil, such a sauce can provide you with many health benefits. For example, it is loaded with antioxidants that can prevent heart disease improve skin and hair.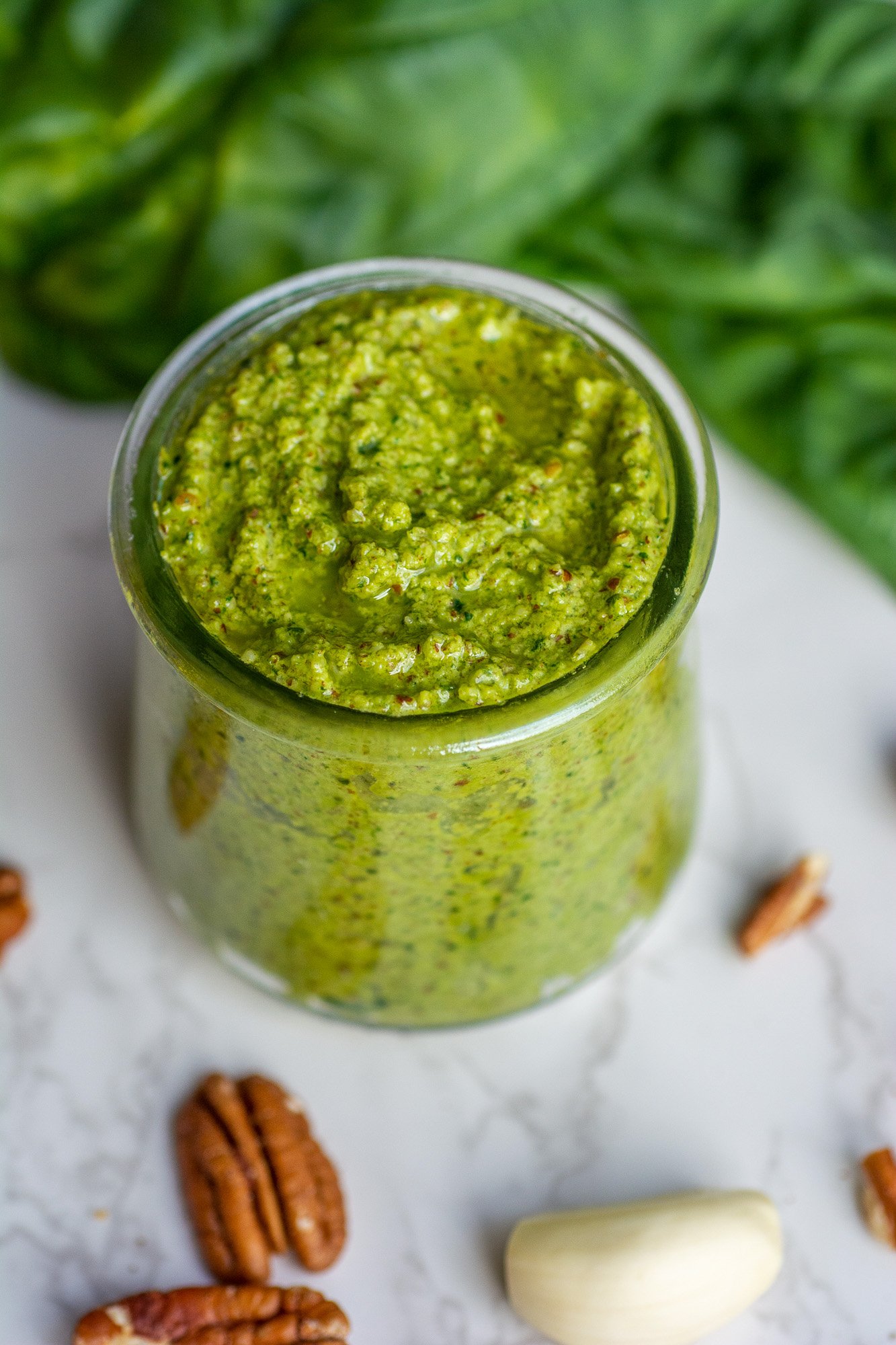 Can You Eat Pesto on Keto?
Yes, you definitely can. This low-carb pesto recipe is perfectly compatible with the ketogenic diet. But if you choose to buy pesto at a store, be sure to double-check the list of ingredients so that there's nothing harmful listed there.
Also, when adding pesto to your keto diet, make sure that you serve it in a low-carb way. For example, switch out the usual pasta with zucchini noodles.
Best Keto Store-Bought Pesto Brands
There are two main things that you should pay attention to when buying pesto at a store:
Check the label and nutrition information. Whenever you decide to buy something new from the store, it's best to carefully read the label of the product to make sure that the product contains no harmful or unnecessary ingredients.
Check the number of carbs in the pesto. Depending on what was used to make the pesto sauce, the number of carbs will vary between brands. So when choosing the pesto sauce brand, select the one that has fewer carbs.
I love this homemade keto pesto recipe, but sometimes I can be very lazy, and instead of making it by myself, I choose to get one from a store. My personal favorite is the Seggiano Fresh Basil Pesto. It's made of only 5 ingredients and has no sugar in it. Also, it's only 1 gram of carbs per 2 tbsp.
Another option that I've tried is the Mantova Cauliflower Pesto. It's really good even though it's far from the traditional pesto since it's made of cauliflower. But still, this sauce is a pretty great alternative.
How to Make Keto Pesto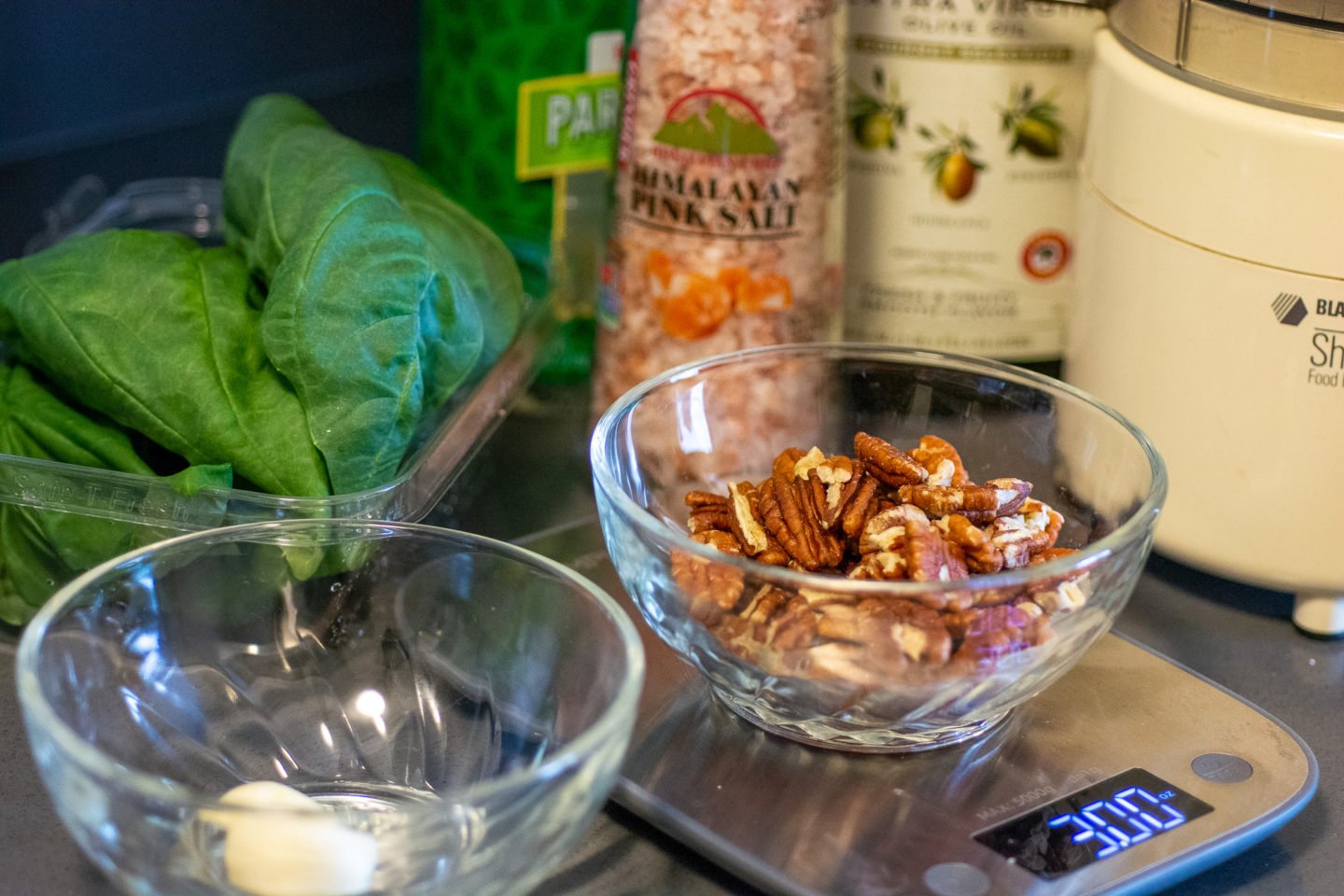 So, to make this insanely delicious and simple keto homemade pesto, you should prepare the following ingredients:
Fresh basil leaves
Pecans
Garlic cloves
Olive oil
Grated parmesan cheese
If you want your keto basil pesto sauce to have a lemony flavor, you can add a tablespoon of lemon juice when making it. Also, you'll need some water to make it less thick. And, of course, some salt to give it more flavor. That's it!
Here's a tip for you: try experimenting with the nut types you add to this keto pesto. Just make sure that you use keto-friendly nuts. For example, you can substitute pecans with macadamia nuts, pine nuts, or brazil nuts. Of course, you can even use hazelnut or walnut, but they are slightly higher in carbs.
Once you've gathered everything, you can move forward with making the low-carb pesto sauce. But just one more thing: take out your food processor. That will be the main tool for making the pesto sauce. If you don't need that much pesto, you can cut the ingredients in half and use a mini food processor to make the sauce.
Then all you need to do is simply place all of your ingredients into the food processor and pulse until it reaches the needed texture. After this, you can add some water to adjust the thickness of your keto pesto.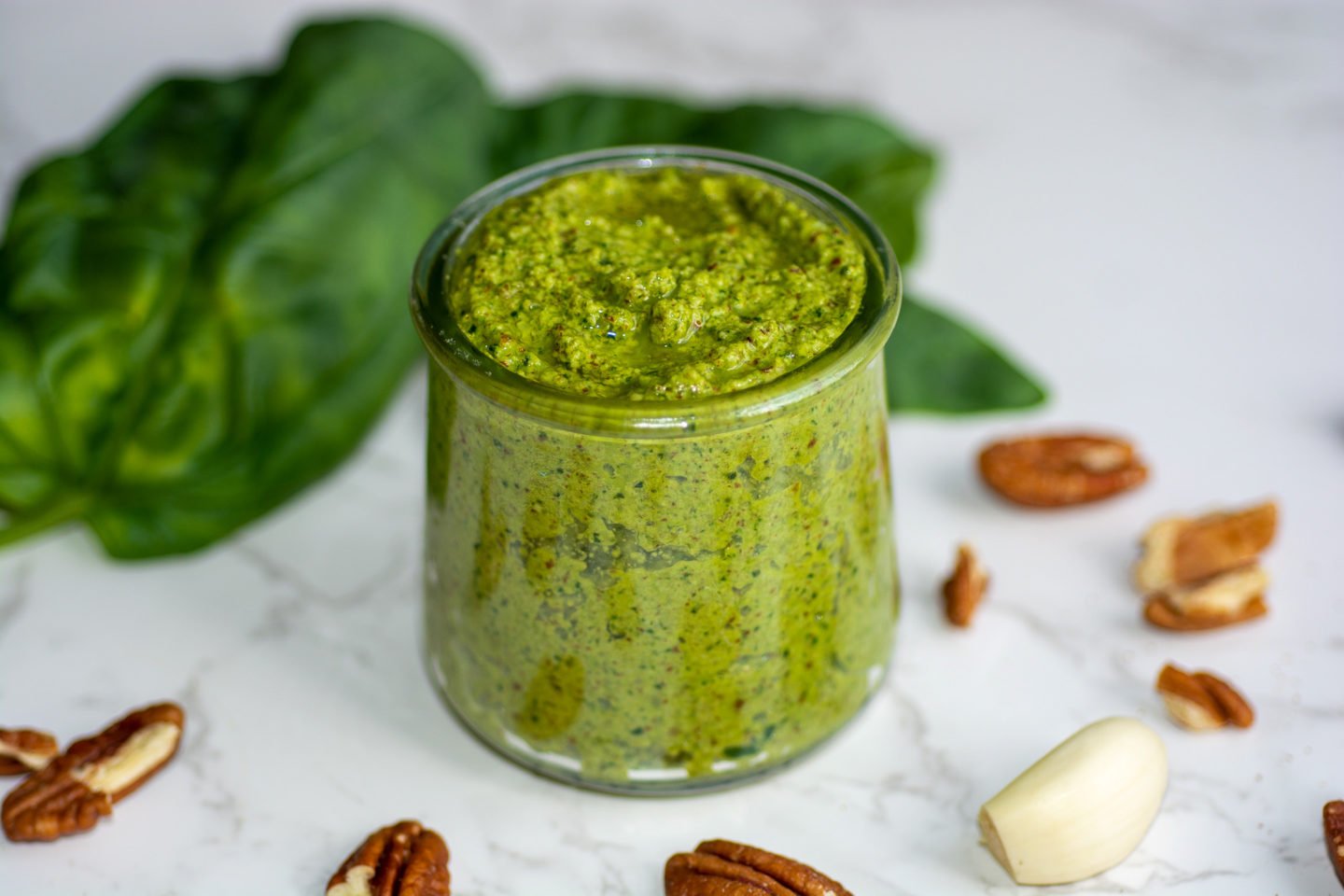 Storing Tips
The best way to store homemade keto pesto is in a mason jar. It can stay good in your refrigerator for up to 2 weeks.
If you're sure you won't use up your pesto sauce in 2 weeks, you can freeze it instead. All you need to do is place the low-carb pesto in a freezer-safe container. This sauce perfectly retains its quality even when frozen.
You can store it in such a way for up to 2-3 months. Then, simply chill it in the refrigerator overnight to thaw it whenever you want to use it.
Recipe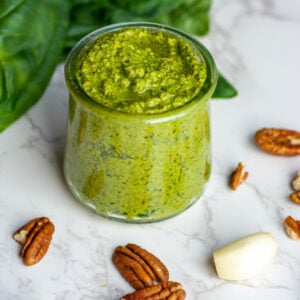 Keto Pesto With Pecans
This keto pesto sauce is low-carb, paleo, healthy, and insanely easy to make! All you need for this keto recipe is just 5 simple ingredients, a food processor, and a few minutes of your time. Try this recipe at least once, and you'll forget about store-bought pesto forever.
Ingredients
1

oz

basil leaves

3

oz

pecans

2

cloves

garlic

4

tbsp

extra virgin olive oil

3

tbsp

water

2

tbsp

parmesan cheese

grated

salt to taste
Instructions
In a food processor, place basil leaves, pecans, garlic cloves, parmesan cheese, water, and olive oil.

Process it for a minute or two (until it turns into the form of a paste).

Add salt to taste and serve.
Nutrition
Calories:
253
kcal
Carbohydrates:
3.2
g
Protein:
5.7
g
Fat:
25.8
g