Pesto, also known as basil pesto sauce, is an Italian sauce from mixed herbs, spices, nuts, parmesan cheese, and salt. Although it might be overwhelming to some, its complex flavor profile makes it famous worldwide.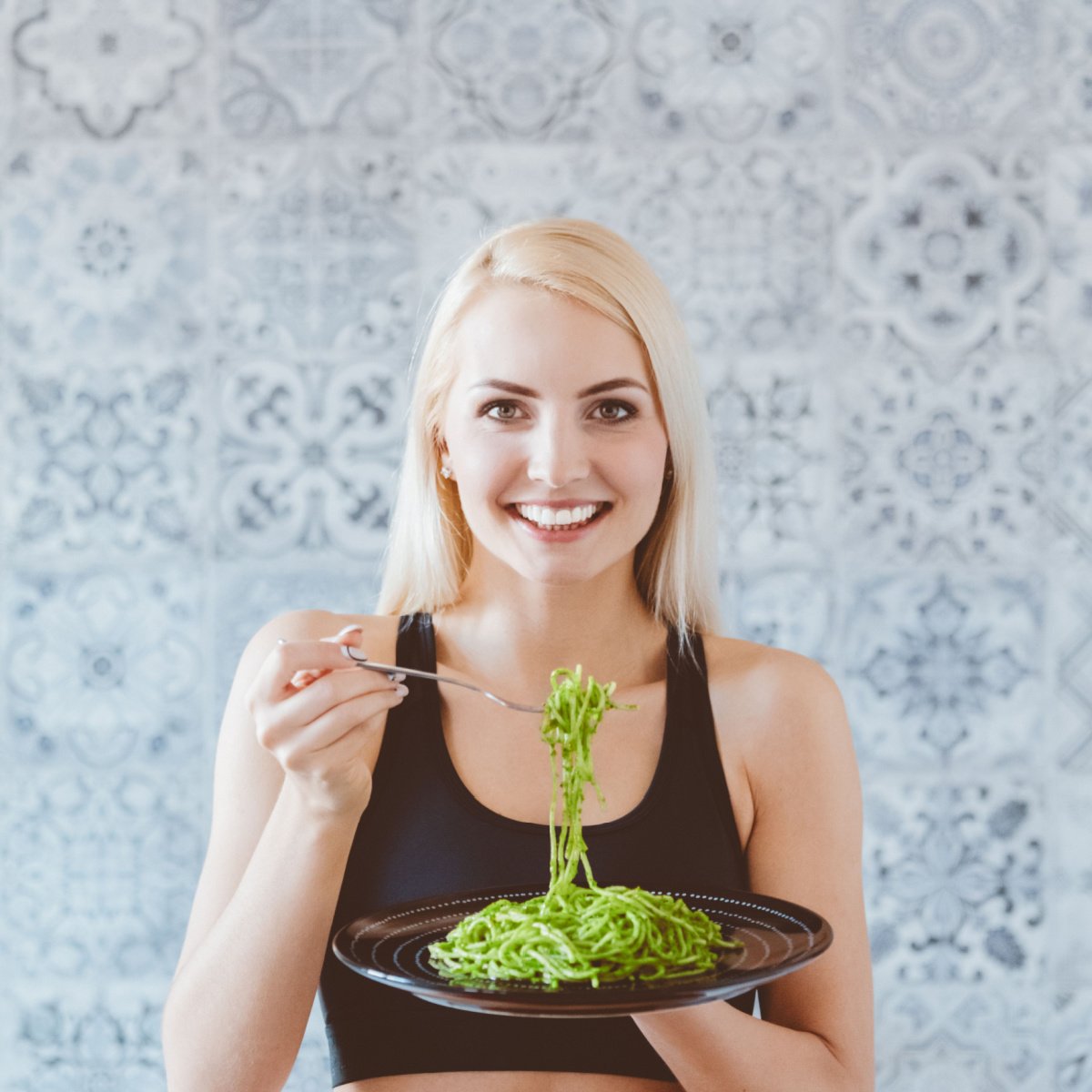 If you haven't had pesto before and are curious about its taste, it is herby, rich, and savory. Imagine a mixture of basil, garlic, pine nuts, olive oil, parmesan cheese, and salt blended; that's basically what pesto tastes like.
This article will discuss the ingredients in pesto sauce to help you better understand its flavor profile and will provide an easy-to-follow pesto sauce recipe.
Table of Contents
What Does Pesto Taste Like?
It's challenging to describe pesto's taste in one sentence, but pesto is herby, rich, and savory. Most people find pesto's taste very intimidating and complicated, but that's exactly what makes it addicting.
The first flavor that you will likely notice when tasting pesto is basil. This herb is the star ingredient in the sauce, and its unmistakable flavor comes through in every bite.
The garlic adds a punch of flavor and helps to balance out the basil's sweetness. Adding olive oil gives the pesto its creamy consistency, while the pine nuts give it a nutty flavor.
Finally, the Parmigiano-Reggiano adds a salty and savory element. All of these flavors combine to create a delicious and complex flavor profile.
The texture of pesto can vary depending on how you prepare it. It can be smooth if blended in a food processor or slightly chunky if you make it using a mortar and pestle. Nevertheless, pesto is rich, quite thick, and creamy.
Pesto Ingredients: Their Taste and Aroma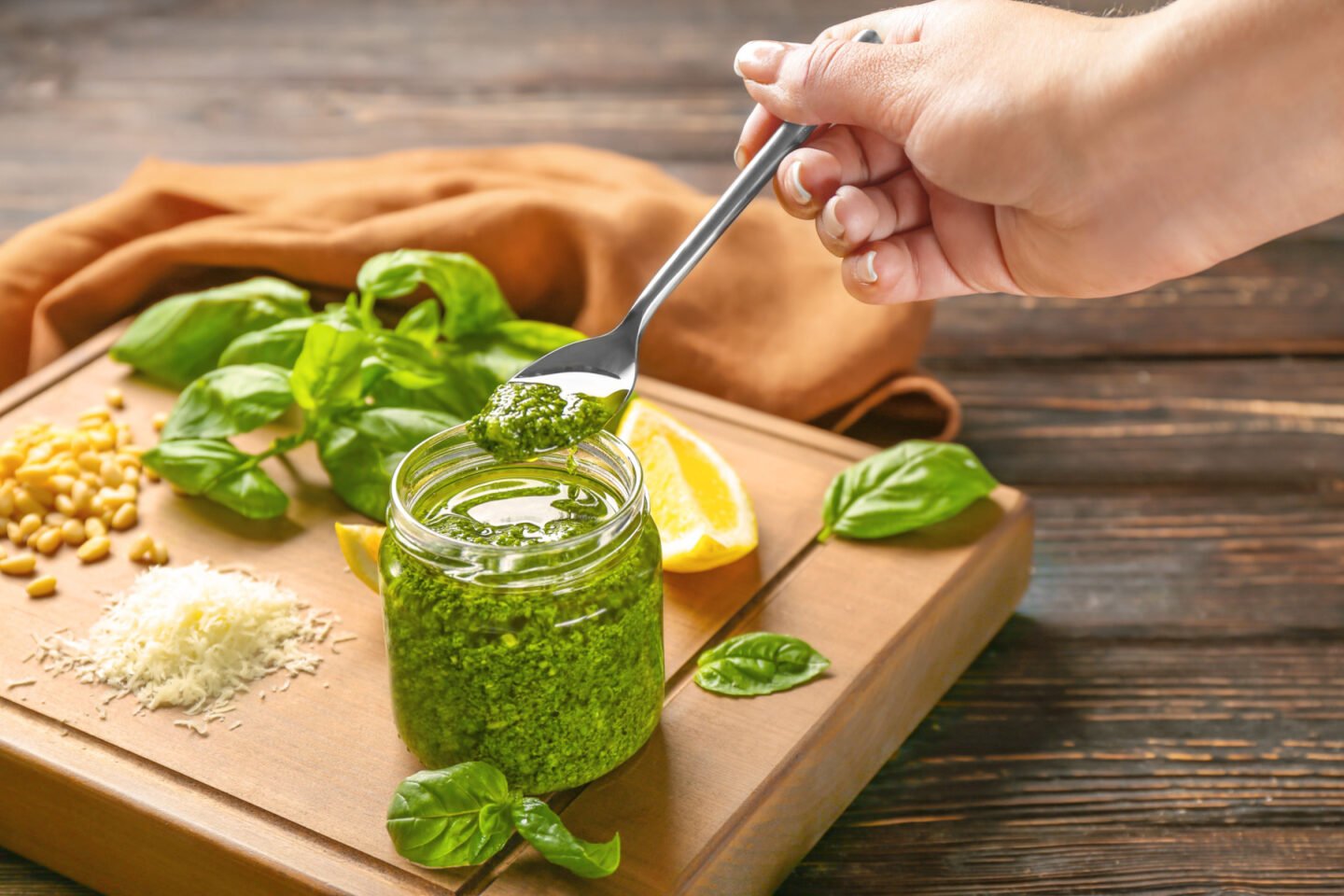 Fresh Basil Leaves
Basil leaves have a sweet, pungent taste and aroma with notes of cloves, anise, and mint. The leaves add a slightly spicy and peppery flavor to the fresh basil pesto, with a sweet and savory aroma and hints of licorice and lemon.
Extra Virgin Olive Oil
Olive oil has a distinctive taste and aroma that gives classic basil pesto its taste. Its flavor has a slightly peppery and nutty taste, with a mild bitterness that lingers in the mouth. Its aroma is a combination of green olives with hints of sweet almonds, artichokes, and fresh herbs.
Garlic Clove
Garlic has a strong, pungent aroma and a sharp, spicy taste. It has a deep, earthy complexity that I describe as a blend of onion, pepper, and mustard. The flavor intensifies when cooked, making it a popular seasoning for dishes worldwide.
Pine Nuts
Pine nuts add a mild, nutty taste and aroma with a hint of sweetness to the creamy pesto sauce. They are rich and buttery with a delicate crunch, an earthy touch of sweetness, and a savory, toasted nutty aroma.
Parmesan Cheese
Parmesan cheese has a sharp, nutty flavor with a distinct aroma. Its taste is intense and salty, with a slightly grainy texture. Its aroma is complex and pungent and can range from fruity and nutty to buttery and earthy, depending on its age.
Sea Salt
Sea salt does not offer any aroma but brings the whole pesto flavor together due to its salty taste.
Black Pepper
Black pepper is an optional ingredient but makes a lot of difference to the sauce. Black pepper adds dimension to the sauce by adding spice.
Recipe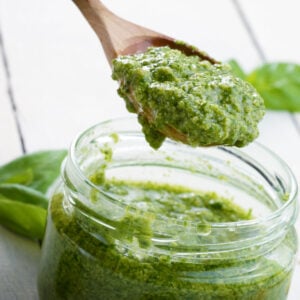 Quick and Easy Pesto Recipe
Making homemade pesto sauce is very straightforward. Here's my quick and easy traditional pesto recipe for your pesto pasta, side dishes, and dips.
Equipment
food processor or blender
Ingredients
2

cups

packed fresh basil leaves

½

cup

freshly grated Parmesan-Reggiano cheese

½

cup

extra virgin olive oil

⅓

cup

pine nuts

3

medium

garlic cloves

minced

salt and freshly ground black pepper to taste
Instructions
Combine the fresh basil leaves, parmesan cheese, pine nuts, and garlic in a food processor or blender.

Blend until the ingredients form a paste.

While blending, add the olive oil slowly and steadily until the sauce becomes creamy.

Season with sea salt and pepper according to your liking, then stop mixing.

You can immediately use the fresh pesto sauce or store the pesto in the fridge for up to two weeks.
Notes
Note: You can add lemon juice if you like, or use other nuts and seeds such as sunflower and pumpkin seeds. You can also substitute different cheeses, such as pecorino romano cheese if you don't have parmesan, or use nutritional yeast for a vegan pesto.
Nutrition
Calories:
88
kcal
Carbohydrates:
1
g
Protein:
1
g
Fat:
9
g
Saturated Fat:
1
g
Polyunsaturated Fat:
2
g
Monounsaturated Fat:
5
g
Cholesterol:
3
mg
Sodium:
52
mg
Potassium:
32
mg
Fiber:
0.2
g
Sugar:
0.1
g
Vitamin A:
175
IU
Vitamin C:
1
mg
Calcium:
32
mg
Iron:
0.3
mg