Choosing a mini food processor can be a daunting task. With so many options, from size and materials to cordless options and a whole galaxy of attachment choices, finding the perfect machine can be quite an undertaking. But luckily for you, we've done the heavy lifting, sifted the wheat from the chaff, and compiled a list that will make sure you get the machine that works for you with zero buyer's remorse.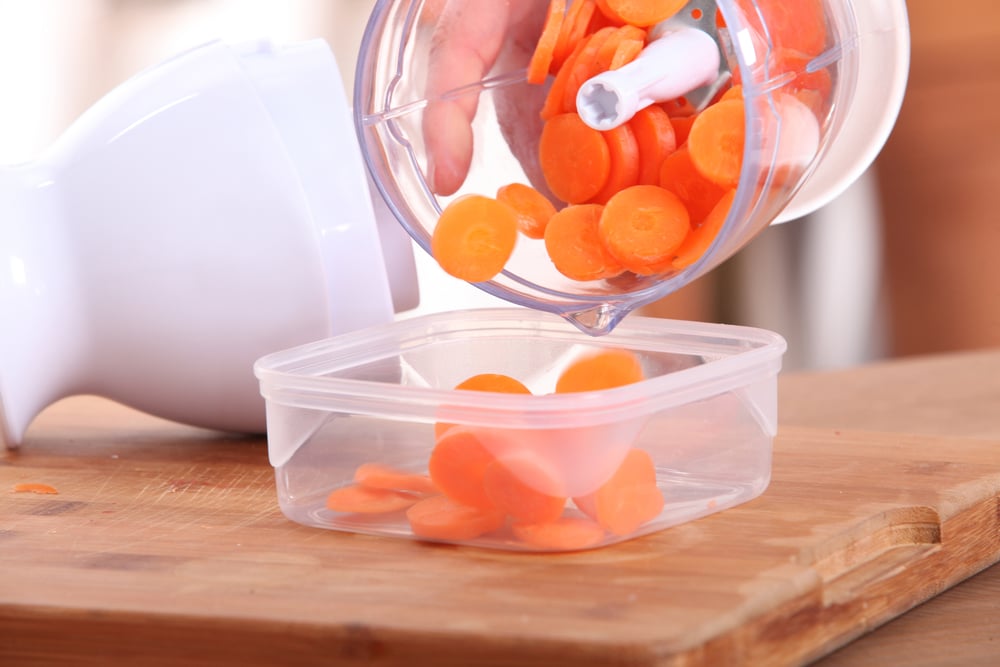 At the top of that list is the Cuisinart 4-cup Mini Prep Plus. With a high power to size ratio, and coming with its own spatula, it handles all your common food processing tasks with ease.
Adding a food processor to your arsenal of kitchen equipment is one of the easiest ways to increase your kitchen's capabilities and handle multiple jobs with just one tool. Food processors aren't just a glorified food chopper. Yes, they make short work of chopped vegetables, but you can also make purees, hummus, dressings, and aioli. You can use them to mix the dough, make pie crust, prepare batters, and froth milk. Unlike blenders or so many other kitchen tools, a food processor works almost better in miniature, especially if you regularly prepare smaller amounts of food for just a few people.
Most full-size food processors have a capacity of at least 8 cups, making them larger, more obtrusive pieces of kitchen equipment that often occupy significant countertop real estate. Happily, a mini food processor does the same work, in a much smaller footprint, at almost half the price. The average size we found for a mini food processor was 3.5 cups, with some handling up to 5 cups of ingredients. Either size will more than handle a quick hummus or the vegetable prep for soup and salsa.
Table of Contents
What Should I Look For When Buying a Mini Food Processor?
When evaluating mini food processors, it's important to look at a few different metrics to help narrow the field. Things like price, volume (or cup capacity), and attachments are going to factor heavily into your decision making. Whether or not the bowl and blade are dishwasher safe is another thing you might want to consider. Finally, motor size is one of the biggest factors you need to consider. If you buy a mini food processor with an underpowered motor, it is not going to be able to handle every task you might potentially need it for.
Here's How We've Determined the Best Mini Food Processor
For this review, we used several different criteria when evaluating the mini food processors and finally settling upon our favorites.
Criteria 1: Volume - The volume of your food processor will determine how much you can chop or prepare at one time and will also dictate how many batches you might need to divide a recipe into. Though these food processors are mini, they still handle a fair amount of food. Most of our choices handle 3.5 cups, but for the sake of our list, we kept our definition of a mini food processor to a volume of 5 cups or less.
Criteria 2: Motor Size - Having a motor large enough to handle even the toughest projects is the most important factor for a successful mini food processor. We looked at the overall horsepower of the motors but also scoured reviews for complaints of low motor power or reports of great motor strength.
Criteria 3: Design - Though a food processor is a kitchen tool, aesthetics and usability are important factors to consider when choosing the right one for you. Yes, these food processors are small and can be easily stored in a drawer or cabinet, but you should always enjoy the things you keep in your kitchen. Some of our choices stood out from the pack in terms of the overall design.
Criteria 4: Reviews - When looking for the best mini food processors, we wanted to take real-life users' sentiments into account. Considering the ease of use, whether they were easy to clean, how sharp their blades were, or the quality of the bowl, real-life users are happy to share their thoughts, and we sure put them to use. We looked for users who had specific thoughts and experiences with their machines - bad or good. We looked for real-life reports about design or function.
After much research and deliberation, we can confidently recommend the Cuisinart Mini-Prep Plus 4-Cup Food Processor as the #1 best option based on a finely tuned balance of value versus features and build quality.
Most food processors in this category come equipped with 2 speeds - a chop and a puree - as well as a dual sharpened blade that allows the machine to cut your product to your desired size while maintaining sharp edges over the long term. All included some sort of liquid dripping feature, allowing the user to add liquid to the product while the machine is running. Besides the occasional cordless model, which is something new to the food processor space and only really available in the mini product segment, all the food processors we reviewed had almost identical feature sets.
All of these mini food processors are dishwasher safe, except for the blades which need to be hand-washed. The volume of the processors we reviewed also remained fairly constant, from 3.5 cups to a 5 cup model, but we did take a look at a few smaller options. Where each model was able to stand out was in build quality, motor size, and reviews.
The Cuisinart Mini-Prep Plus 4 Cup Food Processor was overall the best value in the category and hands down the best choice for almost any home in need of new food chopping appliance.
Cuisinart food processors are some of the most highly regarded products we reviewed. Almost all of them could have been contenders for the top spot, but the Mini-Prep Plus 4 Cup Food Processor stood out. With a 250-watt motor and 4 cups capacity, this mini food processor can handle almost anything you throw at it. A 4-cup volume is just large enough for most smaller recipes. For instance, a hummus recipe using 1 can of chickpeas will fit into these mini food processors without issue, but with anything smaller, you'll be dividing the recipe into batches.
With two speeds and a dual sharpened blade, this mini food processor can handle most vegetable chopping or pureeing tasks with ease. With a 250-watt motor, you can even make easy doughs or pie crusts a breeze. Because this blade is sharp on both cutting edges (unlike larger food processors that don't have two speeds or cutting abilities), it is important to be careful when cleaning and using the blades. Luckily this machine is made from dishwasher safe materials, and you can put the bowl and the lid right in the dishwasher, making it very easy to clean.
Cuisinart recommends hand washing the blade since this will help keep it sharp in the long term. Despite similar feature sets, this machine was 33% cheaper than the #2 mini food processor on our list, and based on reviews was as successful, if not more, at a discount. This is not necessarily a cheap appliance, but at a ⅓ lower price than our #2 choice, it is certainly a bargain and one of the best mini food processors for what you get in the box.
The mini prep plus food processor does come in a smaller sized model at 3 cups and costs less than the already discounted 4 cup model, but in our research, we found that, far and away, the 4 cup volume allowed for a much easier experience in the kitchen and allowed users to finish projects without having to divide the recipe.
Don't let us be the last word on this little wonder, real-life users love this machine just as much as we do! Reviews for this machine were overwhelmingly positive, with 5-star reviews making up 76% of total reviews submitted (as of this writing). Most users were impressed with the power of this smaller food processor and agreed it was perfect for smaller tasks or instances where you might be cooking for just 1 or 2 people.
The Cuisinart Mini-Prep Plus is definitely the best value in the mini food processor category, but if you are willing to spend a little more, or if the design/aesthetic of your appliance is as important as the function, then the KitchenAid KFC0516 5 Cup Whisking Accessory Food Chopper is the mini food processor for you.
Reason #1 to Choose This Product: Design
While many of us think only of the utility of the appliances we are considering, it is just as important to take into account the overall design and style of the appliance, if a specific look is important to your lifestyle. The Mini-Prep Plus is a great machine, but it's not winning a design contest any time soon. However, the KitchenAid KFC0516 is made to be displayed on your countertop, not hidden away in a drawer.
With a sleek rounded exterior, minimalist controls, and availability in several unique colors, this food processor will not only look great in your kitchen, it can match any paint scheme or design style you might want.
The bowl is the same width as the base, and the cord conveniently wraps around the bottom so it stays hidden and out of the way while not in use. The controls consist of a small speed selection button along the base of the bowl, and the bowl handle works as the on-off switch allowing for one-handed operation and making it very easy to use. Overall, this food processor has the same features as our #1 choice but stands head and shoulders above in terms of design and aesthetic, which is certainly reflected in the higher price tag.
Reason #2 to Choose This Product: Whisking Attachment
In addition to having a great design sense, KitchenAid decided to add an awesome whisking attachment to this bundle that will make several tasks that much easier. If you want to be able to quickly make a meringue, aioli, dressing, or frothed milk, this is the food processor for you.
Reason #3 to Choose This Product: It Comes in a Cordless Model
If being able to take your food processor on the go is a feature that you have to have, the KitchenAid KFC0516 is available in a rechargeable cordless model you should consider! Whether you're camping, short on outlets, or just headed out on a hike with your trusty food processor, this cordless model will handle your food prep needs with ease.
The Hamilton Beach 4-Cup Mini Food Processor & Vegetable Chopper has all of the features of the other food processors on our list (except the cordless one); however, it does have one very notable addition: a shredding or slicing attachment.
Most mini food processors don't offer a shredding or slicing attachment. Many would argue the attachment would make it hard to store easily, and with such a small volume, it would require a lot of stopping and emptying the bowl as you shred your desired product. However, a shredder/slicer attachment is an incredibly useful tool to have around the kitchen, and the Hamilton Beach 4-Cup Mini Food Processor is one of the few models to offer it as a feature.
Like many of the other models we reviewed, this Hamilton Beach mini food processor came equipped with a 250-watt motor, which is strong enough to handle food processing jobs.
One other great feature of the Hamilton Beach 4-Cup Food Processor is the Stack and Snap assembly, which makes it very easy to use. Unlike other models, the bowl of this food processor doesn't have to be twisted to lock into place; simply stack the bowl, blades, and lid together and snap them into place to get going. Again, all the parts for this food chopper are dishwasher-safe, except the blades, which need to be washed by hand.
Hamilton Beach makes a ton of really great products at affordable prices. These no-frills options are often made with great materials, and while they are not the most aesthetically pleasing options, they more than make up for that in overall value. The 3-Cup Mini Food Processor and Veggie Chopper from Hamilton Beach is no exception.
This food chopper will match most any decor, and with a 3-cup capacity, it is well suited to almost any food project. The feature that sets this food chopper apart from the pack is its motor size. At 350 watts, the motor in this mini food processor will power through almost any task with ease, making this the most efficient food chopper on this list.
As with all the options we reviewed, the parts for this food chopper are dishwasher safe, except for the blades which need to be hand-washed to ensure sharpness over the long term. From reviews, we saw that this machine was easy to store and had a high level of satisfaction among verified buyers.
While top-down food processor designs don't allow for the addition of liquids during the chopping and blending process, they do offer easy cleanup and the ability to use the bowl as a storage option for whatever food you might be prepping. If a top-down food processor is the best option for you, then we recommend the Black+Decker, Improved Assembly, HC300B FreshPrep 3-Cup Electric Food Chopper.
This food chopper has a 175-watt motor, which is more than enough to handle most food prep tasks. You can also make dips, pulverize nuts, and chop up herbs. However, you might want to skip using this machine to mix dough.
Our favorite features of the Black and Decker HC300B were the one-touch technology that saves time in the kitchen. Though most mini food processor designs are often more feature-rich in a traditional bottom-up design, like the other food choppers on our list, this Black and Decker model has almost all the same functionality as a bottom-up food processor. It also includes some unique features only available in a top-down model. Finally, the majority of its components are dishwasher safe, making this one of the easiest to clean options on our list.
Is a Mini Food Processor Right for You?
Though a mini food processor can handle a ton of projects in your kitchen, it is important to recognize that some tasks are better suited to a full-sized food processor instead of a mini food processor. The biggest thing to think about when deciding between the best mini food processors and their full-sized cousins is how much food the food chopper can handle at once.
If you find yourself cooking for just 1 or 2 people, a 3-cup or 4-cup mini food processor will more than handle the majority of food prep tasks you might ask of it. However, if you are regularly cooking for a crowd, consider scaling up to a full-sized model.
Most full-size food processor models start at around 8 cups or slightly more and can range to 14–20 cup models at the higher end. Though the volume increase is substantial, the total cost of a full-size food processor is not that much more than our #2 choice! Even so, we recommend a mini food processor as an addition to your kitchen appliance lineup simply because some recipes and tasks are better suited to the smaller size of these food choppers than to a full-sized food processor. So, if you can afford it and think you could benefit from having both types, we recommend investing in both a full-sized and mini food processor.
Verdict: Your Best Mini Food Processor
If you want the best value for money, pick the Cuisinart Mini-Prep Plus 4-Cup Food Processor.
Of all the mini food processors we reviewed, the Cuisinart Mini-Prep Plus 4 Cup Food Processor is the best value for the money. With a 4-cup volume, 250-watt motor, dual speeds, and dual sharpened blade, the Cuisinart Mini-Prep 4 Cup Food Processor has all the features of other models at a 30% discount over the competition.
If the design and aesthetic are as important to you as value, consider choosing the KitchenAid KFC0516 5 Cup Whisking Accessory Food Chopper.
Kitchenaid has always made beautiful products, and this food chopper (available in a cordless option) is no exception. With a plethora of colors and hues to choose from, it's easy to find one that will match the decor of your kitchen perfectly. While definitely the priciest option on our list, this is an appliance you will display proudly on your countertop and find yourself reaching for over and over again.
If you want to keep the spend under $35, pick the Hamilton Beach 3-Cup Mini Food Processor and Vegetable Chopper.
This no-frills machine is the absolute best choice if you are trying to add a mini food processor to your kitchen arsenal without breaking the bank. With a 3-cup capacity and a 350-watt motor, this model comes with the same features as many of the best mini food processors but at a fraction of the price.
Regardless of your choice, a mini food processor will absolutely expand the capabilities of your kitchen. Be sure to never overfill your machine and hand-wash the blades to keep them sharp, and you will have purchased a piece of kitchen equipment that will last you for years!