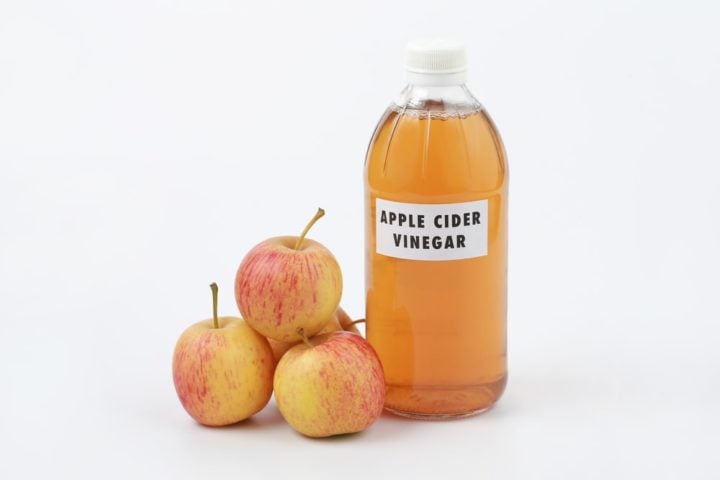 In a generation where health and beauty seem to be the top priority, getting into the current fad seems exciting. But this sometimes becomes a danger when people value influencers' experiences and paid endorsements even without reliable studies to support the craze.
In the past years, apple cider vinegar became the most searched diet hack on the internet. With testimonies spreading like wildfire, countless apple cider vinegar supplements have made their way to the market. Although commonly linked to weight loss, apple cider vinegar has a lot of other benefits and uses. This article will provide scientifically-proven benefits, uses, and risks of apple cider vinegar (ACV). Does ACV deserve a spot in your routines?
Before considering adding anything to your diet, it is vital to know how it works. Vinegar, like the famous balsamic vinegar and white vinegar, is a mixture of acetic acid and water produced after months of fermentation. The US Food and Drug Administration requires vinegar to have at least 4% acetic acid. This agent is responsible for the sharp taste that vinegar gives off.
Hippocrates, the father of modern medicine, first mentioned the use of ACV in 400 B.C. He prescribed that when mixed with honey, ACV can be used as a medication for various illnesses. While the basis of this information has been more on history, recent research supports these claims. Here are some of the scientifically proven benefits of ACV.
Table of Contents
8 Benefits of Apple Cider Vinegar
1. Reduces Blood Sugar
While its effect on weight loss made ACV famous, more research supports its impact on lowering blood sugar levels among diabetic patients, specifically diabetes mellitus patients. Acetic acid, a component of ACV, has been proven to reduce blood glucose levels among respondents.
A study conducted on the effect of acetic acid on patients with impaired glucose tolerance revealed that vinegar ingestion before meals resulted in enhanced muscle blood flow and improvement of glucose uptake. It also prevented the increase in glucose and lipids after the meal.
A study conducted on patients with type 2 diabetes showed that ingestion of vinegar before sleep increased insulin sensitivity and increased muscular glucose uptake, proving ACV's blood sugar control properties.
Do note that diabetic patients with maintenance medications are discouraged from including apple cider vinegar in their diet as it may worsen symptoms of gastroparesis. In this condition, the stomach has trouble emptying.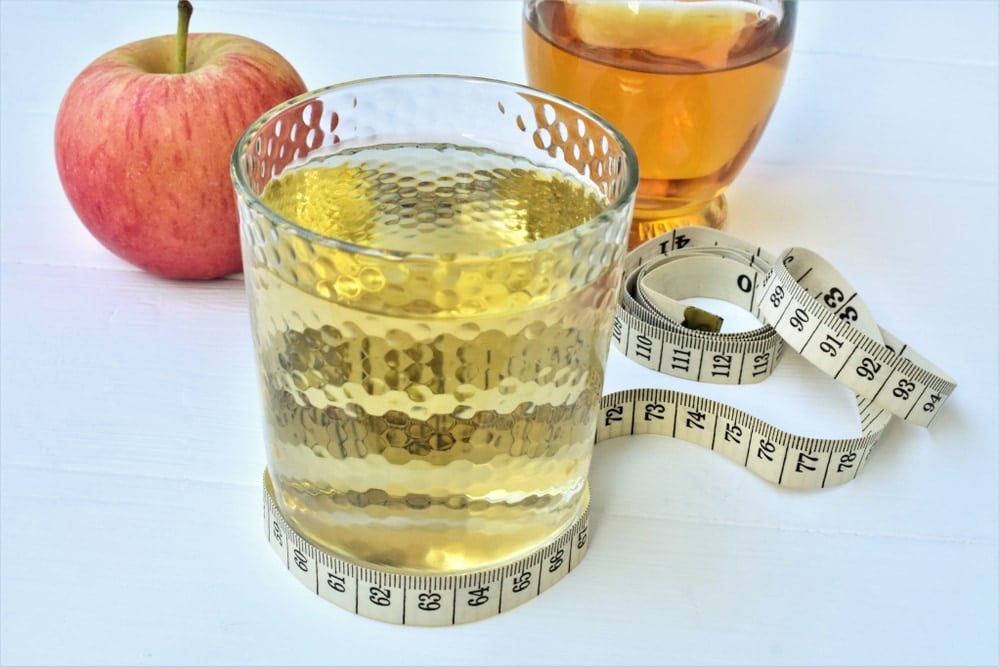 2. Reduces Body Fat
Lipids are insoluble substances that play essential roles in our cell membranes and are vital in building tissues. But in excess, arterial wall thickening might occur, resulting in increased risk for heart diseases. Luckily, ACV is a cost-efficient way of lowering blood lipids naturally.
Although there is little research on ACV's effect on lowering human lipids, the results of these studies are promising. For example, a study of 19 patients with hyperlipidemia revealed lower triglyceride and cholesterol levels with increased high-density lipoprotein levels after ingestion of ACV for eight weeks.
These results were due to the acetic acid, which inhibits the creation of new lipids in the liver and increases the bile's ability to transport lipids for destruction, therefore lowering lipid levels in the blood. Moreover, acetic acid in ACV also has been mentioned to lower blood pressure among subjects.
3. Weight Loss
With online influencers exciting ACV for weight loss, it became its most claimed benefit. The Centers for Disease Control and Prevention recommends that steadily losing 1-2 pounds per week proved more successful than sudden weight loss.
While many factors affect weight loss, diet is a massive part of it. Adding ACV to your daily meal plan just might do wonders when you struggle to shed that extra weight off.
Here are some areas that ACV helps with:
Controls Appetite
One major struggle when losing weight is suppressing the appetite, especially with cafés and restaurants popping up around every city corner. Although there are a lot of factors that affect our appetite, the pH level in our stomach has a lot to do with it. ACV's acetic acid content helps balance the stomach's acidic pH, resulting in less hunger pains and eventually reduced food intake.
A small study conducted in 2009 in the Journal of Bioscience, Biotechnology, and Biochemistry that studied the effect of consuming 15 mL and 30 mL of acetic acid diluted in water for 12 weeks revealed these results:
15 mL (1 tablespoon): Lost 2.6 pounds (1.2 kilograms)
30 mL (2 tablespoons): Lost 3.7 pounds (1.7 kilograms)
Consuming ACV before meals is also believed to help prevent bloating, flatulence, indigestion and promote overall gut health.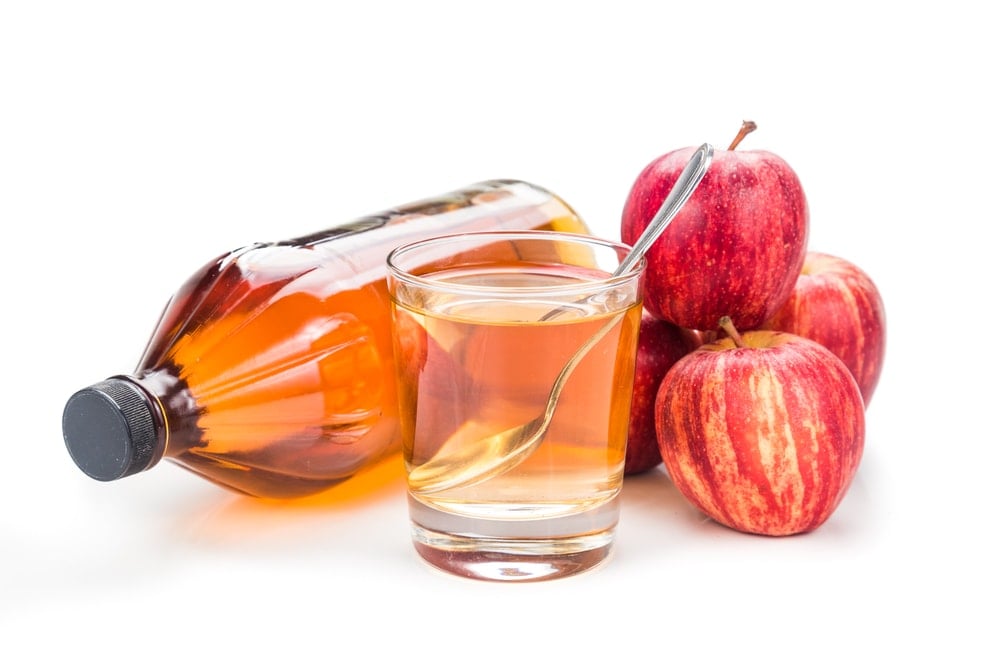 Speeds Up Metabolism
Contrary to what most people believe, metabolism isn't always due to genetics. You can achieve faster metabolism by "tricking" your body by taking ACV alongside your regular diet. ACV's claims to speed up metabolism are due to its ability to increase glucose uptake and lower fat production rates while increasing fat burning and decreasing the use of carbohydrates.
Detoxification Support
Along with its metabolic benefits supported by the liver, phenolics present in ACV are natural detoxifiers and oxidative stress relievers while stimulating efficient bile production, which is how the body removes wastes and fat. It also prevents inflammation that can lead to cellular damage.
Moreover, ACV is also a probiotic which contains natural healthy bacteria, which is good for digestion and gut health.
4. Antibacterial Properties
Since ancient times, records have shown the use of apple cider vinegar as a medication for infections. Among all the claimed benefits of ACV, its antimicrobial properties are the most studied and proven. Acetic acid, which has a very low pH, is capable of killing microorganisms in its presence.
A lot of studies support the antibacterial properties of ACV and fermented apple juice. These include effectivity against significant bacteria like the following: (1, 2)
Staphylococcus aureus - This bacteria causes various infections. Although considered part of the normal flora in humans, it can cause skin infections, blood infections, endocarditis, soft tissue infections, sore throat, urinary tract infections, and even toxic shock syndrome.
Escherichia coli - Some strains cause diarrhea and some cause urinary tract infections, respiratory tract infections, and pneumonia.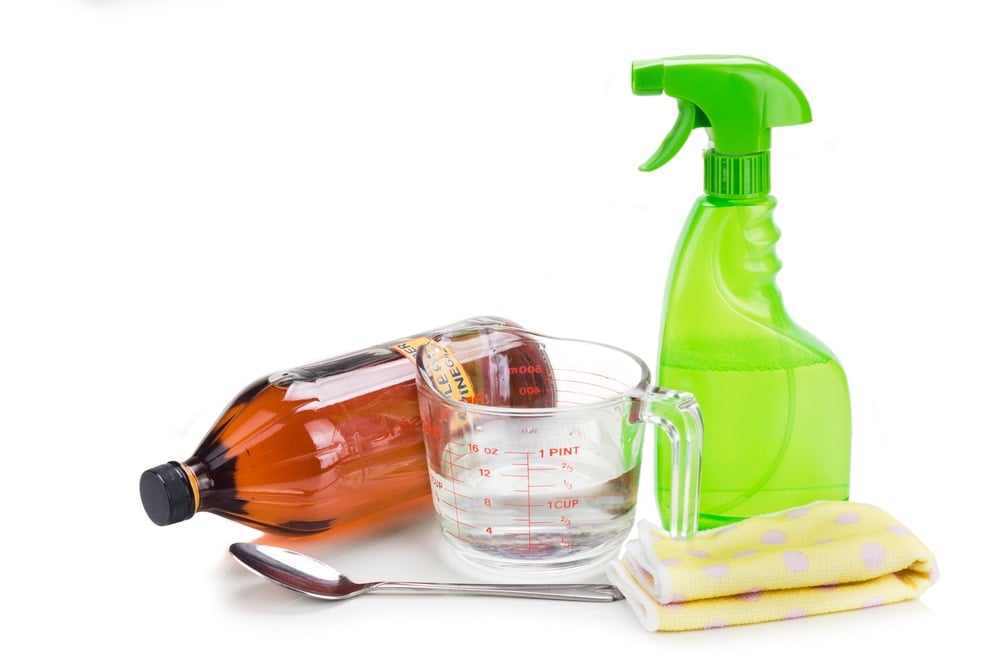 5. Antifungal Properties
Although most fungi are harmless, some also cause significant clinical effects on humans. ACV has proven to be the most economical option in treating the following fungal infections: (1, 2, 3)
Candidiasis - Also known as thrush, this is caused by the fungus Candida albicans. This fungus usually lives in the mouth, throat, gut, and vagina without causing any problems. But it becomes harmful when the growth becomes out of control and may cause infection in the internal organs.
For oral thrush, applying ACV directly to the infected area is recommended by mixing ½ cup of ACV with 1 cup water and gargling it. For vaginal thrush, combining 2 cups of ACV in a half-filled bathtub with lukewarm water proved helpful.
Fungal Dandruff - Just like most fungi, Malassezia typically doesn't cause infections. But in some cases, with the immune response weakened, this may start causing redness, rash, flaking, and itchiness in humans.
A handful of studies have promoted the efficacy of ACV against fungal dandruff. Although there is no exact recipe for this, mixing equal parts of ACV and water is suggested. Just leaving the mixture on the scalp for a few minutes before rinsing proved beneficial against dandruff. Some also recommend using lemon juice alongside ACV for better results.
6. Skin Health Benefits
If there's any part of the body that breaks each woman's bank, it's the face. Among surveys, (1, 2, 3) women spend around $30-300 per month on facials and skincare products. So finding effective yet affordable alternatives to achieve that dream glow is like hitting two birds with one stone.
Recently, ACV made its way into the skincare industry. Claims on its ability to improve overall skin health and appearance have resulted in skincare products and hacks popping up here and there.
These claims are based on the acid content of ACV, acetic acid, and malic acid, which have proven beneficial for the skin due to their ability to match with the skin's acidic pH, strengthening the skin's barriers.
Acetic acid - Possesses antimicrobial and antioxidant properties that aid wound healing and inhibit bacterial and fungal infections.
Malic acid - Part of the alpha-hydroxy acids which promote cell turnover, skin hydration, and removal of dead skin resulting in smooth, glowing, and healthy skin.
Although the benefits of ACV to the skin are well accounted for, it is vital to know that improper usage might cause irritation to the eyes, mucous membrane, lungs, and even the skin itself. Here are some safe uses of ACV for the skin, according to Healthline:
ACV Face Wash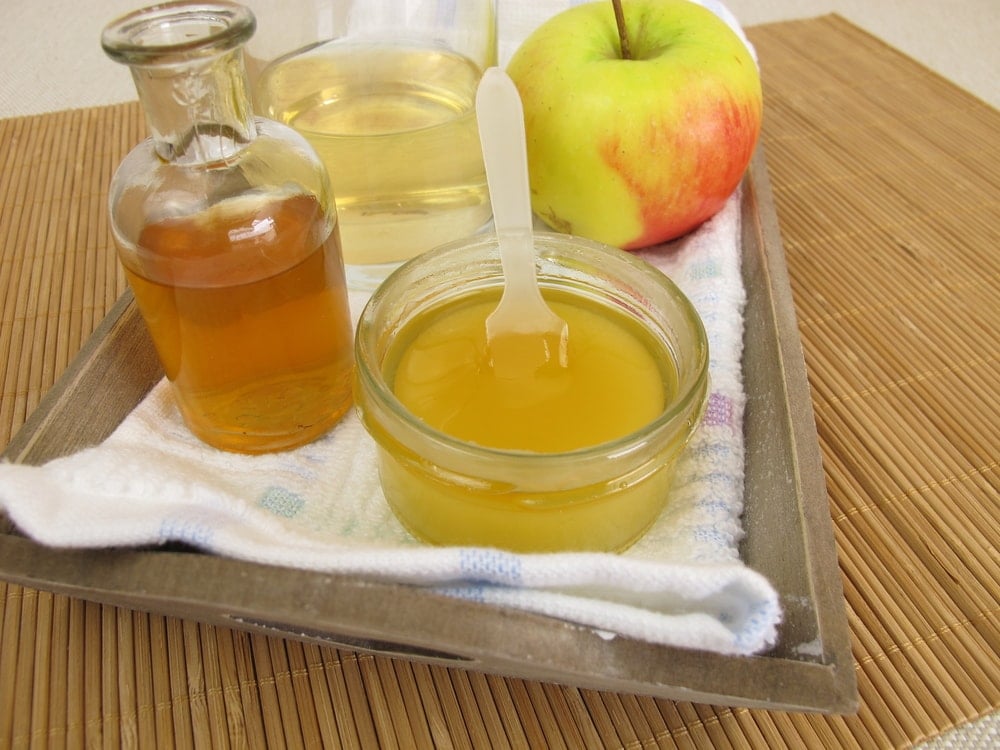 Making sure that the face is free from dirt is the most crucial part of the skincare routine. To create an all-natural apple cider vinegar face wash from scratch, mix:
¼ cup warm water
1 tablespoon of apple cider vinegar
Use apple cider vinegar to cleanse instead of harsh soaps or chemicals.
ACV Toner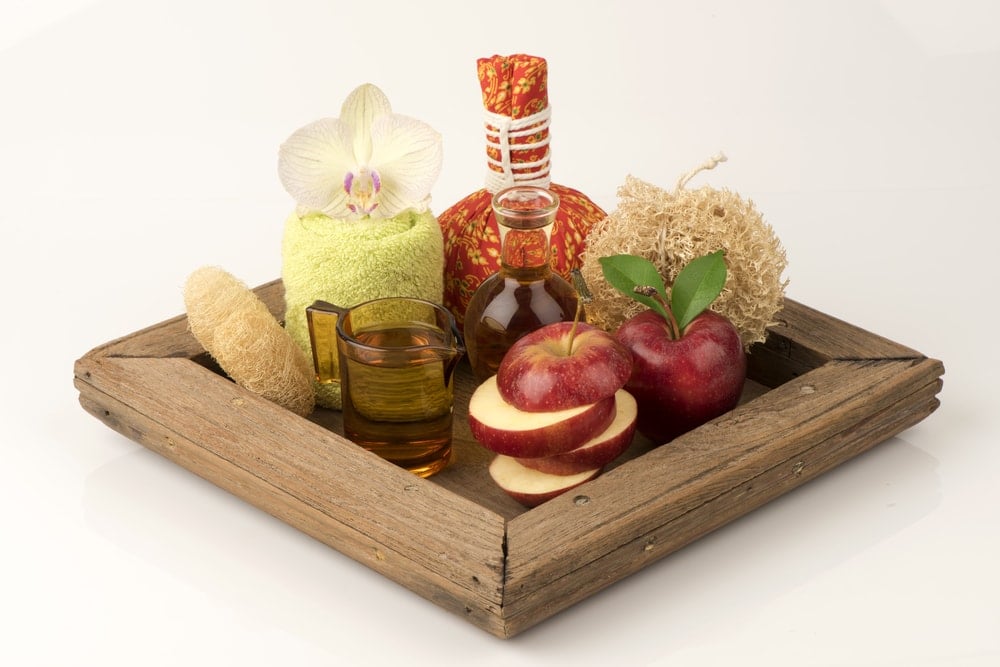 After washing the face, toners help bring the skin's normal pH back to prevent irritations. Apple cider vinegar acts as a toner to the skin, cleansing it from oils that may clog pores and cause acne.
The recipe for apple cider vinegar as a skin toner is as follows:
1 part apple cider vinegar
Two parts purified water
Place the mixture in a spray bottle for convenient usage. Toners can be used twice a day as part of the morning and evening routine.
ACV Spot Treatment
Spot treatments are quick ways to get rid of redness and irritation caused by pimples. Dipping cotton in apple cider vinegar and dabbing it to the spots with blemishes might just do wonders due to its antibacterial properties.
ACV Facial Mask
A relatively new use of apple cider vinegar is as an agent for facial masks. Recently, bentonite clay has been famous for drying out pimples with the help of ACV. It is due to its ability to cleanse the skin from oils and prevent the growth of pimple-causing bacteria.
To use this, just mix one tablespoon of ACV and one tablespoon of honey with the bentonite clay and apply it evenly to the skin. After 10-15 minutes of application, you might observe pulsating and slight tingling. Rinse with cold water.
7. Hair Benefits
It may appear doubtful, but apple cider vinegar is excellent for the hair! Although there is little study on this benefit, testimonies from the internet seem to approve. Here are the effects of ACV on the hair as stated in the Medical News Today:
Effectiveness for hair growth - While it is clear that ACV does not affect retaining hair loss, there are claims on its ability to promote hair growth.
Rebalances hair and scalp pH and smoothens hair cuticle - Commercial shampoos have alkaline pH, which causes tangled and dry hair. ACV sits well with the hair's pH of 4-5, making it effective in smoothening the hair.
Treats dry, itchy scalp - As a natural antimicrobial agent, it prevents dandruff-causing fungi from fostering.
Do note that the mentioned benefits are anecdotal. Directly applying apple cider vinegar to the scalp might cause irritations, so it must be diluted. Simply mix 2 to 4 tablespoons of ACV with 16 ounces of water in a bottle. The diluted vinegar must not be left on the scalp for more than 2 minutes while avoiding mixture contact with eyes to prevent irritation.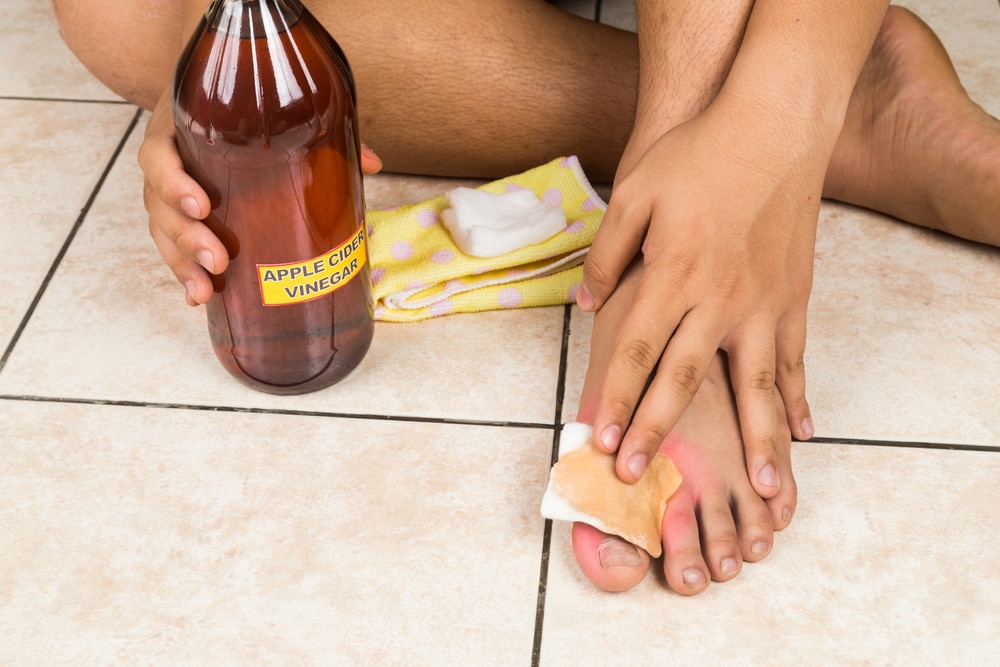 8. Topical Uses of Apple Cider Vinegar
If the above-mentioned benefits weren't enough to surprise you, here are the topical uses of ACV and how to do them, as they might just come in handy.
Bad Breath
Due to its antibacterial properties, apple cider vinegar can keep the mouth from smelling due to its ability to kill bacteria that cause bad breath. Simply mix one tablespoon of ACV with one cup of water, and gargle for 10 seconds at a time until the cup is empty.
Foot Odor and Toenail Fungal Infection
A foot bath with warm water mixed with ⅓ cup apple cider vinegar does the trick for curing and preventing foot odor and fungal infection. Soak the feet in the diluted vinegar mixture for 15 minutes and repeat this once a week.
For the toenail infection, directly rubbing ACV on the infected area twice a day provides curing, as well.
Deodorant
If you're looking for a great natural alternative to commercial deodorants, you might want to consider apple cider vinegar. Many blog posts (1,2,3) recommend using it as a deodorant, but the strong smell might make you feel uncomfortable.
Apple Cider Vinegar Recipes
Drinking apple cider vinegar with only water might not be tolerable for everyone, especially when done daily. Adding a few beneficial ingredients to your daily dose of ACV makes the health journey more enjoyable. Here are a few recipes to get you started.
Apple Cider Vinegar Drink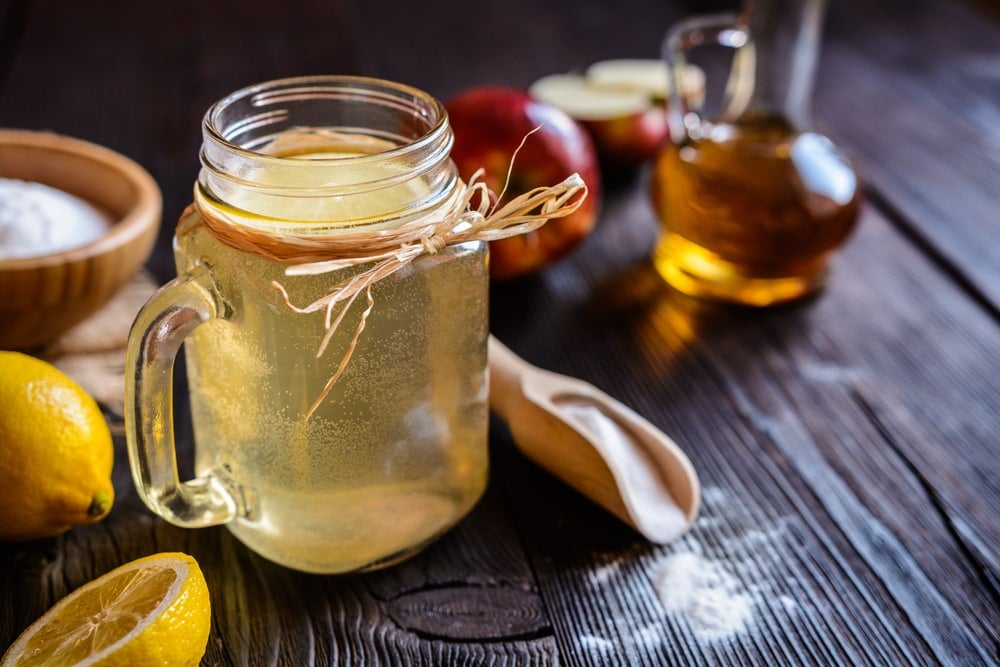 Ingredients:
1 tablespoon apple cider vinegar
8 oz. filtered water
juice of ½ lemon
ice
organic liquid stevia
Instruction: Add all the ingredients to a large glass and serve!
Recipe source: Yummymummykitchen.com
Apple Pie Apple Cider Vinegar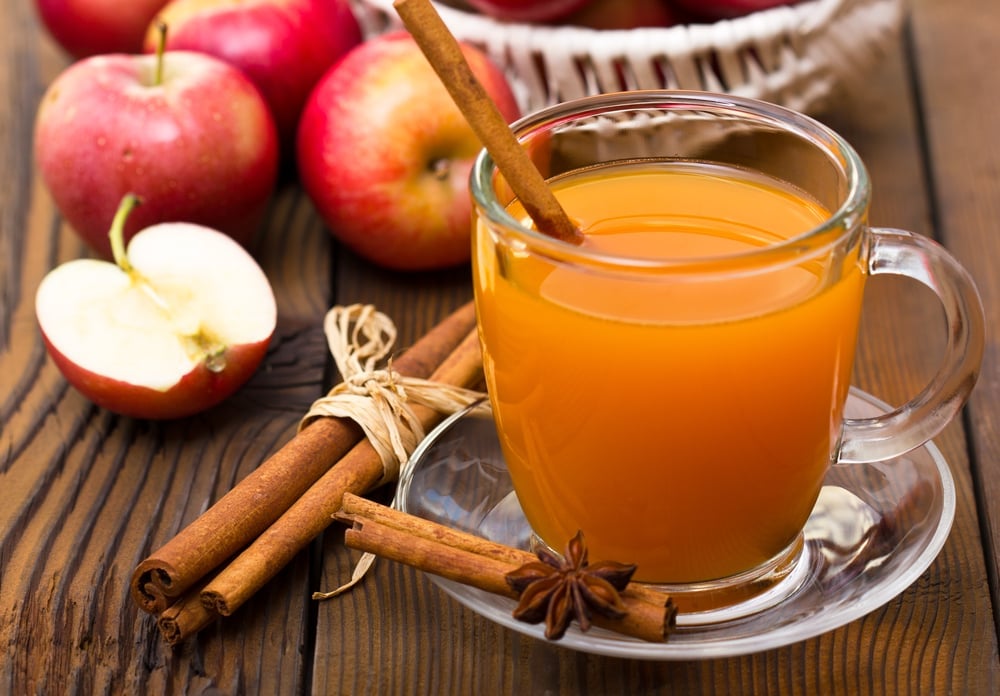 Ingredients:
1 tablespoon apple cider vinegar
2 tablespoons organic apple juice
¾ teaspoon stevia
¼ teaspoon ground cinnamon
2 cups cold water
Instruction: Mix everything and serve cold.
Recipe source: Eatingbirdfood.com
Apple Cider Blueberry Ginger Drink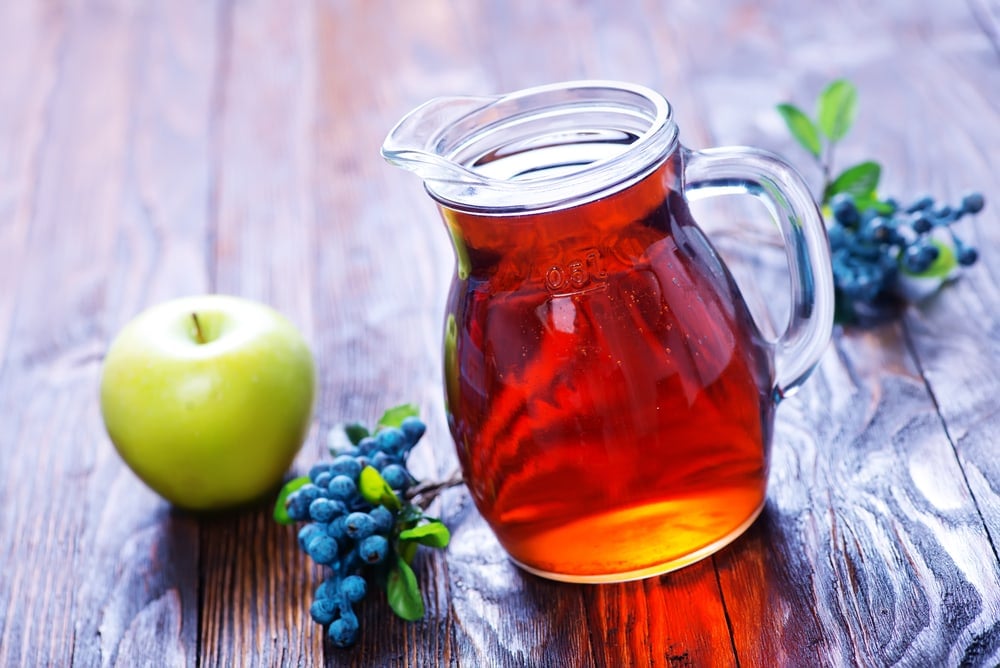 Ingredients:
3 cups water
½ cup frozen blueberries
3 tablespoons apple cider vinegar
¼ teaspoon dried ginger powder
7 drops of stevia
Instruction: Add all the ingredients into a high-speed blender and blend until smooth. Pour over ice and enjoy!
Recipe source: Darngoodveggies.com
Apple Cider Vinegar Diet Smoothie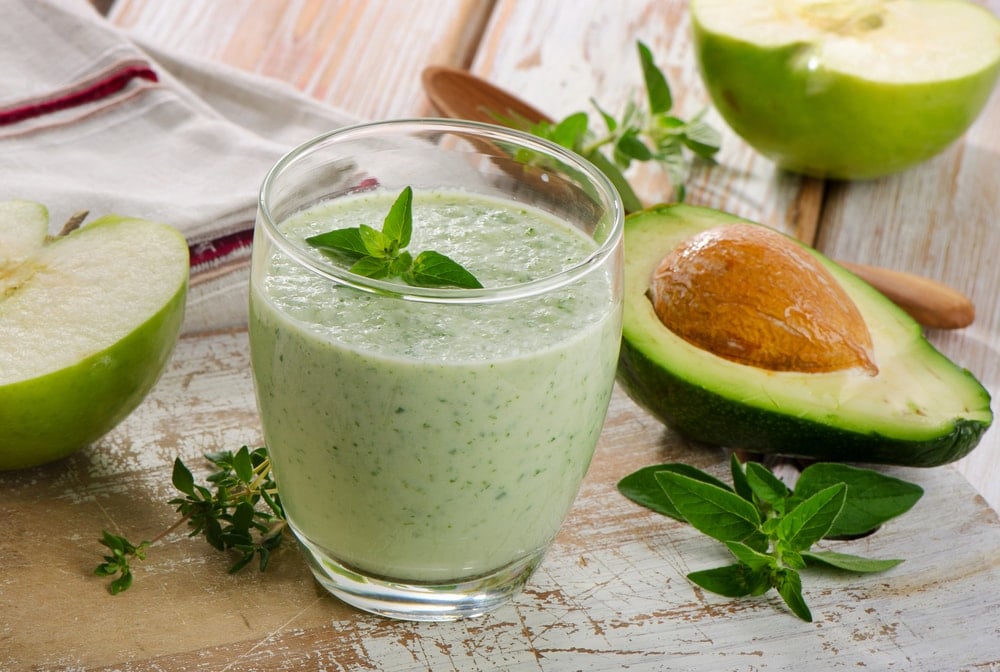 Ingredients:
1 tablespoon apple cider vinegar
¼ cup water
1 cup apple, peeled and sliced
2 tablespoons avocado
¼ cup ice
Instruction: Blend all the apple cider vinegar cleanse ingredients in a blender, and serve chilled.
Recipe source: Loseweightbyeating.com
Apple Cider Vinegar Dressing
Ingredients:
¼ cup apple cider vinegar
1 teaspoon maple syrup or honey
1 garlic clove, grated
¼ teaspoon Dijon mustard
¼ teaspoon sea salt
Freshly ground black pepper
¼ cup extra virgin olive oil
Instructions:
In a small bowl, whisk together the apple cider vinegar, maple syrup, garlic, mustard, salt, and several grinds of pepper.
Drizzle in the olive oil while whisking and continue to whisk until the dressing is emulsified. Alternatively, combine everything in a jar with a tight-fitting lid and shake to combine.
Recipe source: Loveandlemons.com
Risks
Even with the countless benefits that ACV brings to the table, it also comes with its flaws. Like all other good things, improper usage of this leads to different risks. Here are some of the studied health concerns regarding the use of apple cider vinegar.
1. Dental Erosion
Apple cider vinegar is highly acidic, which can cause erosion in the tooth enamel upon prolonged use. Even if the enamel is the hardest part of the tooth, it increases the risk for tooth decay and cavities or causes sensitivity once it erodes.
2. Low Potassium
The acidic nature of apple cider vinegar poses a threat to people with low potassium levels. In an article by Dr. Robert H. Shmerling of Harvard Health Publishing, he stated that excessive intake of ACV lowers potassium levels. Patients taking medications such as diuretics must avoid ACV consumption.
3. Skin Irritation
While the acetic acid in apple cider vinegar has proven antibacterial properties, studies show its potential as a skin irritant. Observing proper dilution of the mixture is essential, especially when dealing with the face and scalp.
4. Esophageal Damage
While this article mentioned the ability of ACV as a gargle against bad breath, it is essential to note that observing dilution of ACV is a must as the acidity can damage tissues around the mouth and throat.
Precautions
Although the effects of drinking apple cider vinegar as part of your daily routine seem to bring many health benefits, it might not always work wonders. Apple cider vinegar is a highly acidic drink that might cause different effects on some people. Here are some precautions you should consider before taking ACV.
Talk to your physician. Whenever you wish to try joining a new trend, seeking professional consent is a must. Medical approval will prevent complications along the way, if ever there's any.
Do your research. With resources available all over the internet, finding legitimate sources are very helpful when deciding to participate in a trend.
Listen to your body. Before you search for results, listen to how your body responds first. Just because it worked for somebody doesn't mean it will work for you too, and vice versa.