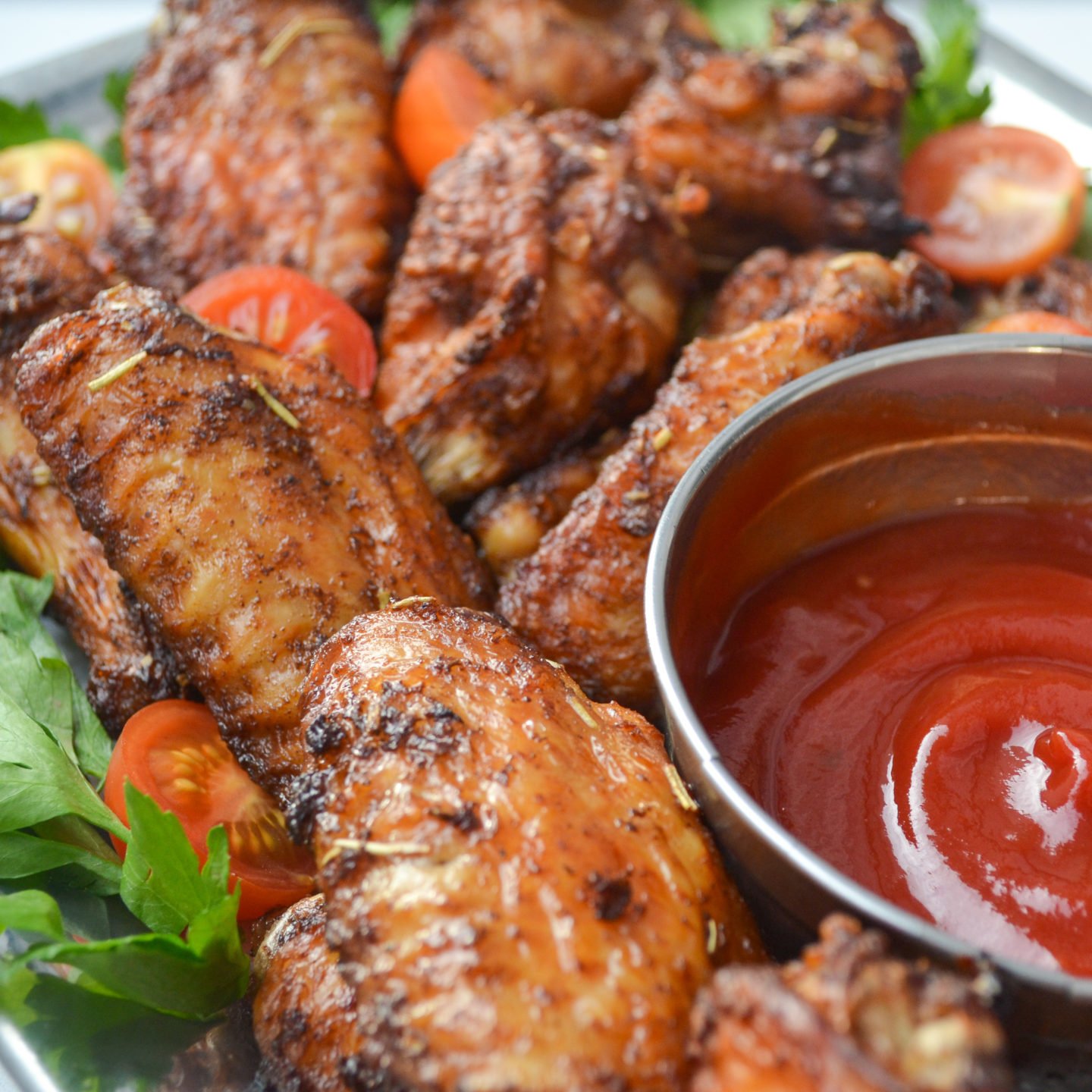 These air fryer chicken wings are perfectly crispy, yet moist! In 35 minutes, you'll have a perfect low-carb lunch ready that the whole family will enjoy.
For those who follow the keto diet, chicken wings are the best option for a tasty and filling meal. They are incredibly low in carbohydrates and have a perfect fat and protein ratio, making them an ideal choice for lunch or dinner.
Cooking the chicken wings in an air fryer is an incredible idea for those who don't like to spend a lot of time cleaning the oven or frying pan after cooking. If you place parchment paper in the frying basket, all you'll need to do after cooking is throw away the paper!
Table of Contents
How to Make Them Even More Crispier?
There are a few rules when it comes to making crispy chicken wings in the air fryer:
Always pat the chicken wings with a paper towel before adding the melted butter and the dry rub.
Flip the chicken wings every 5 minutes and shake the basket to spread the fat evenly.
Increase the air fryer temperature to 390F for the last 10 minutes. Don't worry, they won't burn!
I follow these three rules every time I make the keto chicken wings, and they turn out perfectly crisp on the outside and extra moist on the inside.
Another secret that helps to make the wings crispier is to use baking powder. No matter how weird it may sound to you, after trying this out, you'll be amazed at how much difference this ingredient makes.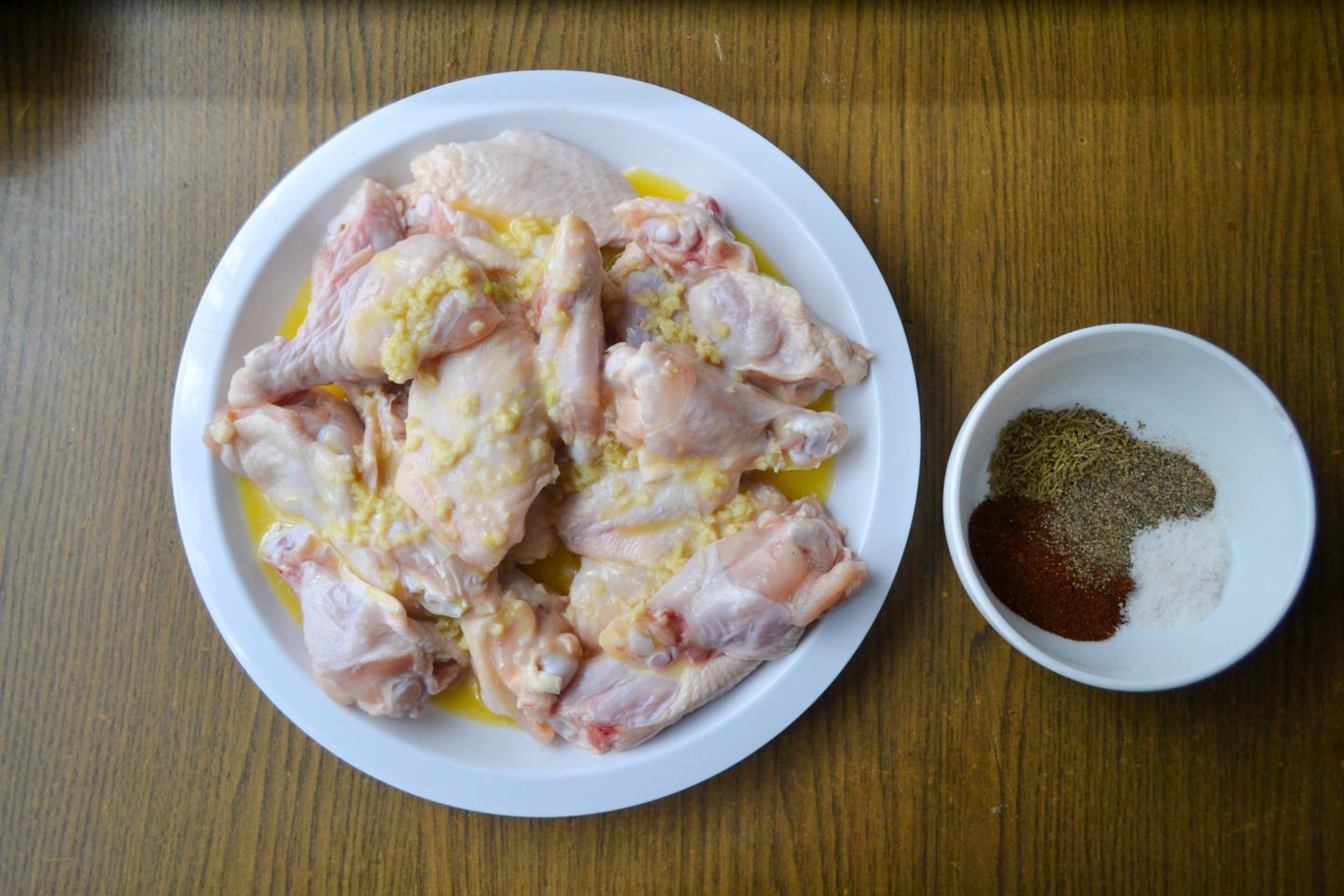 How to Serve Them?
I like to eat these air fryer chicken wings as a full meal since they are relatively high in calories. Though if you cut down the serving size, it can be combined with a cauliflower puree or zucchini pasta.
There are also many keto-friendly sauces that would be perfect for these chicken wings, such as an unsweetened BBQ sauce or no-sugar-added ketchup. And if you have extra time, you can also make your own homemade dipping sauce for the keto chicken wings!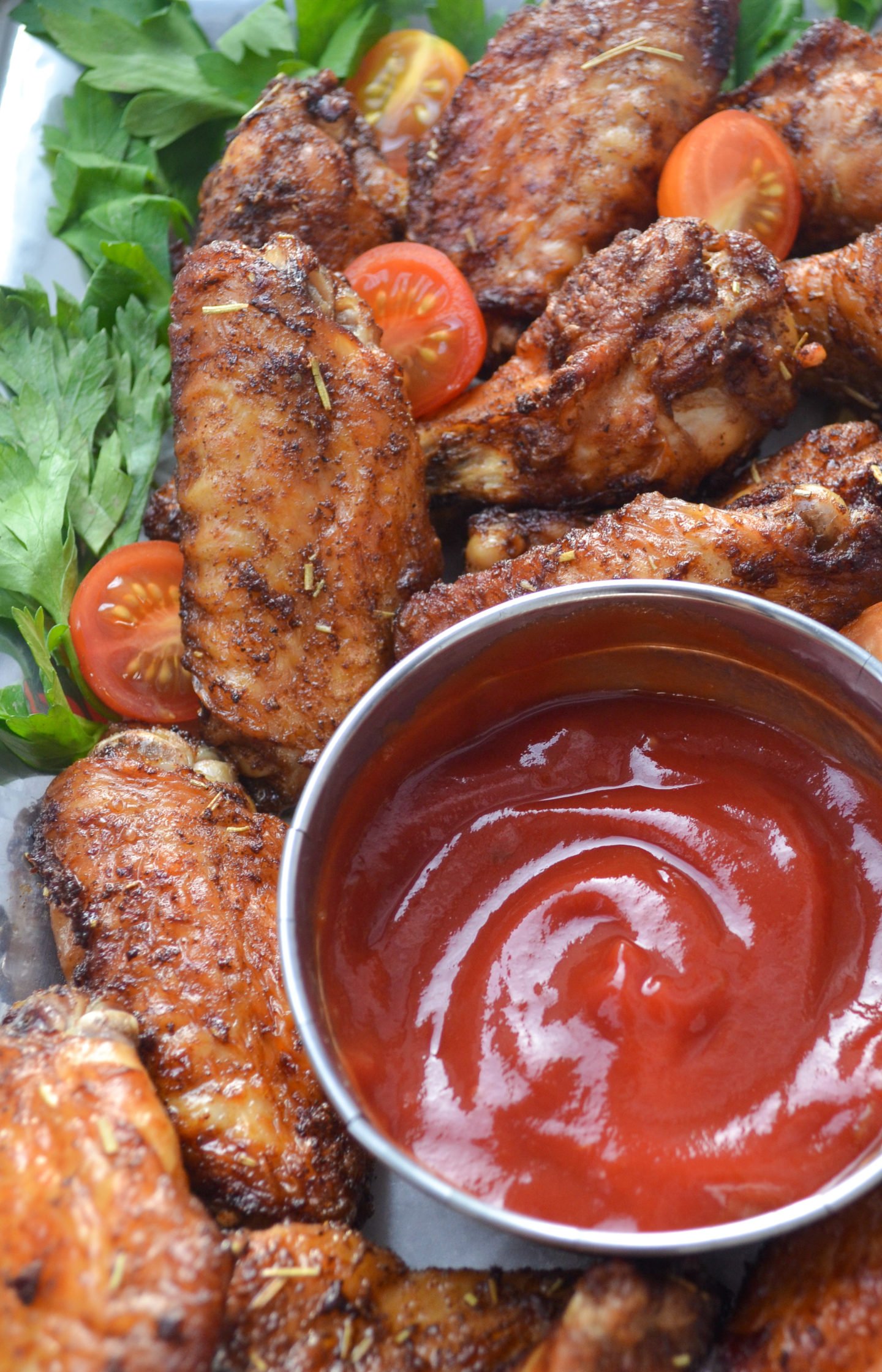 What to Do With the Leftovers?
You can store any leftovers in the fridge for up to 3 days, and reheat them whenever needed.
My favorite way of reheating the leftover wings is again using the air fryer. Simply place them in the basket, set the temperature to 390F, and keep them there for at least 5 minutes. This way, they will regain the crispiness.
Or you can also use a microwave! Toss them in for 2-3 minutes, and they will be as good as freshly baked.
To save time, I fry double the chicken wings in the recipe, divide them into servings once cooked, and freeze them. When I'm short on time, I simply take one of the bags from the freezer and throw them into the air fryer.
Can They Be Cooked in the Oven?
Yes! You can use this recipe for cooking the chicken wings either in the air fryer or the oven. So if you don't have an air fryer, that's not a problem. The keto chicken wings will be just as tasty.
To make sure that they turn out crispy in the oven, remember that you should pat dry the chicken wings with paper towels before adding any spices. Also, don't forget to include the magic ingredient — baking powder. Follow the recipe card with only one difference: preheat the oven to 425F and bake for 40 minutes.
Though I do recommend getting an air fryer if you don't have one yet. There are so many delicious keto recipes that you can make using it. Whether you believe it or not, the taste of the food is entirely different when cooked in the air fryer rather than in the oven or deep-fried.
Experiment With the Dry Rub
The basis for the dry rub for crispy keto chicken wings is baking powder. It has low calories and much fewer carbohydrates than any flour type, making it keto-friendly. Even without flour and breadcrumbs, you can easily make mouth-watering low-carb wings!
Even if you add only salt and pepper to the baking powder and rub it into the chicken wings, they will turn out delicious. I also like to add paprika powder and dried rosemary. But as always, you can add any spices that you want — basil, oregano, garlic powder, dry mustard, cayenne pepper, or any other seasoning mix!
Recipe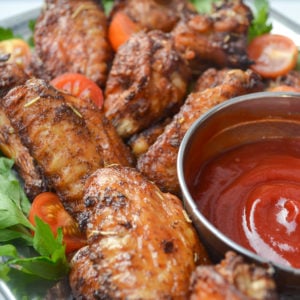 Keto Air Fryer Chicken Wings
These low-carb chicken wings are perfectly crispy, yet moist, and you can make them in just 35 minutes! If you don't have an air fryer, you can cook them in the oven, too!
Ingredients
1.5

lbs

chicken wings

3

tbsp

melted butter

4

minced

garlic cloves

1

tsp

baking powder

1

tbsp

paprika

1

tsp

dried rosemary

salt and pepper

to taste
Instructions
Thoroughly wash the chicken wings and pat them with paper towels to remove excess liquids.

Melt butter in a separate bowl in the microwave. Add the minced garlic cloves to the butter.

Pour in the butter with garlic to the chicken wings and rub it in.

Throw all the spices into a small bowl, add to the wings, and mix everything together.

Line the air fryer basket with a round of parchment paper and place the chicken wings on top.

Set the temperature to 380F and fry them for 25 minutes. Flip the wings on the other side every five minutes.
Nutrition
Calories:
532
kcal
Carbohydrates:
1.8
g
Protein:
41.1
g
Fat:
40.5
g
Saturated Fat:
13
g
Trans Fat:
1
g
Cholesterol:
124
mg
Sodium:
331
mg
Potassium:
207
mg
Fiber:
1
g
Sugar:
1
g
Vitamin A:
628
IU
Vitamin C:
5
mg
Calcium:
99
mg
Iron:
1
mg