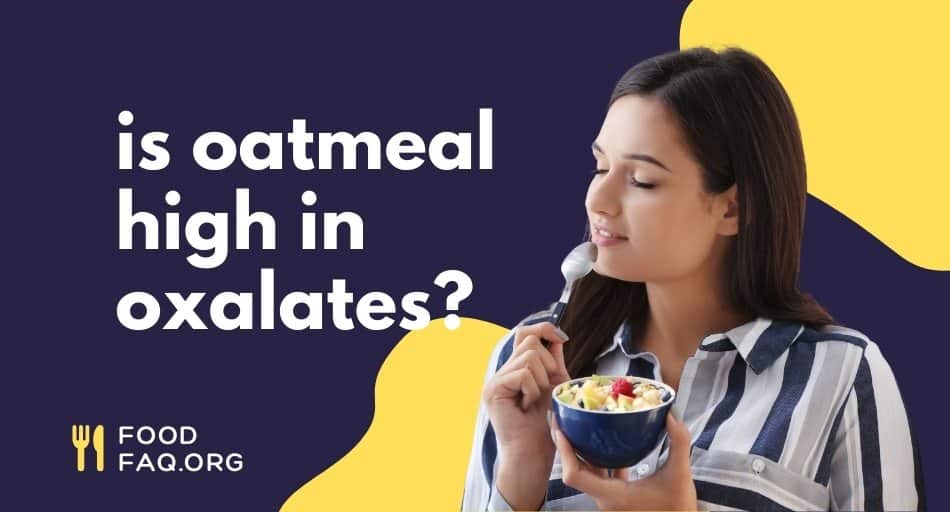 Oatmeal is a comforting breakfast that is also very versatile. You can purchase prepackaged oatmeals that have different flavors or purchase oats and make them the old-fashioned way. They're a healthy grain that works well with almost any type of diet, and they're delicious.
If your doctor has recommended you start following a low oxalate diet, knowing what you should and shouldn't eat is the first step. If you're wondering what your breakfast options are on a low oxalate diet, oatmeal has probably crossed your mind.
Table of Contents
Is oatmeal high in oxalates?
I have good news for all you oatmeal fans. Oatmeal is low in oxalates. Unlike certain fruits and veggies, it's hard to know precisely how many oxalates are in oatmeal because of the manufacturers, but since they're low in oxalates, we can assume there's less than ten mg per serving.
Keep in mind that traditional oatmeal is low in oxalates, but the number of oxalates may rise depending on what you add into your bowl of oatmeal.
Is Oatmeal Good for You?
Oatmeal is good for you! In fact, oatmeal is one of the healthiest grains we can eat. Oats are gluten-free, full of vitamins and minerals, antioxidants, and fiber.
The reason you see people who are on a health journey eating oatmeal for breakfast or other meals is because of all the vitamins and minerals, but also because it's high in fiber. Fiber is an excellent component because it can prevent you from eating when you're bored because it helps you feel fuller for more extended periods.
Oatmeal can help with weight loss and maintenance, decrease your risk of heart disease, and lower your blood sugar levels.
For those who have diabetes or are watching their blood sugar levels, oatmeal is a helpful tool. Studies have shown that eating oatmeal can help those who have diabetes or are overweight manage their blood sugar levels. It may even be able to help those who are sensitive to insulin.
What Can I Add to Oatmeal to Keep it Low Oxalate?
Eating traditional oatmeal is perfectly fine, but if you're someone who likes to add fruits and other toppings to your oatmeal, you'll want to choose things that are also low in oxalates so you can better stick to the lifestyle. Here are some ideas for fruits you can add to your oatmeal that will keep it low in oxalates.
First up is bananas. I personally love bananas in oatmeal. One whole banana only has three mg of oxalates. You can use the entire banana if you want, but even if you only use half, you'll only be adding 1.5 mg of oxalates to your oatmeal.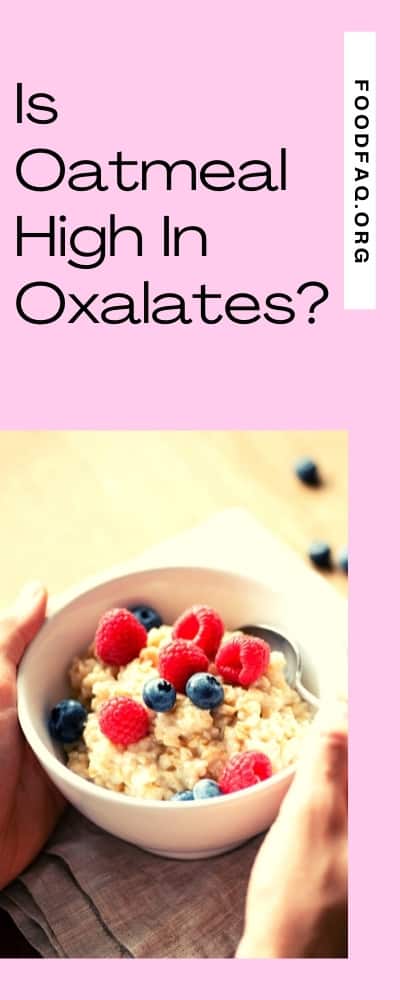 Blueberries and strawberries are another great, low oxalate food to add to your oatmeal. You can add half a cup of blueberries or strawberries while only adding about two mg of oxalates to your meal.
You can make oatmeal with water or milk, depending on your preference. Water doesn't have oxalates, but the good news is, neither does milk! You can make your oatmeal creamier without having to compromise being low oxalate.
Thing You Shouldn't add to Oatmeal When on a Low Oxalate Diet
Now let's look at some of the ingredients that will take your initially low oxalate breakfast to something with a high oxalate content. Peanut butter is one of my favorite things to add to oatmeal to give it a different flavor. Unfortunately, peanut butter is high in oxalates. One tablespoon of peanut butter has about 13 mg of oxalates.
Pretty much any nut is going to add a lot of oxalates to your oatmeal. For example, 22 almonds add 122 mg of oxalates, one ounce of cashews has 48 mg of oxalates, and seven walnuts have 31 mg of oxalates.
Delicious Overnight Oats Recipes
The best thing about overnight oats is that you can create almost any flavors you want, pull them out of the fridge in the morning, and enjoy! You can eat them cold or heat them up. Either way, you'll have a quick and delicious breakfast with almost no effort in the mornings. Here are a few of my favorite overnight oatmeal recipes.
The first recipe is for cinnamon roll overnight oats. You'll need oats, a milk of your choice, vanilla greek yogurt, cinnamon, and maple syrup. You'll combine all the ingredients together and then store them in the fridge until you're ready to eat. You can add blueberries to the top if you're looking for a bit of freshness.
If you're a fan of cheesecake, you'll love this strawberry cheesecake overnight oats recipe. You'll need oats, milk of your choice, vanilla, honey, greek yogurt, strawberries, and graham crackers. It's pretty good for you, and it feels like you're eating a slice of cheesecake first thing in the morning.
One of the best things about this recipe is that you can easily change it to a traditional cheesecake flavor by removing the strawberries or adding blueberries to have blueberry cheesecake.
When Did Humans Start Eating Oatmeal?
Oats have been around as long as humans have, and maybe even longer. We can date back the consumption of oats to about 7,000 BC.
Ancient civilizations in Greece and China were the first to cultivate and eat oats as a cereal or porridge. Nowadays, oatmeal is one of the most popular breakfast dishes all over the world. In Russia and Eastern Europe, it's incredibly popular, and you'll regularly see people eating oatmeal. The same goes for the United States.
How Many Types of Oats are There?
When you're eating oatmeal, you probably aren't too concerned about what type of oats you're eating. There are eight main types of oats that are commonly used for oatmeal and other cooking purposes. The few that you probably know are instant oats, rolled or old-fashioned oats, or steel-cut oats.
But the other oat options available are whole oat groats, Scottish oats, quick oats, oat bran, and oat flour. Unless you do your research, you probably won't be able to tell the difference between these different types of oats when you're eating them.