Iron is a mineral that's essential for several of your bodily functions. It assists in regulating your body temperature, supports your immune system, and keeps your gastrointestinal system healthy. Iron is critical for red blood cell formation and can help treat anemia.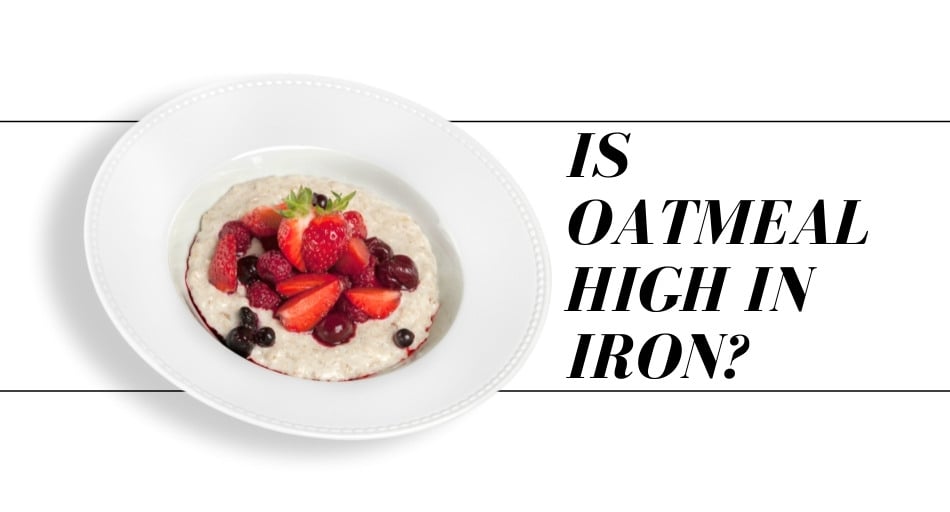 Therefore, it's essential that your diet contains iron-rich foods, and breakfast is a great time to include some of these.
Oatmeal is a breakfast food that is popular globally, but is it high in iron?
Table of Contents
Is Oatmeal High or Low in Iron?
Oatmeal is an excellent source of iron. One cup of oatmeal contains 77% of women's recommended daily iron intake and 173% for men.
Oatmeal is also rich in other essential nutrients, including protein, fiber, vitamin B6, magnesium, and calcium.
How Much Iron Is in Oatmeal?
One cup (8 oz/234 g) of cooked oatmeal has 13.9 mg of iron. You could boost your intake further by adding nuts high in iron or some dried fruits, such as dates, prunes, or raisins.
Foods that contain more than 2 mg of iron per serving are considered good iron sources, and those with 3.5 mg or more are considered excellent sources.
Aside from seafood and meat, oats are one of the most iron-rich foods you can eat and are especially good if you're following a vegetarian or vegan diet.
Nutritional Facts: Oatmeal (3.5 oz/100 g)
Calories: 68
Total Fat: 1.4 g
Sodium: 49 mg
Total Carbohydrate: 12 g

Dietary fiber: 1.7 g
Sugar: 0.5 g

Potassium: 61 mg 1% DV
Protein: 2.4 g
Vitamin C: 0% DV
Calcium: 8% DV
Iron: 33-75% DV
Vitamin B6: 15% DV
Magnesium: 6% DV
Is Oatmeal Healthy?
Oats are one of the healthiest foods you could add to your diet. They're highly nutritious, and as they contain fiber and complex carbs, eating them won't cause spikes in your blood sugar levels.
Full of Fiber
Fiber feeds the good bacteria in your stomach and helps prevent digestive problems, including acid reflux.
Complex Carbohydrates
Oatmeal contains complex carbohydrates, which your body metabolizes slowly, keeping you energized for longer.
Complex carbohydrates are also less likely to cause you to gain weight. They curb your appetite, helping you control your diet.
Complex carbs also don't typically lead to insulin resistance, which can lead to diabetes and problems treating it.
Rich in Manganese
Oatmeal is especially high in manganese, with one serving providing 68% of the recommended daily intake.
Manganese can, combined with other nutrients, enhance bone health and act as a powerful antioxidant.
It can also help reduce the risk of many health conditions driven by oxidative stress. Manganese can also help reduce digestive system inflammation, leading to better digestion and faster metabolism.
Low in Calories
Oatmeal is low in calories, and the fiber it contains makes you feel full for longer, allowing you to control your food intake and lose weight steadily.
Eating oatmeal has also been proven to stimulate the release of a satiety hormone, which can lead to a reduced calorie intake and a lower risk of obesity.
Anti-inflammatory
Due to its anti-inflammatory properties, eating oatmeal reduces the risk of childhood asthma. Although this research was on children, adding oatmeal to the diet could also relieve asthma in adults.
The recommended daily intake of iron for adult women is 18 mg. For adult men, it's 8 mg. See more in the table below.
Can You Get Too Much Iron From Oatmeal?
Oatmeal, and especially fortified oatmeal, contains a significant amount of iron. However, oats are very filling, and it's doubtful that you would eat enough for iron toxicity to become a problem.
Iron is essential to many metabolic processes, and it would be exceedingly difficult to ingest too much purely from dietary sources. Most people who develop hemochromatosis do so by taking too many supplements.
If you take too many iron supplements, you could suffer nausea, vomiting, and stomach pain, especially if you don't take them with food.
Therefore, getting all your essential nutrients from a healthy, balanced diet is best; only reach for supplements when necessary.
Does Oatmeal Block Iron Absorption?
Some studies suggest that the high phytate content of oats and oat products affects the absorption of non-heme iron.
However, if you're a healthy adult who isn't iron deficient, iron absorption shouldn't concern you as long as you eat a varied diet of iron-rich foods.
Do Quaker Oats Contain Iron?
All Quaker Oats products are high in iron, either naturally or because it's added. However, some Quaker products are higher in iron than others.
Quaker Fruit and Cream Variety (12.1 mg/3.5 oz) are the highest in iron, while Quaker MultiGrain Oatmeal (3 mg/3.5 oz) is one of the lowest, yet still relatively high.
Is Oatmeal Prepared with Milk Higher In Iron?
Milk contains very little iron unless it's fortified. However, cooking your oatmeal in milk adds other nutrients to your breakfast, such as calcium, vitamin D, riboflavin, and phosphorus. Milk also adds flavor to oatmeal without adding too many extra calories.
Besides adding vitamins and minerals, preparing your oatmeal with plant-based milk and its associated plant compounds could benefit your health.
Plant proteins have different nutritional profiles from animal proteins. Including a mix of these in your diet is the healthiest choice.
Oatmeal is a good source of iron, as it contains more than 2mg per serving. It's also rich in other essential nutrients, minerals, and vitamins that help keep your whole body healthy. Eating oatmeal for breakfast or any other meal could bring several health benefits.
Recommended Iron Intakes
Your recommended daily intake of iron depends on your age and sex. This table was developed by the Food and Nutrition Board at the Institute of Medicine of the National Academies.
| RDAs for Iron | | | | |
| --- | --- | --- | --- | --- |
| Age | Male | Female | Pregnant | Lactating |
| 0-6 months | 0.27 mg | 0.27 mg | | |
| 7-12 months | 11 mg | 11 mg | | |
| 1-3 years | 7 mg | 7 mg | | |
| 4-8 years | 10 mg | 10 mg | | |
| 9-13 years | 8 mg | 8 mg | | |
| 14-18 years | 11 mg | 15 mg | 27 mg | 10 mg |
| 19-50 years | 8 mg | 18 mg | 27 mg | 9 mg |
| 51+ years | 8 mg | 8 mg | | |
RDAs for nonvegetarians. The RDAs for vegetarians are 1.8 times higher than for those who eat meat.
Conclusion
Oatmeal is an excellent source of iron, and many commercially available oats and instant oatmeal contain a good amount per serving.
Oatmeal is also high in other nutrients, minerals, and vitamins that help keep your body and mind healthy.
Source: USDA