Taking care of your cast iron grill grates is essential for great grilling. Make sure you season the grates before the first use. You should also clean them immediately after use with a mild dish soap, never soak them in water.
Always dry completely so moisture does not build up and create rust. Below we'll look at all ways you can clean and keep your cast iron grill grates in optimal working condition for years to come.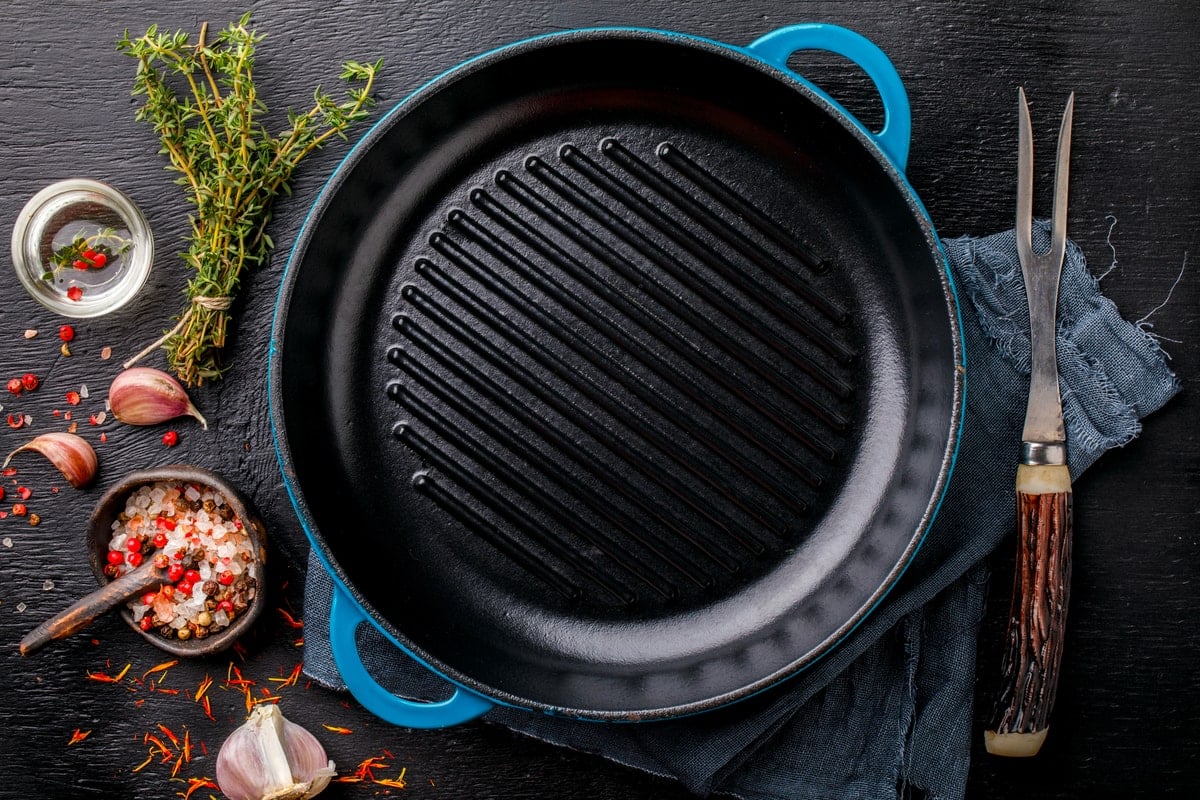 What is Cast Iron?
Cast iron is a name used to explain a family of metal compounds that's primary compound element is iron. The name implies that cast iron is essentially 100% iron. That's not true. Carbon steels have a larger amount of the iron component than cast iron does.
To be classified as cast iron, a primarily iron composite must have more than two percent carbon.
Cast irons additionally have lesser amounts of other components, with silicon and manganese being the most popular. Alloying components are utilized to expand the properties that cast iron is made of and create cast iron component designations.
There are two types of cast iron. The traditional cast iron as explained above and enamel coated cast iron which is coated with porcelain enamel.
Why Do People Like Cooking on Cast Iron Grates?
Cast iron grill grates are great for heat retention. They help the food cook evenly through the entire piece of meat or whatever you're grilling.
If your grates are seasoned properly, it will also transfer the flavor to your meat. It will also give you great-looking grill marks.
Cast iron grates are easy to clean. Just scrape, rinse, wash, rinse again and completely dry. Put away until next time you bring the bbq grill out.
Pros of Cooking with Cast Iron
Even cooking temperature, so your food cooks all the way through
Excellent heat retention
Durable if taken care of and will most likely last a lot longer than your grill
Makes terrific-looking sear marks
Cons of Cooking with Cast Iron
Cast iron is heavy
If the grates are not taken care of, they can rust.
Grates should be seasoned just like any other cast iron cookware.
What are Cast Iron Grill Grates?
They are durable grates that you use with your gas grill, charcoal grill, or any type of grill you own. There are two types of cast iron cookware. The ones with a rough exterior like a cast iron skillet. Then there are grates that are finished with porcelain enamel. You can select any color you like, and the grates are smooth to touch.
What to Look for in Cast Iron Grill Grates
Does it have a rust-proof coating, or does it need to be seasoned?
You can choose the right sizes and shapes to fit your grill.
These grill grates are easy, sturdy, and easy to clean.
How Do You Clean Cast Iron Grates?
Cleaning cast iron grill grates doesn't have to be a challenge. Your grill grates is the best way of, maintaining your grill which also increases the grates lifespan.
Cast iron is known to be able to handle all sorts of abuse. It is so strong and durable people start to believe it can't be damaged.
Wrong! Water will damage your cast iron grates quicker than anything else. If you submerge your grates in water overnight, they will rust. If you submerge the grates in hot water, they will rust even faster. While there are ways to remove rust, the most rust your grates have the harder it is to remove.
Clean Immediately
If you're a cook who soaks all the dishes for a week before washing them, you need cast iron grill grates with a porcelain enamel coating. They are easier and quicker to clean, and they are pretty much rust-proof. You may also consider stainless steel grill grates. They are also easier to clean.
Scrape the Grates Clean
To scrape the grates, get a good quality wire brush. Make sure you remove all the food particles from the grates. Next, spray it with clean water to help loosen any particles that did not come off the first time. Then scrape those areas again until they are clean.
Use Mild Dish Detergent to Wash
Using soapy water and a nylon brush to give the grates a good once over to remove any grease. Removing grease and other ingredients such as sauces or marinades that could leave an odor behind. Rinse the grates well so there is no soap left behind.
Dry the Grates Thoroughly
As you know, water is cast iron's enemy. So thoroughly dry the grates with a clean dry cloth or paper towel, making sure no moisture is left behind.
Season the Grill Grates
When you season your cast iron grill grates you are adding layers of protection and flavor.
Heat Up the Oiled Grates
To make sure your grates are well-protected, oil them well and heat them. Use the grates often. Every time you use them, they heat up, providing more protection. Each time you oil them, place them on the grill for at least ten minutes on high heat.
How to Remove Rust from Cast Iron Grill Grates
No one likes to see rust on their grates, but it happens sometimes, even when you do everything right.
Below are a few great ways to remove the rust from your grill grates.
Vinegar Cleanse
The vinegar cleanse has been used for a long time with great results. It is safe and great for a quick cleaning or a deep cleaning.
White vinegar mixed with baking soda will baking soda will work together will break down any left behind particles and remove rust.
Mix 2 parts vinegar with one part baking soda. Place the grates in your sink and pour mixture over the top and let sit overnight.
In the morning, rinse the mixture off and any food or rust left will scrape off easily. Then rinse well and dry completely before seasoning or re-seasoning.
Steel Wool Soap
Steel wool is for a fair amount of rust. Scrub the rusty grates with soap and steel wool when the rust is gone. Rinse well and dry. The steel wool will remove the seasoning, so the grates will need to be re-seasoned.
Oven Cleaner
If all other cleaning methods have failed, try oven cleaner. If you can take the grates outside, if not, make sure you clean them in a well-ventilated area. Spray the grates, place them in a large garbage bag and seal tight. Let them in a warm area for two days (the sun works great) keep children and pets away from them!
Rinse the cleaner off and wash and rinse very well and dry completely with a paper towel. You will need to season the grates again.
In the unlikely event, these three methods did not work, you may want to try some rust removers.
Why Did Rust Form on the Cast Iron?
Rust forms on your cast iron grill gates because it is not properly cleaned and dried. Your grates also need to be seasoned – this is called rust prevention. If the grates are not cleaned properly, they will rust. The more you use the grates the less likely they are to form rust.
What is Seasoning Cast Iron Grates?
Seasoning is baking oil onto the grates by a process called polymerization. The baked-on oil gives the cast iron cookware a black coat. Seasoning creates a cooking surface that is natural and helps prevent sticking, which in return prevents rust from forming.
How to Season Cast Iron Grates
There are three ways to maintain the seasoning of your cast iron cookware. The best—and easiest—way is to cook in it regularly. Each time you cook with oil or fat, you're adding another layer of seasoning to the pan. Over time, these layers build up to form a strong, nonstick cooking surface.
How to Season Grates in the Oven
The oven seasoning method is tired and true for all cast iron. The oven-seasoning process helps keep your cast iron in great condition.
Wash the Grates
Wash with warm mild soap and rinse well.
Dry Thoroughly
Use a lint-free towel and dry thoroughly. You may set it on a stove burner on low heat for a few minutes to ensure drying.
Apply Oil
Once you have chosen the oil you are going to use, apply a thin even layer.
Bake in Oven
Put a piece of aluminum foil on bottom rack. Preheat oven to at least 350 degrees F and no higher than 450 degrees F. Place the grates upside down on the center rack to prevent the oil from pooling. Leave in oven for one hour.
Cool in the Oven
Shut oven off and let the grates sit until they are cool. Then remove them.
How to Season Grates on the Grill
Seems logical to season grill grate on the grill. Simply follow the steps below.
Clean the Grates
With your grill brush, give the grates a good once over to remove any particles.
Spray the Grates with Oil
Use a high heat oil (see oil section - below) and fill a spray bottle. Spray the entire grate with the oil, use a paper towel to wipe off any extra oil.
Turn on the Grill
Put the grill on high heat, set the grates on it, and let it cook for 30 minutes. The grates will darken in color as the smoke filters over them.
What is the Best Oil for Seasoning Cast Iron Grates?
After some research, the following oils seem to be what people consider the best. Avocado oil and Safflower oil have the highest smoke points. Which is the temperature when the oil begins to smoke. The smoke point is essential to seasoning.
Although, remember you can use any oil to season your cast iron. Vegetable oil is often used even though it only has a smoke point of 400 degrees F.
Avocado oil – Smoke point 520 degrees F
Safflower oil – Smoke point 510 degrees F
Peanut oil – Smoke point of 450 degrees F
These three seem to be the top choices for seasoning cast iron. The temperature of these three oils can reach the smoke point of 450 degrees Fahrenheit or above. The higher the smoke point, the better.
Some people use grease to add extra flavor for seasoning a barbecue grill, charcoal grill, and gas grill grates. If you use flavored grease, put down a piece of aluminum foil to help catch any mess.
What is the Best Method for Seasoning Cast Iron Grill Grates?
There are a few different methods for seasoning cast iron grill grates, including the oven or the grille. In most cases, the grille is the best method for seasoning. They will likely reach their smoke point quicker outside. While not filling your home with smoke.
Best Grill Brush for Cast Iron Grates
This unique designed grill brush and scraper cleans stubborn stains efficiently. The Bristle design helps clean any stains between the gaps.
This 360° stainless steel cleaner and scraper as a triple head scrubber to make your grates shine. It's safe to use on cast iron, enamel, and porcelain.
The weber brush has angled bristles to get in between the slots in the grates. It works great on small grills. It has an ergonomic grip handle for easy use.
Summary
If you take care of your cast iron grill grates, they will last a very long time. This is also true for any type of cooking grate, including the following - stainless steel grill, plus stainless steel grill grate.