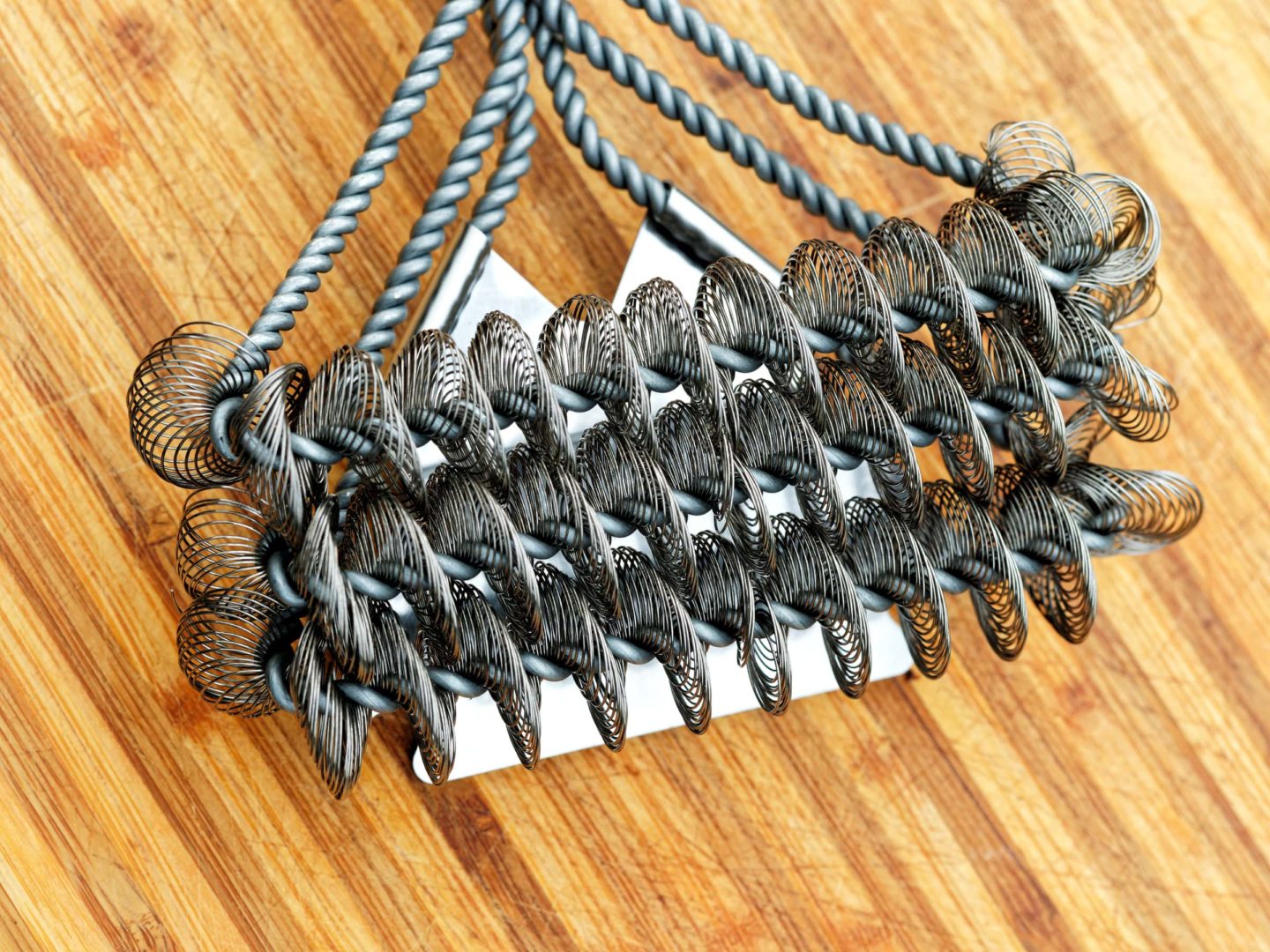 Health consciousness has spurred the growth of healthy cooking alternatives. Grilling, which uses significantly less oil, is one that's been gaining wide adoption. Naturally, we want a way to effectively keep our cast iron grates free from charcoal sediments and food residue. And because these can be extremely hard to remove, things get a bit interesting.
The challenges of cleaning cast iron grates compound because of the gaps that collect more sediments and residue. Fortunately, there are many options available in the market, each with its pros and cons. In a nutshell, grill "brushes" can be made of bristles or coils, or they can be scrapers or even pads. There are also variations in the materials used by manufacturers. For instance, a cleaning tool's bristles can be nylon, brass, or stainless steel.
Of course, the cleaning tool you select will impact your overall experience. We tested them all, so you won't have to. Apart from being a comprehensive list of the best options to buy, we also explain their advantages and drawbacks. So roll up your sleeves and be ready to pick the best grill brush for cast iron grates available today.
Table of Contents
Best Brass Bristle Grill Brush: Backyard Dudes BBQ Grill Cleaning Brass Brush
Backyard Dudes BBQ Grill Cleaning Brass Brush
Sells at multiple lengths and is a good compromise between nylon and stainless steel grill brushes.
Pros: Softer bristles; available in different handle sizes; dishwasher-safe; affordable
Cons: Less dense bristle arrangement; needs to be replaced once in a while
The Backyard Dudes BBQ Brass Brush for grill cleaning is the ideal brush for those who like the structure of metal bristles but still prefer softer brushes — its bristles are made of brass. While brass is less resistant to corrosion, it does possess antimicrobial properties and can withstand higher temperatures. So when you use them hot, they not only brush off the sediments but can kill bacteria, too.
This grill brush is easy to clean as a dishwasher-safe cleaning tool, like the stainless steel alternatives we will mention later. While most grill brush options sell just one size, Backyard Dudes offers their brass grill brush at three varying lengths: a 12-inch, 16-inch, and a 21-inch option. The flexibility to choose is nice.
Unfortunately, one aspect we'd like to see improved is the density of the bristles. Stainless steel bristle grill brushes, such as the Weber below, have a lot more bristles per square inch. Also, as brass bristles are softer, be ready to replace them more often than non-brass options.
Still, this is the ideal cleaning tool for porcelain-coated cast iron grills. If you're in the market for a grill brush with brass bristles, we think the Backyard Dudes offering is the best in the business.
Best Stainless Steel Bristle Grill Brush: Weber 12-Inch 3-Sided Grill Brush, Black
SAVE 6%
Weber 12-Inch Three-Sided Grill Brush
Sufficiently long stainless steel bristles do not get entangled. Can clean stubborn dirt.
Pros: Dishwasher-safe; durable material; hook handle; with shorter sides for the hard-to-reach areas; extensive frontage; affordable
Cons: The handle can be too short for some; metal bristles can break and end up on your food
For unyielding and stiff leftovers and sediments, nothing beats the ability of stainless steel bristles. Weber's 12-Inch 3-Sided Grill Brush is our favorite.
While broken stainless steel bristles are a hazard, we cannot argue against their effectiveness in removing hard food residue from our grates. Its bristles are also sufficiently long and do not get entangled between your grates.
Furthermore, we found the shorter sides to be effective in removing food sediments found on the edges and curves. Its main side is about seven inches wide, which we also found to be adequate for most jobs. The Weber grill brush is dishwasher-safe as well.
Some may find the handle relatively short. We're pretty torn about it. Others aren't bothered by it, but some would've liked a longer handle. This is a factor you may want to keep in mind. Nevertheless, the handle has a hook for storing, which is pretty nice.
At the price that this sells, with its effectiveness in removing dirt, it is hard not to recommend. But if you do choose to buy this, take extra caution and make sure you don't leave any broken metal bristles on your grates.
Best Stainless Steel Coil Grill Brush: GRILLART Grill Brush and Scraper Bristle Free, 17-Inch Grill Cleaning Brush, Stainless Steel
Another alternative to metal bristles is the use of steel coils, and the GRILLART Stainless Steel Grill Brush and Scraper for grill cleaning is the best of the bunch.
Steel coils form a helix and, compared to bristles, are less prone to breakage. GRILLART's rings are made of stainless steel, which is highly resistant to corrosion. This brush has a head that is wide enough, at six inches, to make cleaning faster. It is also dishwasher-safe.
While the fixed metal scraper is nice, it does limit the brush's ability to clean edges and grill curves. Fortunately, the shorter sides of the grill head are also partly stainless steel coils. They are actually designed to clean the edges and curves.
The GRILLART grill brush sports a handle measuring ten inches long. Unlike the Grill Rescue cleaning pad below, its hook is built-in and free.
Unfortunately, the grill brush wasn't made for mesh grill types. Still, this stainless steel coil grill cleaner by GRILLART is an excellent alternative to the traditional bristle grill brush.
Best Alternative Grill Brush, Soft Pad: Grill Rescue BBQ Replaceable Cleaning Head, Bristle-Free Grill Brush
Grill Rescue Bristle-Free BBQ Scraper with Replaceable Cleaning Head
Do away with metal bristles for safer and pleasant cleaning. They also donate part of their proceeds to worthy foundations.
Pros: Replaceable heat-resistant pad that's tough enough for firefighters and police officers; uses cooking-grade plastic; dishwasher-safe
Cons: Very expensive for a brush; the soft bristles can make it harder to clean grills; the handle can break with enough force
There are sound reasons for using a soft grill brush. For instance, the metal-on-metal scraping noise might bother you. Or you might find the thought of bristles mixing with your food disconcerting. If you prefer to go the soft brush route, then the Grill Rescue Bristle-Free BBQ Grill Brush is the best option in the market.
This cleaning tool has a replaceable head made of a durable yellow pad — aramid fiber — you can use on any grill. Aramid fiber is a synthetic fiber that is highly resistant to heat, with Kevlar® being its most popular trademarked brand name. For some context, this is the material firefighters, and police officers use on their gear. It's likely not going to melt when cleaning hot grills, then. Ironically, its handle is somewhat weak and can break with enough force.
Using the Grill Rescue grill brush means you'll have to follow the same steps as cleaning with a metal grill brush. Specifically, this entails preheating the grill and submerging the brush in water for proper cleansing.
And although the cleaning pad is dishwasher-safe, grill stains can occasionally be hard to remove. As such, we recommend soaking the pad in hot water right after use to rid it of any permanent stains.
That said, a material this durable yet soft means it's pricey. That's not even mentioning the hanger they sell separately — an add-on we usually see included for free. If it's any consolation, though, Grill Rescue says they donate part of their proceeds to fire, police, and military foundations. A quality product that contributes to noble charities can be pretty compelling.
Incidentally, they also sell a grill brush with a metal scraper so you can worry less about hard-to-remove residue.
Best Alternative Grill Brush, Power Drill Attachments: Power Grill Brush 5 Piece BBQ Cleaning Kit
SAVE 8%
An easy way to clean your BBQ grills is with a power drill. There are, in fact, drill bits you can buy with nylon attachments. This is perfect if removing gunk from your cast iron grates is a challenge. It also means no metal wires or bristles can break off. This is a huge plus for people worried about metal bristles in their food.
If this solution sounds perfect, then we recommend the Power Grill Brush 5-Piece BBQ Cleaning Kit. This cleaning kit comes as a set consisting of four brushes and a drill bit extender for added length. The four brushes include a rim brush, a flat brush, a round brush, and a grooved brush.
Remember, though, that you will need a power drill first — the set doesn't come with its own power drill. For your reference, the Quickchange shaft's diameter for all four brushes plus the bit extender is 0.25 inches. In other words, these bits should work fine with a regular power drill.
All four attachments have ultra-stiff nylon brushes at varying lengths. While you're free to use the brushes however you like, we recommend using the rim brush for cleaning the grills' insides. The flat brush works best for leveled surfaces. Moreover, the round brush is ideal for curves, corners, and hard-to-reach areas. And finally, the grooved brush works well on grates.
Because all four brushes have nylon bristles, it's probably best to make sure you let the cast iron grates cool down. Nylon bristles melt on hot surfaces, but that also means you don't have to worry about leaving bristles on your cast iron grate.
Overall, this 5-piece cleaning set at a price barely higher than some regular grill brushes is an absolute steal for the right users.
Best Alternative Grill Brush, Scraper: The Sage Owl S4480 Stainless Steel BBQ Grill Scraper
The Sage Owl Stainless Steel Bristle-Free BBQ Grill Scraper
A cleaning tool you can put in your pocket or attach to your keychain.
Pros: Compact; no metal bristles to worry about; compatible with varying shapes of grates; has a built-in bottle opener and griddle scraper; with the option to include an aluminum handle; dishwasher-safe
Cons: Potentially dangerous on hot grills; relatively expensive
At just 2.5 inches wide and 2.5 inches long, the Sage Owl Stainless Steel BBQ Grill Scraper is the smallest grill brush on the list. Well, technically, it isn't a brush. It's a scraper, but nevertheless a cleaning tool you can effectively use on a cast iron grill grate.
Specifically, it is a solid, bristle-free stainless steel scraper with 13 grooves all around. With no metal wire bristles to lose, you also don't worry about them getting stuck in your food. High marks for safety!
The notches on the scraper fit all types of grates: round, triangle, and square. Six are for round grates with diameters ranging from 1/32 inch to an inch. The five V-shaped notches of varying sizes work with triangle grates. And the square notches are best for the grates you'll often see in many state and national campgrounds. You could also use the two big round notches instead of the square notches. They're pretty interchangeable.
On top of it all, the Sage Owl S4480 also has a built-in bottle opener and a griddle scraper. It is a compact tool that doesn't get in the way. It fits in your pocket, and you can also hook it to the side of the grill.
But being compact has its disadvantages. For one, it's easy to misplace. Another is its use limitations with hot grills. Being this small means your hands get close to the grill. To counter this, Sage Owl sells an optional long handle. Or you could DIY if you're especially handy. That is, you could bolt the scraper to any long handle, like a dowel, for added leverage.
The Sage Owl S4480, though, is relatively pricey considering other grill brushes come with scrapers, too. But this does come with notches that help clean hard-to-reach areas. And the DIY factor can be a plus. It is a tool that's sure to release your inner MacGyver.
Best Nylon Bristle Grill Brush: Char-Broil 8666894 SAFER, Replaceable Head Nylon Bristle Grill Brush With Cool Clean Technology
An inexpensive red nylon bristle brush that adequately does the job.
Pros: Affordable; replaceable brush head; visible colored bristles; does not scratch porcelain-coated cast iron grates
Cons: Not suitable for hot grills
The Char-Broil Nylon Grill Brush with a replaceable head is a no-frills grill brush with bright red nylon bristles about an inch long and a plastic handle that's ten inches long.
We like that the bristles are a visible color that's easy to detect on your grill. Unlike metal bristles, nylon is less of a food-safety hazard. For the Char-Broil in particular, the nylon bristles do not break easily, and they also don't scratch your porcelain-coated cast iron grates.
But as you might expect, nylon is not suitable for cleaning hot grills — the hot surface can melt your nylon bristles. When it comes to nylon brushes, always wait for your grill to cool down completely before brushing.
Fortunately, when you do melt part of the brush, the replaceable head is very affordable. Anyone looking for a simple cleaning solution will appreciate the lack of gimmicks.
Buying Guide for Grill Brushes for Cast Iron Grates
Choosing the best grill brush, or really the best "cleaning tool," is an involved process. First, you'll have to decide on the overall design. Do you prefer to use a traditional brush with a long handle and bristles at the end? Would you like coils that are less prone to breaking than bristles? How about a scraper that effectively gets into crevices or a pad that's sure to rid you of broken bristles on your plate?
Next is the material of your brush. Hard sediments are best removed with stainless steel bristles. However, brass is a gentler material that's excellent with porcelain-coated grills. Nylon avoids the hazards of having broken metal pieces in your food.
Aside from the material properties of your bristles, you will also want to consider their length, the properties of the handle that it attaches to, and certainly their price.
Design
For all intents and purposes, grill brushes can mean actual brushes and scrapers. Bristle brushes are either two or three-sided brushes. Some also come with scrapers on top. Instead of bristles, some brushes have coils that are less prone to breaking. And finally, we have one on this list that's a cleaning pad.
Scrapers are the most convenient option — they fit in your pocket. Although, scrapers are not ideal for hot grills. They are too small, and you risk burning your hands when cleaning hot grills. You would likely need a handle, one that's bought separately or made in the DIY style.
Three-sided brushes, with bristles or coils, have small sides that are more effective in removing debris on the edges and inside curves. Moreover, most three-sided brushes have broader coverage than two-sided brushes, thereby reducing cleaning time.
Grill brushes may also come with a scraper. Built-in scrapers, though, usually limit your motions and make reaching crevices particularly hard.
The cleaning pad on this list is on the extreme end of gentle cleaning options. It is probably also the safest route. If you dislike the sound of metal scraping, this is the perfect alternative.
Material
Grill brushes are available in different materials. They can be of pure metal, alloy, or a cleaning pad. The metal scrapers we see in the market are generally made of stainless steel or brass.
Bristles are usually nylon, stainless steel, or brass — coil brushes are commonly stainless steel. As for cleaning pads, we typically see synthetic fibers such as aramid.
Let's talk about the important properties and tradeoffs each option has. Nylon melts under high temperatures. Only use nylon brushes when your cast iron cookware has completely cooled down. Another important consideration is that brass has antimicrobial properties that kill germs and bacteria.
Stainless steel and brass can withstand high temperatures. But brass has a higher thermal conductivity than stainless steel. Although, stainless steel is highly resistant to corrosion. While both are dishwasher-safe, stainless steel is more durable than brass.
Synthetic fibers are durable materials that are used as protective gear for firefighters and police officers. They are also able to tolerate high temperatures.
Length of Bristles
You might be surprised to know that the length of bristles matters in cleaning cast iron grates. Typical bristles range from half an inch to about one inch long.
If bristles are too short, then they may not adequately scrape off sediments. You will need multiple sessions to complete the job. In contrast, too-long bristles are prone to entangling, and they do get stuck often.
Handle
Grill brush handles can be anywhere from 12 inches to 21 inches long. Shorter handles expose you to the hazards of burning. Conversely, longer handles tend to break easier than shorter ones.
Budget
Grill brushes are generally reasonably priced. There are exceptions, of course. While grill brushes work as intended, they vary in subtle aspects such as grip, longer shelf-life, user experience, etc. Choosing the compromise between price and features is highly subjective.
FAQs
How do you use a grill brush to clean cast iron grates?
In general, cleaning cast iron grates with a grill brush follows the steam cleaning method. This is how it works: The grill is preheated at a minimum of 400 degrees Fahrenheit for at least 15 minutes. Then the grill brush is submerged in water before scrubbing the grill brush onto the hot cast iron grates. This process removes the gunk and grime from the grill gates and sanitizes its cooking surface.
What are the exceptions to the steam cleaning method mentioned above?
The steam cleaning method doesn't work with nylon grill brushes — nylon melts under extreme heat. For nylon grill brushes, have your grill completely cool down before brushing your grates.